Subscribe at Apple Podcasts, Stitcher, Google Podcasts, Overcast, Pocket Casts, Anchor.fm, Breaker, PodBean, RadioPublic, or search in your favorite podcatcher!

Show Updates:

Now available on Stitcher!
The latest from Twitter.
Chris Schild's Tommy Bolin letters
Michael Eriksson mentions us on his blog: https://trinkelbonker.wordpress.com/

Publisher of Deep Purple Forever magazine

We did not mention Quatermass last week!! 🙁
Patrons:

New Patron: Clay Wombacher, joining us at the $5 monthly tier. Thank you so much, Clay!
Lead Up To Album & Writing:

In six months (between August of 1969 and January of 1970) Deep Purple had released three albums: Taliesyn, Deep Purple, and Concerto.
Jon Lord was writing Concerto while the rest of the band was working on In Rock.
The band just played together and jammed,Gillan would riff on vocals, and some of those things stuck and turned into songs.
Usually one of them would have an idea that would lead to the others joining in.
They decided, as opposed to previous albums, that they'd credit every song to all the members of the band.
This ended up being a bit of a sticking point in later years and by Mk 3 they reverted to crediting only the songwriters.
Roger Glover felt like Episode Six hadn't taken his songwriting seriously and now in Deep Purple they took his ideas much more seriously.

Roger Glover In Ultimate Guitar: "We didn't write, we played."
Ritchie in Disc: "My main failing is composing. I can come up with riffs and I'm good at improvising, but I'm not very good at putting a song together."
Jon Lord in Wait for the Ricochet backs this up: "80% of the songs on our album came from somebody with an idea and with jamming it . . . Ritchie was full of ideas, teaming with ideas.
Paice in Wait for the Ricochet: "I contribute nothing lyrically or melodically, I just suggest rhythms and arrangements. And in any type of music the arrangement is important. It's always a five way thing for us."
Gillan in Music Now in January of 1970: "Since those albums were released [talking about the mk 1 albums] the group's changed. Our music now is much harder, our next album will be purely a group sound."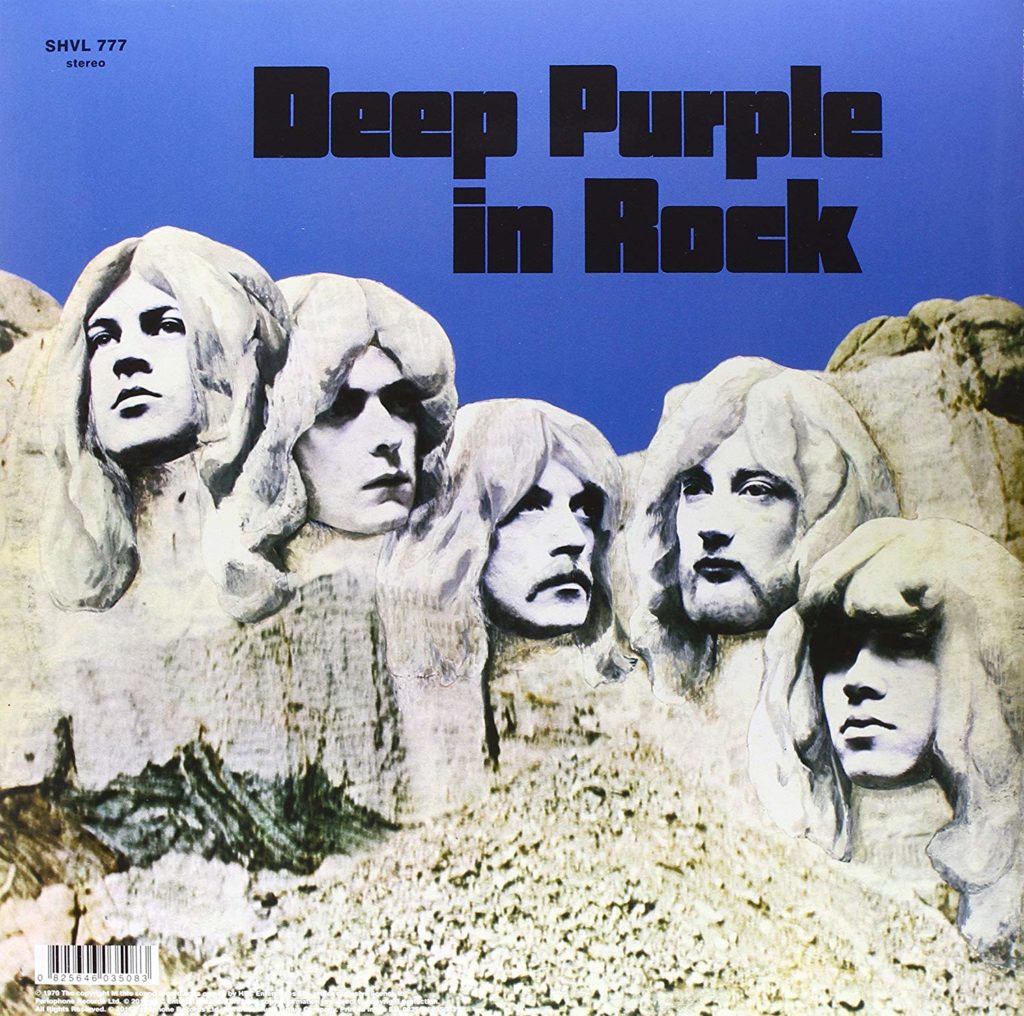 Album Art:

No one really seems to remember who came up with "In Rock" as a title.
Tony Edwards came up with the idea for the album cover.
Took it to London design company Nesbit, Phipps & Froome.
He worked for hours trying to source pictures of Mt. Rushmore. In the early 70s this was much more challenging than today.
They used a transparency of Mt Rushmore. It was sort of rushed so you can see the background of the mountain was blurry.
Not sure why they didn't just have someone paint it.
They used headshots of the band from earlier in the year.
Roger may have been reshot as he had sideburns in the original shoot.
The hair was painted over to try to join the two images.
Gatefold contained lyrics and "moody" black and white shots of the band.
Album Details and Analysis:

Album was recorded at three different studios:
Recording time only took up a couple of weeks, revolving around their intense gig schedule.
They gigged a ton during this time trying to recoup some money and tighten up the material.
The IBC studio sessions were the first time they worked with Martin Birch.
Martin Birth, also known as "the Wasp" was like a sixth member of the band in future years working on all their albums until the band broke up in 1976.
1.) Speed King
Recorded at IBC Studios
Beginning was cut off in the US release, I hadn't heard the UK intro until I picked up the 25th anniversary edition recently.
Honors songs from the 50s:

"Good golly, miss molly" and "house of blue light from Good Gooly Miss Molly
"Tutti frutti and to the east and west" from "Tutti Frutti"
"Wen she didnt' do her daddy's will" from Lucille changed to "sister's will"
"Saturday night and I just got paid " from Little Richard's "Rip it Up"
"Hard headed woman, soft-hearted man" changing the line "been the cause of trouble ever since the world began" to "they been causing trouble since it all began from Elvis's "Hard Headed Woman."

In an interview with Modern Keyboard in Jan 1989 Jon Lord said, "Speed King is speed metal, no question about it."
At the live shows they would go on stage and make a point of making a loud, noise of instrumentation before launching into the song.
Jon Lord says in "Wait for the Ricochet": "They had no time for sound checks on shows so they'd go onstage dry, make as much noise as possible so the soundman could set his levels, then start playing."
Originally titled "Kneel and Pray" then later "Ricochet"
It was modeled to be a sort of start & stop like Hendrix's "Fire." – chorus is very reminiscent.
Roger Glover also noted that it sounded similar to "I'm a Man" the Spencer Davis Group hit.
Glover started the riff off and they all based the song around him.
Earliest recording of Speed king was August 11, 1969 being called Ricochet
Recorded again live on August 29 being called "Kneel and Pray" at this time for another BBC session
Version from same show in Montreux in October.
Last live version was on a live TV special in Holland recorded in January of 1970 but didn't air until July, after the album was released. This is the last version where Ian, Jon, and Roger all harmonize "see me fly." They dropped the harmonization before recording.
The title was changed after Roger saw a chain of laundromats called Speed Queen and simply reversed the gender. The Speed Queen company is still around and it's the world's largest laundromat company.
They used this song to open their live shows until 1972 when it was replaced by Highway Star and Speed King was saved for an encore.
2.) Bloodsucker
Recorded at Abbey Road
Roger and Ritchie wrote it at Ritchie's flat
Lyrics were about Ian Gillan's run in with the band's management. He'd asked for
£ 20 advance and it became an issue. This was early 1970.
Also been stated that lyrics were referring to women in a rather rude manner.
Incomprehensible lyrics put through an echo effect. Stuttering effect.
Song never played live. Resurfaced in 1998 on Abandon as "Bludsucker."
3.) Child In Time
Recorded at IBC Studios
"Inspired" by A Beautiful Day's "Bombay Calling"

Roger Glover writes about it in his diary about how they were doing that "Bombay Calling" song.
Nick Simper said they had kicked around this jam before and they'd toured with A Beautiful Day in 1968.
Roger, Ian Paice, and Ritchie took a boat tour of the Thames and took this album with them (among others) and they listened to it on the boat.
Gillan developed lyrics about the cold war after they jammed it just weeks after Ian/Roger joined the band.
Jazz saxophonist named Vince Wallace claims he wrote this song and taught it to A Beautiful Day's vocalist/violinist David LaFlamme. LaFlamme played this in a band called The Orkustra in the mid sixties before bringing it to It's A Beautiful Day.
Ian Gillan's lyrics writing on his website:

"I started singing and the words came easily because we were all aware of the nuclear threat which hovered over us at this time, which was probably when the "cold war" was at its hottest . . . through the medium of Radio Free Europe this song and many other reached the ears and hearts of like minded people behind the iron curtain as i found out many years later."

People wondered how Ian did the screaming. From Wait for the Ricochet:

Melanie on the Isle of Wight wrote in to Meoldy maker with the quesiton: "How does Ian Gillan produce the very effective screaming effect in Child in Time from the LP Deep Purple In Rock."
Ian's response: "Thanks for the compliment but I haven't the faintest idea how I manage it. Although lots of people regard it as incredible and ask me how it is done. It's simply a vocal effect and I do it every night on stage, considerably endangering my health. I've never had any special training but I think that it helps that I wear tight trousers."
Ian in later years says that he always took the highest harmony parts in Episode Six and practiced that way.

Ritchie praised Ian's vocals on Child in time: "Child in Time is a great song. Ian Gillan was probably the only guy who could sing that. It was done in three stages, sort of like an operatic thing. That's him at his best. Nobody else would have attempted that going up in octaves." Guitar World December 1996.
Ian Gillan: "Child in Time is not a song against war, it is about stupidity. One is inevitable, the other is not. A missing comma from the title gives a false impression and — as happens so often — rhyme defeats reason."

"Sweet child, in time, you'll see the line."

Ritchie uses the Gibson on this one.
Was released as a single in Belgium with one verse to each side.
Live the song was known to reach as long as 20 minutes.
Was replaced by the song "Mary Long" after Who Do We Think We Are in the live set.
Played on and off live after they reformed in 1984. Sometimes it was depending on whether Ian was up to singing it or not, sometimes Lord played his vocals on the organ.
They developed the frantic ending in the van.
Song ending mimics "A Day in the Life", the chromatic ending. JL states: "We liked the sound of it, so we nicked it you might say."
There are three live recordings of this songs before it was laid down at the studio:

The Paradiso concert in Hollad on August 23rd, 1969
At the Concerto – 12 minute version, solo structure not laid down yet,
At the casion in Montreux in October of 1969, 10 days later
Four weeks later they'd go into the studio to record it

Bombay Calling on next album – "Don and Dewey"

https://www.youtube.com/watch?v=aoz4aNwIB5w
stealing from "Wring that Neck", comes in around 0:30
4.) Flight of the Rat
Recorded at De Lane Lea
Written in the studio.
Jon used to play Flight of the Bumblebee as fast as he could during warmup. Ritchie played over it.
Percussive Guitar interlude
A cautionary tale about drug abuse.
The band were hard drinkers but not into hard drug use.
They never played this live because Ian Paice refused to, saying he couldn't keep up the pace (pun intended).
They had a policy where if one member was strongly against playing a song live they wouldn't do it.
5.) Into the Fire
Recorded at IBC Studios
Ritchie and Roger talked about wanting to do a song with a riff involving a chromatic scale and Glover just played the first thing that came into his head.
Lyrically Gillan's lyrics are a warning about drugs.
Based off of King Crimson's "21st Schizoid Man" released in October of 1969.
This one got picked up early, mostly because of its length.
Slowest tempo of any songs on the album.
6.) Living Wreck
Recorded at IBC Studios
Riff developed at a pub in East Essex or East London.
Same gig where Ian Gillan was getting changed backstage and Ritchie pushed him onto the stage naked where he took a bow before going backstage.
The song nearly didn't make it on the album.
Ritchie playing slide guitar on the solo.
7.) Hard Lovin' Man
Recorded at De Lane Lea
Written in the studio.
"Ian Paice to NME in 1970: "The story of Ian's life when he's not making misc. Nice one!"
Roger Glover recalls writing this riff.
Jon Lord recalls it differently saying Ritchie had started this one up.
Was not performed on stage until 2009.
Reception and Review

Ultimately all the press they got for "Concerto" helped gain a lot of attention for "In Rock."
Reached #4 in the UK, top 10 in numerous countries, only #143 in the US.
Album release followed by the "In Rock World Tour" which lasted 15 months.
On their Scandinavian tour Lars Ulrich saw the band for the first time at 9 years old and said that Ian Paice inspired him to start playing drums.
Live albums during tour:

Live in Stockholm/Scandinavian Nights – November 12, 1070
Deep Purple in Concert recorded 1970 to 1972.

August 25, 1970 they performed a set at the Hollywood Bowl

Speed King
Hush
Wring That Neck
Mandrake Root
Child in Time
Black Night
Then were joined by Orchestra to perform the Concerto

Many lists in many magazines:

100 Greatest Heavy Metal Albums
Top 50 Most Influential Guitar Albums
50 Best Albums of the 70s
Etc.

Gold certification in many countries – reached Gold on July 27, 2001 in the US.
In The News . . .

This Week in Purple History . . .
June 17 through June 23

June 21, 1948 – Don Airey was born!
June 21, 1968 – Hush released as a single
June 21, 1969 – Deep Purple released
June 22, 1984 – Roger Glover releases Mask
Deep Purple Deep Track of the Week:

Michael Schenker Group
"Cry for the Nations" off of their self-titled debut album:

https://www.youtube.com/watch?v=_koU1OrSt_4

Michael Schenker – guitar (The Scorpions, UFO)
Gary Barden – vocals (Gary Moore, The Company of Snakes)
Don Airey – keyboards (Ozzy, Rainbow, Deep Purple, etc.)
Mo Foster – bass (Butterfly Ball, Fancy!)
Simon Phillips – drums (Brian Eno, Mike Oldfield, Jeff Beck, Gary Moore, Bernie Marsden, Judas Priest, Tears for Fears, and The Who, Jesus Christ Superstar)
Produced by Roger Glover
For Further Information:
Listener Mail/Comments

Comments about the show? Things you'd like us to cover? We'd love to hear from you. Send us an email at info@deeppurplepodcast.com or @ us on Twitter, Facebook, or Instagram.