Subscribe at Apple Podcasts, Stitcher, Google Podcasts, Overcast, Pocket Casts, Anchor.fm, Breaker, PodBean, RadioPublic, Amazon Music, or search in your favorite podcatcher!

How To Support Our Show:

Thanks to Our Executive Level Patrons:

The £10 Tier

Dr. Jill Breis — PATRON UPGRADE!

The Turn it up to $11 Tier

Clay Wombacher
Frank Theilgaard-Mortensen
Alan "Ain't Too Proud To" Begg
Mikkel Steen

$10 "Some One Came" Tier
Lead up to the Album:

Update from last episode:
Johnny "Dawk" Sterling was the "Dawk Sound" referenced on Discogs.
Started working with Elf when Glover started producing their albums.
Article from The Highway Star: https://www.thehighwaystar.com/thsblog/2015/12/23/john-dawk-stilwell-r-i-p/
Says Glover liked the sound of Dio's bass so much he asked STerling to make the same modification to his Rickenbacker. I believe they're referencing the diagonal pickup.
He went on to work with Rainbow and Deep Purple when they reunited.
Sadly he passed away in December of 2015.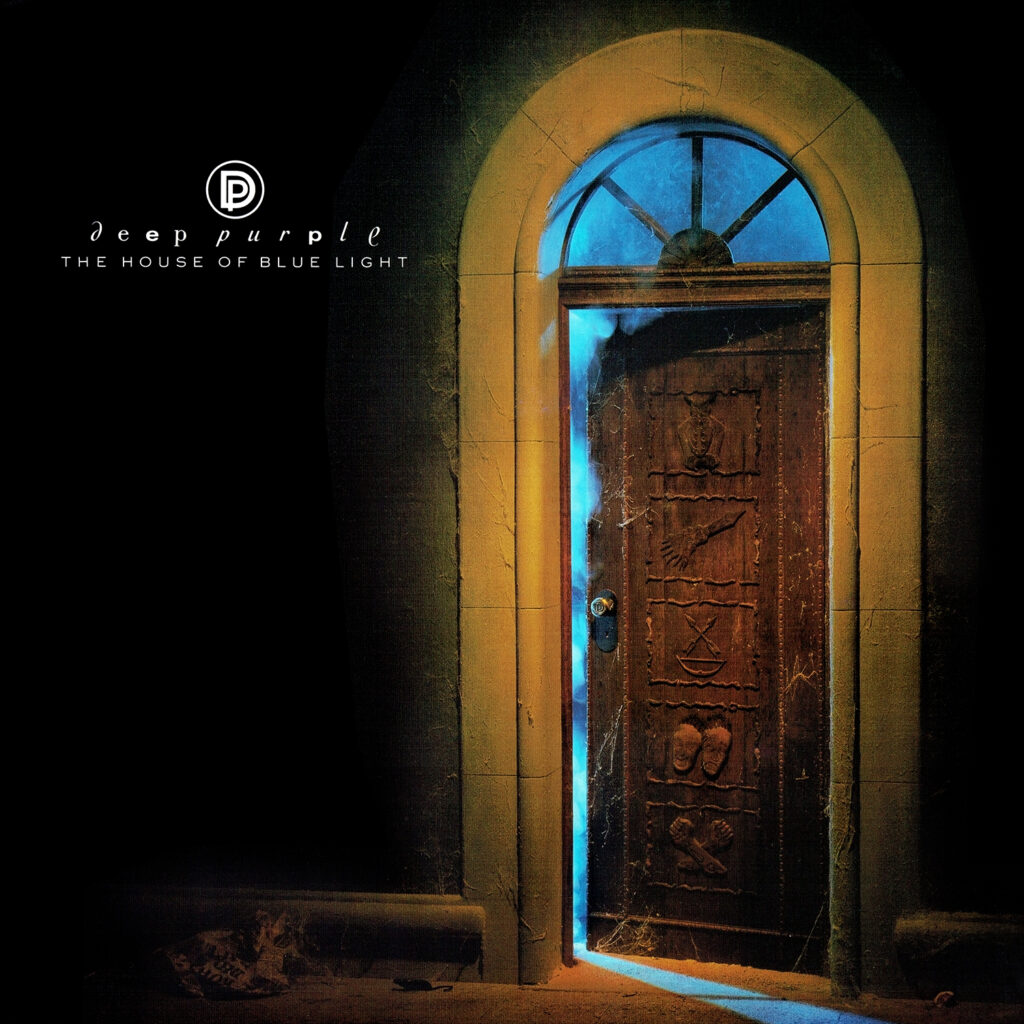 Album Art & Booklet Review

From Darker Than Blue (#33, January 1987)

Posters for the LP went up around town early January, with press ads about the same time. The "mystic symbols" which appeared in the ads (and again on the front sleeve) may have puzzled some of you, but we & others assumed them to relate to the name of the band. Two are astrological signs – the bow & arrows are Sagittarius the archer, for Roger Glover, the two masks are Gemini, the twins — Jon Lord's sign. Ritche has been having owls about him since the first Rainbow LP. The rocket may relate to Garth, the crossed hands for Paicey, but we ain't sure why. The sleeve itself didn't look very promising, and we were right! A real K-Tel special — obviously they ran out of the right letraset doing the name and had to finish with something off another sheet . . .
Album Tracks: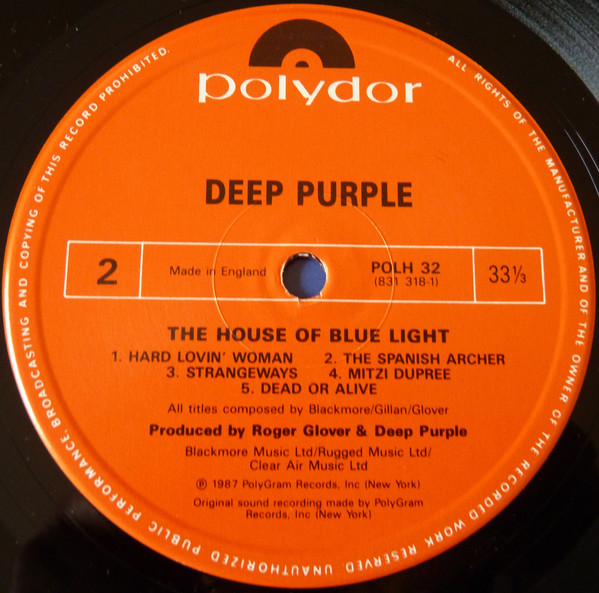 Side Two:

Hard Lovin' Woman (Gillan, Blackmore, Glover)

Gillan: "Well, we had a song called 'Hard Lovin' Man' in the early days, so we thought 'Hard Lovin' Woman' would be a laugh. Roger and I wrote a whole list of potential titles up on the wall of this little room in Stowe where we recorded the album, and that was one of them. We wanted to do a hard rock'n'roll song with tight harmonies and that kinda thing…and that title fitted the bill."

The Spanish Archer (Gillan, Blackmore, Glover)

Song is 35 seconds longer on the 1987 CD release.
Gillan: "'Spanish Archer' is the next, isn't it? Well, if you give someone the 'Spanish Archer', you give them the 'elbow' as you probably know, and so that song is about giving some lump the heave-ho. I don't actually think this song should've been included. I mean, it isn't properly arranged – it's just a series of verses with jamming in between (and Ritchie takes about four solos!) – and it wears on me. But everyone else disagrees with me – which is par for the course anyway, ha! -so it's been included."

Strangeways (Gillan, Blackmore, Glover)

Song is 1 minute, 40 seconds longer on the 1987 CD release.
Gillan: "In contrast, 'Strangeways' is my favourite song on the album at the moment. I like the vocal harmonies on the intro…have you heard this one yet? You should, I'm very pleased with it."

Mitzi Dupree (Gillan, Blackmore, Glover)

Gillan and Glover made a demo of the song to bring to the band to flesh it out. Blackmore didn't like the song so he added a rough guitar track to the demo and refused to explore the song further with a proper studio recording.
The version they used on the album was the demo.
As Gillan relates the saga of trying to get Ritchie to approve the song "Painted Horse" for inclusion on "Who Do We Think We Are" to the saga of Mitzi Dupree.
Gillan: "And 'Mitzi Dupree' is a good one, too. Actually, it's a true story. I was on a plane going to Salt Lake City when I was in Black Sabbath and I saw this most amazing boiler – oh, a sensational lump! – so I went over to talk to her and she said, 'Hi, I'm Mitzi, Mitzi Dupree…' and I thought, 'Wow, what a great name!' I was in love.
"Anyway, it turned out she was going up north to a mining town in Canada to do a show. So I asked her what she did and she told me that she did a show with ping-pong balls… Now, I've actually seen women do this before – in a small room behind a kitchen in Bangkok – and it's absolutely amazing. There was this Siamese girl onstage, and there were five Italians in the front row, all with a glass of wine each. She bent over backwards and – pop-pop-pop-pop-pop – these five ping-pong balls were fired out of you-know-where and each one landed in a glass – I swear to you! This bird also pulled out 50 double-edged razor blades from the same place all attached to bit of cotton, she signed autographs, she did paintings … it was unbelievable! ANd this was what Mitzi did.
"'Mitzi Dupree' is a dead live song. It came out of a jam and we just recorded it for reference. I played it afterwards and thought it was great – I couldn't stop singing it – so I said to Roger, 'We've _got_ to do something with it.' And he said, 'Well, we can write on it, but we don't have to play it again because everyone else hates it'. So we wrote the lyric and I sang it to the jam tape, and Roger and I decided to leave it like that, because it sounded so natural and spontaneous. It's a great track.

Dead or Alive (Gillan, Blackmore, Glover)

Song is 18 seconds longer on the 1987 CD release.
Gillan: "The last track on the album, however, 'Dead or Alive', is a pile of s**t."
When asked what he doesn't like about it: "It's just not any good," the singer laughs, shrugging his shoulders."
Answering why it's on the album: "Exactly. Don't ask me. No, it's going to be good onstage…maybe _that's_ why it's on there. I _did_ write it,but under protest I might add. I think everyone else likes it, but I don't."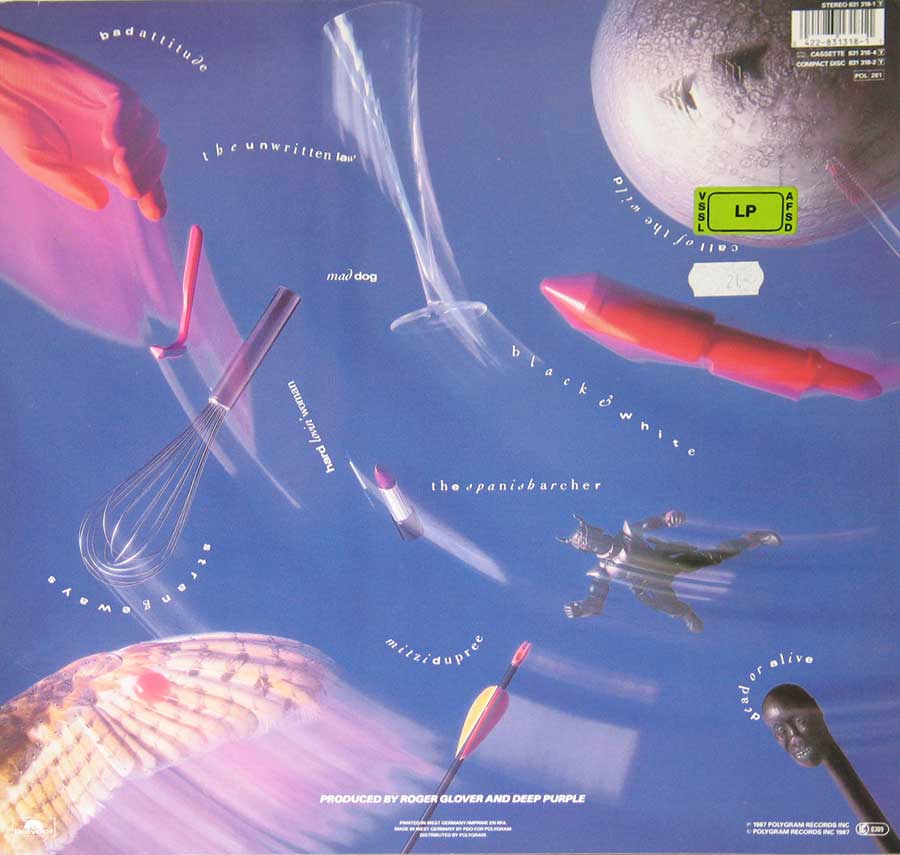 Thanks to Our Core Level Patrons:

The $7.77 KeepItWarmRat Tier
The $7.00 "No One Named" Tier
The Episode $6.66 Tier

Steve Coldwell
Arthur Smith
Anton Glaving

The $6.65 "Almost Evil" Tier
$5.99 The "Nice Price" Tier
$5 "Money Lender" Tier

Greg Sealby
John Convery
German Heindl
Adrian Hernandez
Jesper Almén
Oleksiy The Perfect Stranger Slyepukhov
James North
Mark Hodgetts
Kev Roberts – Paypal
Will Porter
Zwopper The Electric Alchemist

Tim "Southern Cross" Johnson
Reception and Review

Gillan: "So that's it; ten tracks on the album, and that's more than you usually get on a Purple album, so… I'm pretty pleased with it. I would say 'delighted' but I won't because I feel there should only be eight tracks on it. Still, it is a good album overall."
The album hit number 10 on the UK charts and number 34 on the Billboard 200 in the US. It was also top 10 in six other countries including #1 in Germany, Sweden, and Norway; number 3 in Switzerland, Number 5 in Australia, and Number 9 in Japan.
Overall the 1987 CD release is 4 minutes, 32 seconds longer than the LP, cassette, or 1990 CD release.
The LP and cassette version are shorter featuring shorter versions of some of the songs.
CD released in 1987 though some version have a copyright of 1986 but may be because it was released on January 12, 1987. Not sure if an earlier release was done in any other countries.
In 1999 they released a CD version using the master tapes which matched the track length from the original LP and cassette version.
Promo materials:

Lord: "We decided from the start we weren't going to do just one album and tour. This is keeping our promise."

Gillan said this was a long and difficult album to produce comparing it to the "Who Do We Think We Are" session in Rome.
Gillan: "I look back at House Of Blue Light, there are some good songs on that record, but there's something missing in the overall album. I can't feel the spirit of this band. I can see or hear five professionals doing their best, but it's like a football team, it's not functioning. It's like 11 superstars that are playing on the same field but are not connected by the heart or by the spirit."
Blackmore: "I think I played like shit on it, and I don't think anyone else really got that into it."
Blackmore also says that many parts and songs were rerecorded.
Gillan: "…so long as Ritchie was happy with the guitar parts the lads were happy. I wasn't and said so. But let's not blame everything on Ritchie . . . I was a wanker too."
Lord: "House of Blue Light was a weird album and hard to put together. We made the massive mistake of trying to make our music current. We discovered that people didn't want us to do that."
Glover: "Perfect Strangers, we kind of knew what the album was going to be called, very early on in the album, it was one of the hot contenders. But The House of Blue Light — we finished the album and we didn't have a title. I was producing, so I was, 'Okay, what are we going to call it? And there were lots of suggestions, but no one could agree. In the end, we were getting really desperate — we needed a title, so I came up with The House of Blue Light, which of course is a line from 'Speed King.' Everyone kinda went, 'Oooer, yeah, it's okay'; and because everyone went, 'It's okay,' that was the one. It wasn't the best one, it wasn't the most appropriate. It was simply the only one everyone seemed to agree on, and that's not a pleasant thing to do. If you have a title at the beginning, it gives you a landscape for what you're doing."
The album seemed to be Gillan, Glover, and Ritchie bringing in ideas on their own rather than working together. Of this Lord said, quoting Winston Churchill: "A camel is a horse, designed by a committee. Deep Puprle seems to make a better horse by committee!"
Lord also compared House of Blue Light to Fireball: "We always do one good album, a confused one, and then another good one."
Review from: http://www.deep-purple.net/DPASmags/dtb33.htm#1 by Simon Robinson

Many numbers just don't have the extra spark to lift them onto my play-list. Let's face it, there are only so many hours in a day, and I don't feel inclined to waste too many listening opportunities putting on stuff which I really wanted to like but can't. To me, as an album it doesn't scale the heights which Purple have scaled before.
BAD ATTITUDE knocks me out, I've been playing it over and over, it's probably the most powerful cut on the LP, with a no nonsense feel and edge to it which is often lacking elsewhere. Gillan does a great vocal, and the backing does him justice. Nowhere else on the LP does the production sound balance out quite as well as here either, with the right amount of everybody present all of the time. THE UNWRITTEN LAW by contrast is weak. and the efforts to introduce "current technology" only serve to water things down even further. MAD DOG contains the most truly godwaful keyboard noise in Jon's solo. Whatever it is, destroy it or wipe it from the computer discs AT ONCE! STRANGEWAYS is a great track and shows what they can still do. I suppose it's the fact that they keep coming up with goodies like this which makes it all the more frustrating with the lesser cuts. The overall balance is back too – somehow this does seem vital in keeping the Purple feel alive. I like DEAD OR ALIVE, not least for the proper organ and guitar solos – and about bleedin' time! There is something special about the vocal though which I can't really put my finger on, it just has a weird haunting quality. All the more curious that lan should write it off in the recent Kerrang feature.
It's a long album, something around 46 minutes or so. Originally they'd been going to ditch a couple of the numbers, (MITZI DUPREE was one they couldn't all agree on including), or save them for the CD. The CD is in fact a few minutes longer than the vinyl. The single b-side will be STRANGEWAYS with the CD length cut on the 12″, so this is a help for non-CDers like myself. The sound quality on the LP does suffer as a result of getting so much on (as well as the usual thin vinyl.), and it does need to be cranked up for full effect. I do feel they'd benefit from someone from outside coming in to handle production or something, someone who isn't bothered about any outside pressures and who is also capable of capturing the essence of Purple on disc. That would entail a greater effort from the band too, the disc is very patchy. I personally will be surprised if people take to it unreservedly, the people I've heard from or spoken with so far haven't (some have been down right damning!). After two years I had hoped for rather more.

Gillan says that Glover looked so drained after returning from mixing the album that he said, "I tell you what . . . I've got an idea. Let's go and make a record.
Gillan Glover and Blagona departed for George Marin's AIR Studios in Montserrat where they relaxed and made Accidentally on Purpose to unwind before the House of Blue Light tour.
The tour for House of Blue Light ended up being a difficult one with personality conflicts reigniting.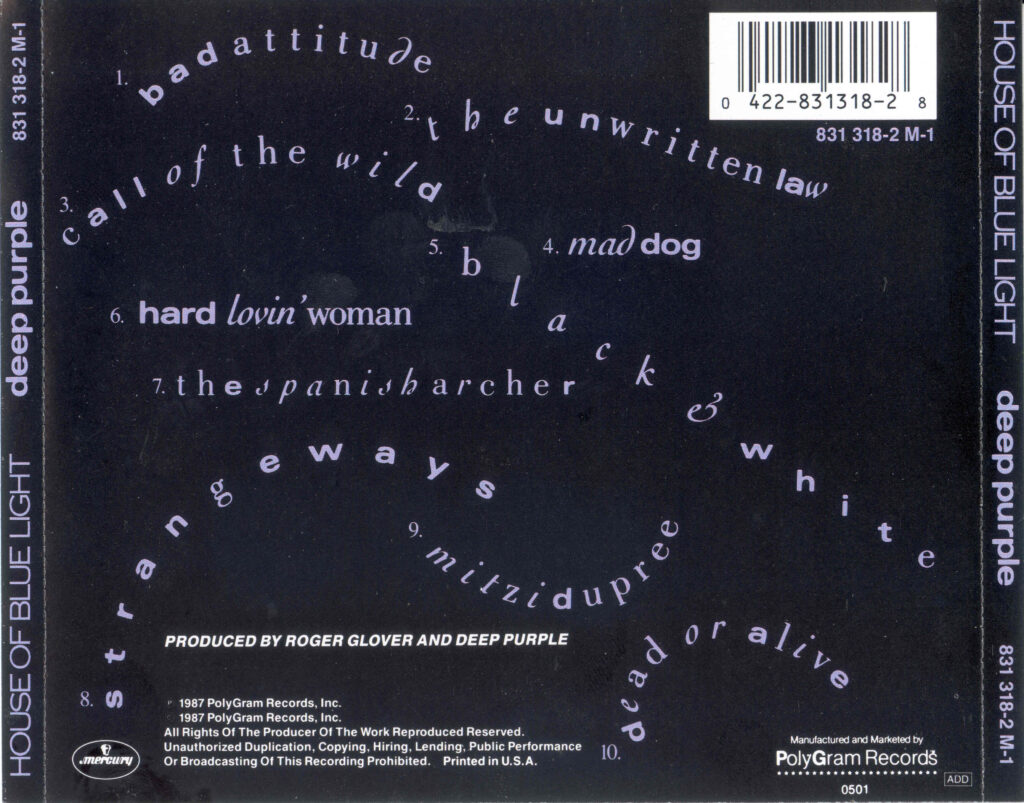 Thanks To Our Foundation Level Patrons:

$3 "Nobody's Perfect" Tier

Peter Gardow
Ian Desrosiers
Mark Roback
Andrew Meyer
Duncan Leask
Stuart McCord

$1 Made Up Name Tier

Ells Murders
Spacey Noodles
The "Unconfined" Leaky Mausoleum
Stephen Sommerville The Concerto 1999 Fanatic
Raphael Choury (Raff Kaff)
Spike, The Rock Cat
JJ Stannard
Hank the Tank
Flight of the Rat Bat Blue Light
For Further Information:
Listener Mail/Comments

Comments about the show? Things you'd like us to cover? We'd love to hear from you. Send us an email at info@deeppurplepodcast.com or @ us on Twitter, Facebook, or Instagram.