Disclaimer: The video used on YouTube is a byproduct of producing our audio podcast. We post it merely as a convenience to those who prefer the YouTube format. Please subscribe using one of the links below if you'd prefer a superior audio experience.

Subscribe at Apple Podcasts, Stitcher, Google Podcasts, Overcast, Pocket Casts, Anchor.fm, Breaker, PodBean, RadioPublic, Amazon Music, or search in your favorite podcatcher!
Thanks to Our Show Supporters – Three Ways To Show Your Support

The $20 "Shades of Deep Pockets" Tier
The $15 "Highball Shooter" Tier
The Turn it up to $11 Tier

Frank Theilgaard-Mortensen
Clay Wombacher
Mikkel Steen

$10 "Some One Came" Tier
The Episode $6.66 Tier
$5.99 The "Nice Price" Tier
$5 "Money Lender" Tier

Greg Sealby
John Convery
Arthur Smith
German Heindl
Adrian Hernandez
Kenny Wymore
Jesper Almén
Oleksiy The Perfect Stranger Slyepukhov
James North — PATRON UPGRADE!!

$3 "Nobody's Perfect" Tier

Peter Gardow
Ian Desrosiers
Mark Roback
Anton Glaving
Will Porter
Andrew Meyer

$1 Made Up Name Tier

Ells Murders
Spacey Noodles
The "Frightful" Leaky Mausoleum
Michael Vader
Stephen Sommerville The Concerto 1999 Fanatic
Raphael Choury (Raff Kaff)
Thanks to our Brothers at the Deep Dive Podcast Network:
Thanks to the Patron Saint and Archivist of The Deep Purple Podcast:
Buy Merch at Our New Etsy Store!

Show Updates:

Comments from social media.
New Apple Podcasts Review – FROM OTHER COUNTRIES!!!
This week, a review from Great Britain:

FIVE STARS!
TrancaRua, 27/12/2019
Good stuff, fun to listen!
The most unlikely duo possible getting along too well and making really good things together. One of them is so quiet, an old soul (in fact as young as the most talking one) but full of catchy phrases and shows interesting knowledge of Deep Purple. Enjoying a lot, actually. Give a go!

Thank you to all the listeners that we don't hear from!
Lead up to the Album:

Don Airey decided he was going to join Ozzy full time to work on Bark at the Moon.
Ritchie said in interviews that Don was "best friends" with Cozy and when he found out Cozy was being replaced he became furious and left the band to tour with Ozzy.
Roger Glover quit the band to just do production but was convinced to rejoin on bass by Bruce Payne.
Rosenthal joined the band straight out of Music College. He was asked to contribute with the songwriting but was told he would not get a full writing credit. Rosenthal had the foresight to get a lawyer to deal with the contract.
Rumors are the Bruce Payne wanted Rainbow to attempt to make a go of it without a keyboard player but that Ritchie wasn't having it.
The recording took place at Le Studio in Morin Heights, Canada. The weather was exceptionally cold and snowy. It was in a beautiful 10-12 bedroom lake house with the studio at the other side of the lake. The band had two sets of equipment, one at the house for them to write and practice, and another at the studio.
Ritchie, of course, played a prank on Rosenthal but moving all the furniture out of his room and putting it in the cold and snow. The next morning Rosenthal was still freezing because he'd had to sleep in a freezing cold bed that he'd lugged back into the room himself.
Joe Lynn Turner said that Blackmore had warned him that moving more into this AOR direction was going to get him a lot of flak from the fans. Blackmore told Turner that for every one Dio fan they lost they'd pick up two new fans. Joe Lynn Turner said, "And that was the truck, literally. For example they never had any women at the concerts. So everyone loved that including the crew — it was thank God we have girls in teh audience now, we could compete . . ."
The first album with JLT where it was more cohesive, everything being done in one studio and together rather than the patchwork that was Difficult to Cure.
Ritchie admitted during this time he was more focused on song writing and was even struggling with solos.
Ritchie: "Unquestionably, we've turned in a more accessible direction on the last few albums. A few years ago I would have insisted that selling records means nothing. I realize now that a statement like that is made only by someone who it's selling many records."
Joe Lynn Turner says: "I'm an incredibly varied singer. I just grew up that way. . . . I love blues; I love ard rock and heavy metal, love country music s well. I listen to everything and just soaked it up; jazz and Etta James –I love that shit. I listen to sax players for vocal phrasings, just like guitarists do."
JLT: "Sometimes people are surprised that I can sing R&B. I mean I grew up in a gospel church, in a black Baptist church. I'm a black man in a white man's body –it's unbelievable. If I really turn it on and go to the R&B side, it would just be too black. Glenn Hughes used to do that and do it real well, but he got killed for it. They used to say he's too funky, he's too black. You know what? He's too gifted, so fuck you!"
Personnel

Additional Credits:
François Dompierre – orchestra conductor
Raymond Dessaint – orchestra lead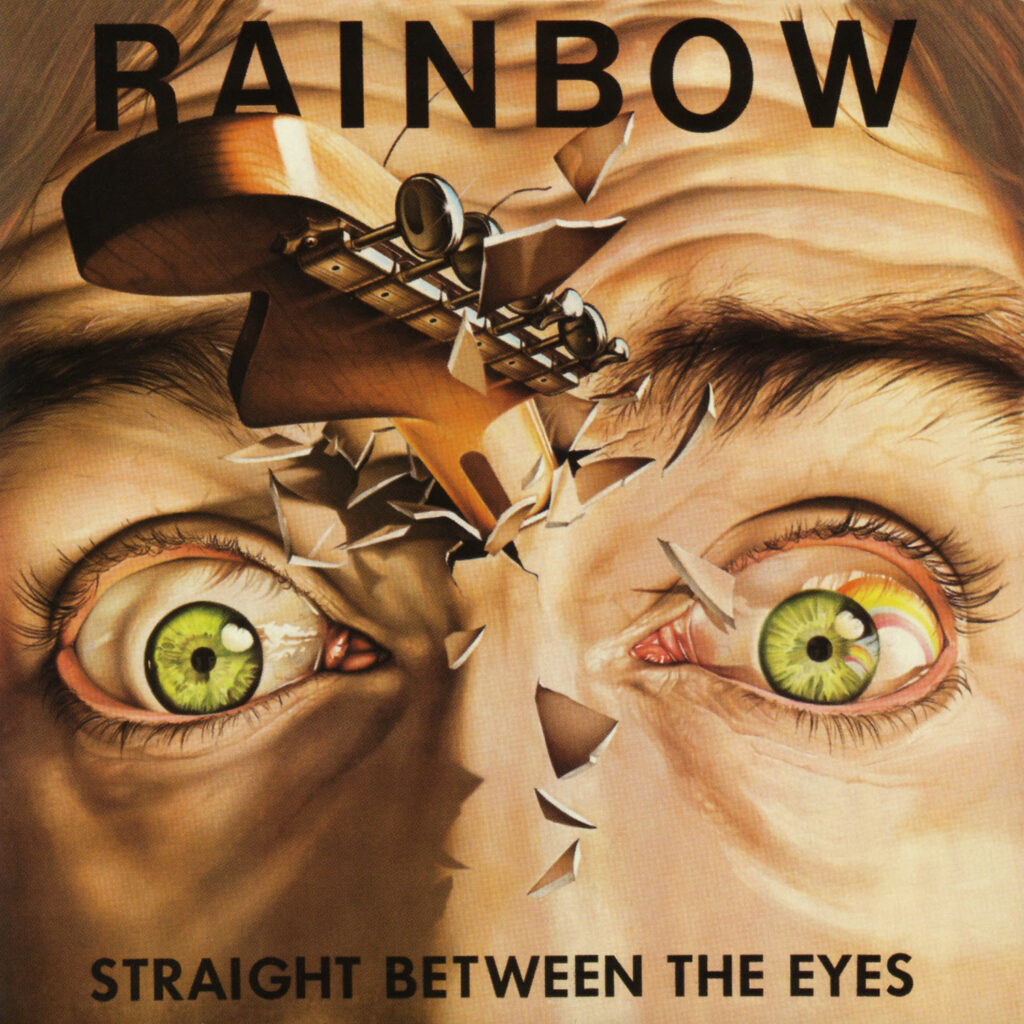 Album Art & Booklet Review

Artwork – Jeff Cummings (2)

https://jeffcummins.wixsite.com/jeff
Worked for Hipgnosis
Designed album covers for Graham Bonnett, Paul McCartney, Whitesnake's "Live in the Heart of the City." 

Artwork [Concept] – Mr. B (16)

Only credit on Discogs.  Can only assume this is Ritchie.

Ritchie says that the album title was from when he bumped into Jeff Beck at a bar in 1967 after he'd just seen Hendrix.  Jeff Beck told him that Hendrix's playing hit him "straight between the eyes."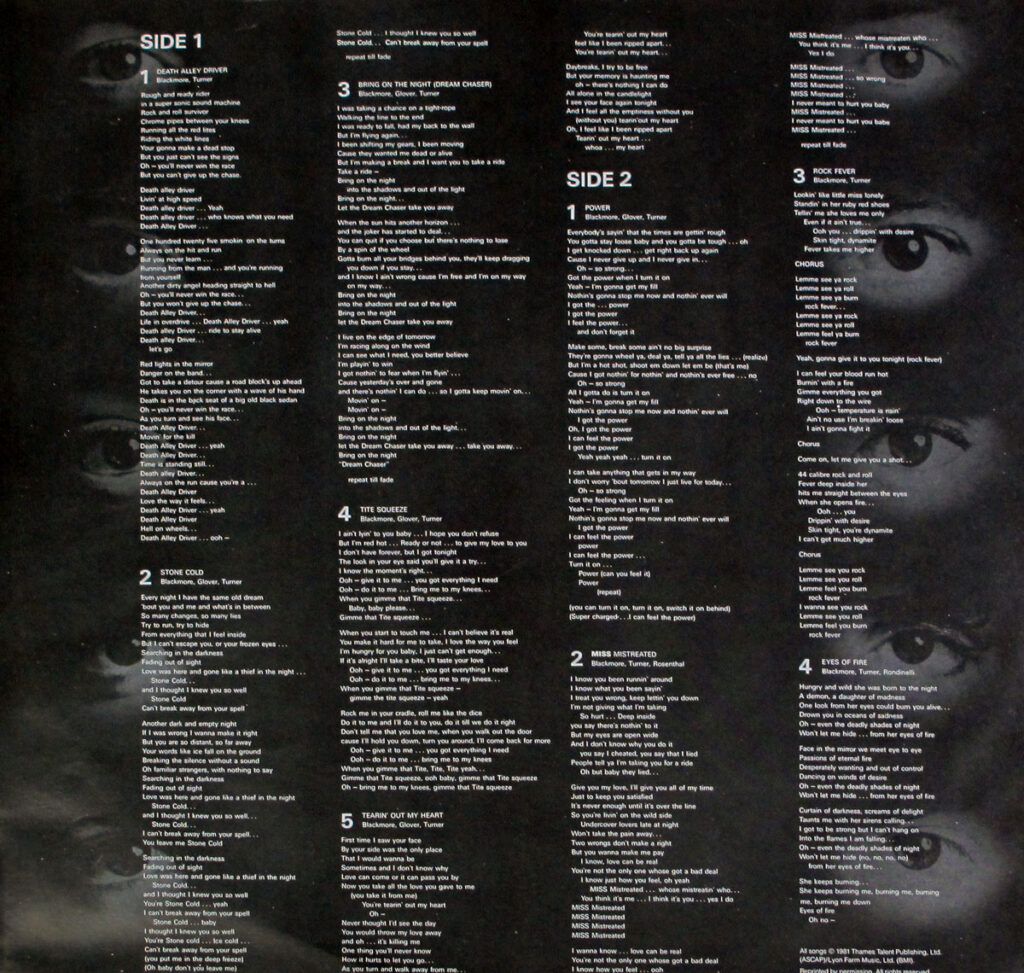 Technical:

Album Tracks: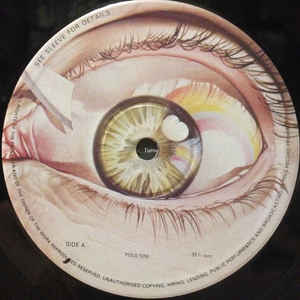 Side One:

Death Alley Driver (Blackmore, Turner)

Written by Turner about route 109 in New Jersey and how it was so dangerous to drive down.
About a "drug run" in south Jersey where people would run massive amounts of cocaine and heroin.
In some interviews JLT says it's about these drug runs, in other he says he was involved in one of the drug runs.  He claims that he was friends with a guy who was a doctor who was analysing the cocaine.  He tells the story of being caught up in this drug run unknowingly.
Video shot at a graveyard in Connecticut that was banned by MTV.

Stone Cold (Blackmore, Glover, Turner)

Joe Lynn Turner says this was written in the studio.  He said he came up to Roger who was looking really depressed and when he asked Roger what was wrong he said, "She left me stone cold."  He was going through a difficult divorce at the time.
JLT said he heard him say that and said, "Wow, there's a great song title!"
The part at the end with the ad libs about a "Deep freeze" etc. were done in the moment as it was recorded during a blizzard.  JLT describes the mood created with giant icicles hanging in front of the windows as they looked out at the frozen lake.
Single released ahead of the album.
Reached #40 in the US and #34 in the UK.
Another video was made for this song.

Bring On The Night (Dream Chaser) (Blackmore, Glover, Turner)

Joe Lynn Turner says that he and Roger both set to write lyrics for this one and both had very different lyrics.  They decided to combine the two into one song hence the parenthetical title.
Ritchie is on record as being a huge Abba fan.  He would say that he was writing Abba-style songs disguised as hard rock.

Tite Squeeze (Blackmore, Glover, Turner)

A favorite of Roger Glover's.
Turner says it wasn't about any particular woman that he could remember.

Tearin' Out My Heart (Blackmore, Glover, Turner)

This was about a Canadian girl that Joe was in love with.
Joe says the girl was with him while he was writing it.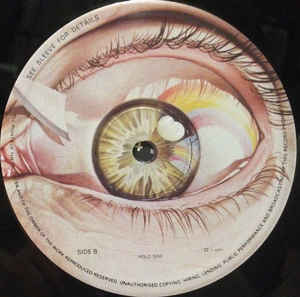 Side Two:

Power (Blackmore, Glover, Turner)

JLT wanted this to be a huge arena rock anthem.
JLT claims that they were criticized because this song was too commercial.
JLT says this was an autobiographical song which came from him realizing how much personal power he had.

MISS Mistreated (Blackmore, Turner, Rosenthal)

Ritchie was talking about some girl he was interested in and Joe said, "She sounds like Miss Mistreated."
Revolves around the question of in a breakup who really hurt who?
JLT says Ritchie told him to write it when he revealed the title and said he wanted to "shove it up Purple's ass."  He then said, "Let them suck on that for a while."

Rock Fever (Blackmore, Turner)

Turner says again he was aiming for an anthem.
Ritchie: "We've got to be more mainstream, Ritchie.  We can't just keep writing about dragons."

Eyes Of Fire (Blackmore, Turner, Rondinelli)

Ritchie had wanted to do a track with an orchestra on it and tasked Rosenthal to write the orchestration.
Turner says he went to the bar one night and caught a glimpse of girl int he mirror behind the bar.  "… her eyes were just incredible–she had that bewitching siren look. This is absolutely true. It sounds kind of sappy, but it's really not;it's what dreams are made of."
"Her name was Erica Varga; I'll never forget this girl. She was just stunning, platinum blond hair and these incredible green eyes that would turn colours, almost like red to green to brown. It was very strange; I've never seen a person like this before."
JLT goes on to say that this is one of his wife's favorite songs.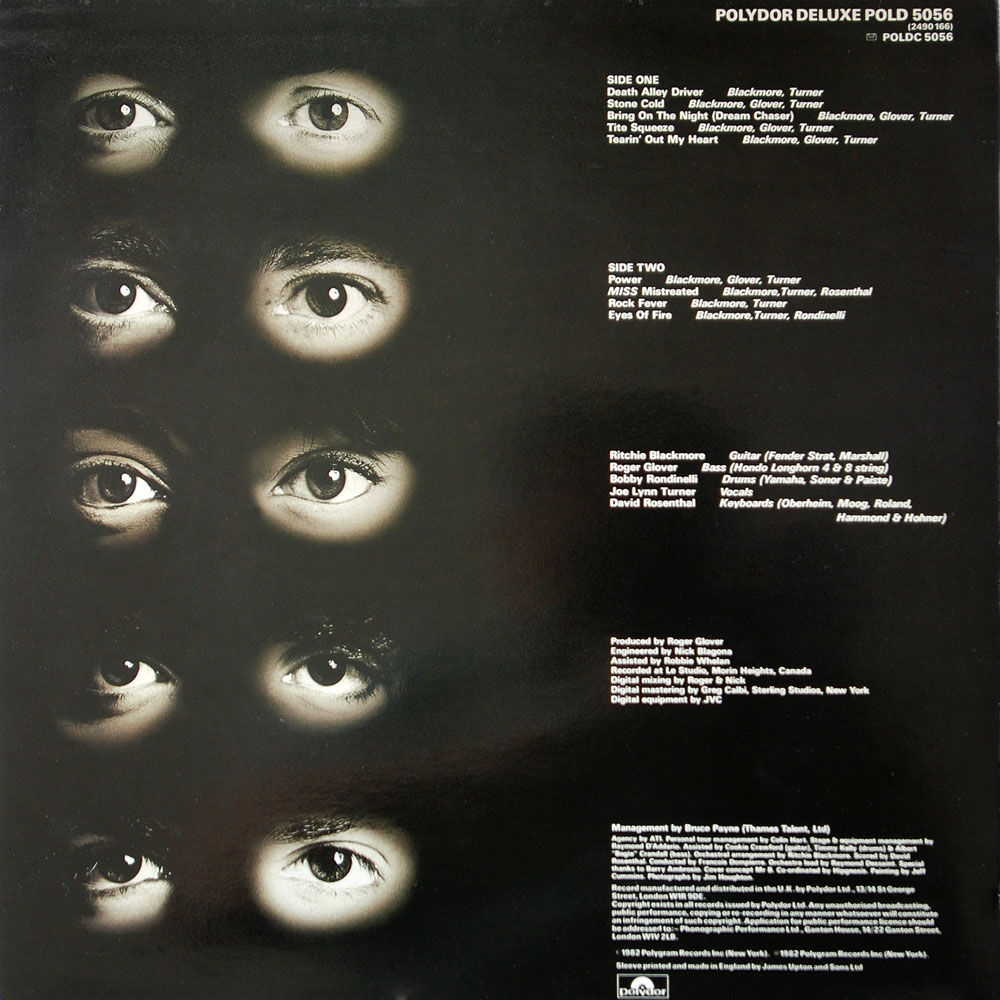 Reception and Review

In retrospect Blackmore says he remembers these albums as "fuzzy memories."  He says his main criticism is that they were so focused on making them perfect with their production that they lost a little of the more improvisational quality they'd had in previous albums.
Roger Glover: " This is an album that should appeal to everyone. What we've done on this album is strike a balance between the accessibility of the last few albums and the progressivism of the earlier ones."
The tour included the support acts: Iron Maiden, UFO, Riot, Scorpions, Krokus, 38 Special, Saxon, and Girlschool.
For Further Information:

Listener Mail/Comments

Comments about the show? Things you'd like us to cover? We'd love to hear from you. Send us an email at info@deeppurplepodcast.com or @ us on Twitter, Facebook, or Instagram.
Lurid
Nasty
Revolting
Macabre
Sickly
Petrifying
Traumatic
Fearsome
Pantasmal