Disclaimer: The video used on YouTube is a byproduct of producing our audio podcast. We post it merely as a convenience to those who prefer the YouTube format. Please subscribe using one of the links below if you'd prefer a superior audio experience.

Subscribe at Apple Podcasts, Stitcher, Google Podcasts, Overcast, Pocket Casts, Anchor.fm, Breaker, PodBean, RadioPublic, Amazon Music, or search in your favorite podcatcher!
Thanks to Our Show Supporters – Three Ways To Show Your Support

The $20 "Shades of Deep Pockets" Tier

Ryan M
Gerald Kelly – PATRON UPGRADE! (until episode #94)

The $15 "Highball Shooter" Tier
The Turn it up to $11 Tier

Frank Theilgaard-Mortensen
Clay Wombacher
Mikkel Steen

$10 "Some One Came" Tier
The Episode $6.66 Tier
$5.99 The "Nice Price" Tier
$5 "Money Lender" Tier

Greg Sealby
John Convery
Arthur Smith
German Heindl
Adrian Hernandez
Kenny Wymore
Jesper Almén
Oleksiy The Perfect Stranger Slyepukhov

$3 "Nobody's Perfect" Tier

Peter Gardow
Ian Desrosiers
Mark Roback
Anton Glaving
Will Porter
Andrew Meyer

$1 Made Up Name Tier

Ells Murders
Spacey Noodles
The "Unholy" Leaky Mausoleum
Michael Vader
Stephen Sommerville The Concerto 1999 Fanatic
Raphael Choury (Raff Kaff)
Thanks to our Brothers at the Deep Dive Podcast Network:
Thanks to the Patron Saint and Archivist of The Deep Purple Podcast:
Buy Merch at Our New Etsy Store!

Show Updates:

Comments from social media.
Peter Gardow's coffee mug!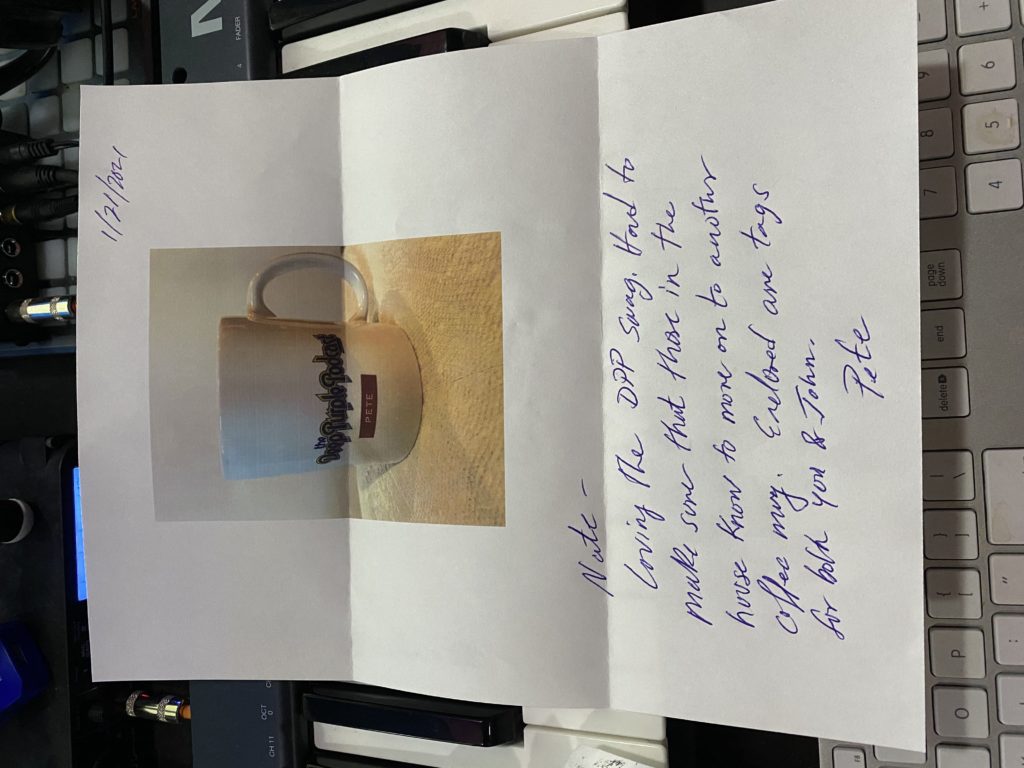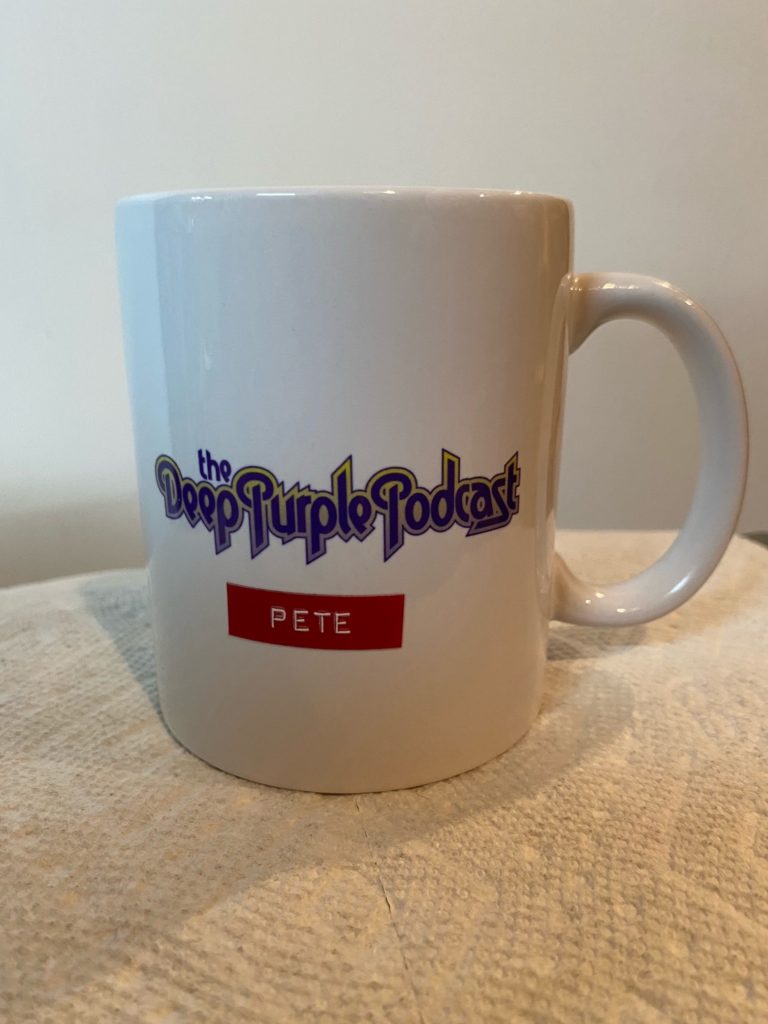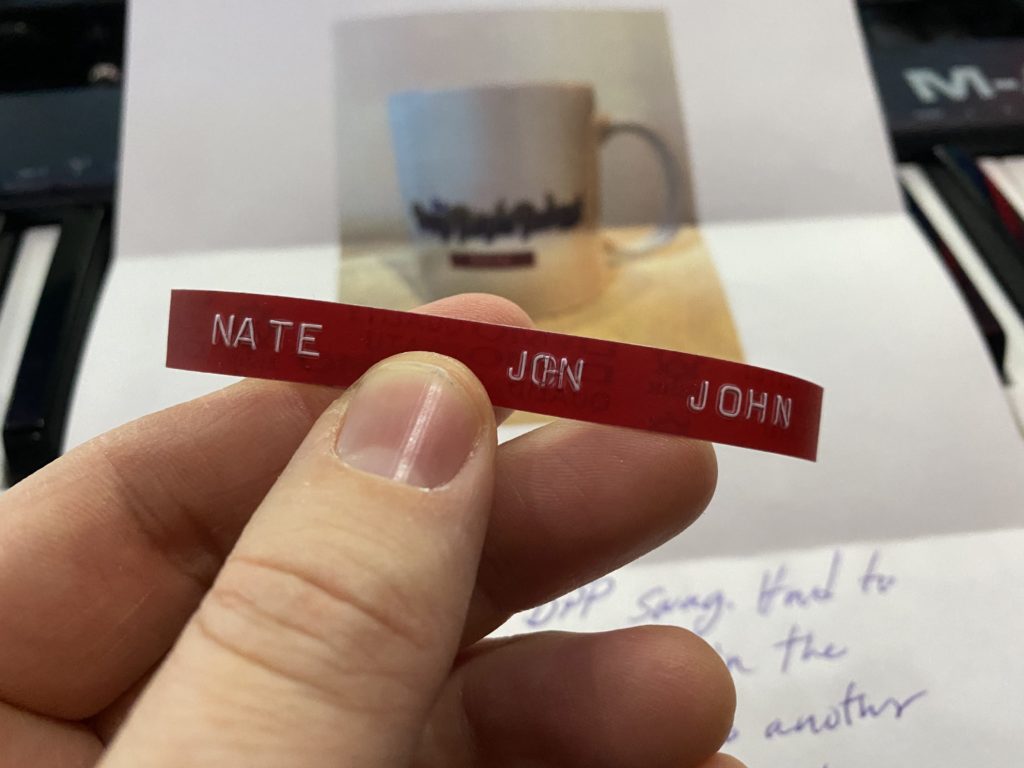 Lead up to the Album:

1982's Live Evil album interestingly created a lot of bad blood between Dio and the band and caused him to leave.
They considered Samson's Nicky Moore, Robert Plant, David Coverdale, and Michael Bolton.
The classic story goes that Gillan and Iommi were drinking and got loaded and Gillan had agreed to join Black Sabbath.
In actuality Don Arden had suggested Gillan who got together with Iommi and Butler to discuss. Of course there were pints involved and the trio allegedly holed up in this pub for about twelve hours.
Gillan says his manager, Phil Banfield, called him the next day when he heard about it extremely upset that he'd made this decision without consulting him. Gillan claims that when he heard this he had no memory of having agreeing to join Sabbath.
The members of Gillan, most notably John McCoy and Colin Towns, were not pleased with this. Gillan had taken a few months off due to vocal nodes. Gillan says he encouraged the band members not to wait for him while he healed up and to pursue other projects.
Gillan was upset because in the press he'd been accused of faking the vocal nodes to break up the band.
Gillan was hesitant but his manager convinced him to do it.
Ward had become sober and remained sober throughout most of the sessions.
The original intention was to create a supergroup.
Martin Popoff says in his book, Born Again! Black Sabbath in the Eighties and Nineties, that Iommi had only briefly considered hanging up the Black Sabbath name.
There was apparently a lot of reverence for the idea of Sabbath returning to an all British lineup once again.
During initial rehearsals Gillan didn't sing because of the vocal nodes.
Geezer says during rehearsals Gillan lived in a tent on his own and had a boat nearby to go sailing. One reason was to stand guard of his golf clubs that were in a separate tent.
Personnel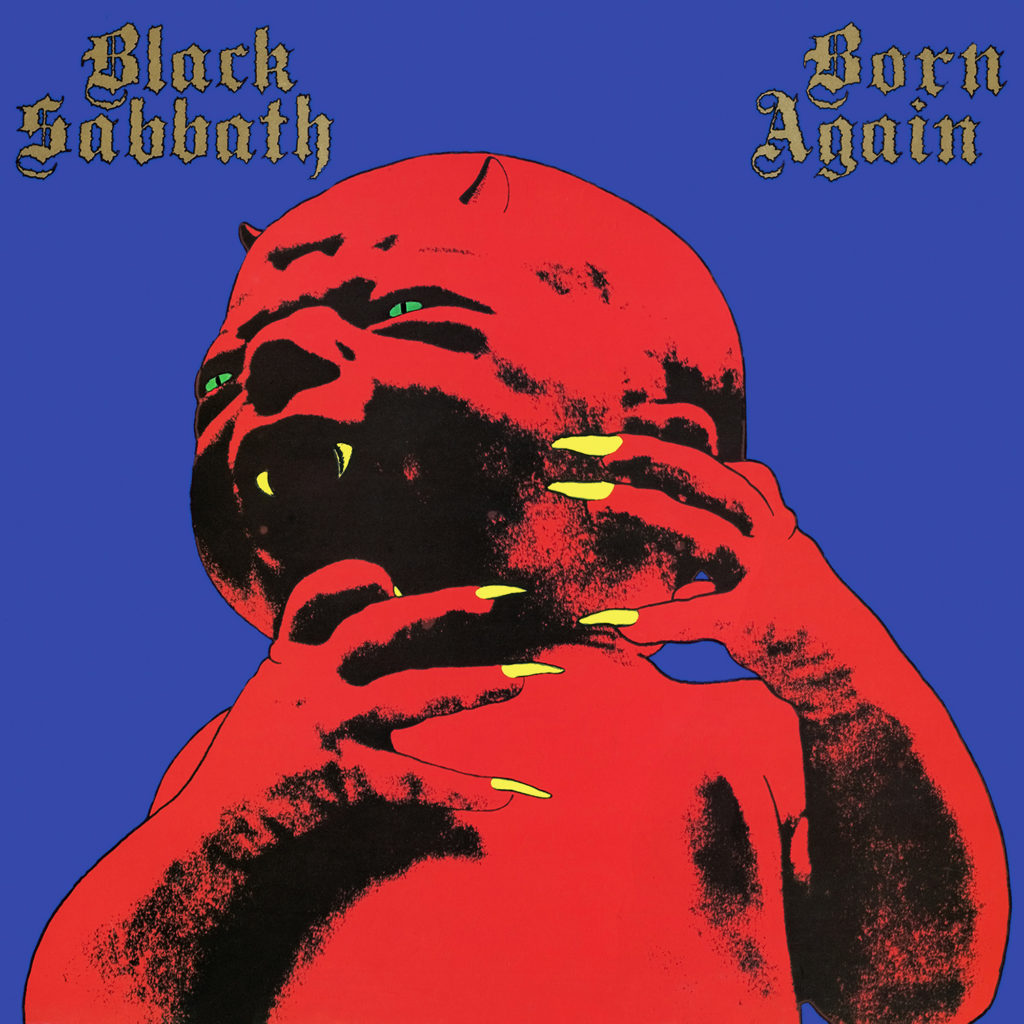 Album Art & Booklet Review

Artwork [Artwork Assistant] – Steve Barrett (3)

Only a couple of other credits on Discogs.

Design [Cover Design], Artwork – Steve Joule

Did work for Ozzy, Motorhead, and Girlschool.Album cover put together by Kerrang! Magazine's Steve "Krusher" Joule who had put together "Diary of a Madman" and "Bark at the Moon."
Joule says he tossed four ideas for covers for this album.  Some even accused him of sabotaging the Sabbath album cover in a conspiracy involving Sharon.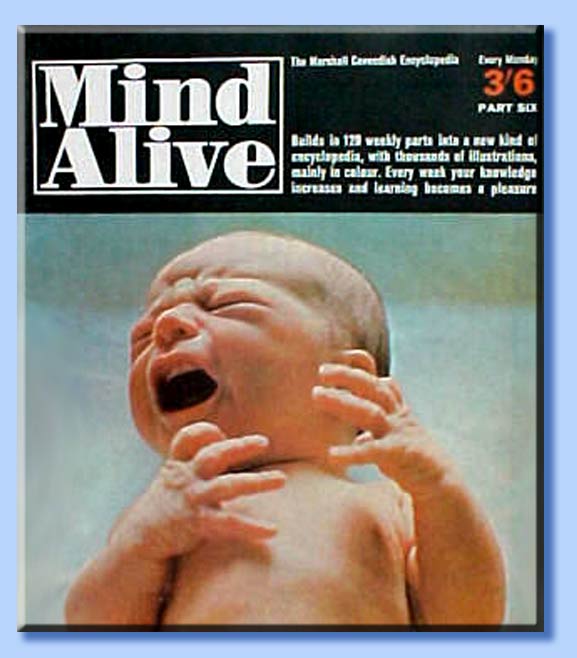 Butler: "Oh I hate the album cover! I mean I saw it, and I thought oh man give me a break!"
Gillan: "The first time I saw the album cover I puked."
Iommi: "When you see the cover you know we're not talking about born again Christians!"
Gillan allegedly through a box of 25 of the albums out a window in protest.
Joule says about Gillan's "puked" commentary that he had the same reaction to most of Gillan's album covers over the years.
In a Kerrang! it took second place behind Scorpions' "Love Drive" in their "10 Worst Album Sleeves in Metal/Hard Rock."
Despite all the negative said about it the album cover was approved by Iommi.
In Ozzy's Book "I am Ozzy" he says that Don Arden, who was very hostile toward Sharon and Ozzy" often told the Osbournes that their children resemble the Born Again cover.
Steve Joule says he was asked to do the album cover while working on OZzy material.  He claims to have submitted three "ridiculous and obviously" designs, collect his free beers and move on.
Steve Joule says the 1968 "Mind Alive" magazine was purchased for him by his parents as a child to "further [his] education." 
He says he photocopied the picture, overexposed it, added "the most outrageous color combination that cid could buy," then added the nails, horns, and sat back and laughed.
Joule says Iommi loved it, Geezer looked at it and sait, "It's shit, but it's fucking great!"
Same Image used for a Depeche Mode album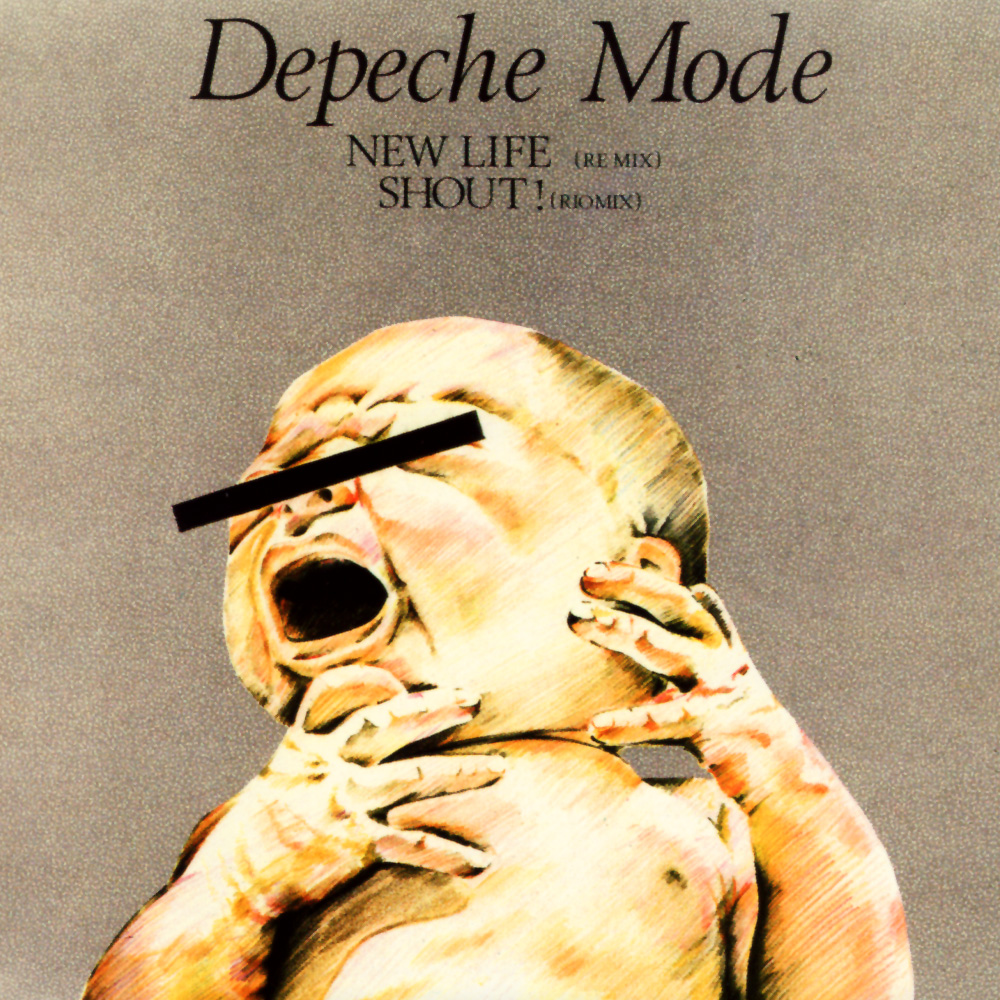 Technical: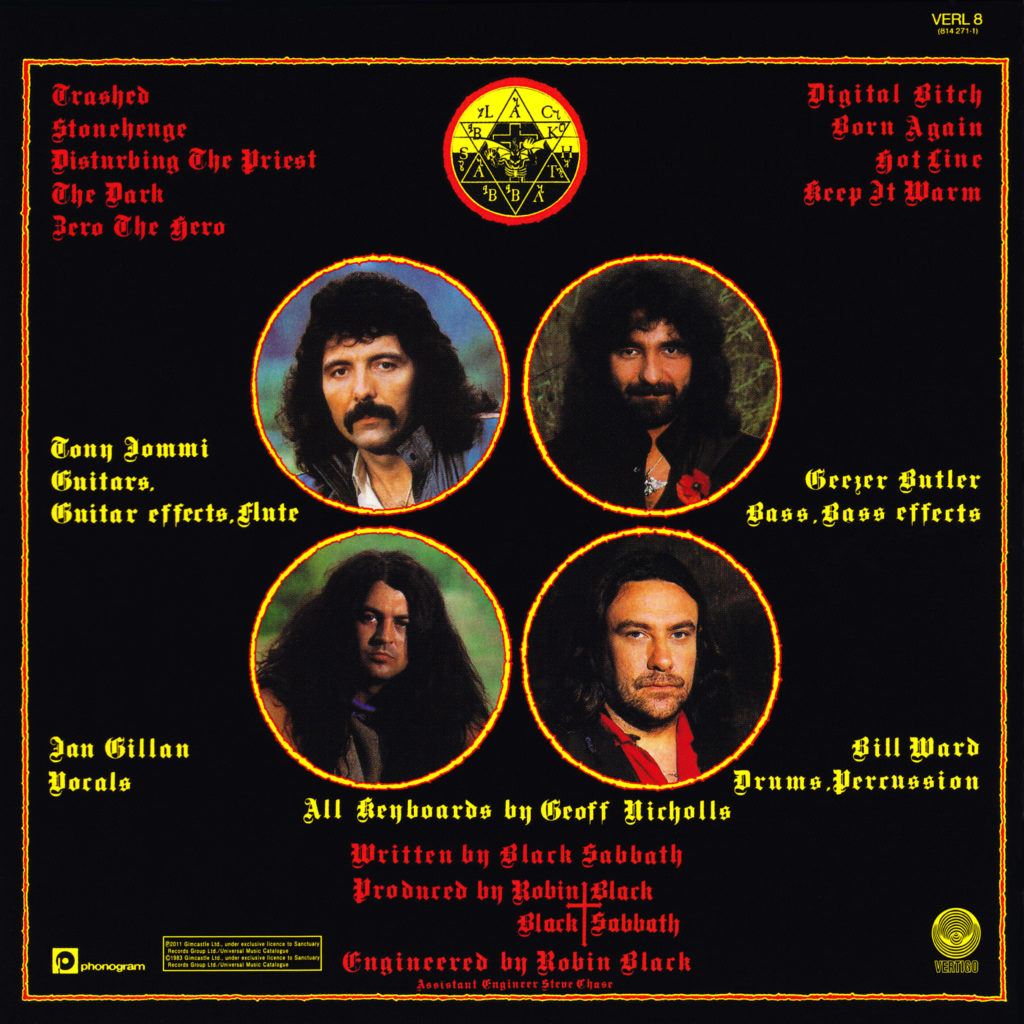 The Mix

After Gillan laid down the vocals he went on holiday for about six months and returned to the finished albums.  Gillan said that Geezer went in and ruined the mix.
Geezer says he was the one saying it sounded awful.  Geezer complained it was too bassy  Geezer says, "I got sick of telling everyone that it didn't sound right.  When I was proved right, Gillan came back and said, 'What the hell is wrong with this?' A lot of people blamed me because I was the one who was there at the time."
Geezer says that Black was in charge of the mix but he was taking too much input from everyone and ultimately it should have been just him in charge of the mix.
Bill complained saying that he "hated that they gave it an '80s sound."  He says this dates the album, particularly his drum sound.
Tony said that they were in Europe touring when it came out and by the time they heard it had hit #4 on the charts already.  They were disappointed saying it was all distorted and that no one had okay'd the pressing for the record.  Iommi said that someone had the lacquers, and they were left for too long and went off and that affected the sound.  So the tapes sounded good but the vinyl sounded awful.
Tony also said that Gillan had blown out a couple of tweets in the playback monitors.
One thing is clear, the band was sort of checked out when the project was complete and didn't see it through until the end.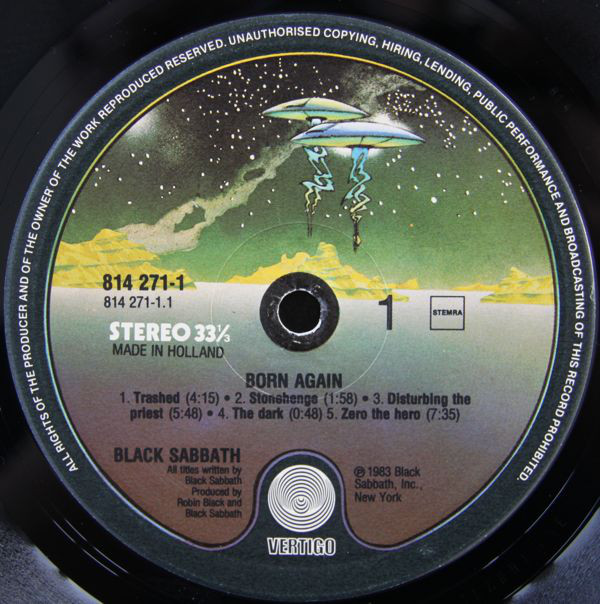 Album Tracks:

All songs credited to Iommi, Butler, Ward, Gillan, except where noted.

Side One:

Trashed

Song about Ian crashing BIll's car.  He got drunk and decided to drive Bill's car around the go-cart track at Richard Branson's house where they were recording.  Allegedly the car was totalled and even caught on fire.
The "Peter" mentioned in the song was Pete Restey, the guitar technician.
The car, a Ford Granada, was apparently a rental that had just been picked up that day.  Each of the band members had gotten Bill hadn't even driven it yet.
Pete had taken Bill's new car to the pub and Gillan took his boat.  They drank a lot and Gillan requested one of the two bottles of Jose Cuervo Gold that the woman at the pub said had been there for 30 years.  Ian had one bottle, Pete had the other.
They then met back up at the Manor.  Pete started doing laps on the go-cart track then Ian said he wanted a try.  The car flipped up onto its roof inspiring the line "The ground was in my sky."  They stopped short of going right into an old abandoned swimming pool.
Pete says, "the pool was filled with old tires and debris and stuff — we never would have been able to open the doors for us to get out.  We would have drowned probably."
While upside down the gas tank had been torn and was running into the car.  Gillan had a lit cigarette hanging out of his mouth.  Pete said the gasoline actually leaked down his face onto the cigarette and put it out.
Trashed was released as a single but did not chart.
Tipper Gore cited this song as an example of a song that glorified drug and alcohol abuse.

Stonehenge

They used a metal plate that they hit and lowered into water to change the pitch.

Disturbing the Priest

"Disturbing the Priest" was written after a rehearsal space – set up by Iommi in a small building near a local church – received noise complaints from the resident priests.[4] "We wanted this effect on 'Disturbing the Priest'," recalled the guitarist, "and Bill got this big bucket of water and he got this anvil. It was really heavy, and he'd got it hanging on a piece of rope and lower it in to get this effect: hit it and lower it in, and then lift it out again. It was a great effect, but it took hours to do."[11]
Only track that had lyrics written by Geezer.
Gillan says that while they were tracking vocals he noticed the vicar from the church was in the control room.  He was telling them that they had choir practice and the music was very loud and they couldn't concentrate on their pitching.
The priest was asking that they close the doors but Gillan told him that on the days they had choir practice that they wouldn't record out of respect.
They then went to the pub with the vicar and had beers that evening.  Gillan told the guys about the encounter and Geezer wrote the lyrics.
Funny enough this would become an example of how Black Sabbath was satanic.

The Dark
Zero the Hero

Often cited as the inspiration to "Paradise City."
One of Bill Ward's favorites.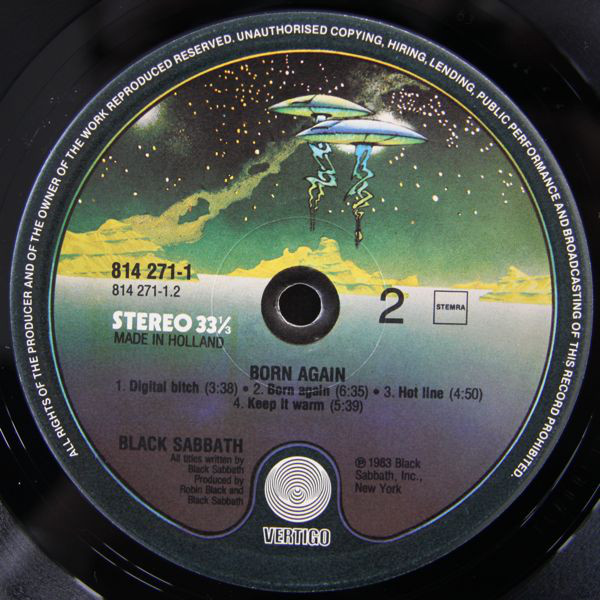 Side Two:

Digital Bitch

Gillan says this is about a person in real life but won't say who.

Born Again

Bill Ward says he went to the studio to watch Gillan write this.  He says he loves the process of writing lyrics and had a lot of fun watching the process.
Gillan says the song is about finding himself centered after being out of balance.

Hot Line (Iommi/Buttler/Gillan)
Keep It Warm (Iommi/Buttler/Gillan)

"I saw Ian go into the studio one day," Ward recalled, "and I was fortunate and honoured, actually, to be part of a session. I watched him lay tracks on 'Keep It Warm'… I felt like Ian was Ian in that song… I watched this incredible transformation of this man that really, I felt, delicately put lyrics together. It made sense. I thought he did an excellent job. And I really dig that song too."

Schroer, Ron (October 1996). "Bill Ward and the Hand of Doom – Part III: Disturbing the Peace". Southern Cross (Sabbath fanzine) #18. p. 24.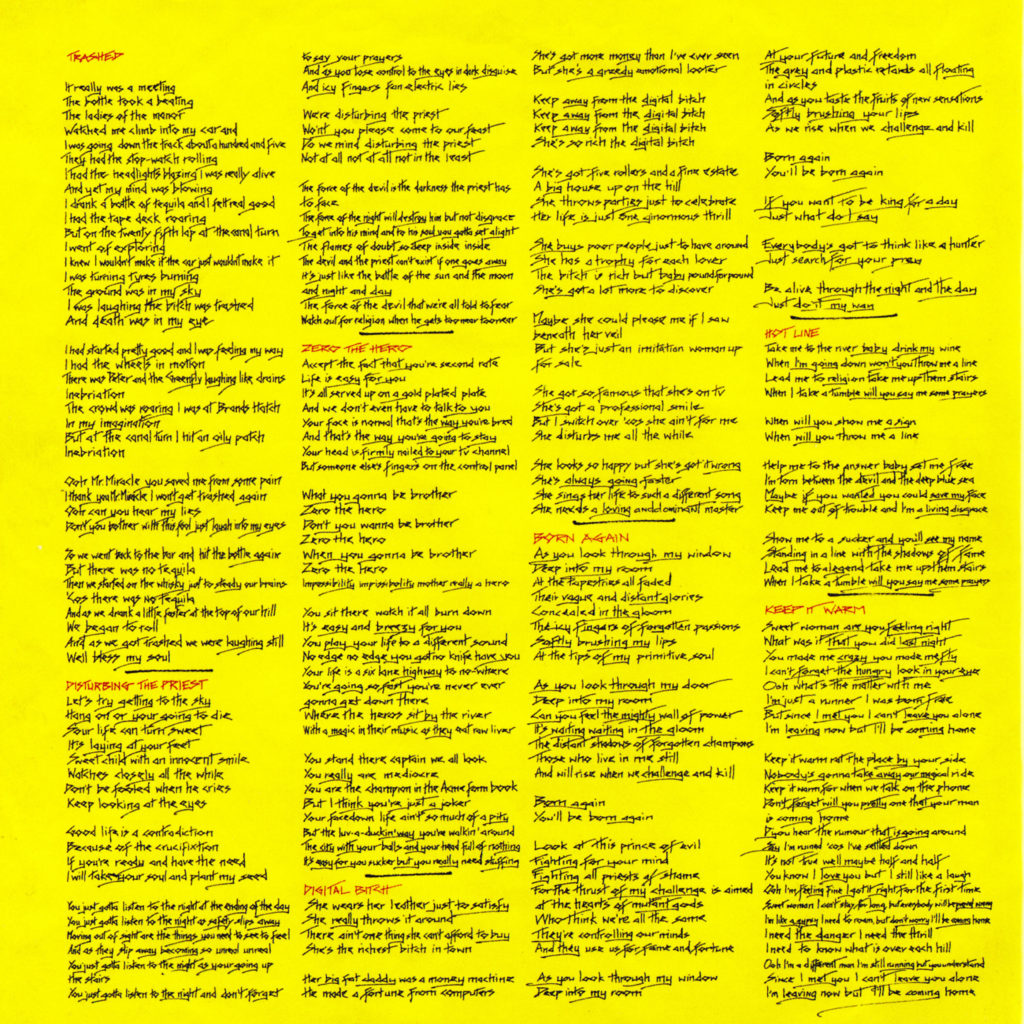 Reception and Review

It's rumored that there were up to five additional tracks written for use on Born Again.
Born Again was released in August 1983[1] and was a commercial success. It was the highest charting Black Sabbath album in the United Kingdom since Sabbath Bloody Sabbath (1973) and became an American Top 40 hit.[27] Despite this, it became the first Black Sabbath album to not have any RIAA certification in the US.
Met a lot of criticism
Bill Ward left the band immediately after recording and did not tour.  He'd fallen off the wagon and allegedly the temptation presented by Gillan's heavy drinking was too much for him to be around.
Geezer left the band after the tour.
Reached number 4 in the UK charts, top 40 in the US
Gillan recalls enjoying doing the old Ozzy tunes but didn't feel comfortable singing the Dio tracks.
Ozzy Osbourne said: "Born Again is the best is the best thing I've heard from Sabbath since the original group broke up."
In 1992, Ian Gillan told director Martin Baker, "I was the worst singer Black Sabbath ever had. It was totally, totally incompatible with any music they'd ever done. I didn't wear leathers, I wasn't of that image…I think the fans probably were in a total state of confusion." In 1992, Iommi admitted to Guitar World, "Ian is a great singer, but he's from a completely different background, and it was difficult for him to come in and sing Sabbath material."
When the band heard the final product, they were horrified at the muffled mix. In his autobiography, Iommi explains that Gillan inadvertently blew a couple of tweeters in the studio speakers by playing the backing tracks too loud and nobody noticed. "We just thought it was a bit of a funny sound, but it went very wrong somewhere between the mix and the mastering and the pressing of that album…the sound was really dull and muffly. I didn't know about it, because we were already out on tour in Europe. By the time we heard the album, it was out and in the charts, but the sound was awful."
Gillan: "But by God, we had a good year…And the songs, I think, were quite good."
The ensuing tour and live shenanigans are entirely too much to get into and perhaps will be revisited on a future episode . . .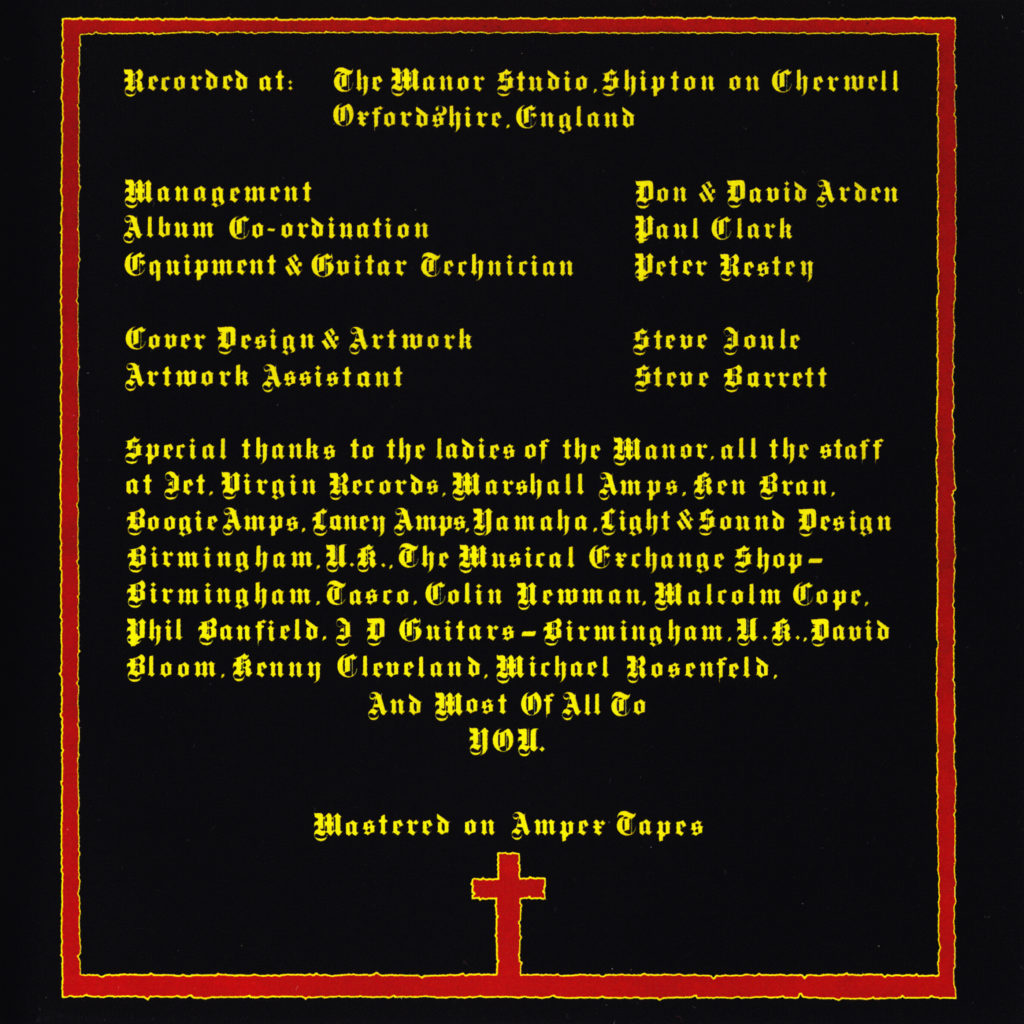 For Further Information:

CD Liner Notes from Deluxe Edition (2011) by Alexander Milas and Steve "Krusher" Joule
https://www.black-sabbath.com/discography/blacksabbath/bornagain/
Listener Mail/Comments

Comments about the show? Things you'd like us to cover? We'd love to hear from you. Send us an email at info@deeppurplepodcast.com or @ us on Twitter, Facebook, or Instagram.