Disclaimer: The video used on YouTube is a byproduct of producing our audio podcast. We post it merely as a convenience to those who prefer the YouTube format. Please subscribe using one of the links below if you'd prefer a superior audio experience.

Subscribe at Apple Podcasts, Stitcher, Google Podcasts, Overcast, Pocket Casts, Anchor.fm, Breaker, PodBean, RadioPublic, Amazon Music, or search in your favorite podcatcher!
Thanks to Our Show Supporters – Three Ways To Show Your Support

The $50 "Soldier of Fortune" Tier

John Tramontanis — MONTH OF JANUARY

The $25 "Super Trouper" Tier
The $20 "Shades of Deep Pockets" Tier

Ryan M
Gerald Kelly – PATRON UPGRADE! (until episode #94)

The $15 "Highball Shooter" Tier
The Turn it up to $11 Tier

Frank Theilgaard-Mortensen
Clay Wombacher
Mikkel Steen

$10 "Some One Came" Tier
The Episode $6.66 Tier
Richard Fusey – Paypal
$5.99 The "Nice Price" Tier
$5 "Money Lender" Tier

Greg Sealby
John Convery
Arthur Smith
German Heindl
Adrian Hernandez
Kenny Wymore
Jesper Almén
Oleksiy The Perfect Stranger Slyepukhov

$3 "Nobody's Perfect" Tier

Peter Gardow
Ian Desrosiers
Mark Roback
Anton Glaving
Will Porter
Andrew Meyer

$1 Made Up Name Tier

Ells Murders
Spacey Noodles
The "Ungodly" Leaky Mausoleum
Michael Vader
Stephen Sommerville The Concerto 1999 Fanatic
Raphael Choury (Raff Kaff)
Thanks to our Brothers at the Deep Dive Podcast Network:
Thanks to the Patron Saint and Archivist of The Deep Purple Podcast:
Buy Merch at Our New Etsy Store!

Show Updates:

Comments from social media.
Jeff Breis Shares!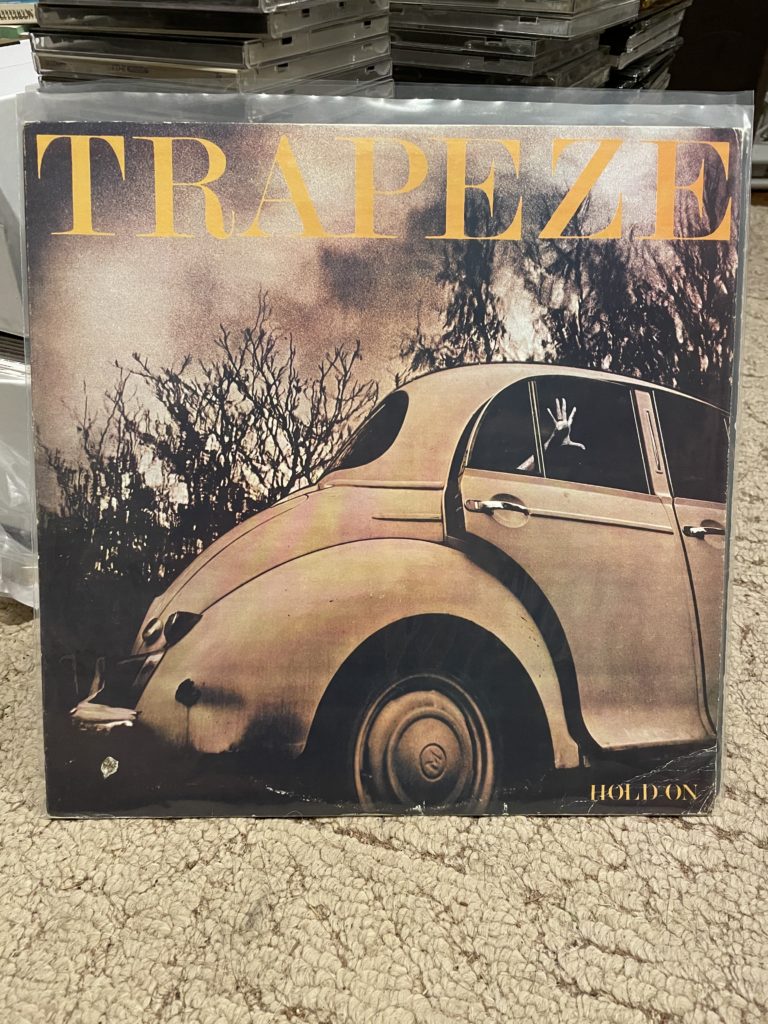 This week: Trapeze and its German counterpart!Jeff Breis shares the Trapeze album "Hold On" and it's German counterpart!
Lead up to the Album:

There was concern that the image Island had given IGB was not working.
Ian Gillan was very upset and Colin Towns tried to write songs that would showcase Gillan and make him appear better than he viewed himself.
Towns: "I'm going to write something which shows Ian from one extreme to the other, show he's a good singer as well as a good screamer, and all the things in between."
When Gillan returned to the studio Towns showed him a song he'd been demoing and Gillan really liked it.
The two decided they needed to make some changes.
Ian Gillan kept on Colin Towns after dissolving Ian Gillan Band.
Towns: "The following day he rang round the menbers of the band and said it was over. He said we're not going to get any more out of the band, which was true. It's a shame. If CLEAR AIR had been more successful it would have been good, but on the other hand it wasn't any good for Ian. There was too much music for it to be the Ian Gillan Band."
Drummer Liam Genocky (the first to be recruited) joined the band with Richard Brampton on guitar.
Genocky gave Towns a list of suggestions including John McCoy for bass.
John McCoy's bandmate Steve Byrd was brought in to replace Brampton early on.
Towns was the primary songwriter and wrote most of the album's material which they completed recording in August of 1978.
They played the Reading Festival on August 16, 1978 still billed as Ian Gillan Band.
The band's policy was "no-frills" and they soon changed the name to simply Gillan.
Album was released on October 5, 1978 in Japan only. It would later be released in Australia and New Zealand but never saw release in the UK until the 1993 CD re-release. It sold well in the UK as an import.
Personnel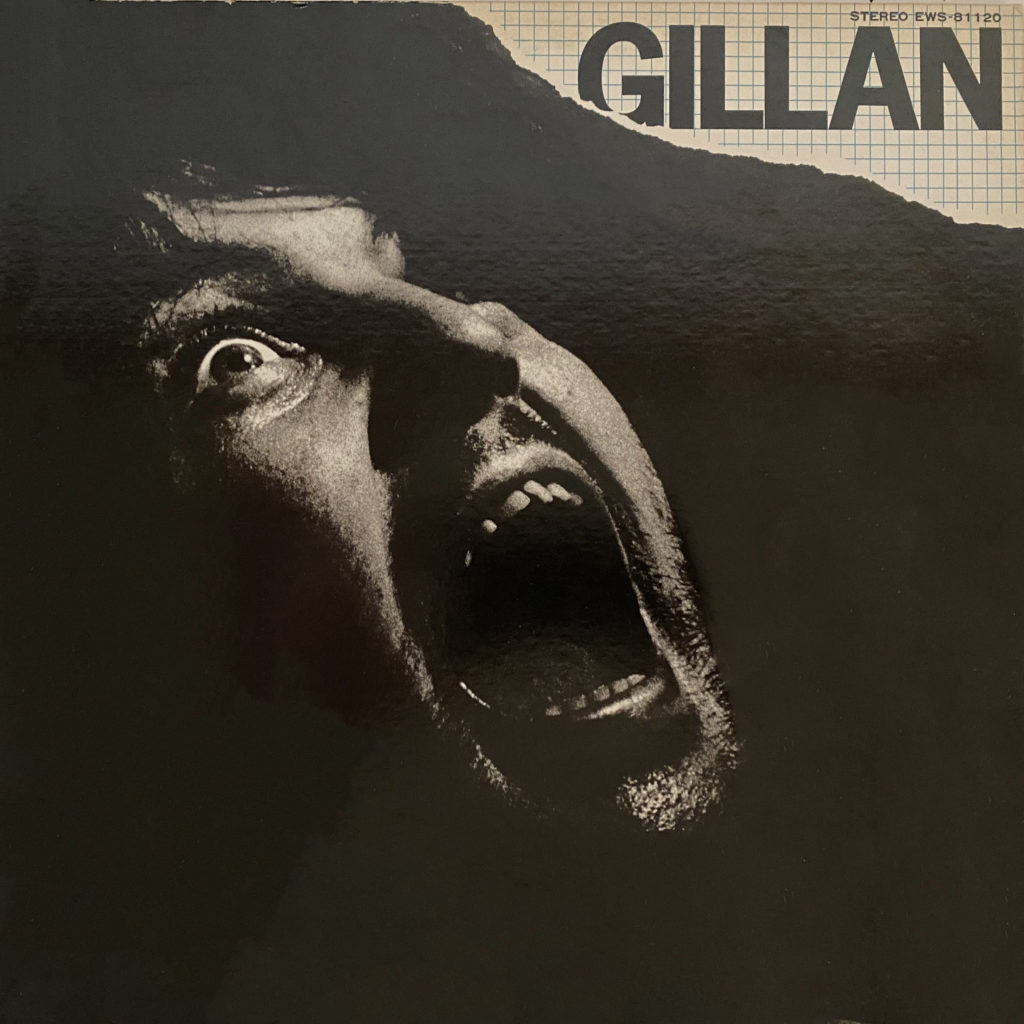 Album Art & Booklet Review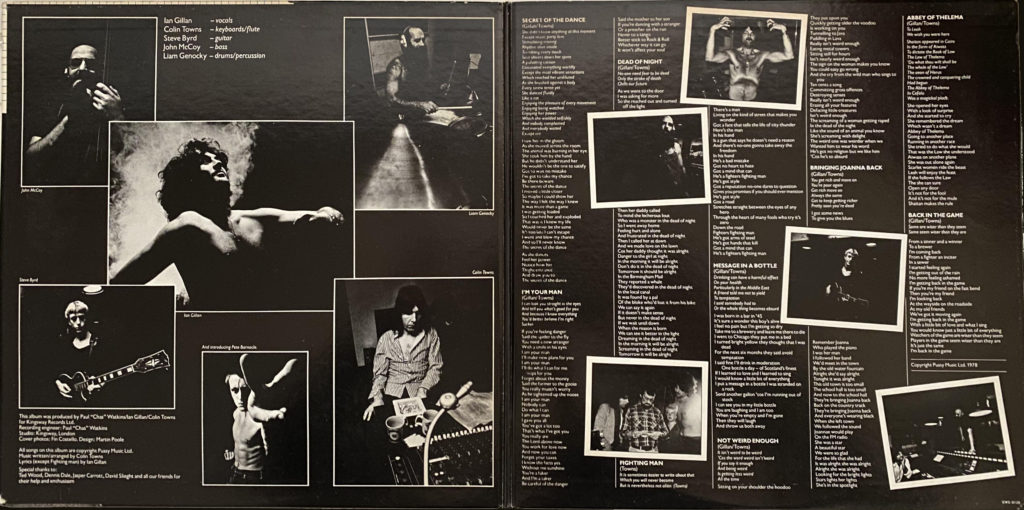 Technical:

Producer – Ian Gillan, Paul Watkins

Also known as Chas Watkins
Did production for Spirit and Bernie Torme as well as Strapps and Ian Gillan Band

Producer, Arranged By – Colin Towns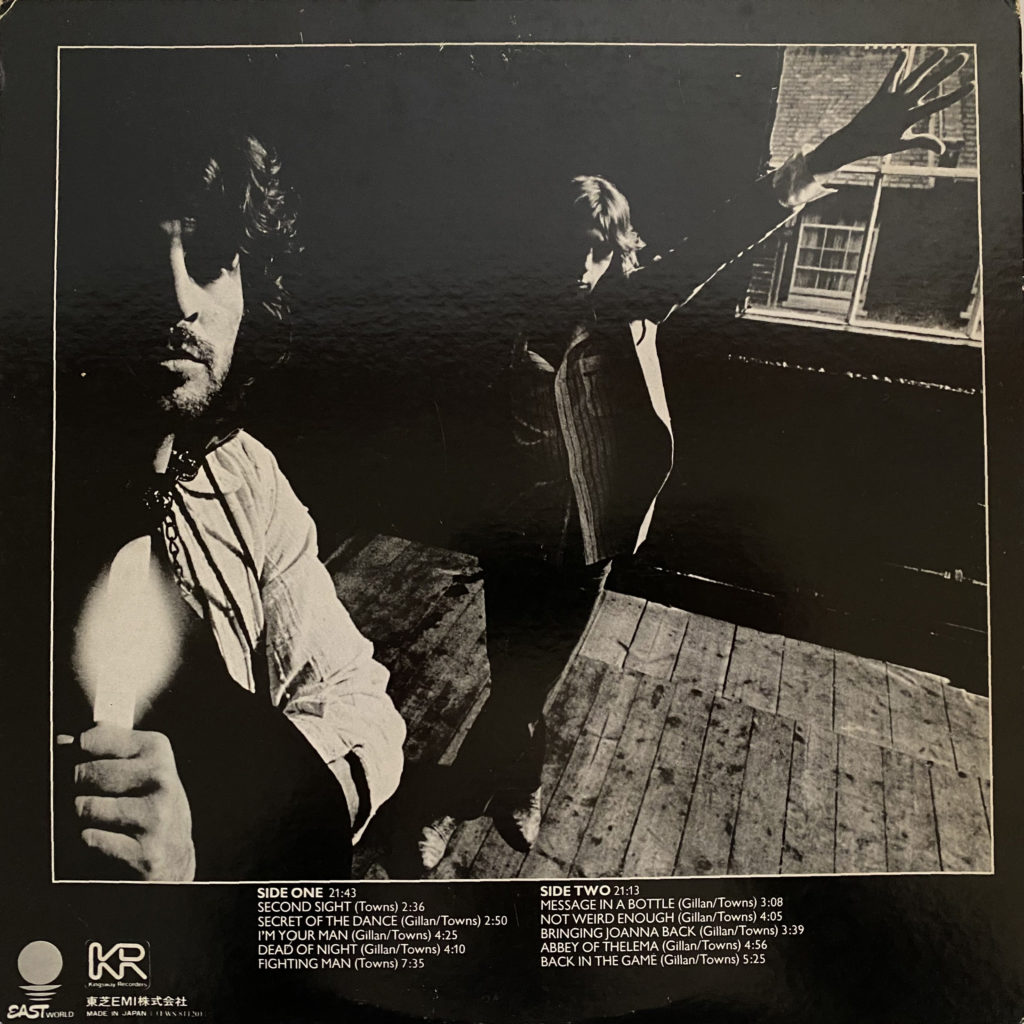 Album Tracks:

All songs written by Ian Gillan and Colin Towns except where noted.

Side One:

Second Sight (Towns)
Secret of the Dance (Gillan, Towns)
I'm Your Man (Gillan, Towns)
Dead of Night (Gillan, Towns)
Fighting Man (Towns)

According to liner notes it was written by Colin Towns and he recorded who stayed behind with Chas Watkins and taped a vocal/piano demo. This was in the IGB days and Ian had left the studio with low morale after they'd been trying to record a few tracks.
"I'd been thinking about 'Twin Exhausted' and I thought sod it, I'll write something that I think is right."
Side Two:

Message in a Bottle (Gillan, Towns)
Not Weird Enough (Gillan, Towns)
Bringing Joanna Back (Gillan, Towns)
Abbey of Thelema (Gillan, Towns)
Back in the Game (Gillan, Towns)
Reception and Review
The new album was promised for September of 1978 (though it likely came out in October).
The tapes were sent to Japan where they where they were mixed up until hours before it needed to be shipped. The two IGB Budokan albums had done well in Japan so Gillan decided to captalize on that success.
In October they toured Japan to promote the album. When they got back to the UK there was no way to buy the album locally without going through an importer.
Gillan was a huge change of direction for Ian Gillan. The album sold well in the UK as an import despite only being released in Japan, Australia, and New Zealand.
The album received a good amount of positive press.
The band gigged consistently after the release and even got the attention of Ritchie Blackmore who joined them on stage at the London Marquee Club in December of 1978. Afterward he would offer Gillan the job in Rainbow which Gillan refused.
Review from Stargazer, Issue #18, April 1979.

Eek. It's good! Right from the word go it's clear that this is a new band, and a new Gillan (or at least the old one revitalised!) Back is the raw, rough and ready sound which the IGB never had, and which Purple lost after 'Fireball'. The band haven't the technique or skill of Purple, but, by keeping things simple and doing straightforward songs with a minimum of solos they get away with it nicely. Compare this to 'Long Live..' or 'Trouble' and see how dated they sound.
Marquee, London. 27th December 1978 – Live Review
Blackmore also spent Christmas in Britain, probably to check out vocalists. He did take the chance to sneak down to Gillan's opening date at The Marquee, and join in for an encore. Blackmore also asked Gillan to join Rainbow. Ian said no, but in return asked Blackmore to join his band! But Ritchie, according to Gillan, wants to start at the top, and work from America, whereas Gillan wants to begin at the bottom and work his way up. Some of you were lucky enough to be at The Marquee on the night in question (gnashes teeth!)……
"We were all at the front, crushed, waiting for an encore, when the whole place erupted. It was Blackmore. He just walked out, smelt Steve Byrd's armpit, plugged in, and started.. He didn't replace Byrd, just joined in. He broke into 'Lucille', it was total bliss." Terry.

Genocky did not continue with Gillan as he had a previous commitment with Gerry Rafferty. A new drummer, Pete Barnacle, joined the band.
The band replaced Genocky with Mick Underwood and Byrd with Bernie Torme.
They got to work on Mr. Universe with the new lineup.
The CD release has extra tracks:
For Further Information:

"The Japanese Album" Liner notes by Simon Robinson
Listener Mail/Comments

Comments about the show? Things you'd like us to cover? We'd love to hear from you. Send us an email at info@deeppurplepodcast.com or @ us on Twitter, Facebook, or Instagram.