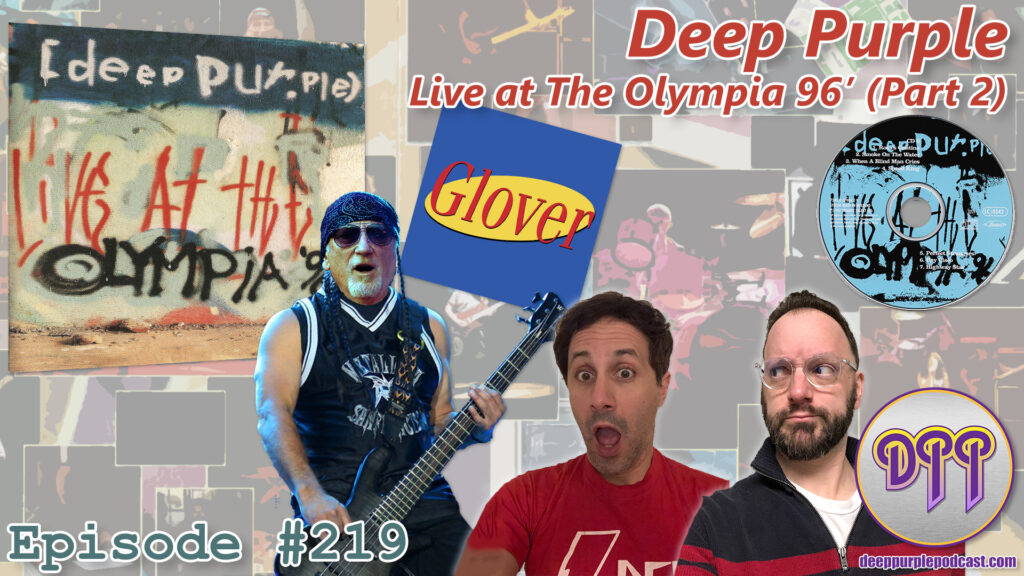 Subscribe at Apple Podcasts, Stitcher, Google Podcasts, Overcast, Pocket Casts, Anchor.fm, Breaker, PodBean, RadioPublic, Amazon Music, or search in your favorite podcatcher!

How To Support Our Show:

The Deep Purple Podcast is 100% listener supported and ad-free! If you receive value from our show please consider supporting us!

Brendan Ashbrook – Logo Designer
Glenn Hughes Show in September!

The Deep Purple Podcast will be there!
Glenn Hughes Performs Classic Deep Purple
September 19, 2023 – with Yngwie Malmsteen
The Palladium – Worcester, MA
Let us know if you're going for a potential Deep Purple Podcast meetup!
New Patron/Patron Upgrades:

Joining us at the $6.66 Tier – Charles Meadows!
Thanks to Our Executive Level Patrons:

The $25 "Uncommon Man" Tier
The £15 ""Fifteen Squid" Tier

Alan "Ain't Too Proud To" Begg

The £10 "Good Doctor" Tier

Dr. Gill Breis
Dr. Mike Kattan

The Turn it up to $11 Tier

Clay Wombacher
Frank Theilgaard-Mortensen
Mikkel Steen
Will Porter, PhDPP

$10 "Some One Came" Tier

Ryan M
Jeff Breis
Victor Campos
"Better Call" Saul Evans

The "Hughes-O-Ween by 2033" Tier
The "In Memorium" Tier

Gerald "Jerry" Kelly & Family
Postcards From The Edge . . . OF CONNECTICUT!
This week coming to us from Mark Roback all the way in Ireland!
Deep Dive Podcast Network:

Check out our website to find other like-minded shows taking deep dives into individual songs, bands, and albums.

Lead up to the Album:

Performed and recorded on 17 June 1996 at L'Olympia in Paris, France.
Thanks to Our Core Level Patrons:

The $7.77 KeepItWarmRat Tier
The $6.99 "New Nice Price" Tier

Spike the Rock Cat
Sugar T

The Episode $6.66 Tier

Steve Coldwell
Arthur Smith
Anton Glaving
Charles Meadows – NEW PATRON ALERT!!!

The $6.65 "Almost Evil" Tier

Kenny Wymore
Michael Bagford

$5.99 The "Nice Price" Tier

Robert Smith
Peter from Illinois
Karl Hellberg

The 60 Kroner "Scandinavian Nights" Tier

Zwopper The Electric Alchemist
Knut Morten Johansen –

The $5.55 "What's Goin' On Here" Tier
$5 "Money Lender" Tier

John Convery
German Heindl
Adrian Hernandez
Jesper Almén
Oleksiy The Perfect Stranger Slyepukhov
James North
Mark Hodgetts
Kev Roberts
Percival Frequency
Scott Zerns
Cynthia Dube
Raff Kaff
Album Tracks:

Disc 2:
Rosa's Cantina
Smoke on the Water
When a Blind Man Cries
Speed King
Perfect Strangers
Hey Cisco
Highway Star
Thanks To Our Foundation Level Patrons:

The £3 "The Aromatic Feed" Tier
The $3.33 Half Way to Evil Tier

Stephen Sharpe
Duncan Leask

$3 "Nobody's Perfect" Tier

Peter Gardow
Ian Desrosiers
Mark Roback
Stuart McCord
Flight of the Rat Bat Blue Light
Øyvind Fjeldbu –
Runar Simonsen –
JJ Stannard
Ruinous Inadequacies
John Miceli
Michael Boyette

The $1.71 "I Want My Own Tier" Tier
The 10 kr "" Tier
The £1 Tier
$1 Made Up Name Tier

The "When a Blind Man Leaks" Leaky Mausoleum
Stephen Sommerville The Concerto 1999 Fanatic
Hank the Tank
Private Eyes
Ashen Lionel
Blackmore's Tights
Steve "Down to Earth" Koeller

Reviews:

Darker Than Blue Issue 50 February 1998

DEEP PURPLE
Live At The Olympia '96. EMI : June 1997: 2xCD
Purple's new double live CD – sorry "official bootleg" (Roger says the oxymoronic sticker was not their idea) but there were real problems over the UK release thanks to a cock-up on the price front. The official retail price was only a few pence short of £25 which seemed very off-putting to us. Apparently soon after the CD was issued, EMI sent all shops a letter telling them the price had been wrong, and it should actually sell for around £16. For anyone looking for a serious Purple collectors' item, the artwork for the CD cover exists on a wall somewhere in New York – and was done by a schoolmate of Roger's stepson. So, a cheap return air flight with hammer and bolster chisel in your hand luggage!
It doesn't seem that long since we were bending our ears to the last (official and current) Deep Purple live offering – namely COME HELL OR HIGH WATER. Yet almost three years mark the gap between that set (issued in November '94) and this latest title. As for the recording itself, well all I can say is I hope they didn't pay a lot for it! The overall effect is a little messy, poorly balanced and lacking in clout. COME HELL grabbed you by the parts as it powered out of the speakers; this one kind of begs you to crawl inside the cabinets and have a peek around to see where the sound has gone to. In the past, Purple live sets have always set out their stall right from the opening couple of bars. Here, instruments seem to be unsure of just where they ought to be. I guess some of this could be down to recreating the unusual on-stage set-up, but if so it doesn't really work. The drum sound is at times weedy, with lots of irritating cymbal noise being little compensation; the guitar is not too easy to hear, and the keyboards (as on the nights we saw them) are buried except during solos. Ian Gillan is simply pitched somewhere in the middle of all this, and sounds like he's been dubbed on afterwards, while the bass is lacks definition. Perhaps the recordings were poor, maybe it was mixed hastily – oh well; as with many bootlegs, ears adjust to the ambient sound pretty quickly and to be fair, it does get better as the set progresses. I suppose were we reviewing an actual bootleg, everyone would be raving about it, shoving one another aside to be first at the dealer's table.
The final section in PICTURES OF HOME is particularly exciting, with Morse fixed in a wall of Purple sound, before they descend into BLACK NIGHT, and parody comes dangerously close. CASCADES is more like it, a strong chugging sound, and then the much vaunted brass section blasting away in the background. I'm sure like many I'd wondered just what this would sound like, but it's far from intrusive, being more of a bright seventies brass effect than any attempt at following the tune. Lordy is playing incredibly quickly here and the whole show has just gone up a notch or two. NO ONE CAME is similarly imbued with a real syncopated spark, and what with the jazzy touches of brass, it's just a brilliant rendition – and in retrospect one of the highlights of the CD for me. The sax players last for a curiously unsatisfying PURPENDICULAR WALTZ and then troop off ("where did they comes from" questions Ian to nobody in particular). If this CD does one thing, it disproves the theory that one Purple gig is going to be just like another Purple gig without the man in black. This show has different peaks from many of those I saw, and a different feel as well. I'm sure overall it's not as good as a couple of gigs we witnessed, but this is the problem if you go for a one-concert recording – and only tape one flipping show.

Review by our friend Glen Miller

As a present to their fans, particularly the ones on the Internet, the band decided to put out another live album — such live releases now tallying in double figures, unprecedented for any rock band. Unedited, undubbed and with a three-piece horn section blowing in on four tunes at the Olympia in Paris, Deep Purple are in their best habitat — exhibiting raw power, free-for-all jamming and charging into the new numbers culled from Purpendicular. Reinvigorating the classics, namely "Smoke On the Water," "Speed King" and "Highway Star," the veterans still prove they can mess with the best on stage.
For Further Information:
Listener Mail/Comments

Comments about the show? Things you'd like us to cover? We'd love to hear from you. Send us an email at info@deeppurplepodcast.com or @ us on Twitter, Facebook, or Instagram.