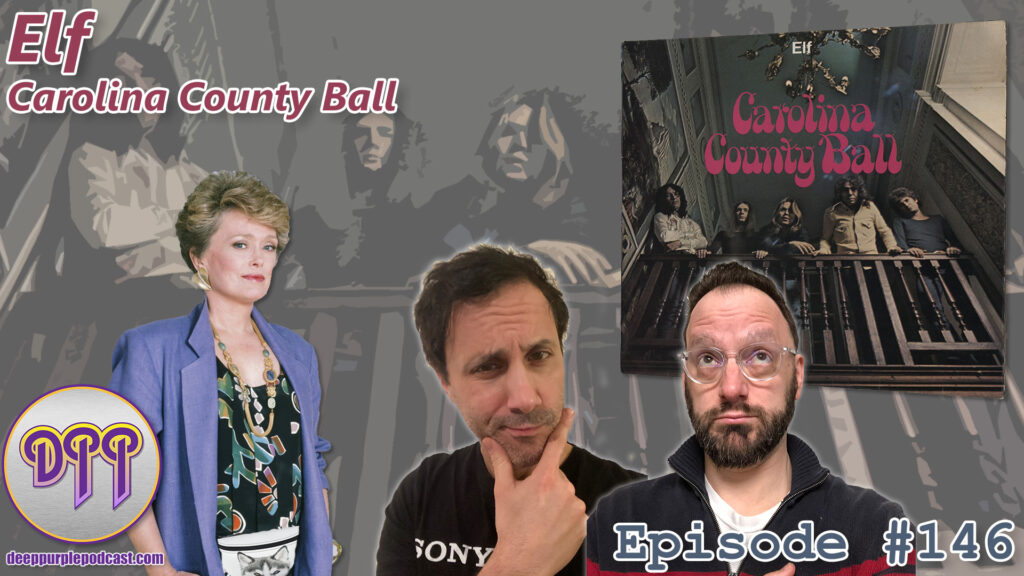 Subscribe at Apple Podcasts, Stitcher, Google Podcasts, Overcast, Pocket Casts, Anchor.fm, Breaker, PodBean, RadioPublic, Amazon Music, or search in your favorite podcatcher!

How To Support Our Show:

Apple Podcasts Reviews:

I love mags (from the UK)
5 Stars!
Great fun podcast on Deep Purple
I found out about this excellent podcast by accident and I absolutely love it. It's a great fun listen. I've only played a few episodes so have loads to catch up! The House of Blue Light review was interesting. I saw Purple on this tour at Wembley London UK. On that eve Blackmore refused to do an encore! So Lord and Glover played lead. It was definitely an interesting version of Smoke on the water! Having seen Gillan in mind blowing vocal form (the band) live in 81, it was noticeable Ian had lost some of his range/power by 87/88. Overall he was/is still great. Keep up the great work, thank you! Ps The latest "Accidentally on Purpose" episode was excellent, I had forgotten how good this album was. Like you l appreciate it more now. I bought it when it came out and wasn't sure I liked it back then 🙂
Big thanks to Brendan Ashbrook who designed our logo!

Thanks to Our Executive Level Patrons:

The £10 Tier
The Turn it up to $11 Tier

Clay Wombacher
Frank Theilgaard-Mortensen
Alan "Ain't Too Proud To" Begg
Mikkel Steen

$10 "Some One Came" Tier

Ryan M
Jeff Breis
Gerald Kelly – Paypal
Victor Campos
"Better Call" Saul Evans
Richard Fusey
Show Update:

Nate & John (and assorted patrons and listeners) will be in Florida in February, 2022 for the first two Deep Purple shows in nearly two years!
February 10, 2022 – Hollywood, Florida – Hard Rock Live Arena.
February 12, 2022 – St. Petersburg, Florida – Mahaffey Theater
Deep Dive Podcast Network:

Sabbath Bloody Podcast
Skynyrd Reconsydyrd
The Deep Purple Podcast

"A fan podcast dedicated to the history, music, and people behind the band Deep Purple . . . and beyond!"
Twitter: https://twitter.com/deeppurplepod
Hosted by Nate and John

T-Bone's Prime Cuts On The Other Side

Terry T-Bone Mathley interviews some of the rock legends he worked with during his 32 year run in the music industry.
Twitter: https://twitter.com/TBonesPrimeCuts
Hosted by Terry T-Bone Mathley

In The Lap Of The Pods

"Podcast casting a critical and honest ear over the work of the band Queen. "
Twitter: https://twitter.com/lappods
Hosted by Paul, David, and Joe

The Magician's Podcast
Hawk Binge

"A journey through the Hawkwind discography with someone who has never heard any of the albums before."
Twitter: https://twitter.com/hawkbinge
Hosted by Andy and Matt

Maiden A-Z

"An alphabetical journey through the discography of the mighty Iron Maiden, one song at a time!"
Twitter: https://twitter.com/maidenazpod
Hosted by Eric and Jonatan

Diary of the Madmen

"Jump aboard the Crazy Train with two lifelong Ozzy fans who will bring you two unique perspectives on his legendary career."
Twitter: https://mobile.twitter.com/diaryozzy
Hosted by Daniel and Josh

Universally Speaking: The Red Hot Chili Peppers Podcast

"We are Ben and Sam Townsend, Two (young) Brothers (on a hovercraft) who love to get together, have a beer and talk about all things Red Hot Chili Peppers."
Twitter: https://twitter.com/universallyrhcp
Hosted by Ben and Sam

Metal Gods Podcast

The podcast dedicated to discussing all things Judas Priest. Your hosts George and Tom are two crazy fans who love drinking beer and talking about metal. Join us every Friday as we dive deep into the songs, the albums, the live performances, the history, and the memories. Stay locked in, and keep defending the faith!
Twitter: https://twitter.com/metalgodspod
Hosted by George and Tom

The Podcast Will Rock

A podcast dedicated to breaking down the entire catalog of the mighty Van Halen, one track at a time.
Hosted by Casey and Mark
Lead up to the Album:

The first album had been recorded in the US but for the second album Roger Glover brought them over to England to record.
Recorded at The Manor which had opened in 1971 by Richard Branson.
Discogs lists over 1900 recordings taking place at The Manor. This would have been one of the earlier recordings.
David Feinstein left the band after the first album and was replaced by Steve Edwards on this album.
Personnel:

Additional Personnel:
Technical:

Arranged By [String Arrangements], Producer – Roger Glover
Engineer – Simon Heyworth

UK engineer and producer, famous for being instrumental in launching Virgin with Richard Branson. He started his own company Super Audio Mastering in July 2002. 

Engineer [Mixing] – Lou (Conway) Austin

Worked at De Lane Lea studios
Worked with Fleetwood Mac, Queen, The Butterfly Ball, Deep Purple (Fireball), Hardin & York, Thin Lizzy

Mixed at Kingsway Recorders.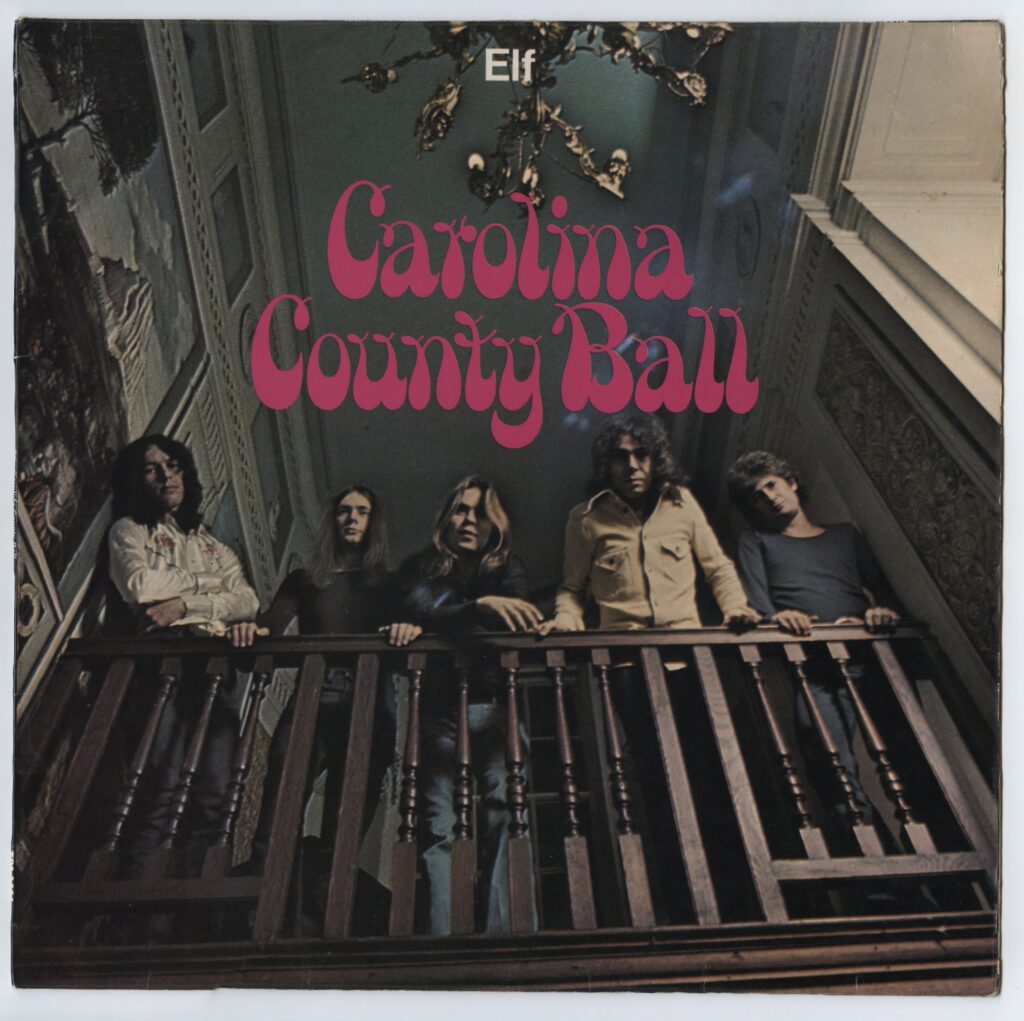 Album Art & Booklet Review

Photography By – Fin Costello

Legendary rock photographer.

Art Studio – Nesbit Phipps and Froome LTD

Worked on Deep Purple In Rock and Burn.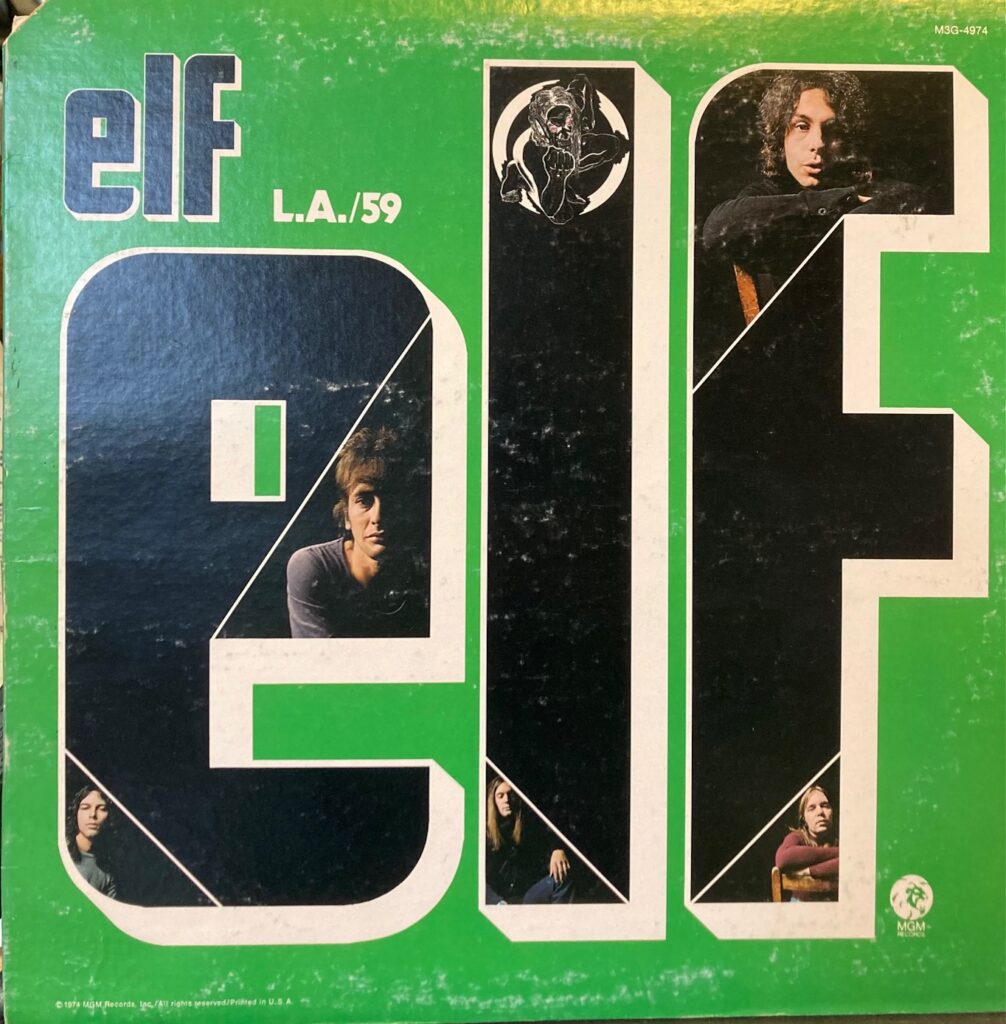 Original US and Japanese release as "L.A. 59"

Art Direction – Sheri Leverich

Worked on albums for The Osmonds

Elf Illustration – Nigel Brook

Couldn't find any additional information
Thanks to Our Core Level Patrons:

The $7.77 KeepItWarmRat Tier
The Episode $6.66 Tier

Steve Coldwell
Arthur Smith
Anton Glaving

The $6.65 "Almost Evil" Tier
$5.99 The "Nice Price" Tier

Fielding Fowler
Robert Smith
Peter from Illinois

$5 "Money Lender" Tier

John Convery
German Heindl
Adrian Hernandez
Jesper Almén
Oleksiy The Perfect Stranger Slyepukhov
James North
Mark Hodgetts
Kev Roberts – (courtesy of his wonderful children: Matthew, Gareth, and Sarah)
Will Porter
Zwopper The Electric Alchemist

Tim "Southern Cross" Johnson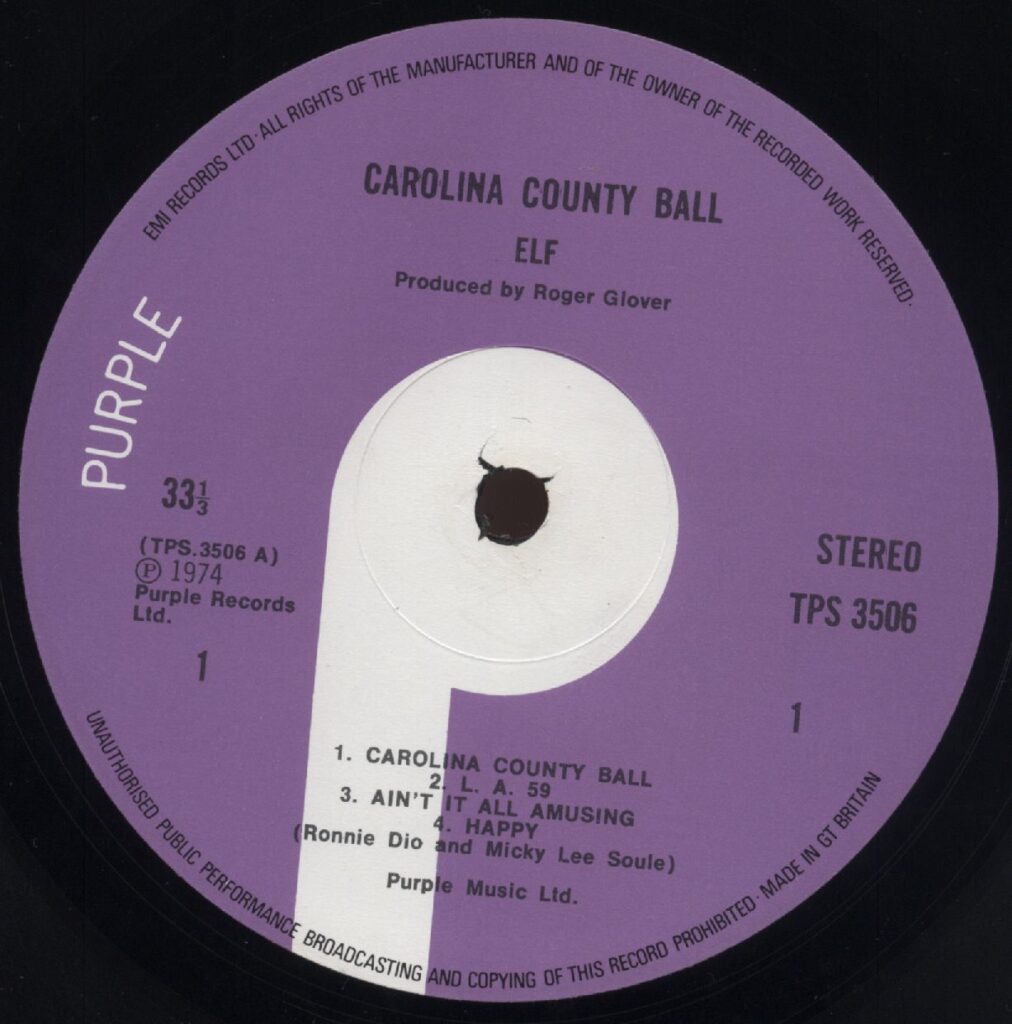 Album Tracks:

Side One:

Carolina County Ball
L.A. 59
Ain't It All Amusing
Happy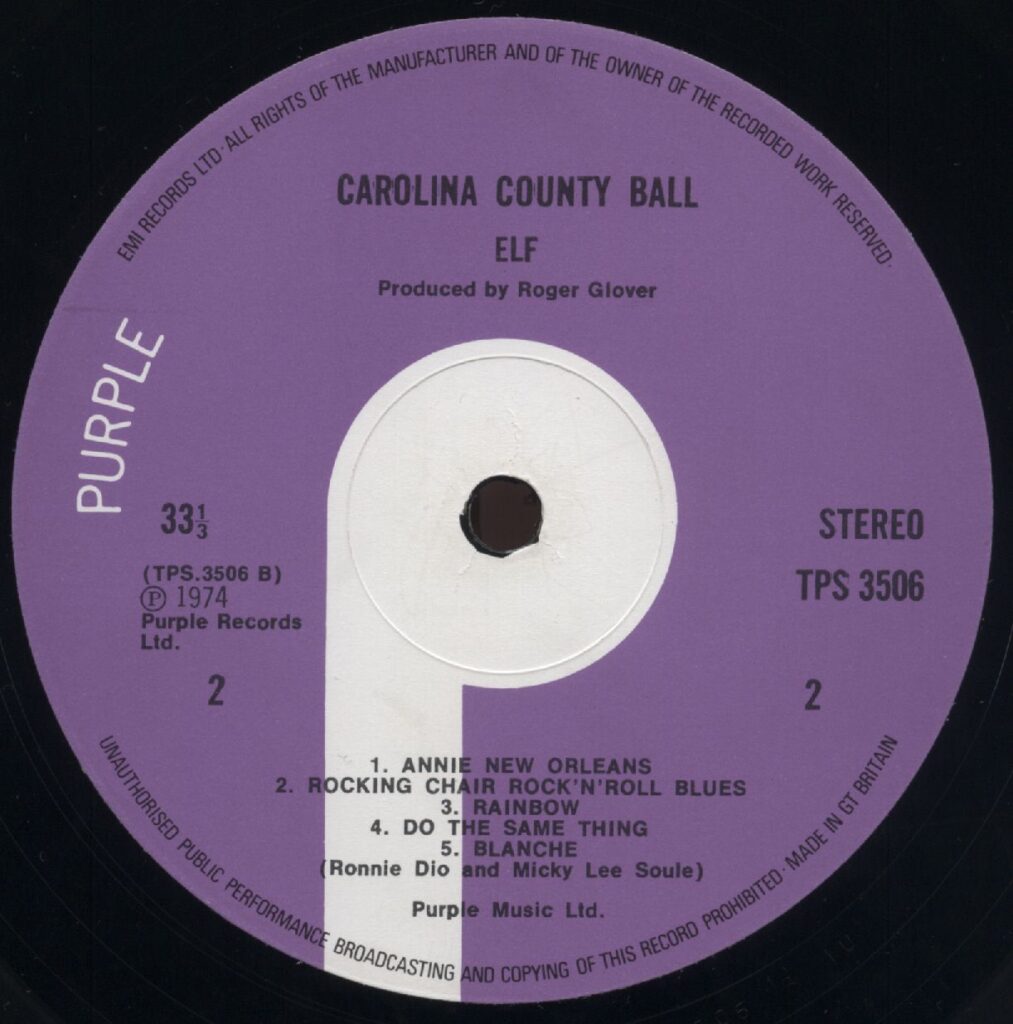 Side Two:

Annie New Orleans
Rocking Chair Rock 'N' Roll Blues
Rainbow
Do The Same Thing
Blanche
Thanks To Our Foundation Level Patrons:

The $3.33 Half Way to Evil Tier
$3 "Nobody's Perfect" Tier

Peter Gardow
Ian Desrosiers
Mark Roback
Duncan Leask
Stuart McCord
Flight of the Rat Bat Blue Light

$1 Made Up Name Tier

The "North and South of Drippy Graves" Leaky Mausoleum
Stephen Sommerville The Concerto 1999 Fanatic
Spike, The Rock Cat
JJ Stannard
Hank the Tank
Private Eyes
Ashen Lionel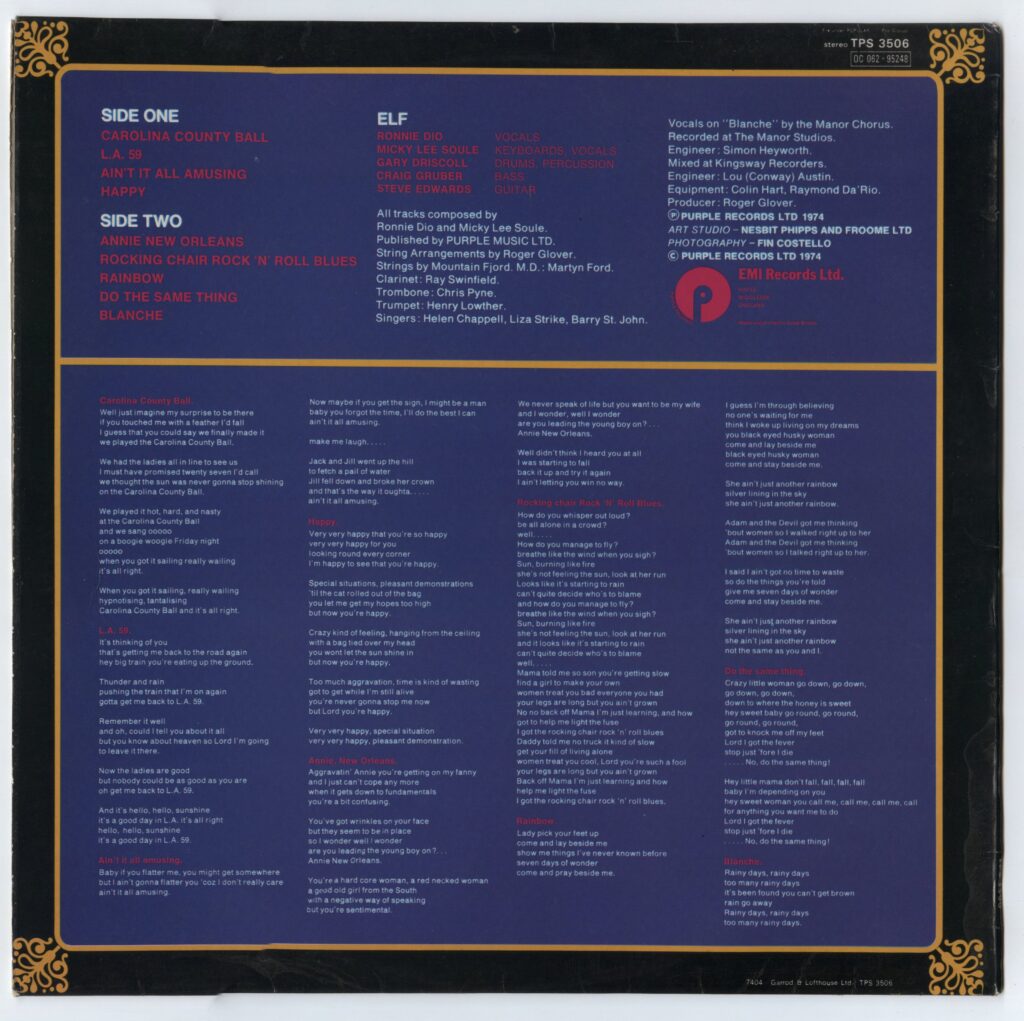 Reception and Review

On some European releases the first song is listed as "Carolina Country Ball."
For Further Information:
Listener Mail/Comments

Comments about the show? Things you'd like us to cover? We'd love to hear from you. Send us an email at info@deeppurplepodcast.com or @ us on Twitter, Facebook, or Instagram.