Subscribe at Apple Podcasts, Stitcher, Google Podcasts, Overcast, Pocket Casts, Anchor.fm, Breaker, PodBean, RadioPublic, Amazon Music, or search in your favorite podcatcher!

How To Support Our Show:

Thanks to Our Executive Level Patrons:

The Turn it up to $11 Tier

Clay Wombacher
Frank Theilgaard-Mortensen
Alan "Ain't Too Proud To" Begg
Mikkel Steen

$10 "Some One Came" Tier
Social Media Update:

Dead Daisies coming to Joliet, IL on September 11, 2021!
Lead up to the Album:

In the winter of 1985 Gillan and Glover began working on their new album.
Gillan says they did so without Blackmore because he "wasn't really interested in listening to us."
In spring of 1986 they returned to Stowe, Vermont where they'd recorded Perfect Strangers.
Early on Gillan said that there didn't seem to be any motivation by the band to put this album together.
Glover said the Perfect Strangers tour had gone really well but when they tried to put this album together that it was a struggle.
As with the previous album they set Colin Hart to the task of finding a place. They wanted to remain in Stowe but this time found The Stowe Playhouse and rigged up Le Mobile to be able to record there.
This time each band member was booked separate accommodations along with their families, spouses, girlfriends at the time.
Glover and Gillan arrived ahead of the others to begin working on material.
The standard argument about writing credits cropped up again with Ritchie wanting to be careful not to hand out too much credit to the others in the band.
Colin says in his book that he disagreed with this because the way they put together songs was as a band. He also says that no one other than Gillan would confront Ritchie about this. He says that Paice, Lord, and Glover would quietly complain about parts of the songs but it would be left to Gillan to confront Ritchie. Hart says: "The others would load the gun as long as Ian would fire it."
This paints an interesting picture. Ritchie would act surprised by these complaints and tell Bruce Payne that the others seemed fine with it.
Hart says that it seems like Ritchie wanted out but didn't know what he wanted to do instead so until he figured that out he was going to be difficult.
Hart says Gillan and Glover worked in one corner on writing, Ritchie kept to himself, and Lord and Ian were interested by non-confrontational observers."
Gillan describes the writing conditions as less than optimal in his book Child in Time. He says he and Roger were in a small windowless room with bits and scraps of paper cobbling together lyrics. For that reason they decided to drive the mobile unit to Roger's house in Connecticut and finished the tracks Mad Dog, The Spanish Archer, Bad Attitude, and Unwritten Law there with Nick Blagona.
They finished the record by the end of June but no one seemed too happy with it.
Personnel:

Technical: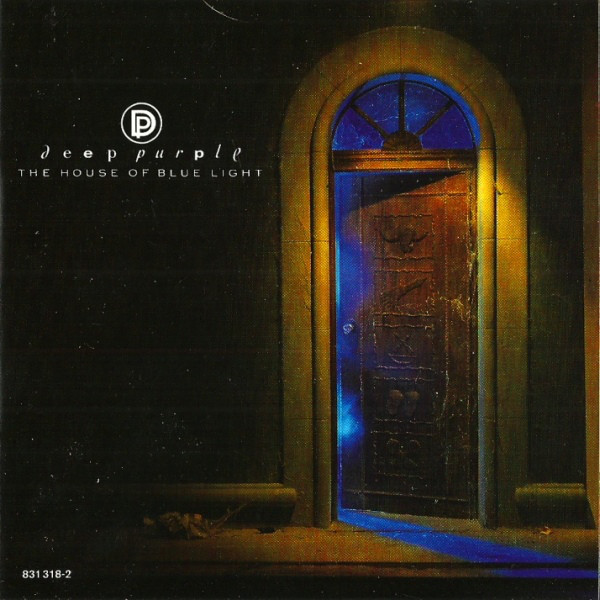 Album Art & Booklet Review

Photography By [Portraits] – Dieter Zill*

Legendary German photographer.
Hundreds and hundreds of album credits starting in 1969.

Design, Art Direction – Andrew Ellis

Previously an assistant at Hipgnosis
Co-founded Icon in 1982
Worked with Alan Parsons Project, Pink Floyd, and UFO

Design, Art Direction – Davies And Starr

British photographic husband-and-wife duo who started working together in 1979 primarily to produce record sleeves and promotional material for rock bands. In 1988 they moved to New York and decided to leave rock photography and concentrate on their still-life work instead.
Worked with Pete Townshend, Tears for Fears, David Gilmour, and David Bowie

Cover Symbols?

Owl/Demon – Ritchie? Owl? Moon?
Broom/Rocket – Gillan? Garth Rockett?
Arrows & Bow – Roger, a Sagittarius (the archer) – Spanish Archer
Theater Masks – Jon who had a background in theater?
Crossed Arms – Paicey? Drums? Ritchie? Slaves and Masters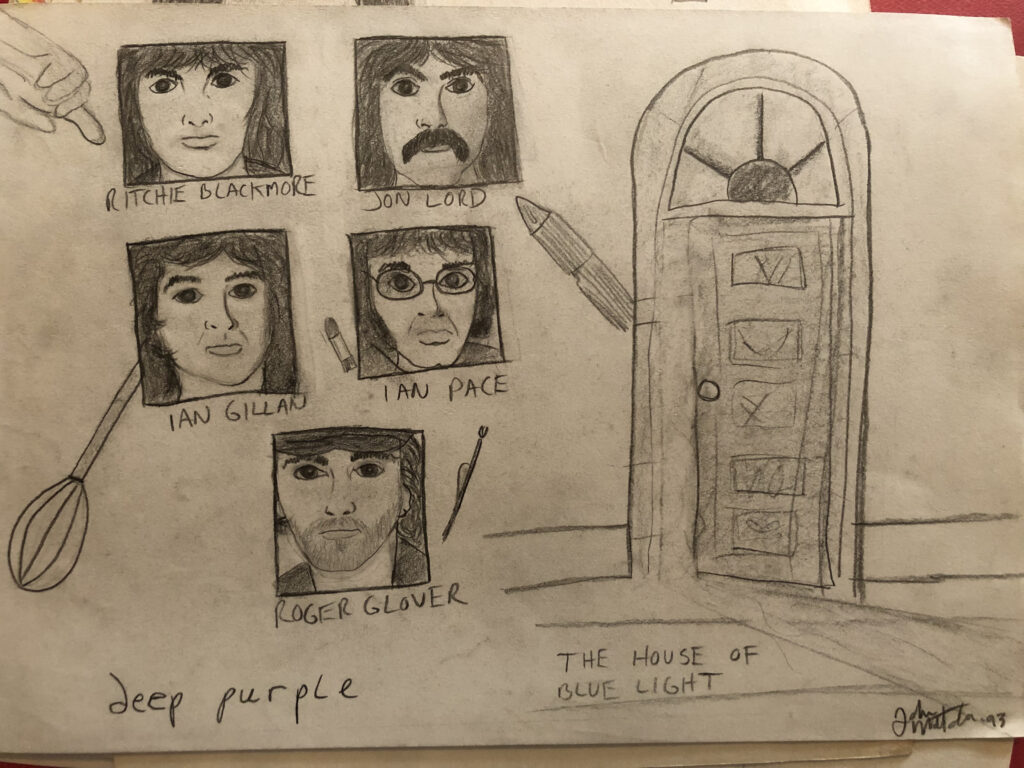 Thanks to Our Core Level Patrons:

The $7.77 KeepItWarmRat Tier
The $7.00 "No One Named" Tier
The Episode $6.66 Tier

Steve Coldwell
Arthur Smith
Anton Glaving

The $6.65 "Almost Evil" Tier
$5.99 The "Nice Price" Tier

Fielding Fowler
Dr. Gill Breese

$5 "Money Lender" Tier

Greg Sealby
John Convery
German Heindl
Adrian Hernandez
Jesper Almén
Oleksiy The Perfect Stranger Slyepukhov
James North
Mark Hodgetts
Kev Roberts – Paypal
Will Porter
Zwopper The Electric Alchemist

Tim "Southern Cross" Johnson
Album Tracks: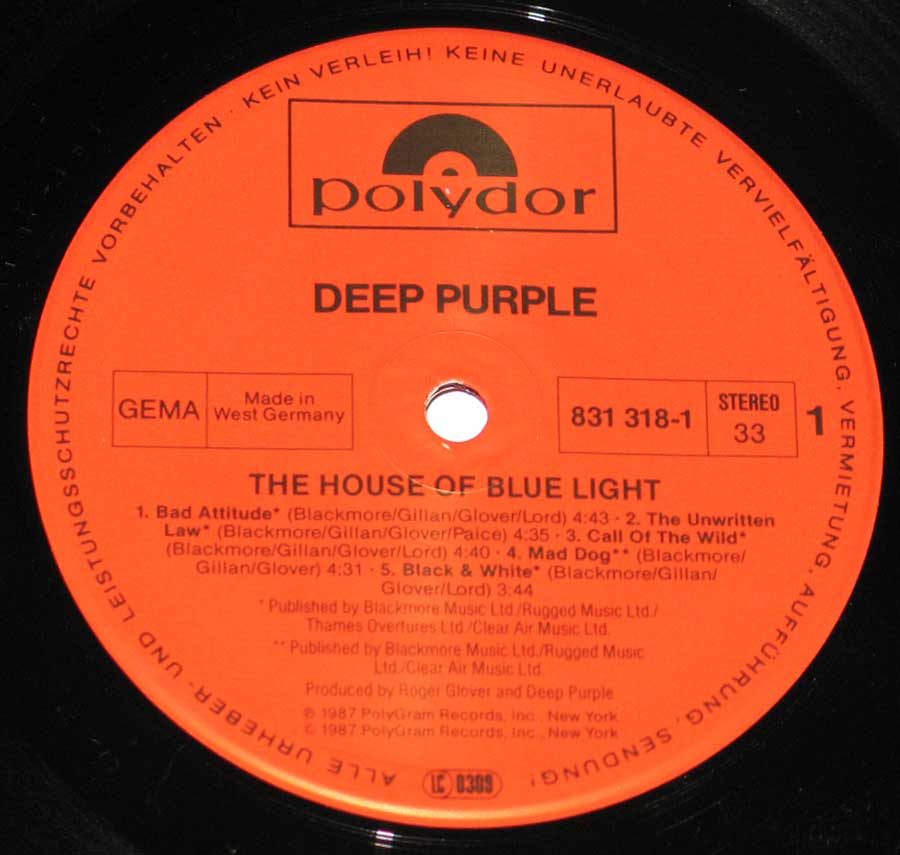 Side One:

Bad Attitude (Gillan, Blackmore, Glover, Lord)

Song is 32 seconds longer on the 1987 CD release.
Gillan: "I was pissed off…for a change!" Ian wheezes with laughter and leans forward to plant an elbow on each knee. "No, it's a thing everyone says in America – and I hate posey expressions. I wish people could talk properly. When we reformed a few years ago, Ritchie and I were playing football and we had a row on the pitch which ended with me telling him to piss off. So he turned round and said, 'There's no need to cop an attitude' and I said, 'What do you mean, 'cop an attitude', can't you speak English?'
Gillan was upset that Ritchie had picked up some Americanisms after living in the US for the past 12 years.
"Anyway, that theme just kinda developed and this song attacks that kinda thing. It has no hidden meaning or anything, it's just a groove."

The Unwritten Law (Gillan, Blackmore, Glover, Paice)

Song is 20 seconds longer on the 1987 CD release.
"'The Unwritten Law' is next, and that's about The Clap. I mean, there is a code – know what I mean? If you've got a dose you don't go spreading it around. It's a general comment on how people should have a little more responsibility. We tried to think of other unwritten codes to include in the song…but I can't think of any at the moment!"
Gillan: regarding being asked if this was a different kind of song for Deep Purple: "Yeah, I nearly killed Ritchie when I heard that riff -it's the most difficult riff I've ever had to write for! I was going round for ages going 'diddle-id, diddle-id' behind his back," the singer laughs, mimicking the riff. "Still, it's a different vehicle, and that's one of the great things with this album – without doubt it's my favourite album since 'Fireball'."

Call of the Wild (Gillan, Blackmore, Glover, Lord)

The song was released as a single later that year, and made it onto the UK Singles Chart at #92.
Regarding Vince Gutman's Marc System drum system Ian Paice was using:
Gillan: "Yeah, that's a telephone call about this bird…oh, it's a cheap pun really, but it's an interesting lyric and it has an interesting chorus. We thought it was too soft and sloppy at first – it nearly got rejected, strangely enough – but when it was finished it seemed to have a nice edge to it. It sounds like some of the more accessible songs Purple have done in the past."

Mad Dog (Gillan, Blackmore, Glover)

Song is 7 seconds longer on the 1987 CD release.
Gillan: "Right, what's next? 'Mad Dog'… that's just good fun."

Black and White (Gillan, Blackmore, Glover, Lord)

Song is 1 minutes longer on the 1987 CD release.
Gillan: "And then there's 'Black & White', which is a light-hearted attack on the press – and not only the press, but people's attitudes towards it. Some people believe that if they see something in black and white it must be true, although very often it isn't true at all. I mean, I have no objection to the press in the slightest – _bastards!_ – but it is difficult to tell people that what they read in the papers isn't necessarily true. _'A reliable source informed me…', 'A close friend said…'_, what a load of bollocks! It _can_ be entertaining, and we do get a selection of newspapers at home… Although I don't get any music press because I don't like music very much…"
Gillan goes on to explain that he likes making music and he does have the radio on at times but he's not really interested in what goes on in the business because the business doesn't interest him.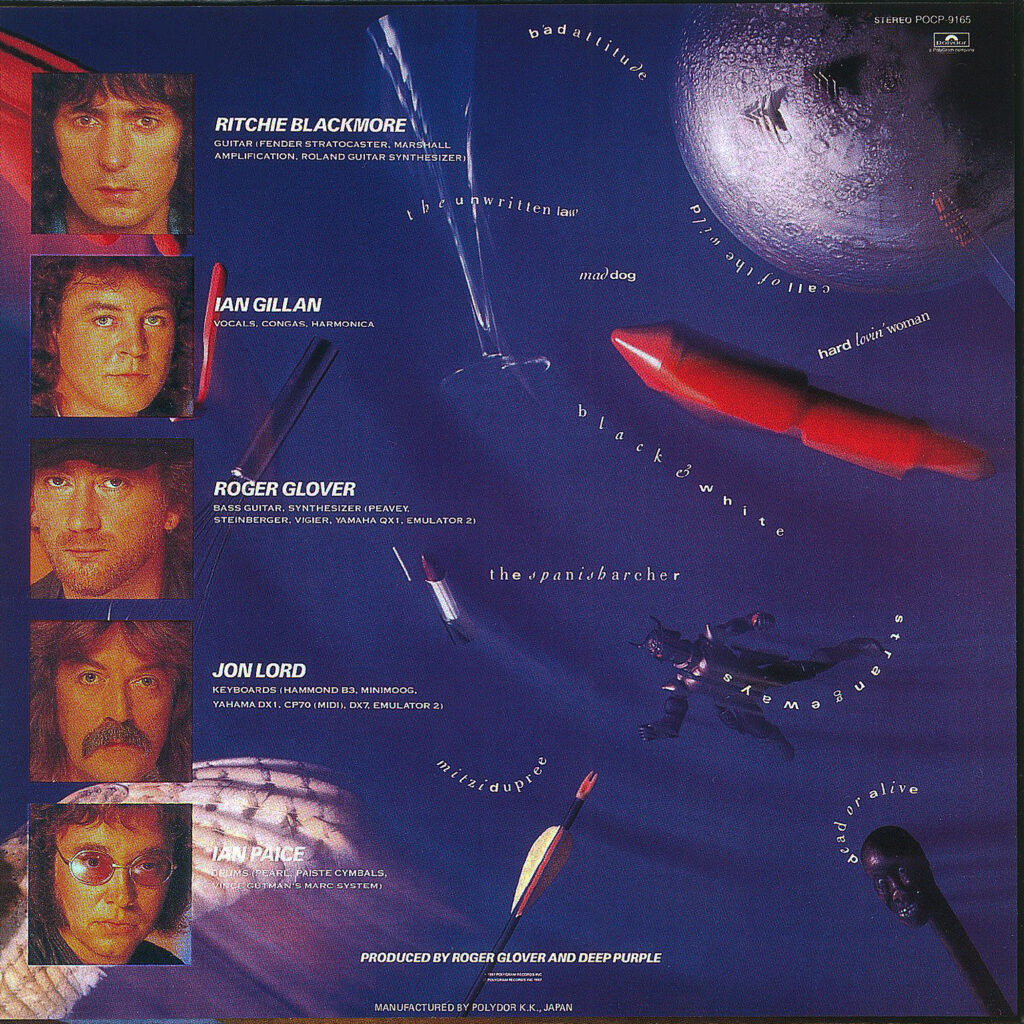 Thanks To Our Foundation Level Patrons:

$3 "Nobody's Perfect" Tier

Peter Gardow
Ian Desrosiers
Mark Roback
Andrew Meyer
Duncan Leask
Stuart McCord

$1 Made Up Name Tier

Ells Murders
Spacey Noodles
The "Unsecured" Leaky Mausoleum
Stephen Sommerville The Concerto 1999 Fanatic
Raphael Choury (Raff Kaff)
Spike, The Rock Cat
JJ Stannard
Hank the Tank
Flight of the Rat Bat Blue Light
For Further Information: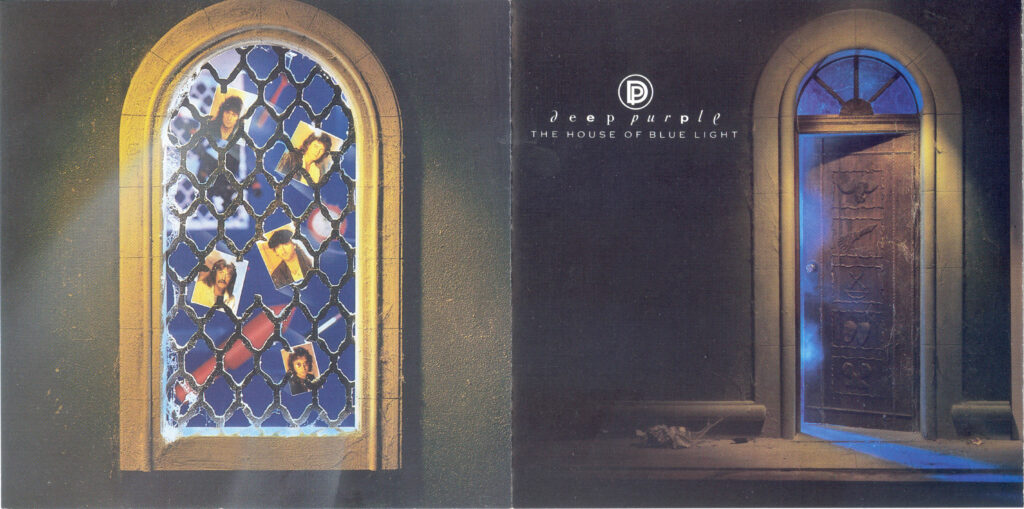 Listener Mail/Comments

Comments about the show? Things you'd like us to cover? We'd love to hear from you. Send us an email at info@deeppurplepodcast.com or @ us on Twitter, Facebook, or Instagram.