Disclaimer: The video used on YouTube is a byproduct of producing our audio podcast. We post it merely as a convenience to those who prefer the YouTube format. Please subscribe using one of the links below if you'd prefer a superior audio experience.

Subscribe at Apple Podcasts, Stitcher, Google Podcasts, Overcast, Pocket Casts, Anchor.fm, Breaker, PodBean, RadioPublic, Amazon Music, or search in your favorite podcatcher!
Thanks to Our Show Supporters – Three Ways To Show Your Support

The $25 "Super Trouper" Tier
The $20 "Shades of Deep Pockets" Tier
The $15 "Highball Shooter" Tier
The Turn it up to $11 Tier

Frank Theilgaard-Mortensen
Clay Wombacher
Mikkel Steen

$10 "Some One Came" Tier
The Episode $6.66 Tier
$5.99 The "Nice Price" Tier
$5 "Money Lender" Tier

Greg Sealby
John Convery
Arthur Smith
German Heindl
Adrian Hernandez – Paypal
Kenny Wymore

$3 "Nobody's Perfect" Tier

Peter Gardow
Ian Desrosiers
Mark Roback
Anton Glaving
Will Porter
Andrew Meyer

$1 Made Up Name Tier

Ells Murders
Spacey Noodles
The "Grim" Leaky Mausoleum
Michael Vader
Stephen Sommerville The Concerto 1999 Fanatic
Thanks to our Brothers at the Deep Dive Podcast Network:
Thanks to the Patron Saint and Archivist of The Deep Purple Podcast:
Show Updates:

Comments from social media.
Email:

Good morning, Nathan and John.
Firstly, I hope you and your families are keeping well in these troubled times. We will all remember 2020 as a really terrible time for everyone but hopefully next year will be when we can get back to normal.
Firstly, I am 62 years old and I have never been on Facebook, Twitter or any other social media site so it is quite a leap for me to contact you. I was prompted to do so after the last couple of your podcasts during which you mentioned the lack of recent reviews on Apple podcasts. I posted one on 19th October and I noticed another fan ( named " Well Disguised") had also posted a review recently. By following the link to Apple podcasts on your site, there are a number of reviews, but if you go direct via the Apple app, there are a number of other reviews. This seems strange to me, but maybe this is the way Apple works.
In any case, I gave a very positive review as I have enjoyed your podcasts tremendously during this difficult period. I first became seriously interested in the music of Deep Purple (and a lot of other bands) at the relatively late age of 15, in 1973. Your reviews and discussions of all the "old stuff" I used to listen to have renewed my enjoyment of this great music. Personally, I prefer The Mark II version, but I also rate "Burn" as the equal of anything that the Gillan/Glover era produced (sorry but I think "Stormbringer" is Burn's evil twin. I know you like this album a lot but I remember the disappointment I felt at the time when I first listened to it in late 1974).
Your podcasts have really been one the few positives for me this year, as I have gone back to the start and listened to almost every episode. Growing up in a working class area of Glasgow in the early/mid seventies was not always great and whilst as kids we weren't exactly forced to work up chimneys, we weren't rich either. Sport and music were really important and I know now that I was really lucky to live though a time when a huge amount of creative music was being released. For me, it was all rock music and not at all defined by genres the way it has been for many years. So, it was easy to like diverse music by Deep Purple, Genesis, Pink Floyd, Free, Bad Company, Jethro Tull, Yes etc. It was all just great music.
I have tried to be as brief as possible ( I could have said so much more!) but I wanted to let you know much enjoyment I have taken from the Deep Purple Podcast. I really like to listen to you go off on tangents. You are obviously long time friends and it's nice to hear you talk about your shared experiences in Providence, Rhode Island. I was watching a quiz show on TV recently and one of the questions concerned a Providence tourist information film in 2016 which had to be withdrawn because it showed footage of landscapes in Iceland instead of Providence. That made me laugh.
Please keep up the great work and stay well and safe.
All the best,
Robert (OldBloodsuckerBob) Smith from Glasgow, Scotland.
Lead up to the Album:

Glover had been so busy producing and with Rainbow that he didn't have much time for anything else. However, in 1983 he found some time to get into the studio and get to work on Mask.
This seems to be called "The Mask" almost exclusively, even in the CD release liner notes, despite the fact that it says "Mask" on the original album cover.
The album was released in June of 1984.
The label put some heavy promotion behind it and the title track saw release as a single. However, it was launched a few months ahead of Perfect Strangers and got a little lost in the mix.
Personnel

Bass guitar, lead vocals, other instruments – Roger Glover
Guitar – Dave Gellis,

Also played with Meatloaf.

Guitar – Joe Jammer

He was a prolific and session player who worked with Martha Velez, Jimmy Witherspoon and toured with Maggie Bell.

Keyboards – David Rosenthal*

Played with Rainbow, Billy Joel, Steve Vai, Yngwie Malmsteen, Whitesnake.

Keyboards – Jean Roussel

Played with a group called Hanson (no, not that Hanson).

Drums – Chuck Bürgi

Worked with Blue Oyster Cult, Brand X, Hall and Oates, Rainbow.

Drums, Simmons drums – Mark Conese

Did technical work on "The Battle Rages On."

Saxophone – Charlie Dechant

Played with Hall & Oates.

Percussion – Nick Blagona

Deep Purple engineer who passed away last year.

Backing vocals – Craig Brooks

Worked with Michael Bolton.

Backing Vocals – Kate McGarrigle

Mother of Rufus Wainwright and Martha Wainwright

Backing Vocals – Denise Brooks
Backing Vocals – Kim Romano
Wikipedia Links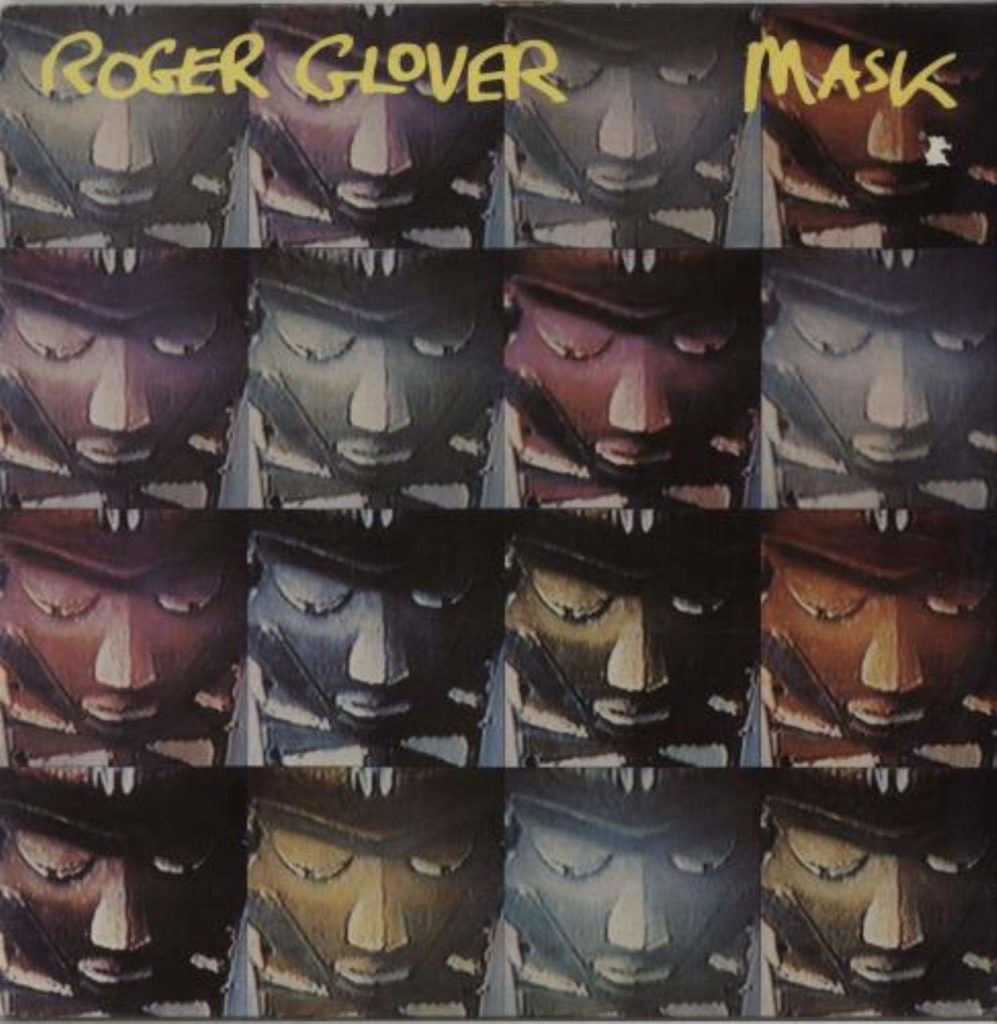 Album Art & Booklet Review

Art Direction – Bill Levy

Did visual work for Jesus Christ Superstar, Gloria Gaynor, Rainbow's Down to Earth.

Art Direction – Peter Corriston

Cheech & Chong, J. Geils Band's Hotline, Led Zeppelin III, Uriah Heep's "Sweet Freedom,"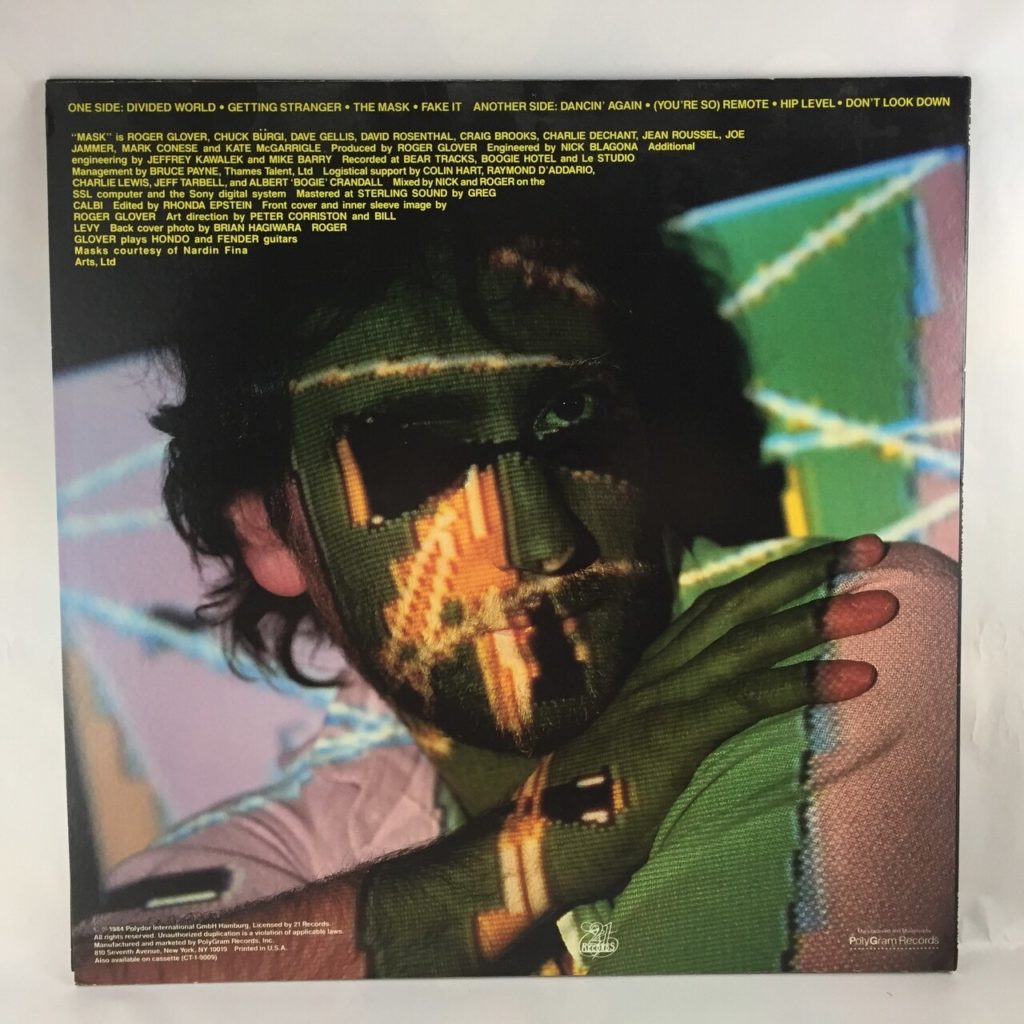 Artwork [Front Cover, Inner Sleeve Image] – Roger Glover
Other [Mask Courtesy Of] – Nardin Fina Arts, Ltd
Edited By – Rhonda Epstein
Photography By [Back Cover] – Brian Hagiwara

Free, Billy Joel, Alice Cooper, Steppenwolf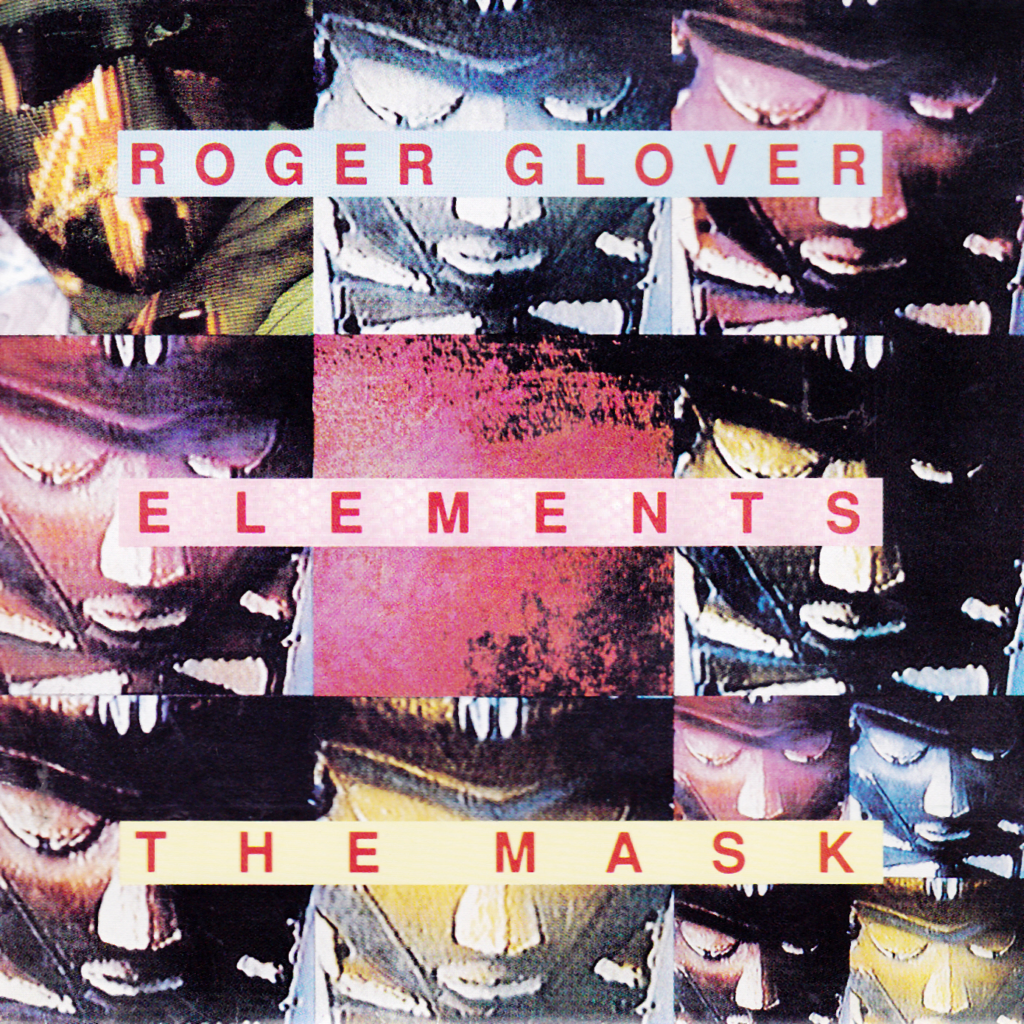 Technical:

Album Tracks:

Side One:

Divided World (Glover)
Getting Stranger (Glover)
The Mask (Glover, Roussel)

From the album Mask, this song was written whilst Colin Hart was driving me to Le Studio, near Montreal. Rainbow had recently recorded there and Nick Blagona, the resident sound engineer, having seen some of my poetry, encouraged me to do a solo album. At first I demurred but he offered me four days of studio time on the understanding that only if something came of it, I would have to pay them. I took with me a few guitars, a sequencer, drum machine, and some half-baked ideas. It became obvious that I needed help so Nick introduced me to two local musicians, Joe Jammer on guitar and Jean Roussel on keyboards, who played on a couple of tracks. Eventually, I completed the album in New York. I couldn't quite believe that the record company then offered to make a video (it was a time when MTV was huge), so I wrote the storyboard for it. Colin Hart and I flew to Los Angeles where I met some great people who helped make the video. Shot in two locations; the swimming pool of a house overlooking the city, and then at a wild animal training park a couple of hours from LA. I spent an amazing four days pretending that I was a film star. As you know, that fantasy didn't last long. But the memory has.
RG

Fake It (Glover)
Side Two:

Dancin' Again (Glover, Gellis)
You're So Remote (Glover)
Hip Level (Burgi, Gellis, Glover)
Don't Look Down (Glover)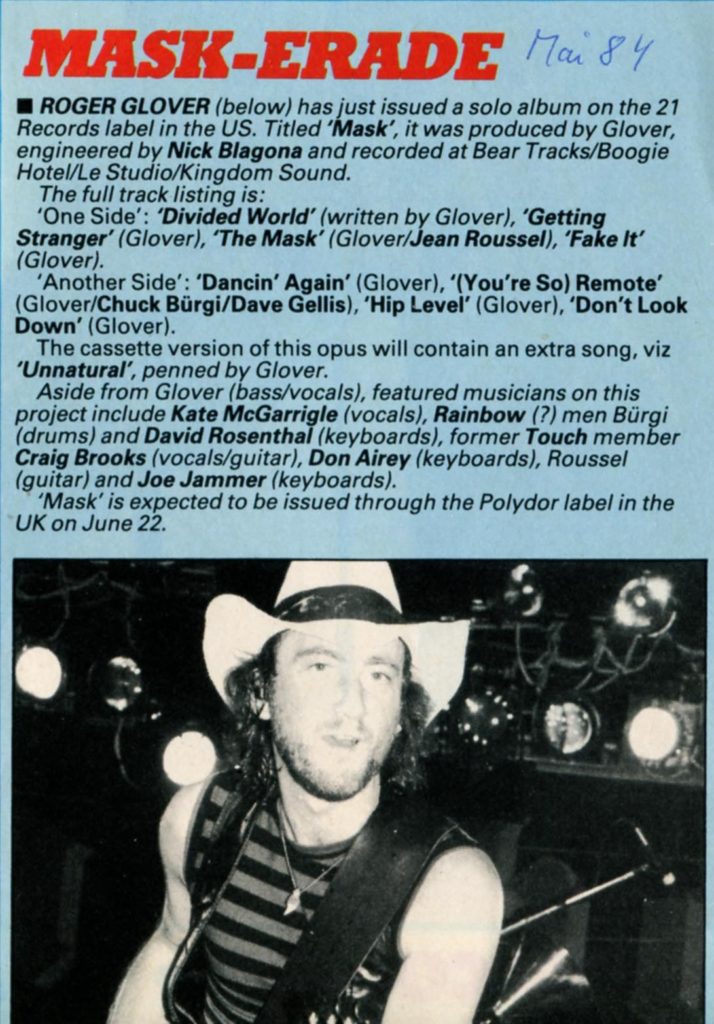 Listener Mail/Comments

Comments about the show? Things you'd like us to cover? We'd love to hear from you. Send us an email at info@deeppurplepodcast.com or @ us on Twitter, Facebook, or Instagram.