Disclaimer: The video used on YouTube is a byproduct of producing our audio podcast. We post it merely as a convenience to those who prefer the YouTube format. Please subscribe using one of the links below if you'd prefer a superior audio experience.

Subscribe at Apple Podcasts, Stitcher, Google Podcasts, Overcast, Pocket Casts, Anchor.fm, Breaker, PodBean, RadioPublic, or search in your favorite podcatcher!
Thanks to Our Show Supporters – Three Ways To Show Your Support

Donate on Paypal (Donate one time or click "make this a monthly donation" box)
he $25 "Super Trouper" Tier
The $20 "Shades of Deep Pockets" Tier
The $15 "Highball Shooter" Tier
The Turn it up to $11 Tier
$10 "Someone Came"
$5 Money Lender Tier

Clay Wombacher
Greg Sealby
Frank Theilgaard-Mortensen
Mike Knowles
John Convery
Arthur Smith
German Heindl

$3 Nobody's Perfect Tier

Peter Gardow
Ian Desrosiers
Mark Roback
Anton Glaving

$1 Made Up Name Tier

Ells Murders
Spacey Noodles
The "Ghostly" Leaky Mausoleum
Michael Vader
Thanks to our Brothers at the Deep Dive Podcast Network:
Thanks to the Patron Saint and Archivist of The Deep Purple Podcast:
Show Updates:

Comments from social media.
Lead up to the Album:

The newly formed Whitesnake was supposed to play their first gig at The Sky Bird Club in Nottingham on February 23, 1978. Neil Murray confirms in Martin Popoff's book "Sail Away" that this never happened.
5-6 April 1978 London rehearsals
Recorded April 7th – 13th 1978 Central Recorders to record Snakebite EP
Bernie Marsden explains that "the record company wouldn't commit to an album."
They apparently had a friend — Robbie Dennis — at EMI who was a bit fan of the band but his boss wouldn't let him sign them. Bernie Marsden credits Dennis in having a huge part of the Whitesnake story.
Released June 2, 1978 in the UK.
Personnel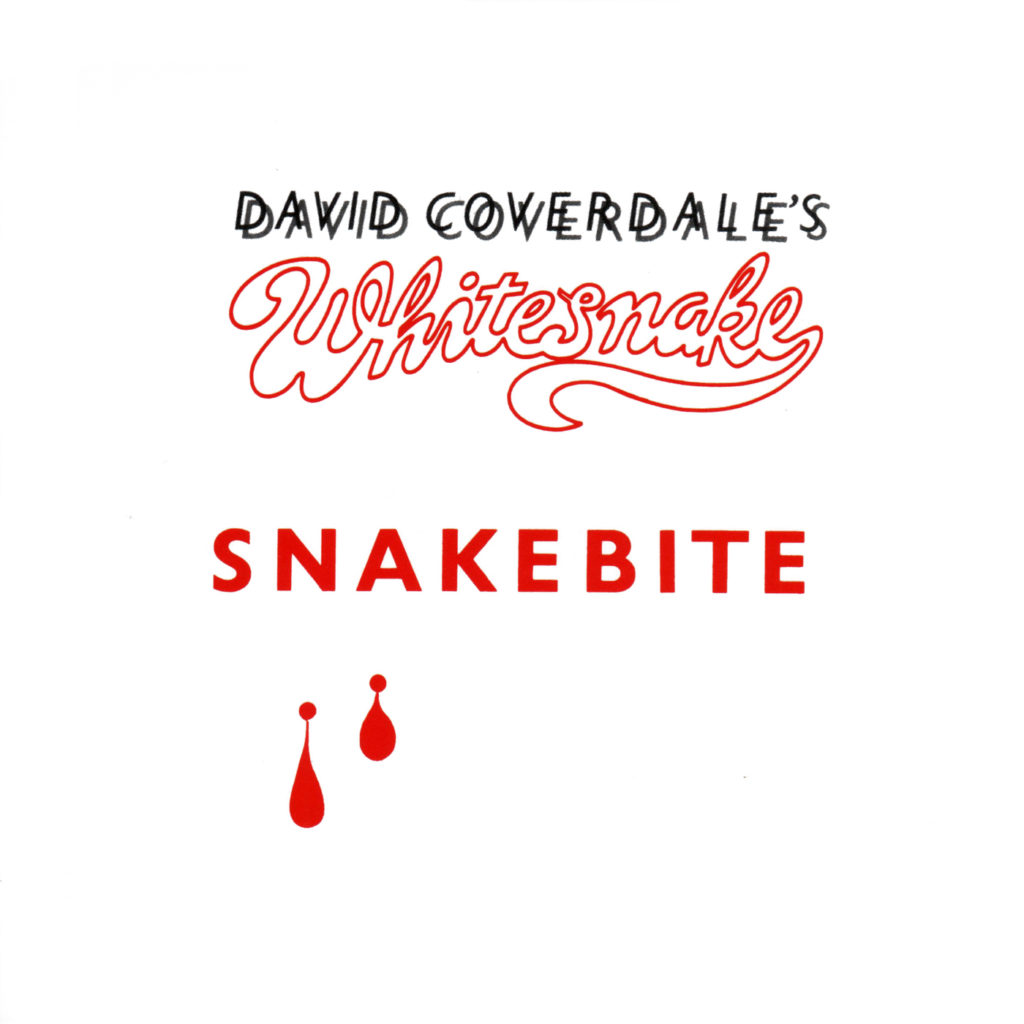 Album Art & Booklet Review

Marsden said the covers changed all over the world.  He claims they didn't even see the covers until Lovehunter.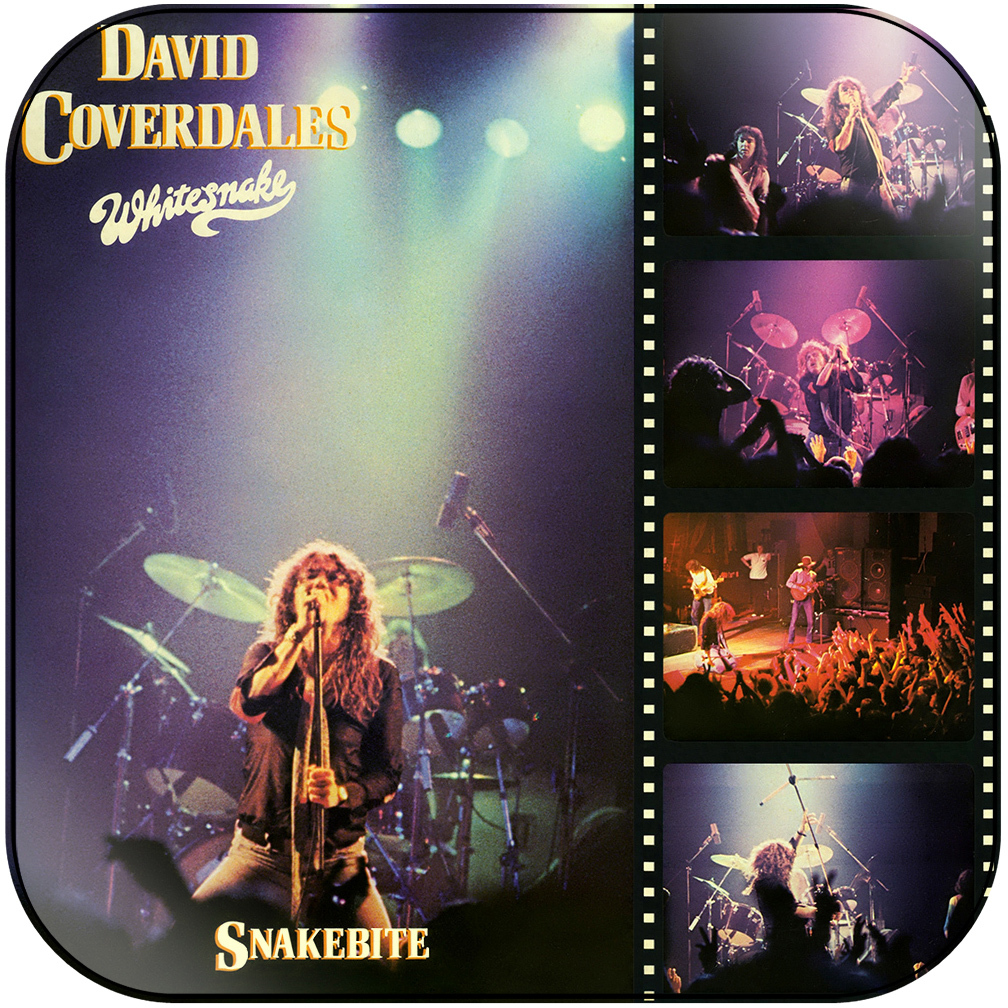 Technical: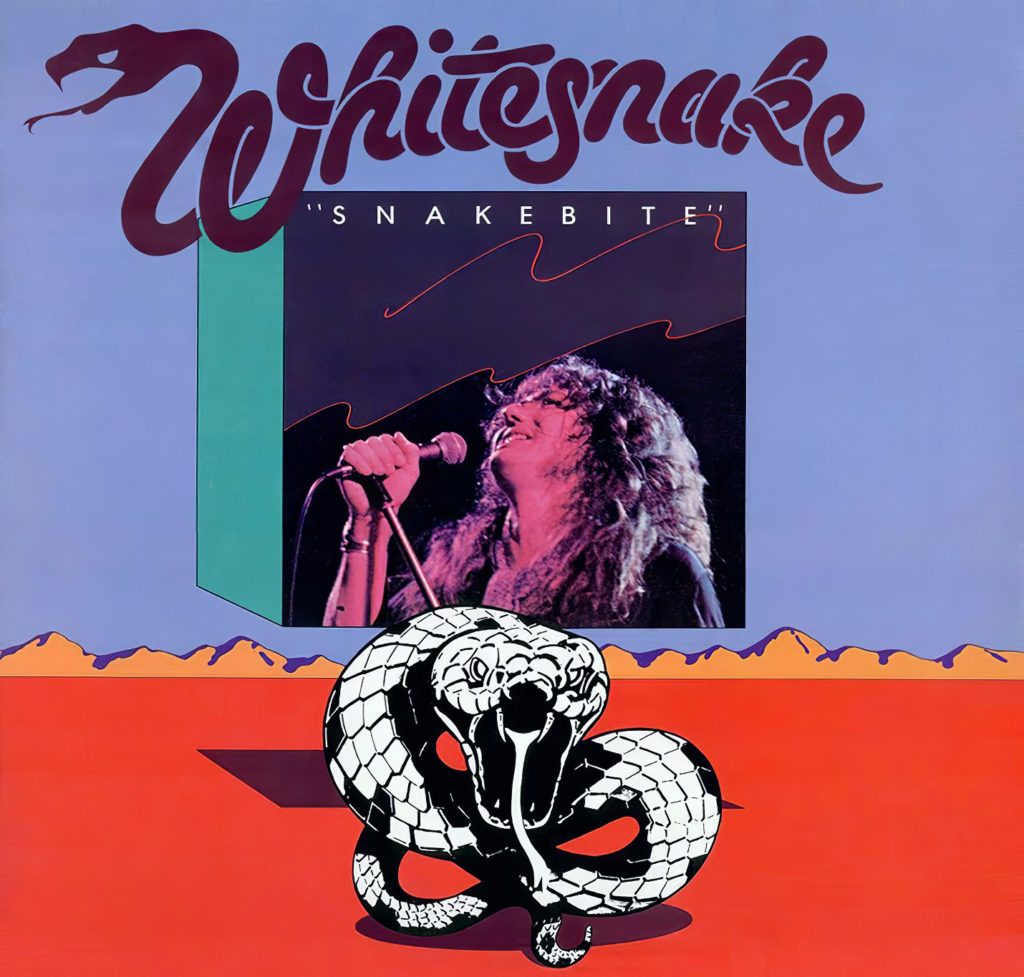 Album Tracks:
Side one:
Bloody Mary
Steal Away

Written by (Coverdale, Micky Moody, Marsden, Neil Murray, Peter Solley, Dave Dowle)
Marsden says there are Syndrums on this track.  They were new at the time.
Marsden says this was a precursor to what was going to happen with Whitesnake.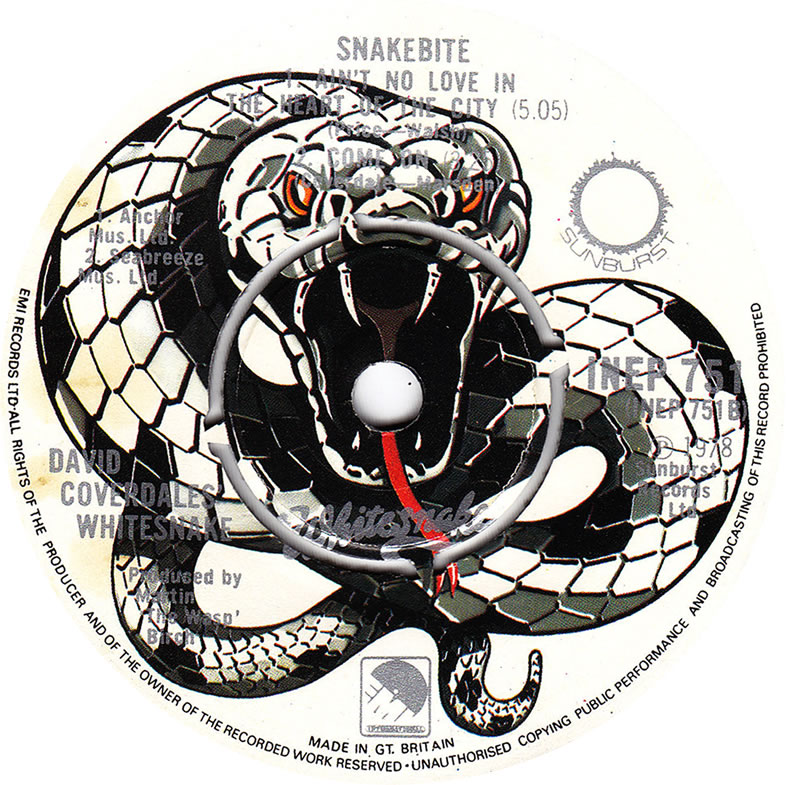 Side two:

Ain't No Love in the Heart of the City

Written by Michael Price and Dan Walsh in 1974
First recorded by Bobby "Blue" Bland
Martin Popoff says they used this song as an audition piece for the "revolving door of players they were trying to bring into the band."
Marsden says that to this day people still think Whitesnake wrote this song.

Come On

Written by Coverdale, Marsden
This one would become a live staple. This was the first song Marsden and Coverdale wrote together in a flat in London.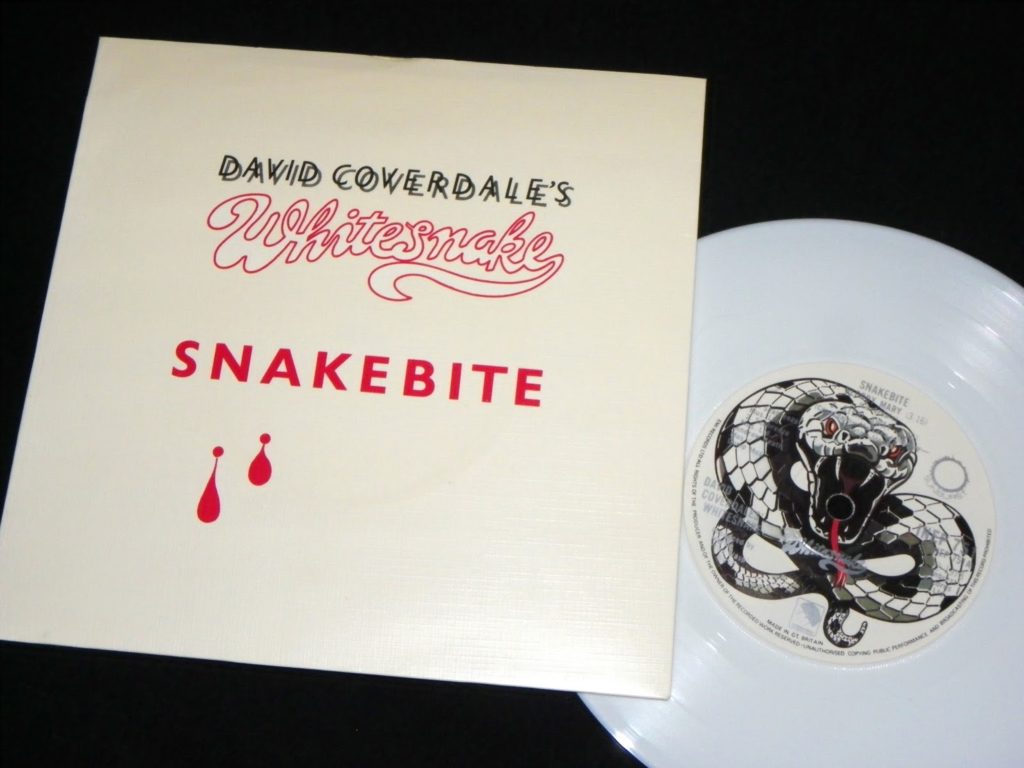 Reception and Review

Marsden says there was a fifth song for this EP called "The First Time" but it was lost and has never resurfaced.
Murray says there wasn't much difference between the EP and the album Trouble because they went into the studio to do the full album just a few months later.
For North America this was combined with four tracks from Northwinds and sold as an LP.
The first 15,000 copies were pressed on white vinyl.  The second edition was pressed as black vinyl but a much smaller number.
Murray says this was the turning point where it shifted from Coverdale solo to the band Whitesnake.
On May 1, 1978 the band filmed a promo video for Snakebite at Shepperton Studios.
Bloody Mary was on TOTP on that day
20th June 1978 London, UK: Recording backing for Bloody Mary for Top Of The Pops. 21st June 1978 London, UK: Filming for Top Of The Pops. Aired 22nd June.
Snakebite video:

0:00 Come On
3:30 – Aint' No Love in the Heart of the City
8:05 – Bloody Mary
11:07 – Steal Away (fade out)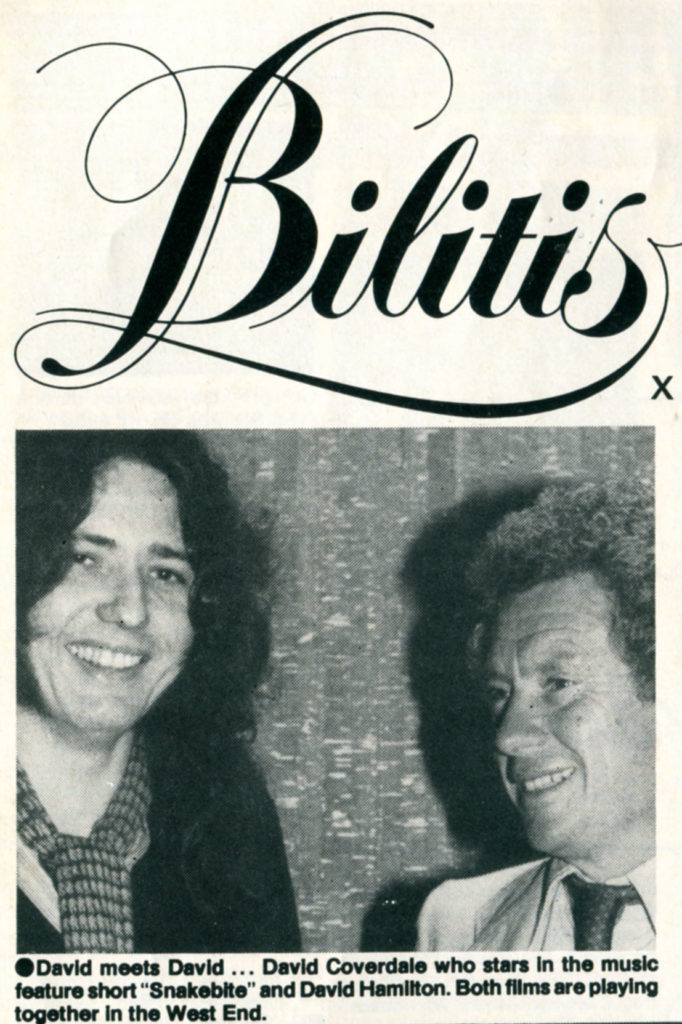 The Snakebite video was shown in the UK as support feature to the Bilitis soft porn movie by David Hamilton and premiered on June 22. David got some offers to appear in movies afterwards
Pictures from the premier.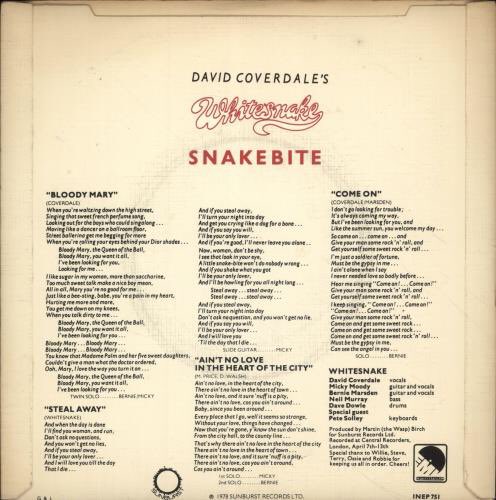 For Further Information:
Listener Mail/Comments

Comments about the show? Things you'd like us to cover? We'd love to hear from you. Send us an email at info@deeppurplepodcast.com or @ us on Twitter, Facebook, or Instagram.