Subscribe at Apple Podcasts, Stitcher, Google Podcasts, Overcast, Pocket Casts, Anchor.fm, Breaker, PodBean, RadioPublic, or search in your favorite podcatcher!

Thanks to Our Patrons:

$5 Tier
$3 Tier

Peter Gardow
Ian Desrosiers

$1 Tier

Ells Murders
Spacey Noodles
Thanks to our Brothers at the Deep Dive Podcast Network:
Thanks to the Patron Saint and Archivist of The Deep Purple Podcast:
Show Updates:

Comments from social media.
Personnel
Lead up to the Album:

As a rule they laid down all the basic tracks with the trio of Blackmore, Bain, and Powell.
Dio and Carey would do their tracks as overdubs.
In "Senstive to Light" Powell writes in an interview with Craig Gruber that Ritchie and the record company talked about how huge Rainbow was going to be and talked them all into moving from New York to California.
He also talks about how Ritchie liked the drums to be very much on the eights or sixteenths. Gary Driscoll was very busy and Ritchie didn't like it. Since Gruber played along to the drums and was used to this style from Elf they both had to go.
As stated in previous episodes Mickey Lee Soule just quit because he saw the writing on the wall.
Ronnie was reportedly pretty upset about Driscoll being fired.
Gruber and Cozy played together but it was very busy still so Gruber had to go. He said Ritchie would micromanage his playing with Cozy and eventually Gruber lost it and threw his bass to the ground as did Ritchie and Dio broke up the fight after which Gruber left.
The album was recorded in ten days.
The unusual thing is that they used the Rolling Stones mobile unit instead of the gear at Musicland.
Was recorded at Musicland directly after Ian Gillan had recorded Child in Time there and just a few months after Deep Purple had finished Come Taste The Band.
Credits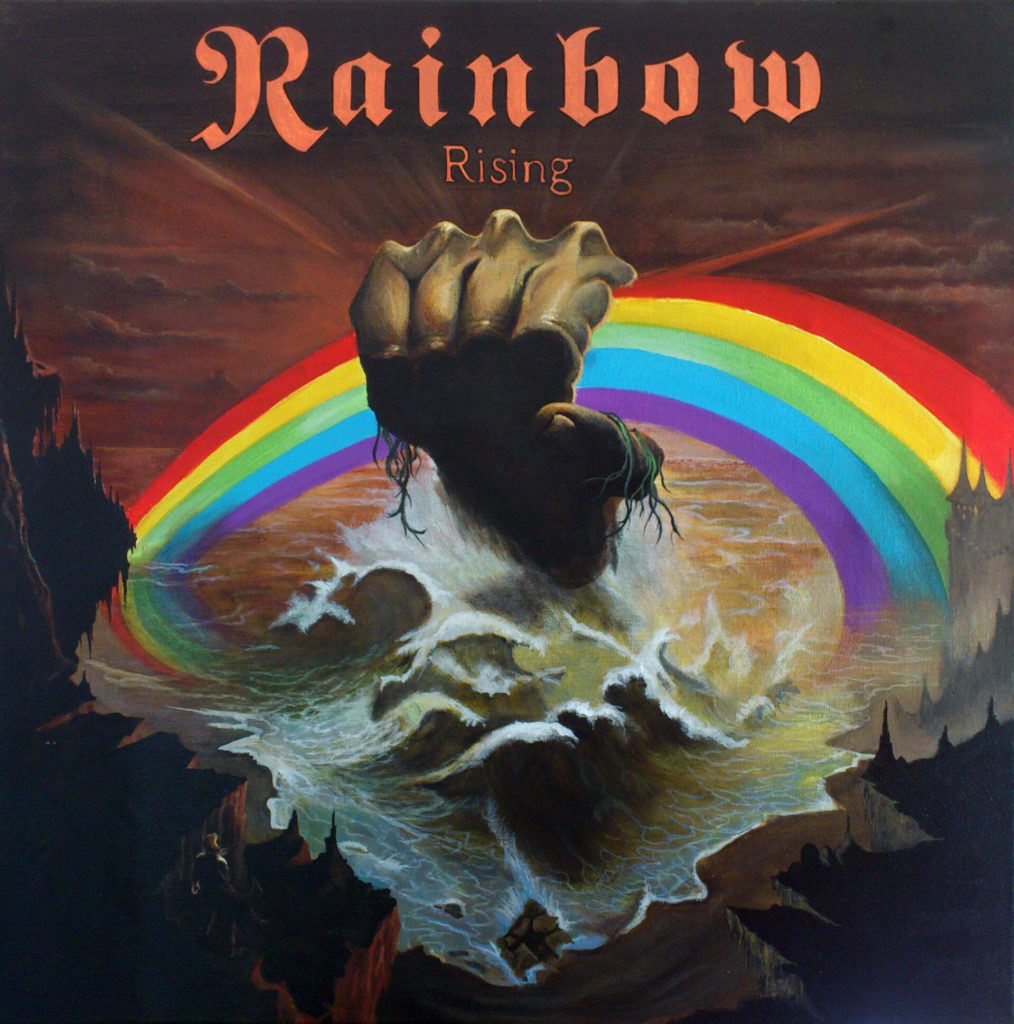 Album Art & Booklet Review

Painting – Ken Kelly

Did the cover for Kiss's Destroyer and Love Gun albums and a lot of Manowar albums
Also did art for Conan the Barbarian and other fantasy works
Ritchie says that there were about seven versions of this painting before they got it just right

Art Direction, Photography By – Fin Costello

Prolific rock photographer covered on previous episodes

Album cover was voted one of the best of the decade in contemporary polls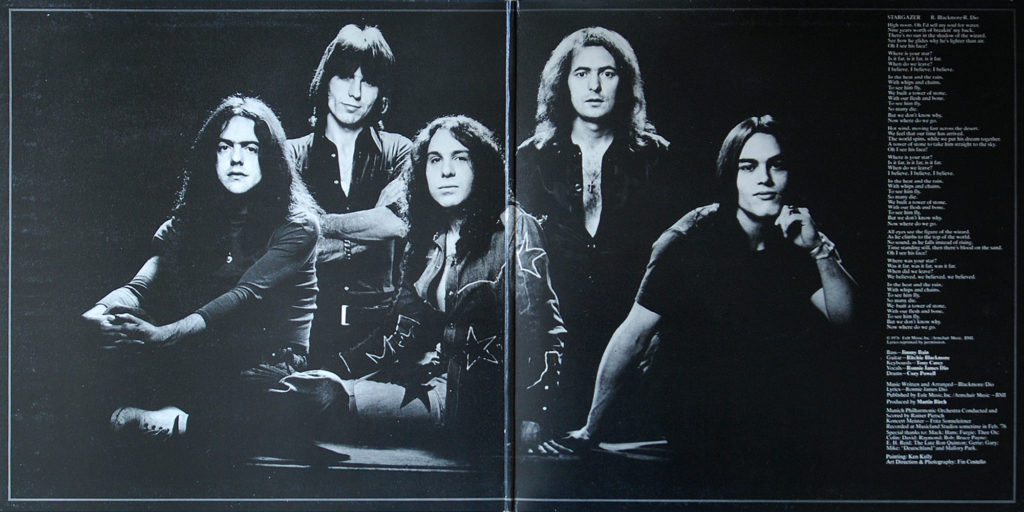 Gatefold features black and white photos with the lyrics to Stargazer – much like the debut album featured only the lyrics to Sixteenth Century Greensleeves
This time the album is credited to "Blackmore's Rainbow" a sort of bridge between "Ritchie Blackmore's Rainbow" and "Rainbow" which they would eventually settle in on on the next album.
Album Tracks:

All songs written by Ritchie Blackmore and Ronnie James Dio

Tarot Woman

Blackmore asked Carey to come up with this opening but he still doesn't get a writing credit on the song
Dio sings about visiting a Tarot reader who warns him of an upcoming relationship
Leaves the bluesiness behind, straight forward classical/rock
Was never played live by the band
In "Sensitive to Light" Popoff says that Carey played the first take of the keyboard solo but he didn't like it. Ritchie said he liked it and Carey did takes all day that didn't match up to that first one. Ritchie was very happy they'd kept the first take.
Dio states that Ritchie asked him one day, out of the blue, to write a song about a Tarot reader. So Dio did just that.

Run With the Wolf

Song about werewolves
Another song that was never played live
Drums were set up in an echoey hallway
Ronnie says: "We were a little more Beowulf-ish at that time."

Starstruck

Tells the story of a stalker that began stalking Blackmore when they were in France
Referred to as Muriel but it's unclear if that's the real name
The band states that she would be at the airport when they arrived, would be at every gig before they got there, and they once found her hiding in the bushes outside Blackmore's window.
Ritchie, in Sensitive to Light: "I found a girl in my garden once. I saw the bushes move and a little head popped up. It was a French girl of 18 who somehow followed me to England. I set the dogs on her. They're friendly dogs; they just jumped into the bushes and she came out screaming. It was strange how she found my house. She went around touching the walls, caressing the house."
The song was only ever played live as a middle part of "Man on the Silver Mountain."

Do You Close Your Eyes

Was written and played on tour by the band before being recorded for the album.
Used largely as an encore for the band.
In Pilkington's book he says that Rainbow did not regularly do encores at this time. If Blackmore felt the audience didn't "deserve" and encore then he would not do one. He tells a story of going to see a show in 1977 where the audience was chanting for an encore but one never came.
The next night they did a huge encore where Blackmore climbed up the speakers and damaged part of the theater.
Ritchie said he was told that this should be the single but he didn't feel it was representative of where the band was going musically.
Ronnie: "The song was okay."

Stargazer

Solo uses the Phrygian dominant scale commonly used in Arabic music.
Munich Philharmonic Orchestra plays on this track.
Blackmore says this song was inspired by Led Zeppelin's "Kashmir."
Pilkington says in his book: "Dio's fantastically evocative tale of the wizard using the mass forced labor to build his incredible tower, and his final, climactic fall.
A keyboard instrument called Vako Orchestron is used on the track.
They wrote and played this one in 1975 before recording the album.
In an interview with Steve Pilkington Ritchie says, "You really need an orchestra to build at the end of it. It's a strange song, and working on it from that angle I didn't think it worked so much live. IT really needs to build, and whereas on the record you've got the orchestra, on stage you've just got keyboards, and I didn't think it was right."
Ritchie says he wrote the riff to this song on the cello.
Ronnie says it's the story of an Egyptian slave who is serving the wizard and building a tower so the Wizard can jump off and fly.
At the end the wizard jumps and falls to his death and the slaves are freed.
Ritchie says there was a violinist playing a solo at the end of Stargazer when they ran out of tape and the violin played this amazing solo that they weren't able to record.
At the point they did this song they didn't have an album title and when Ronnie sang "I see a rainbow rising" they decided to name the album that.
Tony says about the orchestra that the musicians just aren't into it, they're looking at the clock and just wanting to get a check. He says people misunderstand it that it's some sort of magical experience. He says what they're doing is very simplistic and he could do they whole thing on a synth in five minutes.

Light in the Black

Tell the story of the slaves after the wizard is beaten. A continuation of "Stargazer."
Song was also written and performed during 1975 tour generally right after Stargazer as on the album. It was played early on the tour supporting "Rising" but was eventually dropped. It was asking too much of Cozy to keep up that pace, similar we read about Deep Purple dropping (was it "Flight of the Rat?") because Paice just couldn't do it live.
Tony talks in Sensitive to Light about them trying it live a few times and how it and explains that Cozy had an incredible amount of stamina.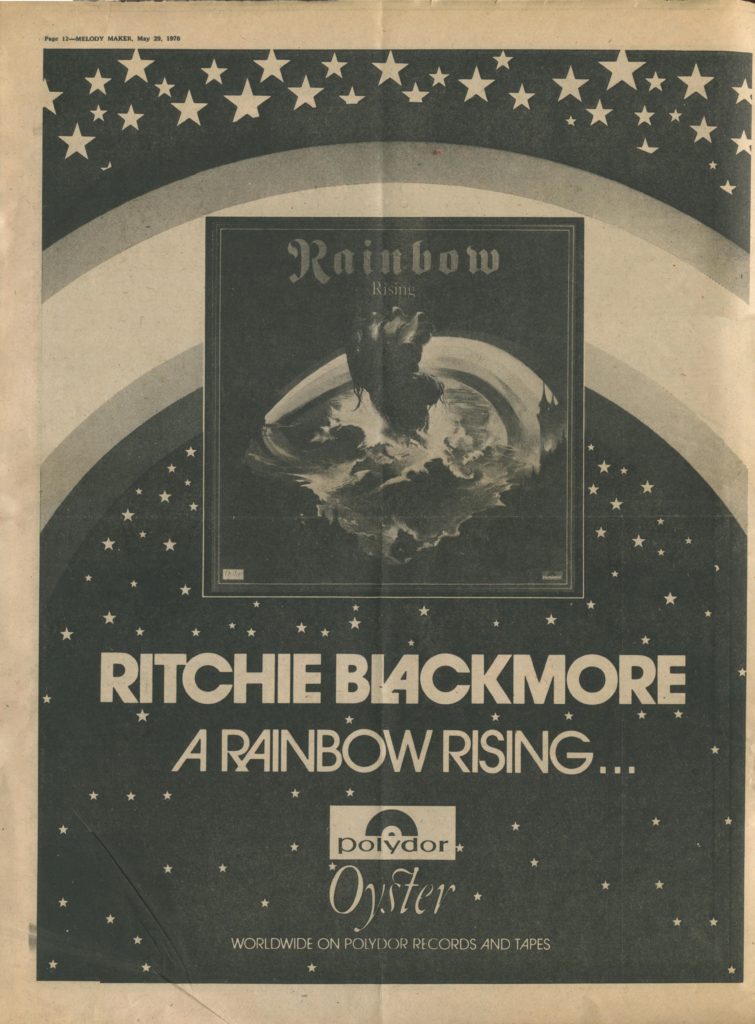 Reception and Review

The Deep Purple Appreciation Society which would launch the magazine Darker than Blue started out in the 70s when it was called Stargazer. In their Issue Six, Aug./Sept.1976 they reviewed "Rising."

Tarot Woman'- Good melody, and a great chorus tune. The difference between this line-up and the first is immediate, Cozy seems to provide that drive which spurs Blackmore on. 'Run With The Wolf'- More uninspired, Dio sounds good, but can't make up for the lack of a tune. 'Starstruck' – reminds us of 'Hold On', strange as Ritchie doesn't like that track. 'Do You Close Your Eyes' – a reasonable track, a bit Elf-like, but still the most dispensable one on the album.'Stargazer' – I'd have to go back to the 'Fireball' LP to find a track which had as much impact on me the first time I heard it as this did. Undoubtedly one of the best things Blackmore has ever been involved in; perverse epic grandeur as NME put it. 'A Light InThe Black' – I wondered how they'd follow it but they do. These two numbers combine to form one of the most devastating album sides I've ever heard. It's going to be incredible live, we can only wait and see.
Tour Schedule: Rainbow are currently touring America on a two month cross country blitz. According to Purple Records UK dates are on for August, final venues still being worked out.
Dio: "Rising, the album that everyone says 'ehh, it's one of the greatest, mah' . . . this album is about a bunch of self-indulgent shit on the second side as far as I'm concerned I think the first side is great, it's got real songs on it. The second one was hey let's play a drum solo for 18 minutes, and hey Ritchie you can play guitar too, good for you."
Ritchie picks Rising as his favorite Rainbow album in an interview with Martin Popoff: "We had 'Stargazer' on it, and 'Stargazer,' I felt, was very reflective of where we were trying to go, with the orchestra playing away, and I think it was a good riff. And Ronnie sang extremely well. I think there are only nine tracks on it. And we were still having fun, whereas for the next one we started getting a little bit tired of each other."
In a later interview with Popoff Ritchie says "There are only seven tracks on it."
Glover, in Popoff's book: "I think the era of Rainbow that really contributed most was the era before I had joined the band. After I joined them, I joind them with the specific brief to commercialize the band and sell more records–otherwise it was going to fold. So I think the real cult era of Rainbow was the first two or three records, Rainbow Rising in particular."
Glover goes on to tell about bumping into the Ritchie in 1976 for the first time since leaving Deep Purple. Ritchie took him into the studio and played him Stargazer and Glover was blown away.
Ronnie: ". . . but as a vocalist you kind of feel out of the loop a little bit. So I look at that whole album and say, well, I was on the first side, and half of the second side, and not very much of the other part. So it just seems to me that there were better songs on the first album, although there were some good ones on the second one."
Ronnie: "I thought the second one [Rising] was amateurish and looking up people's asses, to tell you the truth."
Ronnie felt Rising was just a vehicle for Ritchie and Cozy to play and show off.
Tony Carey holds up side 1 as the weaker of the two sides. He says they did the songs all quickly. "The important ones for us were 'Stargazer' and :'Light in the Black.'"
Tony puts it more bluntly in Sensitive to Light: "I think it sucks. No, I don't like it. Yeah, I don't like it. But you know, it's 30 years later and I get fan mail from that record. No, I don't think it sucks, but it's very naive. Side two was like two songs, like mega-long solos, both for me and for Ritchie. I don't know if that's necessary to the song. I hated the lyrics; I didn't like the lyrics. But what people react to and the emotional response that Rising invokes in people is because of the power, and the power is there… All this shit about wizards and dragons and my eyes are bleeding and all that shit."
Peaked at #48 in the US on Billboard and #11 in the UK.
This Week in Purple History . . .
January 20 through January 26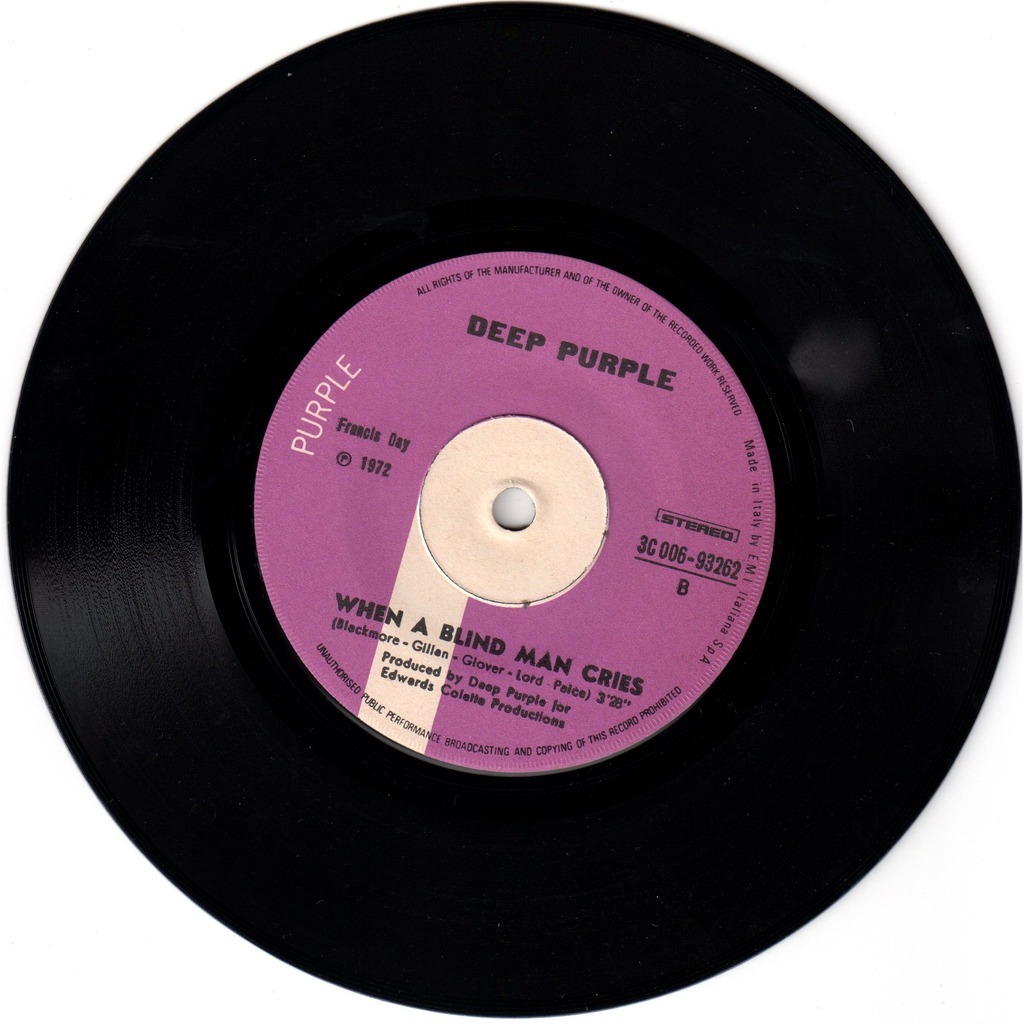 January 23, 1971 – Purple records was formed and announced in NME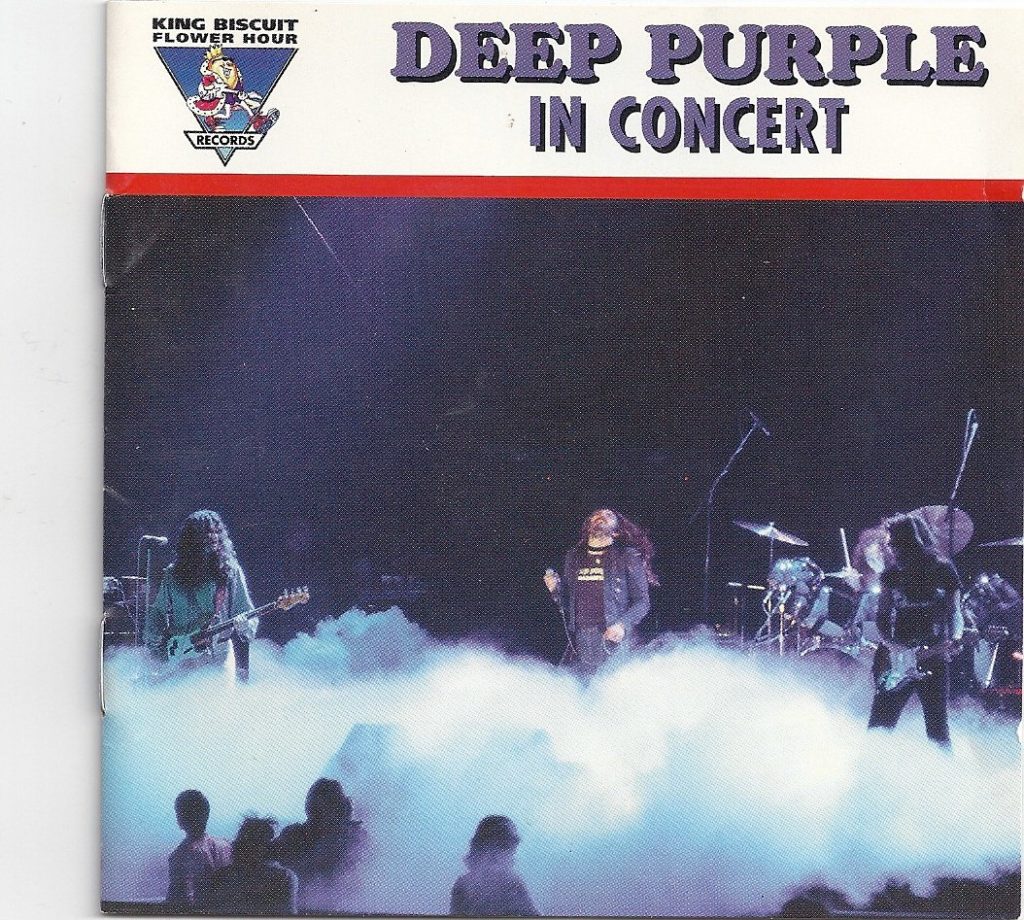 January 26, 1976 – Deep Purple performs live on the King Biscuit Flower Hour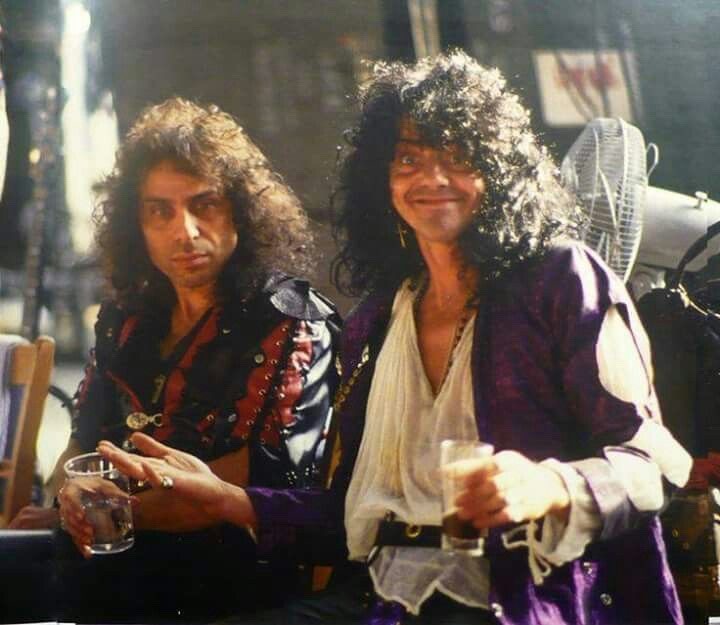 January 23, 2016 – Jimmy Bain dies
For Further Information: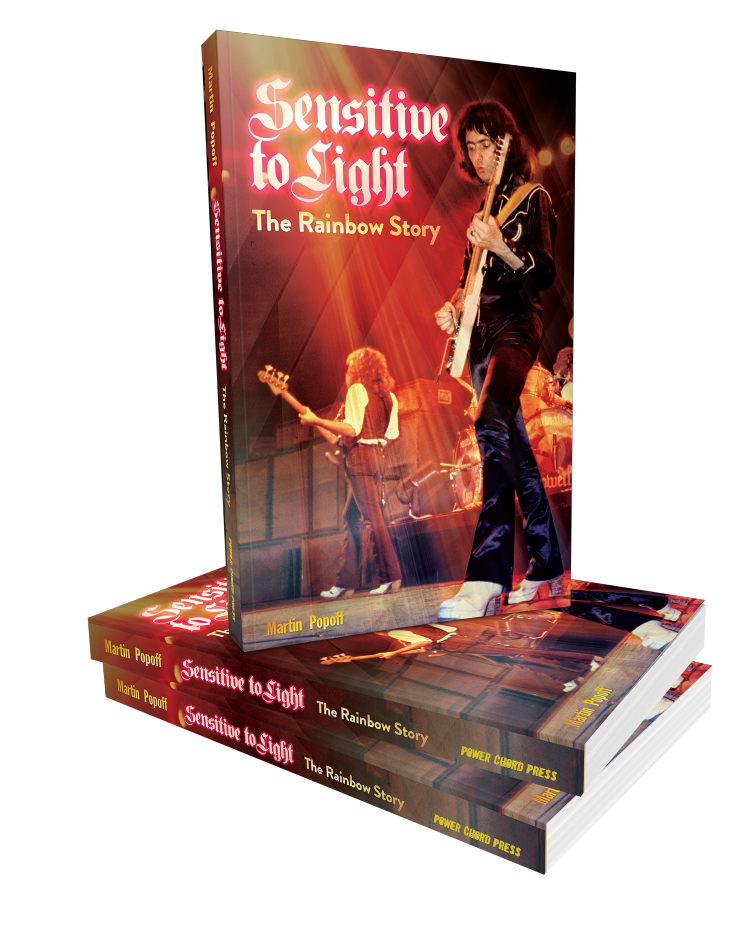 Listener Mail/Comments

Comments about the show? Things you'd like us to cover? We'd love to hear from you. Send us an email at info@deeppurplepodcast.com or @ us on Twitter, Facebook, or Instagram.