Subscribe at Apple Podcasts, Stitcher, Google Podcasts, Overcast, Pocket Casts, Anchor.fm, Breaker, PodBean, RadioPublic, or search in your favorite podcatcher!

Thanks to Our Patrons:

$5 Tier
$3 Tier

Peter Gardow
Ian Desrosiers

$1 Tier

Ells Murders
Spacey Noodles
Thanks to our Brothers at the Deep Dive Podcast Network:
Thanks to the Patron Saint and Archivist of The Deep Purple Podcast:
Show Updates:

Comments from social media.
Strange Brew Podcast came out with episode on Howie Casey the same day our Paice Ashton Lord episode dropped. Check it out here: https://thestrangebrew.co.uk/howie-casey/
Come.taste.the.memes
Riding_the_meme_out: "Hey I just finished your Teaser episode and enjoyed it a lot and I just wanted to say I love your show and appreciate the work you guys do for the podcast!"
Rich on Facebook:

Hey guys just stumbled across your podcast. So far so good! I realize that it sounds like an insult but…. I like that you are not experts. There is a charm to listening to 2 good friends discuss the music they love and discovering/rediscovering the music of Deep Purple as well as their story.
I'm now 7 or episodes in and very much looking forward to hearing you guys as you listen to the Morse era albums, for my money some of their best. My only criticism would be the balance between the sound clips and your voices. Maybe this corrects itself in future episodes or maybe it was you guys paying homage to the poor production of the first three albums
Keep up the good work.
By the way, I spotted the RI accent right off the bat, Long Island?

Mo Foster:
Snippet from his talk promoting British Rock Guitar.
Email from Mo on Roger Glover:

Thanks Nate
I have a quick story for you.
Some years ago I had a call from Roger Glover who was visiting London. He fancied popping over for a cup of tea and a chat.
Just before he'd rung, my wife Kay — a New Zealander and a big Purple fan — had gone for a long walk on a very soggy Hampstead Heath.
When she returned home a couple of hours later — sweaty, and with her boots and clothes covered in mud — she came into the room where we were sitting,
I introduced them: "Kay, this is Roger". The expression on her face was priceless.
Cheers
Mo

We wondered in our Paice Ashton Lord episode (Episode #33) what George Harrison played with Deep Purple when he joined them on stage in 1984. Joerg Planer answers our question with the following link: Deep Purple Feat George Harrison – LUCILLE (1984 – 12- 13, Sydney )
Also in our Paice Ashton Lord episode (Episode #33) John mentioned imagining the songs being done by Coverdale. According to Joerg Planer Coverdale had been approached about doing the second album but it didn't come together. Coverdale refers to it as CLAP.
On Facebook, about our Teaser episode (Episode #32): Frank Krøier Theilgaard-Mortensen What a great episode! Im so glad I found your podcast! 🎶 It takes me back to the time in the late 90s when me and my friend got into Purple and suddenly found All these fantastic sideprojects/solostuff in the Purple family. I absolutely love Teaser and it was great to hear your thoughts about the songs. Looking forward to dive into another episode 😎
Gillan's Financial Endeavors:

Deep Purple's finances were taken care of by their accountant, Bill Reid. He had invested most of their money in off shore bank accounts but before anyone could ask him about these investments he died suddenly and with him went the knowledge of how and where to access this money.
Gillan had decided he would never sing again and went into a new phase of his life. He didn't, however, really know or understand how much money he was going to need to make this possible.
Bill Reid remained Gillan's financial adviser.
Gillan cut his hair short, dressed more "normal" and decided he was going to turn an old building into the "finest country hotel in the world."
He got taken advantage of by many contractors and sunk a lot of money into the renovations after paying 100,000 in cash for the property.
Opening party on November 30, 1974.
A second venture was the Mantis Motor Cycles company which Gillan helped finance after visiting a race and falling in love with the sport. He then opened his own motorcycle shop World of Wheels in September of 1975.
The British motorcycle industry was experiencing a bit of a bubble which popped.
From then on things started falling apart for Gillan financially.
Martin Birch came to Gillan and asked him if he'd be willing to buy De Lane Lea studios as they'd moved De Lane Lea to a new location and left all the old equipment behind. Gillan felt he missed all of these old friends and purchased the studio renaming it Kingsway after the street it was on.
Immediately they began running into problems with recording and were only allowed to record after 6:00pm. They could only record quiet (string quartets) or use the place as an office during the day.
Gillan says it was a stupid move as he was never at all interested in the techinical aspects of making records.
Four days after this venture Martin came to see Gillan and told him that Purple offered him a permanent retainer. It was something he couldn't refuse having just gotten married. This left him without any qualified audio engineers.
Glover, mostly producing, still used the studio.
This is when Gillan was recruited to The Butterfly Ball and his interest in singing was rekindled as we discussed in our Butterfly Ball epiosdes.
He had three ventures going now and all of them were falling apart. Bill Reid met with Gillan to discuss his finances.
By this point he had used all of his money up. Gillan had no chance but to liquidate, selling the hotel for what he paid for it (losing possibly 300,000 on the deal).
Gillan tells the story of having one of his friends go fill up his car with gas for him at a station where he had an account. In his book Gillan says ". . . a guy called Gary, whith whom I was on first name terms, came screaming out, shouting, 'Take the pump out of the car. Don't put petrol in it. It's Gillan's car — he's bankrupt!'
Forming of the Band:

In the aftermath of "The Butterfly Ball" live at the Royal Albert Hall where Gillan performed with Ray Fenwick and John Gustafson he put together this band.
Back in the Business:

Ian went back to Paris to focus on singing.
He set up a meeting with John Coletta to discuss making a new album.
Coletta demanded very high percentages but Gillan, out of desperation, agreed to the deal.
Then Coletta demanded the publishing.
At this point Gillan had his own publishing company, Pussy Music.
Gillan took the band to meet Coletta and Bill Reid.
There was a journalist present and they went back to the apartment that the band was sharing.
Gillan said as he was talking to the journalist he looked over and saw John Gustafson pissing in her handbag which he then threw out the window.
Needless to say the evening did not end on good terms.
Gillan then tells a story of him and John Gustafson having a "screaming contest" which he describes as ". . . we lay on the floor, face down and nose to nose. We then started to scream, and this continued for about two or three hours. I vaguely remember Zoe saying she was going to bed, and Mark also disappeared as the city came to life."
Lead up to the Album:

In Dave Thompson's "Smoke on the Water" he mentions that Gillan wanted to call the band Shand Grenade, a portmanteau of Shangri-La and Hand Grenade.
Made their debut just before Christmas in 1975 on German TV with Glover on Bass on Mickey Lee Soule on keyboards.The band went to Munich to make the album on the Oyster label.
They recorded at Musicland Studio, with Roger producing.
They got to the studio only after all being arrested at the airport for "making a nuisance of themselves on the plane."
Gillan described the music as "now sort of music at the time."
Recording began in January of 1976 (just three months after Butterfly Ball)
Gilan decided not to use Coletta's management.
They stayed at the Arabella Huas Hotel while recording.
He said they all made friends with a group of hookers who were hanging out at the hotel.
Very odd story about how a short man with a cigar came into the hotel with the hookers one night and Ray Fenwick, for some reason, decided to drop his pants and sit in the plate of canapes the man was sharing with one of the hookers. Gillan says that "Ray has one of the hariest arses in the world." When he stood up there were bits of cucumber and carrot all stuck to his ass. Gillan says the man with the cigar only reacted by taking the lit cigar and sticking it Ray's butt.
Gillan says that the group was out of control and when they went to America he traveled separately because he couldn't keep up with them.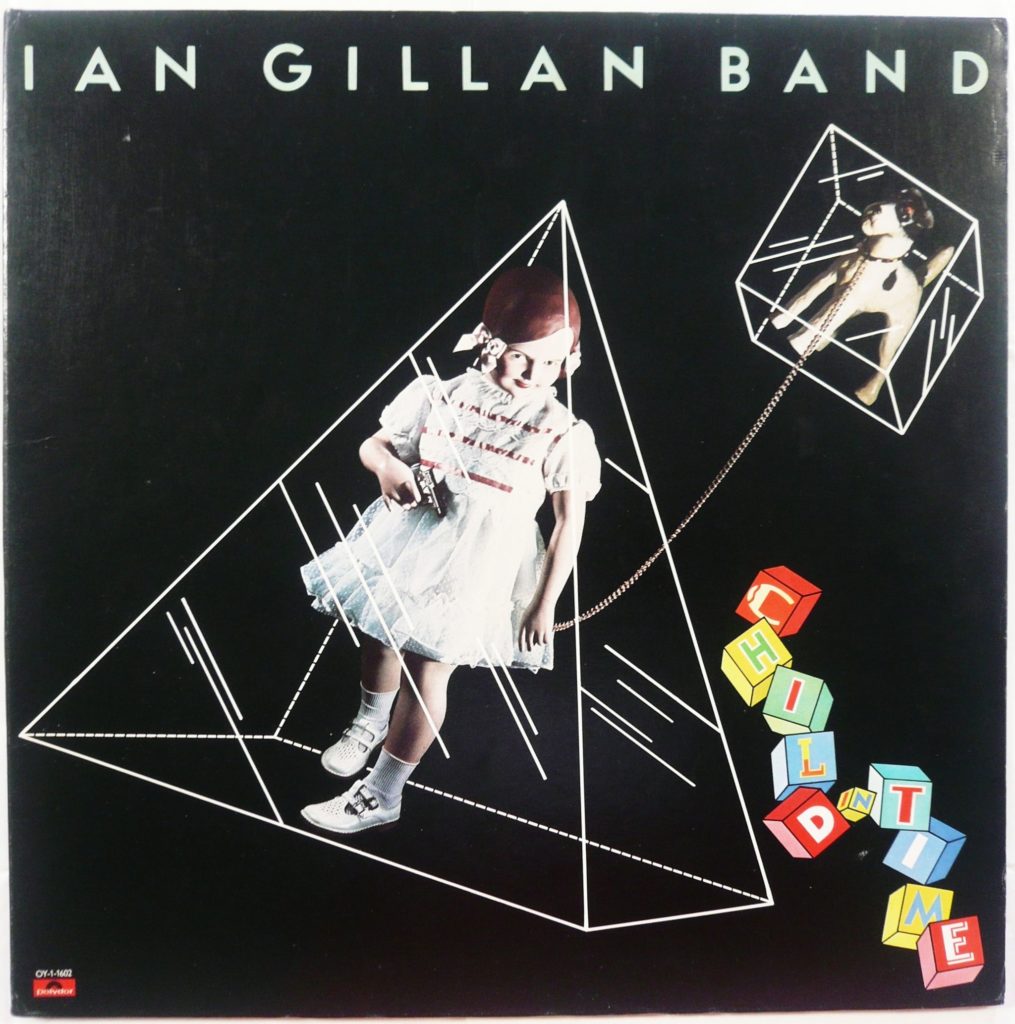 Album Art & Booklet Review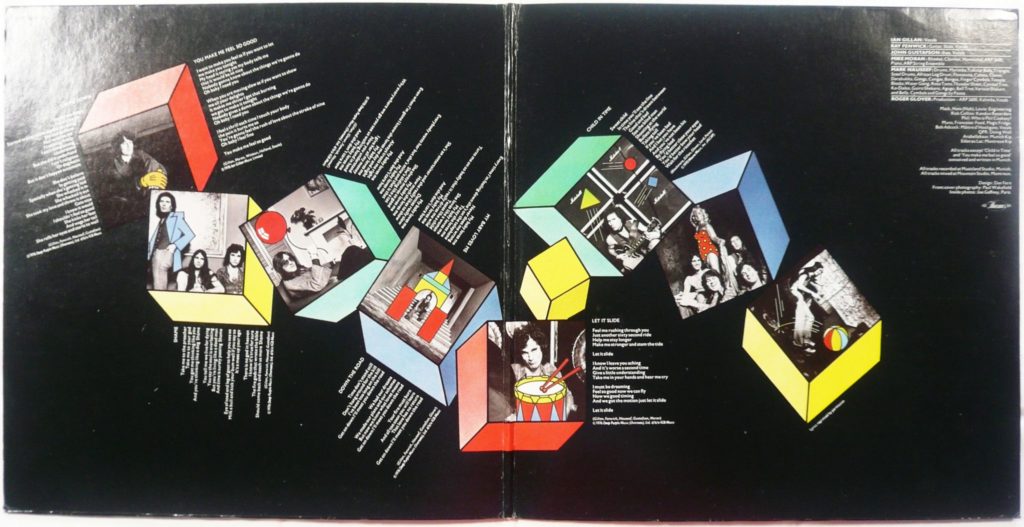 Photography By [Inside Photos] – Joe Gaffney
Design – Dan Fern

Album covers for a few other acts including Small Faces
Album Credits (from Discogs):
Album Tracks:

Lay Me Down (Gillan, Fenwick, Nauseef, Gustafson)
You Make Me Feel So Good (Gillan, Moran, Dave Wintour, Bernie Holland, Andy Steele)
Shame (Gillan, Fenwick, Nauseef, Gustafson)
My Baby Loves Me (Gillan, Fenwick, Nauseef, Glover)
Down the Road (Gillan, Fenwick, Nauseef, Gustafson, Glover)
Child in Time (Blackmore, Gillan, Glover, Lord, Paice)
Let it Slide (Gillan, Fenwick, Nauseef, Gustafson, Moran)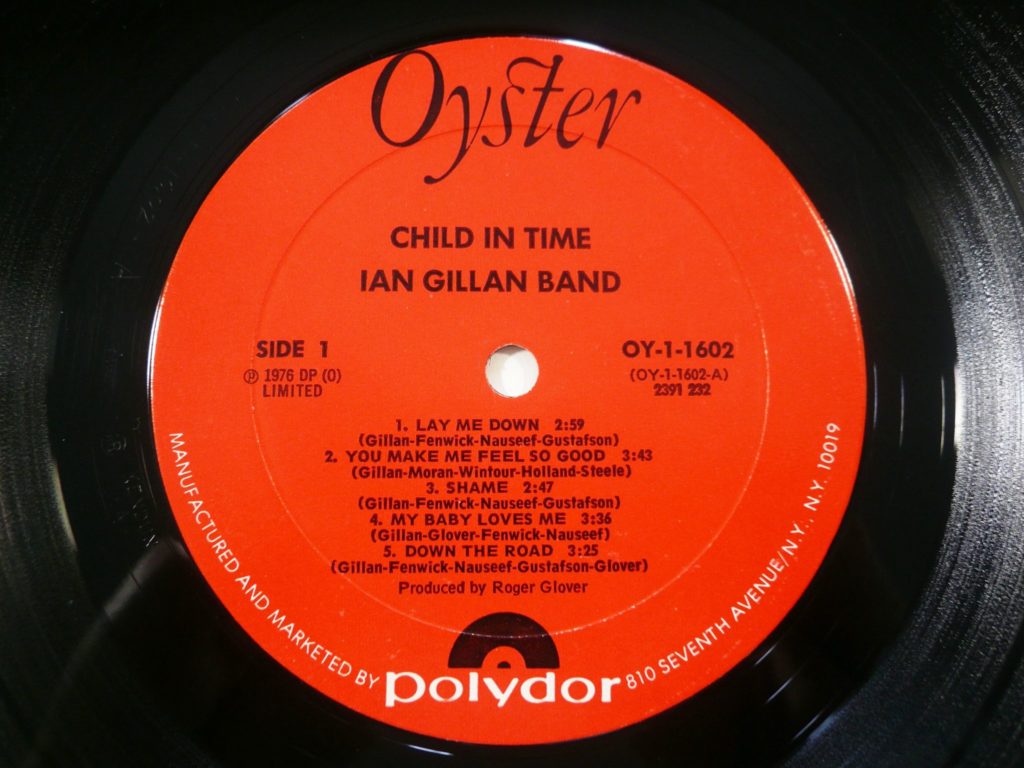 Reception and Review

The Deep Purple Appreciation Society which would launch the magazine Darker than Blue started out in the 70s when it was called Stargazer. In their Issue Seven, June/July 1976 they reviewed "Rising."

"The production has left the potential of the band completely hidden. It's overproduced to a point where the group's natural energy sounds contrived, it's usually the drive and freshness of a new band which attracts attention – vis. 'In Rock'. Gillan sings on typical rock themes, ie. bed, but the backing is incongruous. Everything has a soft Americanised touch, and is altogether too rich. It will appeal more to the 25-35 age group. It sounds old." Ann.
Ian Gillan's personnel is changing faster than Blackmore's! Keyboard player Mike Moran was replaced for the French Tour by Micky Lee Soule (ex. Elf), who was in turn replaced by Colin Towns after the tour before they left for America.1

In Dave Thompson's "Smoke on the Water" Gillan says about their first show: "The audience went berserk as soon as we walked out onstage; they were hyped up, ready to headbang and everything else. And our opening number went, 'Dink-dink-a-dink, dink-dink-a-dink,; it was a jazzy, funky thing. And the crowd didn't know what was happening. They were going, 'Eh?What they hell's that?' But we stuck with it. You've got to do what you believe in. You've got to take risks.
Fenwick: "A lot of the Deep Purple fans were getting a little unhappy — 'Hey Ian's getting funky!' — and, of course, by the time the second album [Clear Air Turbulence', that terrible word 'jazz; was coming in. But the worst thing we could have done was be another Deep Purple. We started to really experience and, by the time we got to the third album [Scarabus], although we started doing shorter songs because we were thinking about radio play, we were also getting into some really strange stuff."
This Week in Purple History . . .
January 13 through January 19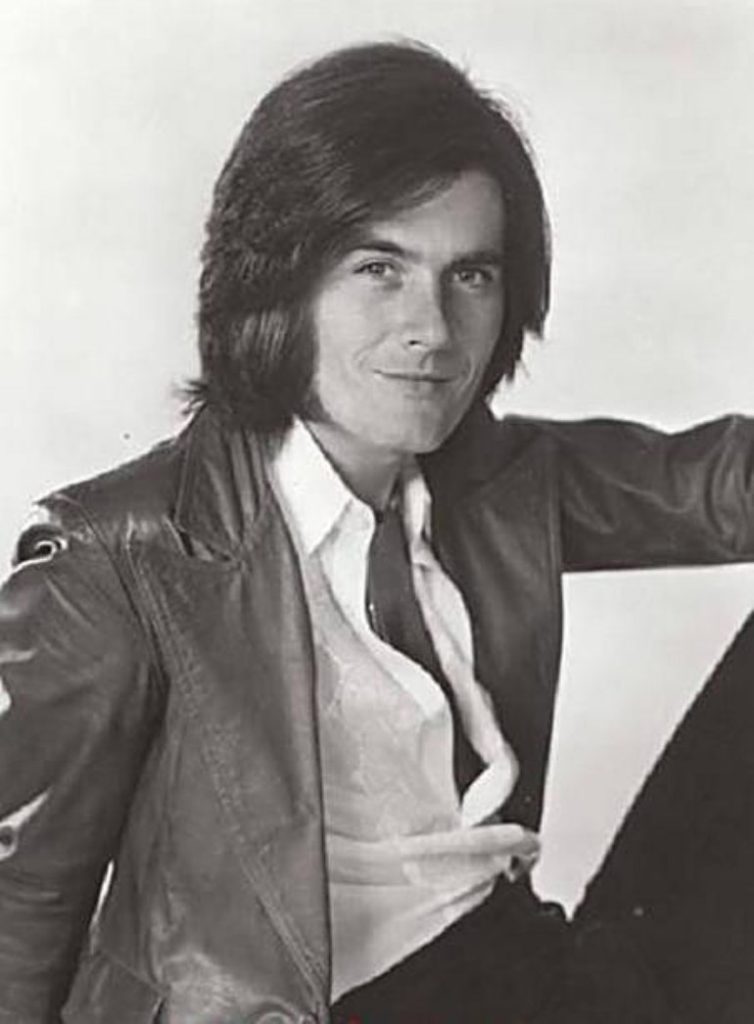 January 19, 1947 – Rod Evans is born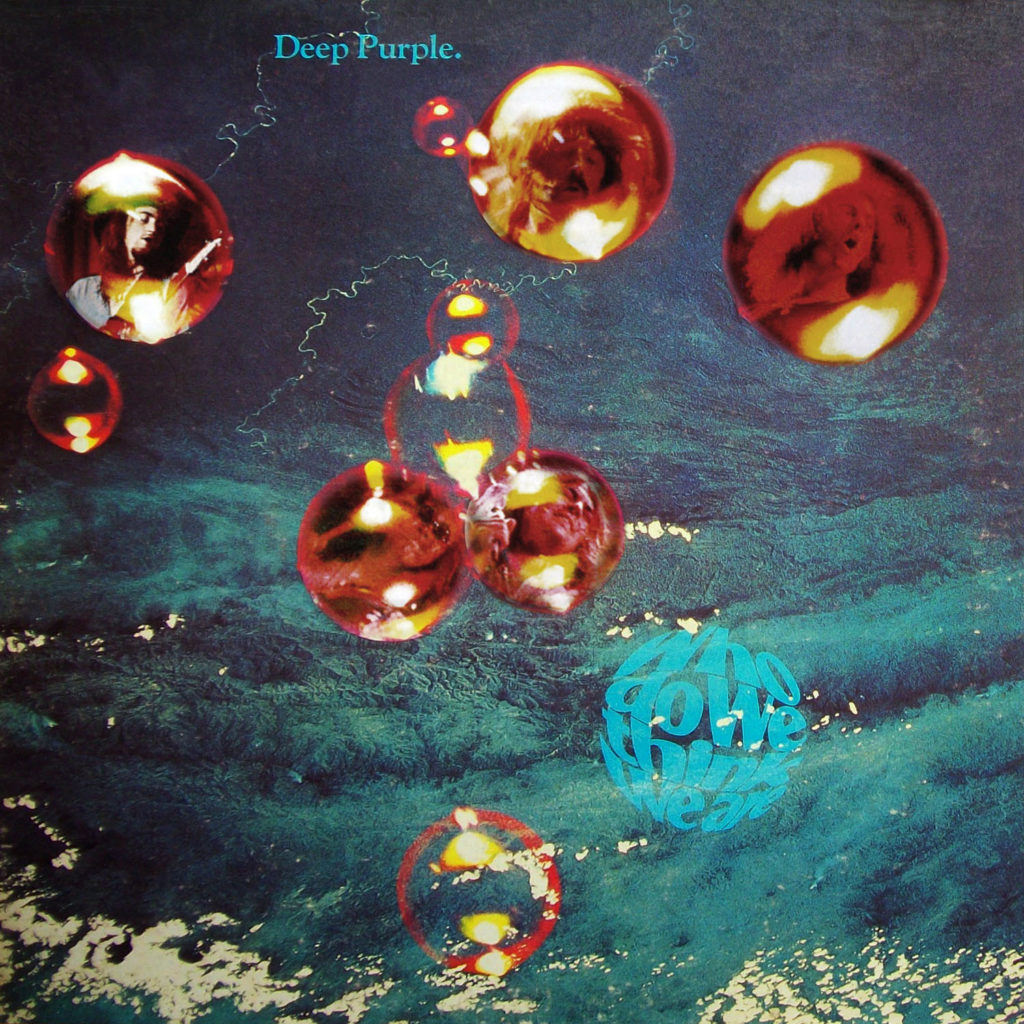 January 13, 1973 – Deep Purple releases Who Do We Think We Are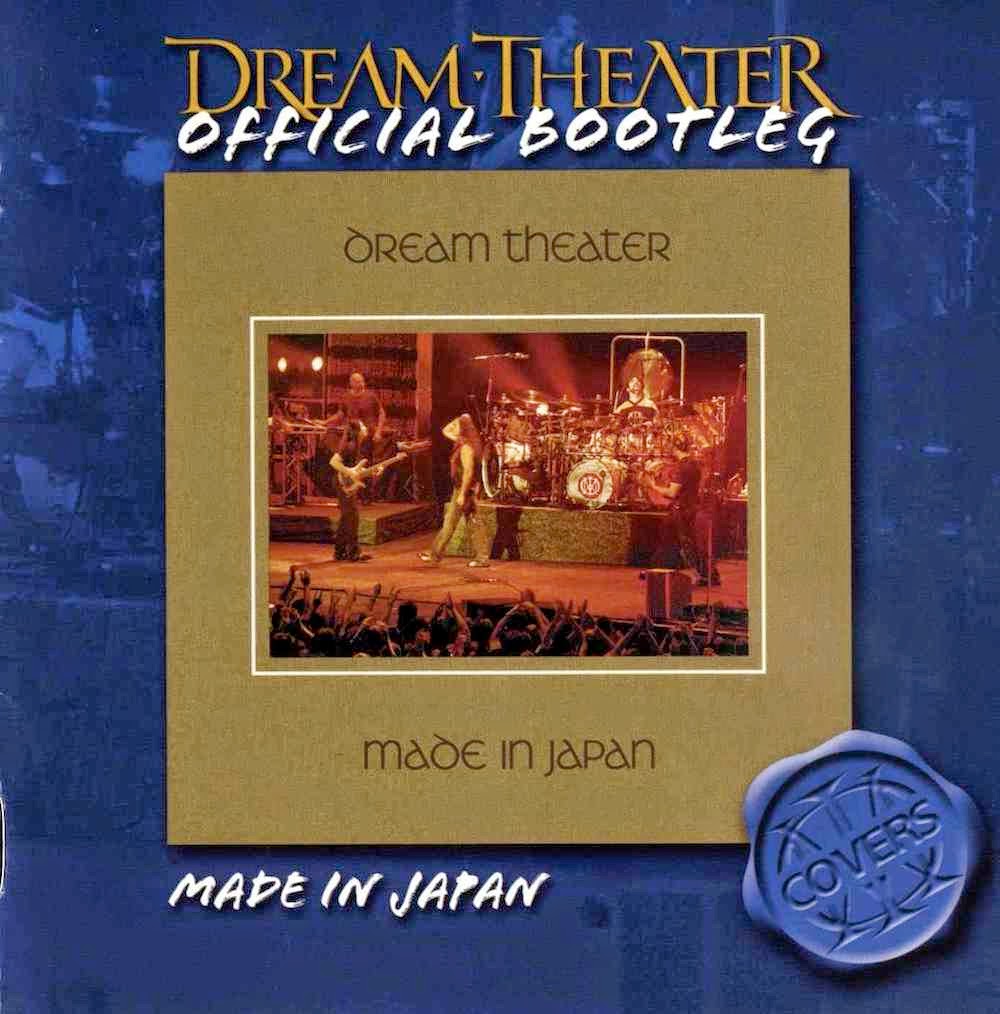 January 15, 2006 – Dream Theater performs Made in Japan in Osaka – Roger Glover does the mix
For Further Information:

Listener Mail/Comments

Comments about the show? Things you'd like us to cover? We'd love to hear from you. Send us an email at info@deeppurplepodcast.com or @ us on Twitter, Facebook, or Instagram.