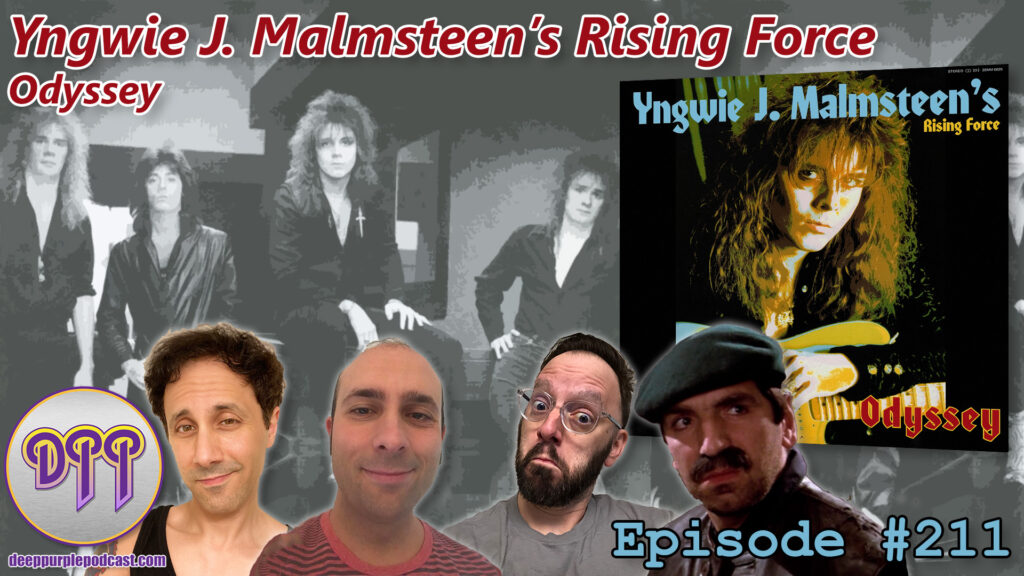 Subscribe at Apple Podcasts, Stitcher, Google Podcasts, Overcast, Pocket Casts, Anchor.fm, Breaker, PodBean, RadioPublic, Amazon Music, or search in your favorite podcatcher!

How To Support Our Show:

The Deep Purple Podcast is 100% listener supported and ad-free! If you receive value from our show please consider supporting us!

Brendan Ashbrook – Logo Designer

New Patron/Patron Upgrades:

Fielding Fowler,

Dear Nate & Jon. I have bad news. I can no longer support the D.P.P at the 6.99 level and Spike and Sugar Tits say they can no longer support the show at the 3.33 level each.
The good news is that Spike and Sugar T have agreed to share my former New Nice Price Tier at 6.99. And I will be in my new tier, the "Hughes-O-Ween By 2033" Tier. The only catch is you must produce a Hughes O Ween Episode near Halloween in a year before 2033. You have 10 years, make it happen.
When PoT joined Patreon, I hit the $20 Tier, so if I can give those boners $20, I can update and give you knuckleheads $20 from my family too.
An additional list of demands may come later, but they will revolve around Pops Mottola taking over the show.
Thanks guys!
Fielding, Sammi, and Spike.

Will Porter writes in, subject line "Here's a duplicate name for ya!"

Hi guys,
nice as it is to hear my name in the patrons listings twice, you haven't taken my name off the "Money Lender" tier since I "turned it up to $11"
I'd also like access to the spreadsheet if I may. I want to do some fumbling with the tabs of my own.
Cheers,
Will (PhDDP)
Thanks to Our Executive Level Patrons:

The $25 "Uncommon Man" Tier
The £15 ""Fifteen Squid" Tier

Alan "Ain't Too Proud To" Begg

The £10 "Good Doctor" Tier

Dr. Jill Breis
Dr. Mike Kattan

The Turn it up to $11 Tier

Clay Wombacher
Frank Theilgaard-Mortensen
Mikkel Steen
Will Porter, PhDPP

$10 "Some One Came" Tier

Ryan M
Jeff Breis
Victor Campos
"Better Call" Saul Evans

The "Hughes-O-Ween by 2033" Tier

Fielding Fowler – PATRON UPGRADE!!
Apple Podcasts Reviews:

Knut from Hell, Norway – 5 Stars!
Highly recommended!
If you are in favour of enjoyable rock anecdotes, this podcast wil be the seasoning that Purple-infects your brain. Even connoisseurs of the DP family can be impressed by the research that these gentlemen present in the presentation interesting analyses of the various tunes and themes. The Deep Purple Podcast maintains a standard worthy of the best band in the world. 5/5 Rock On! Knut from Hell, Norway
Deep Dive Podcast Network:

Check out our website to find other like-minded shows taking deep dives into individual songs, bands, and albums.

Lead up to the Album:

Previous album was "Trilogy" which seems to get more critical acclaim. The Johansson brothers were on that as well with singer Mark Boals.
He got into a bad car accident leading up to recording this album. He describes the accident in ana interview here:https://metalheadzone.com/yngwie-malmsteen-recalls-his-horrible-car-crash/

"My car crash of 1987 was a horrible thing. But worse things happened to me at the same time. First, I had that car accident. Then my mother died. Then I was ripped off for all my money. It was just a horrible time, you know? But when you've been struck down that hard, you either come back stronger – or you don't. If you put an obstacle in front of me, I will crush it, and I will go forward. I am impossible to stop. I cannot be stopped."
Core Band:

Technical: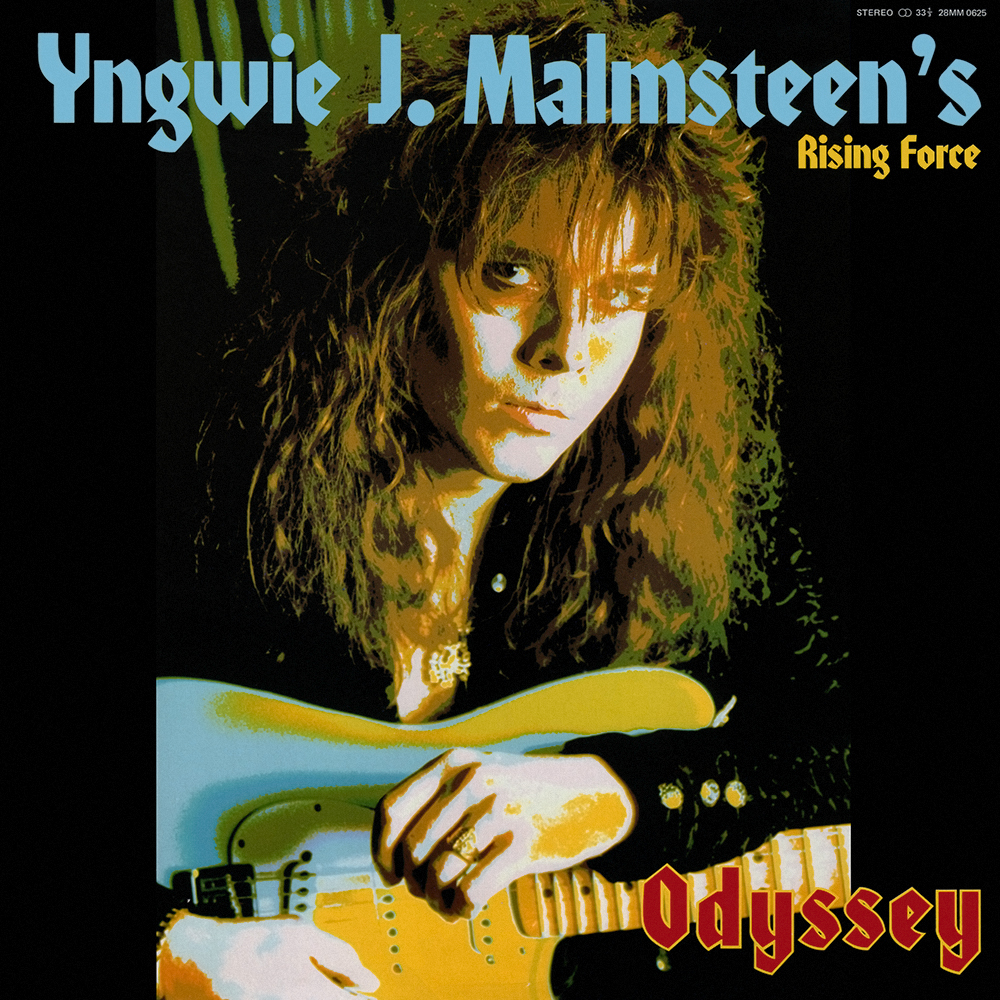 Album Art & Booklet Review

Thanks to Our Core Level Patrons:

The $7.77 KeepItWarmRat Tier
The $6.99 "New Nice Price" Tier

Spike the Rock Cat – PATRON UPGRADE!!
Sugar T – PATRON UPGRADE!!

The Episode $6.66 Tier

Steve Coldwell
Arthur Smith
Anton Glaving

The $6.65 "Almost Evil" Tier
$5.99 The "Nice Price" Tier

Robert Smith
Peter from Illinois
Michael Bagford
Karl Hellberg

The 60 Kroner "Scandinavian Nights" Tier

Zwopper The Electric Alchemist
Knut Morten Johansen – 

$5 "Money Lender" Tier

John Convery
German Heindl
Adrian Hernandez
Jesper Almén
Oleksiy The Perfect Stranger Slyepukhov
James North
Mark Hodgetts
Kev Roberts
Percival Frequency
Scott Zerns
Cynthia Dube
Raff Kaff
Richard Fusey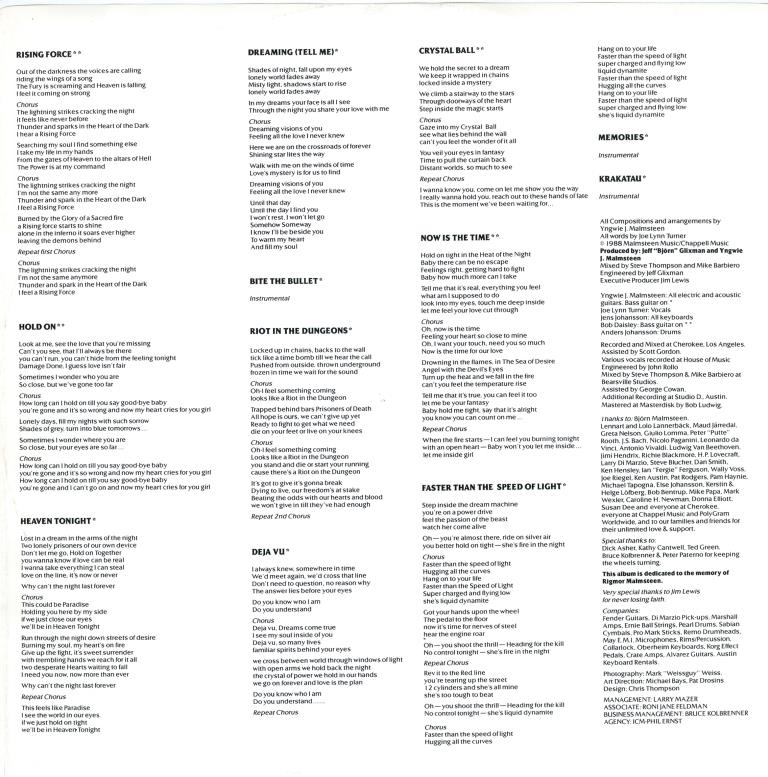 Album Tracks:

All lyrics are written by Joe Lynn Turner; all music is composed by Yngwie Malmsteen.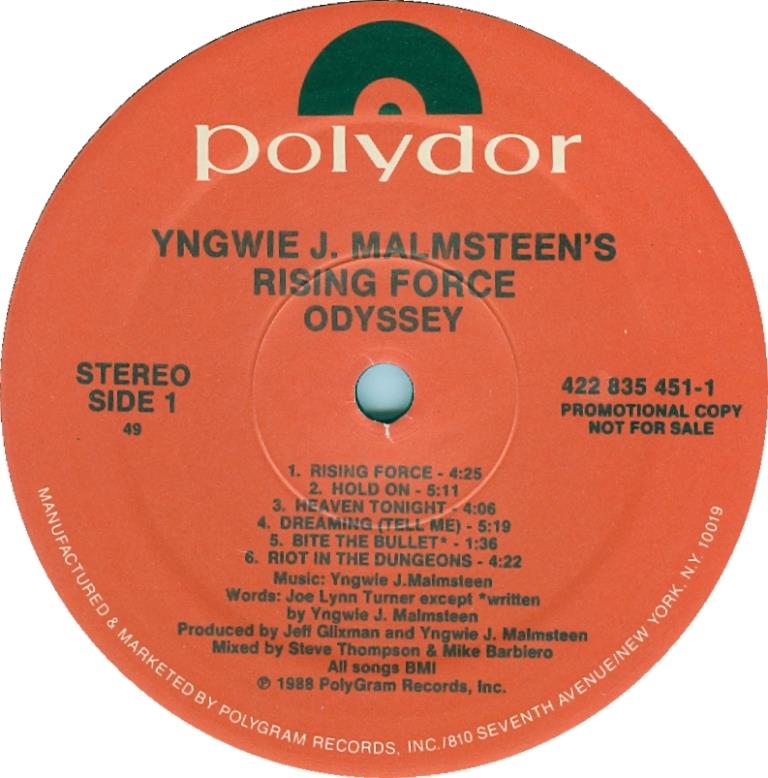 Rising Force
Hold On
Heaven Tonight
Dreaming (Tell Me)
Bite the Bullet (instrumenttal)
Riot in the Dungeons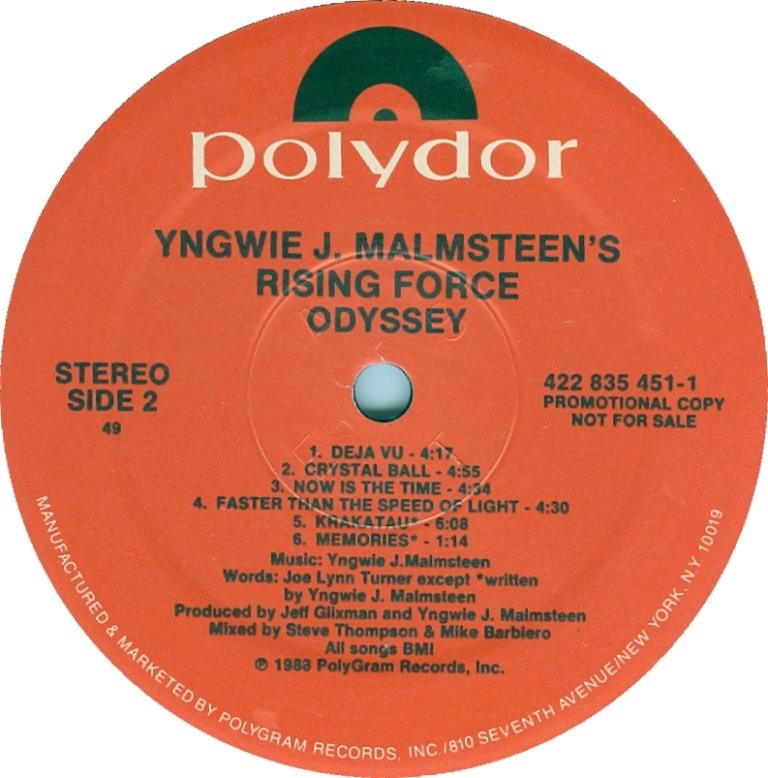 Deja Vu
Crystal Ball
Now Is The Time
Faster than the Speed of Light
Krakatau (instrumental)
Memories (instrumental)
Thanks To Our Foundation Level Patrons:

The £3 "The Aromatic Feed" Tier
The $3.33 Half Way to Evil Tier

Stephen Sharpe
Duncan Leask

$3 "Nobody's Perfect" Tier

Peter Gardow
Ian Desrosiers
Mark Roback
Duncan Leask
Stuart McCord
Flight of the Rat Bat Blue Light
Øyvind Fjeldbu –
Runar Simonsen –
JJ Stannard
Ruinous Inadequacies
John Miceli
Michael Boyette

The $1.71 "I Want My Own Tier" Tier
The 10 kr "" Tier
The £1 Tier
$1 Made Up Name Tier

The "Sinking Force" Leaky Mausoleum
Stephen Sommerville The Concerto 1999 Fanatic
Hank the Tank
Private Eyes
Ashen Lionel
Blackmore's Tights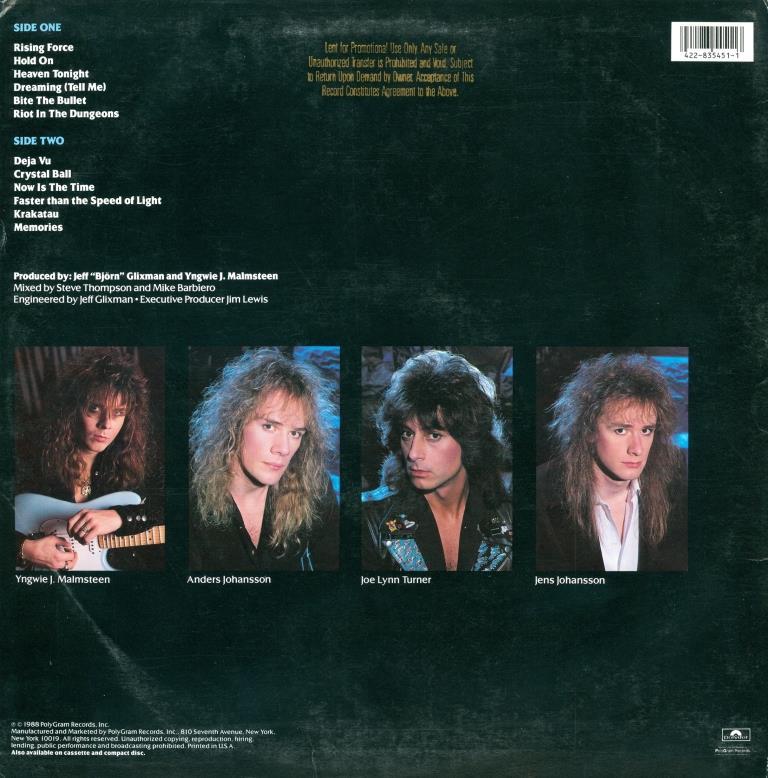 Bustin' Out The Spreadsheet

Reception and Charts:

Overall this was Yngwie's best charting album reaching #7 in the Swedish charts, and #40 in the US charts, #19 in Japan and #27 in the UK. Later albums would chart much better in Japan but he never reached these heights again in the US or UK charts.
Reviews:

Steve Huey from AllMusic
Odyssey is a more subdued, polished collection seemingly designed for mainstream radio airplay. Vocalist Joe Lynn Turner gives the set a smooth, professional feel, and Yngwie Malmsteen's playing is more mellow, due partly to the fact that he was still recovering from his near-fatal car accident when the album was recorded. However, all of this works to the detriment of the music: the mellowness of Malmsteen's guitar work makes him sound constrained and passionless, and the album shows little difference in approach from his previous output, lending credence to critics' charges that Malmsteen plays with mindless technique at the expense of substance, fire, and emotion.
Kerrang review by Mick Wall: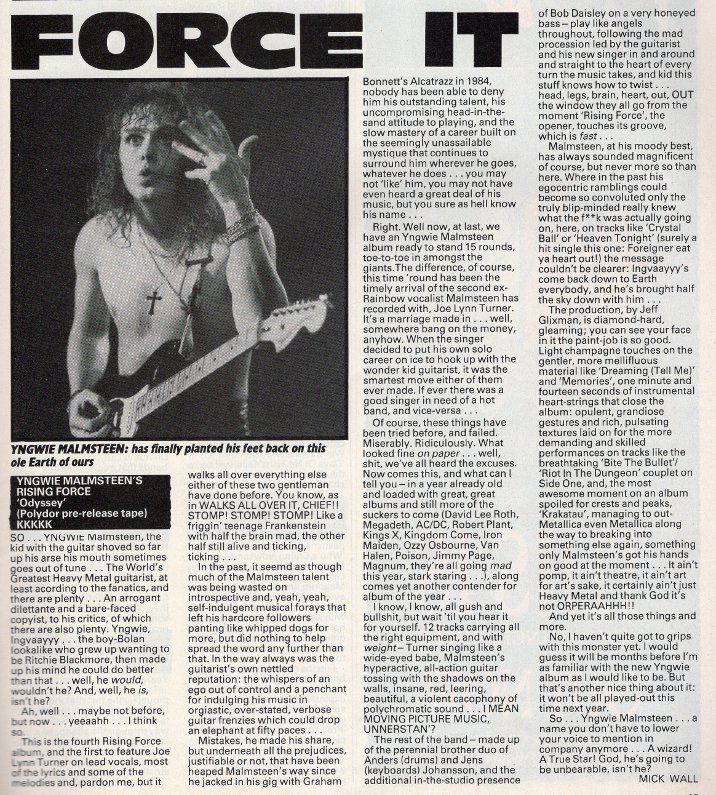 For Further Information:
Listener Mail/Comments

Comments about the show? Things you'd like us to cover? We'd love to hear from you. Send us an email at info@deeppurplepodcast.com or @ us on Twitter, Facebook, or Instagram.