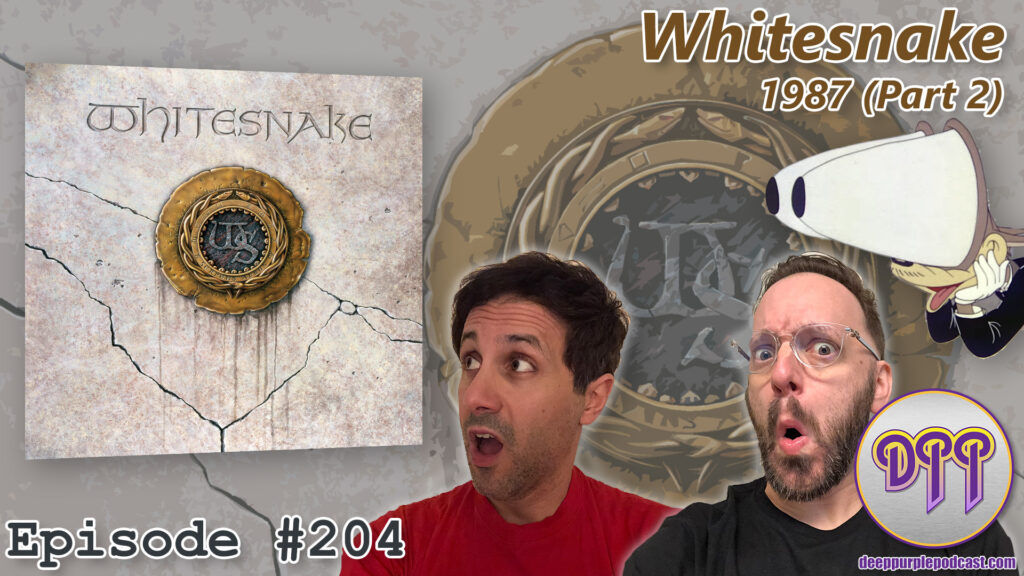 Subscribe at Apple Podcasts, Stitcher, Google Podcasts, Overcast, Pocket Casts, Anchor.fm, Breaker, PodBean, RadioPublic, Amazon Music, or search in your favorite podcatcher!

How To Support Our Show:

The Deep Purple Podcast is 100% listener supported and ad-free! If you receive value from our show please consider supporting us!

Brendan Ashbrook – Logo Designer

New Patron/Patron Upgrades:

Knut Morten Johansen

Joins us at the 60 NOK Tier!
Renaming the 60 NOK/60 SEK Tier to the "Scandinavian Nights" tier

John Miceli
Simply Paul

Changing his name to "Lord Longford"

Will Porter

Increases from £4 to £9.50

Hall of Famer Norman Weischlebaum writes in to shed some light on a new Blackmore side project.

…changed his business?
(Found at Bangkok airport)
Best
Norman
Thanks to Our Executive Level Patrons:

The $25 "Uncommon Man" Tier
The £10 "Good Doctor" Tier

Dr. Jill Breis
Dr. Mike Kattan

The Turn it up to $11 Tier

Clay Wombacher
Frank Theilgaard-Mortensen
Alan "Ain't Too Proud To" Begg
Mikkel Steen
Will Porter – PATRON UPGRADE!

$10 "Some One Came" Tier

Ryan M
Jeff Breis
Victor Campos
"Better Call" Saul Evans
Listener Email
Not sure if this is random or on purpose but it dawned on me recently that the Battle Rages On album has two song titles that are the same exact names of two of the most iconic Bond girls during Roger Moore's reign, Solitaire (Live and Let Die) and Anya (The Spy Who Loved Me).
Take care
Ron
Deep Dive Podcast Network:

Check out our website to find other like-minded shows taking deep dives into individual songs, bands, and albums.

Thanks to Our Core Level Patrons:

The $7.77 KeepItWarmRat Tier

Michael Vader
Richard Fusey

The $6.99 "New Nice Price" Tier
The Episode $6.66 Tier

Steve Coldwell
Arthur Smith
Anton Glaving

The $6.65 "Almost Evil" Tier
$5.99 The "Nice Price" Tier

Robert Smith
Peter from Illinois
Michael Bagford
Karl Hellberg

The 60 Kroner "Scandinavian Nights" Tier

Zwopper The Electric Alchemist
Knut Morten Johansen – NEW PATRON ALERT! –

$5 "Money Lender" Tier

John Convery
German Heindl
Adrian Hernandez
Jesper Almén
Oleksiy The Perfect Stranger Slyepukhov
James North
Mark Hodgetts
Will Porter
Kev Roberts
Percival Frequency
Scott Zerns
Cynthia Dube
Album Tracks (US):
Give Me All Your Love

DC in Metal Hammer UK, "In His Own Words" article: ""This is definitely written for a live set and it is a song about the lady who is featured in the video. The same lady who appears in the 'Is This Love' video."

Is This Love

DC in Metal Hammer UK, "In His Own Words" article: "The concept of that was originally for Tina Turner, but the lyric got pretty personal so I kept it. I didn't write it especially for her, the actual structure of the song was based loosely around a song called 'Time And Again' from Northwinds and when I started getting more into the lyric of it it became a very personal statement and | decided not to present it to the lady. Maybe one day, but it seems to be kicking substantial arse, as they say. It's at number two at the moment and another reason that I'm all over the place, apart from trying to give up smoking, is that I'm waiting too on the news to find out whether we've got the number one spot. If we can plant the flag on the top of the mountain after climbing so high, it would be a double treat. The people I work with are confident that this album will be in the top five for the next four or five months… It's doing incredibly well."

Children of the Night

DC in Metal Hammer UK, "In His Own Words" article: "This is another anthem job. Some of these are arranged purely and simply for live per-formance, but the sentiments are strong. Over here I'II be opening the show with 'Bad Boys' going into 'Children Of The Night' and reprising with 'Bad Boys' again. So that there are fireworks right at the start. If you listen to the album it is arranged purely and simply as a kind of studio-concert record. It's got all the ball breakers and then the pause for. breath and then the ball breakers again."

Straight for the Heart

DC in Metal Hammer UK, "In His Own Words" article improperly titled "Straight To The Heart": ""This is another related song, it s a cousin of 'Guilty Of Love' and this is one track that I was a little disappointed with, but I'm hearing more and more positive reports about it. I felt it was the weakest, but a lot of the press said that 'Children Of The Night' was the weakest, but I don't think so. It could have been better. It has come out well though.

Don't Turn Away

DC in Metal Hammer UK, "In His Own Words" article: ""It's to do with the separation between my beautiful ex and me. It's double edged, it's like her talking to me and me talking to her."
Thanks To Our Foundation Level Patrons:

The £3 "The Aromatic Feed" Tier
The $3.33 Half Way to Evil Tier

Raff Kaff
Spike the Rock Cat
Spike's Mom

$3 "Nobody's Perfect" Tier

Peter Gardow
Ian Desrosiers
Mark Roback
Duncan Leask
Stuart McCord
Flight of the Rat Bat Blue Light
Øyvind Fjeldbu –
Runar Simonsen –
JJ Stannard
Ruinous Inadequacies
John Miceli – PATRON UPGRADE!

The $1.71 "I Want My Own Tier" Tier
The 10 kr "" Tier
Dollar and Pound "Made Up Name" Tier

The "Don't Drip Away" Leaky Mausoleum
Stephen Sommerville The Concerto 1999 Fanatic
Hank the Tank
Private Eyes
Ashen Lionel
Blackmore's Tights
Lord Longford
Bustin' Out The Spreadsheet

Reception and Charts:

Charts, peak positions, and awards:
Merch, Etc.

Some great finds from the collection of Jeff Breis!
Reviews:

Darker Than Blue

"Like Gary Moore's band, or Blizzard Of Oz, Whitesnake are now a replaceable backing band, but this album was written while they were still a proper group. While I think It's probably my favourite by them to date, it still contains too many fillers. "Still Of The Night" is the best track, even If it does rip off Zeppelin's Rock'n Roll. It's a new direction for them and a much more adventurous effort than many. I was it surprised it did so well as a single too as it's so long, and unlike normal fodder. "Bad Boys" is a rabble rouser. "Give Me All Your Love" is a real filler, it could be off any of their albums. "Looking For Love" is great. Slow, with mournful lyrics, it's got a great vocal. On side two we get the redone "Crying In The Rain". I prefer the original on Saints 'n Sinners, this lacks atmosphere. "Is This Love"strikes me as being soppy rather than emotional. The remainder of the album is rarely above average, "Straight From The Heart" sounds recycled, only "Don't Turn Away" comes out of it well.
On the singles, "Here I Go Again : 87" is very like the original, I don't really see why they bothered. "Your Gonna Break My Heart Again" on the 12″ is rather better than some of the album tracks in my opinion. In all, some tracks are among the best that he's done, but too many are substandard. I would appreciate some variation in subject matter, most of it being to do with horizontal pursuits as ever. However it has prompted me to get back into the albums again, though the chance of him ever doing that definitive LP seen to disappearing." Michael Kearns
For Further Information:
Listener Mail/Comments

Comments about the show? Things you'd like us to cover? We'd love to hear from you. Send us an email at info@deeppurplepodcast.com or @ us on Twitter, Facebook, or Instagram.