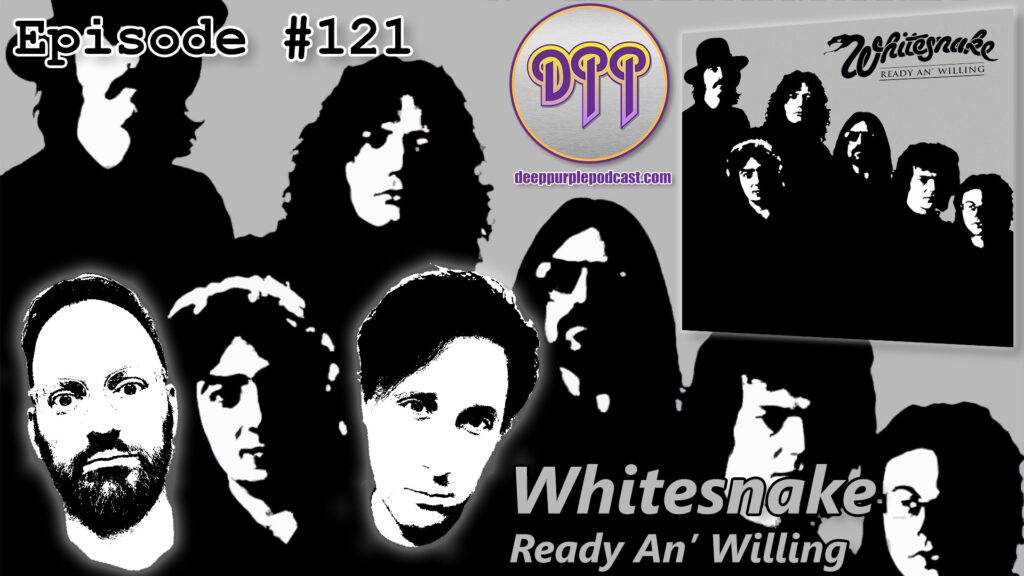 Subscribe at Apple Podcasts, Stitcher, Google Podcasts, Overcast, Pocket Casts, Anchor.fm, Breaker, PodBean, RadioPublic, Amazon Music, or search in your favorite podcatcher!
How To Support Our Show:

Welcoming Our Newest Patron(s):

The $7.77 KeepItWarmRat Tier

Michael Vader – Upgrading from the $1 Silly Made Up Name Tier
Thanks to Our Executive Level Patrons:

The Turn it up to $11 Tier

Clay Wombacher
Frank Theilgaard-Mortensen
Alan "Ain't Too Proud To" Begg
Mikkel Steen

$10 "Some One Came" Tier
Social Media Update:

Apple Podcasts Reviews
Dead Daisies coming to Joliet, IL on September 11, 2021!
Lead up to the Album:

We discussed in our previous episode on "Lovehunter" that Paice had joined so soon after recording that Coverdale wanted to have him redo the drums on the album but time and money did not permit.
Bernie Marsden said Paice was coming to see them at a few shows and when he asked him why he was there he said he'd like to play drums in the band. Dowle was out but Marsden said they weren't getting along too well at that time. Dowle was a city boy preferring to stay in London while the rest of the band were out in the countryside.
When Paice Ashton Lord imploded Paice didn't know what to do. He didn't consider himself a leader enough to start his own band.
Murray said he had suggested Tommy Aldridge for the band at this point but no one else in the band knew who he was.
Paice said he'd been off not really playing anything seriously for about three years
Murray said that with Paice joining the band he took them in a different direction and that the same had happened with Lord the previous year.
Paice says that Whitesnake was "the funniest band I've ever been in." Tells story of everyone on stage laughing when David Coverdale was on stage thrusting his hips and "extending the mic stand as a part of his personage" and they looked in the crowd and only say 15 year old boys.
Murray says that this wasn't a singer with a backing band, it was a band of equals. He talks about the power behind the band.
Murray, Marsden, and Moody all had shirts made that said "DEEP PURPLE" but when you got closer it was revealed that they actually said "no I wasn't in DEEP fucking PURPLE."
They didn't take kindly to the Deep Purple comparisons and rumors started to swirl about there being a Deep Purple reunion.
Coverdale said there was no "conscious effort" to pick up where Deep Purple left off.
Coverdale says that Whitesnake was always a live band and it didn't always translate well to the album. He says "Ready An' Willing" was the first time they got it right and gives a lot of the credit to Ian Paice.
Personnel:

Technical: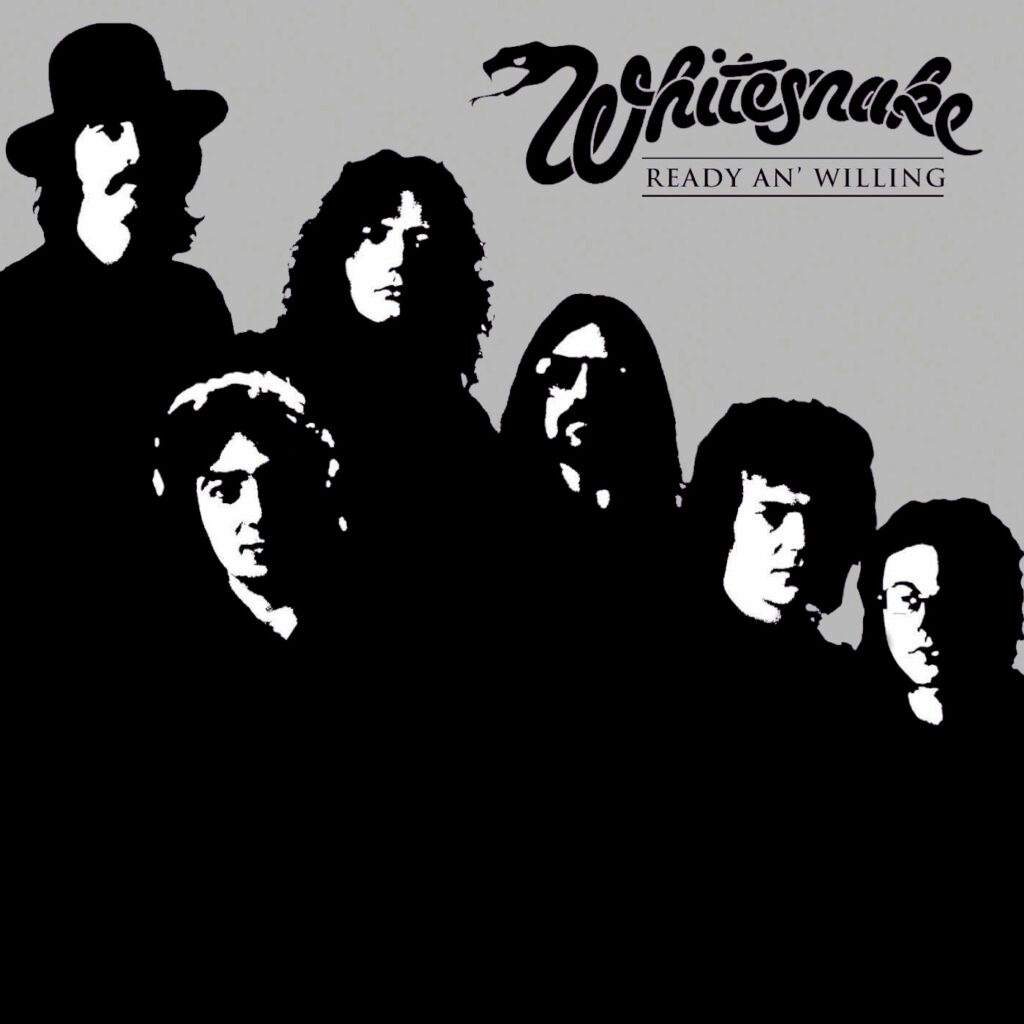 Album Art & Booklet Review

Sleeve [Concept] – David Coverdale
Photography By [Inner Sleeve] – George Bodnar

Sadly passed away in 2011.
Album credits include UFO, Whitesnake (Live in the Heart of the City), Gary Moore, Iron Maiden, and more.

Coverdale credits "The Plough" in Rusper for developing our Quasimodo impressions and Groucho Marx stoop. This was a reference to the pub they frequented with a low ceiling and beams. Coverdale says he is 5'8" and had to duck to avoid hitting his head. He says many people got black eyes and cuts on their heads form banging them on the beams.
Thanks to Our Core Level Patrons:

The $7.77 KeepItWarmRat Tier
The Episode $6.66 Tier

Richard Fusey
Steve Coldwell
Arthur Smith

The $6.65 "Almost Evil" Tier
$5.99 The "Nice Price" Tier

Fielding Fowler
Dr. Gill Breese

$5 "Money Lender" Tier

Greg Sealby
John Convery
German Heindl
Adrian Hernandez
Jesper Almén
Oleksiy The Perfect Stranger Slyepukhov
James North
Mark Hodgetts
Kev Roberts – Paypal
Will Porter
Zwopper The Electric Alchemist

Tim "Southern Cross" Johnson
$3 "Nobody's Perfect" Tier

Peter Gardow
Ian Desrosiers
Mark Roback
Anton Glaving
Andrew Meyer
Duncan Leask
Stuart McCord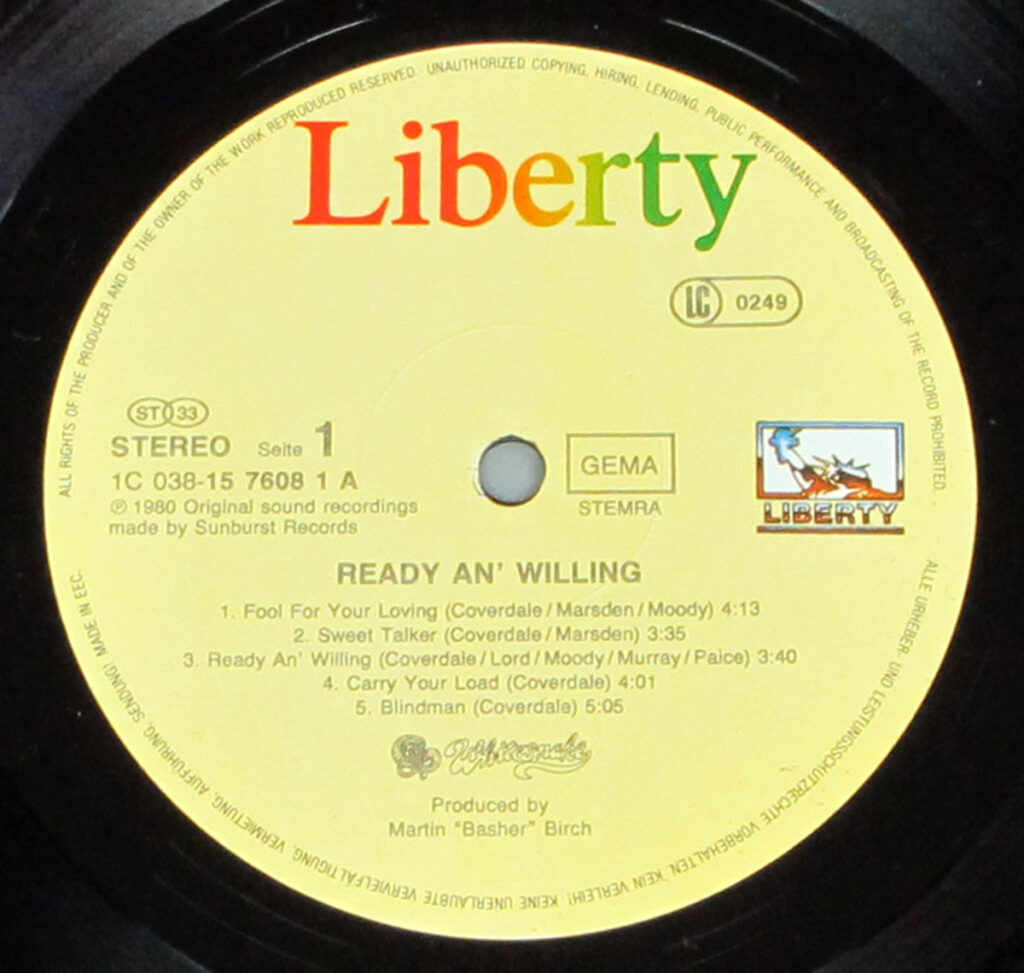 Album Tracks: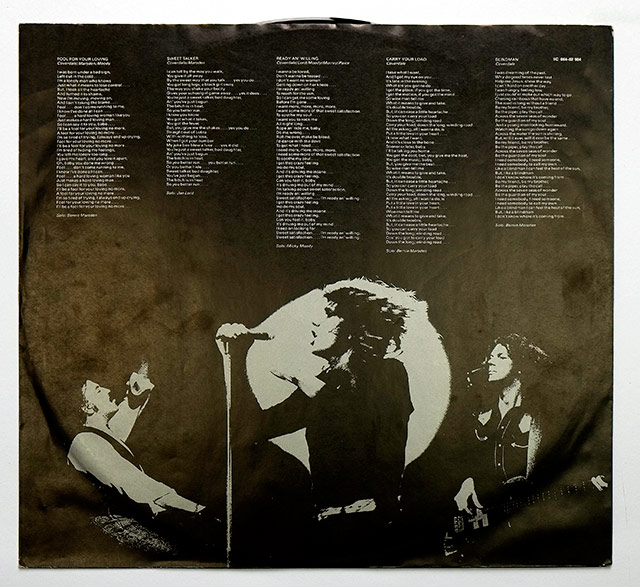 Side One:

Fool for Your Loving (Marsden, Coverdale, Moody)

Guitar solo – Bernie Marsden
Reached number 13 in the UK charts as a single
Reached number 43 in the UK charts and number 53 in the US Billboard Hot 100 charts
Would later be recorded again for Slip of the Tongue
Murray says he came in when they were mixing it and Ian had turned down his bass. He said he was really upset but got a call from Martin Birch in the middle of the night saying he'd corrected the mix.
Marsden said they'd written this for B.B. King but when they did the demo but Martin Birch decided they had to keep this one from themselves.

Sweet Talker (Marsden, Coverdale)
Ready an' Willing (Coverdale, Paice, Lord, Moody, Murray)

Guitar solo – Micky Moody
Murray says this was written while Bernie Marsden was on vacation so that's why they came up with it without him.
Marsden said that Paice refused to put his name on the track because he'd get 2000 less if they did. They talk a lot about "The Bank of Paice" and how he'd offer to lend people 20 but have them pay him back 25.
Normally they'd have one track on the album that everyone would get credit on but Coverdale sided with Paice on this one.

Carry Your Load (Coverdale)

Guitar solo – Bernie Marsden

Blindman (Coverdale)

Guitar solo – Bernie Marsden
Originally from David Coverdale's solo album "White Snake" from 1977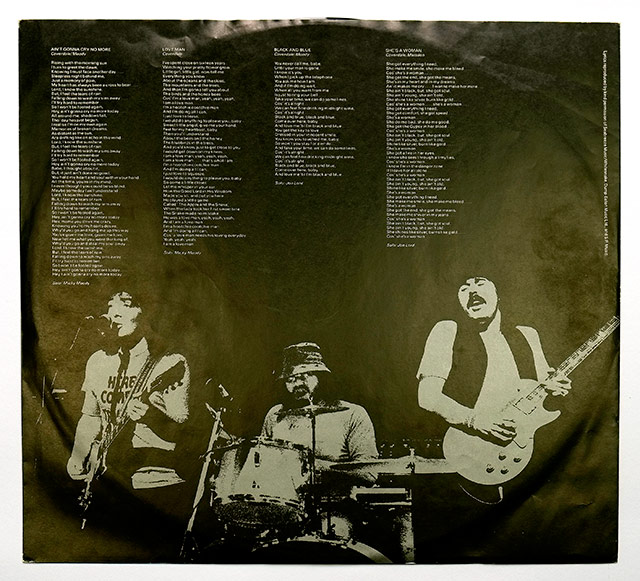 Side Two:

Ain't Gonna Cry No More (Coverdale, Moody)

Guitar solo – Micky Moody

Love Man (Coverdale)

Guitar Solo – Micky Moody

Black and Blue (Coverdale, Moody)
She's a Woman (Marsden, Coverdale)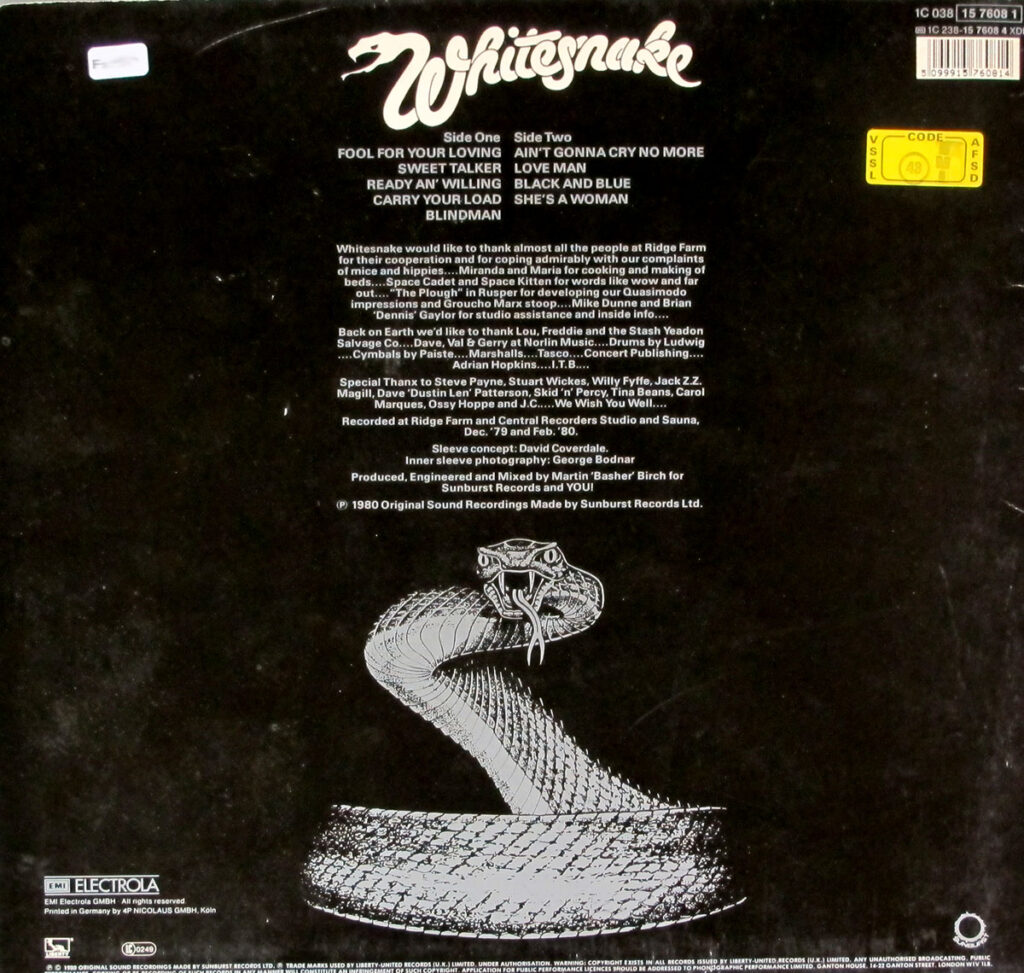 Thanks To Our Foundation Level Patrons:

$1 Made Up Name Tier

Ells Murders
Spacey Noodles
The "Untightened" Leaky Mausoleum
Stephen Sommerville The Concerto 1999 Fanatic
Raphael Choury (Raff Kaff)
Spike, The Rock Cat
JJ Stannard
Hank the Tank
Flight of the Rat Bat Blue Light
Reception and Review

The first Whitesnake album to chart outside the UK.
Album went gold in the UK selling more than 100,000 copies.
Both Micky Moody and Bernie Marsden credit this album as their favorite with Whitesnake.
Reviews:

Record Mirror – "A man's gotta do" – ouch

"Swaggering Coverdale, the John Wayne of heavy metal…"
"Just the thing to complement a sunny THusday morning, this is a glorious celebration of broken love — Coverdale sounding like a wounded bullfrog in desperate need of a mate."
"Cheers, applause, take a bow. You're good for at least another 10 years."

Sounds – "Butch Bonanaza" – Geoff Barton – 4 stars

"Although the album's cover's no 'Lovehunter' there's enough sexist action on the lyric front to keep our feminist freiends frothing at the mouth for some time to come, I'd say."
"Whitesnake have always been the bullseye in the 'liberated' women's dartboard and it's easy to see why. Band leader David Coverdale, with his in-concert wolf howls and on-album dembads for his 'baby' to love him till he's black and blue, is a frontman of the hard rocking, chest-beating gorilla archetype. A dying breed in these wimp-out days, more's the pity, but what the hell, it's all no-action, tongue-incheek innuendo anyway, nothing to really get hot under the collar about."
The album closes with a duo of disappointments — "Black and Blue, the usual WHitesnake good-time barroom honky tonkalong and the only side to the band I actively dislike; and "She's A Woan', too crass over the top and straining, even for these ears.
But even so, well worth four stars of anyone's typewriter."

Record Mirror – Dante Bonutto – 5 +s

"With 'Ready An' Willing' though what you expect is what you get: an album of diamon-hard rock (not HM) played with skill, verve and, above all, feel."
"'Blindman,' a song from Coverdale's first solo album [is] given the truly titanic treatment it deserves."
"In fact the only ting I don't care for is the sleeve which is functional rather than eye-catching. Give me a glossy gatefold with free swe-on patch and musical lawnmower offer anyday but then, I suppose, that just goes to show that you can't always tell a book — or a record — by its cover. +++++ and worth every one.

Melody Maker – Frank Worrall

"But I'm at a loss as to why the lyrics are so self-indulgent and childish — and more so when Coverdale follows with two effervescent songs full of poignant reflections. 'Blind Man' is a rueful balland accepting life's uncertainties; 'Ain't Gonna Cry No More' stoutly defies pessimistic thoughts with a dynamic change of speed in the middle."
"Unfortunately the group then return to the "me-Tarzan-you-Jane" slat, closing with three songs glorifying man's physical prowess. Again the music is classy and the content cause for concern."

Chart Song Words – 4 stars
Cedar Rapids Gazette – Whitesnake enters prime with latest – Pan Fruehling

"Ready an' Willing" is an album which shows off a superb rock band just entering its prime. Whitesnake is a group with experience and skill, with the ability to know how to use their talents with variety, taste and dynamics."
"All nine tunes on 'Ready an' Willing' are Whitesnake originals, and every one is a gem. The biggest problem I have is picking out the record's highlights, since it's a standout album from beginning to end."

Daily Press, Newport News, Virginia

"Ready An' Willing strikes me as a down and dirty Blood weat And Tears without the horn section or an Englih Bob SEger and The Silver Bullet Band."
"Whitesnake is a powerful band that pays attention to detail. Ready An' Willing is nine numbers performed powerfully."
"Ready An' Willing, a strong album by a group that has to live down a celebrated past, is not a rehash of what Blackmore provided for Deep Purple. It may not be new, but the approach is for the former famous trio."

Des Moines Triibune

"Whitesnake, the blues-based rock band featuring three former members of Deep Purple, should not be confused with the Rod Evans-led aggregation currently billing itself as Deep Purple."
"We're one of the biggest bands in Europe," boasts the feisty, long-haired Englishman. "And we'll be bloody frightening whent he colonies finally get a look at us."
For Further Information:
Listener Mail/Comments

Comments about the show? Things you'd like us to cover? We'd love to hear from you. Send us an email at info@deeppurplepodcast.com or @ us on Twitter, Facebook, or Instagram.