Subscribe at Apple Podcasts, Stitcher, Google Podcasts, Overcast, Pocket Casts, Anchor.fm, Breaker, PodBean, RadioPublic, Amazon Music, or search in your favorite podcatcher! 
How To Support Our Show:

Thanks to Our Executive Level Patrons:

The $20 "Shades of Deep Pockets" Tier
The $15 "Highball Shooter" Tier
The Turn it up to $11 Tier

Frank Theilgaard-Mortensen
Clay Wombacher
Mikkel Steen

$10 "Some One Came" Tier
Social Media Update:

Lead up to the Album:

Bobby Harrison was born in 1939 in London.
He started in the 1950s in a group called The Rockafellas.
In 1960s he formed the group Powerpack and put out singles in 1966 and 1967.
He was a founding member of Procol Harum and was in the band when they recorded their number 1 hit "A Whiter Shade of Pale."
Harrison and the band's guitarist, Ray Royer, quit shortly after that to form the band Freedom.
Freedom would go on to play dates with Black Sabbath, Jethro Tull, and The James Gang. They got a lot of attention for their cover of The Beatles' "Cry Baby Cry."
This album is considered by fans to be the "missing link" between Freedom and Snafu.
The material on this album was originally intended to be material for Freedom. He wanted to get more away from R 'n' B and more into funk.
Freedom's last album was called "Is More Than A Word."
In 1972 Harrison left Freedom and started collaborating with Micky Moody who was playing in "Juicy Lucy."
This is considered the "missing link" between Freedom and Snafu. Freedom's last album was 1972. Snafu's first album was 1973. This album was released in 1975.
Harrison: "I didn't know really what to do after Freedom broke up, and I was approached by my management to do a solo album. So I thought, "Okay, I got all these songs floating about." I decided also that I could pick and choose all these musicians.
Harrison says that this album was ready to go but the record company shelved it for a while, that's why it came out after Snafu was out for a couple of years.
Personnel:

Technical:

Producer [Produced By] – Bobby Harrison (tracks: A2 to B1, B3, B4)
Producer [Produced By] – Matthew Fisher (tracks: A2 to B1, B3, B4)
Producer [Produced By] – Steve Rowland (tracks: A1, B2)

Record producer and actor.
Worked with The Herd, Snafu, Babe Ruth, Jimmy Helms.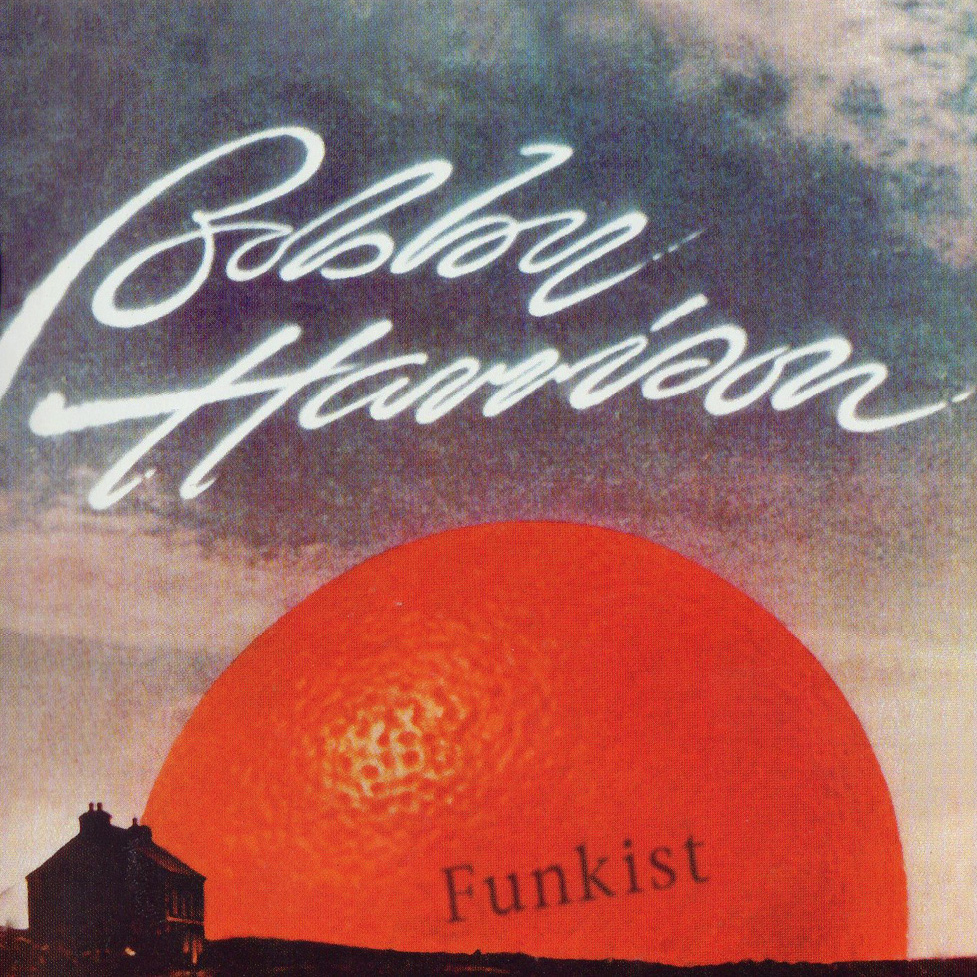 Album Art & Booklet Review

Artwork [Photo Montage] – Greg Hodal*

Had done a previous release by Snafu.

Design [Sleeve Design Produced By] – Cream (7)

Designed hundreds of album covers for bands such as Gary Glitter, Snafu, Deep Purple (Made in Europe), The Troggs, George Harrison, and many more.

Lacquer Cut By – Wly*

Mastering engineer whose real name was Wallace Edward Traugott. Did thousands of albums in the 50s, 60s, and 70s.

Other [Special Thanks To] – Claire & Zoey
According to Roger Dean there was going to be a UK release of this album with his cover art but it doesn't appear to have been released.
Thanks to Our Core Level Patrons:

The Episode $6.66 Tier

Richard Fusey
Steve Coldwell
Arthur Smith

The $6.65 "Almost Evil" Tier
$5.99 The "Nice Price" Tier

Fielding Fowler
Dr. Gill Breese

$5 "Money Lender" Tier

Greg Sealby
John Convery
German Heindl
Adrian Hernandez
Jesper Almén
Oleksiy The Perfect Stranger Slyepukhov
James North
Mark Hodgetts
Kev Roberts – Paypal
Will Porter
Zwopper The Electric Alchemist

Tim "Southern Cross" Johnson
$3 "Nobody's Perfect" Tier

Peter Gardow
Ian Desrosiers
Mark Roback
Anton Glaving
Andrew Meyer
Duncan Leask
Stuart McCord
Album Tracks: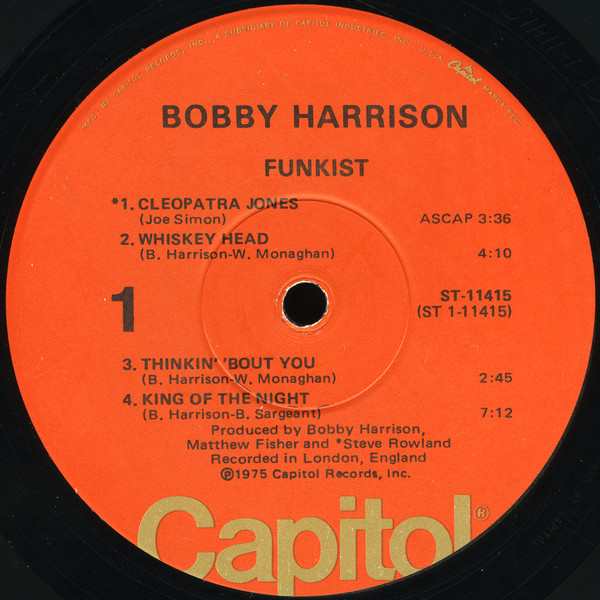 Side One: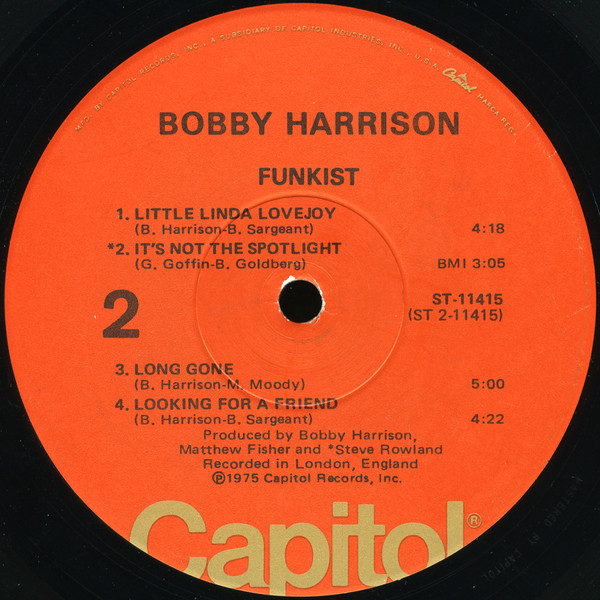 Side Two:

Thanks To Our Foundation Level Patrons:

$1 Made Up Name Tier

Ells Murders
Spacey Noodles
The "Untightened" Leaky Mausoleum
Michael Vader
Stephen Sommerville The Concerto 1999 Fanatic
Raphael Choury (Raff Kaff)
Spike, The Rock Cat
JJ Stannard
Hank the Tank
Flight of the Rat Bat Blue Light
Reception and Review

The album was released and got to No. 76 in the Billboard charts.
Harrison says he never received any money from Captiol Records from the album's release.
Harrison was upset doing the album with all of these incredible musicians and the label deciding not to put it out initially.
After this album Harrison and Moody formed Snafu which also featured Pete Solley who would also later join Whitesnake.
Harrison: "Bringing together a bunch of top quality players like the ones I had on this album can work out very well, but it can also be a total disaster. I was very lucky it worked well. WE worked at some very famous studios too, mainly at Olympic No. 1, but a few tracks were also done at Trident and Morgan. I remember clearly doing the tracks with Tony Iommi from Black Sabbath at Morgan.
Snafu's first album was the self titled "Snafu" released in 1973.
In the early 1980s Snafu broke up and Harrison moved to Iceland.
Bobby Harrison is currently in a band called Journey that plays Christian-oriented rock in Essex.
For Further Information:
CD Liner notes by CLAES JOHANSEN
Listener Mail/Comments

Comments about the show? Things you'd like us to cover? We'd love to hear from you. Send us an email at info@deeppurplepodcast.com or @ us on Twitter, Facebook, or Instagram.