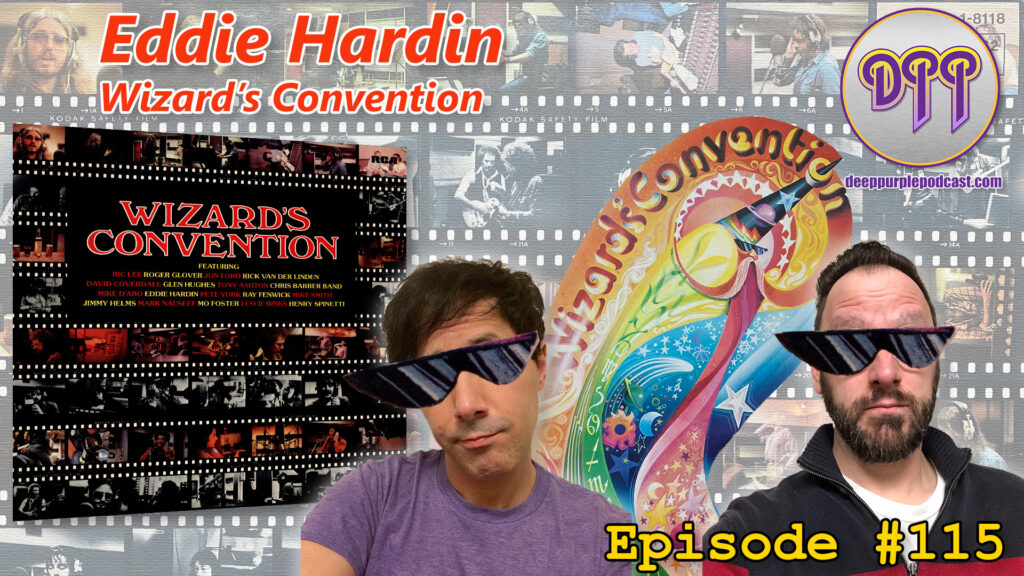 Subscribe at Apple Podcasts, Stitcher, Google Podcasts, Overcast, Pocket Casts, Anchor.fm, Breaker, PodBean, RadioPublic, Amazon Music, or search in your favorite podcatcher! 
How To Support Our Show:

Welcoming Our Newest Patron(s):

Steve Coldwell (joined at the $6.66 tier last episode but came in right under the wire)

At the end of a truly terrible day, John's "chicken and waffles" intro made me laugh out loud. THAT is what finally got me off my duff and onto Patreon.
I'm just happy to support the show. Unlike Pod of Thunder, where I went into it as a die-hard KISS fan (as noted by my careful use of all-caps), I've always appreciated Deep Purple, but know very little about their history. I actually know more about (and own all of) David Coverdale's post-Purple adventures, so going back to the beginning is proving to be an education.

At the $5.00 "Money Lender" Tier

Tim "Southern Cross" Johnson from Australia!

At the $1.00 "Silly Made Up Name" Tier

Flight of the Rat Bat Blue Light

I'd like to share an anecdote.
I was born in 1975, and became a huge Purple fan since in 1990.
Sometime in the early 90s, a man came to my parents' house to do a paint job. He was in his late 30s, so was born in 1955 or so.
When he walked in the house, he heard me playing "Made in Japan" on my bedroom stereo, and so he told me that he was a huge Purple fan back in the day and had seen them in the 70s in Québec City.
I asked him how the show was, and he said he was disappointed because Deep Purple had tried to "do the violin thing" at some point, and somehow screwed it up, which ruined the show for him.
I didn't process this right away but it stayed with me. What could he possibly mean by "doing the violin thing", and how could thet possibly screw it up ?
I thought of Jimmy Page playing with a bow in that "Dazed and Confused" 1969 TV performance, and that perhaps, this painter had mixed up his Deep Purple and Led Zeppelin show memories; after all, there were many drugs of choice in the 70s and he looked like he had been on a few of them.
I kept paying attention to whether Blackmore ever used a bow on stage, in everything I read on Deep Purple. and when I got online several years later, I asked the question on some newsgroups, and learned about Randy California playing that infamous Québec City show in 1972.
So perhaps Randy California had used a bow on stage ? Or something that looked like it.
So when Robert Lafontaine's Québec City bootleg came out on YouTube I was really psyched to finally hear this "violin thing". It never happened. However, in one of the newsclippings, a journalist says that Jon Lord pulled some violin sounds from his organ during The Mule (collections.banq.qc.ca/ark:/52327/2639102). I listened to The Mule over and over again, and I do hear indeed all kinds of sounds, but nothing that stands out like violins. I also listened to your podcast on the subject.
This will forever remain a mystery – unless you heard of anything along those lines.
A buddy of mine (also a DP fan) and I have kept this as an insight joke all these years, so it has remained very well alive.
Thanks to Our Executive Level Patrons:

The $20 "Shades of Deep Pockets" Tier
The $15 "Highball Shooter" Tier
The Turn it up to $11 Tier

Frank Theilgaard-Mortensen
Clay Wombacher
Mikkel Steen

$10 "Some One Came" Tier
Social Media Update:

A Note From Jeff Breis:

Butterfly Ball & Wizard's Convention CD release from "Darker Than Blue" in 1989:

Originally Simon Robinson had considered doing a double album of the CD and the live concert. The challenge was that with so many performers the royalty payments to them all would have been "financially impossible." He also stated that this was also an album that would have very limited interest.
It was decided to add "Little Chalk Blue."
The decision was made to get rid of four tracks from Wizard's Convention and feature the six tracks that featured members of Deep Purple.
Lead up to the Album:

The album was written or co-wrote almost entirely by Eddie Hardin.
The idea was to bring in a lot of friends and session musicians and make the album feel like a jam session.
Eddie wanted to have a lot of different people involved to help him record rather than making this like a traditional solo album.
In his book, ALAB, Eddie Hardin writes of the Purple Records management putting them all up on a Yacht and hanging out in Dijon and Cannes.
Eddie had developed a close working relationship with John Craig during the making of The Butterfly Ball and he arranged a deal with John to begin work on a solo album.
Eddie had hoped to work with Steve Winwood (who he replaced in Spencer Davis Group many years previously) on the album. Eddie confesses that Steve didn't have any idea of this and thusly he never ended up appearing on the album.
In "Darker Than Blue" magazine in 1994, Eddie said:

"During a meeting . . . I announced that I had Steveie Winwood busting to sing the first of the songs. I can only put this down to a mental aberration since at this stage I had no new songs, and hadn't spoken to Steve for nearly eight years."
He goes on to state that Purple funded these initial recordings and that he recorded the backing tracks as he wrote them.
He also states that he and Roger would work about three months on the album ending each evening with a party on a yacht he had purchased which was docked nearby at St. Katherine's Dock.

Eddie says that the name of Winwood seemed to snowball and get other interested until the point that you get this final product.
In ALAB Eddie talks about recording at Kingsway, Ian Gillan's studio (formerly De Lane Lea) and speaks very highly about Ian as a person and as a singer. He says, of Ian: "I really liked Ian, though always found it hard to ascertain whether he actually liked me in return."
Eddie describes the album as having all the instrumentation laid down and bringing in the vocalists after the fact to lay down vocals.
Personnel:

Eddie Hardin – vocals, various instruments
Ray Fenwick – vocals, guitar, backing vocals
David Coverdale – vocals
Roger Glover – bass
Glenn Hughes – vocals
Jon Lord – piano
Mark Nauseef – percussion, drums, bells
Tony Ashton – piano, vocals
Mo Foster – bass
Les Binks – drums
Henry Spinetti – drums

British session drummer who worked with The Herd, Paul McCartney, Eric Clapton, and Procol Harum.

Ric Lee – drums

English drummer best known for being in Ten Years After

Rick van der Linden – piano, various instruments

Part of the Dutch band Ekseption

Pete York – drums, percussion
Mike D'Abo – vocals
Mike Smith – vocals

Member of the Dave Clark Five

Jimmy Helms – vocals
John Crocker – alto sax

Sax player in the Chris Barber Band

John Slaughter – guitar

Guitar player for The Chris Barber Band

The Chris Barber Band – various instruments

Formed in 1954 – an eight piece group playing mostly blues and jazz.
Technical: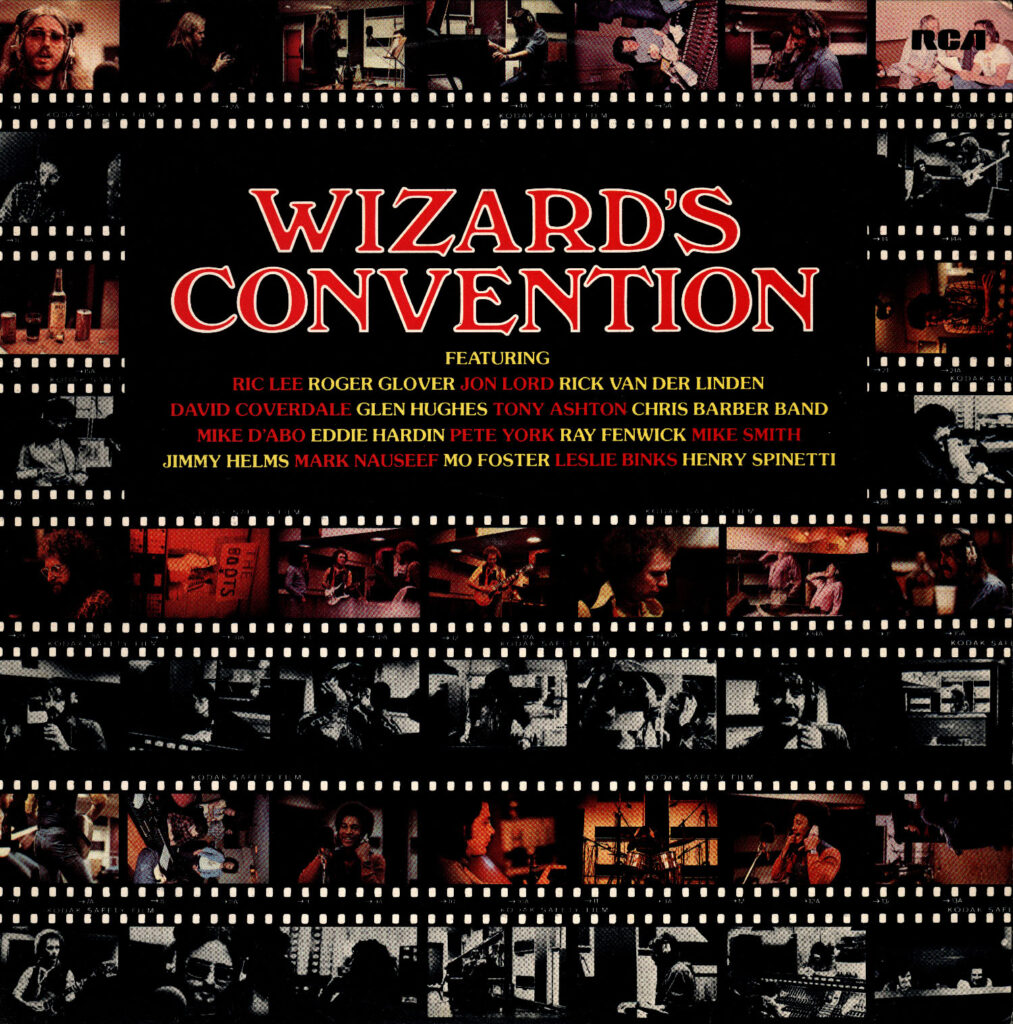 Album Art & Booklet Review

In Eddie's book he talks about having preconceived the cover: "… something along the lines of 'A Hard Day's Night', with rolls of informal shots of all the musicians and singers involved. With this in mind I employed and up-and-coming socialite photographer called Corinthia [sic] West . . . who subsequently filmed the goings-on from beginning to end for a fee of £250."
Eddie describes Carinthia as "Amazonian woman" who wore outrageous clothing but very little. Eddie says, "…she contorted herself into the most unusual positions to get the shots she was after. She was so sensual and frighteningly striking in appearance that not even the die-hard lecherous musicians working on the project dared make an approach."
Photography By – Carinthia West

Actress, model, photographer.
"Seventies IT girl, model, actress, journalist, photographer."
Looks like she briefly joined social media (Twitter and Instagram) in 2016 then never posted again.

Photography By – Richard Bush (5)

A few other Discogs entries.

Original album cover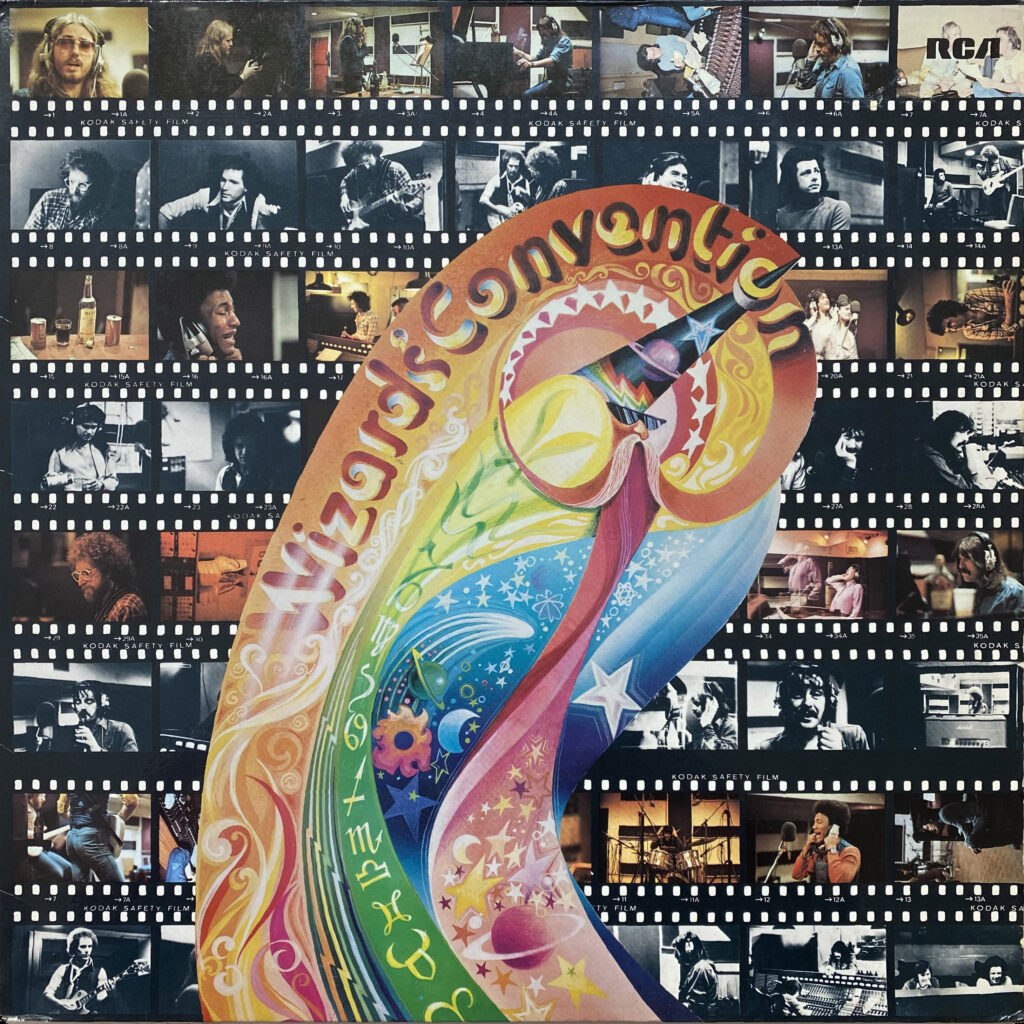 German reissue with wizard on front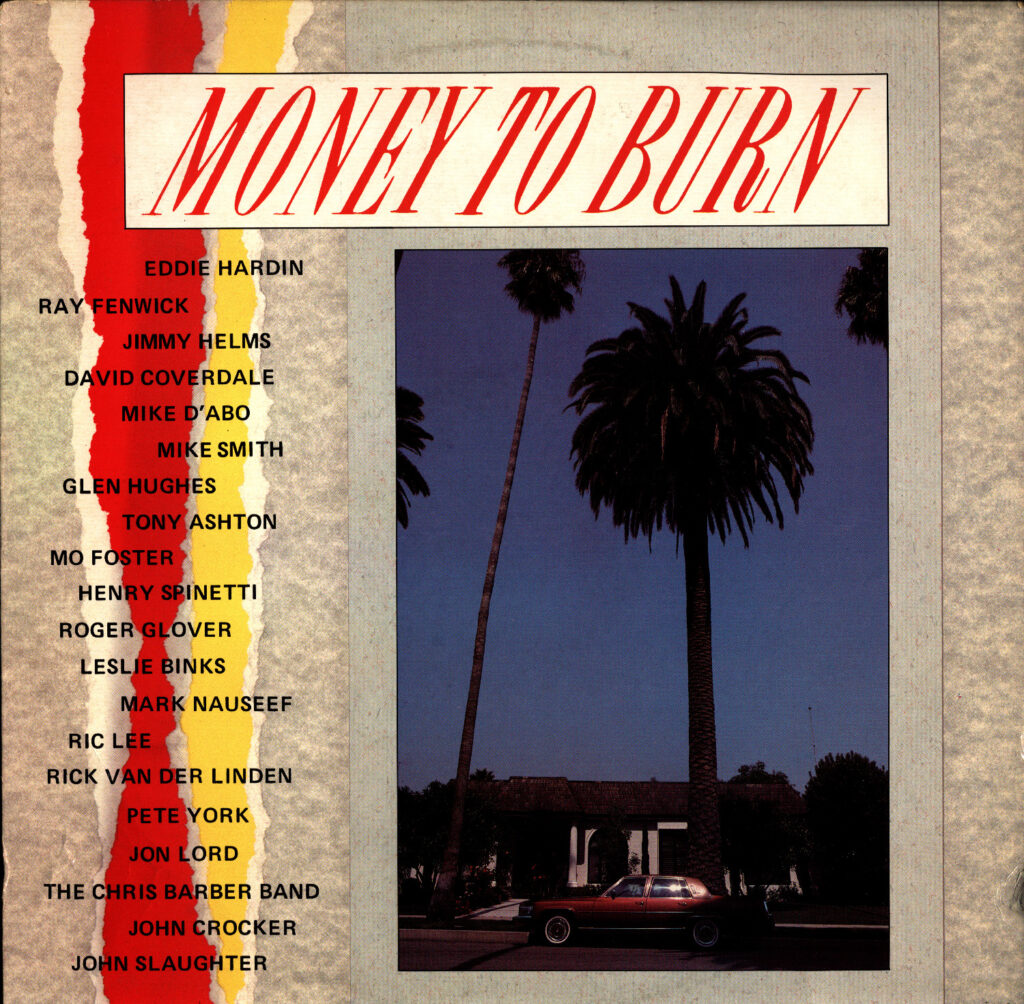 1986 (85?) UK release "Money to Burn"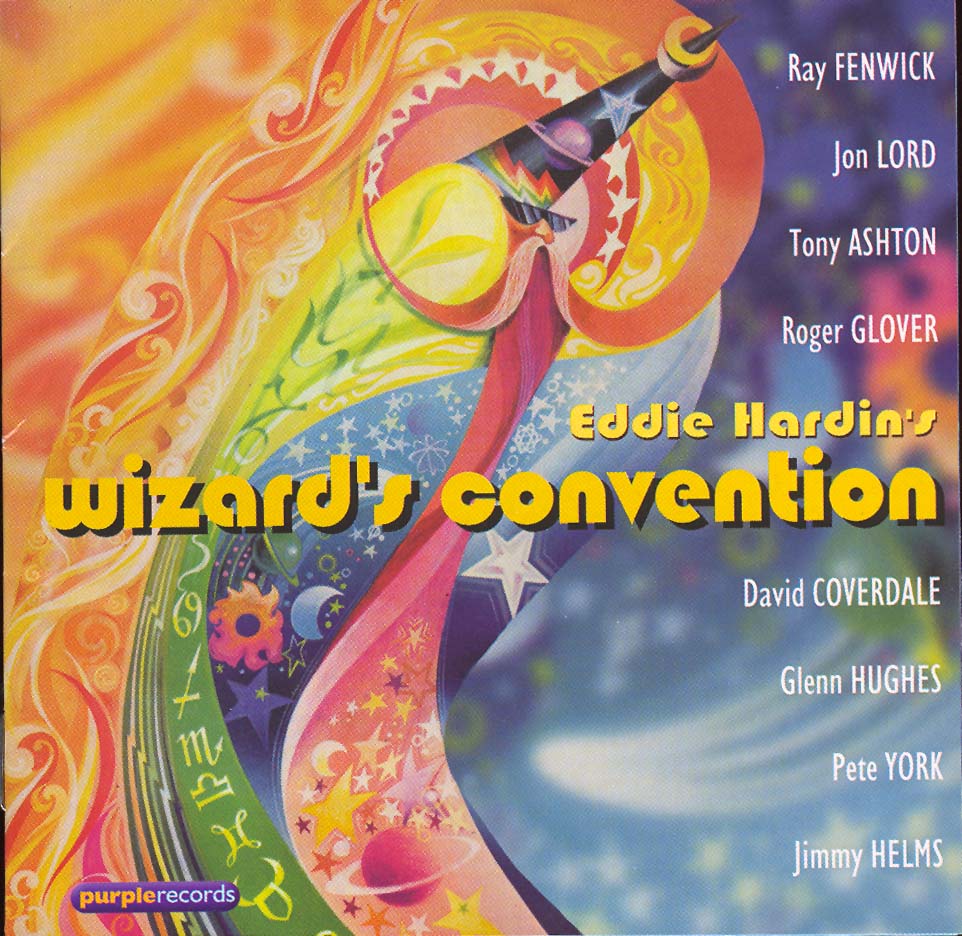 CD reissue in 2003 remaster with new cover
Recorded at Kingsway Recorders, London. April/May 1976 (despite excess alcohol)
Thanks to Our Core Level Patrons:

The Episode $6.66 Tier

Richard Fusey
Steve Coldwell — NEW PATRON ALERT

The $6.65 "Almost Evil" Tier
$5.99 The "Nice Price" Tier

Fielding Fowler
Dr. Gill Breese

$5 "Money Lender" Tier

Greg Sealby
John Convery
Arthur Smith
German Heindl
Adrian Hernandez
Jesper Almén
Oleksiy The Perfect Stranger Slyepukhov
James North
Mark Hodgetts
Kev Roberts – Paypal
Will Porter
Zwopper The Electric Alchemist
Tim "Southern Cross" Johnson — NEW PATRON ALERT!

$3 "Nobody's Perfect" Tier

Peter Gardow
Ian Desrosiers
Mark Roback
Anton Glaving
Andrew Meyer
Duncan Leask
Stuart McCord
Album Tracks: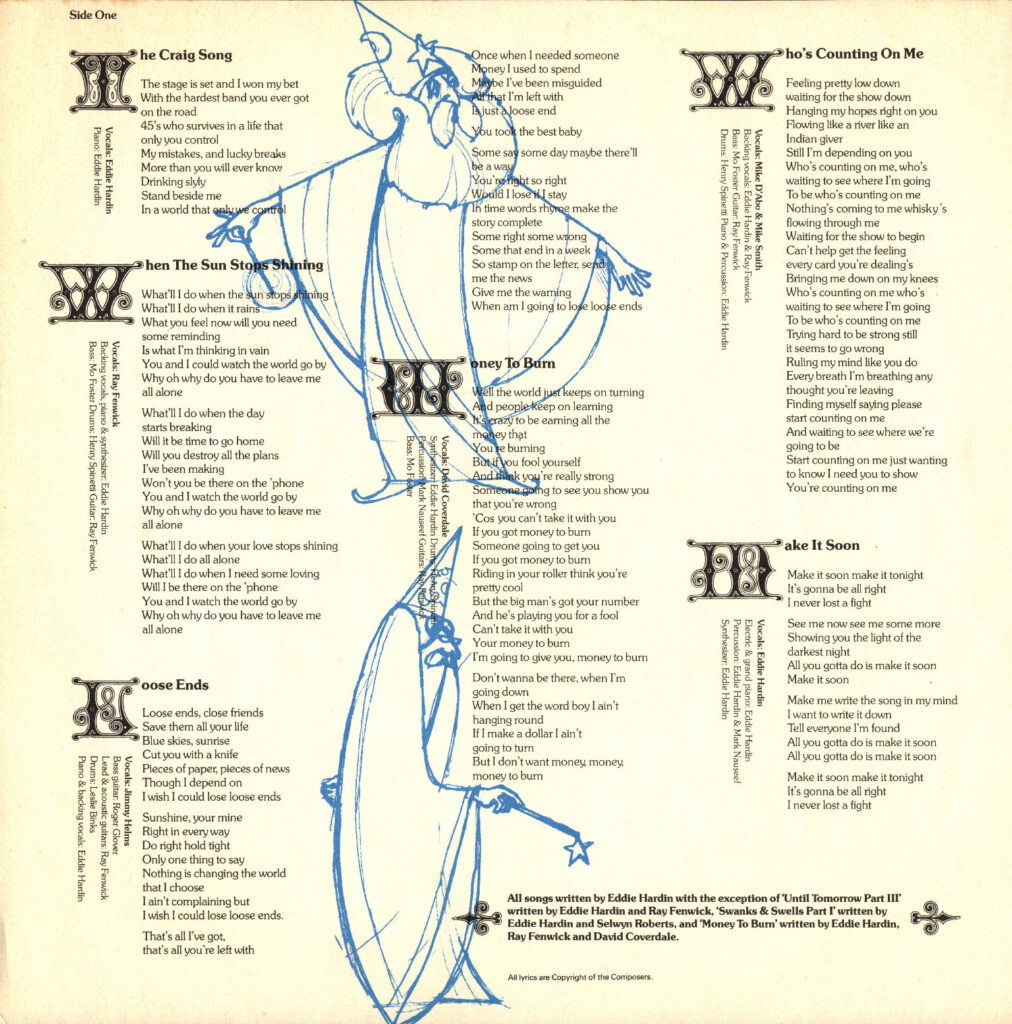 Side One: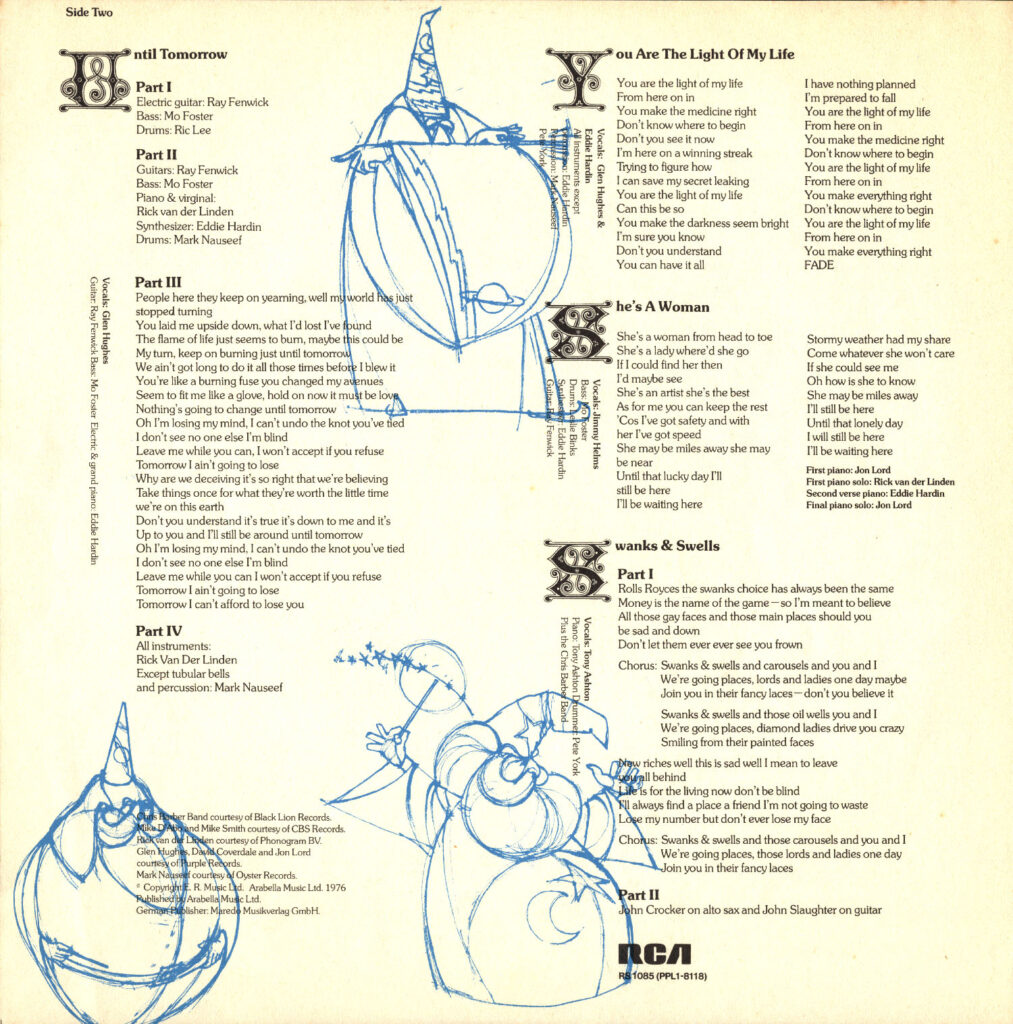 Side Two: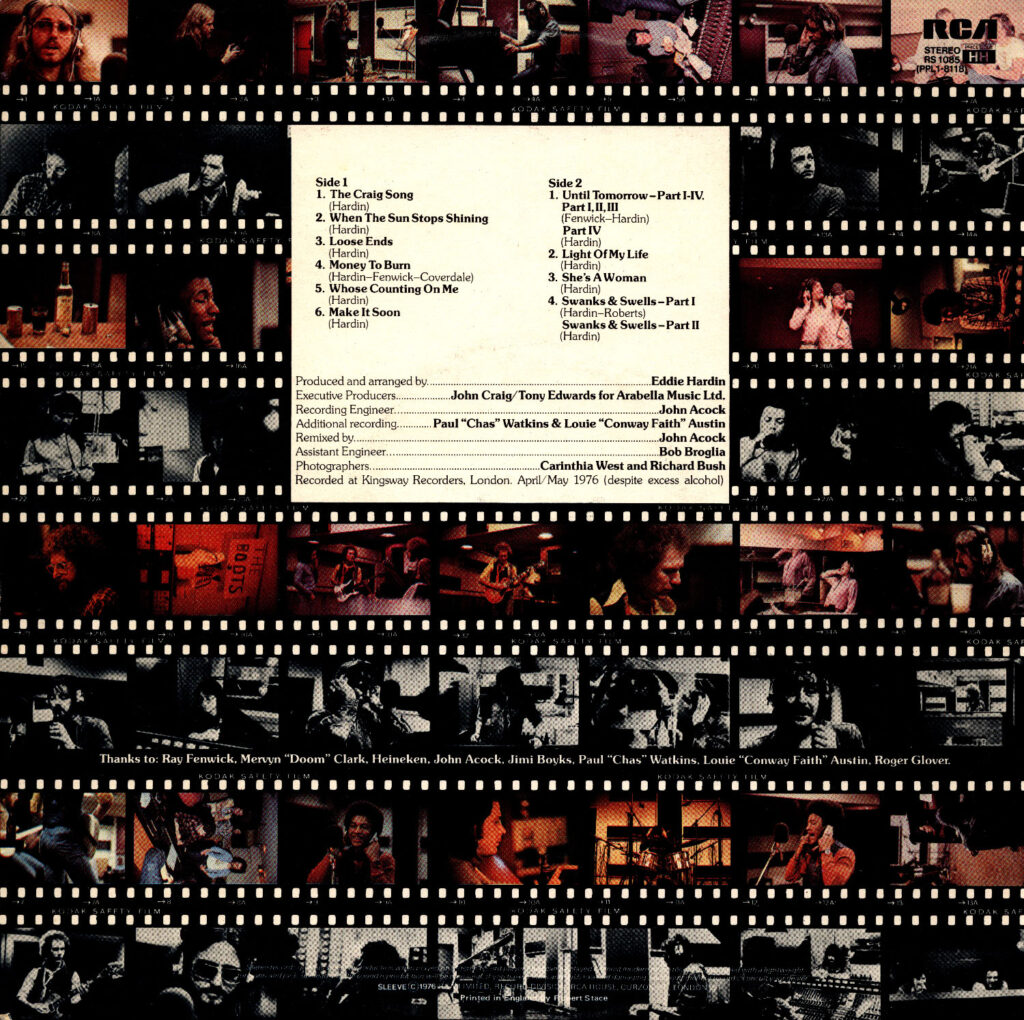 Thanks To Our Foundation Level Patrons:

$1 Made Up Name Tier

Ells Murders
Spacey Noodles
The "Loosey-Goosey" Leaky Mausoleum
Michael Vader
Stephen Sommerville The Concerto 1999 Fanatic
Raphael Choury (Raff Kaff)
Spike, The Rock Cat
JJ Stannard
Hank the Tank
Flight of the Rat Bat Blue Light — NEW PATRON ALERT!
Reception and Review

After all the vocals were done Eddie and Chas Watkins had to stitch it all together.
The album was released in December of 1976 and was lost in the Christmas rush.
There was very little promotion and it was quickly relegated to bargain bins.
The inclusion of so many Deep Purple related performers made it a collector's item.
In Eddie's own words:

I think a point to note is that all the artistes involved are still around and working, and that counts for over a quarter of a century! EACH! Think of the bands and singers over the past few months even… who were they?
I look back of these sessions with great affection, it was this time that I met John Acock, the engineer, who came in the last minute replace Louie Austin who went off to engineer for The Sweet… far more important. I still work with John to this day, and have just completed two new albums with him.
Ray Fenwick, my friend now for nearly 30 years, plaid guitar and assisted on songs then as now. We have a tremendous bond in writing songs together though on this particular album most of the compositions are my own. You can always spot Ray's influence when the words 'sunshine' or 'stormy weather' appear! Sorry Ray.
For Further Information:
1989 Connoisseur Collection release of Butterfly Ball liner notes by Simon Robinson – Features several tracks from Wizard's Convention
Help from the archive of Jeff Breis
Darker Than Blue (#38, November 1989).
Darker Than Blue (#47, December 1994).
Wizard's Convention Master Tapes liner notes by Eddie Hardin
Listener Mail/Comments

Comments about the show? Things you'd like us to cover? We'd love to hear from you. Send us an email at info@deeppurplepodcast.com or @ us on Twitter, Facebook, or Instagram.