Disclaimer: The video used on YouTube is a byproduct of producing our audio podcast. We post it merely as a convenience to those who prefer the YouTube format. Please subscribe using one of the links below if you'd prefer a superior audio experience.

Subscribe at Apple Podcasts, Stitcher, Google Podcasts, Overcast, Pocket Casts, Anchor.fm, Breaker, PodBean, RadioPublic, Amazon Music, or search in your favorite podcatcher!

How To Support Our Show:

Thanks to Our Executive Level Patrons:

The $20 "Shades of Deep Pockets" Tier
The $15 "Highball Shooter" Tier
The Turn it up to $11 Tier

Frank Theilgaard-Mortensen
Clay Wombacher
Mikkel Steen

$10 "Some One Came" Tier
Social Media Update:

Merch at Etsy Shop
Apple Podcasts Reviews

This week coming to us from Great Britain!
Andy USSR, 30/12/2019 – FIVE STARS!
Purple people podcast
This is a really enjoyable podcast about the best rock band ever (Deep Purple if you didn't know!) plus the entire Purple family tree. Give it a listen and you will be entertained by the music and the banter between the two hosts!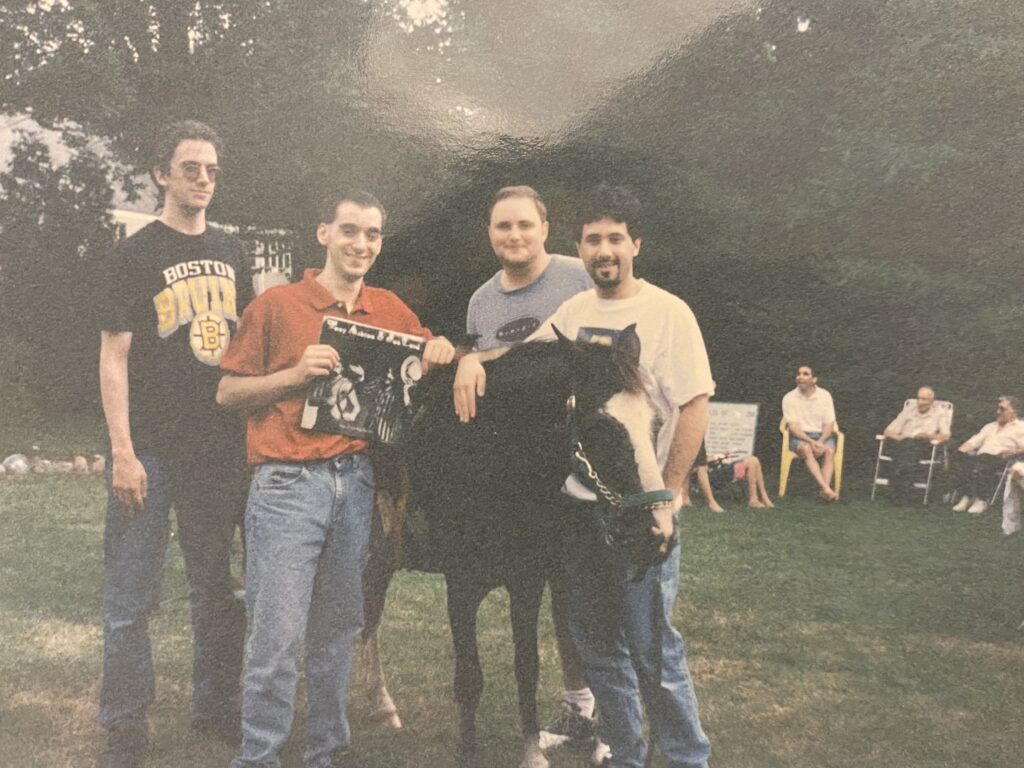 Lead up to the Album:

Tony Ashton had previously worked with Jon Lord when Ashton, Gardner, and Dyke had worked with Jon Lord on his movie soundtrack for "The Last Rebel."
It was recorded at three studios: Air Studios, Apple Studios, and De Lane Lea, all in London.
Personnel

Tony Ashton – Hammond organ, piano, vocals
Jon Lord – Hammond organ, piano
Carmine Appice – Drums
Cozy Powell – Drums
Terry Cox – Drums

Best known for his work with Elton John and David Bowie.

Ian Paice – Drums
Frank Ricotti – Percussion, vibraphone
Jim Cregan – Guitar

Was the bass player in Family working with Tony Ashton on the "It's Only A Movie" album.

Jerry Donahue – Guitar

Danny Gatton praised him for being the"string-bending king of the planet."
Part of the folk group Fotheringay with Pat Donaldson

Peter Frampton – Guitar
Mick Clarke – Guitar

Not verified on Discogs
Sent email to Mick looking for clarification

Pat Donaldson – Bass guitar

Part of the folk group Fotheringay with Jerry Donahue

Dave Caswell – Trumpet
Mike Davis – Trumpet
John Mumford – Trombone
Dick Parry – Saxophone

Worked with Pink Floyd and provided the solos on the songs "Money," "Us and Them," and "Shine on You Crazy Diamond."

Howie Casey – Saxophone

Featured on Malice in Wonderland
Also worked with Paul McCartney in Wings

Madeline Bell – Backup vocals

Vocalist also featured on Jesus Christ Superstar album
Worked with the Rolling Stones, Joe Cocker

Tony Ferguson – Backing vocals
Jimmy Helms – Backing vocals

Vocalist from The Butterfly Ball
Also a member of Londonbeat

Kenny Rowe – Backing vocals
Graham White – Backing vocals
Jo Ann Williams – Backing vocals
Roger Willis – Backing vocals
Technical: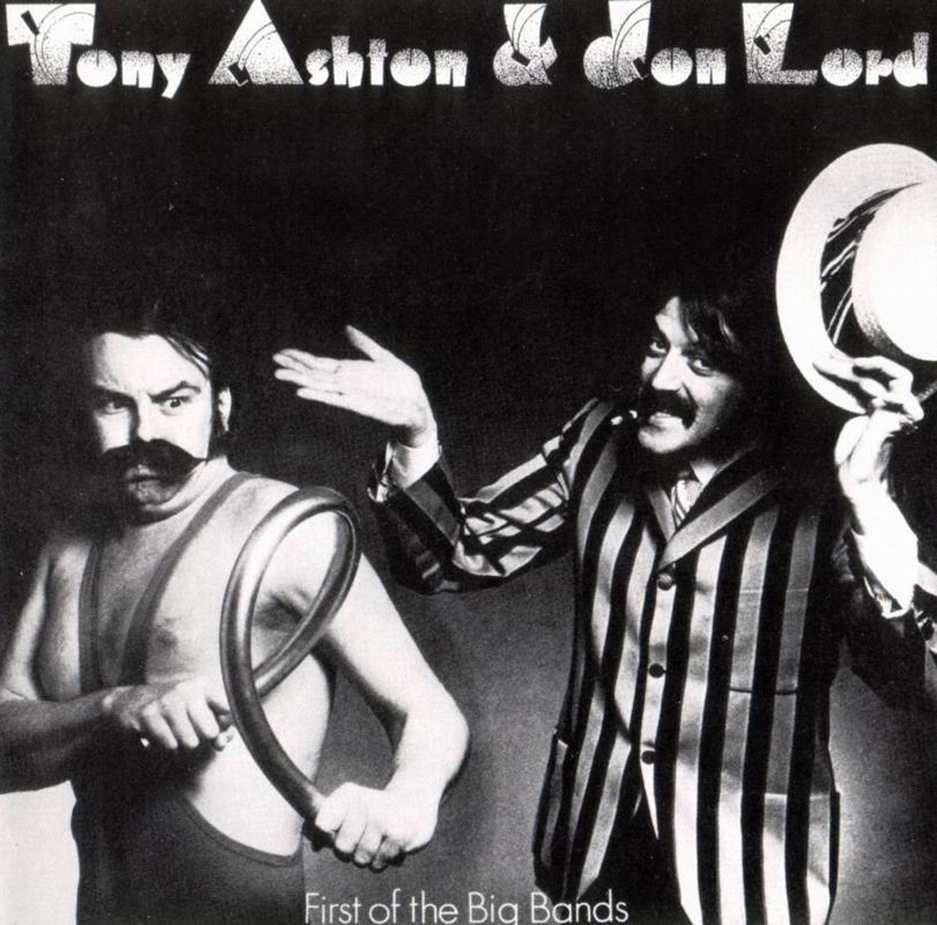 Album Art & Booklet Review

Photography By – Peter Howe (4)
Design [Cover] – Kosh*

Art director for Apple Records.
Created the "War is Over" campaign for John Lennon and Yoko Ono
Thanks to Our Core Level Patrons:

The Episode $6.66 Tier
$5.99 The "Nice Price" Tier
$5 "Money Lender" Tier

Greg Sealby
John Convery
Arthur Smith
German Heindl
Adrian Hernandez
Kenny Wymore
Jesper Almén
Oleksiy The Perfect Stranger Slyepukhov
James North
Mark Hodgetts
Kev Roberts – Paypal

$3 "Nobody's Perfect" Tier

Peter Gardow
Ian Desrosiers
Mark Roback
Anton Glaving
Will Porter
Andrew Meyer — NEWS FLASH: ALSO A DOCTOR!
Duncan Leask
Stuart McCord
Dr. Gill Breese
Album Tracks:
Side One:
We're Gonna Make It (Ashton, Lord)
Downside Upside Down (Ashton, Lord)
Band of the Salvation Army Band (Ashton, Lord)
Silly Boy (Ashton, Lord)
Surrender Me (Ashton)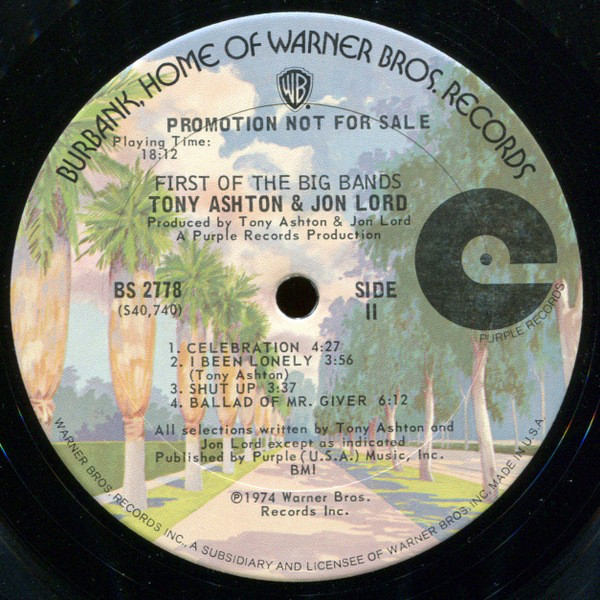 Side Two:

Celebration (Ashton, Lord)
I Been Lonely (Ashton)
Shut Up (Ashton, Lord)
Ballad of Mr. Giver (Ashton, Lord)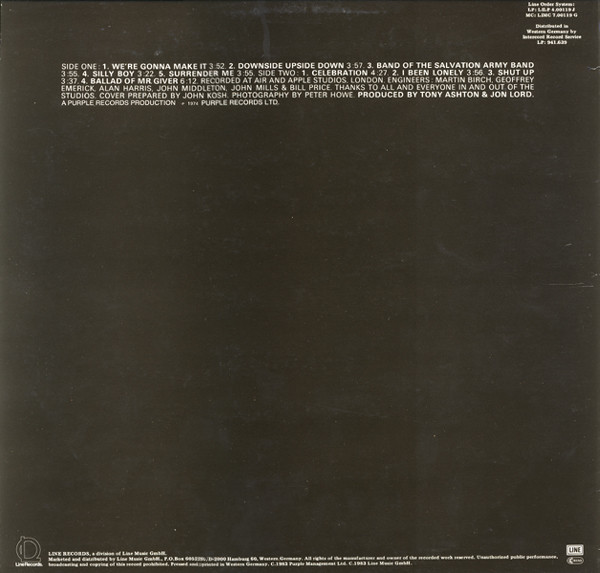 Thanks To Our Foundation Level Patrons:
$1 Made Up Name Tier

Ells Murders
Spacey Noodles
The "Sickly" Leaky Mausoleum
Michael Vader
Stephen Sommerville The Concerto 1999 Fanatic
Raphael Choury (Raff Kaff)
Spike, The Rock Cat
Reception and Review

For Further Information:

Listener Mail/Comments

Comments about the show? Things you'd like us to cover? We'd love to hear from you. Send us an email at info@deeppurplepodcast.com or @ us on Twitter, Facebook, or Instagram.