Disclaimer: The video used on YouTube is a byproduct of producing our audio podcast. We post it merely as a convenience to those who prefer the YouTube format. Please subscribe using one of the links below if you'd prefer a superior audio experience.

Subscribe at Apple Podcasts, Stitcher, Google Podcasts, Overcast, Pocket Casts, Anchor.fm, Breaker, PodBean, RadioPublic, Amazon Music, or search in your favorite podcatcher!
Thanks to Our Show Supporters – Three Ways To Show Your Support

The $25 "Super Trouper" Tier
The $20 "Shades of Deep Pockets" Tier
The $15 "Highball Shooter" Tier
The Turn it up to $11 Tier

Frank Theilgaard-Mortensen
Clay Wombacher – PATRON UPGRADE!!!

$10 "Some One Came" Tier
The Episode $6.66 Tier
$5 "Money Lender" Tier

Greg Sealby
Mike Knowles
John Convery
Arthur Smith
German Heindl
Adrian Hernandez – Paypal
Fielding Fowler
Kenny Wymore

$3 "Nobody's Perfect" Tier

Peter Gardow
Ian Desrosiers
Mark Roback
Anton Glaving
Will Porter

$1 Made Up Name Tier

Ells Murders
Spacey Noodles
The "Vampiric" Leaky Mausoleum
Michael Vader
Thanks to our Brothers at the Deep Dive Podcast Network:
Thanks to the Patron Saint and Archivist of The Deep Purple Podcast:
Show Updates:

Comments from social media.
Lead up to the Album:

We talked in a previous episode about how Roger Glover had bumped into Ritchie in Munich when they were recording "Stargazer" and Ritchie had played the tracks for Roger. Glover said he was blown away and told Ritchie he thought it was a masterpiece.
The band sort of fell apart and Blackmore asked Glover to produce their next album. Glover joined and worked on writing songs and playing bass as a session player.
Glover: "Why have a grudge against someone who's such a great artist? I gave him a pass and decided to let him get away with it."
In Martin Popoff's book "Sensitive to Light" he says that Glover says he started his production duties on the album before Dio left the band and that it was very clear that Dio and Blackmore weren't on the same page. Glover acted as a go between the two.
Glover describes Dio sitting in the corner writing lyrics as the band played but not going to the mic to sing anything.
Just before Christmas of 1978 Ritchie Blackmore turned up at Ian Gillan's house. They ended up drinking a lot of vodka and Blackmore invited Gillan to join Rainbow. Despite the vodka Gillan refused the offer.
They hired a bass player named Clive Chaman for a brief period. As well as Jack Green who had been with The Pretty Things. Pete Goalby, who'd been in Trapeze with Glenn Hughes, was also considered as a replacement for Dio.
They set up to record at Chateau Pelly de Cronfield in the south of France with the Maison Rouge mobile studio.
Bonnet's vocals were recorded separately after the rest of the recoding was done at Kingdom Studios in Long Island. Bonnet said he didn't want to record unless it was in an actual studio.
They were still in need of a singer and they thought Graham Bonnet would be perfect. They'd heard him in the band The Marbles who had a hit called "Only One Woman."

1968 reached number 5 in the UK chart
He had just released solo album called "Bad Habits" in 1978,.

Don Airey claims Bonnet's name came up when the band was playing "name that tune" and Cozy sang some of "Only One Woman."
Bonnet says he got the interview to audition and had to go to the store to buy some Rainbow albums because he'd never heard of them. Ritchie told him to learn Mistreated which he did and used that for his audition.
By all accounts Bonnet hated being at the castle and just wanted to go home. Cozy wasn't crazy about being there too. Both stating there was nothing to do there in the middle of the countryside.
Again there were pranks of Ritchie making ghostly sounds and hazing Bonnet and Airey.
Personel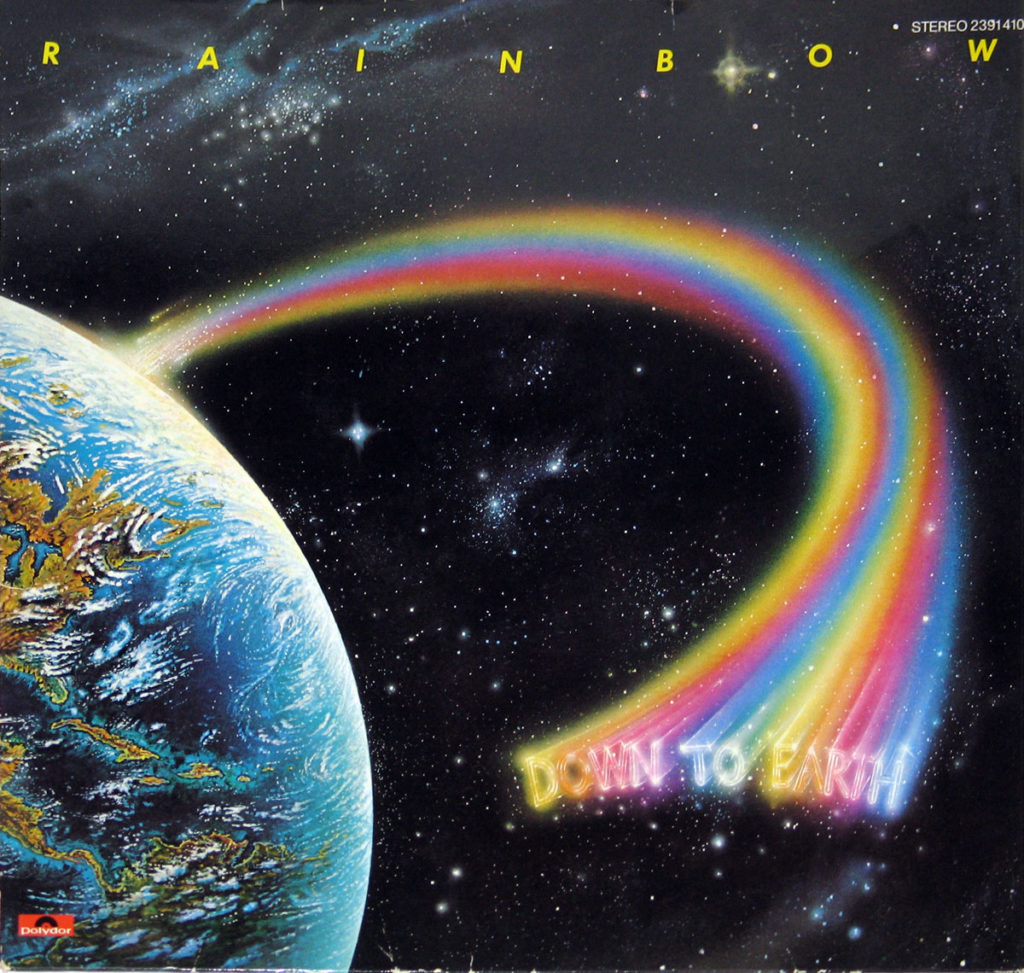 Album Art & Booklet Review

Art Direction – Bill Levy
Illustration – Ron Walotsky
Album cover bares some resemblacnce to the cover of Fireball.
No gatefold, just an insert with band photos.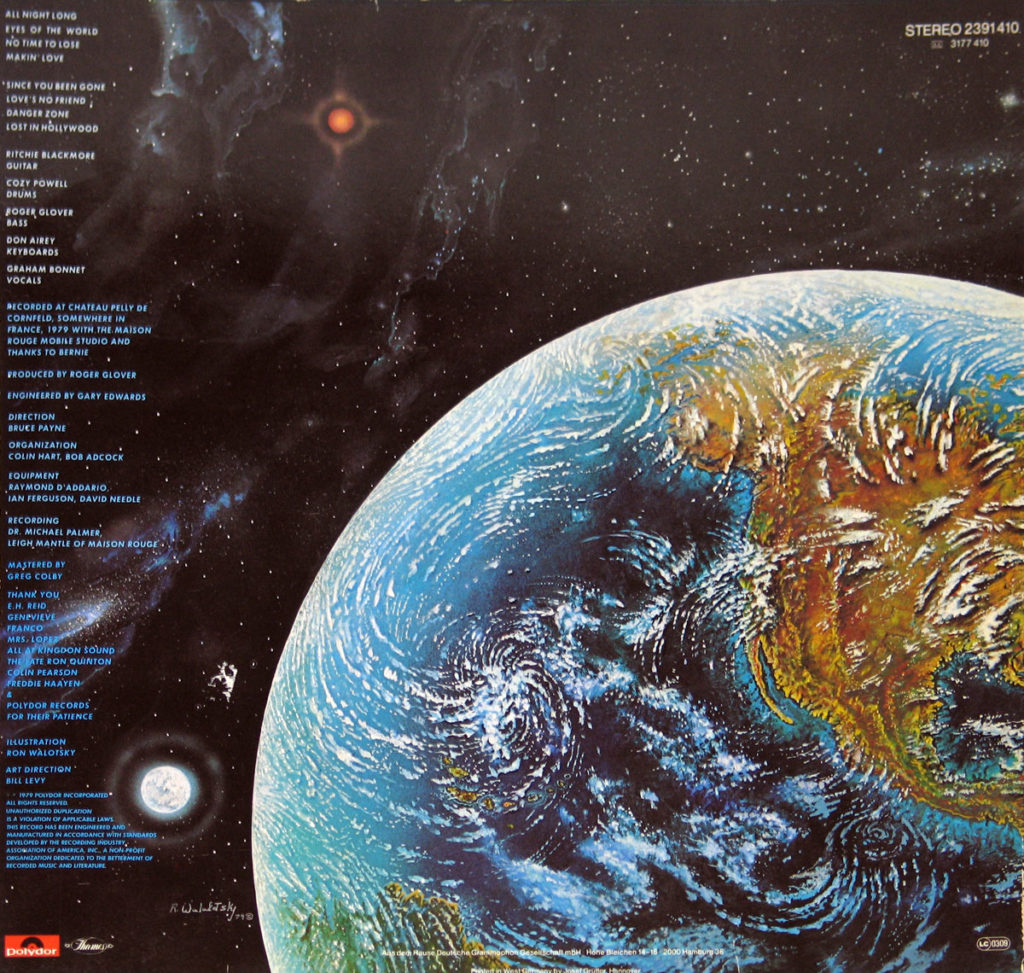 Technical:

Credits:
Recorded at Château Pelly de Cornfeld, somewhere in France, 1979 with the Maison Rouge Mobile Studio and thanks to Bernie.
Comes with a full colour picture inner sleeve, an insert with pictures of the previous albums and a merchandise insert.
Album Tracks:

Side One:

All Night Long (Blackmore/Glover)

Reached number 5 in the UK singles chart.
Glover penned all lyrics with Dio gone.
It was released as the follow up single to "Since You Been Gone."
This is the only song Bonnet felt like he might have deserved writing credit on. He says Ritchie had written it and Bonnet came up with the medley.
Ritchie reportedly contributed some lyrics to the song which was unusual for Blackmore. Ritchie says his idea was about playing a gig, catching the eye of a girl in the crowd, and spending the night with her.

Eyes of the World (Blackmore/Glover)

Classic 'epic' Rainbow style.
Keyboard intro a nod to Holst's "Mars – The Bringer of War?"

No Time to Lose (Blackmore/Glover)
Makin' Love (Blackmore/Glover)

Steve Pilkington says that the "Don't Believe that I'm a liar" secions sounds reminiscent of Kiss.
Side Two:

Since You Been Gone (Russ Ballard)

Reached number 6 in the UK sing chart, and the peak of Rainbow' commercial success
Very divisive song for the old school fans while gaining them lots of new ones
Cozy Powell reportedly strongly disliked this song and would only do one take
The band's first cover since the debut album
Glover says Bruce Payne, Rainbow's manager played the track for Glover and asked if it would be a hit. Glover said he thought so. Then he said he meant for Rainbow and Glover said Blackmore would never play the song. Payne told Glover that Ritchie really wanted to do the song and Glover was in disbelief.

Love's No Friend (Blackmore/Glover)
Danger Zone (Blackmore/Glover)
Lost in Hollywood (Blackmore, Glover, Powell)
Reception and Review

Ritchie and Roger both claim that Bonnet wasn't "up to" being in Rainbow. Glover says he couldn't go the distance and Ritchie says that he wasn't highly motivated. Ritchie said Graham needed a lot of coaching and didn't really come up with ideas on his own.
For Further Information:

Listener Mail/Comments

Comments about the show? Things you'd like us to cover? We'd love to hear from you. Send us an email at info@deeppurplepodcast.com or @ us on Twitter, Facebook, or Instagram.