Disclaimer: The video used on YouTube is a byproduct of producing our audio podcast. We post it merely as a convenience to those who prefer the YouTube format. Please subscribe using one of the links below if you'd prefer a superior audio experience.

Subscribe at Apple Podcasts, Stitcher, Google Podcasts, Overcast, Pocket Casts, Anchor.fm, Breaker, PodBean, RadioPublic, or search in your favorite podcatcher!
Thanks to Our Patrons:

The $15 Highball Shooter Tier
The Turn it up to $11 Tier
$10 "No One Came"
$5 Money Lender Tier

Clay Wombacher
Greg Sealby
Frank Theilgaard-Mortensen
Mike Knowles

$3 Nobody's Perfect Tier

Peter Gardow
Ian Desrosiers
Mark Roback
Anton Glaving

$1 Made Up Name Tier

Ells Murders
Spacey Noodles
Leaky Mausoleum
Michael Vader
One Time Donations available via PayPal:

Recurring payments are available or . . .
Donate to become an official episode producer and have your name/message read on the episode!
Thanks to our Brothers at the Deep Dive Podcast Network:
Thanks to the Patron Saint and Archivist of The Deep Purple Podcast:
Show Updates:

Comments from social media.
New Apple Podcasts Review:

JConUK , 05/08/2020 – FIVE STARS!!
Who knew there are even bigger DP fans than me?
I love listening to these guys. They are deep (sorry) fans, but they don't just say everything is great. They are honest and smart and fun to listen to — every DP will enjoy this.
A Word from Our Sponsor:

Joe Lynn Turner & . . . Animals?
Lead up to the Album:

Began recording in April of 1977 at Chateau d'Herouville, in France. They ended up here because Musicland, where Ritchie had recorded his previous albums, was booked.
Tony Carey initially played keyboards and Mark Clarke started on bass.
Carey was allegedly let go because Blackmore didn't think his improvisation was up to snuff.
Jimmy Bain was also let go. Of course Bain had been pranked by Blackmore including having his bed set on fire . . . while he was in it! Bain leapt out of bed and threw the burning sheets out the window.
In Colin's Hart's book "A Hart Life" he paints a different picture of the bullying of Carey. He's a little more sympathetic to Ritchie stating that Carey was very much into drug use and that Ritchie hated drug use. He says that they more that Carey's drug use increased, the more Ritchie tormented him. But it could been the other way around.
Jerry Bloom says in this book that Carey would be out of his room from 7am to 3pm then back to his room with the door bolted shut while everyone else recorded.
After firing Carey they couldn't find a replacement so Blackmore hired Carey back as a session musician for the album.
Clarke was let go from the band and Blackmore played the bass on a series of demos of seven tracks. Clarke was a fingerstyle player and Blackmore insisted that a pick be used.
Australian bass player Bob Daisley and Canadian David Stone were hired as replacements where they went on a tour of Europe in the summer and fall of 1977.
They recorded and released "On Stage" before returning to the studio to finish this album.
Gruber was re-hired for about a month until Daisley came on board.
Daisley recorded three songs and Stone recorded four.
The studio, Chateau D'Hereuville was in Paris. Jethro Tull had used this studio and renamed it "Chateau D'isaster."
It was a spooky castle and there were lots of Ouija boards and seances taking place.
Personnel
Additional

Gates of Babylon

Concertmaster – Ferenc Kiss

Was part of a legendary Hungarian folk music group called Kolinda.

Conductor, Score [Scored By] – Rainer Pietsch

German musician, songwriter, with nearly 1,000 credits on Discogs.
Conducted the 1975 German entry into the Eurovision song contest.

Strings – Bavarian String Ensemble

Only real entry in Discogs.

Rainbow Eyes
Album Art & Booklet Review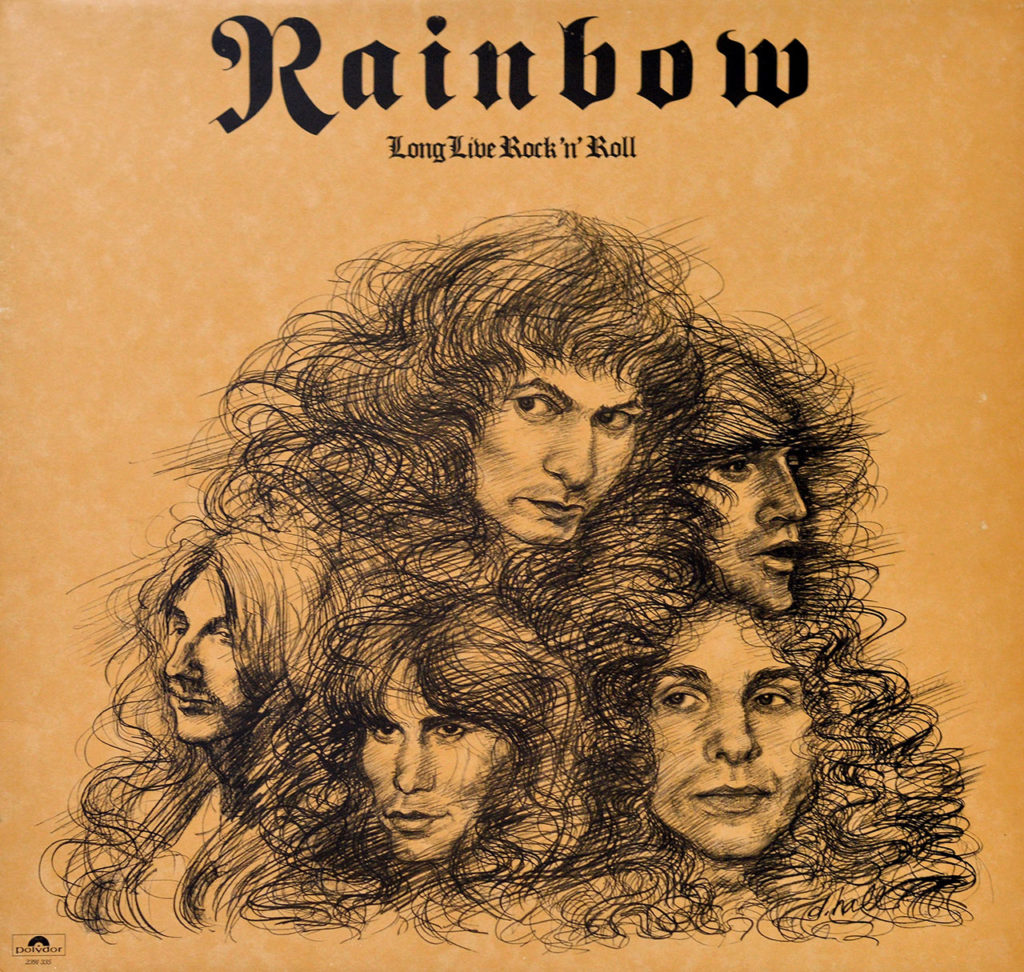 Design – Maxi Chan

Did covers for the Isley Brothers and James Brown

Directed By [Direction] – Bruce Payne

Manager with Rainbow, Deep Purple, and Cozy Powell

Illustration – Debbie Hall (3)
Simple album cover.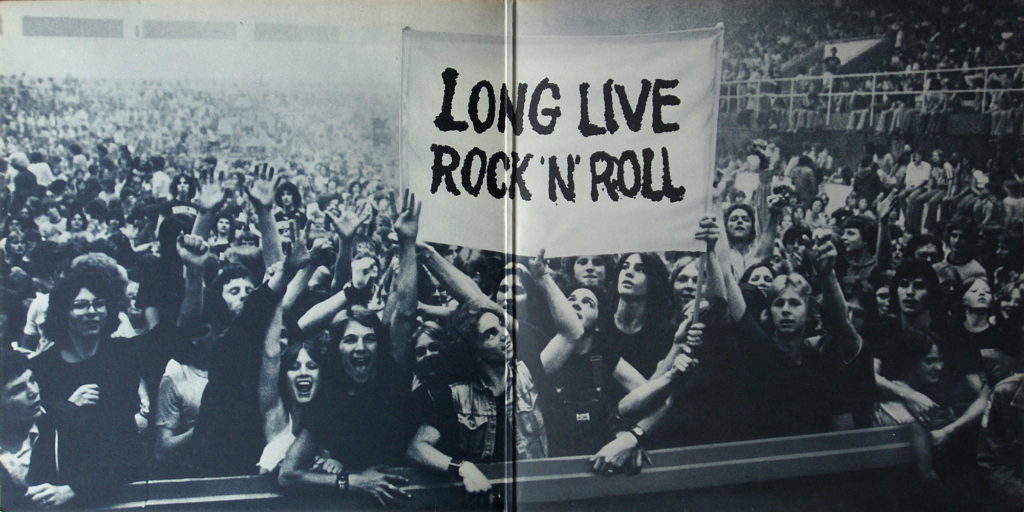 Insert was a picture from a Rush concert.  The banner originally said "Plymouth welcomes RUSH, touring North America 1977."  This was altered and the Rush T-shirts were airbrushed to remove the logos.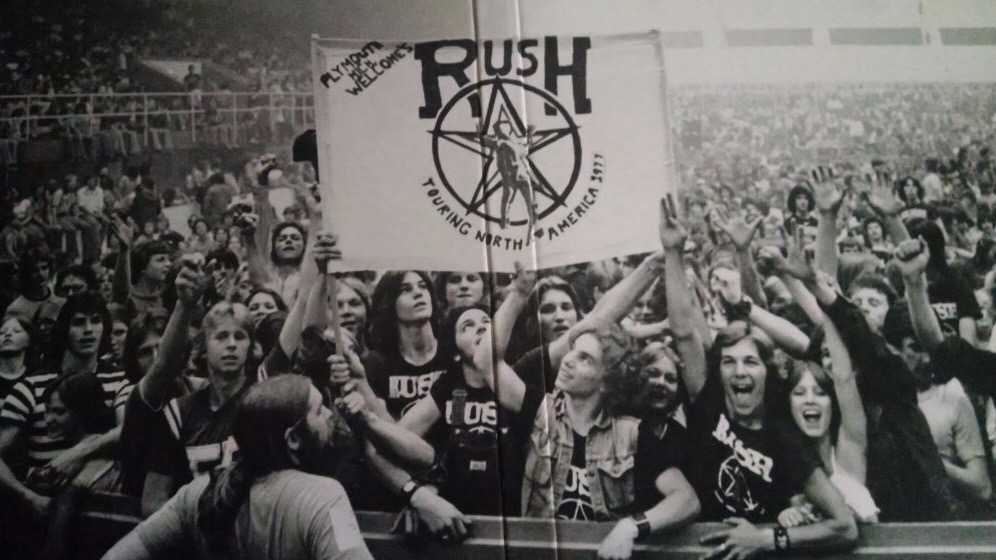 Why they didn't photograph an audience at one of their own shows is confusing. Especially since they'd even managed to use live shots for Blackmore and Elf on their first album to give the appearance that that lineup had ever appeared live.
In Martin Popoff's book "Sensitive to Light" he says Geddy Lee "Flipped his lid" when he heard about this.
Technical:

Album Tracks: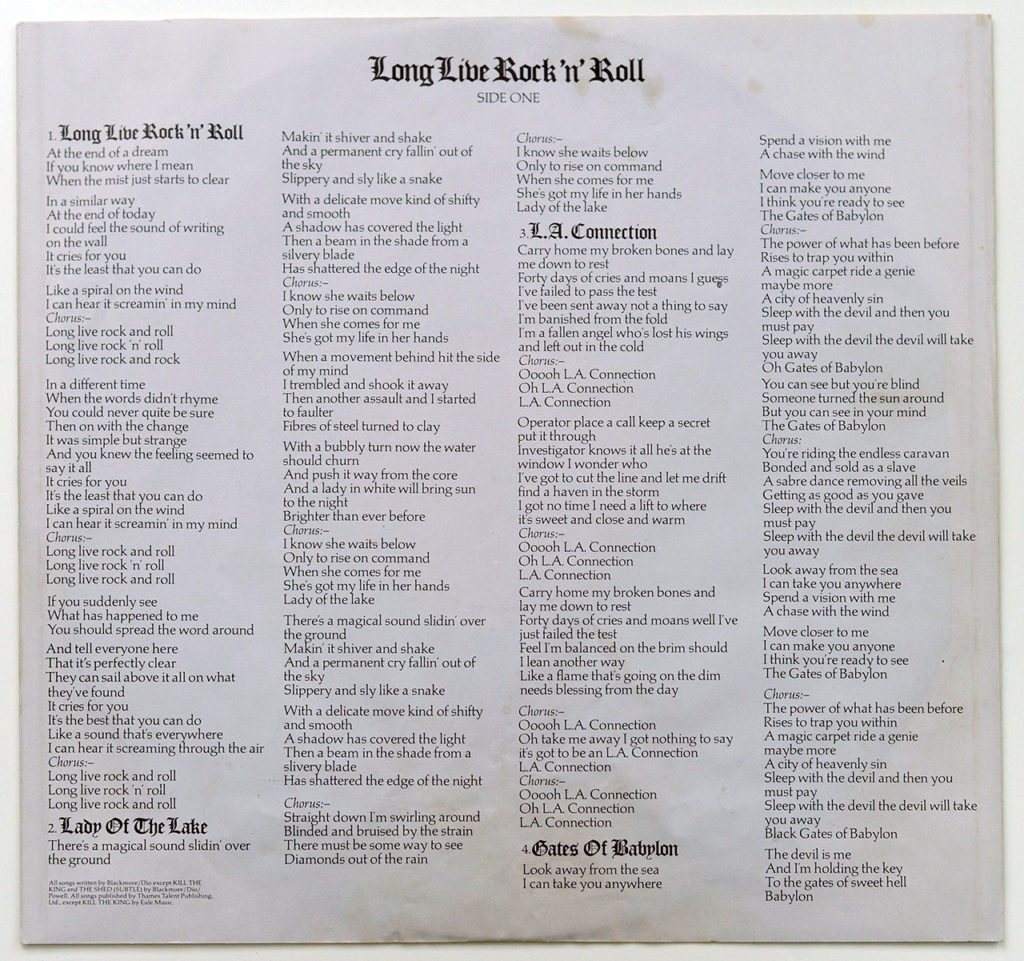 Side one:
Long Live Rock 'n' Roll (Blackmore, Dio)

Blackmore on bass.
Carey on keys.
This was a fixture of the live set starting in 1977.
It was released as a single with "Sensitive to Light" as the B-side. Made it to #33 in the UK charts.
Ritchie says he came up with the riff then asked Dio to sing "Long Live Rock 'n' Roll" because it fit with the riff. He said Ronnie would probably come up with something better but he kept it. Ritchie said he was proud because he came up with a lyric for a song which was very rare.
Blackmore said he didn't reject anything as far as lyrics.

Lady of the Lake (Blackmore, Dio)

Blackmore on bass.
Carey on keys.
Pilkington describes it as a "Fantasy Femme Fatale" tale.
Blackmore slide solo.
Blackmore does slide during the second and third verses (before and after the solo) which actually sounds almost like backing vocals.

L.A. Connection (Blackmore, Dio)

Blackmore on bass.
Stone on piano on the outro.
Thought to be written about Tony Carey leaving the band for a second time.
Was released as a single and made it to #40 in the UK charts with "Lady of the Lake" as the B-side.
It was the only other track from the album to make it to the live set.
Daisley said this song was Rainbow trying to be Bad Company.
Song was about Tony Carey leaving the band. Dio said that he and Powell had to beg him to come back. They resumed playing vicious pranks on him and he was stopped at the airport when he left by an anonymous tip someone called in that he had a kilo of cocaine on him so he was stopped for hours.

Gates of Babylon (Blackmore, Dio)

Daisley on bass.
Stone on keys.
Song is about someone getting their soul taken away from them and being sent to hell.
Song was inspired after a seance.
David Stone says that he and Martin Birch wrote the mid-section one night. He was told by Bruce Payne he'd get a publishing credit but they just gave him a check because they claimed it was too much paperwork.
Track was never played live. Blackmore claimed, much like with Stargazer, that it just didn't sound right.
Dio would later perform this live as well as Stargazer.
Last track to be finished for the album.
Often described as "Zeppelin-eque"
Blackmore said in an interview with Guitar Player in 1978 that this was the best guitar solo he ever did.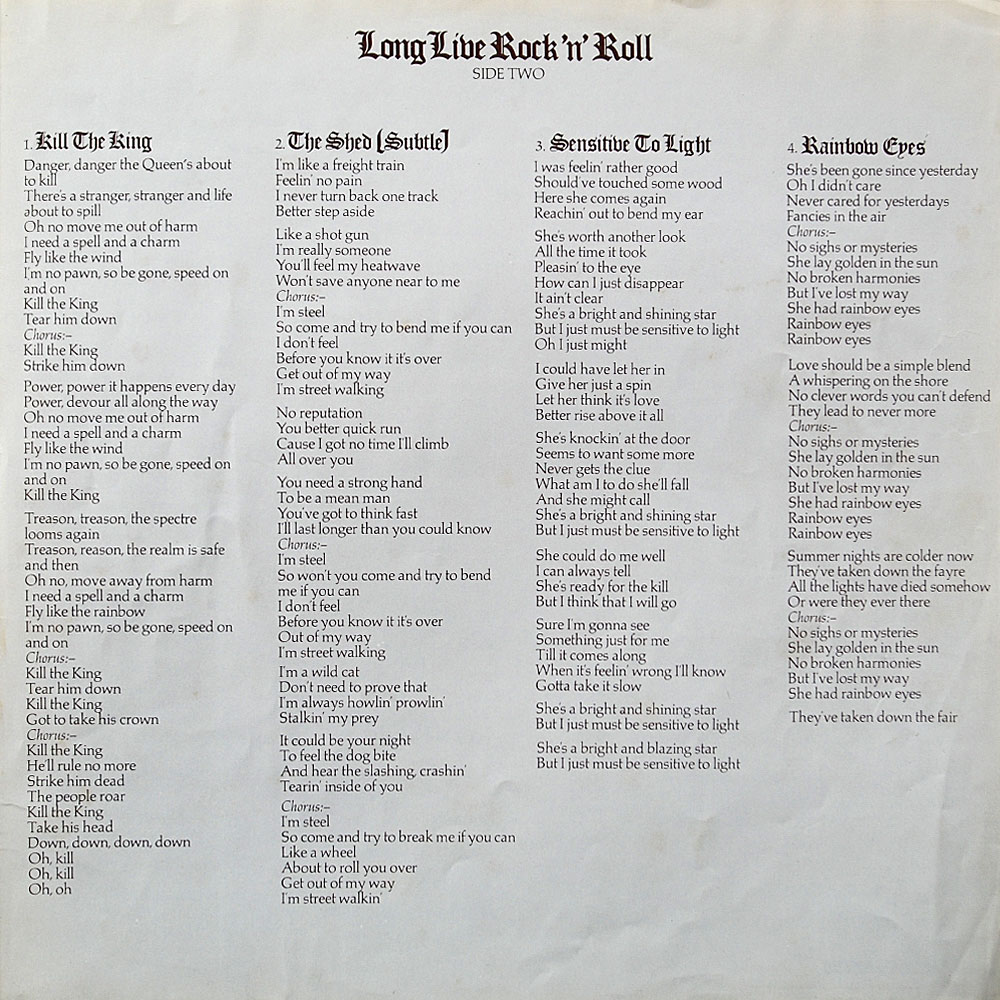 Side two
Kill the King (Blackmore, Dio, Powell)

Stone on keys.
This was already well known from the live release the previous year.
Carey said that they had this song by the end of the Rising sessions but it came in too late to be included on that album. This is why they'd released it on their live album before recording it for Long Live Rock 'n' Roll.

The Shed (Subtle) (Blackmore, Dio, Powell)

Blackmore on bass.
Stone on keys.
Originally titled "Streetwalking."
Riff is comparable to "God of Thunder" by Kiss.
In Pilkington's book he says the title is a reference to Chelsea FC's football stadium Stamford Bridge. The area behind the goal was known as "The Shed" where the violent people tended to be. Not sure if he's referencing the fans or the players. Blackmore was a Chelsea fan growing up. Dio did the title as a sort of in joke.
The (Subtle) is supposed to reference the guitar intro.

Sensitive to Light (Blackmore, Dio)

Song about a woman who is trouble when you're with her.

Rainbow Eyes (Blackmore, Dio)

Blackmore on bass.
Carey on keys.
Blackmore showing his love for medieval music.
Lyrics were written by Dio about his wife Wendy. The song was about Wendy's eyes which seemed to change color.
Allegedly Dio's departure from Rainbow may have been party due to Wendy's relationship with Blackmore.
Blackmore said he did not like Dio's vocals on this song.
Ronnie apparently called Ronnie's ballad voice "girly" which is maybe why he later resurrected this song for Blackmore's Night.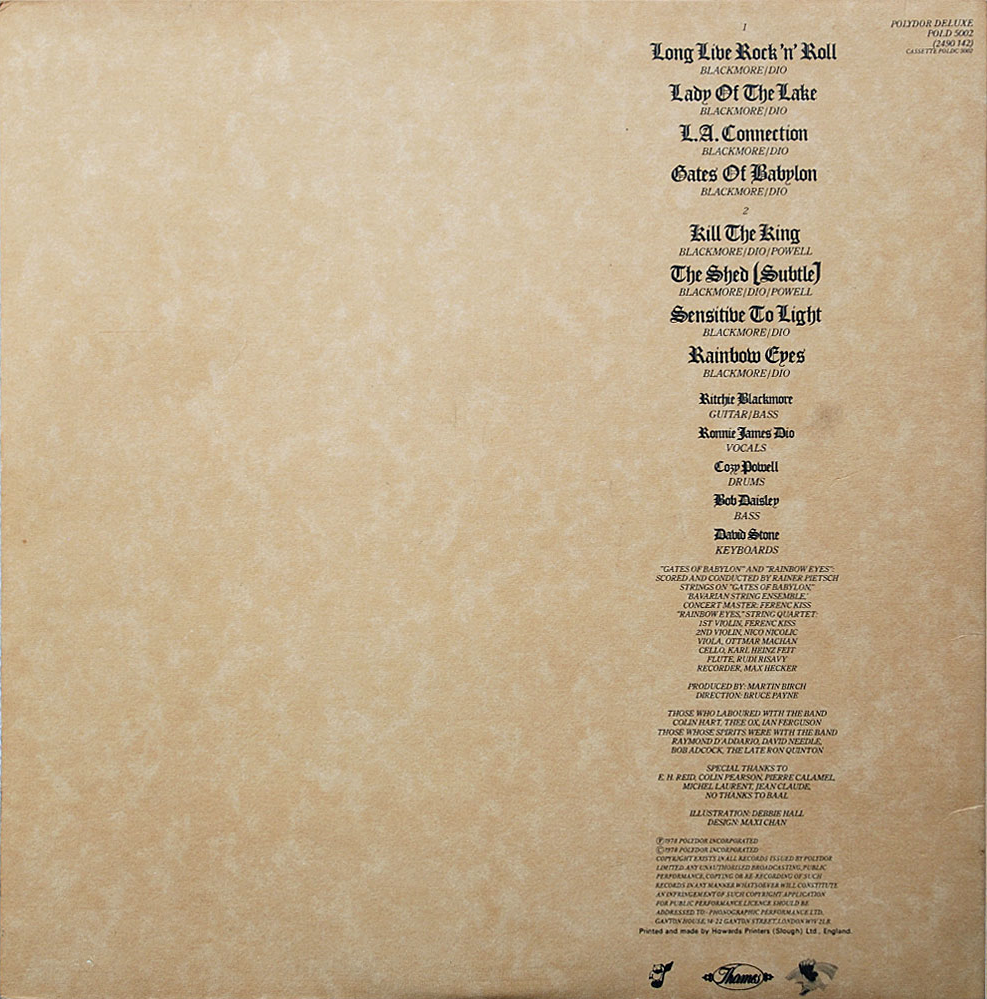 Reception and Review

Ritchie said in an interview with Sounds that they were trying to make this a "Party LP."
Stone only stayed throughout his one album.
Dio and Daisley talked about forming a band when they left. Instead Dio went to Black Sabbath and Daisley formed a band with the recently departed Ozzy where he wrote a lot of the music and lyrics to the first two Ozzy albums.
For Further Information:

Listener Mail/Comments

Comments about the show? Things you'd like us to cover? We'd love to hear from you. Send us an email at info@deeppurplepodcast.com or @ us on Twitter, Facebook, or Instagram.