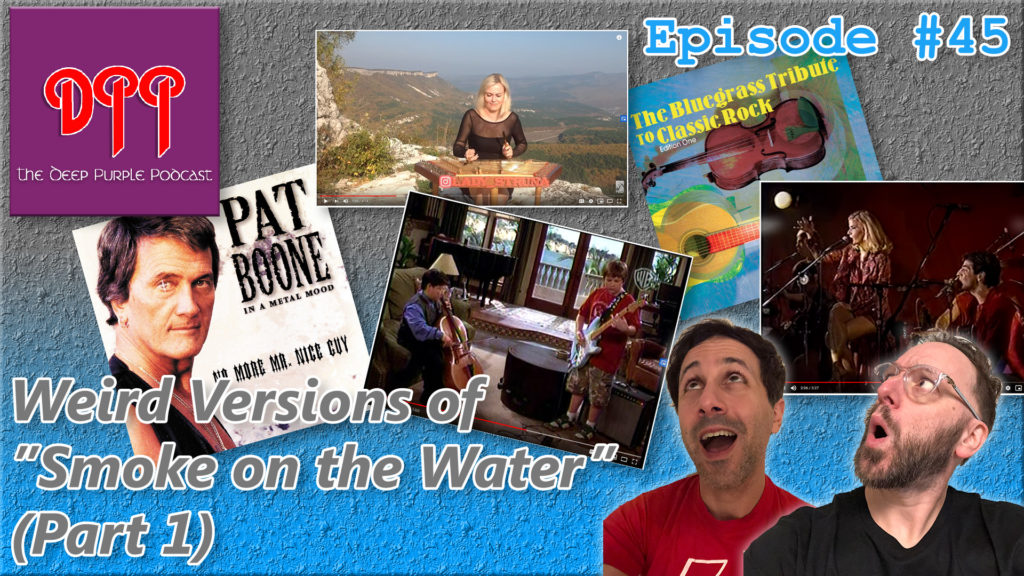 Note: This week's episode was banned on YouTube. 🙁
Subscribe at Apple Podcasts, Stitcher, Google Podcasts, Overcast, Pocket Casts, Anchor.fm, Breaker, PodBean, RadioPublic, or search in your favorite podcatcher! 

Thanks to Our Patrons:

$10 Super Champion Tier
$5 Tier

Clay Wombacher
Greg Sealby
PATRON UPGRADE from $3 tier to $5 tier – Frank Theilgaard-Mortensen

$3 Tier

Peter Gardow
Ian Desrosiers
Mark Roback

$1 The Made Up Name Tier

Ells Murders
Spacey Noodles
NEW PATRON ALERT!!! — Leaky Mausoleum
Thanks to our Brothers at the Deep Dive Podcast Network:
Thanks to the Patron Saint and Archivist of The Deep Purple Podcast:
Show Updates:

Comments from social media.
Norman writes in to ask if we've seen Discoverdale – A fly-on-the-wall film crew follow cult Comedy Rock Band 'Dead Cat Bounce' on a desperate quest across Europe to reunite lead singer Jim with his long lost father, who he believes is the legendary rock singer and Whitesnake frontman David Coverdale. Crossing Ireland, England, Norway & Denmark the band follow the Whitesnake Forevermore tour across Europe. They've got no money and no idea what they're doing – just blind faith that one day soon Jim will be sharing a jacuzzi in a 5 star hotel with the Dad of his dreams… and hopefully some hot Asian chicks.
Word from Our Sponsor:

Joe Lynn Turner & Burger King
The Versions

Jorg: НОВЫЙ ХИТ Deep Purple Smoke on the Water HIT Самохина Евгения цимбалы Dulcimer Hackbrett cover
Jorg: SMOKE ON THE WATER by RED FOLEY (1944) – "Smoke on the Water" was written in 1944 by Zeke Clements and recorded shortly thereafter by Red Foley.
Jorg: CARLOS LYRA – Maria Moita (1964) –
Jorg: deep purple – jazz tribute – smoke on the water – new edition 2017 – by Alain Rabiat
Jorg: Moscow Symphony Orchestra – The Music Of Deep Purple (Full Album) – A Symphonic Tribute To Deep Purple:
David Rushworth on Twitter & Jorg: Pat Boone – Smoke On The Water (Deep Purple cover – feat. Ritchie Blackmore) (1997)
Pantse67 on Twitter: Deep Purple – Smoke On The Water (Bluegrass Version) –
Jorg: "Smoke on the Water" Roy Acuff & SmokyMountain Boys and Girls – from the movie 1943 "O, My Darling Clementine" Edited to Starts with Brother Oswald's famous Laugh Jimmie Riddle, Pete Kirby(Bro.Oswald),Lonnie Wilson,Velma Smith,Jess Easterday, Rachael Veach
Mike Healy: Two and a Half Men – Smoke on the Water
Mike Healy: Gerard playing smoke on the water – From "Everybody Loves Raymond"
Lord Balckmore von Decker on Twitter: SENOR COCONUT – SMOKE ON THE WATER –
John's Bahamas Vacation Video
Jorg: Nebel auf dem Wasser – German folk music version
Elías on Twitter: – Marcelo 'Teto' Medina – Humo sobre el Agua This is the weirdest thing you are going to listen to… In 1992, an Argentinian TV presenter called 'Teto' Medina decided to record his own version of this classic… What do you think about?
Elías on Twitter: Deep Purple's Smoke On The Water by Sueños Purpura Tribute Album – www.dontpaymusic.com I can offer this version featuring some of the most important rock musicians from Argentina… Maybe it redeems me haha
Black Sabbath – Smoke on the Water – No, it's not a typo. Black Sabbath performed "Smoke on the Water" as an encore during Gillan's tenure in the band. This rendition comes from Worcester, MA on 11/4/1983. Quite good.
Jorg: Kid Abelha – Smoke on The Water – 1995 Jazzmania
DEEP PURPLE – «Smoke on the water» Live (Jazz version) – source: Interview Ian GILLAN France 2 – 14.11.2012 –
In The News . . .

This Week in Purple History . . .
March 2 through March 8

March 4, 1948 – Mike Moran is born
March 8, 1948 – Mel Galley is born
March 4, 1977 – Paice Ashton Lord releases Malice in Wonderland
Listener Mail/Comments

Comments about the show? Things you'd like us to cover? We'd love to hear from you. Send us an email at info@deeppurplepodcast.com or @ us on Twitter, Facebook, or Instagram.