Subscribe at Apple Podcasts, Stitcher, Google Podcasts, Overcast, Pocket Casts, Anchor.fm, Breaker, PodBean, RadioPublic, or search in your favorite podcatcher!

Thanks to Our Patrons:

$10 Super Champion Tier
$5 Tier
$3 Tier

Peter Gardow
Ian Desrosiers
NEW PATRON ALERT !!! Frank Theilgaard-Mortensen
NEW PATRON ALERT !!! Mark Roback

$1 The Made Up Name Tier

Ells Murders
Spacey Noodles
Thanks to our Brothers at the Deep Dive Podcast Network:
Thanks to the Patron Saint and Archivist of The Deep Purple Podcast:
Show Updates:

Trinkelbonker (Michael Eriksson) votes us as top podcast of 2019

Jonatanhedlin on Instagram says: "Well deserved guys. Your pod set me out on new musical frontiers even after a life time of hard rock nerdiness."

5 Stars on Apple Podcasts! CH-another CH, 12/29/2019 – Deep Purplest

Probably from my older brother, I got a 45 of Kentucky Woman when I was 8. The guitar solo was mesmerizing to me at the time, … perfectly crafted. Since then, the band has always been floating in my top 10. Knowledgeable in-depth discussion covering all MK incarnations by the hosts, track by track. Definitely worth a listen for older DP fans or someone curious about the band. Learn about one of the greatest, more under appreciated, influential bands in rock music.

5 Stars on Apple Podcasts! Scott Listener , 12/31/2019 – Great Deep Purple Deep Dive

This show makes my every Monday. Not only have I learned so much about my favorite band (I really thought I knew so much more!) but I enjoy the opinions conversation of the hosts. All I can say is: Encore!… 🙂 🙂

Rich Shailor on Facebook: Great podcast! These are not experts flexing their knowledge of facts and trivia. It's two friends having casual and entertaining discussions about all things Deep Purple related. It reminds me of hanging out and talking music with my friends. I consider myself a die hard Deep Purple fan but these guys have opened my eyes up to things I never noticed and given me a fresh perspective on things I know by heart.
The Butterfly Ball DNA Playlist is up and running on Spotify!
Jim Massa on YouTube talks about management defining DP as Mark 2 and the rule that 3 of five "original" members are required to continue on with the name.
Sound upgrade from our patrons. Thanks to all of you!
Comments from social media.
Word from Our Sponsor:

Joe Lynn Turner & Diet Dr. Pepper
Personnel

Additional Credits

Recorded At – Herkulessaal, München

The Herkulessal in Munich is the former royal palace of the Bavarian monarchs in the center of the city.

Recorded during the Eurovision Presentation of Prix Jeunesse on Saturday, June 1st, 1974.
Mixed at Musicland Studios in Munich.
2017 release was remastered at Abbey Road Studios.
Lead up to the Album:

The record sleeve indicates that there are no overdubs on this album.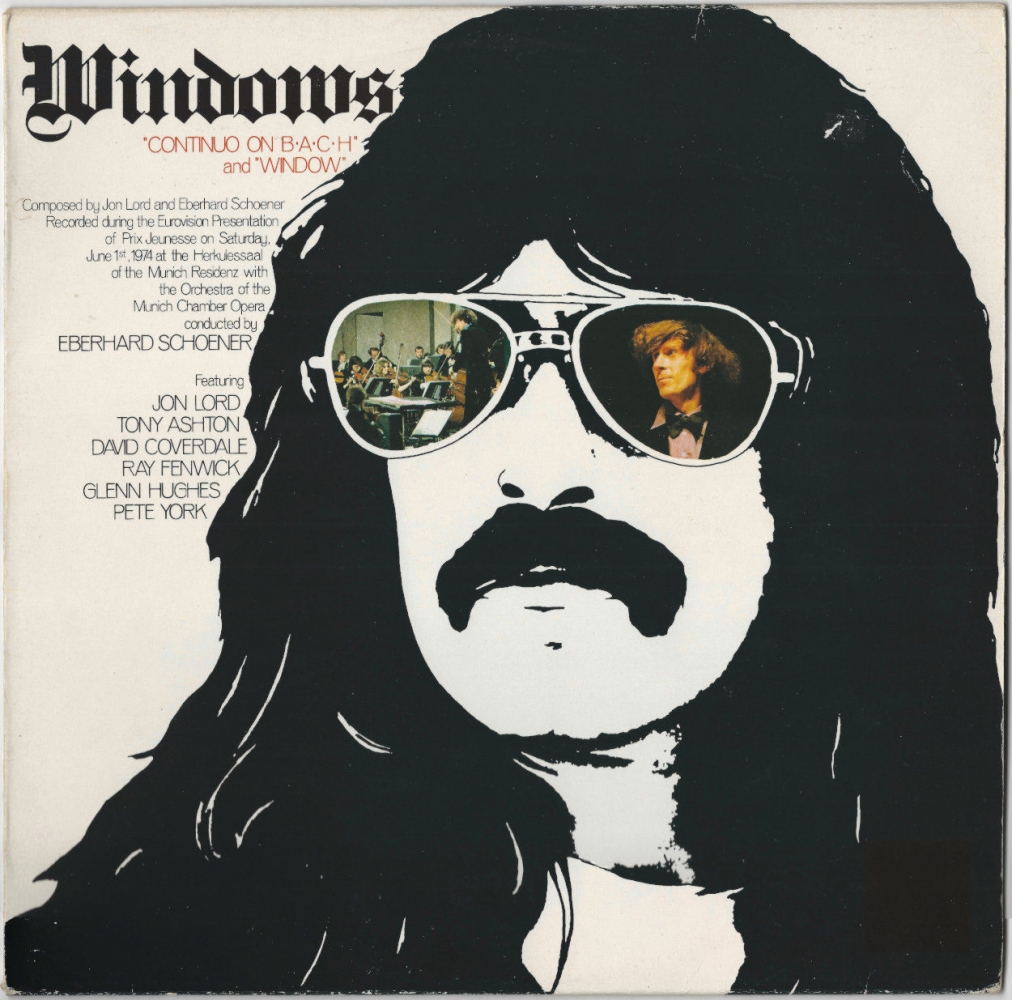 Album Art & Booklet Review

Photography By [Black & White] – Fin Costello

Legendary rock photographer we've covered several times in the past.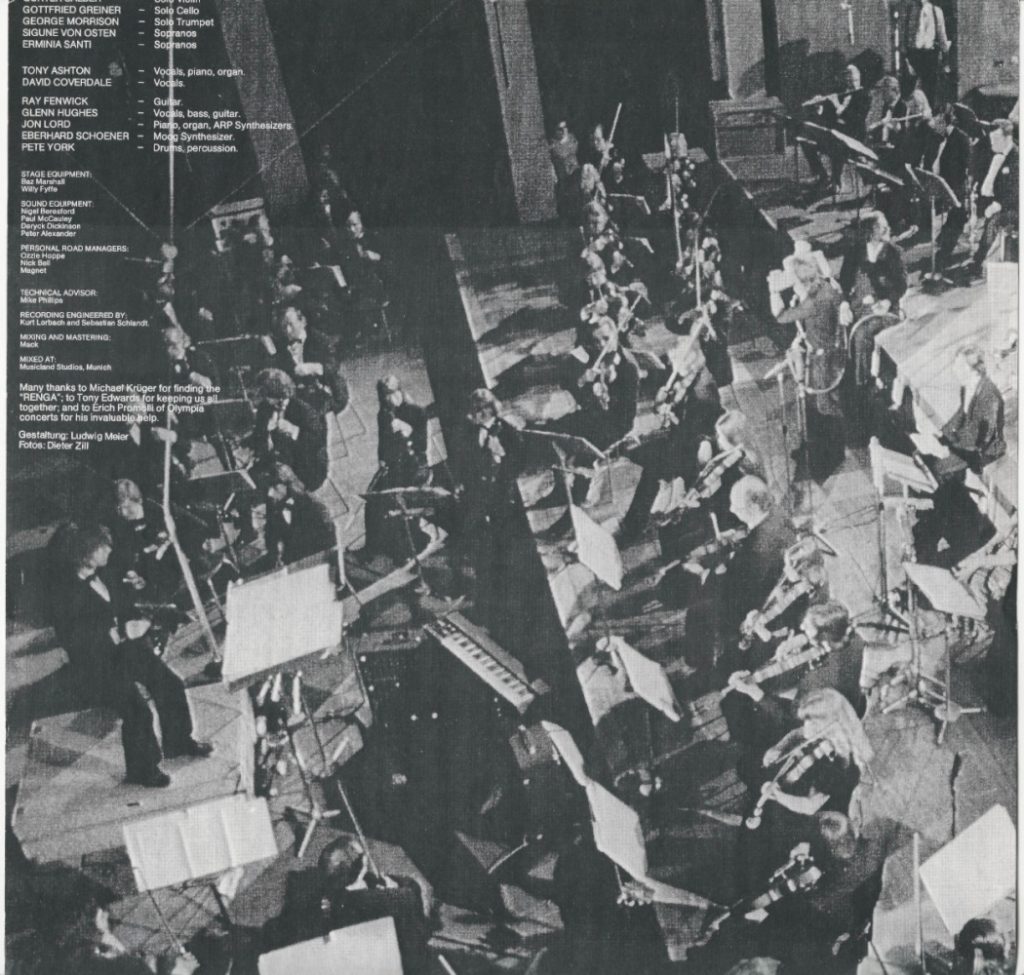 Photography By [Orchestra] – Didi Zill

Legendary German photographer for BRAVO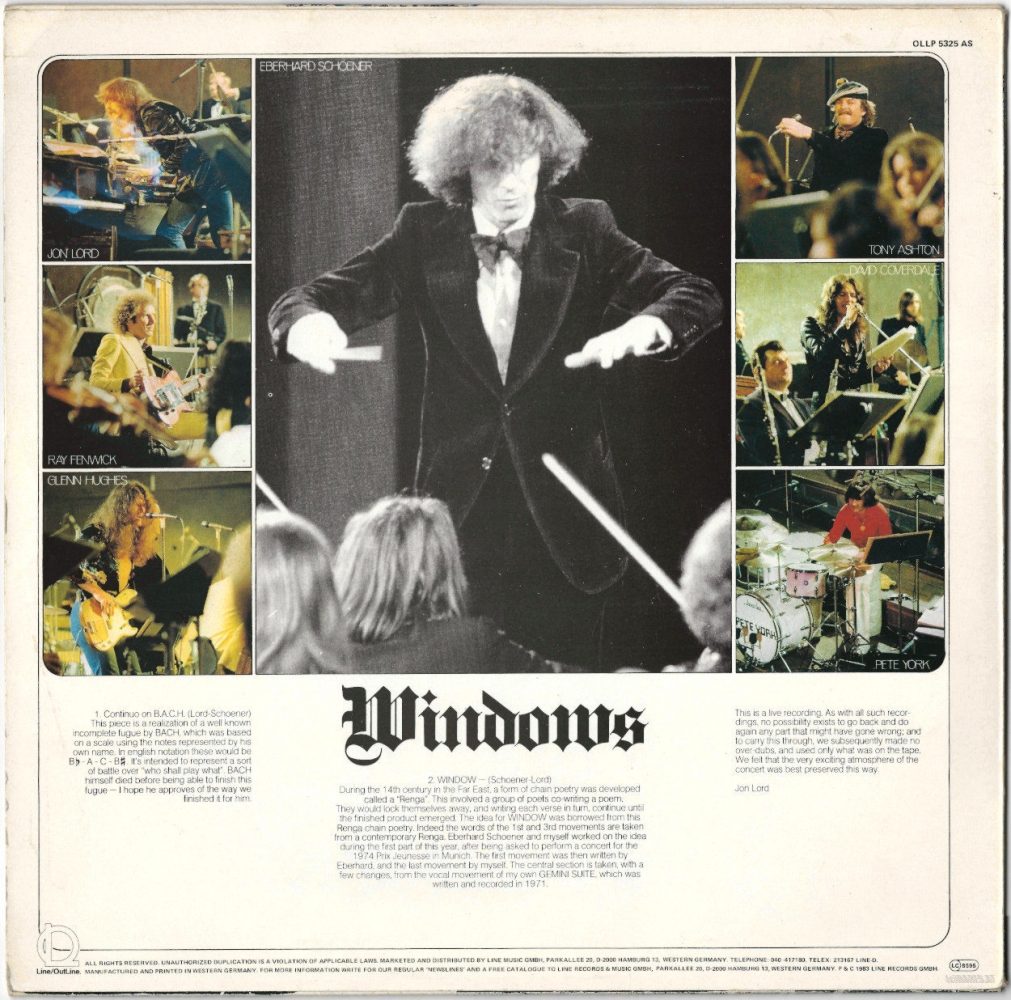 Layout – Alexander Mertsch

Work for Savatage, Roger Glover, Ian Gillan & Tony Iommi, Glenn Hughes, Nazareth, Steve Morse, Tommy Bolin, Deep Purple

Design [Cover] – Gyula Havancsak

Worked on a lot of design, mostly metal stuff for the past 20 years or so.
Album Tracks:

Recorded on June 1st, 1974 at the Herkules-Saal OF the Munic Residenz with the Orchestra of Munich Chamber Opera

Continuo On B.A.C.H.

Posted by Easy Livin on: https://www.progarchives.com/album.asp?id=15343
From the back of the album: "Continuo on B.A.C.H. (Lord-Schoener) This piece is a realization of a a well known incomplete fugue by BACH which was based on a scale using the notes represented by his own name. In english notation these would be Bb – A – C – B#. It's intended to represent a sort of battle over "who shall play what" BACH himself died before being able to finish this fugue — I hope he approves of the way we finished it for him."
However, in Germany, Central and Eastern Europe, and Scandinavia, the label B is used for what, above, is called B-flat, and the note a semitone below C is called H. This makes possible certain spellings which are otherwise impossible, such as the BACH motif.

In music, the BACH motif is the motif, a succession of notes important or characteristic to a piece, B flat, A, C, B natural. In German musical nomenclature, in which the note B natural is named H and the B flat named B, it forms Johann Sebastian Bach's family name. One of the most frequently occurring examples of a musical cryptogram, the motif has been used by countless composers, especially after the Bach Revival in the first half of the 19th century.

Continuo on B.A.C.H" is a variation on an incomplete fugue composed by Bach which was based on the four letters of his surname. There is of course no letter H in music notation, so it is represented by B sharp. (A fellow member with greater music knowledge than I explains that "In Germany the letter H is formally the way to describe the b sharp note as it is in most countries".) While for obvious reasons the piece has been well rehearsed, it generally has the feel of an improvisation. Off key playing of various instruments and jazz like passages combine to create an atmosphere of looseness. The purely orchestra sections therefore contrast more obviously than they would with a more rigid composition. The risk with such pieces is that they come over as pretentious and insincere. While Lord just about manages to keep such thoughts at bay, the symphonic passages do suffer from the usual malaise of rock stars who wannabee classical composers in that they become pseudo-classical. As with Bach's original composition on which this piece is based, there is a feeling as it ends that it is incomplete.

Window: 1st Movement: Renga

From the back album cover: "During the 14th centuryin the Far East, a form of chain poetry was developed called a "Renga." This involved a group of poets co-writing a poem. They would lock themselves away, and writing each verse in turn, continue until the finished product emerged. The idea for WINDOW was borrowed from this Renga chain poetry. Indeed the words of the 1st and 3rd movements are taken from a contemporary Renga. Eberhard Schoener and myself worked on the idea during the first part of this year, after bieng asked to perform a concert for the 1974 Prix Jeunesse in Munich. The first movent was then written by Eberhard adn the last movement by myself. The central section is ten, with a few changes, from the vocal movement of my own GEMINI SUITE which was written and recorded in 1971.
Window is based on 14th century collaborative poetry from the far east called Renga. The lyrics for the 1st and 3rd movements are taken from a contemporary renga found by Michael Kruuger.
Coverdale and Ashton with two sopranos.

Window: 2nd Movement: Gemini

The second movement is based on the vocal section of "Gemini Suite."

Window: 3rd Movement: Alla Marcia-Allegro
Reception and Review

From the back album cover: "This is a live recording. As with all such recordings, no possibility exists to go back and do again any part that might have gone wrong; and to carry this through we subsequently made no over-dubs, and used on what was on teh tape. We felt that the very exciting atmosphere of the concert was best preserved this way." Jon Lord.
In The News . . .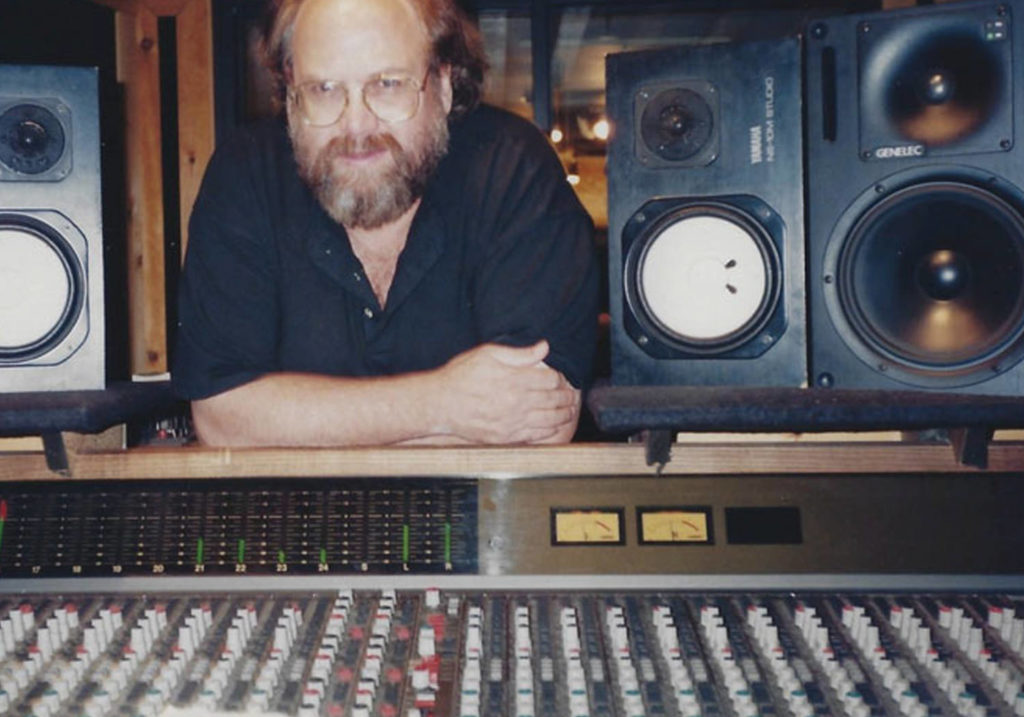 Nick Blagona R.I.P. from RogerGlover.com

He was the house engineer at Le Studio in Morin Heights when, in the winter of 1981, Rainbow started recording Straight Between The Eyes. As the producer, I spent a lot of time with him, sitting at the SSL desk, drinking endless cups of coffee and playing Battleships late into the night. We hit it off immediately.
One day, he saw a folder of my lyrics and poems and suggested that I do a solo album, offering me four days of free studio time as an incentive. After the album was released, we went on tour. He came to see us in Toronto and challenged me about the solo album again. So, when the tour was over, I travelled to Morin Heights with Colin Hart and started recording what would end up as Mask. I had no band––just a couple of guitars, a drum machine, synthesizer, sequencer, and some percussion instruments––so Nick introduced me to Jean Roussel, keyboards, and Joe Jammer, guitar. Those four days whetted my appetite, Nick and I went on to complete the album in New York. One of the memorable moments was when he introduced me to the wonderful Canadian singer Kate McGarrigle, who flew down to record some vocals. He had connections.
He was a lovely man, full of fun and wisdom, liked to enjoy himself, and a good listener. Had good ears. I am lucky and privileged to have had him in my life.
This Week in Purple History . . .
February 3 through February 9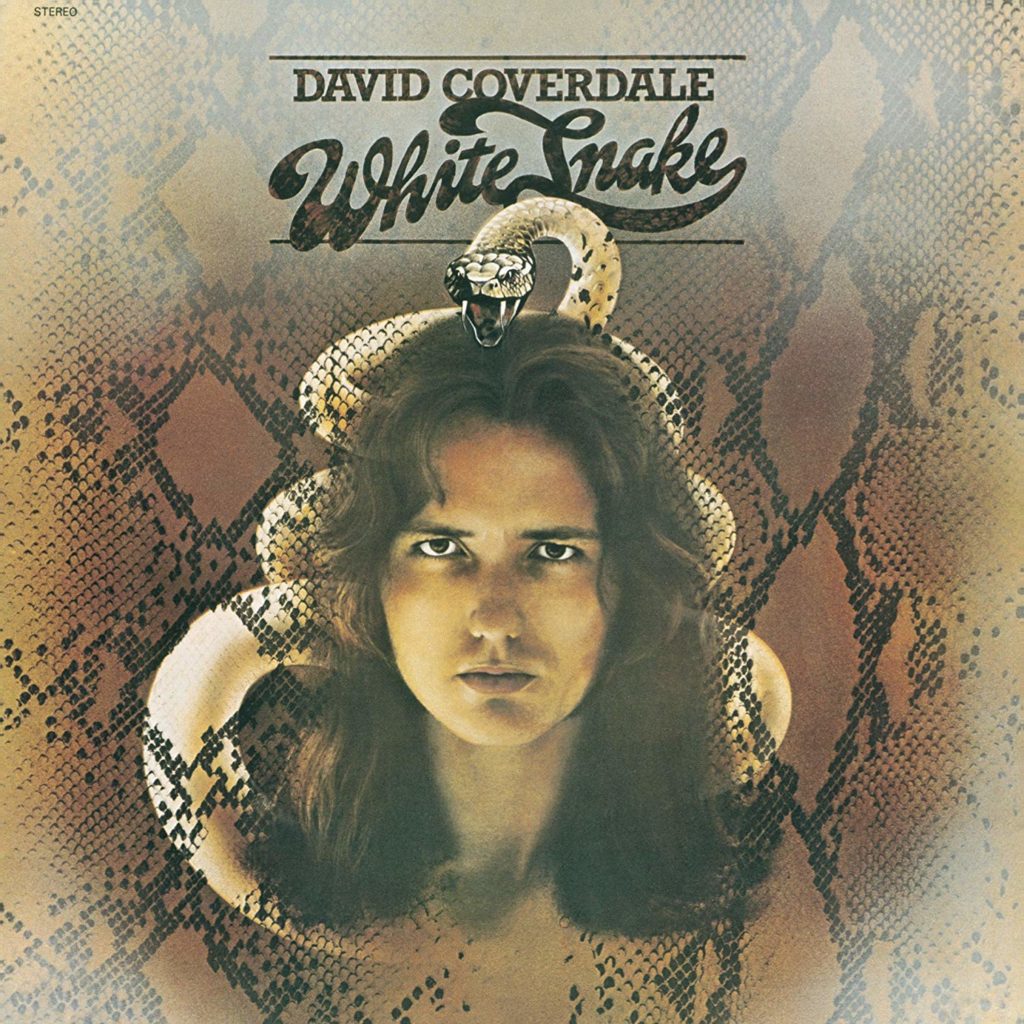 February 9, 1977 – David Coverdale releases "White Snake"
February 3, 1987 – Whitesnake releases "Here I Go Again" as a single — well, not really actually. 🙂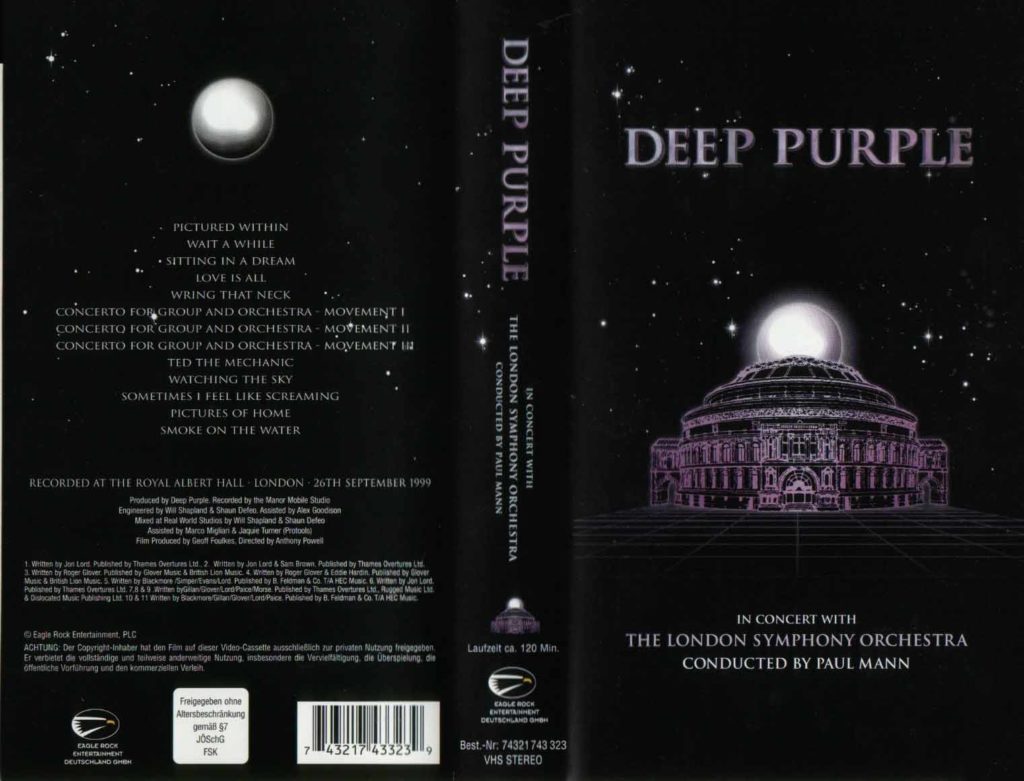 February 8, 2000 – Deep Purple releases "Live in Concert" at the Royal Albert Hall
For Further Information:

Listener Mail/Comments

Comments about the show? Things you'd like us to cover? We'd love to hear from you. Send us an email at info@deeppurplepodcast.com or @ us on Twitter, Facebook, or Instagram.