Subscribe at Apple Podcasts, Stitcher, Google Podcasts, Overcast, Pocket Casts, Anchor.fm, Breaker, PodBean, RadioPublic, or search in your favorite podcatcher!

Show Updates:

Comments from social media.
Listener Jeff Taylor writes: "Just listened to the first episode on the Butterfly Ball today. I liked the piece you played from Curved Air with Eddie Jobson so much that I went to Spotify and followed Curved Air so I can check out their music further when I have time."
A lot of chatter about "Come Hell or Highwater" where Ritchie gets into an altercation with yet another cameraman: https://www.youtube.com/watch?v=Y2qZJ3BHzjY
Ritchie's take on the situation in a 1996 fan interview: https://www.youtube.com/watch?v=tyIzI3s3Ddk
Nice email from Norman about fandom and the whereabouts of Rod Evans!
Thanks to Our Patrons:

$5 Tier
$3 Tier

Peter Gardow
New Patron Alert! . . . Ian Desrosiers

$1 Tier

Ells Murders
Spacey Noodles
Thanks to our Brothers at the Deep Dive Podcast Network:
Thanks to the Patron Saint and Archivist of The Deep Purple Podcast:
Lead Up To Album & Writing:

Glover: "In September 1975 I staged a concert of The Butterfly Ball at the Albert Hall, London, and as far as possible gathered together as many of the performers as I could from the recording of the original album, which was released the previous year. The event was recorded and filmed by Tony Klinger and British Lion Films and the resulting movie is what is now being re-released in DVD format by a company called MusicVideoDistributors."
Glover had the idea to do a live concert of "The Butterfly Ball" as a one-off performance. The show was scheduled at The Royal Albert Hall on October 16, 1975 and filmed. It was directed by Tony Klinger who had produced "Deep Purple Rises Over Japan" a few months after this.
Concert was
Glover: ". . . when it was released in 1974 it was, to my relief, very well received in various countries around Europe. However, it failed to ignite a broad interest in the UK and so the idea for staging a concert at the Albert Hall came about as a means of getting some attention for it in my home country."
Almost everyone from the original album was in attendance. Dio was unable to attend due to touring with Rainbow so Glover contacted Ian Gillan who agreed to fill his place on "Sitting in a Dream."
Later it would be rumored that Dio wanted to attend but was forbidden by Blackmore.
Gillan says in his autobiography: ". . . although I don't feature on the album, I was glad to help him with the live production of The Butterfly Ball at the Royal Albert Hall (16 October 1974), after Ronnie Dio had to pull out at the last minute."
Twiggy was also recruited and Vincent Price agreed to narrate it. They rehearsed for a week before the concert.
Glover had to organize everything himself and quickly became overwhelmed. Bruce Payne eventually helped out by getting him Bob Adcock, Rainbow's road manager, to help out at the last minute. This seems at odds with the rumor that Dio was prevented by Blackmore.
This would be Gillan's first public performance since leaving Deep Purple over two years earlier.
Glover: "The actual night of the concert was lovely, all the artists on the stage gave superlative performances and I felt, and still feel, indebted to every single one of them."
The performance raised money for The Bud Flanagan Leukaemia Fund and Action Research for the Crippled Child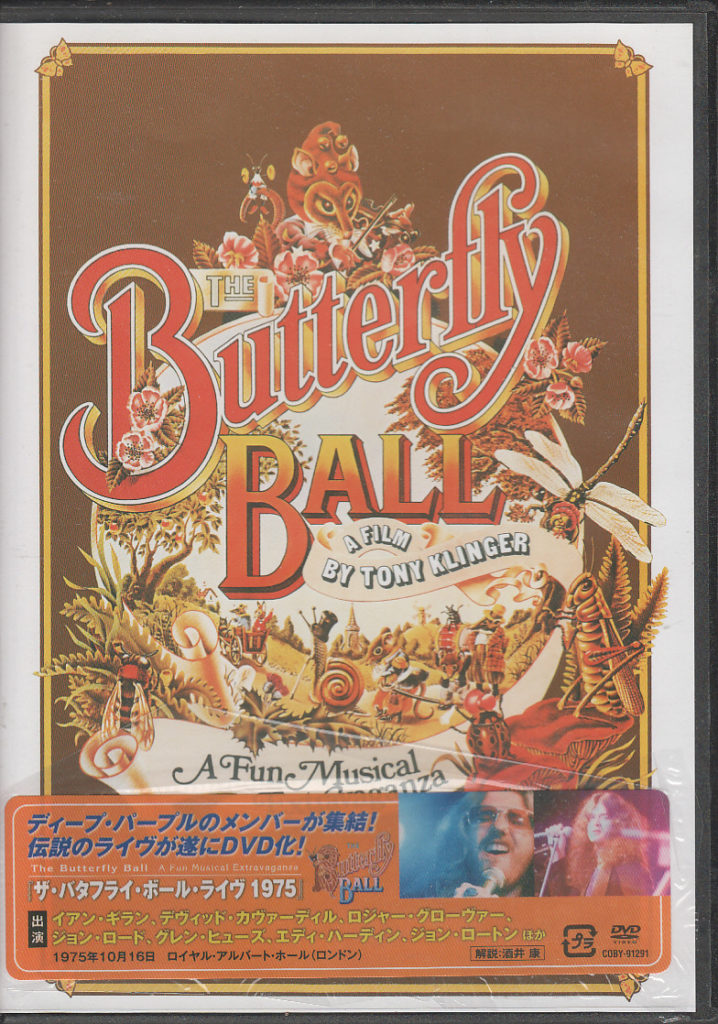 Album Art & Booklet Review

DVD Cover featuring Glenn Hughes.

Glover: "My first impression was not good; as I opened the box, I found the DVD plastered with a huge photograph of Glenn Hughes (who also features on the box's spine). Huh? Ah, now I get it; some dolt in the art department (if there is such a department) was informed that this was the work of Deep Purple's bass player. Now I have nothing against Glenn, he's a fine bloke, but… this was not a good omen."
Read Glover's full thoughts on the 2006 DVD release here: https://www.rogerglover.com/writings/messages-from-roger-glover/the-dvd-release-of-the-butterfly-ball-concert/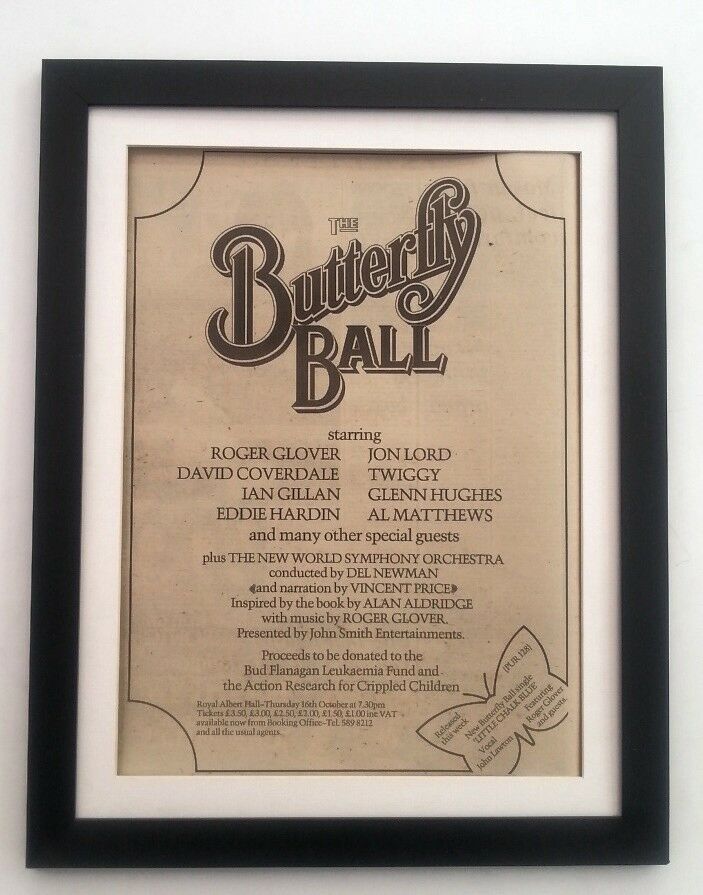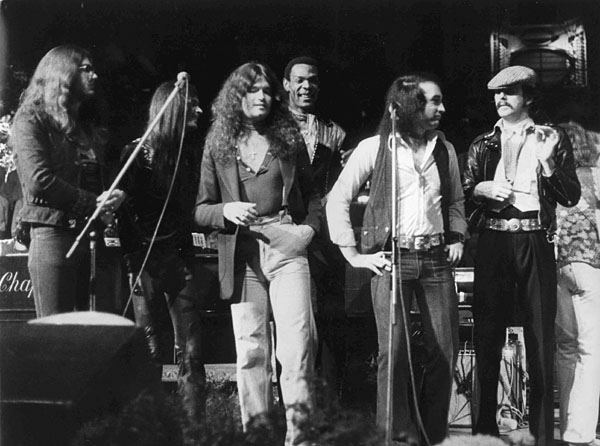 The Movie

Dreams of Sir Bedivere
Dawn
Get Ready
Saffron Dormouse and Lizzy Bee

Featuring Helen Chappelle and Barry St. John

Together Again
Old Bilnd Mole

Originally sung by John Goodison
Was part of the Les Humphries Singers
Was on the Green Bullfrog album
Worked with Lucifer's Friend

Magician Moth
Watch Out For The Bat
Aranea
Sir Maximus Mouse
Behind the Smile

Featuring David Coverdale

Little Chalk Blue
Waiting
Sitting in a Dream

Featuring Ian Gillan
Originally sung by Ronnie James Dio
Gillan's first time on stage since leaving Deep Purple two years earlier

No Solution

Featuring Mickey Lee Soule

The Feast
Love Is All

Featuring John Lawton
Originally sung by Ronnie James Dio

Homeward

Featuring Twiggy
Originally sung by Ronnie James Dio

Love Is All (Encore)
Reception and Review

THE DVD RELEASE OF THE BUTTERFLY BALL CONCERT

Talks about the joy of seeing all these wonderful talents on the same stage.
Mentions that Neil Lancaster's performance of Harlequin HAre was not included in the movie for some reason.
Gives benefit of the doubt to the filmmaker and actors in the movie.
On the release of the DVD there was a big picture of Glenn Hughes on the cover. Gover was confused until he realised that whoever they hired to do it heard it was by the bassist for Deep Purple and found this pic to use for the cover.
Jon Lord's name is spelled incorrectly on the cover.

Glover: "A limousine picked me up at Wessex Studios and I was delivered to the Odeon, met on a red carpet by the manager of the cinema and ushered in with a suitable degree of pomp. Most of the performers were there, along with most of their relatives (and mine) and after a glass of wine or two we all settled down to watch the movie, my wife Judi and I being shown to especially plush and centrally located seats so that all would know we were the guests of honor."
Glover: "The film of it I don't like at all. I've never liked that. I had nothing to do with it. But to me it was shoddily done, it was tastelessly done, it was cheaply done. Probably the most embarrassing moment of my life was being invited to the premier of the only film that i've ever starred in and hating it. I sat there in the special seat surrounded by all the people that worked on the concert and on the album and the lights went down and this thing came on and I just hated it. I just wanted to run away. I thought about leaving the theater half way through but I thought no I'm too nice a guy for that, I'll stick it out, I'll say thank you when people say it was interesting. Oh that was really . . . interesting. So I've got a bad memory of that."
Glover: "… [I] cried angry tears on the long, silent journey back home."
Glover: "The Butterfly Ball album is something that I am very proud of, and the concert was undoubtedly one of the best nights of my life, but the movie does it no justice."
Glover was not happy, very difficult time dealing with being forced out of DP, going through a depression, an unhappy period.
Gillan from his autobiography: "I suppose it was Roger's project that reminded me of what I'd walked away from . . ."
Gillan: "For me, horribly unfulfilled in my various ventures, the show was one of great emotion, surprise and joy, because I'd thought that, with the passing of time and the ongoing Deep Purple, I'd be a forgotten star. However, that was not the case, not the case at all, because, at the announcement of my name for 'my song', the audience rose and gave me a standing ovation! 'Welcome home, Ian!' they seemed to say while Vinent Price needed to pause in his narration from a peacock chair in the organ loft, so the applause and cheering could run its very long course! As I sang from a crib sheet, the experience at The Butterfly Ball was totally overhwhelming, and I left the venue feeling good, and with warming thoughts!"
Hardin: We got very close, me and Roger, and we started to go through funny phases. I just wanted to get away from everything, I was unhappy and boozing.
The movie gets a 1.3/10 rating on IMDB out of 2,944 votes.
In The News . . .
Glenn Hughes is in the studio right now recording with The Dead Daisies. You can see what they're up to by reading their recording diary on their website here: Recording Chapter One
This Week in Purple History . . .
November 25 through December 1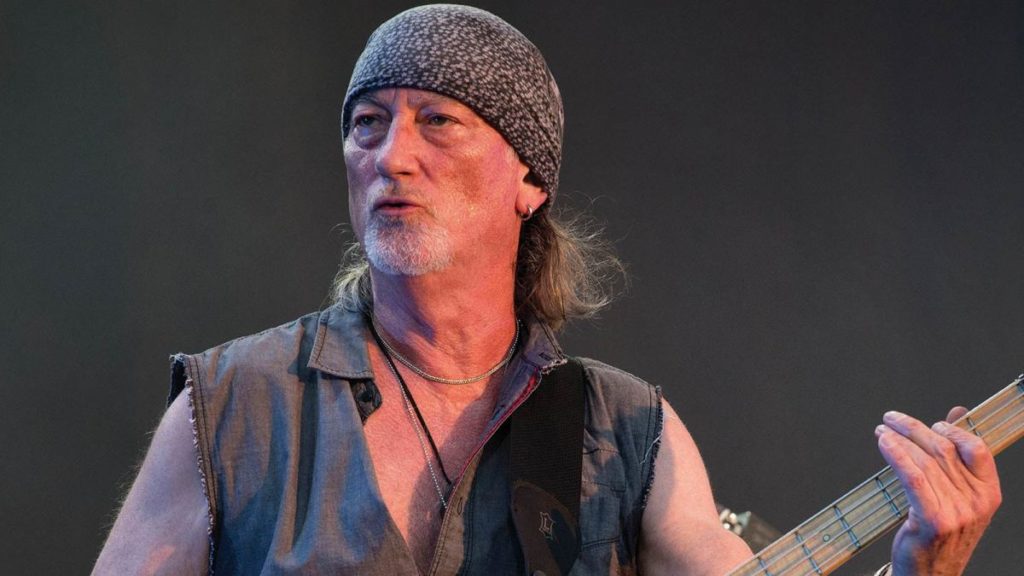 November 30, 1945 – Roger Glover is born
November 27, 1984 – Deep Purple plays their first reunion show in Perth, Australia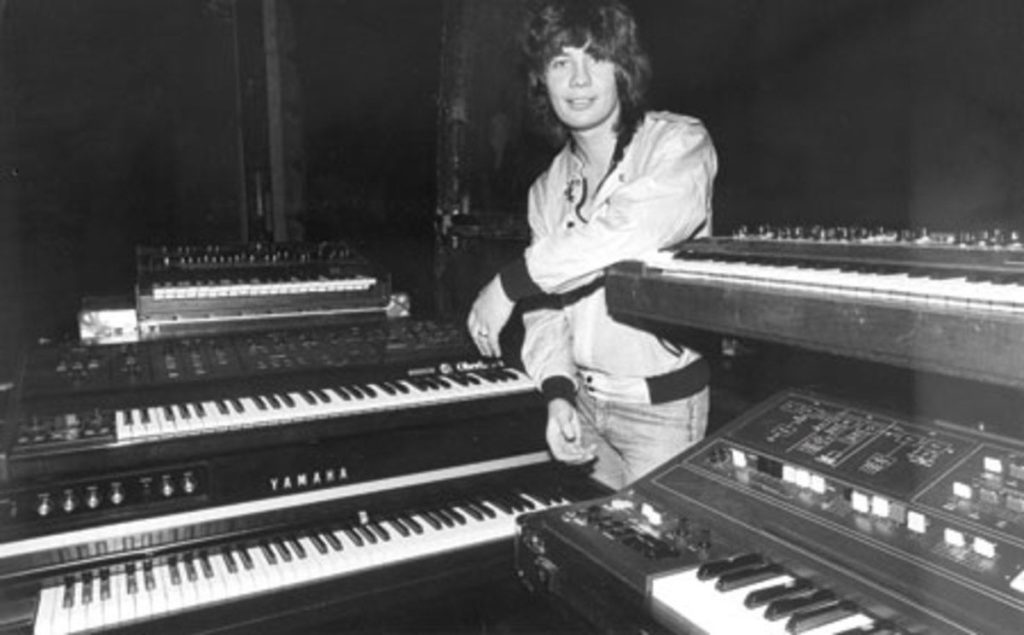 November 28, 1981 – Don Airey quits Rainbow
Thanksgiving Thoughts:

Thinking of how fortunate we are this year.
For Further Information:
Listener Mail/Comments

Comments about the show? Things you'd like us to cover? We'd love to hear from you. Send us an email at info@deeppurplepodcast.com or @ us on Twitter, Facebook, or Instagram.