Subscribe at Apple Podcasts, Stitcher, Google Podcasts, Overcast, Pocket Casts, Anchor.fm, Breaker, PodBean, RadioPublic, or search in your favorite podcatcher!

Show Updates:

Comments from social media.
Thanks to Our Patrons:

Thanks to our Brothers at the Deep Dive Podcast Network:
Thanks to the Patron Saint and Archivist of The Deep Purple Podcast:
Lead Up To Album & Writing:

The album was recorded at Kingsway Recorders, the sae studio that Ian Gillan had purchased after leaving Deep Purple.  Previously it had been De Lane Lea.
Album Art & Booklet Review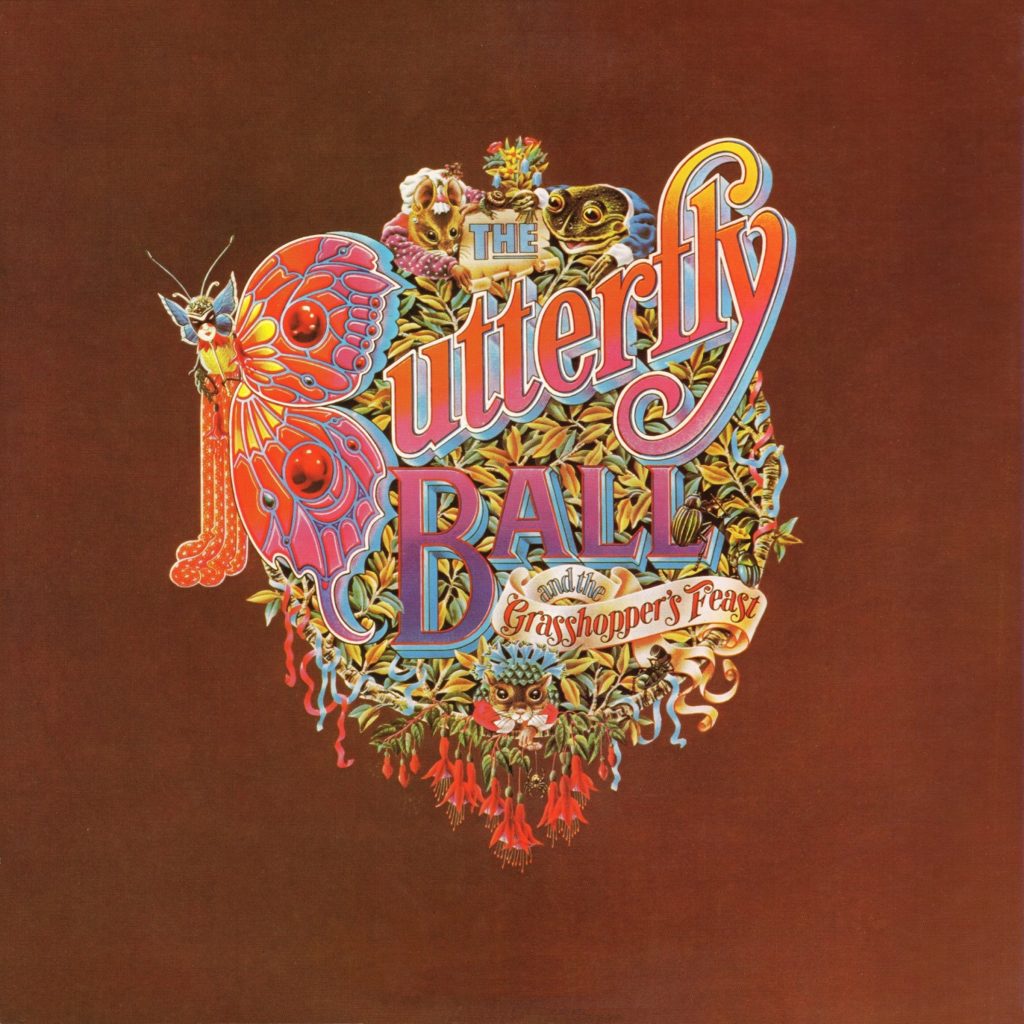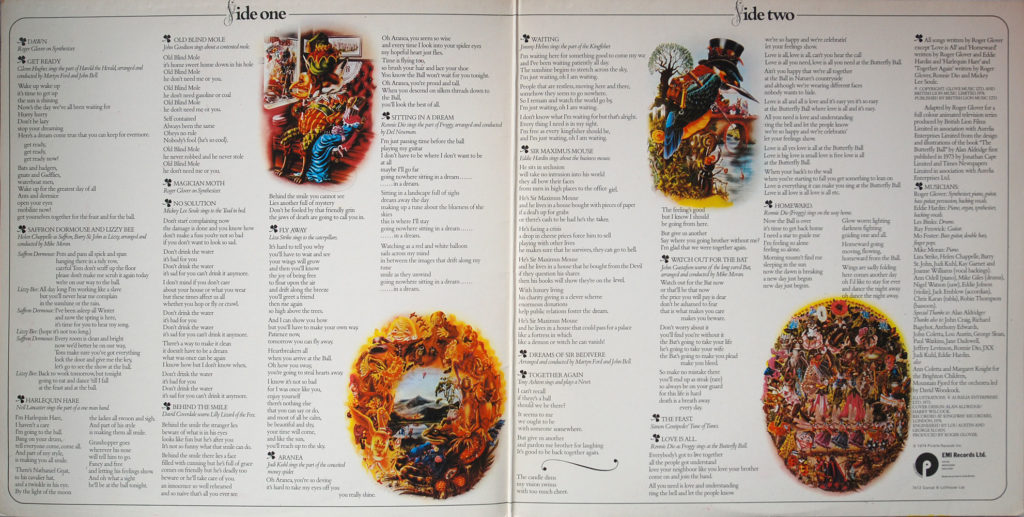 Harry Wilcock's credits include Elton John's Captain Fantastic as well as the Judi Dench version of The Butterfly Ball and Gordon Giltrap's The Peacock Party album which, interestingly, features John Gustafson on bass. It also features Rod Edwards and Roger Hand who worked on the music and instrumentation on the Judi Dench version.
Credits
Notes

Adapted by Roger Glover for a full colour animated television series produced by British Lion Films Limited in association with Aurelia Enterprises Limited from the design and illustrations of the book "The Butterfly Ball" by Alan Aldridge first published 1973 by Jonathan Cape Limited and Times Newspapers Limited in association with Aurelia Enterprises Limited.
Recorded at Kingsway Recorders, London, during the summer of 1974.
© Copyright : Glove Music Ltd. and British Lion Music Ltd. 1974.
Published by British Lion Music Ltd.
℗ Purple Records Inc.
EMI Records Ltd. Made and printed in Gt. Britain.
7412 Garrod & Lofthouse Ltd.
Illustrations © Aurelia Enterprises Ltd. 1973
Eddie Hardin was currently working with The Spencer Davis Group and knew Glover from when Hardin & York supported Deep Purple on tour in 1971.
Ray Fenwick, Mo Foster, and Les Binks of Fancy filled out the rest of the band.
The Album

Dawn

Roger Glover on Synthesizer
Instrumental

Get Ready

Glenn Hughes sings the part of Harold the Herald, arranged and conducted by Martyn Ford and John Bell
Based on the poem "Harold the Herald."
Sung by Glenn Hughes

Saffron Dormouse & Lizzie Bee

Helen Chappelle as Saffron, Barry St. John as Lizzy, arranged and conducted by Mike Moran
Based on the poems "Mrs. Doormouse" and "Lizzy Bee."
Sung by Helen Chapelle & Barry St. John

Harlequin Hare

Neil Lancaster sings the part of a one man band
Sung by Neil Lancaster
Based on the poem "Harlequin Hare."

Old Bind Mole

John Goodison sings about a contented mole
Sung by John Goodison
Based on the poem "Old Blind Mole."

Magician Moth

Roger Glover on Synthesizer
Instrumental
Based on the poem "Magician Moth."

No Solution

Mickey Lee Soule sings to the Toad in bed
Sung by Micky Lee Soule
Based on the poem "Toad in Bed."

Behind the Smile

David Coverdale warns Lilly Lizard of the Fox
Sung by David Coverdale
Based on the poem "Punchinello."

Fly Away

Liza Strike sings to the caterpillars
Sung by Liza Strike
Based on the poem "Esmeralda, Seraphin and Camilla."

Aranea

Judi Kuhl sings the part of the conceited money spider
Sung by Judi Kuhl
Based on the poem "Miss Money Spider."

Sitting in a Dream

Ronnie Dio sings the part of Froggy, arranged and conducted by Del Newman
Sung by Ronnie James Dio
Based on the poem "Froggy."

Waiting
Sir Maximus Mouse

Eddie Hardin sings about the business mouse
Sung by Eddie Hardin
Based on the poem "Sir Maximus Mouse."

Dreams of Sir Bedivere

Arranged and conducted by Martyn Ford and John Bell
Instrumental
Based on the poem "Sir Bedivere and the Stag-Beetle."

Together Again
Watch Out For The Bat
Little Chalk Blue

Not on original album.
Based on the poem "The Butterflies' Air-Lift and the Weevils v. Caterpillars Cricket Match."
This had previously only been available as a single but here is added in the order it would have been performed at the Royal Albert Hall Concert.
Not released on the album version until the 1989 Connoisseur Collection reissue.

The Feast

Simon Centipedes' Time of Times
Instrumental

Love is All

Ronnie Dio as Froggy sings at the Butterfly Ball
Sung by Ronnie James Dio
Based on the poem "The Butterfly Ball."
Roger Glover describes the feeling from hearing Dio sing it as an "all out feeling of joy."
Dio: "People thought it was Roger singing the song so . . . boy that Roger Glover can really sing, can't he?"
Hardin did chord projections, Glover came up with melody.
Hardin says they'd spend all night doing one mix. Glover was very particular and would scrap the whole mix and it would drive him mad.
Hardin: "Most of my songs are very melodic, Roger is very riffy."  Says that he and Roger worked very well together for this reason.
Ray Fenwick added the little line at the beginning, the descending line that leads into the first verse.
Hardin says that after they recorded it he said it was "Sunny Afternoon" by the Kinks.  Described it as "not a conscious theft."
Hardin: "To me, Ronnie made the song special."  Eddie tried singing it and it was okay, Roger tried singing it and it was okay.  Describes Ronnie as transforming the song.
Dio describes it as being very Beatle-like.  Very upbeat song.
Glover deliberately took a Beatles-type approach in writing the song.
Glover wanted it to be an "All You Need is Love" type song after reading the poetry in the book.  He calls it a "parody of 'All You Need is Love.'" or "All you need is Love part 2."
Single was released in England and heavily played and promoted on the radio but didn't catch on.  The publisher called Eddie Hardin and said it's gone to #3 in Holland then an hour later said it went to #2 and by lunchtime it had hit #1.  Was at #1 by lunch.
Very successful in the rest of Europe. 
Glover describes it as "very hard to write a happy song without being trite.  But with a message like "love is all" it's very close to being trite."
Hardin always felt like the whole Butterfly Ball was a joint effort and when it came out it had "Roger Glover and Guests" and he felt a little instulted that he was just a guest.
Ronnie got his first gold record and it said "Roger Glover" on it.  "That annoyed me." He insisted it was changed and they changed it for him which is why it says "Featuring Ronnie Dio" on it.

Homeward

Ronnie Dio (Froggy) sings on the way home
Sung by Ronnie James Dio
Based on the poem "Homeward."
Reception and Review

Chas Watkins (engineer):

"Kingsway had always had the problem with sound filtering upstairs into the offices of the Civil Aviation Authority."
They recorded quiet music "lift music" in the day time. After 6pm they would record rock.
Chas learned a lot from Martin Birch.
"One particular memory of Ronnie Dio: the control room looked width-ways across one end of the studio, so a camera looked down the length of the studio, with a monitor in the control room. Ronnie was doing a vocal (can't remember which track) sitting on a stool, and the camera was positioned on him. He said, 'just getting a glass of water", and went off-camera. When he returned onto camera and sat on the stool, he was completely naked! He just didn't say anything, just carried on singing as though nothing was unusual! Everyone in the control room was in tears! Very funny.
The air conditioning was very loud so they'd have to turn off the AC when they recorded quiet vocals or instruments and it would get very hot in the studio. The switch for the AC was behind a burlap flap on the back wall. When you lifted the flap there was a picture of a naked lady so many people were eager to turn off the AC.

"Recording the Butterfly Ball was a wonderful experience. All these top-notch musicians coming into the studio, and Roger producing, writing and having responsibility for the whole project."

Single success. Love Is All was Ronnie James Dio's first gold record.
Glover: "The whole thing was a challenge and a joy. It took around six months to complete and I worked with some lovely people."
Glover: "I can see a couple of things that might hold it back, primarily my name. The album can't exactly be described as a family album but then again it's not anything in te mould of Deep Purple."
The album was not received well by rock audiences who felt it was music for kids.
It didn't get a lot of exposure to a wider audience.
Love Is All, as stated before, did very well in the charts throughout Europe.

Sacha Distel played it live when Roger Glover went to see it. He used the backing track to perform it live. Eddie Hardin described his version as "Karaoke." Sacha had the hit in France as #1 then a month later their original hit #1.

Given the lack of sales the idea of doing the live concert to give the album a boost was floated. Glover was able to get almost everyone from the original recording with a few special guests.
In The News . . .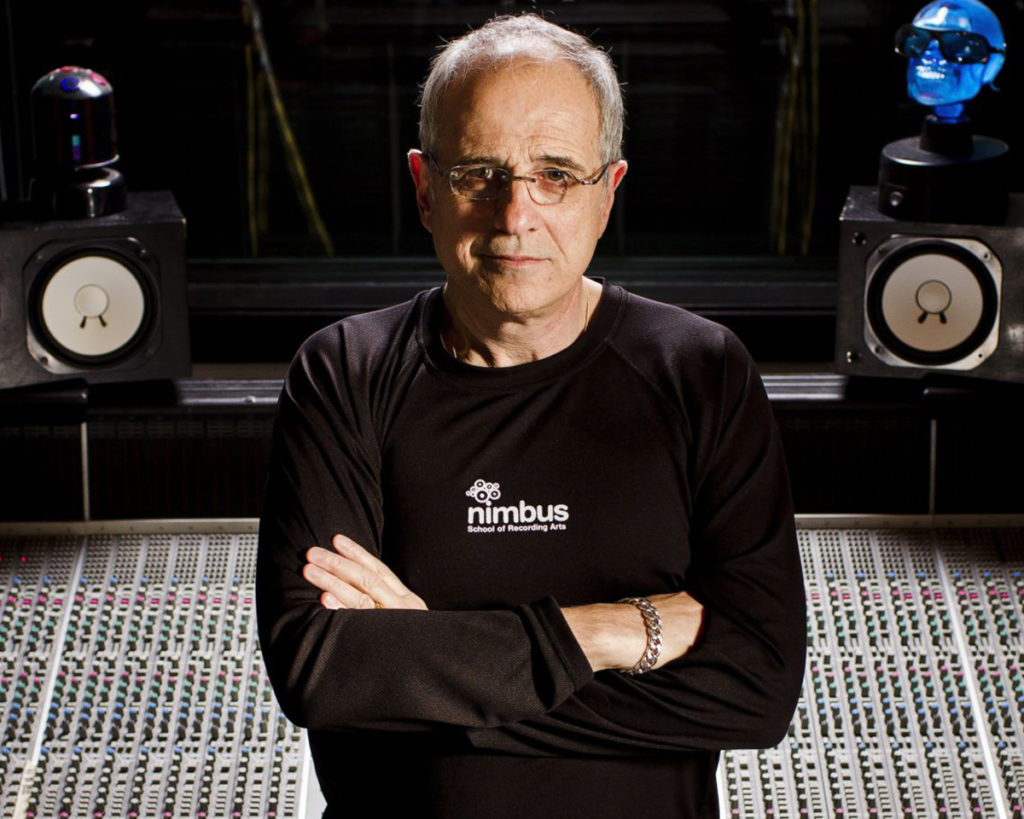 Primary Wave Acquiring Bob Ezrin Rights Portfolio
Catalogue includes: Alice Cooper, KISS, Pink Floyd, last two Deep Purple albums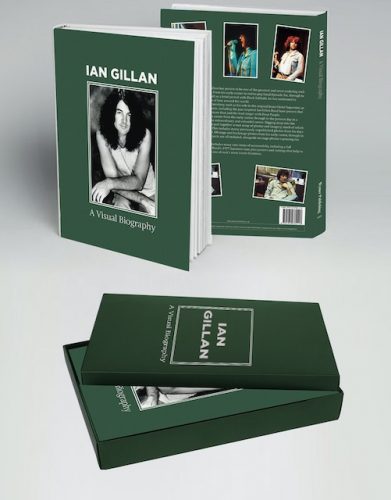 Ian Gillan – A Visual Biography.

Publication date – 6th December 2019.

This 128 page limited edition hardback book is a wonderful collector's item for any self-confessed Gillan fan. Housed in a custom-made presentation box with a set of prints, it is strictly limited to 1000 copies.

Order your copy now and get YOUR NAME on a dedicated fan page within the book!

Without doubt Ian Gillan has proven to be one of the greatest and most enduring rock singers of all time. From his early career in sixties pop band Episode Six, through to Deep Purple, as well as a brief period with Black Sabbath, he has continued to surprise and delight millions of fans around the world.

Forays into unchartered territory, such as his role in the original Jesus Christ Superstar, as well as a variety of solo projects, including the jazz inspired Ian Gillan Band have proven that time and again, Ian Gillan is more than just the lead singer with Deep Purple.

This publication plots his career from the early sixties through to the present day in a visual timeline that charts his extraordinary and colourful career. Digging deep into the archives we have managed to pull together a vast array of photos and imagery, much of which has never been seen before. This includes many previously unpublished photos from his days with Episode Six and beyond. Off stage and backstage photos from his early career, through to Deep Purple and his solo projects are all included, alongside on stage photos capturing Ian doing what he does best.

A Visual Biography also includes many rare items of memorabilia, including a full itinerary from the Ian Gillan Band's 1977 Japanese tour, plus posters and cuttings that help to document over fifty years as one of rock's most iconic frontmen.

EDITORIAL CONTROL:

This book requires total independent editorial control. It has not been authorised or approved by Ian Gillan or his management.
This Week in Purple History . . .
November 18 through November 24

November 18, 1974 – The Butterfly Ball is released in the UK
November 18, 1989 – Slip of the Tongue is released
November 18, 2006 – JLT forms Over the Rainbow
November 23, 1994 – DP plays three shows in secret in Mexico to test prospective new guitarist Steve Morse
For Further Information:
Listener Mail/Comments

Comments about the show? Things you'd like us to cover? We'd love to hear from you. Send us an email at info@deeppurplepodcast.com or @ us on Twitter, Facebook, or Instagram.