Subscribe at Apple Podcasts, Stitcher, Spotify, Google Podcasts, Overcast, Pocket Casts, Anchor.fm, Breaker, PodBean, RadioPublic, or search in your favorite podcatcher!

Show Updates:

Comments from social media.
Thanks to Our Patrons:

Clay Wombacher – $5 tier
Steve Seaborg (Alltheworldsastage.net) – $5 tier
Peter Gardow – $3 tier
Ells Murders – $1 tier
Lead Up To Album & Writing:

Ian Paice: "It should have stopped then, but there were certain pressures from behind. To me and Jon it was a staggering blow to lose Ritchie. While there was a majority from the original band it was a viable proposition to carry on, but when we became a minority it wasn't. What really happened is that we just got talked into continuing."
In the book "Sail Away" Hughes says that Bolin had been living with him for three months prior to joining Deep Purple. He also states that the band knew Tommy was addicted but didn't know how deep it went into morphine and heroin.
Jon Lord: "In hindsight, and with no disrespect to Glenn and David, we should have finished it then and there."
Jon Lord says they'd come a long way in seven years and that they were wealthy and living in LA. For he and Ian they didn't mind ending the band but Glenn and David were hungry to move on.
Lord felt that they were a strong band and could be successful if they could keep Hughes in line.
In "Smoke on the Water" Thompson talks about Lord and Paice not wanting to go through a lengthy audition process as they did not enjoy it.
Colin Hart and Rob Cooksey rented a rehearsal space at Pirate Sound Studios in Hollywood.
When Ritchie left Hughes said he was ready to call it quits and just go back to L.A.
The common thought was how were they going to replace Ritchie Blackmore?
Hughes, Bowie, and Ronnie Wood were all in "kind of a cocaine club" according to Hughes.
At this point, Glenn graduated from only every accepting free coke to actually going out and buying it.
This begins the first of the Dr. Jekyl/Mr. Hyde thing with Glenn as his addiction began to take over.
Hughes moved next to Paice as they were dating the twin sisters (Hughes with Vicky, Paice with Jacky).
Hughes was having auditory hallucinations and was becoming very paranoid.
Hughes says he didn't really sleep. He took cat naps here and there, sometimes being up for 72 hours without sleep.
Vicky eventually left Glenn.
Bowie ended up moving in with Glenn, unclear if it was to be with him to make sure he was okay.
Coverdale's first choice was Jeff Beck, then Rory Gallagher. Neither were interested.
Hughes wanted to replace Blackmore with Clem Clempson from Humble Pie. He auditioned but didn't have the charisma they were looking for. He also nearly got into a fight with Bowie.
Colin Hart mentioned that the owner of Pirate Sound, Robert Simon, had done some work with The James Gang and was impressed with Bolin. Coverdale already knew him from Spectrum. They played Spectrum for Lord over and over and he was convinced.
The next guy auditioned was Tommy Bolin. When Hughes saw him he said, "Whether or not you get the gig you're coming back to my house tonight." He looked like the kind of guy Hughes would want to party with. Tommy accepted a bump of coke from him. He would party with Coverdale but Coverdale always knew when to call it a night. Hughes felt he had found someone he could party with at the same level.
Lord on his audition: "He was just . . . marvelous. He plugged into four Marshall 100 watt stacks and I swear to God it was as exciting as any time we played with Ritchie. Ian just lit up on his drums and David came over saying, 'what did I tell you?'"
Bolin: "I knew they'd been successful but all I'd heard was Smoke on the Water and Hush. I didn't think that they would be as good as they were at all, or as funky. Jus tto test them, to see where they were at, I started off with something very funky, and they immediately caught on. In the first song I knew I wanted to join them."
Bolin nailed the audition and they told him the next day.
Bolin had just signed a solo deal so there were some legal issues they needed to sort through.
The band took a short break for Tommy to finish his solo album and then returned to Musicland studios with Martin Birch.
Birch: "Tommy was a great tuitarist but he really didn't know what he was doing half the time. He played totally on feel and he got involved with Glenn quite closely so the funk thing now came from both of them."
Paice tells a story that they'd gotten off the plane in Europe and it was Tommy's first time in Europe. They'd laid out some sleeping pills so they could all get a good rest and beat the jet lag. Tommy came over and swallowed all five then asked Ian, "What do these do?"
Hughes and Bolin started writing songs for Come Taste the Band immediately, some that wouldn't be released until the "Play Me Out" album.
Hughes said he would drink to take the edge off the coke and as he puts it in his autobiography: "not for the fine art of tasting the grape."
Hughes decided for Come Taste The Band that he was going to cut back, not quit.
AT one point he stole some coke from Tommy Bolin's stash. After doing it he felt bad and gave it to one of the road crew. After coming down he was banging on the guy's door to give it back.
On Tommy's birthday they went out to a bar and asked for coke. After doing it Glenn freaked out because it had never had that effect on him. They'd been given heroin which Hughes had never tried before. But by Tommy's 24th birthday he was very familiar with it.
For Coverdale this overt drug use was the beginning of the end for him.
Hughes talks about how he'd be up for 24 hours playing a Fender Rhodes. He'd have them delivered to his hotel room or wherever he was. One night Ritchie's guitar tech, Rob Cooksey, was delivering a piano for Glenn when he had an accident and was killed.
The band divided into three camps: Glenn and Tommy, David alone, and Jon and Ian.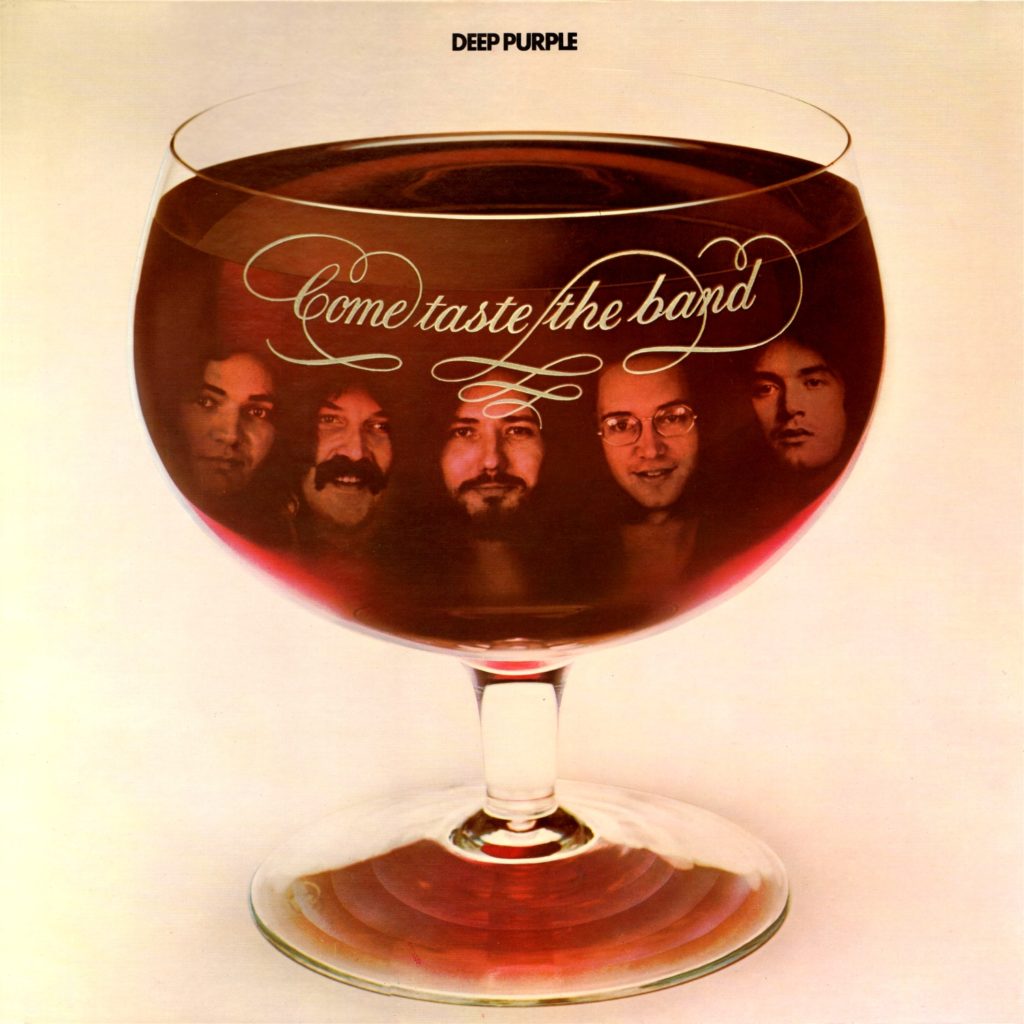 Album Art & Booklet Review

First album with a gatefold since Who Do We Think We Are.
Bolin: "Jon who knows every song in the book, started playing Cabaret and I was really drunk and I started singing by mistake 'come see the band, come taste the band' so that's how the title came . . ."
"Some people want a serious title like New Born or New Breed. I think we should have an amusing title. People take things to seriously anyway."
Designed by Castle, Chappell & Partners.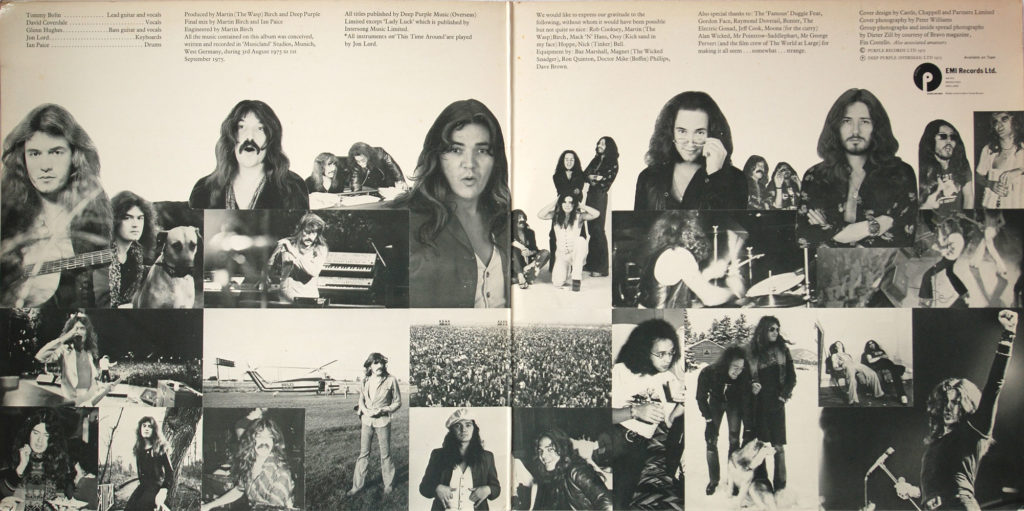 Photo shot once again by Fin Costello (who did Burn). Though another source says Peter Williams did the photography. It may have been the layout.
Jon Coletta got the mock up and showed it to Coverdale but they'd gotten it wrong and it said "Come & Taste The Band" so they had to redo the artwork.
Hughes was so messed up on cocaine that he couldn't make the shoot and they had to use an old photo of him.
Inner sleeve with lyrics.
Album Details and Analysis:

Bolin was the main contributor on 7 of the ten track (including This Time Around/Owed to G) as separate. Astonishing given the fact that he was hired as a replacement.
Coming Home (Coverdale, Paice, Bolin)

Last song written and recorded on the last day of the sessions because they realized they were a little short on time.
Coverdale remembers going off with Bolin to write it: "We'd discovered we were a few minutes short for the album and we couldn't have a fifteen minute side so Tommy Bolin and myself went off and wrote it in the studio. I just rediscovered recently that Paicey's there on the credits — I dunno what he did apart from play the drums! Anyway, it's still got that hundred miles an hour tempo, that's still intact. It's still like a Tobacco Auction trying to sing the bloody thing!"
Opening lyrics reminiscent of Speed King.
Talks about "grooving to American Bandstand."
Bolin on backing vocals.
Bolin also laid down bass on the track as Hughes had already left to go to the UK to start rehab.
Rarely played live.

Lady Luck (Cook, Coverdale)

Written by Coverdale and Jeff Cook who was the singer in Energy, Bolin's old band)
They used to perform this track and when Bolin played it for the band they wanted to play it.
Coverdale wrote a new lyrics because Bolin couldn't remember the original ones with the blessing of Cook who got writing credits.
Energy version – https://www.youtube.com/watch?v=Z5ZKOtdsM3c

Getting Tighter (Bolin, Hughes)

Speculation as to whether "tight" means "drunk."
Hughes refutes this to Steve Pilkington: "Absolutely not. To me, and this was what was in my mind when I wrote the song, "Getting Tighter" was about how good can this groove get, how tight am I with that bass drum – it's about how tight he music can be, and getting as great a groove as we possibly could. It was a celebration of that, really, "We're tight, we're grooving, we're ready to go to a club, let's go."
This was a live number.

Dealer (Bolin, Coverdale)

Bolin takes lead vocal at end of the song.
Hughes: "This was David's song to me I guess; he cared for me a lot and always had his head screwed on."
Bolin: "It's about junk. It's the best thing in the world when you have it, and the worst thing in the world when you don't."
Hughes states in "Sail Away" that he sang this song, came back to the studio and Coverdale had taken over on lead. He says that he must've been voted off the track by the rest of the band.

I Need Love (Bolin, Coverdale)

Was played live on the Asian dates in 1975 but soon got dropped.

Drifter (Bolin, Coverdale)

Standard Coverdale lyrics.
Again played in Asia then dropped from the set.

Love Child (Bolin, Coverdale)

Lord's funky solo.
Stayed in set list until the very end.

This Time Around/Owed to "G" (Hughes, Lord, Bolin)

These were two tracks recorded separately but sequenced together on the album.
The band always played them back to back live.
Lord plays all the instrumentation on "This Time Around."
Hughes heard Lord playing some chords told him to stop and says they'd written it in an hour and then recorded it after that.
Hughes said he laid down the vocals at 2am alone in the studio with Birch.
Hughes, in an interview with Steve Pilkington: "What happened there was that the very same week I wrote that song I found myself getting a bit deeper into trouble with the drink and too many drugs, and all those problems and I was beginning to think "What if this is the end" , you know. So I was kind of writing about that, being on the edge, with the world hanging in doubt, but trying to bring some love into it. I was in a pretty dark place then.'
Lord: "I actually remember playing that theme on the piano one day all by myself when I was alone in the studio. Well, I thought I was alone and then Glenn came and said: 'What's that?, I told: "Well, I don't know yet, it's the beginning of an idea. And he said: 'Let's work on it!' I think we did it in a half of hour. That's one of my favorites."
One reviewer called this: "the Purple song Stevie Wonder will wish he'd written a year from now."
Bolin said in an interview that they'd toyed with calling the first part of the song Gersh and the second part Win.
Owed to 'G' written by Bolin.
'G' is Gershwin.

You Keep on Moving (Coverdale, Hughes)

The only Coverdale, Hughes collaboration in all their time together.
Was one of the first tracks they wrote in 1973 but they never got to show it to Blackmore so it didn't end up on Burn.
Hughes: "Yes, that was written by David and I above a Wimpy Bar in Saltburn-on-Sea, which is where he was living at the time, in August of 1973. But Ritchie Blackmore, bless him, didn't like "You Keep on Moving" so we had to wait until Tommy came in before we could use it. I love it, it's one of my favorites for sure."
Coverdale: "Jon wrote the chords around the 'where angels fear to tread' bit.
Bolin joins in on the line "and the cry, still returning".
Released as a single but not successful.
Was briefly in their live set.
Reception and Review

The work that Bolin did on the album had it carried to the live shows could have put fans' longing for Blackmore to rest. However, their live set was instead disjointed and inconsistent.
"Come Taste The Band" is often forgotten or dismissed.
After recording the album Hughes went to rehab for the first time but it wasn't successful.
Steve Peacock summarized the album in the weekly publication "Street Life" with the following:

"Riff, squark, solo, squawk . . ."
Come again?
"Solo, riff, fade . . ."

Fanfare called it 'the best since Machine Head.'
NME: "probably their best since, let's say, In Rock . . ."
Circus magazine suggested that CTTB was a concept album "about the psychic dislocations of the rock lifestyle."
Hardcore Deep Purple fans were the most critical.
Some people really loved it, unfortunately by the time fans became aware of it, it all came crashing to an end.
In The News . . .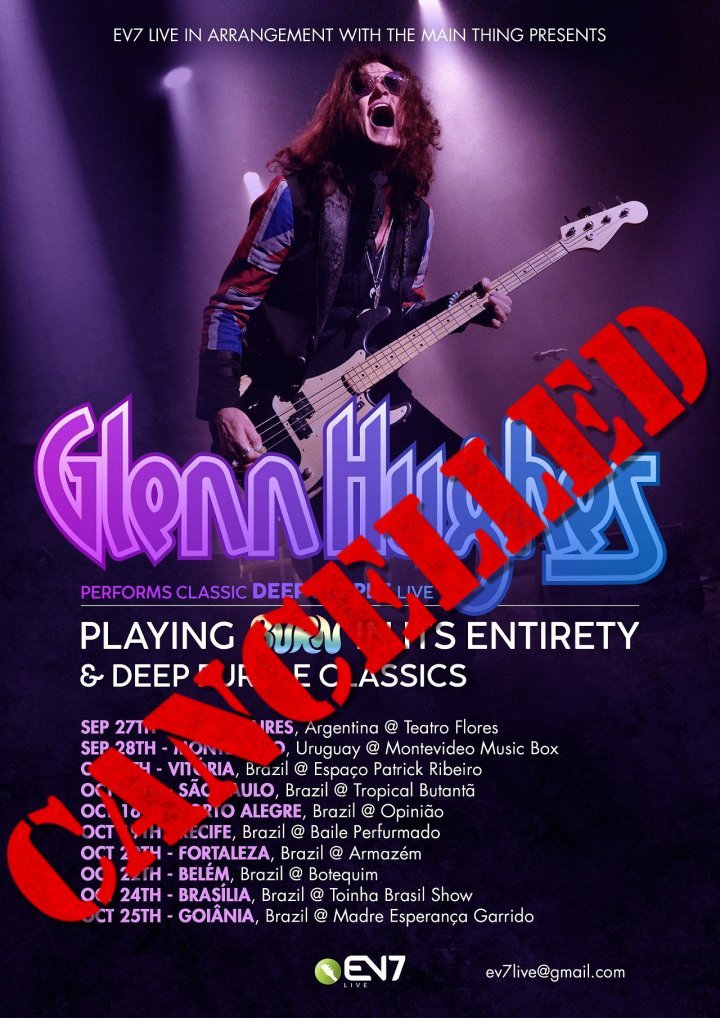 Glenn Hughes Cancels South American Tour

Due to the South American Promoter failing to fulfill the required contractual obligations, Glenn Hughes will not be touring South America this September/October.
Glenn's management has been unsuccessful in reaching any solution with the Promoter and has reluctantly decided that the tour will have to be rescheduled into 2021 with a new South American partner.
Management are confident of securing a new tour period and will have news of this soon.
This Week in Purple History . . .
September 9 through September 15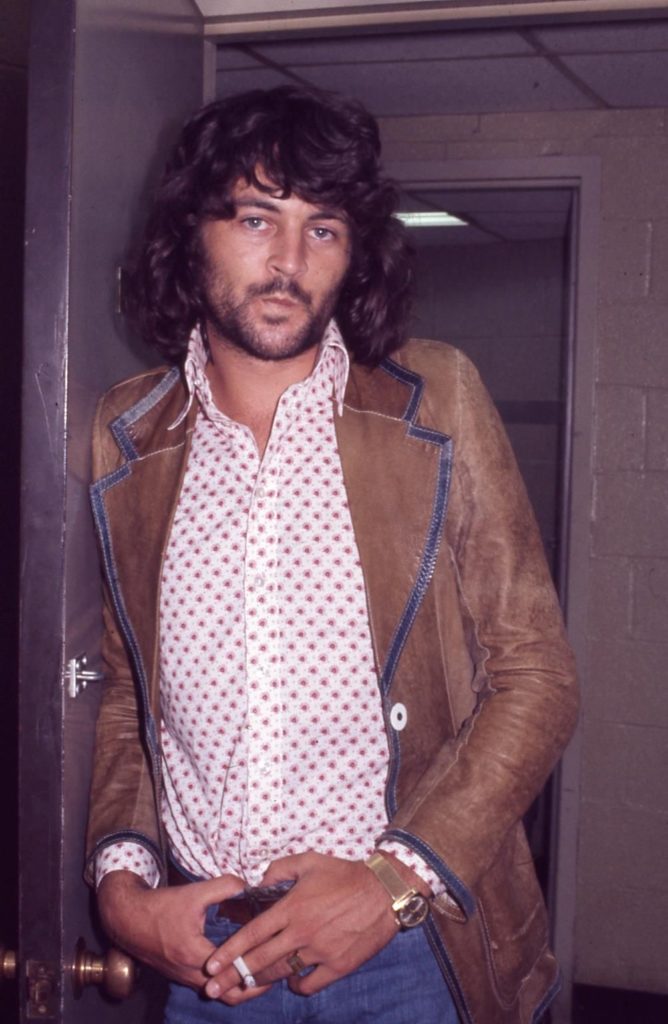 9/11/1989 – Ian Gillan joins Black Sabbath on stage and performs Smoke on the Water as an encore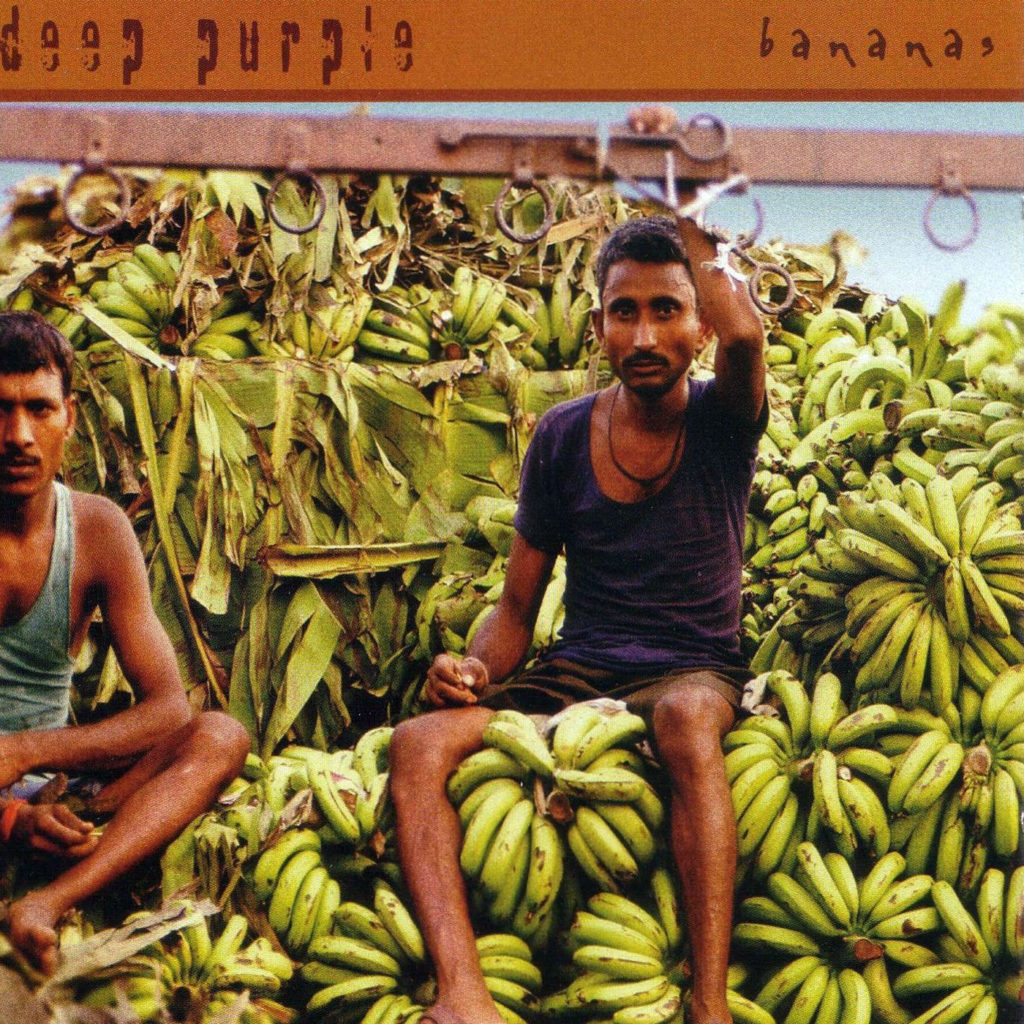 9/9/2003 – Deep Purple release Bananas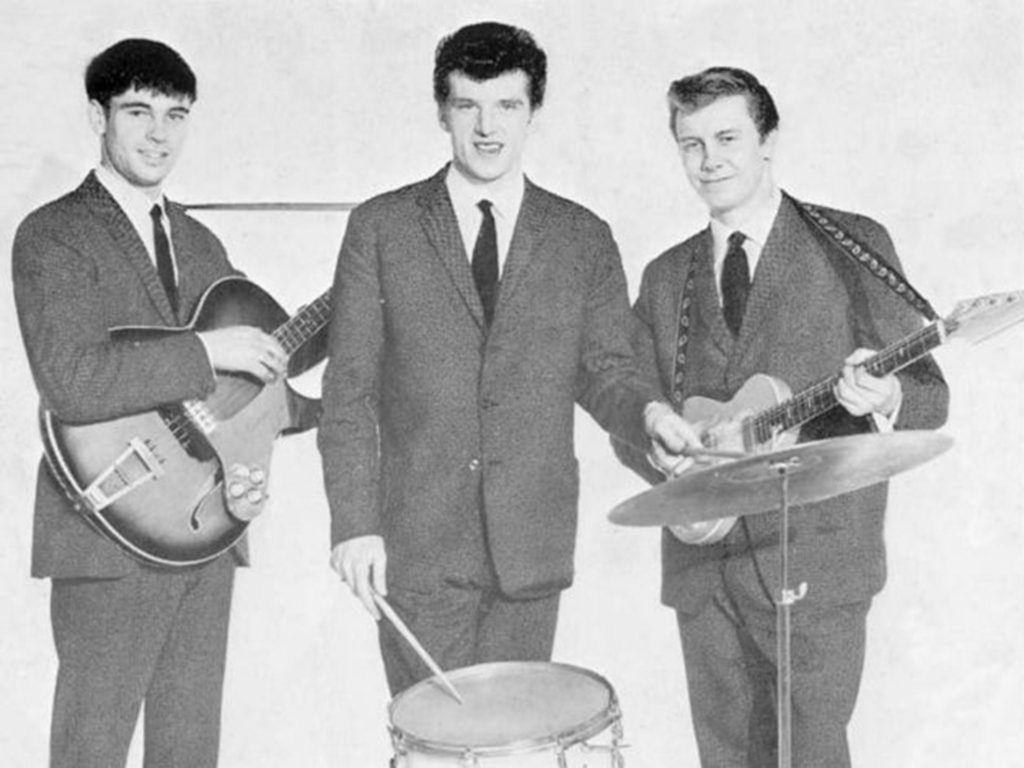 9/12/2014 – John Gustafson dies
For Further Information:
Listener Mail/Comments

Comments about the show? Things you'd like us to cover? We'd love to hear from you. Send us an email at info@deeppurplepodcast.com or @ us on Twitter, Facebook, or Instagram.