Subscribe at Apple Podcasts, Stitcher,  Google Podcasts, Overcast, Pocket Casts, Anchor.fm, Breaker, PodBean, RadioPublic, or search in your favorite podcatcher!


Show Updates:

Listeners in 30 countries! Losing track! Welcome to Indonesia, Greece, and the Czech Republic!
Unfortunately no new listeners from Saint Pierre and Miquelon, at least not on YouTube.
Twitter follower numebr 100!
@MetallicastPod at Metallicast@SkynyrdPodcast

at Skynyrd Reconsydyrd

Candice Night retweets our mention of "Shadow of the Moon"
David Coverdale with two retweets!
MKI to MKII Transition:

Hallelujah/April released as single/B-side.
Ian Gillan and Roger Glover had left Episode Six officially in July. The Concerto was recorded in September.
Sheila Carter-Dimmock viewed the break up as inevitable. In "The Road of Golden Dust: The Deep Purple Story 1968-1976" she's quoted as saying:

"Sooner or later someone was going to see this good looking guy with a great voice, oozing charisma and snap him up."

Legal battle between Gloria Bristow and Deep Purple management. Allegedly settled for £3000.
Simper, who was furious, began legal proceedings which he ended up settling for £10,000 in lieu of a royalty deal which ended up being a bad move.
Rod Evans just sort of vanished, though this isn't his last involvement with Deep Purple or their lawyers.
New sound, reporters were calling "progressive rock", reminds me of how they called things "alternative" in the early 90s.
In the book "Smoke on the Water: The Deep Purple Story" Jon Lord says in an interview: "We believe in experiment and excitement. We were trying to develop unnaturally before. We would grasp all sorts of different ideas at once, like a child in a garden full of flowers — he wants them all at once. When Ian and Roger joined something very nice happened with the group."
History of the Concerto:

Released in December of 1969 in the US by Tetragrammaton and in January in the UK.
Jon Lord had been taken by this idea when he'd heard "Bernstein Plays Brubeck Plays Bernstein" while he was in the Artwoods. He noted if they were doing this sort of thing with jazz then why not with Rock?
When he was with the Artwoods they planned to perform with an orchestra in Germany but the band broke up before they could realize this.
There had been a lot of bands who'd fused classical and rock. In 1961 Nero & The Gladiators had done a version of "In the Hall of the Mountain King." In 1965 Blackmore had even done a version of this with his group The Lancasters.
Dave Edmund's band Love Sculpture had done an arrangement of Kachaturian's "Sabre Dance."
Putting an actual orchestra and a rock band on the same stage was still a new concept.
Keith Emerson did this with his piano concerto a year previously:
Malcolm Jones at the new Harvest label was encouraged with the release of the "Hallelujah" single. While he said it did nothing in sales it had received a great number of positive reviews. He felt the band could do no wrong and gave the Concerto the green light.
Lord had talked about doing this for a while while in Deep Purple and Tony Edwards told Jon Lord in April that he'd booked the 24th of September 1969 at the Royal Albert Hall.
Jon Lord had wanted to do this sort of thing for a while and claimed that while he'd been thinking of this kind of idea for five years he had never been with a band he thought could pull it off until now. This is despite having previously tried with The Artwoods.
Malcolm Arnold was tasked to conduct. More than than Arnold helped Jon Lord along the way with the composition and taking on the task of how to deal with the London Philharmonic Orchestra.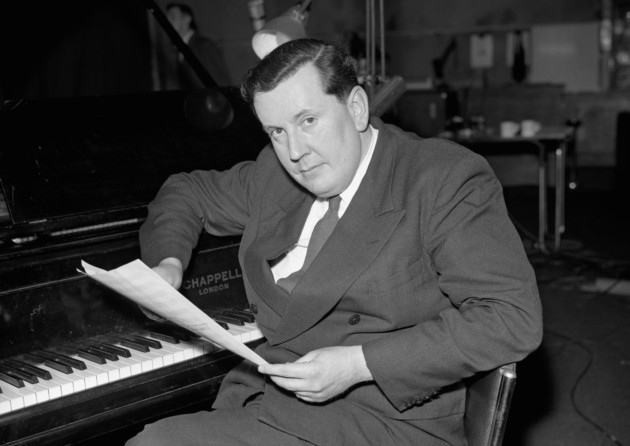 Malcolm Arnold:

Malcolm Arnold

Born in 1921, would have been 47 when conducting this, Jon Lord would have been 28.
Inspired by Louis Armstrong he took up the trumpet at age 12. By 1943 he was the principle trumpet in the London Philharmonic
During WWII he registered as a conscientious objector but and as a condition was put into the National Rifle Service.
The army ended up putting him in a military band and he shot himself in the foot to return to civilian life.
He remained in the LPO until 1948 before retiring to become a full time composer.
He ended up being one of the most sought after composers in Britain.
According to an article from the Daily Mail by 1961 he had a reputation for being frequently drunk and highly promiscuous.
He had two failed marriages and ended up hospitalized after two suicide attempts.
He overcame depression and despite being given 1 year to live he surpassed that by 22 years before his death at 84 in 2006.
Successful composer having composed for many, many movies such as "The Bridge Over The River Kwai"
He would be knighted in 1993.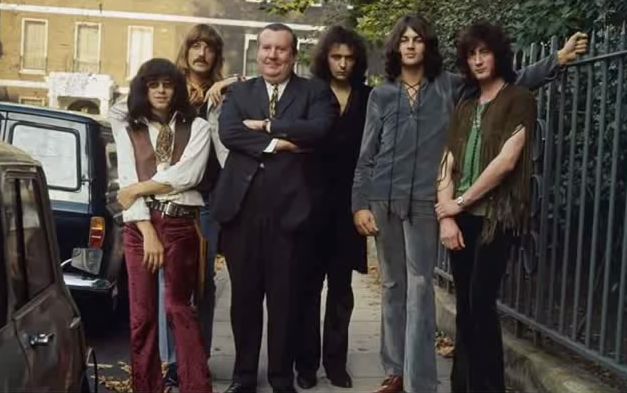 The Lead Up to The Concerto:

Ian Gillan was not happy with the project. He was quoted as saying: "Roger and I, being the new boys, were thinking, what's going on here? Are we in a rock band or a classical rock gimmick band?"
Blackmore was also against the Concerto wanting to see the band go in a harder direction.
Malcolm Arnold had been showed some pages of the score and was excited about the project. The members of the Philharmonic, not so much. They scoffed at the idea of this. Since classical music is very much a dictatorship Malcolm arnold apparently cursed at them and they calmed down about it.
The fact that it was decided that this would be broadcast on TV ended up being a very good move for the band.
Roger Glover in "Roger Glover – Made in Wales" talk about being "out of [his] depth."
"Deep Purple" was being released in the US just at the time they were going record the Concerto. It got bad distribution because of the naked people displayed on the cover. Some places refused to display it and it did poorly.
This was the same label that had released John Lennon and Yoko Ono's "Two virgins."
A new label, Harvest, had been created by EMI to distribute more "prog" style acts and the Concerto was slated for release under this new label.
Jon Lord had to work on the Concerto nonstop, getting little sleep, while the rest of the band was a little more well-rested between gigs, rehearsal, and writing for "In Rock."
Blackmore was the most adamantly against the Concerto. While they worked on material for "In Rock" they had a little resentment toward Lord who was being perceived as the "leader" of the band.
There was very little time to practice as renting a symphony orchestra is not trivial.
The initial runthrough was, according to Jon Lord, "an unmitigated disaster." Lord was nearly in tears, convinced the whole thing would be a disaster.
One of the cellists reportedly stood up and denounced the project as performing with a "second rate Beatles."
I've read a few versions of this. It's usually phrased as Malcolm Arnold giving the orchestra a "talking to" but in "The Road of Golden Dust" he's quoted as having screamed at the orchestra members and calling them "You're supposed to be the finest orchestra in Britain but you're playing like a bunch of [c-words]!" and soon after that they got their act together. He's also quoted as saying "Tonight, we're going to make history so we may as well make music at the same time."
Jon Lord quoted as saying "the musicians were obliged to play and some of them hated it! And even the people in the audience weren't all that thrilled. But it was 1969! But I think everything one does is a product of its time. Some things in this "Concerto" were really very much dead weight – I'd be the first to admit it but it was only an experiment. I only wanted to try and break these boundaries that separated rock 'n' roll from classic. On the other hand I don't want to reject anything I once did afterwards; I can now only look at something from an, if you like, 'wiser' perspective. I mean, the fact that it was important at the time. And, to be honest, I still like it p the melodies, Gillan's singing, Ritchie's angry guitar, the whole atmosphere. I wouldn't distance myself from this."
Some tensions in the band. Lord missed a lot of rehearsals in the lead up to completing the Concerto's score.
The band had a string of live shows lined up leading to the release of the Concerto. Not sure that the band gave him credit for the pressure he must've been under.
Gillan: "I must admit that my attitude was all wrong. Roger and I had only just joined the bana nad we didn't really appreciate what working with the Royal Philarmonic Orchestra at the time could do for us. We were already writing for the album, and this seemed like an unwanted interruption. Deep Purple have always tried to be challenging, yet here we were with something truly challenging and different, and we couldn't appreciate what we had."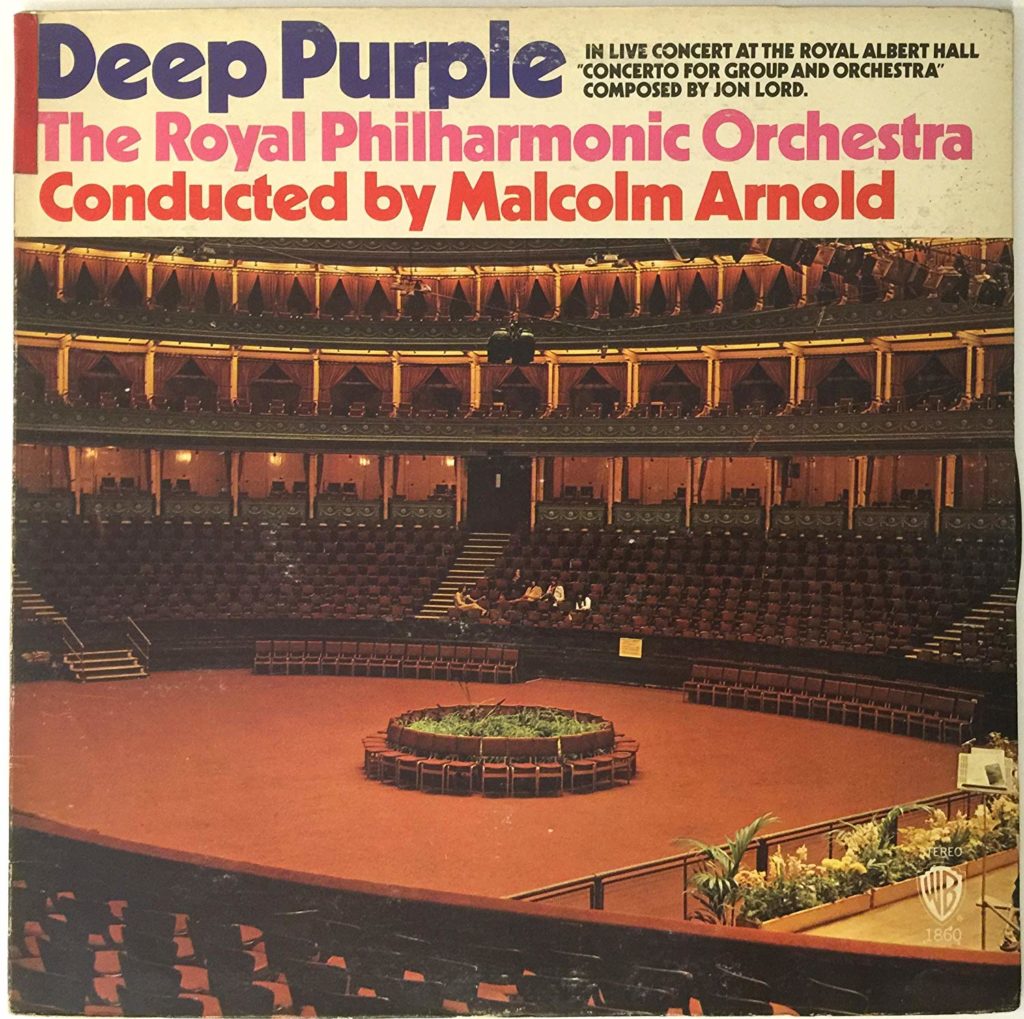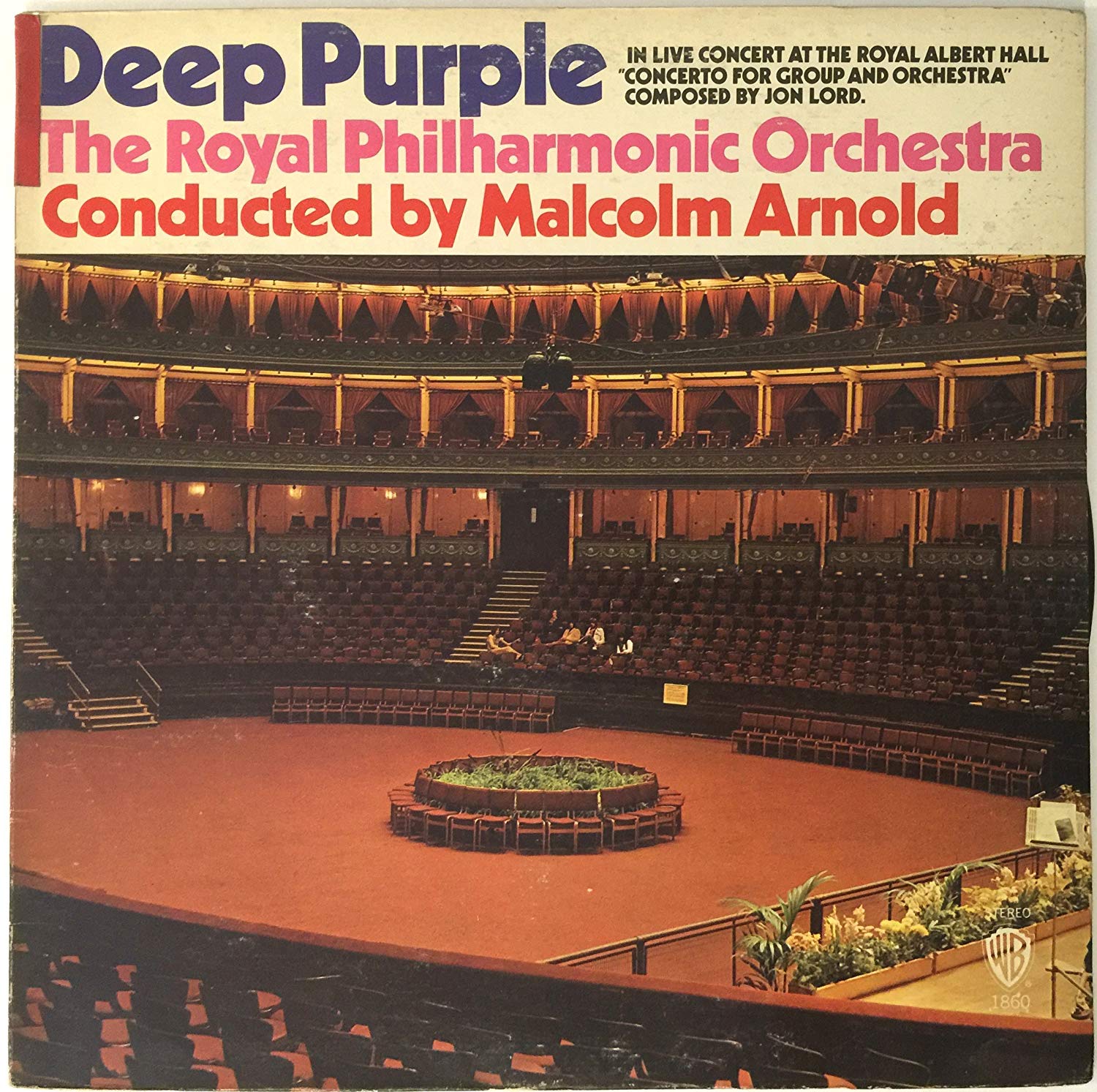 Album Details and Analysis:

Official release contains the three movements of the concerto, the second being split into two parts on either side of the record.
The cameras were not rolling as they played their three original songs.
The entire concert consisted of:

Symphony No. 6, a composition by Malcolm Arnold
Hush
Wring That Neck
Child in Time
The Concerto
Parts of the Concerto's Third Movement as an encore
First Movement: Moderato – Allegro (19:23)

After an extended orchestral introduction, the group and orchestra work as separate blocks, trying to get dominance over the main theme and working as antagonists to each other. There are cadenzas for electric guitar and clarinet.

Second Movement: Andante (19:11)

This movement is based around two tunes that are played in various different arrangements by the orchestra and the group, individually and together. After a combined pop / blues version of the second tune, there is an organ cadenza followed by a quiet ending by the orchestra.

Third Movement: Vivace-Presto (13:09)

Apart from Ian Paice's drum solo, the music combines the orchestra and group together in a "free for all". The movement alternates between 6/8 and 2/4 time signatures.
Reception and Review

Ian Gillan mentions in "Child in Time" that Jon's first child was born that night to "complete his triumph."
In six months (between August of 1969 and January of 1970) Deep Purple had released three albums: Taliesyn, Deep Purple, and the Concerto.
Went off really well. Lord noted a few minor sections he would have improved. There was only one major problem which is where Ritchie was supposed to play a ninety-second solo but he never stopped. Arnold was frantically trying to get Ritchie's attention and Ritchie seemed to be ignoring him Finally Ritchie came out of it and they hit the cue perfectly.
Everyone was so pleased with the show that they demanded an encore which they were not prepared for.
This generated a huge amount of publicity for the band.
The masterstroke is in John Coletta's masterful control of the publicity around this event.
Deep Purple got more press in the month surrounding the concert than they had in the previous two years combined.
Roger Glover in an interview: "The next day the papers were full of us and Jon Lord suddenly became the main composer of the band, which really got up the noses of everyone else in the band, and Ritchie in particular felt very bitter about it."
Tensions in the band were so strong that Jon Lord almost quit. Somehow it all got smoothed out.
Now a lot of people were introduced to Deep Purple as this band that plays with Orchestras.
A monthly later the band showed up to play a gig in Ipswitch. The promoter had apparently been unable to book an orchestra so booked a brass band thinking they could play alongside Deep Purple. Instead the brass band opened and Deep Purple followed.
Some classical music critics panned it being derivative.
Rock critics also thought it to be derivative. The host of Top Gear, John Peel, was so appalled he refused to play Deep Purple on his show.
It was popular on the BBC and they commissioned Jon Lord to write another which he did with the follow up "Gemini Suite" which was performed almost a year later in September of 1970. This was not billed as Deep Purple and didn't see an official release until 1971. This is credited to Jon Lord instead of Deep Purple.
The Concerto was performed three more times (some sources say one more time), in Vienna, Zurich, and with the Los Angeles Philharmonic Orchestra conducted by Lawrence Foster at the Hollywood Bowl on 25 August 1970, after which the score was lost.
The score had to be recreated to perform it again in 1999.
Malcolm Arnold, interviewed in 1970:

What strikes me about Deep Purple is their tremendous musical integrity. This is so refreshing in a commercial world. I loved working with them. They're thorough musicians. They're not trying to prove anything. They just like to play now and again with a Symphony Orchestra. They're not trying to prove any deep philosophical problem. They just want to write music that's enjoyable.

Ritchie Blackmore in a 1979 interview:

I was not into classical music then. I was very very moody and just wanted to play very very loudly and jump around a lot. I couldn't believe we were playing with orchestras. We kept getting lumbered playing with them. We started off in '68 – this is my opinion – as a relatively competent band with a lot to say but saying it all at the same time as each other. In '69 we went into the classical stuff because it was Jon Lord's big thing to write a concerto for group and orchestra. He was very sincere, but I didn't like playing it or respect the fact that we were doing it. The orchestra was very condescending towards us, and I didn't like playing with them, so it was one big calamity onstage. But Jon was happy with it and management was happy with it because we had a press angle, which I resented very much.
In 1970 I said, 'right, we're going to make a rock and roll LP. If this doesn't succeed I'll play in orchestras for the rest of my life', because Jon wasn't too into hard rock. Luckily it took off, so I didn't have to play with orchestras any more.
I love orchestras, chamber music—unaccompanied violin is my favourite. But I respected them too much, and we just weren't in the same calibre. I'd been playing 15 years at the time, and stuck next to some dedicated violinist who's been playing for 50 years just to give an angle to the press—it's insulting. That's why it started and ended very abruptly.

1999 performance included the same lineup swapping out Blackmore for Morse. Huge set including performances of songs from Deep Purple's catalog over the years, the Butterfly Ball, Ronnie James Dio, The Steve Morse Band joins in, and the Kick Horns doing Wring That Neck.
Performance is scheduled for November 19, 2019 in Quebec featuring Bruce Dickinson for 50th anniversary.
In The News . . .

Dio Hologram tour about to happen:
Dio documentary announced:
Ian Gillan talks about new bands/music:

Asked if he was listening to any younger bands, Gillan replied: "No, I steer clear of all that. And for a good reason. When I was in my formative years, I rejected Frank Sinatra, Bing Crosby, Andy Williams and Dean Martin. I now realise they were all great artists but at the time as a young man, you have to clear the decks. There's this sort of psychological vandalism that takes place for yourself.
"I'm in that position now. I need to step aside. My uncle was a jazz pianist, and I remember that when we did 'Deep Purple In Rock' he ran from the room screaming saying 'I can't hear anything, I can't hear any instruments'. I was rubbing my hands going 'Great'. I had upset the previous generation and a man I respect highly. I don't think it's right to pass comment."
Gillan added: "The only advice I can give is to absorb as much as you can from as wide a spectrum as you can. If you're in a rock band and only soak up Black Sabbath, Led Zeppelin, and Deep Purple kind of beginnings then you're not going to have much leeway. We soaked up everything from Beethoven to Chopin to Jimi Hendrix to Joni Mitchell and Bob Dylan.
"If you do that then it will stand you in good stead for the rest of your life."
This Week in Purple History . . .
June 10 through June 16

June 10, 1982 – Rainbow releases straight between the eyes
June 11, 1953 – Mark Nauseef is born
June 12, 2006 – Live in Montreux 69 is released
June 12, 1967 – "Hallelujah" is secretly recorded
June 13, 2006 – M3 (formerly Company of Snakes) release "Rough and Ready"
June 13, 2006 – Rainbow releases "Live in Munich"
June 13, 2008 – Judas Priest releases Nostradamus with Don Airey on keyboards
June 14, 2011 – Black Country Communion releases second album "2"
June 15, 1951 – Craig Gruber is born
June 15, 1973 – Tony Edwards notifies Roger Glover that Blackmore wants him out
Deep Purple Deep Track:

Fancy – Touch Me

From the album "Wild Thing" released in 1974
Featuring:

Ray Fenwick (guitar) – Ian Gillan Band, Spencer Davis Group, Jon Lord's Windows
Mo Foster (bass) – Wizard's Convention, Butterfly Ball (Finger pops)
Helen Caunt – former Penthouse model for studio work
Annie Kavanaugh – replaced Helen when they toured live, former chorus member of "Jesus Christ Superstar"
Les Binks (drums) – Wizard's Convention, Judas Priest,

More info: http://rayfenwick.com/fancy.htm
For Further Information:
Listener Mail/Comments

Comments about the show? Things you'd like us to cover? We'd love to hear from you. Send us an email at info@deeppurplepodcast.com or @ us on Twitter, Facebook, or Instagram.