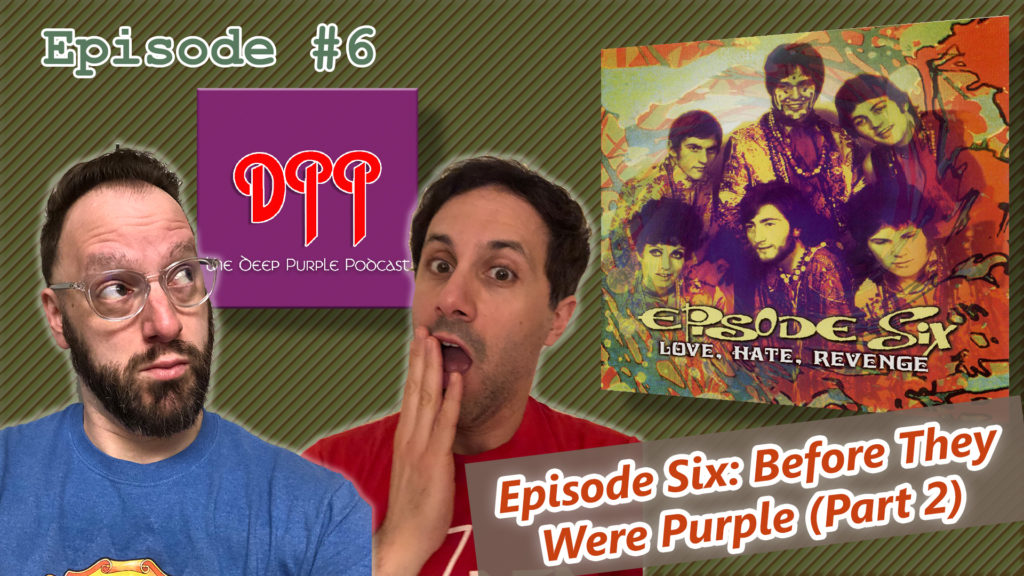 Subscribe at Apple Podcasts, Google Podcasts, Overcast, Pocket Casts, Anchor.fm, Breaker, PodBean, RadioPublic, or search in your favorite podcatcher!

Show Updates:

Welcome to our new listeners from Korea, Germany, and Japan! Over 20 countries (23)!
Thanks to Kiss Podcast 2.0 @PodofThunder on Twitter – latest episode is "Gettin' Tighter."
Lots of great viewer feedback
Ian Gillan's History

Roger Glover's History

History of Episode Six:

Formed in July of 1964 from two bands, the Lightnings and the Madisons.
Both bands formed at the Harrow County Grammar School.
The carried on as the Lightnings but decided it was too old fashioned. They based the name on a novel called "Danish Episode."
Frontman Andy Ross joined the band as singer.
Shortly after agreeing on "Episode Six" they went pro and found a lot of work.
Episode Six played gigs all the time earning a reputation as a great club act.
In April of 1965 they went to Frankfurt, Germany where they would play from 7pm to 3am.
Episode Six had their eyes on the singer of Wainwright's Gentleman, and Ian Gillan joined in May of 1965
Ian Gillan states in "Child in Time" that they were to get £30,000 a year with a royalty agreement of 75 percent of 1 percent, rising to 75 percent of 3 percent after twenty-five years. Probably ended up being a good deal as Episode Six likely made most of their money after being released on CD in the 90s.
The band recorded their first tracks after that after being signed by Pye records.
First unreleased track:

My Babe (Demo featuring Andy Ross)

First single was "Put Yourself in My Place" a cover of a song by The Hollies.

B-side was the song "That's All I Want" written by Roger Glover.
Pye insisted on using The Hollies track as the A-Side

Teamed up with Gloria Bristow (Ian Gillan referred to as "Glorious Bristols.") to get better management. Former employee of Helmut the original manager of the Detours who ended up becoming The Who
Released another single: "When Trumpets Blow":

B-Side was True Love is Funny That Way written by the drummer, Shields

They then released "Here, There, and Everywhere."

B-side written by Glover was "Mighty Morris Ten" which is a straight up Beach Boys parody
Gloria Bristow was managing Dusty Springfield at the same time booked Episode Six to play one song at the start of each half of the show.
Bristow planned solo singles and released "I Will Warm Your Heart" credited to Sheila Carter and Episode Six.

Song written by Charles Aznavour and Gene Lees
The B-Side is the song "Incense" which features Ian Gillan on organ:

Really showcases the strength of her voice
They toured all over, ending up in Beirut where they spent Christmas and landed three singles in the Lebanese Top 10. It was great press but further research revealed this was based on sales from two record shops.
Ian Gillan meeting Angel Machenio
The band started to do more originals with Glover writing a lot of them.
They played regularly on Radio One on a show called Radio One Club.
Another single came out, "Love-Hate-Revenge."
Glover on watching these recordings when they were released in the early 1990's as quoted in "Smoke on the Water" by Dave Thompson:

"I love it. I unashamedly love it. I cringed a few times, but it brought back so many memories. Episode Six had more or else disappeared for me — yes, I remember the singles, and yes, I remember that we spent twenty years on the road over the period of a few months, but it brought a lot of lovely memories back."

They began to plan recording an album in 1967 which would use this concept of having a group side and a "solo" side. There was pressure from the label that they needed a more successful single before they could do an album.
The single "Morning Dew" came out with Shields singing at the beginning.

The B-side featured Roger Glover on vocals on the track "Sunshine Girl"

Harvey Shield got unhappy with the group and quit to form a due with his Israeli Girlfriend. John Kerrison joined for a short time after performing with the Javelins and with Nick Simper in "The Pirates" formed after Johnny Kidd had died.
When it came time to do Graham Carter's single he decided he wanted to use the name "Neo Maya." Because of this it didn't sell very well. "I won't Hurt You"
Single: I can See Through You

First original used as an A-side
Written by Roger Glover, and started to get him attention outside the group as a songwriter.
The group really felt this single should have done well but had poor distriution by PYE.

They were unhappy and signed with American label MGM for a 3-year contract.
First single "Little One"

Name was changed to "The Episode"

This is when Nick Simper first asked Ian Gillan if he'd like to join Deep Purple and Gillan declined. They really felt that with this new record deal they were on the verge of making it big.
In the summer of 1967 Kerrison left the band. Mick Underwood (formerly of The Herd) takes his place.
Shortly after this they switched labels again signing with Chapter One, a subsidiary of Decca.
First single on Chapter One was called "Lucky Sunday"

But the B-side is a little more interesting "Mr. Universe," a song Gillan would hold onto and later release an album by the same name.
After "Wide Smiles" this was the second Gillan/Glover collaboration

It was after this that Glover convinced Gillan to write lyrics and they began a songwriting collaboration.
They change their name back to Episode Six.
They worked on the soundtrack to the film Les Bicyclettes De Belsize with their song:
Last single came in January of 1969 with the single: "Mozart vs the Rest":

Guitarist Tony Lander came up with this after hearing Rondo Alla Turca by Mozart

Sheila began working on solo stuff.
Gillan/Glover were in London writing music with song companies. One song, Questions, was released by "The Sweet" in 1969:
They then began to work on the long-delayed Episode Six album.
One day, Underwood received call from his old friend Ritchie Blackmore (from "The Outlaws") asking if he knew any singers.
Mick Underwood, knowing Ritchie, recommended Ian when he heard they may be looking for a new singer.
Lord and Blackmore dropped by the Ivy Loge Club in Woodford to watch Episode Six. Blackmore even joined them on stage.
Lord asked Gillan if he'd like to join Deep Purple and asked if he knew any bass players that may be interested.
Gillan and Glover played their remaining gigs with Episode Six.
Glover had a harder time leaving the group having played with them for much longer than Gillan.
They met with Lord and Blackmore and showed them some of their songs. Glover in an interview said:

We nervously played our songs . . . they were all about monkeys and lions. Monkeys always appeared in our lyrics in those days. But there nothing that interested him. And then he pulled out a demo of 'Hallelujah' and said 'What do you think of that?"
Hallelujah
The duo went on to play out the last few shows with Episode Six while Rod Evans and Nick Simper didn't find out until later, playing a few more shows with Deep Purple even after this single had been recorded.
History After Ian and Roger Leave:

John Gustafson replaced Roger Glover on bass.
Sheila Carter even formed a group with John Gustafson, Mick Underwood, and J. Peter Robinson.
They were later billed as Episode Six with Sheila Carter, later the Sheila Carter Band. She was the constant until going into doing session work.
Graham Carter became a booking agent for hotels in the middle east.
Tony Lander went into business as a decorator after a sting with his own band.
Gloria Bristow was upset at her band being broken up and reached a settlement with Deep Purple's management. She then used that money to support her new band Quatermass!
Episode Six 50th Anniversary Celebration
On December 6, 2015 they held a 50th anniversary celebration in north west London.
Episode Six 1966 Gig Calendar:
In The News . . .

Someone found slides of pics they took a a DP mkII show May 6, 1974 at Sheffield City Hall:
Deep Purple mkII wins songwriting award:

Award is from the Ivors Academy presented to Ritchie Blackmore, Ian Gillan, Roger Glover, Jon Lord (posthumous) & Ian Pace of Deep Purple who have won an Ivor Novello Award for International Achievement
Malcolm Arnold won this same award in 1959 for his composition of the in the film "The Inn of the Sixth Happiness"

Joe Satriani's first band "Squares" to release an album on July 12

"So Used Up" released as single.
This Week in Purple History . . .
June 3 through June 9

June 3, 1970 – Deep Purple In Rock released
June 3, 1974 – Jon Lord performs last of his Munich classical dates for Windows
June 3, 1998 – Whitesnake releases "Starkers in Tokyo" unplugged
June 3, 2011 – Whitesnake releases Live at Donington 1990
June 4, 1969 – Ritchie and Jon catch Episode Six gig at the Ivy Lodge Club in Woodford
June 5, 1970 – Black Night released as single in the UK
June 6, 1946 – Mickey Lee Soule is born
June 6, 1960 – Steve Vai is born
June 7, 1969 – Mk II records their first session together at De Lane Lea – "Hallelujah"
June 7, 1995 – Glenn Hughes releases "Feel"
June 8, 1987 – Gary Driscoll Dies (drummer for Elf, Rainbow found murdered – still unsolved, person of interest fled the country)
June 9, 1941 – John Lord is born
Deep Purple Deep Track:

I'll play a snippet of a song that features musicians who are linked to Deep Purple in three or less steps. You'll need to narrow it down to:

The year
The members or band
The album

Googling is allowed
Will reveal the mystery song and what the connection to Deep Purple
For Further Information:
Listener Mail/Comments

Comments about the show? Things you'd like us to cover? We'd love to hear from you. Send us an email at info@deeppurplepodcast.com or @ us on Twitter, Facebook, or Instagram.