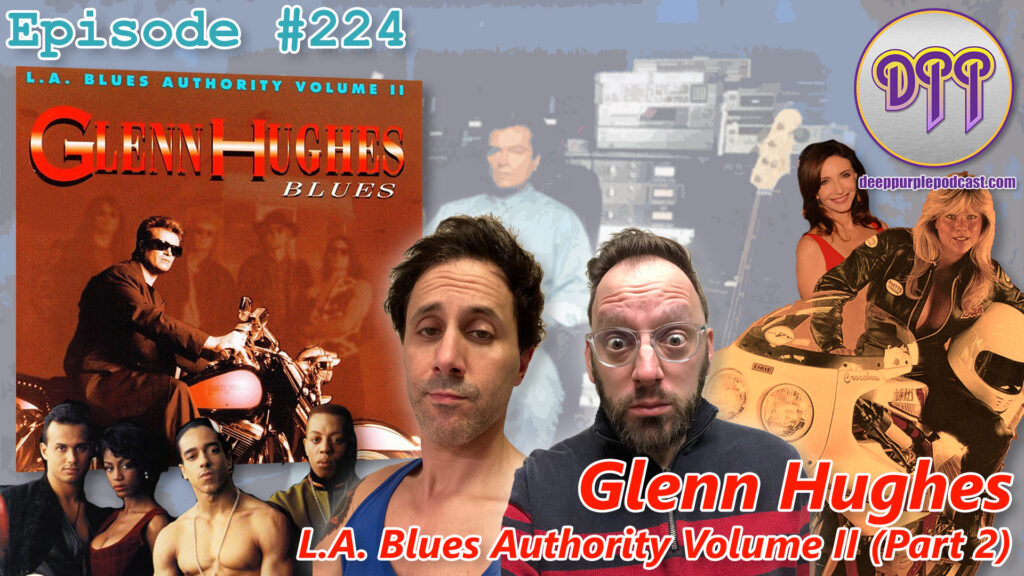 Subscribe at Apple Podcasts, Stitcher, Google Podcasts, Overcast, Pocket Casts, Anchor.fm, Breaker, PodBean, RadioPublic, Amazon Music, or search in your favorite podcatcher!

How To Support Our Show:

The Deep Purple Podcast is 100% listener supported and ad-free! If you receive value from our show please consider supporting us!

Brendan Ashbrook – Logo Designer

Glenn Hughes Show in September!

The Deep Purple Podcast will be there!
Glenn Hughes Performs Classic Deep Purple
September 19, 2023 – with Yngwie Malmsteen
The Palladium – Worcester, MA
Let us know if you're going for a potential Deep Purple Podcast meetup!
Thanks to Our Executive Level Patrons:

The $25 "Uncommon Man" Tier
The £15 ""Fifteen Squid" Tier

Alan "Ain't Too Proud To" Begg

The £10 "Good Doctor" Tier

Dr. Gill Breis
Dr. Mike Kattan

The Turn it up to $11 Tier

Clay Wombacher
Frank Theilgaard-Mortensen
Mikkel Steen
Will Porter, PhDPP

$10 "Some One Came" Tier

Ryan M
Jeff Breis
Victor Campos
"Better Call" Saul Evans

The "Hughes-O-Ween by 2033" Tier
The "In Memorium" Tier

Gerald "Jerry" Kelly & Family
Apple Podcasts Reviews:

ChazMaTaz? – US – Five Stars!
Pointed fun!
These guys love music and you can hear it. Pointed commentary and laughs…a great listen with a fascinating catalog.
Postcards From The Edge . . . OF CONNECTICUT!
This week from Long Island!
Deep Dive Podcast Network:

Check out our website to find other like-minded shows taking deep dives into individual songs, bands, and albums.

Album Tracks: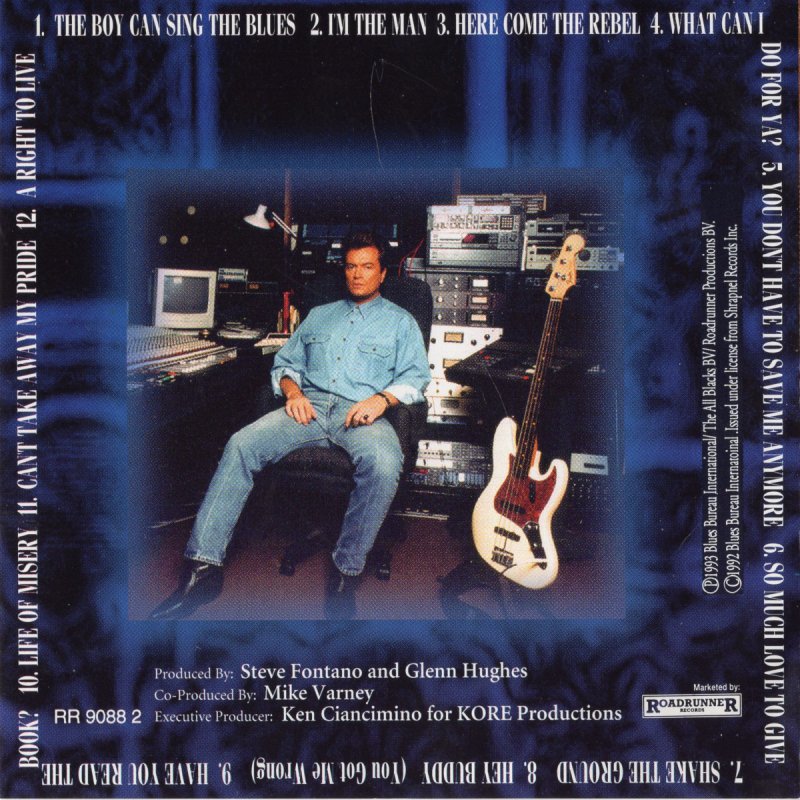 Thanks To Our Foundation Level Patrons:

The £3 "The Aromatic Feed" Tier
The $3.33 Half Way to Evil Tier

Stephen Sharpe
Duncan Leask

$3 "Nobody's Perfect" Tier

Peter Gardow
Ian Desrosiers
Mark Roback
Stuart McCord
Flight of the Rat Bat Blue Light
Øyvind Fjeldbu –
Runar Simonsen –
JJ Stannard
Ruinous Inadequacies
John Miceli
Michael Boyette
Corey Morrissette

The $1.71 "I Want My Own Tier" Tier
The 10 kr "" Tier
The £1 Tier
$1 Made Up Name Tier

The "You Don't Have To Save Me Anymore (Because I'm Dead)" Leaky Mausoleum
The "Have You Read the Epitaph?" Leaky Mausoleum
Stephen Sommerville The Concerto 1999 Fanatic
Hank the Tank
Private Eyes
Ashen Lionel
Blackmore's Tights
Steve "Down to Earth" Koeller
Thanks to Our Core Level Patrons:

The $7.77 KeepItWarmRat Tier
The $6.99 "New Nice Price" Tier

Spike the Rock Cat
Sugar T

The Episode $6.66 Tier

Steve Coldwell
Arthur Smith
Anton Glaving
Charles Meadows

The $6.65 "Almost Evil" Tier

Kenny Wymore
Michael Bagford

$5.99 The "Nice Price" Tier

Robert Smith
Peter from Illinois
Karl Hellberg

The 60 Kroner "Scandinavian Nights" Tier

Zwopper The Electric Alchemist
Knut Morten Johansen –

The $5.55 "What's Goin' On Here" Tier
$5 "Money Lender" Tier

John Convery
German Heindl
Adrian Hernandez
Jesper Almén
Oleksiy The Perfect Stranger Slyepukhov
James North
Mark Hodgetts
Kev Roberts
Percival Frequency
Scott Zerns
Cynthia Dube
Raff Kaff
Coyote Bongwater
Bustin' Out The Spreadsheet

Reviews:

A Blues Authority Vol 2 – Album Review

GLENN HUGHES – BLUES – LA BLUES AUTHORITY Volume 2 : Roadrunner RR 9088 2: Germany : March 1993 CD
From what I can gather, advance orders for this CD were so good that Roadrunner had to delay the release here to avoid running out of stock almost immediately. It hasn't set the charts alight true, but there are people out there who have been itching to go out and buy a Glenn Hughes album for years. Have they been rewarded? The general opinion is this will do very nicely to be going on with. If we accept it for what it is, a glorified session, then it works well. Glenn is in fine form. Beyond that, the disc lacks any real musical soul. No matter how hard Glenn works, the backings sound very pedestrian really, and lack the excitement that a proper group might have brought to the proceedings. So far it is the opening couple of cuts which impressed me the most, but we'll see how it developes with a little more air-time.
"The title of this album is rather misleading. The style is actually more LA hard rock/ blues, due no doubt to the numerous hot-shot guitar proteges on show. To be fair some of the playing isn't bad (Erikson for example), it's just that a lot of the material cries out for a guitarist who understands the dynamics and subtleties of blues influenced music-someone like Jeff Healey, Jimmie Vaughan etc. Glenn's vocal performance is naturally the highlight. Let's hope it bodes well for the future, and next time puts together a band that can mesh into a more individual sound to match his undoubed talents". Roy Davies
VARIOUS ARTISTS / L.A. BLUES AUTHORITY : Roadrunner RR 2398 3: Holland : 1992 5″ CD.
Spotted by Pierre Caeiro, this three track single kicks off with the only track on the ORIGINAL album to feature Glenn Hughes (a version of "Messin' With The Kid"), so as Pierre rightly points out, it saves us forking out for the full price CD! However I don't think it's been issued properly in the UK, so it might take some finding.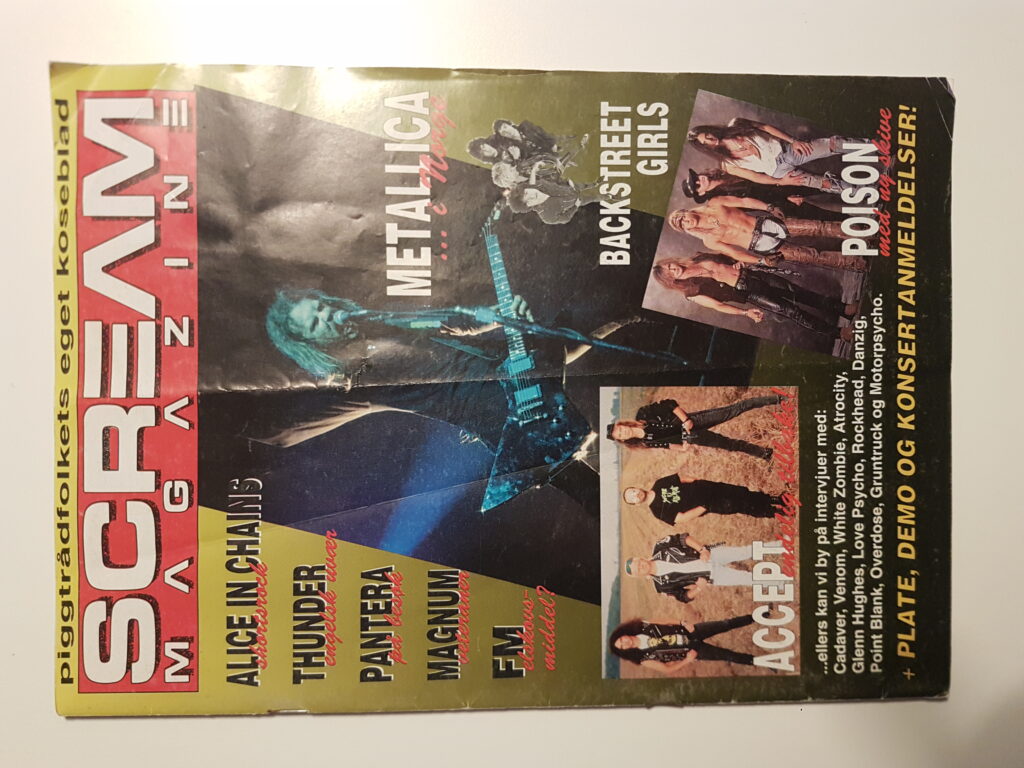 Scream Magazine, Issue 14, 1993

Article not discussed on show as we got it after recording.
Translated by Øyvind Fjeldbu
Album received a 3 out of 6 score.
The journalist's remarks are in bold, and Glenn's answers are introduced by (Hughes) and put in brackets:
That Glenn Hughes would do a comeback as a blues singer was probably not what most people would have expected. Even if the man has had a versatile career, he has – as far as I know – never been close to this kind of music. "Blues" contains – not surprisingly – clean and sharp blues! Very similar to what Gary Moore is doing, but maybe not so accomplished! Hughes' vocal performance is impressive. The songs come and go, and it is difficult to highlight any one of them, even if the ballad probably is the best one. Essentially an album for die-hard fans and extreme blues freaks!
After some minor problems (the line was broken, my notes forgotten somewhere, bla, bla, bla…) I got to talk to a very stressed Glenn Hughes. I guess the man had had quite a few interviews earlier that day, as he seemed rather tense and tired. A completely awful phone line did not improve things at all! But I managed in the end to squeeze out of him the most important stuff, and I hope I can do a more relaxed interview with him when the "real" comeback record is released! Because "Blues", as the current record is entitled, is just a foretaste of what is to come…
(Hughes) – "Yes, I made this record just for the fun of it, after Mike Varney asked me to sing lead on a song with L.A. Blues Authority. I did so, and had the idea to make a whole album with blues songs to have a break from the writing and recording of the other album. The fact is that it took me two weeks to write the songs, and two weeks to record them – so in a month the job was done. Very fun, indeed! The comeback album, as I have said I am currently working on, will be released at the end of the year."
In other words, no reason to assume that Glenn will continue as a blues performer. This album is quite similar to what Gary Moore is doing, isn't it?
(Hughes) – "Yes, correct. It probably is."
The only difference is just that you sing better than him, right?
(Hughes) – "Of course", he answers arrogantly.
The album is written with someone named Craig Erickson, a completely unknown in this game, and according to Glenn a fantastic guy. Other players on "Blues" is more or less every celebrity there is, for instance Mick Mars, John Norum, Richie Kotzen, Warren De Martini and many more! How did he get in touch with these people?
(Hughes) – "Well, they are all my friends, so as I kept writing songs I thought about who would fit the different songs in the best way, and then I simply asked them."
Okay to have such friends, or what? Glenn Hughes performed a lot of the vocals on John Norum's "Face The Truth" from last year. Is this something he can see himself continuing with?
(Hughes) – "No, I don't think so. The thing is that at the moment I feel I'm finished singing on other people's records. Now I want to do my own thing."
So you don't miss being a member in a band?
(Hughes) – "No! I want to be a solo artist."
Glenn Hughes' career has been long and characterized by good times and hard times. There is no hiding the fact that he has had huge drug and alcohol problems in his life, but these problems are now reportedly over. If we look at the bands and the projects he has been involved with, the list is infinitely long! Trapeze, Purple, Sabbath, Hughes/Thrall, Gary Moore, Phenomena, John Norum and KLF. When I ask him which one of these projects he values the most, he answers, surprisingly:
(Hughes) – "The Hughes/Thrall period was probably the one I personally think was the best."
He says why, too, but the noise in the telephone is now so intense that his voice simply disappears. Damn, that's so irritating! The last thing I managed to catch from him was that he plans to do some shows in Sweden, but only the gods know who he is to play with!
According to himself, Glenn has no contact with his former bandmates in Purple etc. today. The man sure has some talent, so I guess it is just a matter of time before he gets a well-deserved comeback. We will find that out at the end of the year. In the meantime it is possible to hear him sing clean blues on this new album, which – as noted earlier – carries the very telling title "Blues"!
For Further Information:
Darker Than Blue, Issue 44, December 1992 (Print Version)
Darker Than Blue Issue 45, July 1993 (Print Version)
Scream Magazine, Issue 14, 1993
Help from the archives of Jeff Breis
Listener Mail/Comments

Comments about the show? Things you'd like us to cover? We'd love to hear from you. Send us an email at info@deeppurplepodcast.com or @ us on Twitter, Facebook, or Instagram.