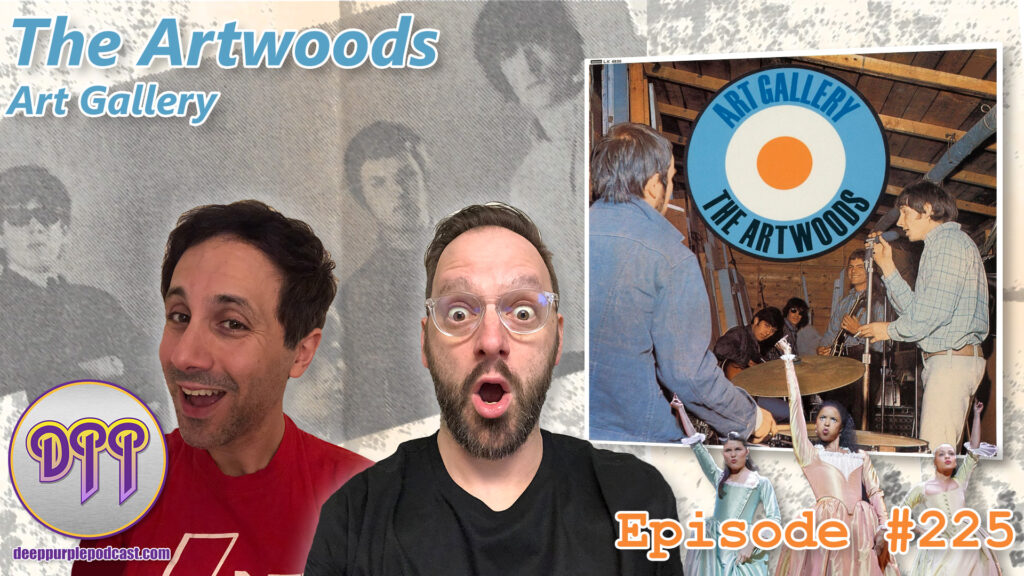 Subscribe at Apple Podcasts, Spotify, Google Podcasts, Overcast, Pocket Casts, Anchor.fm, Breaker, PodBean, RadioPublic, Amazon Music, Pocket Casts, or search in your favorite podcatcher!

How To Support Our Show:

The Deep Purple Podcast is 100% listener supported and ad-free! If you receive value from our show please consider supporting us!

Brendan Ashbrook – Logo Designer

Glenn Hughes Show in September!

The Deep Purple Podcast will be there!
Glenn Hughes Performs Classic Deep Purple
September 19, 2023 – with Yngwie Malmsteen
The Palladium – Worcester, MA
Let us know if you're going for a potential Deep Purple Podcast meetup!
Meetup info to come!
August 26th, Purple Tribute
Thanks to Our Executive Level Patrons:

The $25 "Uncommon Man" Tier
The £15 ""Fifteen Squid" Tier

Alan "Ain't Too Proud To" Begg

The £10 "Good Doctor" Tier

Dr. Gill Breis
Dr. Mike Kattan

The Turn it up to $11 Tier

Clay Wombacher
Frank Theilgaard-Mortensen
Mikkel Steen
Will Porter, PhDPP

$10 "Some One Came" Tier

Ryan M
Jeff Breis
Victor Campos
"Better Call" Saul Evans

The "Hughes-O-Ween by 2033" Tier
The "In Memorium" Tier

Gerald "Jerry" Kelly & Family
Listener Email
Ron writes in to discuss Blues and Podcasting apps.
This was never designed to be an old school blues record, this is white boys blues boogie hard rock. Think old school Aerosmith, big 10 inch, reefer headed woman , back back train!
Stitcher fan who went to pocket cast.
Excellent place to listen to you guys.
Apple Podcasts Reviews:

LordGillers from the UK – 5 Stars!

Deep Purple and Beyond
This podcast is a must for all fans of classic rock. Using Deep Purple, and it's members, as the starting point, the podcast covers some of the best music since the late 60s as it branches out to cover the works of Deep Purple and it's ex-members. Hosted by Nathan and John, in a relaxed, humorous manner – you'll come across some classics as well as music you've never heard before (or forgotten), Plus, you'll have a laugh on the way.
Postcards From The Edge . . . OF CONNECTICUT!
From Ireland
And something from Connecticut, but it's not a postcard!
Deep Dive Podcast Network:

Check out our website to find other like-minded shows taking deep dives into individual songs, bands, and albums.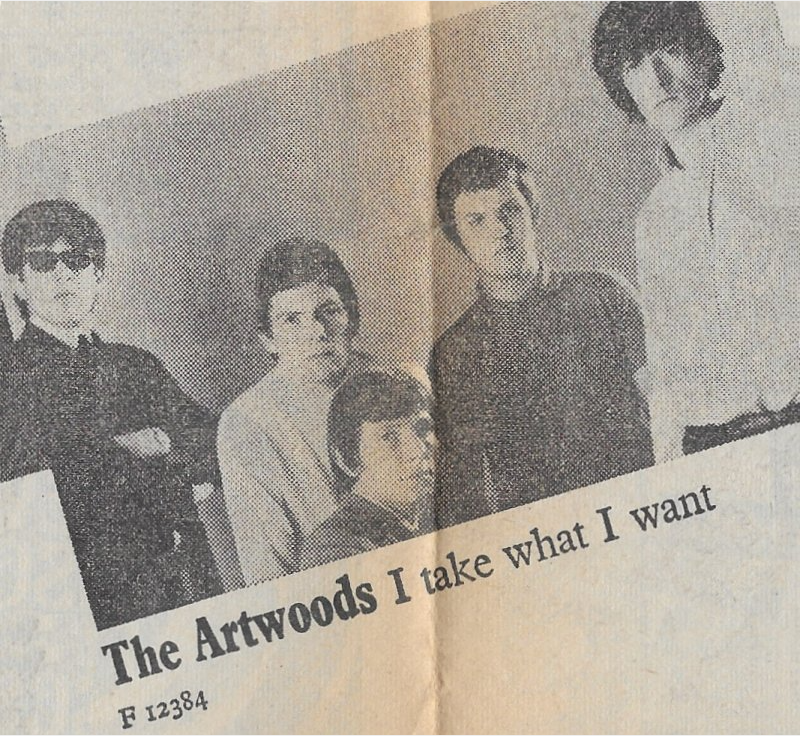 Lead up to the Album:

At college in 1962 Jon Lord formed a band called The Don Wilson Quartet. They played mostly covers all over including clubs, pubs, and weddings.
After College Jon got a job but wanted to keep the musical end of things.
The name of the group changed to Redd Bludd's Bluesicians. The musicians were Don Wilson on vocals and bass, Derek Griffiths on guitar, Jon Lord on piano, and Reg Dunnage on drums.
At this same time Art Wood was working with his own group called The Art Wood Combo. The band eventually boke up. Wilson knew the group and suggested they form a new group using Wilson's quartet. This would have been in early 1964.
They continued on as the Art Wood Combo for a time before changing the name to The Artwoods.
Don Wilson bought a Lowry organ for Jon. The band advertised as "a great organ-ised" combo.
Early on Don Wilson crashed the group's van and broke both his legs. He was replaced on bass by Malcolm Pool from the group The Roadrunners.
Shortly after they were offered a recording deal for a single.
Reg worked at Heathrow and didn't want to quit his day job so they looked for a new drummer and found Keef Hartley. He was reportedly found in the park clutching his drums. They auditioned him at The Tiles Club and he got the job.
In October of 1964 they recorded their first single "Sweet Mary." It was moderately advertised and didn't sell particularly well.
The band did a residence at the 100 Club in Oxford Street and Kooks Kleek in West Hampstead.
It was just before this that Jon Lord was rumored to have done the piano track for The Kinks' "You Really Got Me" though there is a lot of evidence that this is not correct.
During this time Jon Lord sat in with Bo Diddley at the 100 Club. Bo Diddley was interesting in recording with the band and was very complimentary of them. The artist Little Walter said of the group "I thought white boys couldn't play the blues, but they were playing the hell out of the music."
The group's second single, "Oh My Love" did about as well as their first.
In early 1965 they toured with P.J. Proby on two tours.
When Mike Vernon at Decca heard their early studio recordings he proposed taht they use Decca's studio and record with them.
They recorded another single "I Take What I Want" which came out in May of 1966 and it made it into the Top 30.
They toured Poland and Paris and Jon used his earnings to purchase his Hammond on hire purchase. He ended up cutting the organ into two pieces to make it e3asier to get in and out of the clubs they were playing.
Jon paid £60 to have the organ cut in half. The manufacturers actually offered this as a service to make the instrument easier to transport. Jon said, "They cut it across just under the keyboard so that the generators are in one half and the amp and speakers are in the other. They modify it so that when you clip the two halves together the whole thing automatically connects. It means that it can be carried quite easily by two people, each one carrying a 1 ½-hundredweight section. It's easier to pack in a can, too, and there is far less problem carrying it up and down stairs." They even made padded carrying cases for the sections.
During this time Jon lord became more analytical of his own playing. Of this ye said, "I realised I was just playing Jimmy smith cliches most of the time like a thousand others. It occurred to me that I could use some of my classical knowledge. I tired to fit Bach fugues into what we were playing, not note for note, but just getting the feel of it. I think we were one of the first groups to use little chunks of classical music as an introduction for songs. We used Tchaikovsky as an intro to Sam Cooke's Shake."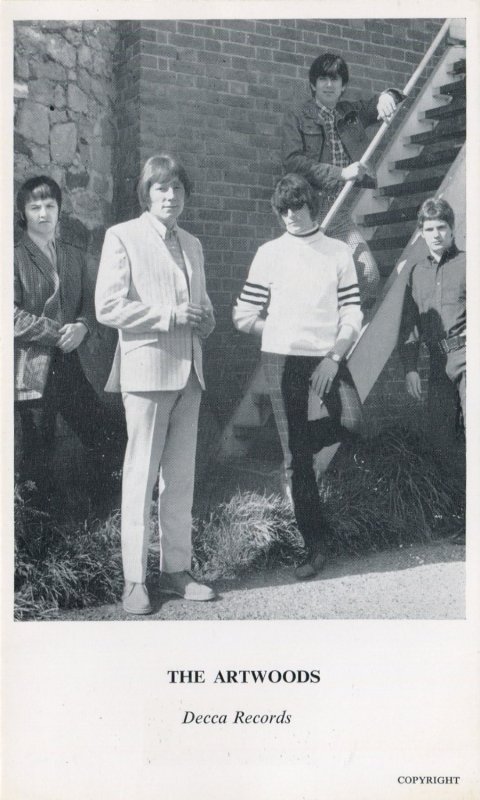 Core Band:

Technical: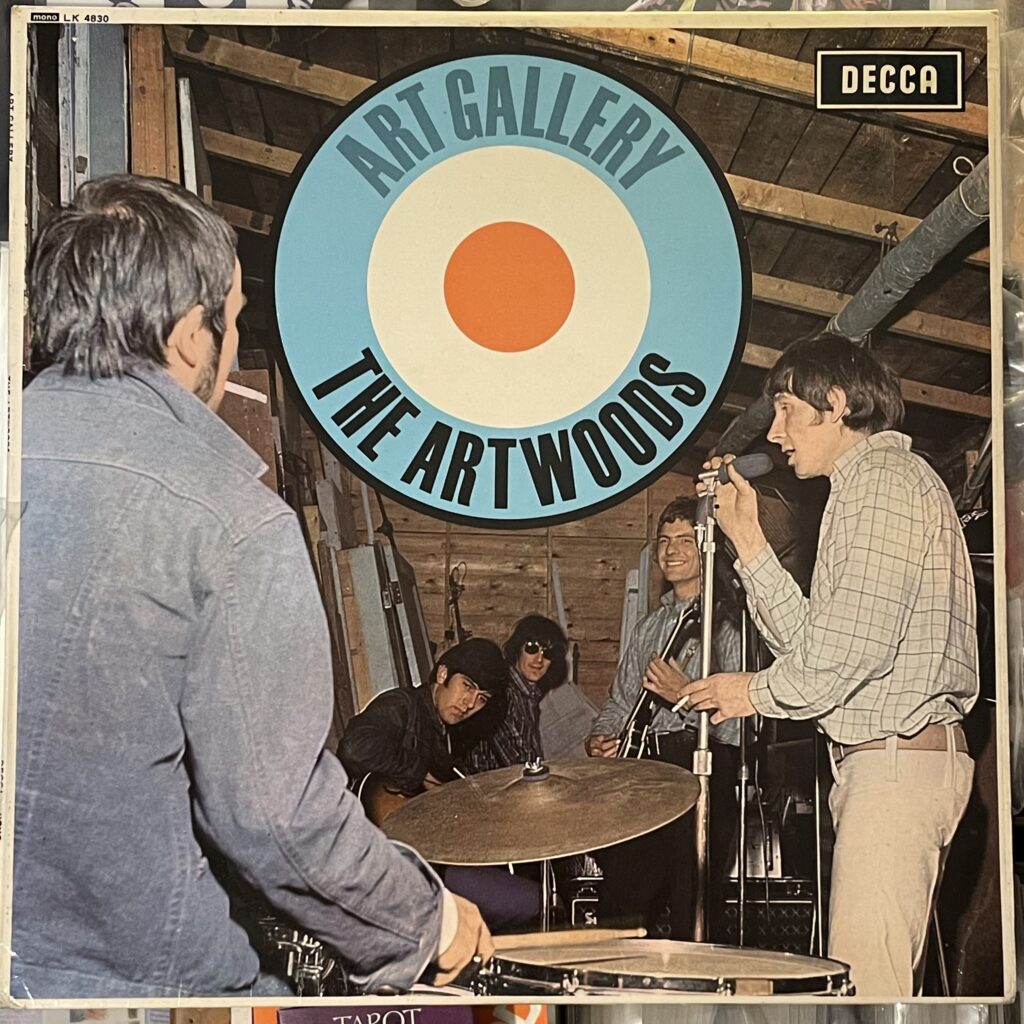 Album Art & Booklet Review

Thanks to Our Core Level Patrons:

The $7.77 KeepItWarmRat Tier
The $6.99 "New Nice Price" Tier

Spike the Rock Cat
Sugar T

The Episode $6.66 Tier

Steve Coldwell
Arthur Smith
Anton Glaving
Charles Meadows

The $6.65 "Almost Evil" Tier

Kenny Wymore
Michael Bagford

$5.99 The "Nice Price" Tier

Robert Smith
Peter from Illinois
Karl Hellberg

The 60 Kroner "Scandinavian Nights" Tier

Zwopper The Electric Alchemist
Knut Morten Johansen –

The $5.55 "What's Goin' On Here" Tier
$5 "Money Lender" Tier

John Convery
German Heindl
Adrian Hernandez
Jesper Almén
Oleksiy The Perfect Stranger Slyepukhov
James North
Mark Hodgetts
Kev Roberts
Percival Frequency
Scott Zerns
Cynthia Dube
Raff Kaff
Coyote Bongwater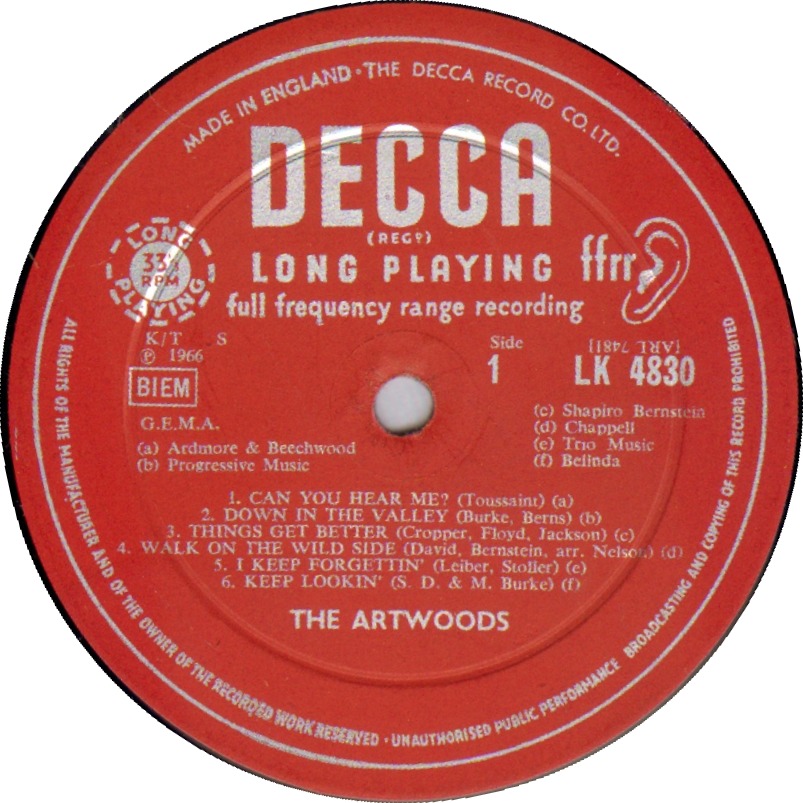 Album Tracks:

Side One:

Can You Hear Me

Written-By – Allen Toussaint
Originally recorded by Lee Dorsey and released in 1965.

Down In The Valley
Things Get Better
Walk On The Wild Side

Arranged By – Nelson*
Written by Elmer Bernstein and MAck David
Jon Lord: "This turned me on to the organ. I first heard it when I was a drama student and I didn't even know what the instrument was making the sound."
He also said: "It was Keef who wanted to do it; funnily enough it was one of our most popular numbers."
Originally for the soundtrack of the movie of the same name.

I Keep Forgettin'
Keep Lookin'
Side Two:

One More Heartache
Work, Work, Work

Written-By – N. Neville*
Written by Naolmi Neville (pseudonym for Allen Toussaint) using his mother's modern name.

Be My Lady
If You Gotta Make A Fool Of Somebody

Written-By – Rudy Clarke*
First recorded by James Ray in 1961.

Stop And Think It Over

Written-By – Nat Jones
First released by James Crawford in 1965

Don't Cry No More

Written-By – D. Malone*
Released by Roy Head in 1966.
Thanks To Our Foundation Level Patrons:

The £3 "The Aromatic Feed" Tier
The $3.33 Half Way to Evil Tier

Stephen Sharpe
Duncan Leask

$3 "Nobody's Perfect" Tier

Peter Gardow
Ian Desrosiers
Mark Roback
Stuart McCord
Flight of the Rat Bat Blue Light
Øyvind Fjeldbu –
Runar Simonsen –
JJ Stannard
Ruinous Inadequacies
John Miceli
Michael Boyette
Corey Morrissette

The $1.71 "I Want My Own Tier" Tier
The 10 kr "" Tier
The £1 Tier
$1 Made Up Name Tier

The "Down in the Gravesite" Leaky Mausoleum
Stephen Sommerville The Concerto 1999 Fanatic
Hank the Tank
Private Eyes
Ashen Lionel
Blackmore's Tights
Steve "Down to Earth" Koeller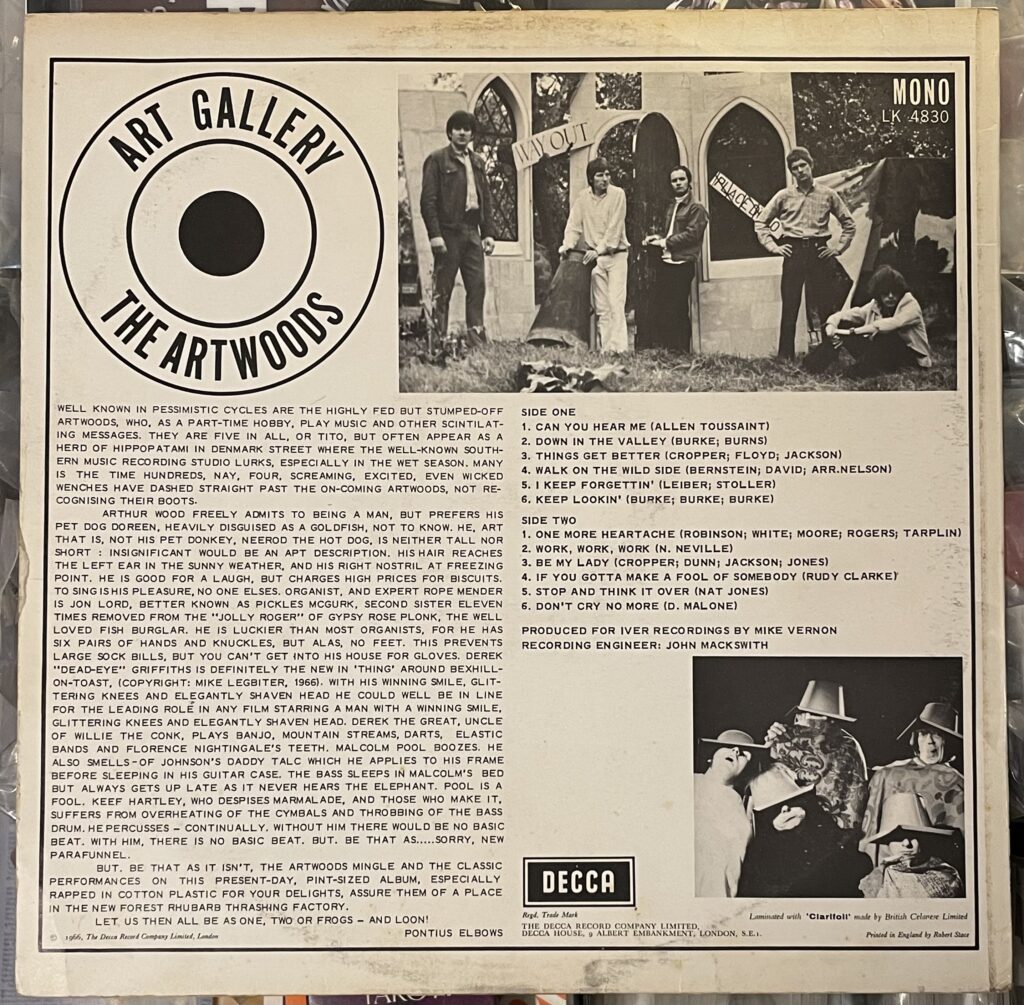 Bustin' Out The Spreadsheet

Reception and Charts:

The Artwoods were a popular live act on par with bands like The Animals. Their record sales, however, were never strong.
In early 1967 Hans Bregel and a Germany Symphony Orchestra from Frankfurt approached them about the idea of writing a special piece of music together. This didn't happen and the band wouldn't last through 1967.
The R 'n' B scene was starting to fade at this time giving rise to many more rock acts. Keef Hartley left the band and of it he says, "It was a nightmare, I was always unhappy and got the sack in April. I was given two weeks notice." He was replaced by drummer Colin Martin. The group set out to tour Denmark only to get there and find out it had been canceled. The promoter got them some gigs at the last minute and the following year the new group Roundabout would connect with him to do the same.
At the end the Artwoods recorded their last single "What Shall I Do" and even started writing their own material.
A promoter named Jack Baverstock was looking for a band where he could capitalize on the gangster craze that had sparked up around the movie Bonnie & Clyde. The Artwoods accepted this and changed their name to The St. Valentines Day Massacre. They recorded a cover of "Brother Can You Spare A Dime" which was their only release they'd have before disbanding.
On the single they were dressed up like gangsters and holding tommy guns in pin-striped suits. They had to wear these costumes on stage. Of this Lord said, "I felt bloody ridiculous, wawe all did.
After this they disbanded and Jon returned to session work and a few other projects but there will be more on that in future episodes.
For Further Information:
1995 CD Liner notes by Chris Welch
Listener Mail/Comments

Comments about the show? Things you'd like us to cover? We'd love to hear from you. Send us an email at info@deeppurplepodcast.com or @ us on Twitter, Facebook, or Instagram.