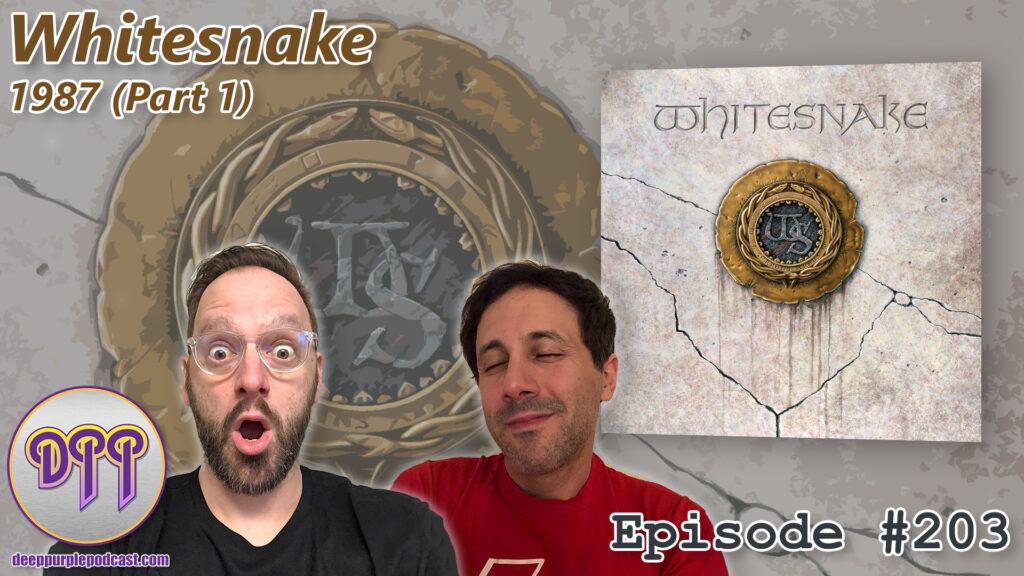 Subscribe at Apple Podcasts, Stitcher, Google Podcasts, Overcast, Pocket Casts, Anchor.fm, Breaker, PodBean, RadioPublic, Amazon Music, or search in your favorite podcatcher!

How To Support Our Show:

The Deep Purple Podcast is 100% listener supported and ad-free! If you receive value from our show please consider supporting us!

Brendan Ashbrook – Logo Designer

Thanks to Our Executive Level Patrons:

The $25 "Uncommon Man" Tier
The £10 "Good Doctor" Tier

Dr. Jill Breis
Dr. Mike Kattan

The Turn it up to $11 Tier

Clay Wombacher
Frank Theilgaard-Mortensen
Alan "Ain't Too Proud To" Begg
Mikkel Steen

$10 "Some One Came" Tier

Ryan M
Jeff Breis
Victor Campos
"Better Call" Saul Evans
Postcards From The Edge . . . OF CONNECTICUT!
Deep Dive Podcast Network:

Check out our website to find other like-minded shows taking deep dives into individual songs, bands, and albums.

Lead up to the Album:

"Slide it In" was released in January of 1984.
Their last show prior to "Whitesnake" being released was Rock in Rio on January 19, 1985 which they played with the stripped down lineup of Coverdale, Sykes, Murray, and Powell, Powell's last show with the band. People were calling them "the European answer to Van Halen."
The Whitesnake album was released in March in the US.
They didn't play live again until June 20, 1987.
Year-by-Year:

1977- White Snake
1978 – Northwinds
1978 – Trouble
1979 – Lovehunter
1980 – Ready an' Willing
1981 – Come an' Get It
1982 – Saints & Sinners (November)
1984 – Slide It In (January)

There were numerous issues including David having sinus surgery with a long recovery.
About the time between live shows and albums David Coverdale told UCR in a 2017 interview: "I thought I was done. I thought it was over. I thought it was "Stick a fork in me, I'm done." I was very substantially in debt due to not working for two or three years, and there had been terrible advantages taken while I was recovering from [sinus] surgery and unable really to function in a professional environment. And people who I trusted, I found out I couldn't trust. So the album became extraordinarily expensive — the most expensive Whitesnake album ever. And it was minimal to do with me. [Laughs] So that was the primary reason — for me, in a relationship, if you can't trust your partner or partners — it's time to move on. I had flown home from a very sad Christmas holiday with my daughter in Munich and she was kind of punishing me, understandably, because I'd left her mom. So I flew home from Munich to L.A., pretty depressed about it and very sad."
In Metal Hammer UK in 1987 Coverdale says: "There was illness in the studio and it took ages. There were problems with attitudes and mentalities, and some wonderful egos. It stopped being fun. I wanted to throw it down the toilet, not because of the music but because of the problems that went with it."
"During the recording, I developed a sinus infection, which was absolutely not drug related. I had a deviated septum which caused me a great deal of intense pain and made me sing off-key. I went to a specialist who checked me over and told me he was surprised he could even talk in my condition. He said I'd need surgery, but we were already months overdue so I asked if there was anything I could do that would enable me to finish the album first. He gave me a course of anti-biotics and told me to take three weeks off. However, when I went back into the studio and started singing again it had all started once more, I chucked it in."
After the surgery he had to have six months of silence which added to the delays in the album.
John Sykes also had an issue with his tonsils so they broke before Christmas of 1985 with the intention of starting back up in January.
It was then that Phil Lynott died and Sykes had to return to England to attend the funeral.
This was all being done in Vancouver. Sykes then wento to Toronto and all his amps were broken. Coverdale said it was "like a world tour of recording studios!"
After finishing the album Coverdale said it was "only nine months recording time. A true pregnancy! Fortunately the baby's been born with no defects, and the feedback I've been getting is quite exceptional."
On the departure of Mel Galley. Coverdale says the band pressured him into letting Galley go and referred to the remaining members as the "glamour boys." Coverdale: "I love Mel's voice and songwriting, but the only way I could keep him involved was to offer a situation where we could writ together and he was still a member of Whitesnake but it was peripheral. Unfortunately I broke his heart. I know he blames me but it wasn't my fault. I tried to get him the gig with Bad C. but I don't think he was fat enough."
Jon Sutherland asked DC how he was protecting his voice while touring after all the trouble he had DC responded: "Lots of smoking and alcohol. I keep it coated with some type of film."
In an interview with Metal Rendezvous when asked about the surgery Coverdale again stated that it was not drug related: "Not drug related! I am not doing spoon fulls of the devil's dandruff!"
It's further stated in the Metal Rendezvous article that he couldn't hold a note and had no power. IT ended up taking eight months off his career and he didn't know if he'd even be able to sing again.
Other than his first two Glover-produced solo albums this was his first time not working with Martin Birch.
In Metal Rendezvous he is asked about the "touchy" subject of sex in his writing. Coverdale responded: "It's disgusting. I wanted to call the album 'No Muff Too Tough!' But to make such a ridiculous small statement just to stick it up these people's noses, you're only gonna gain bullshit."
Core Band:

Technical: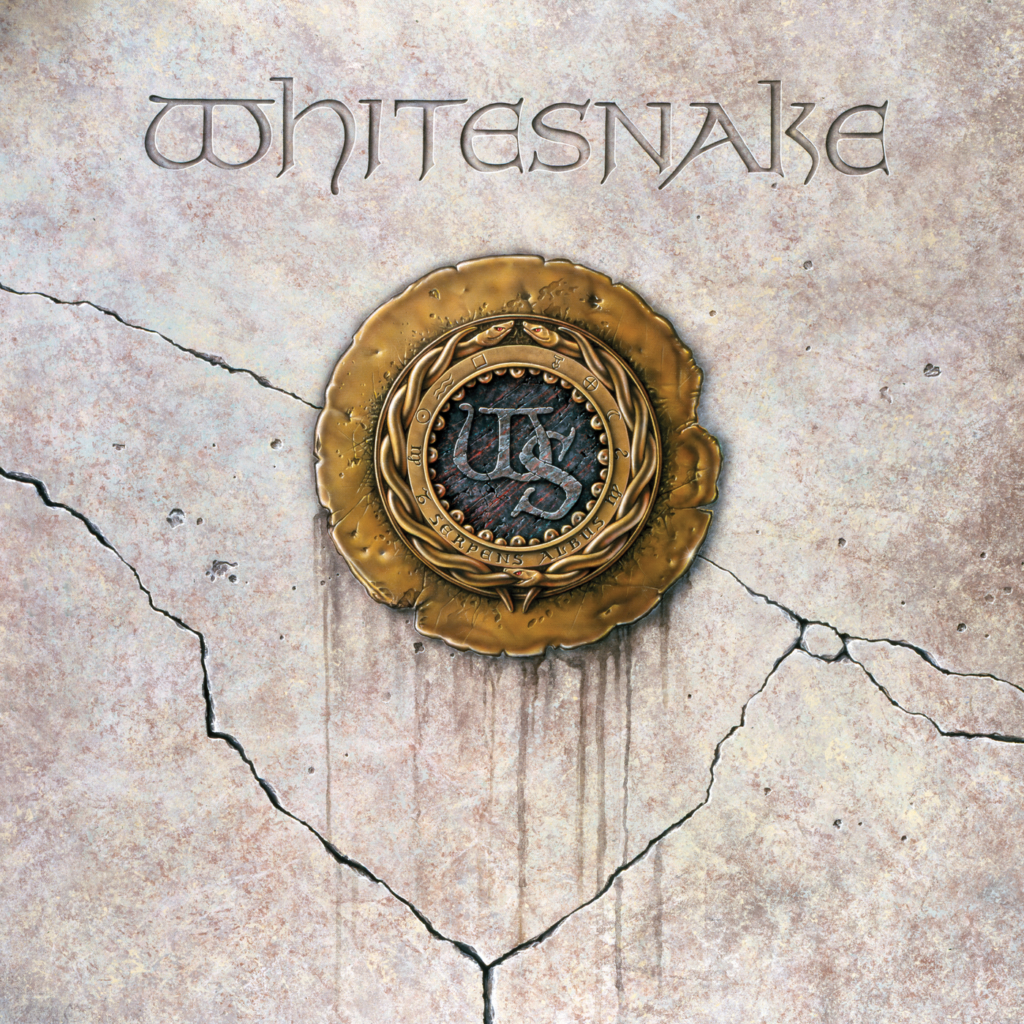 Album Art & Booklet Review

Cover – Hugh Syme

Designed album covers for Rush, Max Webster, Bon Jovi, Megadeth.

Album has DDD SPARS code: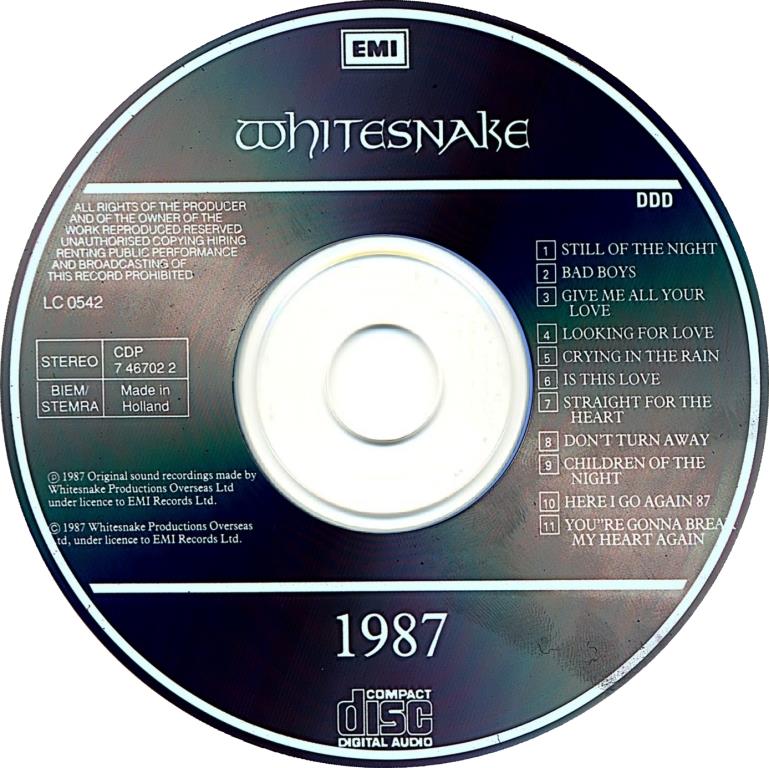 Thanks to Our Core Level Patrons:

The $7.77 KeepItWarmRat Tier

Michael Vader
Richard Fusey

The $6.99 "New Nice Price" Tier
The Episode $6.66 Tier

Steve Coldwell
Arthur Smith
Anton Glaving

The $6.65 "Almost Evil" Tier
$5.99 The "Nice Price" Tier

Robert Smith
Peter from Illinois
Michael Bagford
Karl Hellberg

The 60 SEK Tier

Zwopper The Electric Alchemist

$5 "Money Lender" Tier

John Convery
German Heindl
Adrian Hernandez
Jesper Almén
Oleksiy The Perfect Stranger Slyepukhov
James North
Mark Hodgetts
Will Porter
Kev Roberts
Percival Frequency
Scott Zerns
Cynthia Dube
Album Tracks (US):
Crying in the Rain

DC in Metal Hammer UK, "In His Own Words" article: "'Crying In The Rain' is very important to me. It was very important to get the statement across as it should have been in the first place. A lot of my colleagues had their heads securely up their arses, but a percentage of that was my fault and I've always wanted a better recorded statement than that and I think we've achieved it on this. It features a stunning solo from John Sykes."

Bad Boys

DC in Metal Hammer UK, "In His Own Words" article: "It's a rock 'n roller, it's a rebel song. Whitesnake albums are always structured in a, similar way. Musically, tempos or whatever the songs are always related. 'Bad Boys, is in the 'Would I Lie To You' vein and there's still a bit of a rebel there. even at thirty-five!"

Still of the Night

DC in Metal Hammer UK, "In His Own Words" article: "It's a 'Lovehunter' song, it's a predator song. It's a relative of 'Slow 'N Easy, 'Victim Of Love' and 'Lovehunter'. It's a kind of nightime's-the-right-time kind of song, you can get away with much more in the dark! I think this is definitive Coverdale. It's already proven to be excellent live and the band are playing it f***ing great. It was in essence arranged to walk straight of the disc into the concert hall and just expand a little on the atmospherics piece. I'm very pleased with it, it's certainly gained more mileage than I could ever have wished for."

Here I Go Again

DC in Metal Hammer UK, "In His Own Words" article: "
Guest, Guitar, Soloist – Adrian Vandenberg
Guest, Keyboards [Keyboard Heaven] – Bill Cuomo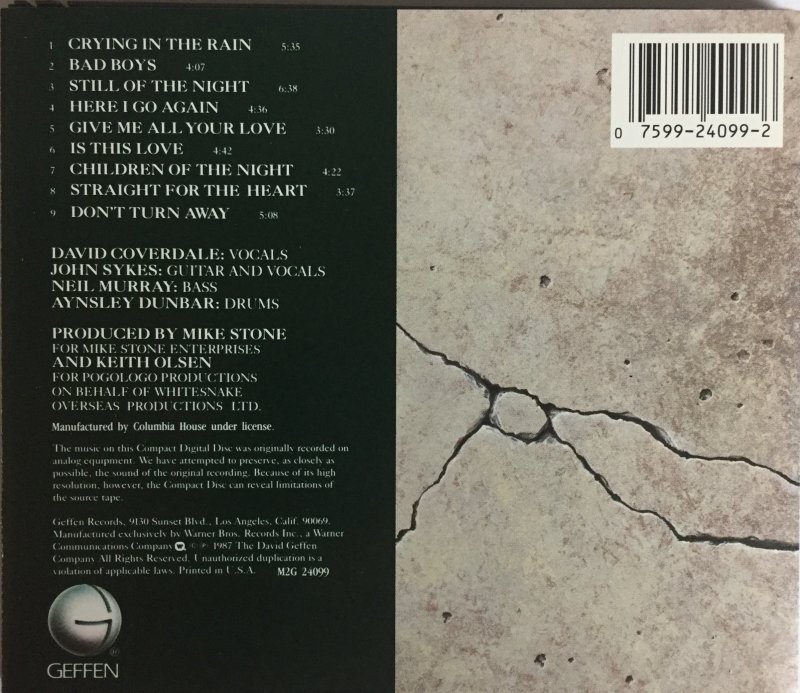 Album Tracks (UK):

Still Of The Night
Bad Boys
Give Me All Your Love
Looking For Love *
Crying In The Rain
Is This Love
Straight For The Heart
Don't Turn Away
Children Of The Night
Thanks To Our Foundation Level Patrons:

The £3 "The Aromatic Feed" Tier
The $3.33 Half Way to Evil Tier

Raff Kaff
Spike the Rock Cat
Spike's Mom

$3 "Nobody's Perfect" Tier

Peter Gardow
Ian Desrosiers
Mark Roback
Duncan Leask
Stuart McCord
Flight of the Rat Bat Blue Light
Øyvind Fjeldbu –
Runar Simonsen –
JJ Stannard
Ruinous Inadequacies

The $1.71 "I Want My Own Tier" Tier
The 10 kr "" Tier
The £1 Tier
$1 Made Up Name Tier

The "Leaking In The Rain" Leaky Mausoleum
Stephen Sommerville The Concerto 1999 Fanatic
Hank the Tank
Private Eyes
Ashen Lionel
Blackmore's Tights
John Miceli
For Further Information:
Listener Mail/Comments

Comments about the show? Things you'd like us to cover? We'd love to hear from you. Send us an email at info@deeppurplepodcast.com or @ us on Twitter, Facebook, or Instagram.