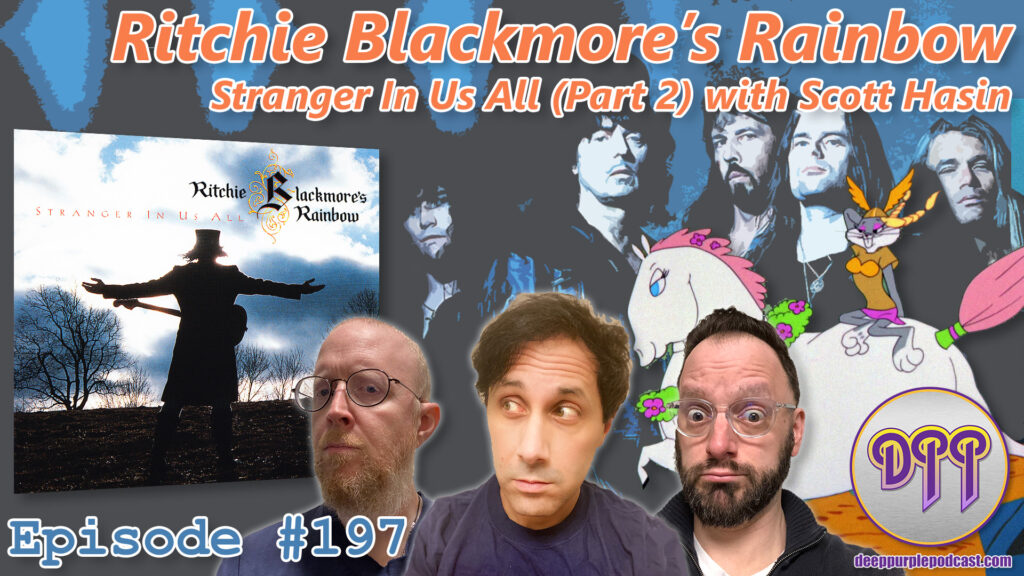 Subscribe at Apple Podcasts, Stitcher, Google Podcasts, Overcast, Pocket Casts, Anchor.fm, Breaker, PodBean, RadioPublic, Amazon Music, or search in your favorite podcatcher!

How To Support Our Show:

Brendan Ashbrook – Logo Designer

Thanks to Our Executive Level Patrons:

The $25 "Uncommon Man" Tier
The £10 Tier
The Turn it up to $11 Tier

Clay Wombacher
Frank Theilgaard-Mortensen
Alan "Ain't Too Proud To" Begg
Mikkel Steen

$10 "Some One Came" Tier

Ryan M
Jeff Breis
Victor Campos
"Better Call" Saul Evans
Apple Podcasts Reviews:
Blackmores Tights – UK – 5 Stars!
Old friends chatting about the greatest band in the world
Found this podcast while wondering if there was a Deep Purple Podcast. Turns out there is and it's called The Deep Purple Podcast, how did it take so long to find this! It's taken me nearly a year and a half to almost get up to date (only 20 behind now). It's so addictive. I feel like I'm eaves dropping on 2 old friends who just so happen to like all the same music I do. The only thing is, they can't see me and they can't hear me Tutting loudly at some the opinions they have (Saints and Sinners is Whitesnakes worst ranked album??? Tut, Tut and Tut!) They claim not to be but listening through all the shows they are slowly becoming experts. Look forward to listening to many more episodes to come and learning new things about the band I thought I knew everything about. Grab the flexatone and enjoy the well deserved 5 stars! Blackmores Tights x
Postcards From The Edge . . . OF CONNECTICUT!
Greeting from '70s Weekly Countdown!
Deep Dive Podcast Network: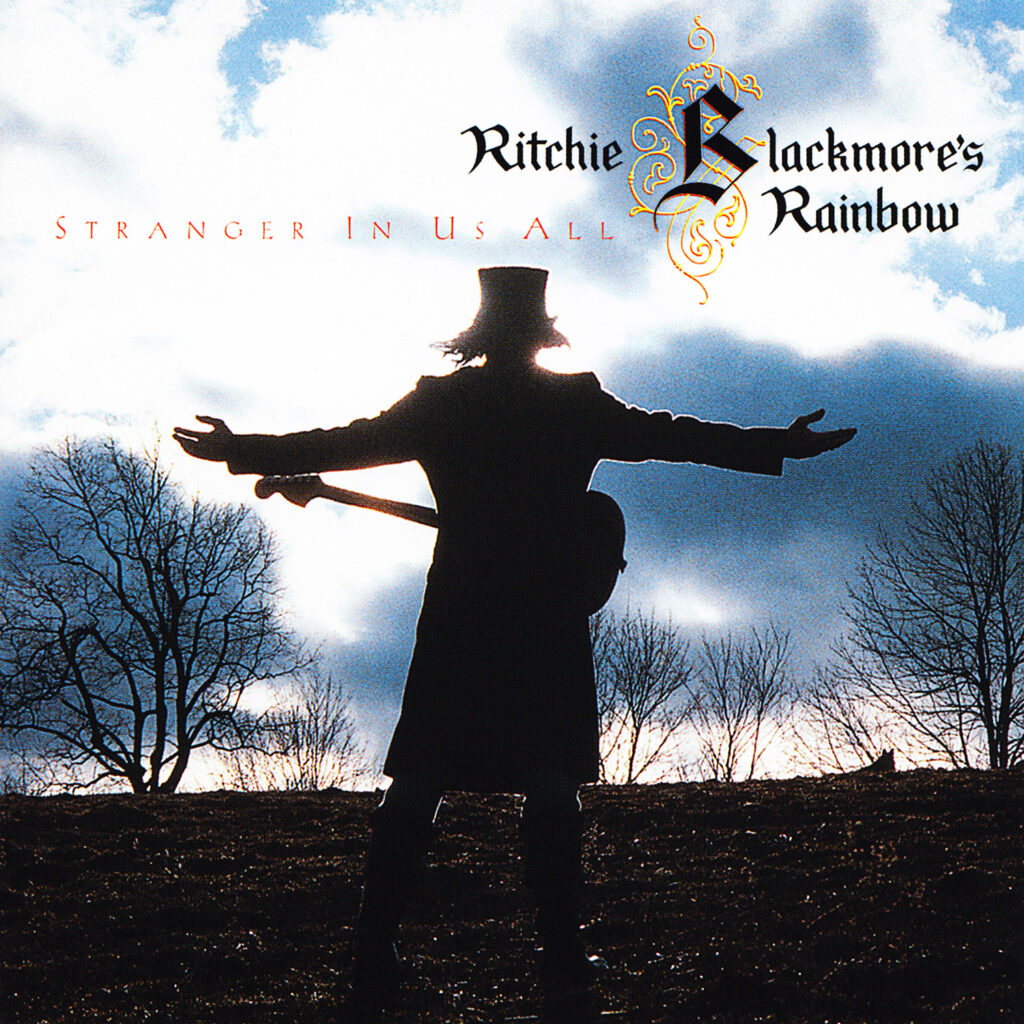 Album Tracks:

Side Two:

Too Late for Tears (Blackmore, White, Pat Regan)

When asked in Young Guitar magazine which solo on the album he liked the best, Ritchie answered, "Too Late For Tears sounds very interesting. All the studio versions are played slowly, although I have a habit of playing everything as fast as possible, but in the studio you usually have to take care of the clarity of the sound to the detriment of the live sound, but in Too Late For Tears I played very naturally. "Ariel" also came out naturally. The first take sounded like I was drunk, so I had to re-do it, but the second I was able to play better."
On this song having a similar riff to "Can't Happen Here" Finnish Radiostation Metalliliitto – September 27, 1995: "Right. Music goes round and round. Sometimes I play something and I don't even understand that I have already recorded it. Or sometimes I understand, but I like it so much that I decide to use this idea again, to approach it from a different angle. As for this song, I understood that it was similar to "Can't Happen Here", but I like this tune so much that I thought it was a good idea. If I thought this song was just a copy of "Can't Happen Here", I wouldn't record it. But I thought it was worth it. This is just a small part of the song. When we were composing it, I said, "A bit like Can't Happen Here." Someone from the group asked: "So what are you going to do? Will you sue yourself? " I said, "Well, yes, that's right.""

Black Masquerade (Blackmore, Paul Morris, White, Night)
Silence (Blackmore, White)
Hall of the Mountain King (Edvard Grieg, lyrics by Night, arrangement by Blackmore)

Edvard Grieg
Stefan Wach, Gitarre & Bass, Germany – 12/1995:
On the new album you picked up a classic piece by Grieg with 'Hall Of The Mountain King', which you played together with the "Lancasters" at the beginning of the 60s, at the time when you were still was working as a session guitarist. Back then, the piece was called 'Satan's Holiday'…
How did you find that out? It's almost not true anymore! I think that was in 1964, long before Deep Purple. Yes, I played a few sessions at that time – with the Outlaws, produced by Joe Meek, then with "Heinz" (Heinz Burt, another signing of the then indie pope Joe Meek – Ed.), with Burr Bailey (& The Six-Shooters, a title called 'Like A Bird Without Feathers' – Ed.) and also pure sessions, just for fun, with Nicky Hopkins, Chas Hodges and Mikki Dallon. I think I really got nice around.
From Young Guitar interview: "Edvard Grieg is a Norwegian composer, I am attracted by his personality, he was a weirdo. I read books about him, he was a hermit. His music is filled with depression. It seems to convey what is happening in my head. This is a wonderful melody. I am fascinated by such majestic and melancholic melodies. I first saw the fourth act of "Peer Gynt" on TV at the age of nine, I heard "In The Hall Of The Mountain King", and this music just mesmerized me. I immediately had clear images of caves, witches with long nails. Mom couldn't understand why it interested me so much (laughs). By the way, I already wrote it down once, in one session in 64. Then it was an instrumental."
Ritchie from Finnish Radiostation Metalliliitto – September 27, 1995 :"This is probably my favorite song on the album. It is great. It's easy to play, but the music doesn't always have to be difficult to be interesting."

Still I'm Sad (Paul Samwell-Smith, Jim McCarty)

Paul Samwell-Smith
Jim McCarty
The song originally appeared on "Having a Rave Up with the Yardbirds" in 1965.
When asked by "Young Guitar" about why he included this song and closed an album with it again: "We played it at rehearsals, the musicians said it sounded great. I already played it at concerts with vocals, it was not very interesting to me, but the guys asked it very much. When people from the record company found out about this, they insisted that we should record it. I was tired of it, so I just couldn't bring myself to properly start recording. Of course, it would take only an hour to record, but after five minutes I got tired and said: "That's it, I won't play any more." The fact that it is last does not mean anything. At first it was supposed to be a bonus track. Anyway, "Still I'm Sad" makes me sad all the time… (laughs)."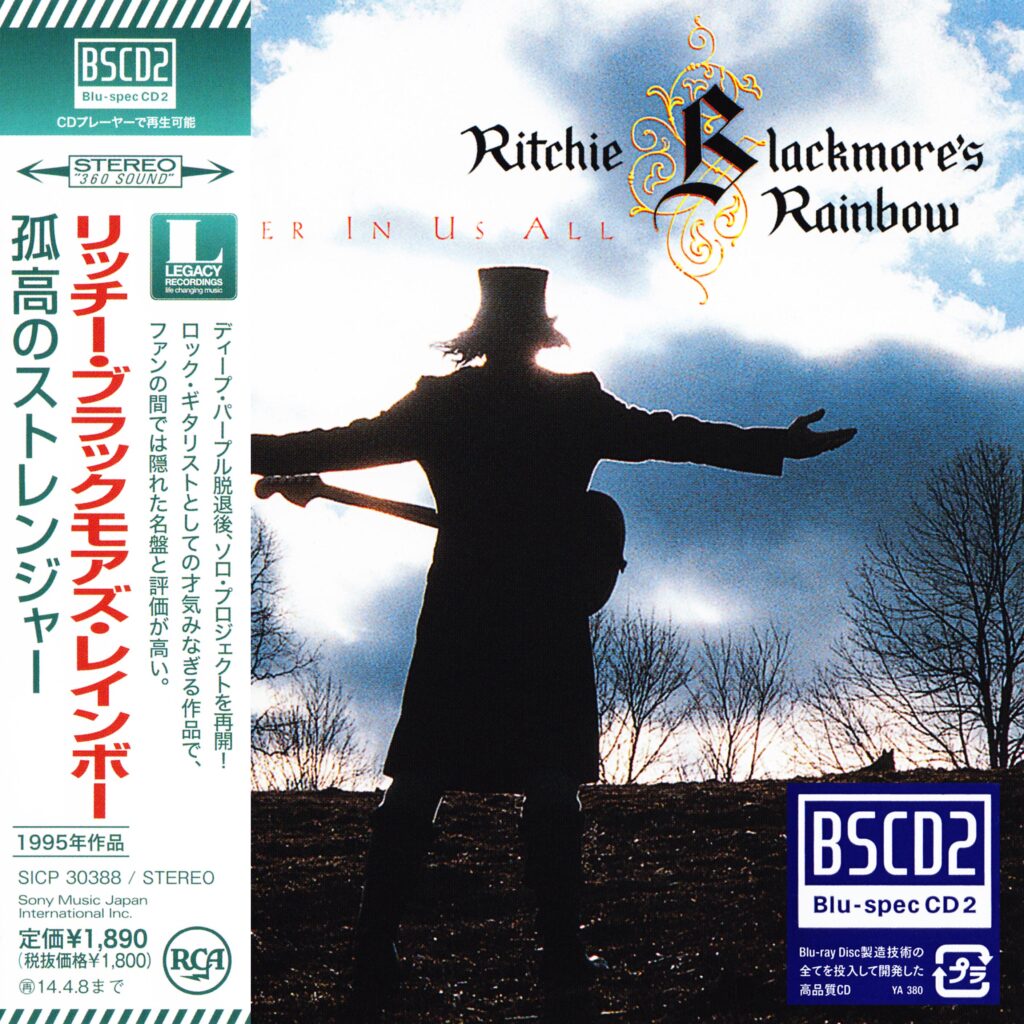 Bonus Track (Japanese Edition)

Emotional Crime (Blackmore, White, Regan)
Thanks to Our Core Level Patrons:

The $7.77 KeepItWarmRat Tier

Michael Vader
Richard Fusey

The $6.99 "New Nice Price" Tier
The Episode $6.66 Tier

Steve Coldwell
Arthur Smith
Anton Glaving

The $6.65 "Almost Evil" Tier
$5.99 The "Nice Price" Tier

Robert Smith
Peter from Illinois
Michael Bagford
Karl Hellberg

The 60 SEK Tier

Zwopper The Electric Alchemist

$5 "Money Lender" Tier

John Convery
German Heindl
Adrian Hernandez
Jesper Almén
Oleksiy The Perfect Stranger Slyepukhov
James North
Mark Hodgetts
Will Porter
Kev Roberts
Percival Frequency
Scott Zerns
Bustin' Out The Spreadsheet

Reception and Charts:

Rtichie on slide playing on "Stranger In Us All" from Robert Haagsma, Aardschok Magazine – October 1995: ""That's right. I really like slide guitar, but I have never found myself in the way it is usually played: under the neck with the bottleneck around the little finger. The glissando is much smoother when I hold it in my whole hand and move overhead, like a steel guitar player, because the movement comes from your wrist and not from your little finger. It took me some time to master that technique. It produces a traditional feeling in a number of songs that appeals to me. I notice that as the years go by I am more fond of good melodies, also in my solos. When I was seventeen I preferred to stuff as many notes as possible into one solo. That was the challenge at the time. In recent years, emotion and melody has become more important."
When asked if he was satisfied with this lineup of the group by Finnish Radiostation Metalliliitto – September 27, 1995 Ritchie responded: "This week, yes."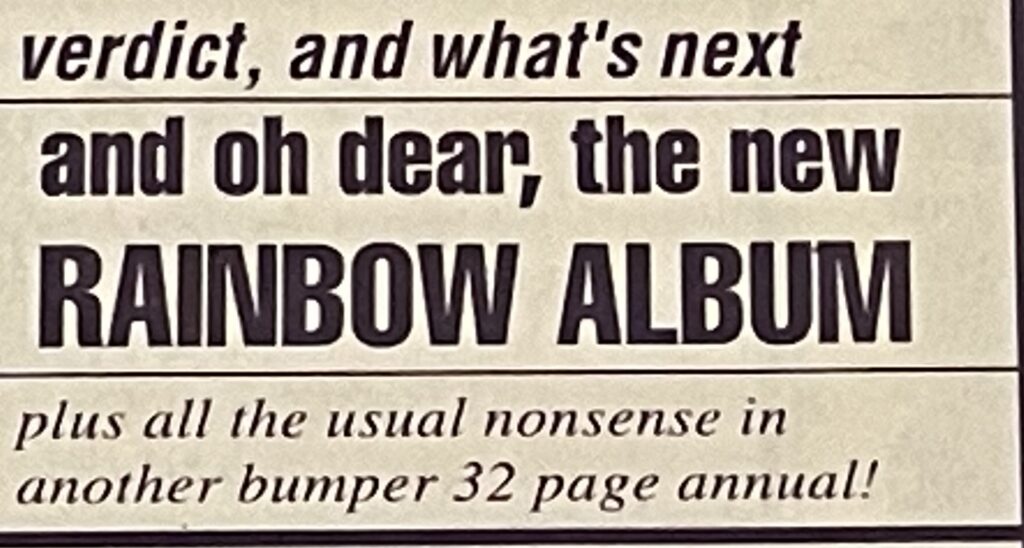 Reviews:

Darker Than Blue Issue 48 January / February 1996
Rainbow's comeback CD follows very much the pattern, direction and sound heard on Straight Between The Eyes and Bent Out Of Shape. Indeed you'd hardly guess that twelve years separated the latter from this new offering. Sadly, for those of us hoping the blistering guitar work he exhibited on that last ill-fated Purple tour in 1993 was the prelude to an equally devastating move forward in the studio, this CD fails to deliver anything like the goods necessary to enable Blackmore to recover some of the standing lost during the final Purple debacle in 1993.
WOLF TO THE MOON sets the scene, a standard medium paced Rainbow rocker. On first hearing Dougie White sounds almost identical in style and approach to Joe Lynn Turner. A little bit coarser round the edges perhaps, but it's clear Blackmore wants this formularised rock voice whoever supplies it. The track itself is a very one dimensional and inauspicious beginning to the CD.
HUNTING HUMANS is a real plodding effort, almost as if they'd slowed the whole track down, leaving it struggling against a loose puddingy bass sound which sucks everything in. There's an instrumental classic here for the taking had Blackmore wanted. The singer manages to rhyme "mirrorball" with "inexcusable" – amazing.
ARIEL (after a Zeppelin style drum walloping opener) is GATES OF BABYLON 2. The band are trying to at feast sound a little more grown-up here. The vocals ride in and kill it dead, with lyrics so banal they defy description. To make matters worse, we get a spine-tingling pay-off. A gorgeous closing section where a female voice breathes the song title and Blackmore strolls over the top to knock you dead. There's enough here to inspire a rock symphony. Within 60 seconds it's gone.
BLACK MASQUERADE rolls out and this is getting beyond a joke. Been there, heard that, nicked it. Frighteningly ordinary, with an incongruous few bars of flamenco work thrown in plus speeded up harpsichord a la Rat Bat Blue. Ritchie tries to regain the balance with some smooth runs but by then the whole number has outstayed its welcome. He comes over with the goods on the final few seconds but this gets faded out..
SILENCE. If only. The high pitched wash of reedy synth and histrionic vocals bring the horrors of latter-day Rainbow back to life. Or maybe not, it's not even that honest. The guitar again gets lively at the end but by then the cumulative effect of the track's mundane meanderings render it HALL OF THE MOUNTAIN KING is reasonable fun for the most part, some nifty guitar breaks, bit of orchestra. Except that Dougie then starts singing about "Tales of mystic days of old" in a frankly risible manner, making his previous lyrical offerings seem almost REM-like in comparison, and rolling his r's like some ham actor. That aside there is at least a bit of fun and excitement here musically, which contrasts sharply with all that has gone before. The drummer has got to grips with matters, and the production has improved, but then we come to the speeded up ending which is pure music hall.
What is he trying to say? There's no shame in looking to other people to bring in a bit of creativity once in a while, and there can't be any shortage of people who could provide Blackmore with 1001 stonking ideas. I've followed this guy's work now for 25 years. It's the worst thing he's ever done. From the unbelievable heights he scaled with his playing in '93 to this in just two years. Frightening. There will never be a moment in my life when a voice says – dig out Stranger In Us All and have a listen to that one good track. It's an utterly depressing feeling.
The tape had an extra track, EMOTIONAL CRIME, "Can't get thru in the midnite hour" – more mould breaking lyrics and a tune to match. Blackmore threatens to get tough in the solo but it doesn't last long. It'll probably end up as a bonus for buyers of the Jap import . The LP was produced incidentally by Pat Regan who did the last couple of Purple albums. BMG supplied an "electronic press kit" for the CD, basically the usual biog with an 8 minute video taped interview with Blackmore. A single of Ariel is supposed to be out in Germany (incidentally Ritchie's lady Candice Night was wheeled on to do backing vocals for this on the tour) backed with a live Temple Of The King from the tour.
Merch, Etc.

Some additional merch from the archives of Jeff Breis!
Thanks To Our Foundation Level Patrons:

The £3 "The Aromatic Feed" Tier
The $3.33 Half Way to Evil Tier

Raff Kaff
Spike the Rock Cat
Spike's Mom

$3 "Nobody's Perfect" Tier

Peter Gardow
Ian Desrosiers
Mark Roback
Duncan Leask
Stuart McCord
Flight of the Rat Bat Blue Light
Øyvind Fjeldbu –
Runar Simonsen –
JJ Stannard
Ruinous Inadequacies
Mike Kattan

The $1.71 "I Want My Own Tier" Tier
The 10 kr "" Tier
$1 Made Up Name Tier

The "Still I'm Dead" Leaky Mausoleum
Stephen Sommerville The Concerto 1999 Fanatic
Hank the Tank
Private Eyes
Ashen Lionel
Blackmore's Tights
John Miceli
For Further Information:
Darker Than Blue Issue 48 January / February 1996
Help from the archive of Jeff Breis
Listener Mail/Comments

Comments about the show? Things you'd like us to cover? We'd love to hear from you. Send us an email at info@deeppurplepodcast.com or @ us on Twitter, Facebook, or Instagram.