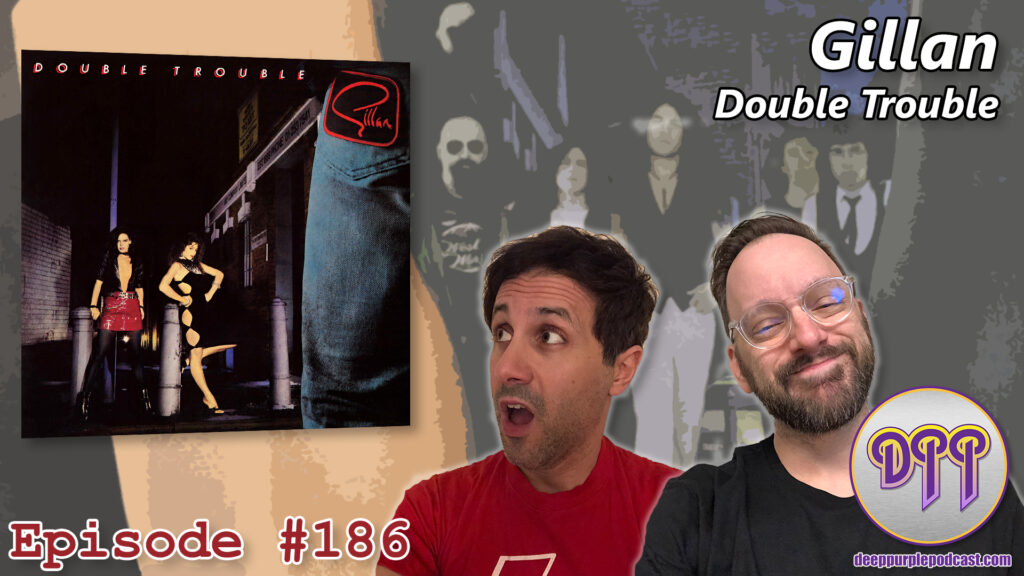 Subscribe at Apple Podcasts, Stitcher, Google Podcasts, Overcast, Pocket Casts, Anchor.fm, Breaker, PodBean, RadioPublic, Amazon Music, or search in your favorite podcatcher!

How To Support Our Show:

Brendan Ashbrook – Logo Designer

Thanks to Our Executive Level Patrons:

The $25 "Uncommon Man" Tier
The £10 Tier
The Turn it up to $11 Tier

Clay Wombacher
Frank Theilgaard-Mortensen
Alan "Ain't Too Proud To" Begg
Mikkel Steen

$10 "Some One Came" Tier

Ryan M
Jeff Breis
Victor Campos
"Better Call" Saul Evans
Kev Roberts & his wonderful children: Matthew, Gareth, and Sarah

The $9.99 "What's Goin' On Here" Tier
Deep Dive Podcast Network:

Lead up to the Album:

Tensions were beginning to grow in the band.
The band was taking an equal split but Gillan felt that he was the one taking the real risk.
They were scheduled to fly back from shows they were performing to appear on "Top of the Pops."
Bernie refused to do it. The rest of the band weren't terribly happy about it either. Gillan made ethe decision that they had to do it to support the record label.
Gillan gave the band an ultimatum and said the car was coming to pick them up and that if you weren't in the car, you weren't in the band.
Everyone turned up except Bernie.
Gillan phones up Phil Banfield and said asked him to find a guitar player.
Banfield found Janick but he wasn't allowed to be on Top of the Pops because he wasn't on the recording so they did the appearance without a guitar player.
Gillan rehearsed with Janick in the hotel room.
They rehearsed the new album in Lyme Regis in Dorset at Drake Hall (named after Sir Francis Drake).
https://www.loudersound.com/news/bernie-torme-s-debt-to-ian-gillan

"I think they wanted us to be more like Rainbow. In retrospect I think that was incredibly stupid because I think Gillan had a more long-term effect on what happened later in terms of thrash than Rainbow ever had.
"I joined on £30 a week and at the end of it, big tours, three top 10 albums, I was on, I think, £45 a week. There was a complete shambles about publishing. It was badly organised and to be honest I would have to say an awful lot of that was Ian's responsibility. He was the guy in charge and he promised things he wasn't able to do."
An argument over an upcoming appearance on Top Of The Pops led Torme to walk away when he was told he wouldn't be paid for it.
He adds: "I really regret how I did it, I shouldn't have done it in that way. It was terribly negative and I love all of them."
Core Band:

Additional Personnel:

Technical: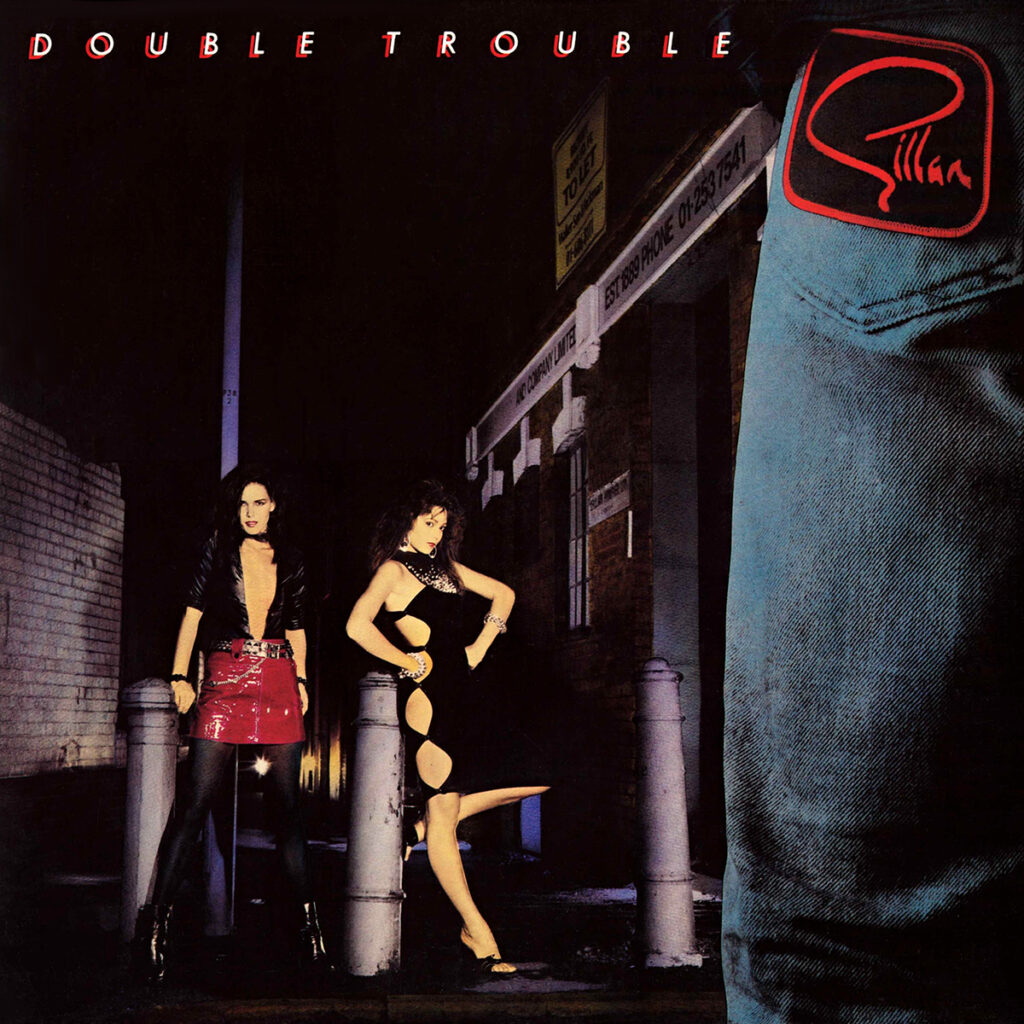 Album Art & Booklet Review

Thanks to Our Core Level Patrons:

The $7.77 KeepItWarmRat Tier
The $6.99 "New Nice Price" Tier
The Episode $6.66 Tier

Steve Coldwell
Arthur Smith
Anton Glaving

The $6.65 "Almost Evil" Tier
$5.99 The "Nice Price" Tier

Robert Smith
Peter from Illinois
Michael Bagford
Karl Hellberg

$5 "Money Lender" Tier

John Convery
German Heindl
Adrian Hernandez
Jesper Almén
Oleksiy The Perfect Stranger Slyepukhov
James North
Mark Hodgetts
Will Porter
Zwopper The Electric Alchemist
Percival Frequency
Scott Zerns
Album Tracks: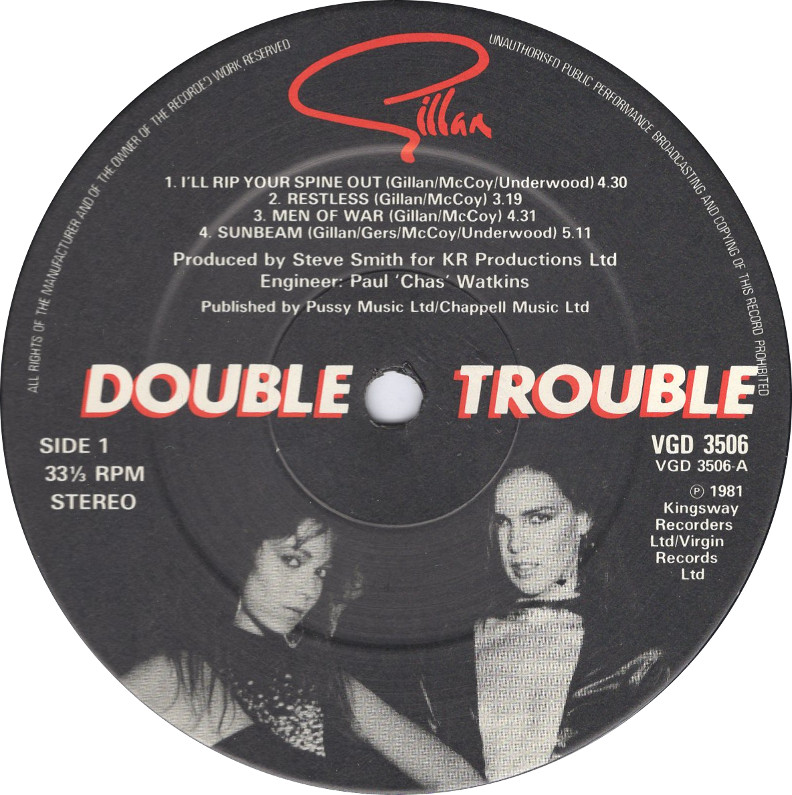 Side One:

I'll Rip Your Spine Out (Gillan, McCoy, Underwood)
Restless (Gillan, McCoy)
Men of War (Gillan, McCoy)
Sunbeam (Gillan, Gers, McCoy, Underwood)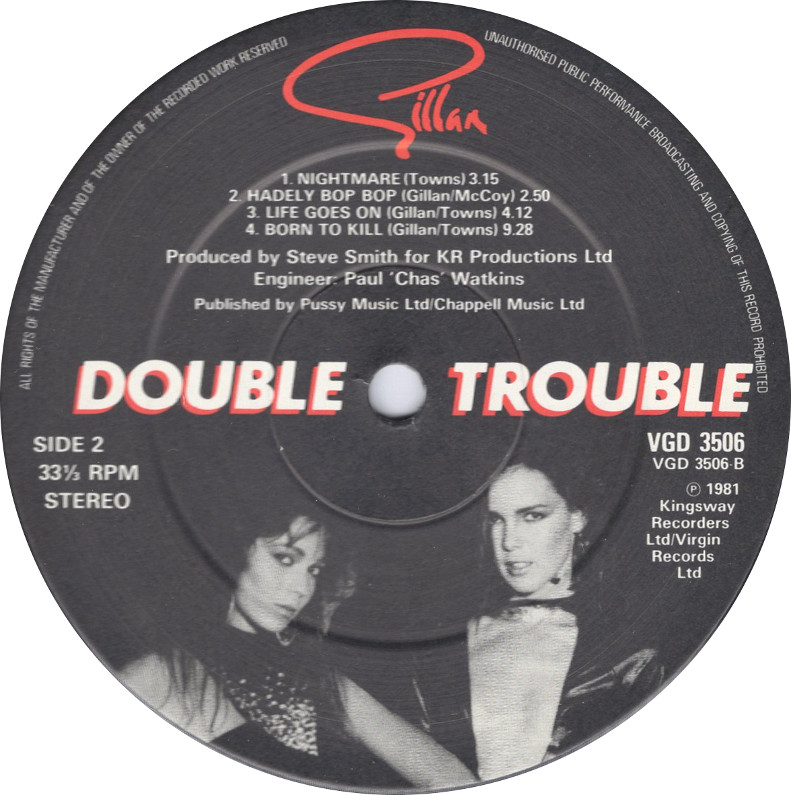 Side Two:

Nightmare (Towns)

Released as a single and made it to #36 on the charts

Hadely Bop Bop (Gillan, McCoy)
Life Goes On (Gillan, Towns)
Born to Kill (Gillan, Towns)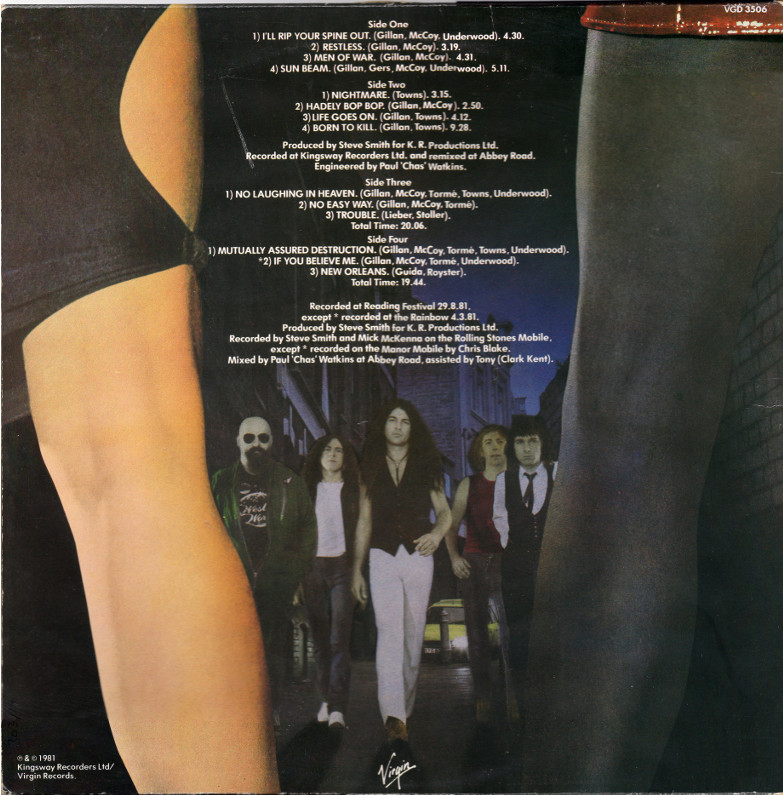 Thanks To Our Foundation Level Patrons:

The $3.33 Half Way to Evil Tier

Raff Kaff
Spike the Rock Cat
Spike's Mom

$3 "Nobody's Perfect" Tier

Peter Gardow
Ian Desrosiers
Mark Roback
Duncan Leask
Stuart McCord
Flight of the Rat Bat Blue Light
Øyvind Fjeldbu –
Runar Simonsen –
JJ Stannard
Ruinous Inadequacies

$1 Made Up Name Tier

The "Born to Spill" Leaky Mausoleum
Stephen Sommerville The Concerto 1999 Fanatic
Hank the Tank
Private Eyes
Ashen Lionel
Blackmore's Tights
John Miceli
Bustin' Out The Spreadsheet

Reception and Charts:

UK Chart Entry: 7 Nov 1981
Highest Position: 12
Total Weeks on Chart: 15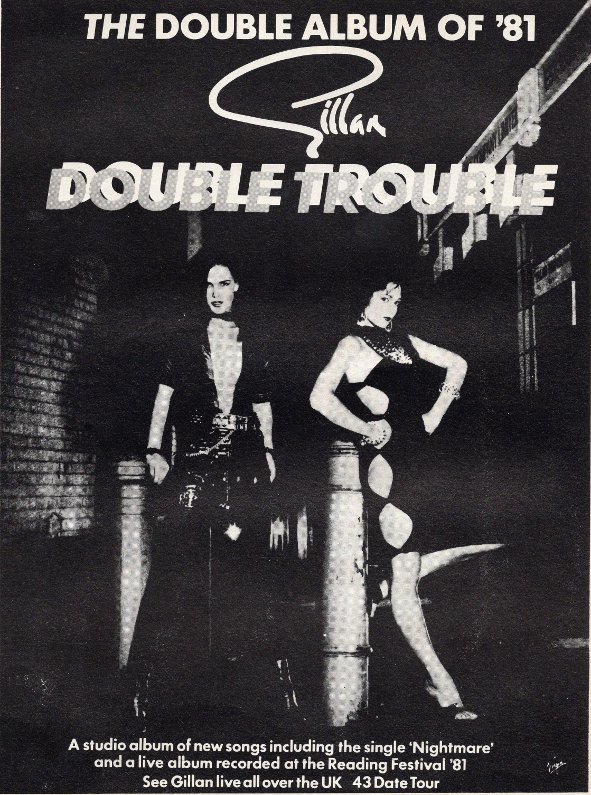 Reviews:
Darker Than Blue Issue 25 July 1982

GILLAN: Double Trouble. Virgin VGD 3506: UK: Oct 1981
Some of it has grown on me, and what seemed initially like a non-starter bar one track now rates somewhat higher. 'I'll Rip Your Spine Out' is one of my favourites, let down only by the rather predictable synth tone in the solo. It's 'Men Of War' which really slays me, and has done from the first play. The vocals soaring in and out, growling and screaming – magnificent. The guitar works well, but again I find the keyboards somewhat ordinary. The album ends with the only two Gillan/Towns compositions, of which I think I prefer 'Life Goes On'. A marked change in style instrumentally, and some good vocals. We even get some of the Mary Longs sneaking in near the end, with a nice dramatic close. Which is more than you can say for 'Born To Kill'. it fizzles out after such a good build up through all the different tempos etc. Certainly good stuff, Colin playing well, and I feel I'd go for it more had they not done it so well live. At times I do find myself missing the Gillan "thrash" of yore, and the mix isn't anything to shout about, but the album certainly has more going for it than the last poor effort. Gers slots in well, only two Blackmoresque solos throughout.
The bonus live LP is a real duffer, and a poor recording (mostly from the Reading festival 1981). The sleeve artwork is crummy. Enough, what about the singles?….

From Kerrang #22 Aug 12-25 1982 entitled "If I Were A Carpenter"

In a field somewhere between London and Reading lies a tape of "Double Trouble." A two-record set containing both live and studio material, it surpassed all previous Gillan albums in terms of overall sales. Yet a pre-release earful of the studio half (and only part of that) during a fifth-gear burn up on the M4 proved more than enough for Ian Gillan himself. The songs he liked, the mix, handled by US producer Steve Smith, he didn't.
"I wound down the window, ripped the tape out of the cassette player and threw it away. It was…*crap*!"
There are times, even for one of rock's most articulate spokesmen, when the simple, graphic expression carries most meaning. Clearly Ian gleans little pleasure from the memory of that album but, a pub near the Hounslow district of London being our chosen rendezvous, he can at least console himself with a pull on a pint.
"All the power was missing from it," he continues, setting down his glass, "I just hated it. The sound was more acceptable for American audiences, I suppose, but I don't really give a monkey's toss about American audiences or any audience when it comes to writing the songs. Which isn't to say I don't care about the fans, just that, ultimately, you have to make your own judgment on music, you've got to be proud of what you do because you're the one who has to live with it, be it a success or a failure.
"As far as I'm concerned the public can take me or leave me and what I do. No compromise at *any* stage at all. I'm not interested in it. I left Deep Purple for that reason, because suddenly we were beginning to do what the audience expected. Even if 'Double Trouble' had been multi-platinum…well, I haven't played it since."

In "Child in Time" Gillan writes:

About after he ditched the cassette out the car window
"A few weeks later I listened to it again and realized that I had completely missed it. How stupid I had been because it was a fine piece of progressive rock, and I don't think I had ever felt that since early Purple days. Songs like "Restless, "I'll Rip Your Spine Out," Hadlely Bop Bop" "No Easy Way" and the single "Nightmare" all jumped out at me.Who said you couldn't make a good album while on the road? Gillan were doing it with consistency while playing 200 shows a year.
For Further Information:
From Kerrang #22 Aug 12-25 1982 entitled "If I Were A Carpenter"
Stargazer No. 25, July 1982 (1)
https://www.loudersound.com/news/bernie-torme-s-debt-to-ian-gillan
Listener Mail/Comments

Comments about the show? Things you'd like us to cover? We'd love to hear from you. Send us an email at info@deeppurplepodcast.com or @ us on Twitter, Facebook, or Instagram.