Subscribe at Apple Podcasts, Stitcher, Google Podcasts, Overcast, Pocket Casts, Anchor.fm, Breaker, PodBean, RadioPublic, Amazon Music, or search in your favorite podcatcher!

How To Support Our Show:

Brendan Ashbrook – Logo Designer

Thanks to Our Executive Level Patrons:

The $25 "Uncommon Man" Tier
$20 "What's Goin' On Here" Tier
The £10 Tier
The Turn it up to $11 Tier

Clay Wombacher
Frank Theilgaard-Mortensen
Alan "Ain't Too Proud To" Begg
Mikkel Steen

$10 "Some One Came" Tier

Ryan M
Jeff Breis
Victor Campos
"Better Call" Saul Evans
Kev Roberts & his wonderful children: Matthew, Gareth, and Sarah
Postcards From The Edge . . . OF CONNECTICUT!
Here's a Lock System For Ya!
Deep Dive Podcast Network:

Core Band:

Technical:

Album Art & Booklet Review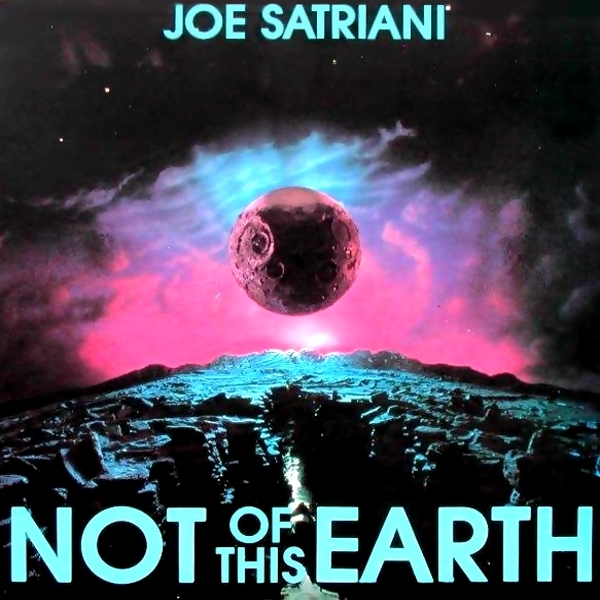 Original 1986 Release (Space Cover):

Design – Rubina Satriani
Illustration – Cosino Scianna*

Did illustrations for Rod Stewart a few other bands.

Photography By – Zack Wilson (2)
Graphics – Carol Satriani

Joe Satriani's sister and California-based landscape artist.

Graphics – Joan Satriani

Joe Satriani's sister and artist.
Designed Joe's famous Ibanez JS-4 guitar

Used on the original release but the artwork was subsequently lost.
Liner notes:

Joe's Words About The Album: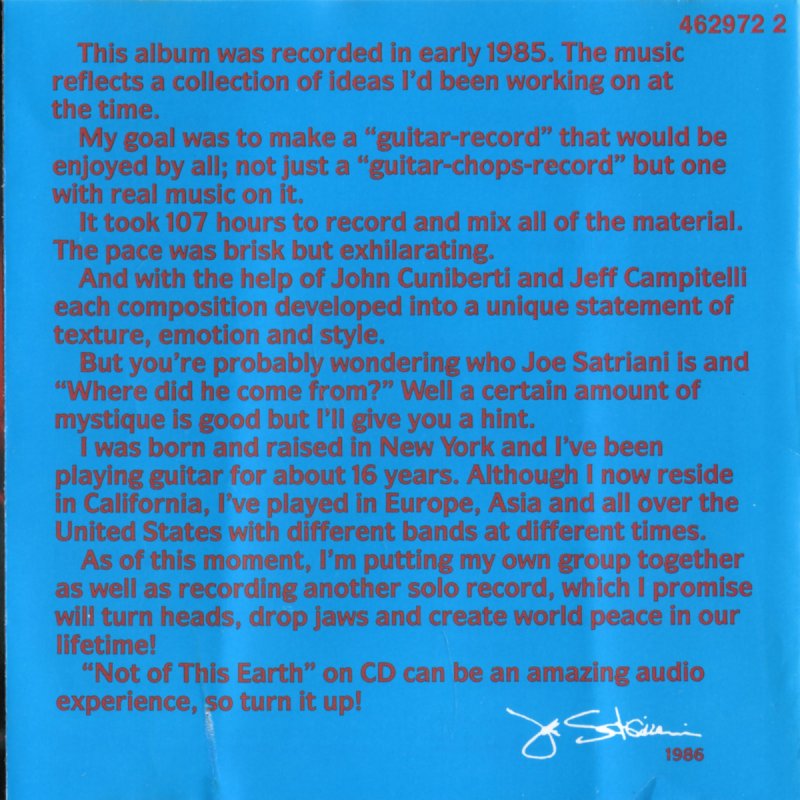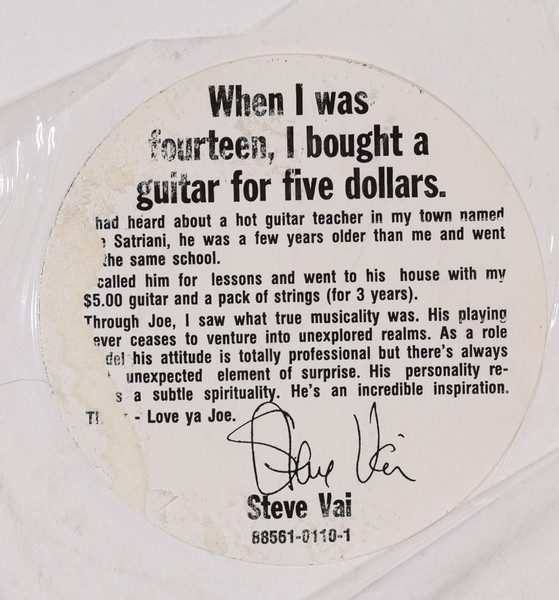 When I was fourteen, I bought a guitar for five dollars. I had heard about a hot guitar teacher in my town named Joe Satriani, he was a few years older than me and went to the same school. I called him for lesions and went to his house with my $5.00 guitar and a pack of strings (for 3 years). Through Joe, I saw what true musicality was. His playing never cease to venture into unexplored realms. As a role model his attitude is totally professional but there's always the unexpected element of surprise. His personality reflects a subtle spirituality. He's an incredible inspiration. Love ya Joe.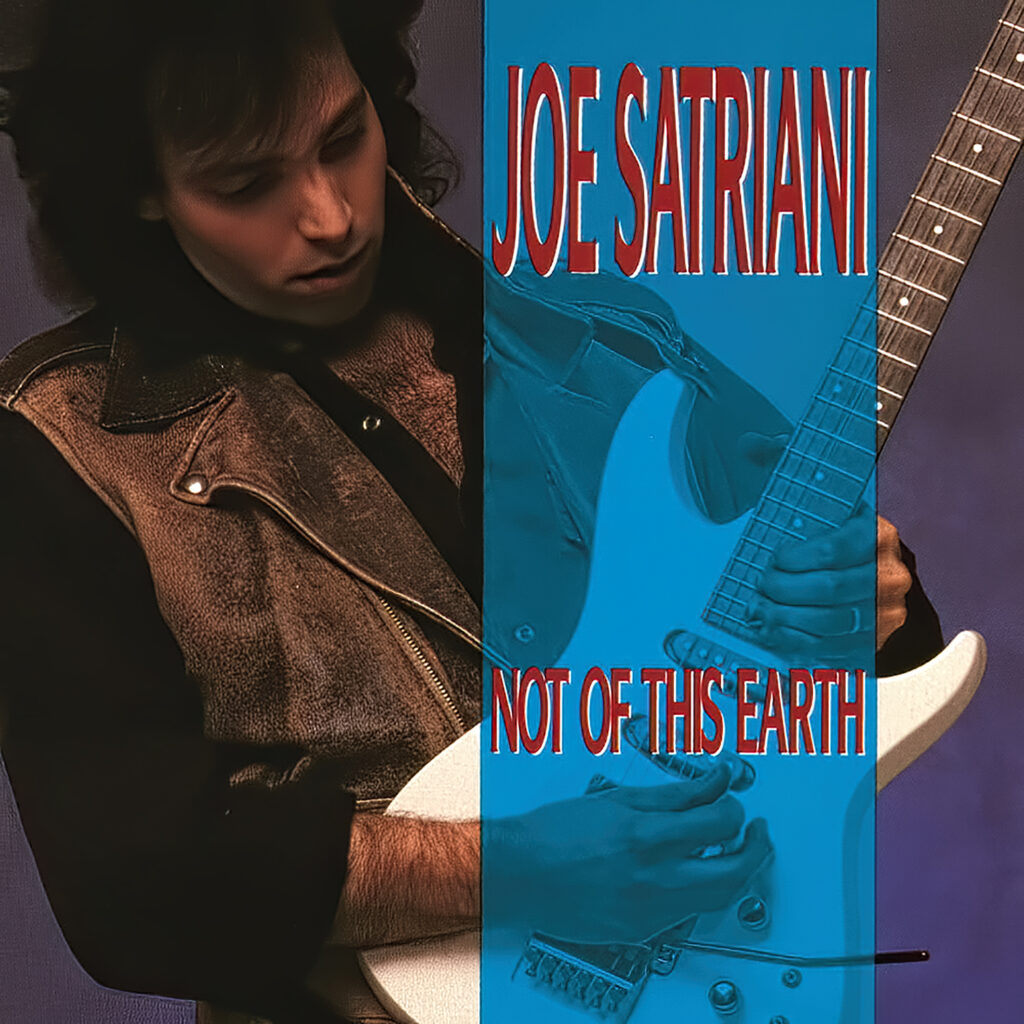 1988 Reissue (Blue Transparent Joe Satriani Cover):

Art Direction – David Bett
Photography By – Glen La Ferman
This is the artwork used on all releases prior to the original release from 1988 on.
The Ibanez 540S guitar used on the cover was just a prop for the shoot and Satriani says he never used it on the recording or otherwise.
Thanks to Our Core Level Patrons:

The $7.77 KeepItWarmRat Tier
The $6.99 "New Nice Price" Tier
The Episode $6.66 Tier

Steve Coldwell
Arthur Smith
Anton Glaving

The $6.65 "Almost Evil" Tier
$5.99 The "Nice Price" Tier

Robert Smith
Peter from Illinois
Michael Bagford
Karl Hellberg
$5 "Money Lender" Tier
John Convery
German Heindl
Adrian Hernandez
Jesper Almén
Oleksiy The Perfect Stranger Slyepukhov
James North
Mark Hodgetts
Will Porter
Zwopper The Electric Alchemist
Tim "Southern Cross" Johnson
Percival Frequency
Scott Zerns
Album Tracks:

All songs written and arranged by Joe Satriani.

Not Of This Earth

The title track utilizes a unique compositional technique described by Satriani as pitch axis theory, which consists of shifting modes underneath a pedal tone (in this case, E).
This song uses a technique which Satriani calls "Pitch Axis Theory."

The Snake
Rubina

 "Rubina" is one of two tracks named after his wife, the other being "Rubina's Blue Sky Happiness" on The Extremist (1992). 

Memories
Brother John
The Enigmatic

 "The Enigmatic" uses the enigmatic scale.
The enigmatic scale was invented by a professor of music at the Bologna Conservatory, Adolfo Crescentini.

Driving at Night
Hordes of Locusts
New Day
The Headless Horseman

"The Headless Horseman" is performed entirely using a two-handed tapping technique, and was revisited in the form of "Headless" on Flying in a Blue Dream (1989).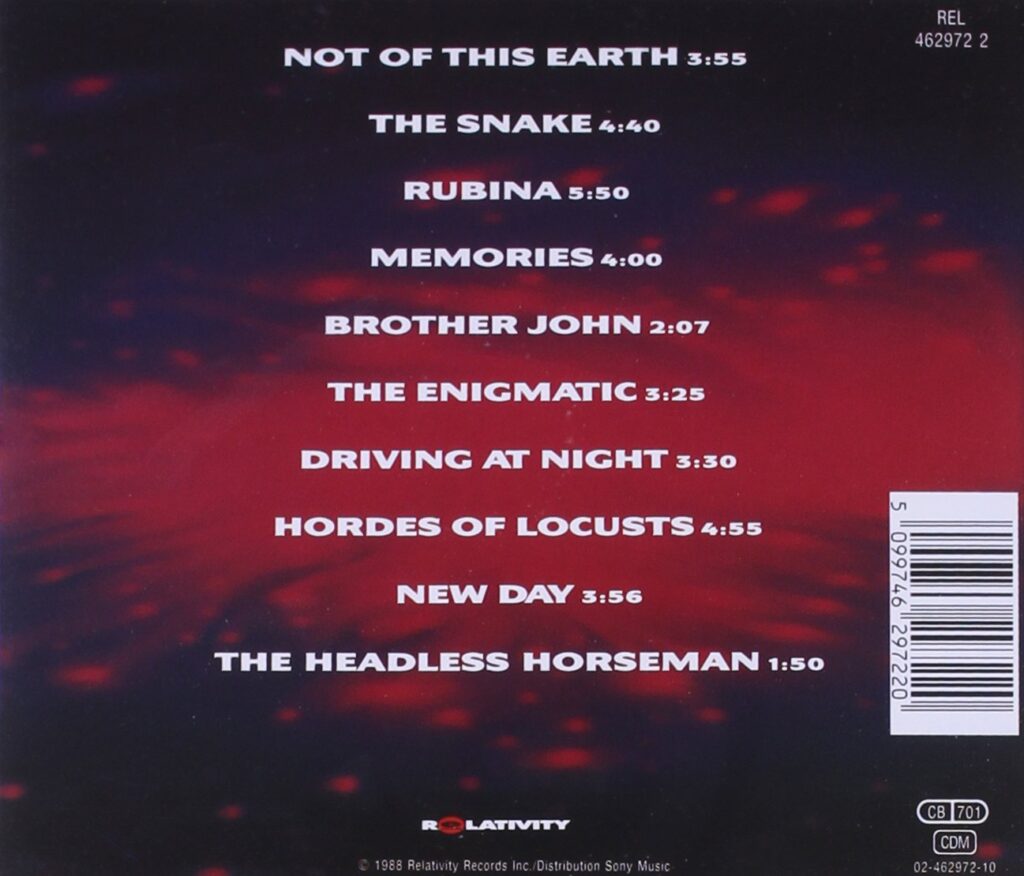 Thanks To Our Foundation Level Patrons:

The $3.33 Half Way to Evil Tier

Raff Kaff
Spike the Rock Cat
Spike's Mom

$3 "Nobody's Perfect" Tier

Peter Gardow
Ian Desrosiers
Mark Roback
Duncan Leask
Stuart McCord
Flight of the Rat Bat Blue Light
Øyvind Fjeldbu –
Runar Simonsen –
JJ Stannard

$1 Made Up Name Tier

The "Not of This Grave" Leaky Mausoleum
Stephen Sommerville The Concerto 1999 Fanatic
Hank the Tank
Private Eyes
Ashen Lionel
Blackmore's Tights
John Miceli
Bustin' Out The Spreadsheet

For Further Information:
Listener Mail/Comments

Comments about the show? Things you'd like us to cover? We'd love to hear from you. Send us an email at info@deeppurplepodcast.com or @ us on Twitter, Facebook, or Instagram.