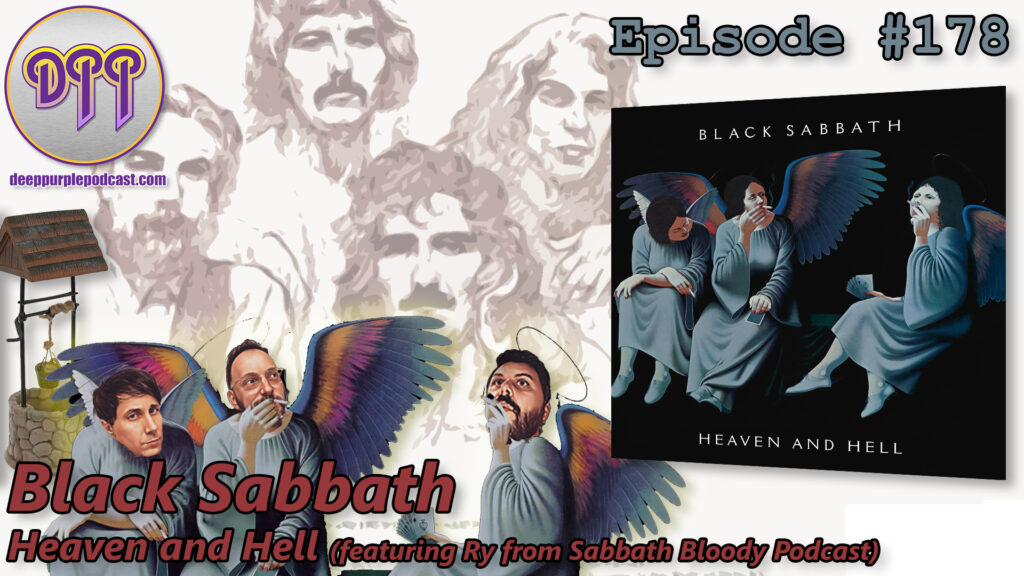 Subscribe at Apple Podcasts, Stitcher, Google Podcasts, Overcast, Pocket Casts, Anchor.fm, Breaker, PodBean, RadioPublic, Amazon Music, or search in your favorite podcatcher!

How To Support Our Show:

Brendan Ashbrook – Logo Designer
Thanks to Our Executive Level Patrons:

The $25 "Uncommon Man" Tier
$20 "What's Goin' On Here" Tier
The £10 Tier
The Turn it up to $11 Tier

Clay Wombacher
Frank Theilgaard-Mortensen
Alan "Ain't Too Proud To" Begg
Mikkel Steen

$10 "Some One Came" Tier

Ryan M
Jeff Breis
Victor Campos
"Better Call" Saul Evans
Kev Roberts & his wonderful children: Matthew, Gareth, and Sarah
Deep Dive Podcast Network:

Lead up to the Album:

Ozzy left the band after reportedly being frustrated with the experimental direction they were going with the last two albums.
Osbourne was involved with early writing for the album before he left.
Sharon Arden introduced Dio to Tony Iommi.
Initially Dio and Iommi immediately clicked and toyed with the idea of forming a new band.
They played briefly with Dio on bass/vocals as Geezer was going through a divorce.
Craig Gruber also played with them on bass for a brief time. Gruber has made many claims over the years including that he co-wrote most of the songs on the album and that they reached a financial settlement.
Iommi says in his biography that Gruber recorded all of the bass parts but they were re-recorded by Butler who hadn't heard them.
In 2009 Gruber admitted he only helped write "Die Young."
Bill Ward considered this to be the start of a new band rather than a turning point for Black Sabbath.
The album was recorded in Criteria Studios in Miami, Florida.
It was Dio who recommended they use Martin Birch who he's worked with in Rainbow.
It was the band's first outside producer since Rodger Bain who produced "Master of Reality" in 1971. Iommi had produced the band's albums since 1971.
Looking back at the addition of Dio, Butler says it wasn't really adding Dio to the band because the band as everyone knew it "Barely existed" as a band during this time.
It seems it could have gone either way with Tony doing a solo album with Dio or Dio joining sabbath.
Core Band:

Technical:

Album Art & Booklet Review

Art Direction – Richard Seireeni

American art designer.
Designed a number of album covers for bands including Diana Ross and Dominic Troiano who Tommy Bolin replaced in The James Gang
Also worked on albums for the band Wet Willie and Stillwater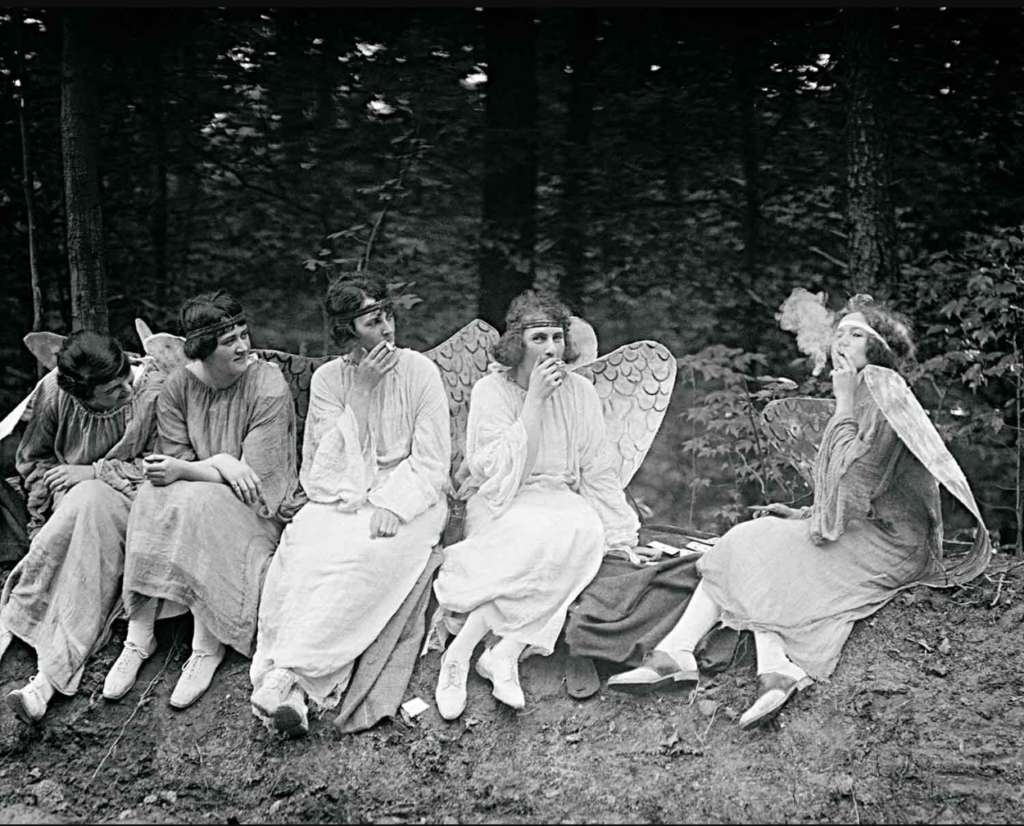 Illustration [Cover] – Lynn Curlee

From interview with Joe at Black-Sabbath.com
"MASQUE was a series of paintings with people in costumes. the SMOKING ANGELS was specifically inspired by a photo of some people backstage at a small town Christmas pageant. The painting was cropped a little on the right for the album cover. You can see the full painting in the ARCHIVE segment of www.curleeart.com."
From interview with RevolverMag.com
"They were in a jam," recalls Curlee. "Black Sabbath were releasing the new album Heaven and Hell. The original cover-art plan was not working out, I received a call to ask if I had anything they might be able to use, since the timing was getting short." Lynn Curlee sent them a photo of Smoking Angels; Warner Bros. sent a check!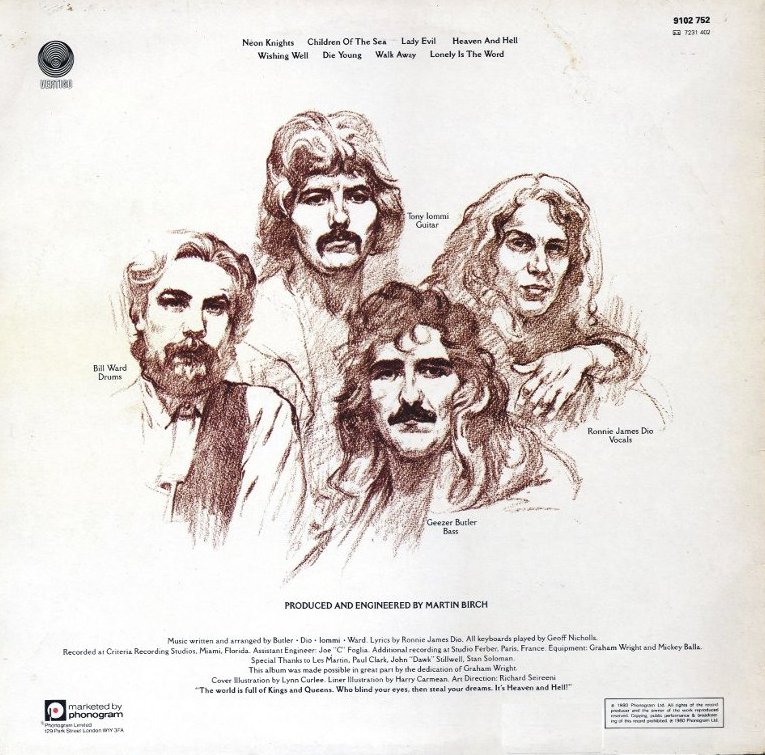 Illustration [Liner] – Harry Carmean

Only credit – he drew the back cover illustration.
Thanks to Our Core Level Patrons:

The $7.77 KeepItWarmRat Tier
The Episode $6.66 Tier

Steve Coldwell
Arthur Smith
Anton Glaving

The $6.65 "Almost Evil" Tier
$5.99 The "Nice Price" Tier

Fielding Fowler
Robert Smith
Peter from Illinois
Michael Bagford
Karl Hellberg

$5 "Money Lender" Tier

John Convery
German Heindl
Adrian Hernandez
Jesper Almén
Oleksiy The Perfect Stranger Slyepukhov
James North
Mark Hodgetts
Will Porter
Zwopper The Electric Alchemist
Tim "Southern Cross" Johnson
Percival Frequency
Album Tracks:

All songs written by Iommi, Butler, Ward with lyrics by Dio.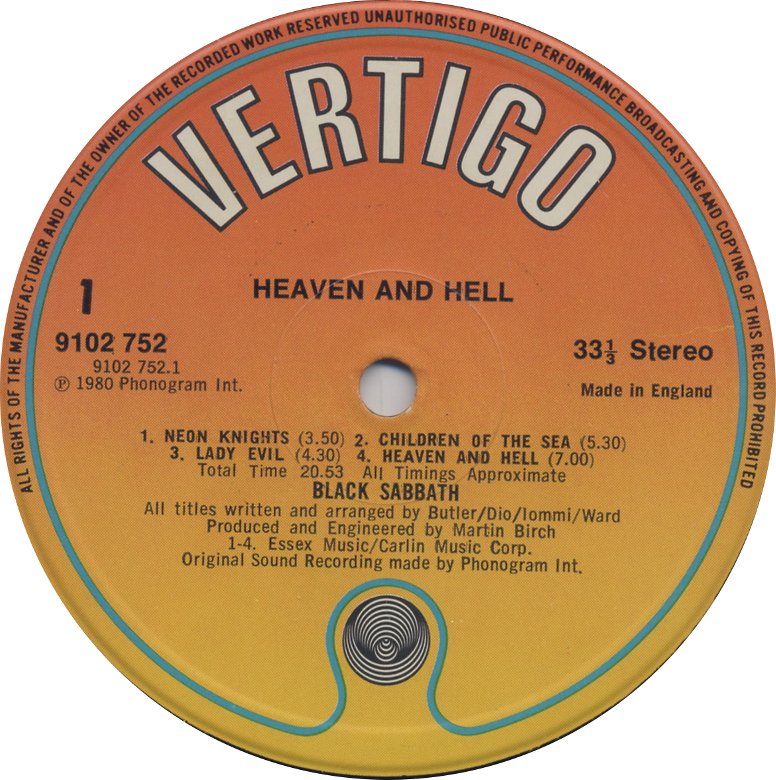 Side One:

Neon Knights
Children of the Sea

Iommi claims he has a demo version of this with Ozzy singing a completely different melody and set of lyrics.

Lady Evil
Heaven and Hell
Side Two:

Wishing Well
Die Young
Walk Away
Lonely Is the Word
Thanks To Our Foundation Level Patrons:

The $3.33 Half Way to Evil Tier
$3 "Nobody's Perfect" Tier

Peter Gardow
Ian Desrosiers
Mark Roback
Duncan Leask
Stuart McCord
Flight of the Rat Bat Blue Light
Øyvind Fjeldbu –
Runar Simonsen –
JJ Stannard

$1 Made Up Name Tier

The "Fluid Oozes On…" Leaky Mausoleum
Stephen Sommerville The Concerto 1999 Fanatic
Spike, The Rock Cat
Hank the Tank
Private Eyes
Ashen Lionel
Spike's Mom
Blackmore's Tights
John Miceli
Bustin' Out The Spreadsheet

Reception and Charts:

The album was the band's highest charting album since "Sabotage" reaching No. 9 in the UK and No. 28 in the US).
Dio on the differences between working with Iommi and Blackmore from a 1982 intervew: "The difference really is that Tony is an all-around player. Ritchie is a brilliant, brilliant player. And he always will be. He has very good musical ideas. But to my way of thinking, he is not a member of a band. I've always been a band-oriented musician. Tony is a team player. Tony caares about me, he cares about Vinny, he cares about Billy, and we all feel the same way. Ritchie really only cares about himself. I'm trying not to make this a derogatory statement. The man hasn't said any bad things about me and it's not in my constitution to use the press to say anything bad about Ritchie. I had a good relationship with him; he's a fine player and I wish him all the success in the world.
Ozzy referred to this lineup as "Black Rainbow."
For Further Information:
Listener Mail/Comments

Comments about the show? Things you'd like us to cover? We'd love to hear from you. Send us an email at info@deeppurplepodcast.com or @ us on Twitter, Facebook, or Instagram.