Subscribe at Apple Podcasts, Stitcher, Google Podcasts, Overcast, Pocket Casts, Anchor.fm, Breaker, PodBean, RadioPublic, Amazon Music, or search in your favorite podcatcher!

How To Support Our Show:

Thanks to Our Executive Level Patrons:

The $21.12 "Long Live Rock 'n' Roll" Tier
The £10 Tier
The Turn it up to $11 Tier

Clay Wombacher
Frank Theilgaard-Mortensen
Alan "Ain't Too Proud To" Begg
Mikkel Steen

$10 "Some One Came" Tier

Ryan M
Jeff Breis
Gerald Kelly – Paypal
Victor Campos
"Better Call" Saul Evans
Apple Podcasts Reviews:

CDMorissette – Canada – 5 Stars!
A must for all music fans!
Whether you are a lifelong fan of Deep Purple or not this podcast is a must listen for all rock music fans!
Deep Dive Podcast Network:

Lead up to the Album:

This album came on the heels of the double live album "Live . . . in the Heart of the City." That along with "Read an' Willing" had both done very well.
The follow up, "Come an' Get It" was recorded at Startling Studios, Tittenhurst Park.
Tittenhurst was a Georgian style country house on 72 acres of land in Berkshire.
Tittenhurst was owned by John Lennon before he sold it to Ringo Starr when he moved to the US permanently in 1973.
This is where Lennon recorded Imagine and where Marsden had just worked on a solo album.
Allegedly Lennon bought it for 145,000. He sold it to Ringo. The ex-president of the UAE bouthg it for 5 million. Sheikh Khalifa bin Zayed Al Nahyan of the UAE for $105 million
Murray says they used the studio there but it wasn't that big so they recorded the drums and keyboards.
Personnel:

Additional Personnel:
Coordinator – Magnet (9)

John Ward – used to work as a roadie for Led Zeppelin and Deep Purple before becoming Whitesnake's tour manager.
Technical: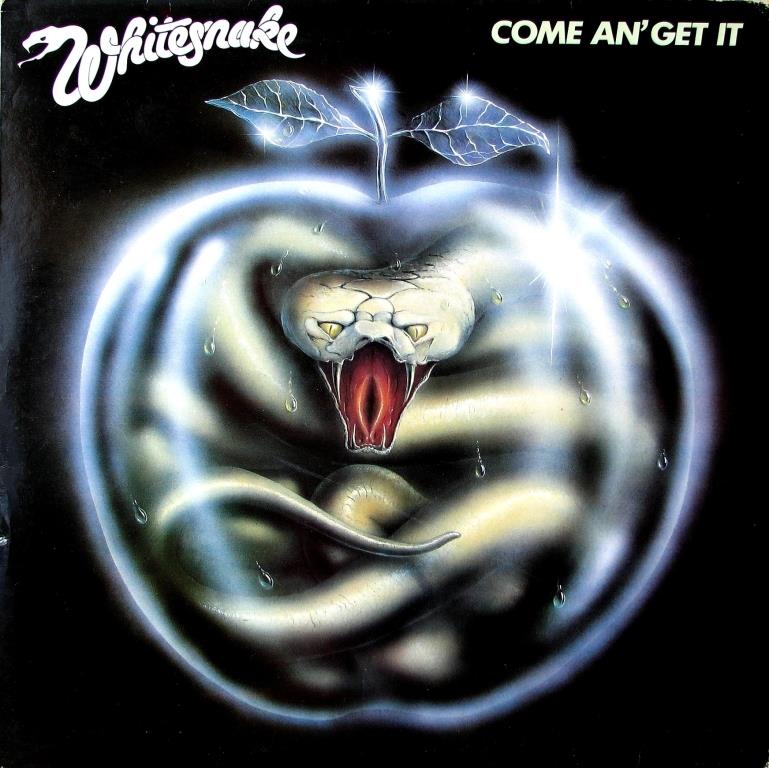 Album Art & Booklet Review

UK and US Album Cover Comparison:
UK Version

US Version
Album Tracks: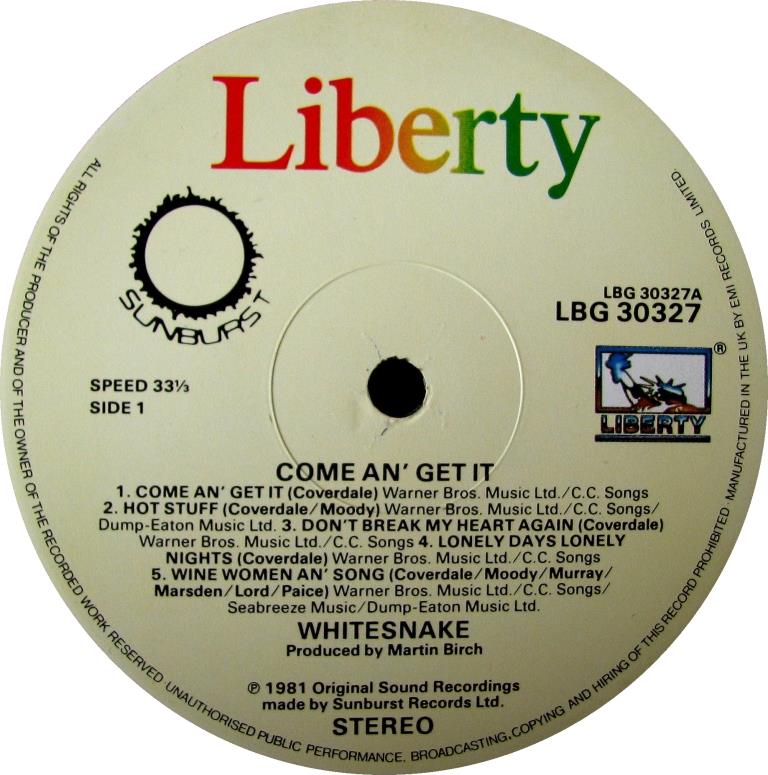 Side One:
Come an' Get It (Coverdale)

In Popoff's book Bernie Marsden talks about claims of a Foreigner influence on this song. He says that he liked "Feels Like The First Time" but doesn't think any of the other guys were even aware of the band at that point.

Hot Stuff (Coverdale, Moody)
Don't Break My Heart Again (Coverdale)

Marsden says he did one run through of the solo and that Birch said, "Okay, that'll do." He said he thought he was just doing a run through. He did it five or six more times but Birch insisted that they got it. Marsden said he was like an additional member of the band being able to make great production decisions like that.
This song was about Coverdale's daughter Jessica.

Lonely Days, Lonely Nights (Coverdale)
Wine, Women an' Song (Coverdale, Moody, Marsden, Murray, Lord, Paice)

David, Bernie, and Micky do backing vocals. Also known as "The Three Piece Suite."
Thanks to Our Core Level Patrons:

The $7.77 KeepItWarmRat Tier
The Episode $6.66 Tier

Steve Coldwell
Arthur Smith
Anton Glaving
Mike Kattan

The $6.65 "Almost Evil" Tier
$5.99 The "Nice Price" Tier

Fielding Fowler
Robert Smith
Peter from Illinois

$5 "Money Lender" Tier

John Convery
German Heindl
Adrian Hernandez
Jesper Almén
Oleksiy The Perfect Stranger Slyepukhov
James North
Mark Hodgetts
Kev Roberts – (courtesy of his wonderful children: Matthew, Gareth, and Sarah)
Will Porter
Zwopper The Electric Alchemist
Tim "Southern Cross" Johnson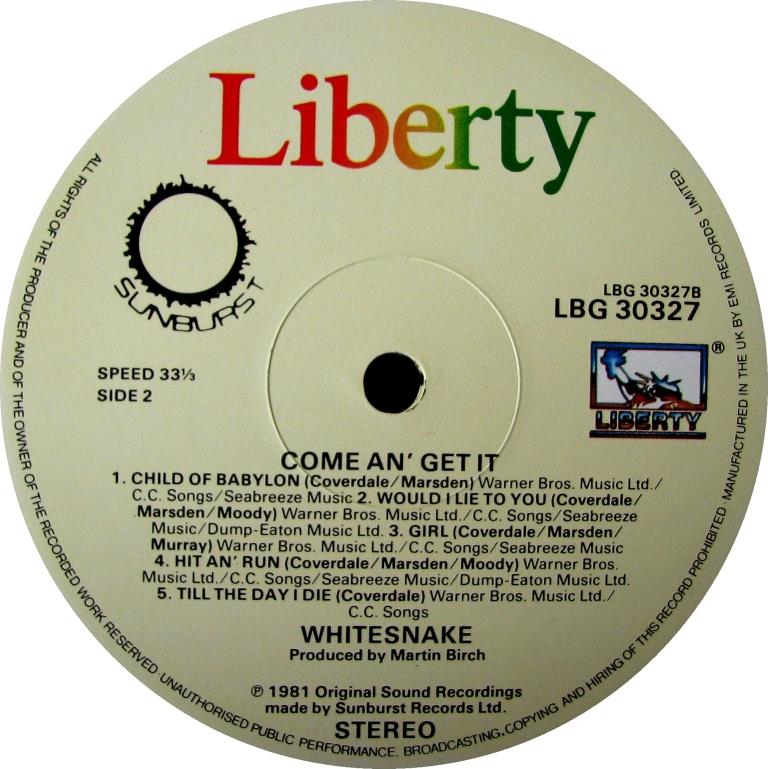 Side Two:

Child of Babylon (Coverdale, Marsden)

Marsden said he worked very closely with Lord on this one. He said he explain to Jon what he wanted it to sound like and Jon fleshed it out.
Marsden talks extremely positively about Jon Lord. He said he would always suggest alternative ideas that made songs better. He said that he was very gracious and he said Jon should have gotten writing credits on a lot more songs (including this one) but Jon would shrug it off and say he wouldn't have had those ideas if the ideas brought to him weren't so strong.

Would I Lie To You (Coverdale, Moody, Marsden)

Coverdale says this song title was from a pin a female fan of the band had given to him in Southampton.
Bernie says you'd think this was a love song but it was about their manager. I think he said it as a joke.
Popoff asked Murray if there was Coverdale's one-track-mind as far as writing ever got to the rest of them. Murray said, "Ues amd you now, here's tat stubborn mentality that if you criticize him for it he'll do it more.

Girl (Coverdale, Marsden, Murray)

Coverdale says Murray wrote this from more of a fusion perspective.
Marsden said it was about a girl they saw on the side of the road.
Coverdale says: "Most of the songs are about my old lady."
Coverdale also says that most of the songs he's been accused of being the most sexist in are about his daughter.

Hit an' Run (Coverdale, Moody, Marsden)
Till the Day I Die (Coverdale)

Marsden says this was the peak of David's writing.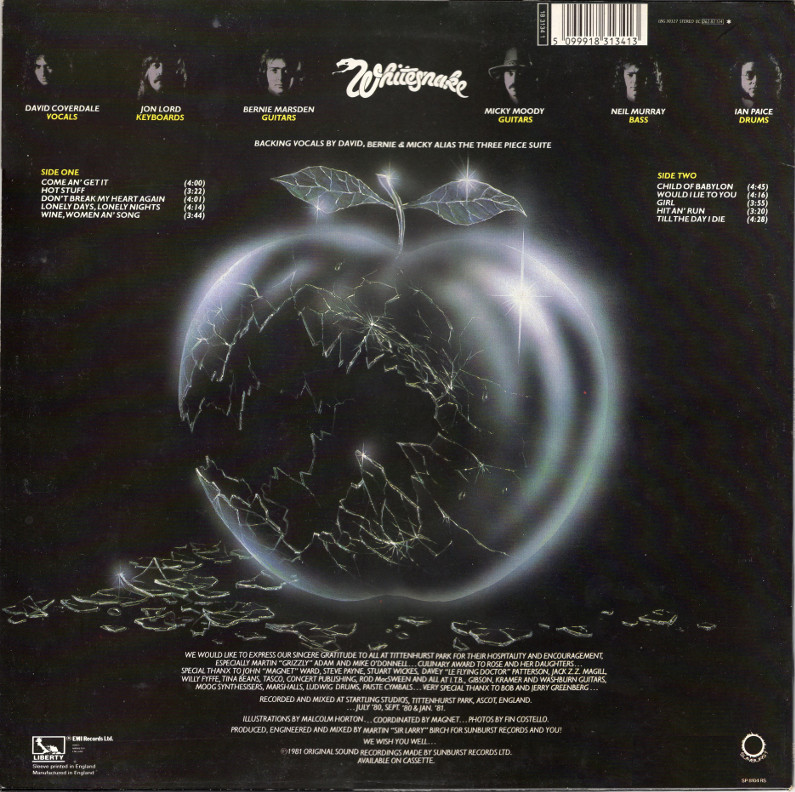 Reception and Charts:

Went straight to No. 2 in the UK when it was released.
Coverdale said in interviews that after five years the band was trying to enter a more American approach to the music in the early 80s.
Murray says it's between this album and "Ready an' Willing" that are his favorites in Whitesnake along with the 1987 but given the choice he's probably choose "Come an' Get It."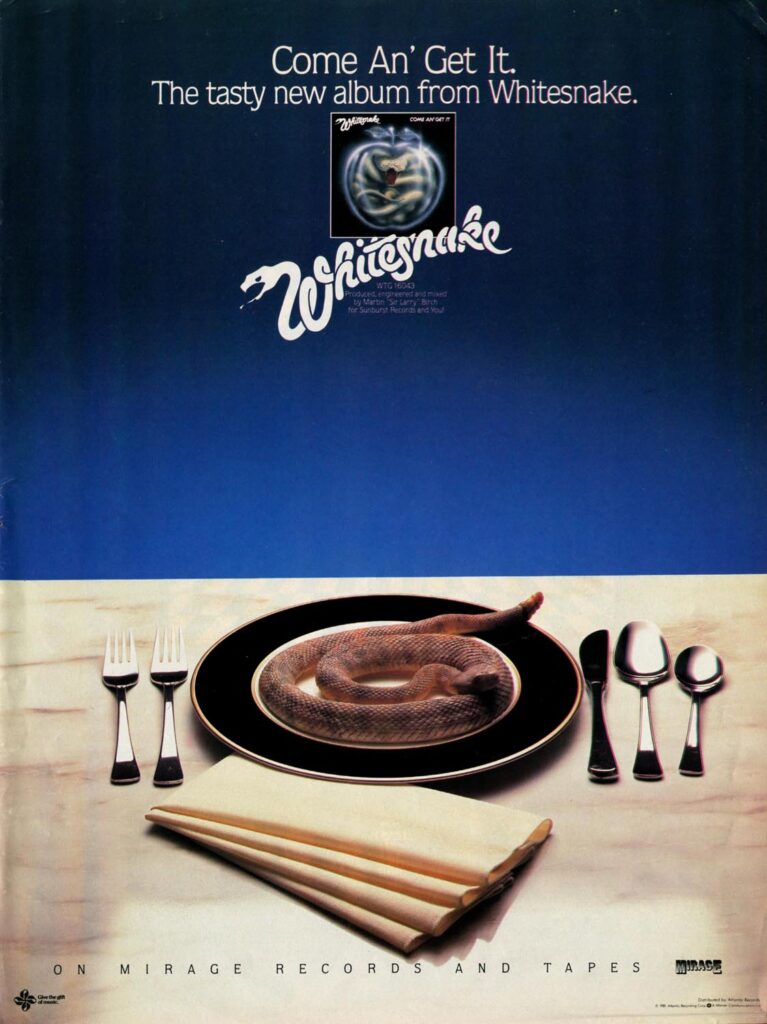 Reviews:
Martin Popoff says of this album: "Sacrilege perhaps in the utterance, but this one is utterly ruined by Martin Birch and Ian Paice, two nearly unassailable rock icons who should know better." He says this whole album seems stiff and classical in its approach.
A sampling of reviews courtesy of Jorg Planer.
Thanks To Our Foundation Level Patrons:

The $3.33 Half Way to Evil Tier
$3 "Nobody's Perfect" Tier

Peter Gardow
Ian Desrosiers
Mark Roback
Duncan Leask
Stuart McCord
Flight of the Rat Bat Blue Light
Øyvind Fjeldbu
Runar Simonsen

$1 Made Up Name Tier

The "Peaking at #1 in the Being Uncontained Charts" Leaky Mausoleum
Stephen Sommerville The Concerto 1999 Fanatic
Spike, The Rock Cat
JJ Stannard
Hank the Tank
Private Eyes
Ashen Lionel
For Further Information:
Listener Mail/Comments

Comments about the show? Things you'd like us to cover? We'd love to hear from you. Send us an email at info@deeppurplepodcast.com or @ us on Twitter, Facebook, or Instagram.