Subscribe at Apple Podcasts, Stitcher, Google Podcasts, Overcast, Pocket Casts, Anchor.fm, Breaker, PodBean, RadioPublic, Amazon Music, or search in your favorite podcatcher!

How To Support Our Show:

Welcoming Our Newest Patron(s):

At the $1 Silly Made Up Name Tier . . . Private Eyes!

Hi Nate & Jon!
Thank you so much for your podcast!! The vibe (and everything else about it) is so fun and enjoyable.
I found you on Spotify when looking for pods that discuss Tommy! He is one of my all time faves. 🎸
If you give me a shout out, please use this screen name I just made: Private Eyes! (In honor of Tommy, of course!!)
I have more to say, but will leave it for another time (long day, tired!).
Thanks again for your awesome show. ☂️
🤘🏼!
Thanks to Our Executive Level Patrons:

The £10 Tier
The Turn it up to $11 Tier

Clay Wombacher
Frank Theilgaard-Mortensen
Alan "Ain't Too Proud To" Begg
Mikkel Steen

$10 "Some One Came" Tier

Ryan M
Jeff Breis
Gerald Kelly – Paypal
Victor Campos
Patron Updates:

Peter Gardow takes a detour to check out a certain pizza establishment in Maine!
Social Media Update:

Apple Podcasts Reviews

Boudiccax – from the UK – 5 Stars!
Top
Top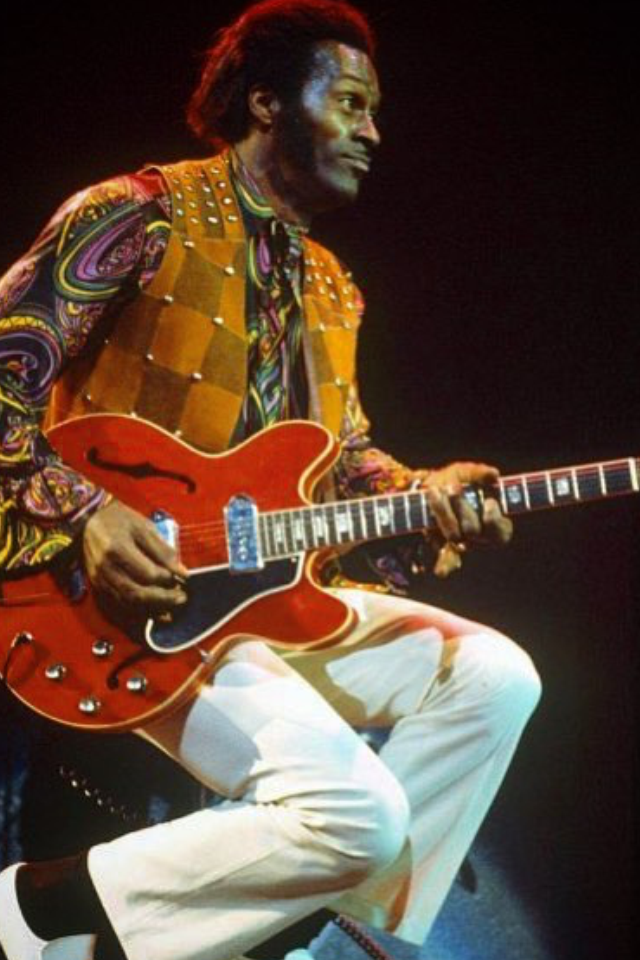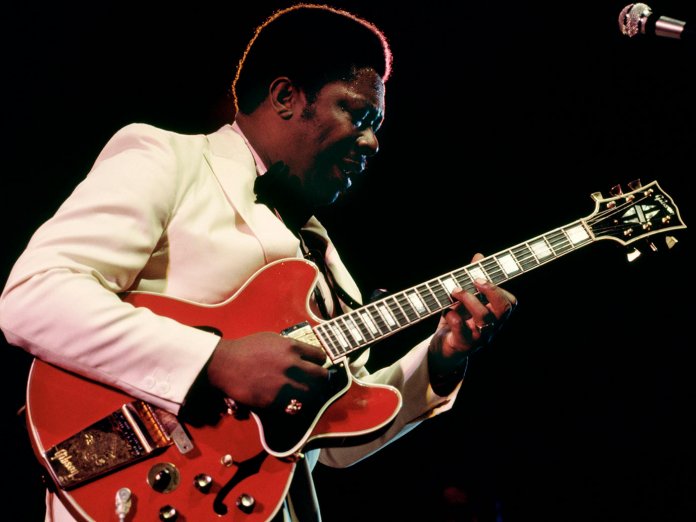 History of The Gibson ES-335:
The Gibson ES-335 was the world's first commercially available semi-hollowbody guitar.
Selmer London began distributing Gibson in the UK.  The list of prices for tohe Gibsons were listed in guineas.  Converted to pounds the ES-355's list price was £306.60 ($420.93).  That would convert £9.924.71 (or $) in today's money.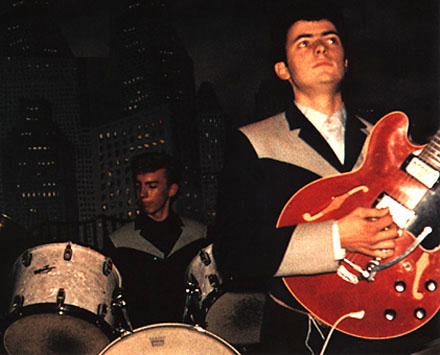 Background on Guitar:
Used to play because of Tony Harvey of Nero and the Gladiators ("My All Time Favorite Band"): interview here: Ritchie Blackmore interview ⚔️ Questions 113-119 Gibson ES-335 1997 USA Tour Beer 1996 Rainbow Fans

Ritchie talks about Gibson from 0:00 to 3:06
"Hall of the Mountain King" from 1:12 ro 3:00

From: (https://meandguitar.wordpress.com/2011/04/10/hush-money/): When Blackmore bought the guitar used in 1962 , its stock stop tailpiece had already been replaced by a Bigsby B5 tremolo, which is actually designed for solidbody guitars.  It also still had a short pickguard typical of early Sixties Dot neck ES-335 guitars, although Blackmore remove it a later date, as well as its original black metal-top control knobs, which were swapped for gold knobs sometime after he stopped playing the guitar.
Blackmore used this guitar to record everything from Screaming Lord Sutch's 1965 cover of "Train Kept A-Rollin" to "Child In Time.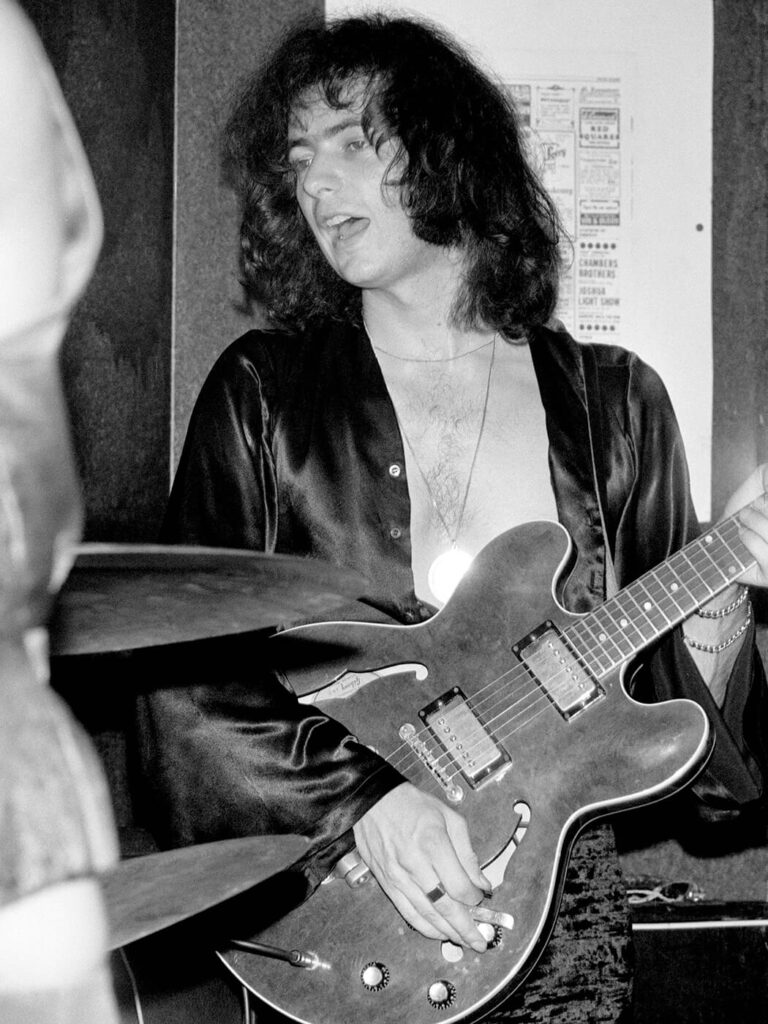 History of Ritchie's Gibson ES-335:

Ritchie bought the guitar used at Jim Marshal's music shop in London in 1962.  Gibsons had only become available in England in 1960 when they lifted a ban on importing American guitars.
From (https://www.treblebooster.net/bsm-tonezone/ritchie-blackmore):

Right from the start of the Deep Purple Mk1 era in 1968, Ritchie Blackmore used his trusty 1961 cherry red Gibson ES-335 TD as main guitar alongside his Vox AC30 and a Hornby Skewes germanium fitted treblebooster. Midway sixties Ritchie modified this guitar with a Bigsby-Vibrato. The Gibson guitar was usually fitted with 2 Gibson PAF Humbucker pickups. In one of the Humbucker's coils there are 6 adjustable screws installed, one can balance the volume of strings among each other via varying the height. Ritchie now turned the screws uncommonly high so as to get a more P90-like sound. The coil with the screws picks up more voltage than the other. Ritchie will use this guitar on stage until midway 1970. In the studio the guitar stayed with him even longer, at least until the December 1971 "TOTP" TV session.
At the end of 1968, Deep Purple Mk1 was the opening act on the "Cream" tour in the USA. At this time Deep Purple was well known in the USA, but not in their home country England. It was the last tour for "Cream", before the band felt apart. For Eric Clapton the situation was hard to handle, after Ritchie opened the concerts with his aggressive guitar show, the guitar orientated audience wanted to hear more Blackmore. So after only a few shows, Deep Purple were paid out to leave the tour. During these days, a retired Fender Stratocaster from Eric Clapton was given to Ritchie, and he soon fell in love with the sound. Especially the tremolo caught his eye, Compared to the Bigsby on his Gibson ES-335, this was a real enhancement. Not that Ritchie wasn't satisfied with his ES-335, even Dave Edmunds (Love Sculpture) the shooting star of the upcoming Hardrock scene played an ES-335 with a Vox AC30. Edmunds by the way left behind most English Hardrock-guitar players with his ultra fast and enormous fluidly played version of "Sabre dance" in 1968.
The combination of ES-335 and Vox AC30 was a "top act". But since Hendrix arrived on the scene, everyone knew what could be done with a vibrato-system. In spring 1969 Ritchie bought a stock 1968 black maple neck Stratocaster. The 68 Strats still had the two-piece old tremolo construction with the steel inertia bar and the stamped vintage steel saddles. For this tremolo, Ritchie used a special custom-made ¼" (6.3mm) heavy weighted steel arm, to attack the tremolo real hard. The value of the tonecap was stock 0.1uF.
With the entrance of new members Ian Gillan & Roger Glover (better known as the Mk2 formation) as replacements for Evans & Simper Deep Purple's rise to stardom began. Approximately for a year ES-335 and Strat were sharing equal rights. Typical live songs for the ES-335 were for instance the new "Child in Time" or the old "Wring that neck". Midway 1970 the ES-335 disappeared from stage. The legendary "Child in time" was recorded in the studio using the ES-335.
At the end of 1970, early 1971 the worn-out frets of his Strat were replaced with the higher Gibson jumbo frets. The maple fretboard was not lacquered afterwards, so it became noticeably darker with time.

The serial number of the guitar is: 26547.
Top Ritchie Gibson Moments:

Thanks to Our Core Level Patrons:

The $7.77 KeepItWarmRat Tier
The Episode $6.66 Tier

Steve Coldwell
Arthur Smith
Anton Glaving
Richard Fusey

The $6.65 "Almost Evil" Tier
$5.99 The "Nice Price" Tier
$5 "Money Lender" Tier

Greg Sealby
John Convery
German Heindl
Adrian Hernandez
Jesper Almén
Oleksiy The Perfect Stranger Slyepukhov
James North
Mark Hodgetts
Kev Roberts – Paypal
Will Porter
Zwopper The Electric Alchemist

Tim "Southern Cross" Johnson
Interview with Ilhan Akbil
More Top Ritchie Gibson Moments:

Thanks To Our Foundation Level Patrons:

$3 "Nobody's Perfect" Tier

Peter Gardow
Ian Desrosiers
Mark Roback
Duncan Leask
Stuart McCord
Flight of the Rat Bat Blue Light

$1 Made Up Name Tier

The "Secret of the Ooze" Leaky Mausoleum
Stephen Sommerville The Concerto 1999 Fanatic
Raphael Choury (Raff Kaff)
Spike, The Rock Cat
JJ Stannard
Hank the Tank
Private Eyes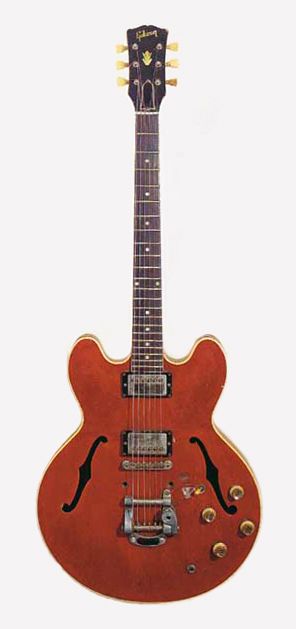 Where is the guitar now?
After attending a Hednrix concert in 1970 Ritchie made the decision to try using a Fender Stratocaster, purchasing one from a former roadie for Eric Clapton.
Live Ritchie continued to play the guitar live when they performed "Wring That Neck" until the summer of 1971 when that song was replaced in the set with "Lazy."
According to Jerry Bloom he did use it once last time to perform "Fireball" on Top of the Pops in December of 1971.
Ritchie claims that his ex-wife Babs stole the guitar from him.
Barbel sold it at an auction at Christie's in 2004 to a vintage guitar dealer named Laurence Wexer.
Ilhan Akbil purchased the guitar from FrettedAmericana (David Brass) in Calabassas, California. They may have purchased the guitar from Wexer at some point previously.
Huge appreciation to Ilhan for joining us on the show to tell his story of his passion for Deep Purple, Ritchie, and about the guitar.
Blackmore: "The 355 was a good guitar, but it didn't have the same sound: it was warmer, fuzzier. It would gloss up the notes a bit. With the Strat, if you played a wrong note, everybody heard it. Ultimately, it was a beast well worth taming."
For Further Information:
Listener Mail/Comments

Comments about the show? Things you'd like us to cover? We'd love to hear from you. Send us an email at info@deeppurplepodcast.com or @ us on Twitter, Facebook, or Instagram.