Subscribe at Apple Podcasts, Stitcher, Google Podcasts, Overcast, Pocket Casts, Anchor.fm, Breaker, PodBean, RadioPublic, Amazon Music, or search in your favorite podcatcher!

How To Support Our Show:

Thanks to Our Executive Level Patrons:

The £10 Tier
The Turn it up to $11 Tier

Clay Wombacher
Frank Theilgaard-Mortensen
Alan "Ain't Too Proud To" Begg
Mikkel Steen

$10 "Some One Came" Tier
Social Media Update:

Lead up to the Album:

All titles recorded at:-
Graz in Austria on the 4th April 1975
Saarbrucken in Germany on 5th April 1975
Paris in France on the 7th April 1975
April 7 was Ritchie's last show with the band until they reformed in 1984.
Ritchie's last show with Mark 3 was on
The Graz and Paris concerts have both been released in full since but the drum solo from the Graz concert is missing.
It's said that there was a lot of editing and overdubbing of crowd noise for this album. There's a noticeable tape loop of applause which you can notice based on the whistling of a fan.
The album was not released until after the band broke up in October of 1976.
Much like Made in Japan the shows were recorded to be able to be released post breakup so they'd have something to be able to sell afterward in case there were no more studio albums.
Personnel:

Technical: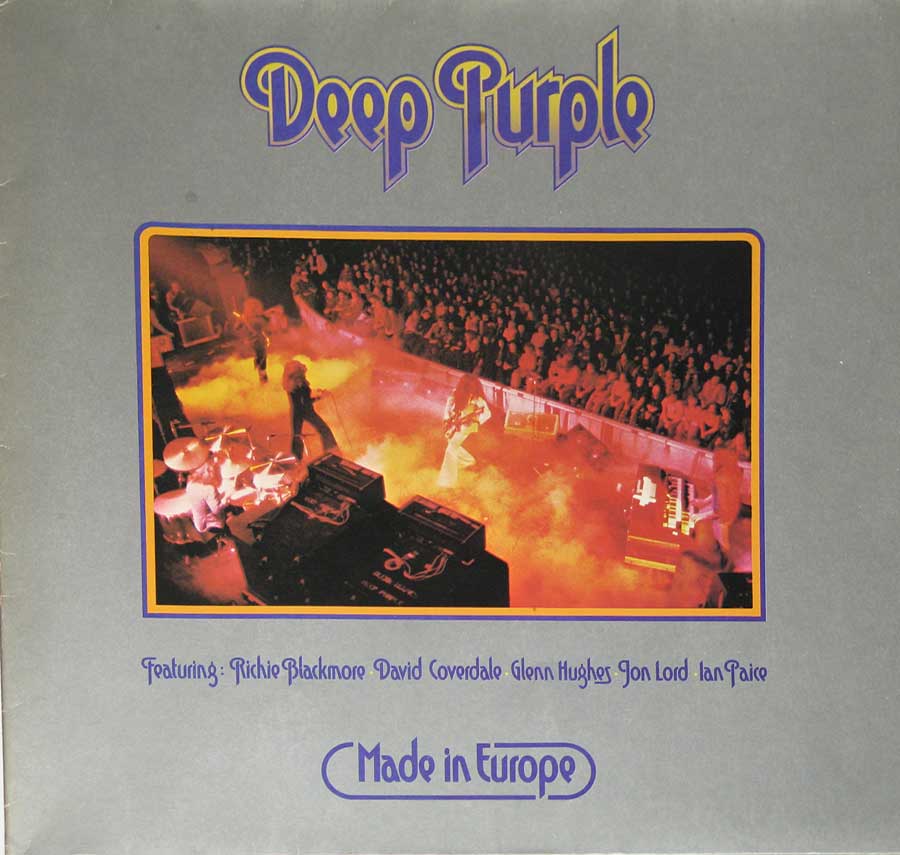 Album Art & Booklet Review

Design [Cover] – Cream (7)

Design company from Amsterdam known as The Cream Group
Worked with Snafu, Gentle Giant, Bay City Rollers, and we discussed them most recently working on Bobby Harrison's album Funkist
Aldo designed cover for Sabotage

Design [Cover] – Phil Duffy (2)

Worked mostly with classical albums

Photography By – Fin Costello
Sleeve Notes – Geoff Barton

Founder of Kerrang! Magazine and had previously been an editor at Sounds
Did notes for many Deep Purple, Whitesnake releases as well as Meatloaf and Hughes/Thrall
We have read many of his reviews on the show

Sleeve Notes – Pete Makowski

Worked for Kerrang (as Toots Daley) as well as many other publications
We have also read many of his reviews on the show

The picture on the labels incorrectly displays Tommy Bolin instead of Ritchie Blackmore, who plays on this LP.
Thanks to Our Core Level Patrons:
The $7.77 KeepItWarmRat Tier
The $7.00 "No One Named" Tier
The Episode $6.66 Tier

Steve Coldwell
Arthur Smith
Anton Glaving

The $6.65 "Almost Evil" Tier
$5.99 The "Nice Price" Tier
$5 "Money Lender" Tier

Greg Sealby
John Convery
German Heindl
Adrian Hernandez
Jesper Almén
Oleksiy The Perfect Stranger Slyepukhov
James North
Mark Hodgetts
Kev Roberts – Paypal
Will Porter
Zwopper The Electric Alchemist
Tim "Southern Cross" Johnson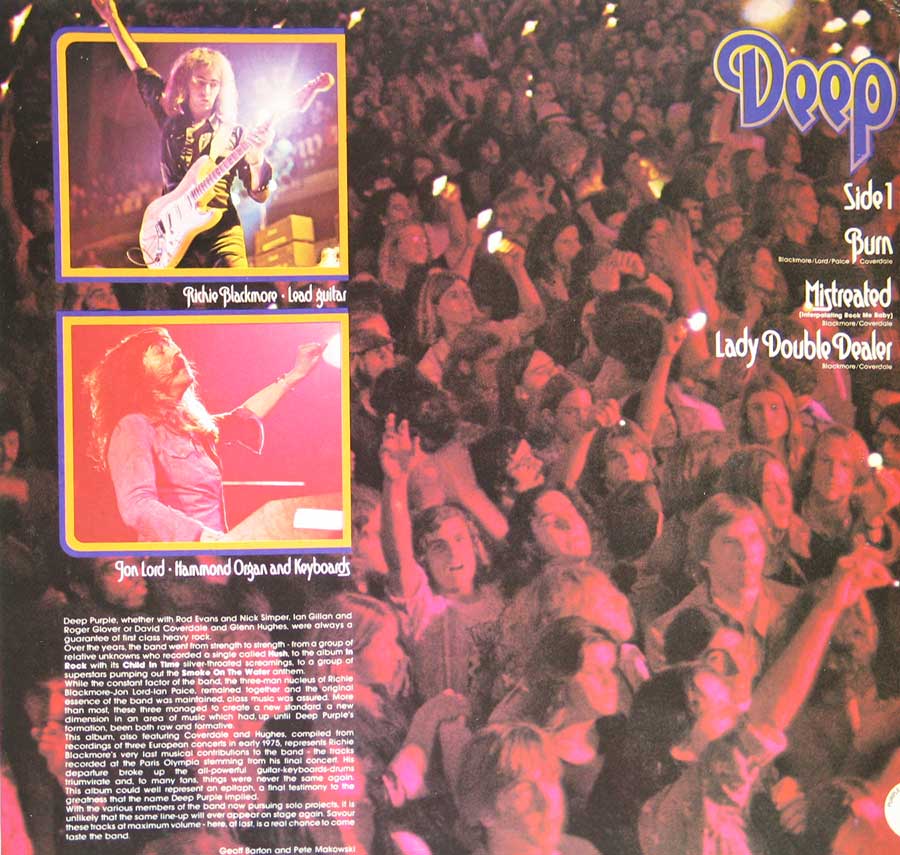 Album Tracks:

Side One
Burn
Mistreated
Lady Double Dealer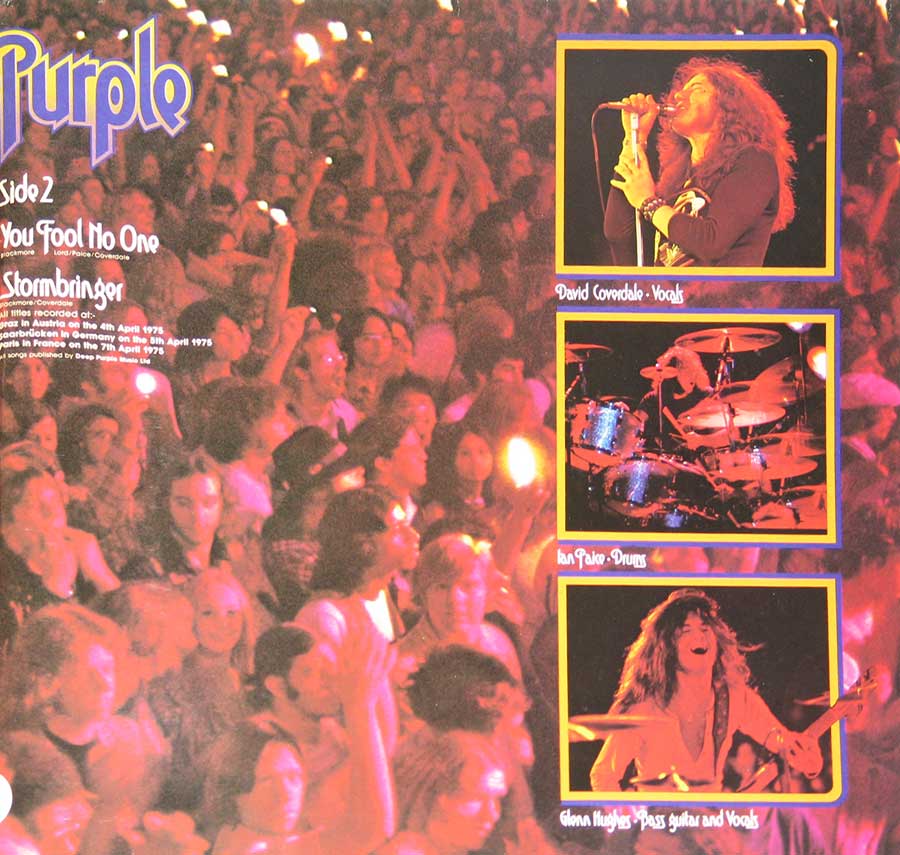 Side Two:

You Food No One
Stormbringer
Thanks To Our Foundation Level Patrons:

$3 "Nobody's Perfect" Tier

Peter Gardow
Ian Desrosiers
Mark Roback
Andrew Meyer
Duncan Leask
Stuart McCord

$1 Made Up Name Tier

Ells Murders
Spacey Noodles
The "Desperately In Need of Flex Tape" Leaky Mausoleum
Stephen Sommerville The Concerto 1999 Fanatic
Raphael Choury (Raff Kaff)
Spike, The Rock Cat
JJ Stannard
Hank the Tank
Flight of the Rat Bat Blue Light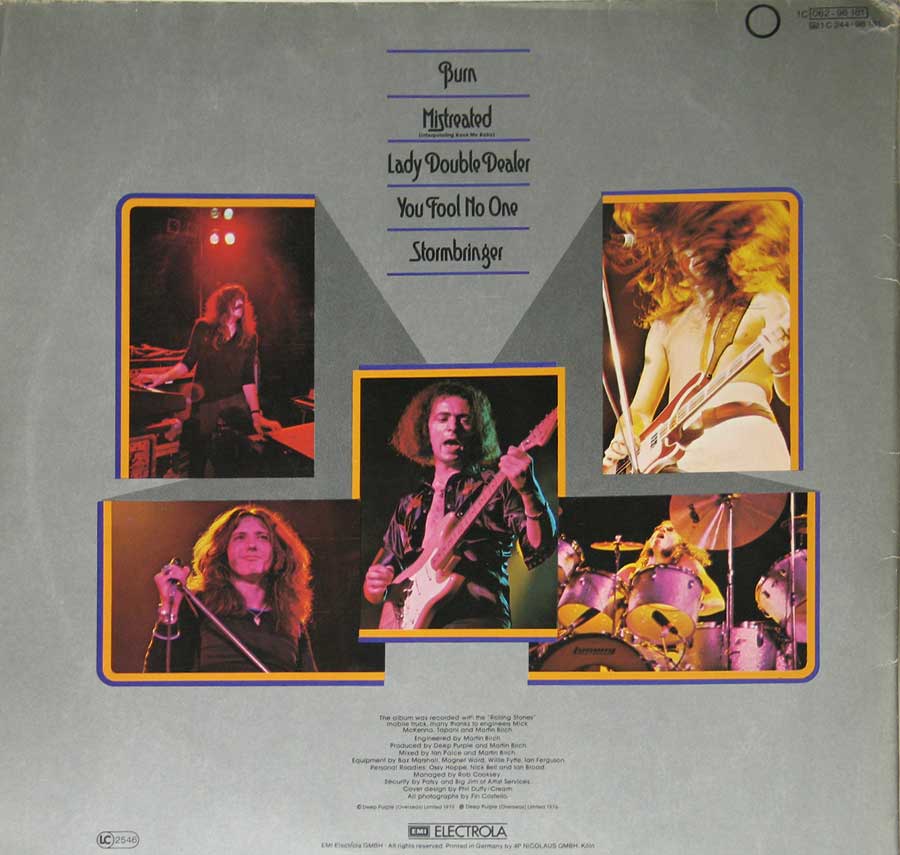 For Further Information:
Listener Mail/Comments

Comments about the show? Things you'd like us to cover? We'd love to hear from you. Send us an email at info@deeppurplepodcast.com or @ us on Twitter, Facebook, or Instagram.