Subscribe at Apple Podcasts, Stitcher, Google Podcasts, Overcast, Pocket Casts, Anchor.fm, Breaker, PodBean, RadioPublic, Amazon Music, or search in your favorite podcatcher!

How To Support Our Show:

Thanks to Our Executive Level Patrons:

The £10 Tier

Dr. Jill Breis — PATRON UPGRADE!

The Turn it up to $11 Tier

Clay Wombacher
Frank Theilgaard-Mortensen
Alan "Ain't Too Proud To" Begg
Mikkel Steen

$10 "Some One Came" Tier

Ryan M
Jeff Breis
Gerald Kelly – Paypal
Victor Campos
Social Media Update:

Apple Podcasts Reviews

I love mags – 5 Stars!
Great fun podcast on Deep Purple
I found out about this excellent podcast by accident and I absolutely love it. It's a great fun listen. I've only played a few episodes so have loads to catch up! The House of Blue Light review was interesting. I saw Purple on this tour at Wembley London UK. On that eve Blackmore refused to do an encore! So Lord and Glover played lead. It was definitely an interesting version of Smoke on the water! Having seen Gillan in mind blowing vocal form (the band) live in 81, it was noticeable Ian had sadly lost some of his range/power by 87/88. Overall he was still great. Keep up the great work, thank you!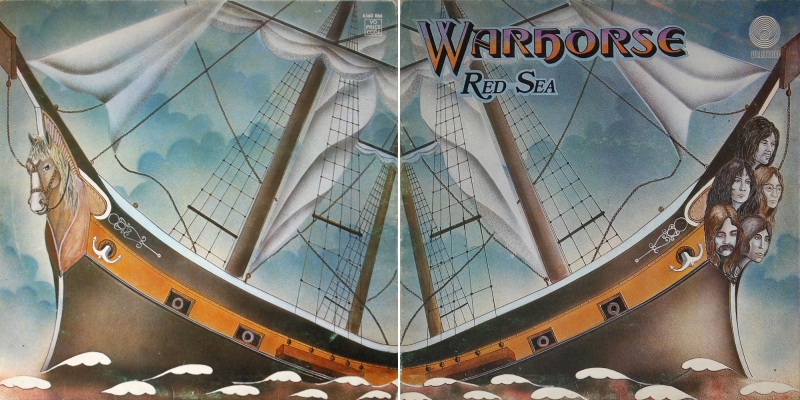 Lead up to the Album:

This album saw the departure of Ged Peck on guitar with Pete Parks joining the band. Peck left to pursue classical guitar playing.
We talked on our last Warhorse episode about how Rick Wakeman was very briefly in the band but did not make it to any of the recordings. Rick left in April of 1970 to join the Strawbs.
The Warhorse Story Volume 2 liner notes states that the album was released (or as Nick Simper puts it "escaped") in 1972. There were no singles from this album.
The head of A&R for Vertigo gave the band a 1,500 budget and said "Take your time, do what you want."
At the end of 1971 they headed to De Lane Lea to record the album.
Part way through the recording Robbie Beck came into the studio to tell them they only had 500 worth of time left. It turns out that the head of A&R had left and not told anybody the budget he'd promised the band.They were able to get a little more money to finish the recording.
The label wanted the album finished head of Christmas so they had to rush to get it done.
Nick apparently went into a tirade about the budgeting issue with some of the "big wigs" at Phonogram and were soon dropped after the album came out in June of 1972.
Personnel:

Technical:

Producer [Produced By] – Ian Kimmet, Warhorse (2)

Worked with Ann Margaret, Andy Vanwarmer, Danny Gatton, went on to work in management for R.E.M.

Engineer – Dave Stock

Worked on Jon Lord's "Gemini Suite" and Ashton, Gardner, and Dyke

Recorded at De Lane Lea Studios.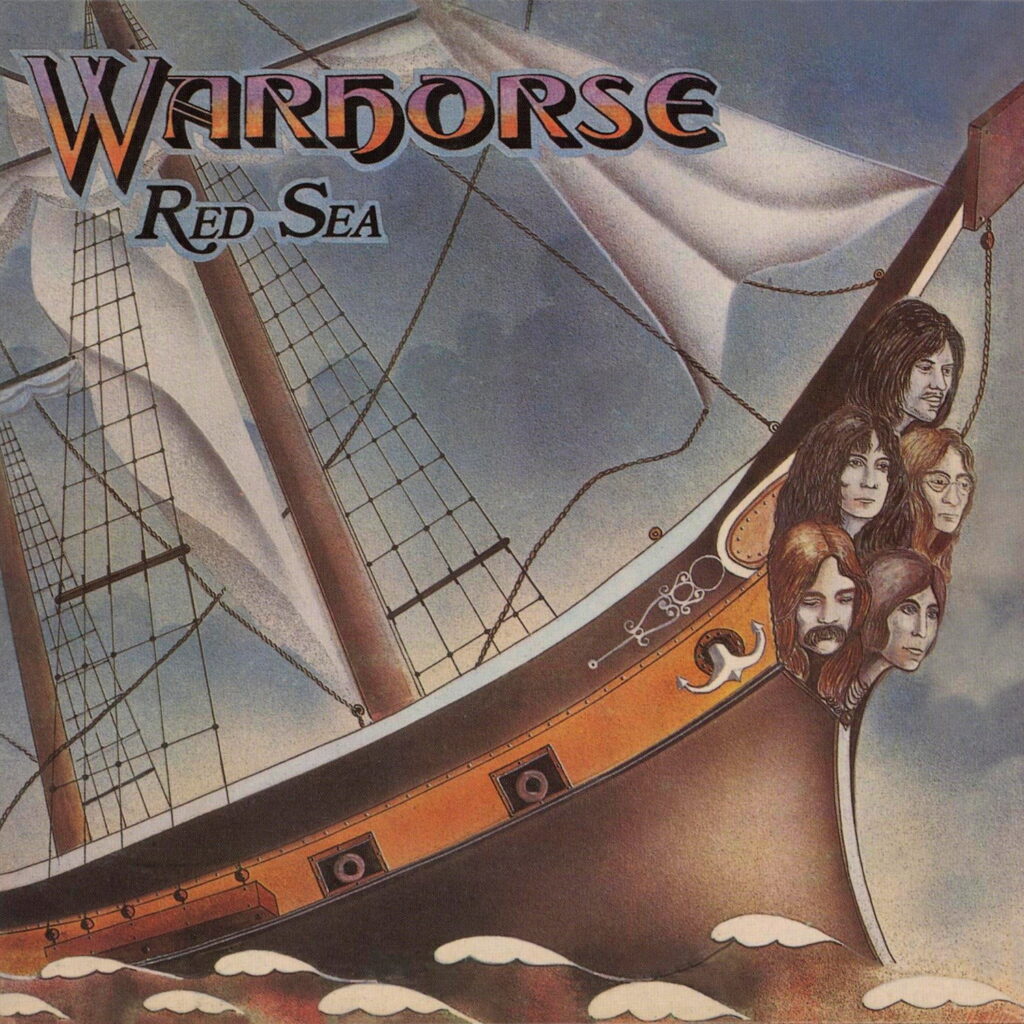 Album Art & Booklet Review

Design [Sleeve Design] – Rick Breach
Liner Notes – Ian Kimmel
From The Warhorse Story liner notes: "Red Sea, as the second album was titled, also sported a Vertigo sleeve that was as poorly executed as the first one had been brilliant. The original concept of an ironclad warship had sounded great but the less than professional results look amateurish today.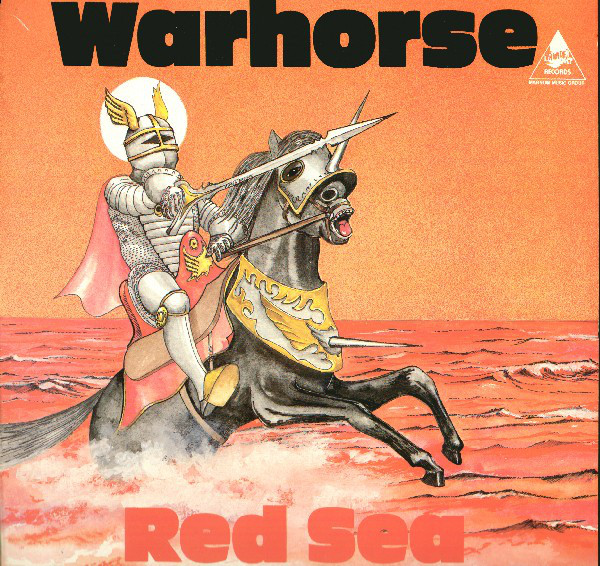 Alternate covers and titles:

1984 UK Vinyl Reissue 

https://www.discogs.com/release/1006145-Warhorse-Red-Sea
Thanks to Our Core Level Patrons:

The $7.77 KeepItWarmRat Tier
The Episode $6.66 Tier

Steve Coldwell
Arthur Smith
Anton Glaving
Richard Fusey

The $6.65 "Almost Evil" Tier
$5.99 The "Nice Price" Tier
$5 "Money Lender" Tier

Greg Sealby
John Convery
German Heindl
Adrian Hernandez
Jesper Almén
Oleksiy The Perfect Stranger Slyepukhov
James North
Mark Hodgetts
Kev Roberts – Paypal
Will Porter
Zwopper The Electric Alchemist

Tim "Southern Cross" Johnson
Album Tracks:

All songs composed by Warhorse except the final track.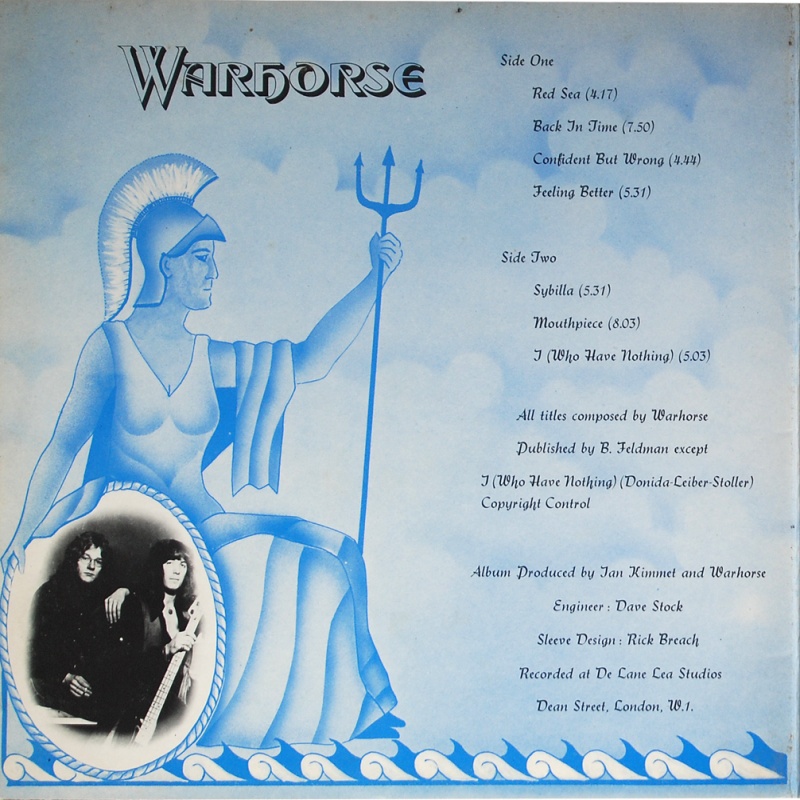 Side One:

Red Sea
Back In Time
Confident But Wrong
Feeling Better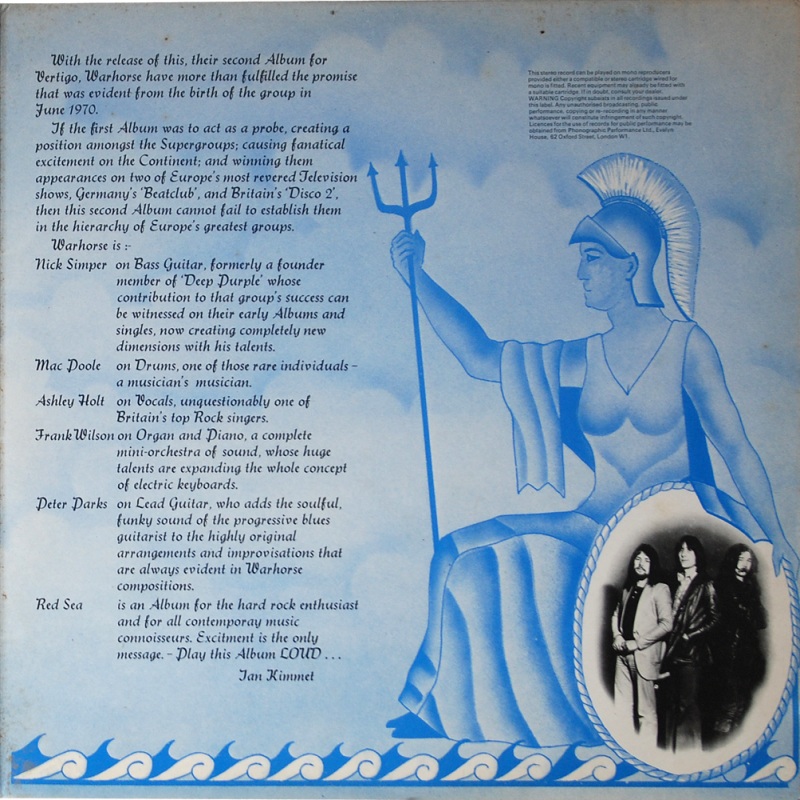 Side Two:

Sybilla
Mouthpiece
I (Who Have Nothing) (Donida, Leiber/Stoller)
Thanks To Our Foundation Level Patrons:

$3 "Nobody's Perfect" Tier

Peter Gardow
Ian Desrosiers
Mark Roback
Andrew Meyer
Duncan Leask
Stuart McCord

$1 Made Up Name Tier

Ells Murders
Spacey Noodles
The "Probably Toxic" Leaky Mausoleum
Stephen Sommerville The Concerto 1999 Fanatic
Raphael Choury (Raff Kaff)
Spike, The Rock Cat
JJ Stannard
Hank the Tank
Flight of the Rat Bat Blue Light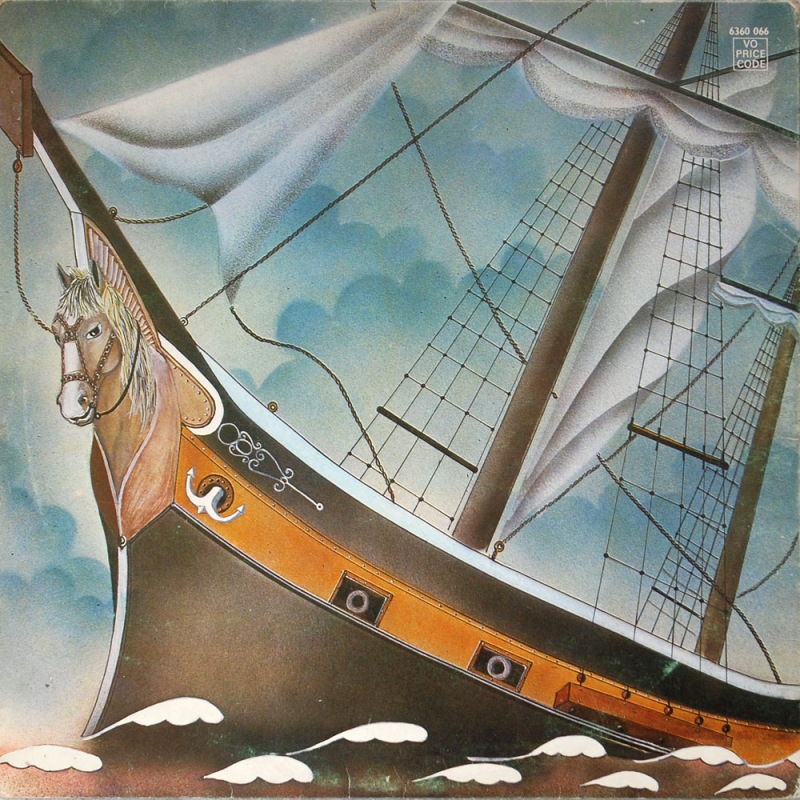 Reception and Review

Ashley Holt's performance on "Back in Time" was criticized as having been the "unconscious model for the kind of singing" that they parodied in Spinal Tap according to Richie Unterberger on AllMusic.
WARHORSE: "Red Sea" (Vertigo). ". . . this second album cannot fail to establish them in the hierarchy of Europe's greatest groups" pompously declare the liner notes. That's a very hard tag to live up to — and Warhorse don't quite make it, I'm afraid. "Red Sea" is like the curate's egg: good in parts. But when they're good, Warhorse are as good, if not better, than most of the bands working in the hard 'nd heavy rock field. Their greatest asset is lead guitarist Peter Parks who works hard all the time to lift the ordinariness. He's really missed on tracks like "Feeling Better" where he has to takes  backseat. But his long solo in "Back In Time" is a treat; inventive and exciting, sounding at times like Richie [sic] Blackmore's work on "wring That Neck" on Deep Purple's "Book Of The Taliesyn" [sic] album. In fact, "Red Sea" does bear comparison with early Purple albums; hardly surprising, as bassist Nick Simper was on of the founder members of that band. Both he and organist Frank Wilson are content to provide backings which gives the other members of the band something to work on. Vocalist Ashley Holt has a hard, gravelly voice which sometimes doesn't have sufficient punch to carry some numbers — like "Feeling Better" — on its own. Nevertheless, he can do it if he tries: just listen to "Confident But Wrong" and "Sybilla" — the stand out track, with everybody boogieing along like there was not tomorrow, Drummer Mac Poole provides a solid beat throughout, coming into his own on "Mouthpiece," an extended solo which is just a little too extended for my liking. But that's the only bit of self-indulgence on "Red Sea." — M.O.
Soon after this Mac Poole left Warhorse to join a band called Gong. They recruited drummer Barney James and began work on a third album that was never completed.  There are bonus tracks on "The Warhorse Story" that were destined for this third album.
This group played their last show in 1974 though original members would take the stage together a few more times over the years for one off reunion gigs.
Rick Wakeman would recruit Ashley Holt and Barney James for his solo albums "Journey to the Centre of the Earth" and "The Myths and Legends of King Arthur and the Knights of the Round Table."
Nick tried to get them to stay with Warhorse, telling them that Rick Wakeman's projects didn't last too long, they left.
Two months later Ashley called back about getting back together and he didn'ty have the energy to pick up where they left off.  Additionally it was the first time he'd been off the road since the age of 18.
Nick then (with Parks) started up Nick Simper's Dynamite.
Nick said it was a little galling to sit and watch bands like Iron Maiden, Judas Priest, UFO, and others who had all been opening for Warhorse go on to achieve success as the New Wave of British Heavy Metal really took off.
Simper: "I used to say tot he guys if we sick together long enough, we've got a stage act that wipes them out. We had some great times, which is why the band survived for four years, but there were always [problems with managers, publishers. Lots of support bands borrowed from us, both musically and some of our stage act. Judas Priest, all that leather studded arm band stuff, he took that straight of Ashley Holt. He borrowed the bull whip prop too which is fair enough, we nicked if off Dave Dee, they used one for Legend of Xanadu! That guy from Queen, Brian May, he saw us at the Marquee, was a great fan. He borrowed Pete's solo from the track Back in Time for one of their albums."
Simon Robinson writes: "Indeed dedicated Queen fans who have heard the Warhorse track agree that the solo on Queen's Brighton Rock is uncannily similar!"
Robinson concludes: "It's perhaps all too easy to day to forget just how important the live circuit was back int the '70s, both for the bands who played it and the audiences who came to watch and in some cases be influenced by what they saw. Warhorse can be proud of their part in it all.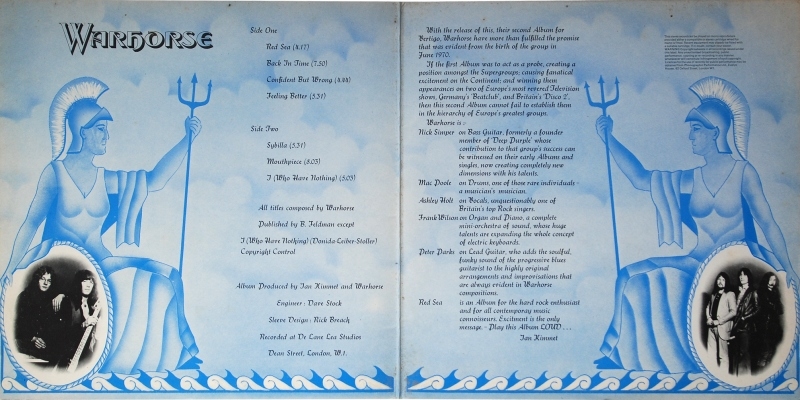 For Further Information:
The Warhorse Story Part 2 Liner Notes by Simon Robinson
Listener Mail/Comments

Comments about the show? Things you'd like us to cover? We'd love to hear from you. Send us an email at info@deeppurplepodcast.com or @ us on Twitter, Facebook, or Instagram.