Subscribe at Apple Podcasts, Stitcher, Google Podcasts, Overcast, Pocket Casts, Anchor.fm, Breaker, PodBean, RadioPublic, Amazon Music, or search in your favorite podcatcher!

How To Support Our Show:

Thanks to Our Executive Level Patrons:

The £10 Tier
The Turn it up to $11 Tier

Clay Wombacher
Frank Theilgaard-Mortensen
Alan "Ain't Too Proud To" Begg
Mikkel Steen

$10 "Some One Came" Tier
Social Media Update:

Apple Podcasts Reviews

Nate the weatherman – USA – 5 stars!
Amazing podcast
"Came across this podcast months ago and never got a chance to listen to the podcast until the summer and anyone interested interested in music history, or if you came across it by accident… you've come to the right place! Love listening to the podcasts from Moorhead, MN."

Another package from Peter Gardow!
John's Drizzly gift arrives!
Lead up to the Album:

Lineup change: Bernie Torme comes in to replace Steve Byrd who returned to session work.
Phil Banfield comes onto the scene to work as Ian's manager.
Ian and Phil went to the south coast to get the picture for the front of the UK album.
Gillan says: "He wanted a picture of me with only water behind, and, t o achieve the effect, he said I had to jump. So there I was, with my manager shoultin, 'Jump,' and I'd jump. Again and again. From that moment we agreed that when Phil says jump, I jump!"
In 1979 Phil got the band in front of audiences, booking the National Jazz Blues and Rock Festival which became known as the Reading Rock Festival. Gillan were on the same bill as Steve Hcket, Think Lizzy, and Rory Gallagher.
ON September 20, 1979 the original version of this album was released in Japan by Toshiba-EMI. This album was billed as Ian Gillan. Australia and New Zealand got it later in the year.
That version of the album had a different track list.
Japanese version: https://www.discogs.com/Gillan-Mr-Universe/release/9594353 including tracks not on the UK release:
Side
UK Release
Japanese Release
1
Second Sight*
Vengeance
1
Secret of The Dance*
Mr. Universe
1
She Tears Me Down
She Tears Me Down
1
Roller
Your Sister's On My List***
1
Mr. Universe
2
Vengeance
Street Theatre**
2
Puget Sound
Roller
2
Dead of Night*
Puget Sound
2
Message in a Bottle*
Move With The Times**
2
Fighting Man*
Sleeping On The Job**
*Tracks that does not appear on the Japanese version.
**Track that does not appear on the UK version but does appear on the 1993 "Gillan – The Japanese Album" compilation.
***Track unique to the Japanese version.
In 1993 RPM released a compilation called "Gillan – The Japanese Album" which combined the tracks from the Japanese "Mr. Universe" (except "Your Sister's On My List") album with the original Gillan "Japanese" album. 14 tracks in total.
Since we've already covered 4 of the tracks on the UK version we will focus on the Japanese release of Mr. Universe.
When you look at it the UK version is really more of a sort of compilation featuring 4 tracks previously released, one with a different lineup. The Japanese version, however, is a brand new album.
Stargazer – Issue #20 from December of 1979 also breaks down the differences between the versions.
Simon Robinson states that he doesn't detect any real difference between the duplicated tracks.
Personnel:

Technical: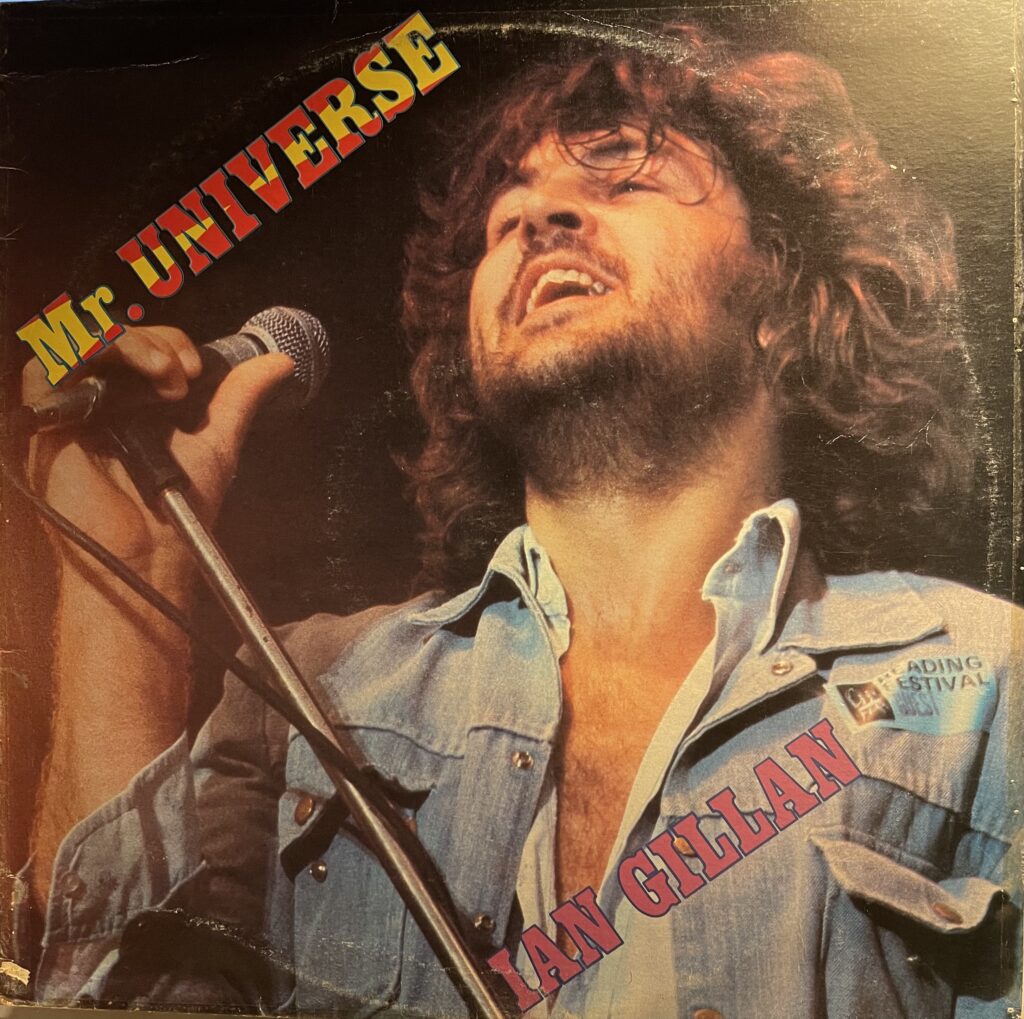 Album Art & Booklet Review

Photography By – Mick Gregory

Photography for Deep Purple, Bernie Torme solo, Genesis

Photography By – Yuka Fujii

Visual for Bernie Torme, Iron Maiden (debut album),  

Photography By [UK Front Cover] – Victor Watts
Artwork [UK Sleeve Design] – Jubilee Graphics

Worked with Elton John, ELO, 

No Japanese credit for the cover design.

Cover is a pic from Ian Gillan at the Reading Festival in 1978 playing with the brand new Gillan
Thanks to Our Core Level Patrons:
The $9.69 "9 + Coverdale" Tier
The $7.77 KeepItWarmRat Tier
The $7.00 "No One Named" Tier
The Episode $6.66 Tier

Steve Coldwell
Arthur Smith
Anton Glaving

The $6.65 "Almost Evil" Tier
$5.99 The "Nice Price" Tier
$5 "Money Lender" Tier

Greg Sealby
John Convery
German Heindl
Adrian Hernandez
Jesper Almén
Oleksiy The Perfect Stranger Slyepukhov
James North
Mark Hodgetts
Kev Roberts – Paypal
Will Porter
Zwopper The Electric Alchemist
Tim "Southern Cross" Johnson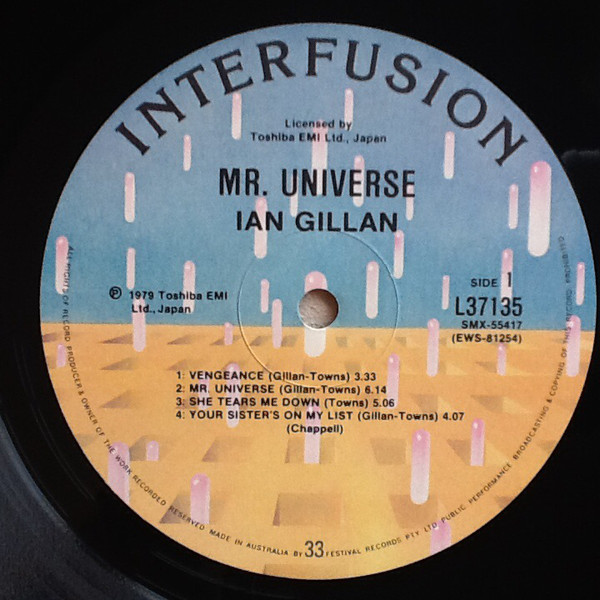 Album Tracks:

Side One:

Vengeance (Gillan, Towns)
Mr. Universe (Gillan, Towns)
She Tears Me Down (Towns)
Your Sister's On My List (Gillan, Towns)

Robinson: "… has lyrics which you would expect from a title like that! Musically it starts off sounding a little Zeppelin like (early stuff), just the way the riff is constructed and churned out."
Robinson compares the ending of the track to an imitation of "Hard Lovin' Man."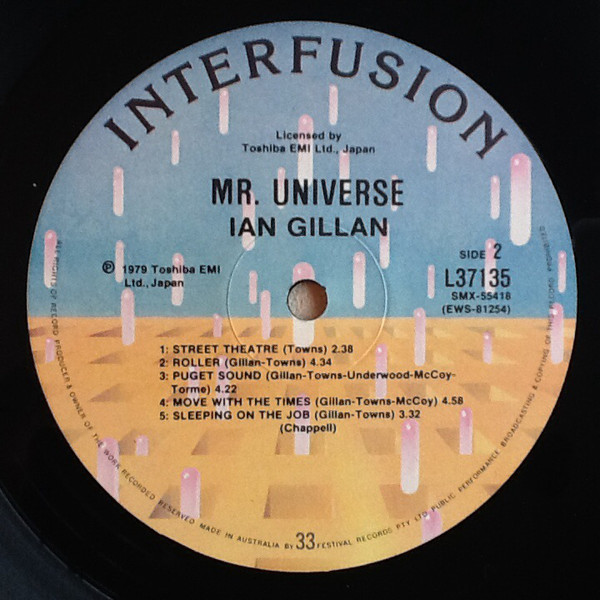 Side Two:
Street Theatre (Towns)
Roller (Gillan, Towns)
Puget Sound (Gillan, Towns, McCoy, Torme, Underwood)
Moving With The Times (Gillan, Towns, McCoy)
Sleeping on the Job (Gillan, Towns)

Released as the next UK single per Stargazer Issue #20 per Ian.
Song is about Leyland night workers

Found this article: https://www.aronline.co.uk/archive/sleeping-on-the-job-essay/
"The story first hit the headlines on 12 November 1979 when it was revealed that 14 night shift workers had been caught sleeping at a British Leyland plant. The men were found tucked up in sleeping bags when management swooped on the priming shop at the Range Rover plant in Solihull, near Birmingham.
"After two days of disciplinary hearings and appeals, BL dismissed 13 Land Rover car workers, who had been caught sleeping on the night shift. A Supervisor who was sleeping was also dismissed, along with a Foreman. The company refused to comment while a hearing was still continuing into charges against a Superintendent."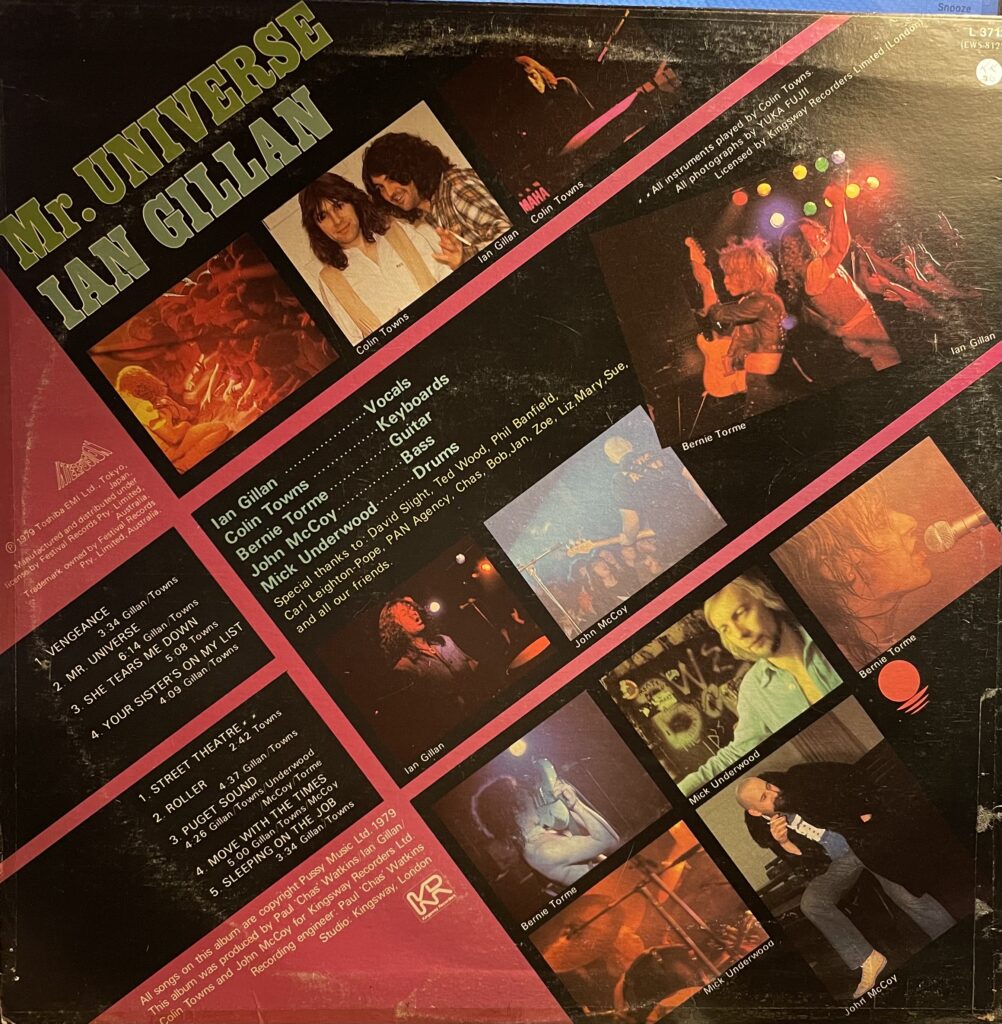 Thanks To Our Foundation Level Patrons:

$3 "Nobody's Perfect" Tier

Peter Gardow
Ian Desrosiers
Mark Roback
Andrew Meyer
Duncan Leask
Stuart McCord

$1 Made Up Name Tier

Ells Murders
Spacey Noodles
The "Keeper of the Red Liquid" Leaky Mausoleum
Stephen Sommerville The Concerto 1999 Fanatic
Raphael Choury (Raff Kaff)
Spike, The Rock Cat
JJ Stannard
Hank the Tank
Flight of the Rat Bat Blue Light
Reception and Review

The album reached No. 11 in the UK, selling over 2 million copies worldwide.
With all the craziness surrounding the track listing and versions of this album there is also another song from the Mr. Universe sessions that is considered lost.  The song is called "Parliament Square."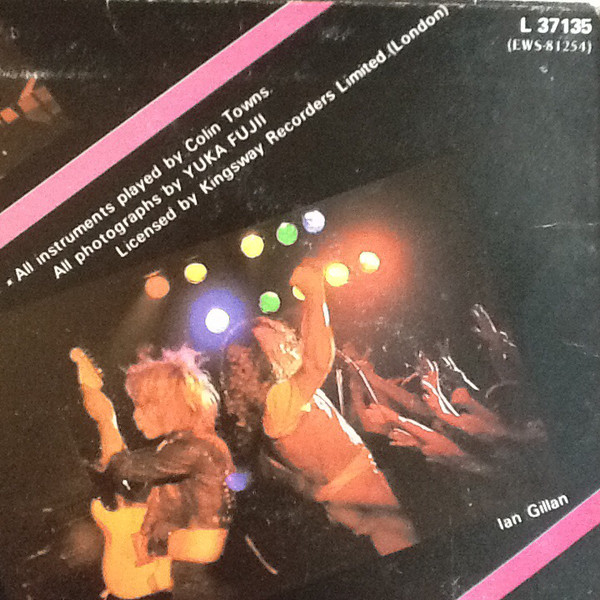 Reviews from Simon Robinson in Stargazer Issue #20, December of 1979:
Mr.Universe (UK) – Album Review
I recently rated the last studio album, issued only in Japan, as the best ex-purple disc to date. This comprises five tracks from it (three of which have been re-recorded), plus five new tracks. So how could they go wrong? Well they have. How they can honestly turn this out after that Jap. LP is beyond me. The material I can take, what I can't take is the abysmal mix. It is just bloody terrible. Gillan's vocals are buried, and though the drummer is presumably playing a whole kit, only the cymbals can be heard.
Mr.Universe (Japan) – Album Review
This contains five tracks from the UK edition (which sound the same to me), plus four new ones. Of those, 'Your Sister's On My List' is quite catchy, and has lyrics which you would expect with a title like that! 'Move With The Times' is kept going by bass, drums and piano (sort of Pot Black style!). 'Sleeping OnThe Job' is very catchy, but not as good as the live version, because Gillan is mixed down too far. 'Street Theatre' is a short Towns instrumental, probably destined for a stage opener some day. Overall, that spark which made Gillan 'Gillan' outstanding is absent.
Robinson in Stargazer #20 says that the Japanese version is the best ex-purple disc to date.
Robinson speaks very unfavorably about the UK version, mostly having issues with the mix.
In the UK they promoted the album touring with Randy California. Samson with Bruce Dickinson were also there.
Gillan: "I loved the band; Bernie and John galvanized audiences with their electrifying stage act, and, in John's case he was described in one review as a 'walking absurdity' with a presence that oozed rock 'n' roll."
Gillan's story about meeting back up with Ritchie from "Child in Time" pages 139-140.
For Further Information:
Listener Mail/Comments

Comments about the show? Things you'd like us to cover? We'd love to hear from you. Send us an email at info@deeppurplepodcast.com or @ us on Twitter, Facebook, or Instagram.