Subscribe at Apple Podcasts, Stitcher, Google Podcasts, Overcast, Pocket Casts, Anchor.fm, Breaker, PodBean, RadioPublic, Amazon Music, or search in your favorite podcatcher!

How To Support Our Show:

Thanks to Our Executive Level Patrons:

The £10 Tier
The Turn it up to $11 Tier

Clay Wombacher
Frank Theilgaard-Mortensen
Alan "Ain't Too Proud To" Begg
Mikkel Steen

$10 "Some One Came" Tier
Social Media Update:

Apple Podcasts Reviews
Cocoscope video site shutting down
Lead up to the Album:

Jon Lord is said to have worked on composing and scoring this album between January and August of 1975.
It was recorded between September 3-6 at Stadthalle Oer-Erkenschwick, near Düsseldorf, Germany.
Remixed at Musicland Studios, Munich.
This is the next in the progression of his "classical" works from The Concerto For Group and Orchestra, Gemini Suite, and Windows, to this.
The backdrop for the composition of this work is at the end of Deep Purple's original run. Blackmore had left the band in early 1975, playing their last few shows in the spring. By summer of 1975 Jon Lord was scoring this album.
Immediately after they would have Tommy Bolin join the band and record their final album until the 1984 reunion.
Jon moved near Dusseldorf and recorded Sarabande between September 3-6 of 1975. Eberhard Schoener would join him again, this time conducting the Philharmonia Hungarica. Other rock musicians were invited to join for this recording. Unlike with Window this time none would be from Deep Purple.
Personnel:

Technical:

Engineer [Assistant] – Hans Menzel

German audio engineer
Worked with Deep Purple (Stormbringer), Uriah Heep

Engineer, Mixed By – Martin Birch

Regular flavor Birch on this one.

Lacquer Cut By – Nick W.*

Worked for Abbey Road starting in 1968 with The Beatles
Almost 1,000 entries on Discogs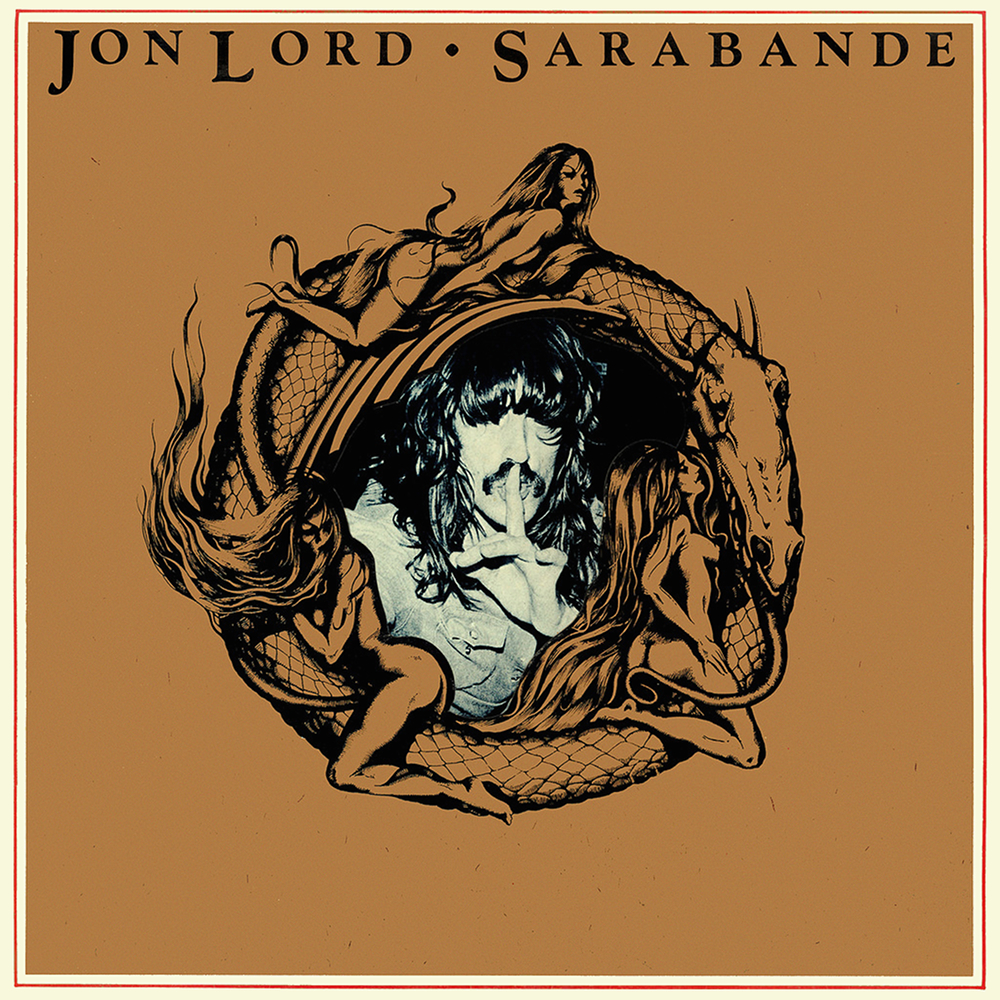 Album Art & Booklet Review

Cover is a drawing of ouroboros.
Design by John Kosh

Designed the album covers for many albums including both "Abbey Road" and "Let it Be" by The Beatles.
Was the creative director for Apple Records.
Handled the "War Is Over" campaign for John Lennon and Yoko Ono.
Did an album cover for Family "Fearless"
Spencer Davis Group "Gluggo"
The Who "Who's Next"
The list goes on and on.

Illustration was by Michael Bryan

Worked with John Lennon and Yoko Ono on "Shaved Fish," B.B. King, Marvin Gaye, etc.
Thanks to Our Core Level Patrons:

The $9.69 "9 + Coverdale" Tier
The $7.77 KeepItWarmRat Tier
The $7.00 "No One Named" Tier
The Episode $6.66 Tier

Steve Coldwell
Arthur Smith
Anton Glaving

The $6.65 "Almost Evil" Tier
$5.99 The "Nice Price" Tier
$5 "Money Lender" Tier

Greg Sealby
John Convery
German Heindl
Adrian Hernandez
Jesper Almén
Oleksiy The Perfect Stranger Slyepukhov
James North
Mark Hodgetts
Kev Roberts – Paypal
Will Porter
Zwopper The Electric Alchemist

Tim "Southern Cross" Johnson
Album Tracks: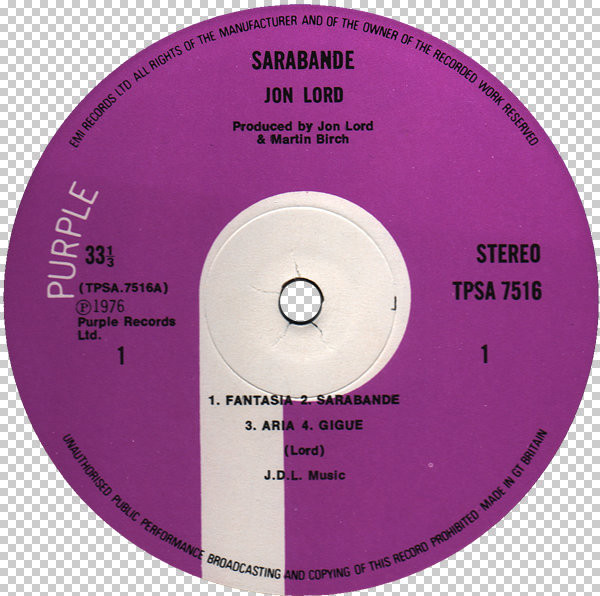 Side One:

Fantasia

This functions as a 3.5 minute overture in three sections.

Sarabande

The Sarabande is a Spanish dance from the 16th century which originated in the East.
Sarabandes are often in triple time

Aria

Scored for piano and synthesizer.

Gigue
Side Two:

Bouree
Pavane

This is a courtly dance often associated with a Galliard in the early BAroque period. It fell out of favor in the seventeenth century.

Caprice
Finale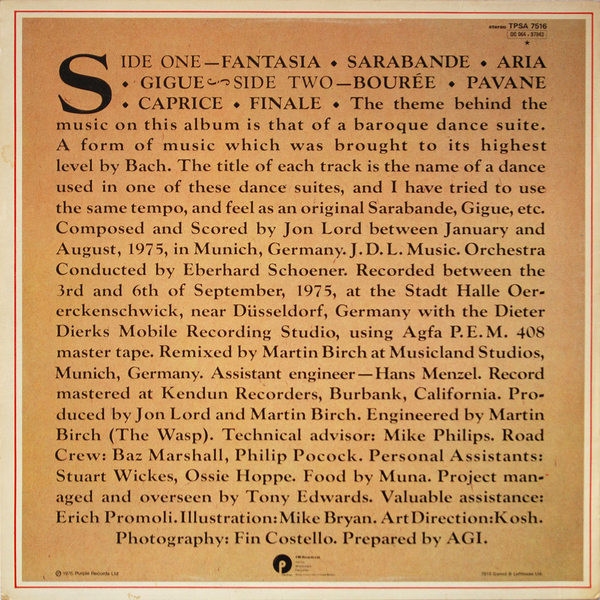 Thanks To Our Foundation Level Patrons:

$3 "Nobody's Perfect" Tier

Peter Gardow
Ian Desrosiers
Mark Roback
Andrew Meyer
Duncan Leask
Stuart McCord

$1 Made Up Name Tier

Ells Murders
Spacey Noodles
The "Ghost-tacular" Leaky Mausoleum
Stephen Sommerville The Concerto 1999 Fanatic
Raphael Choury (Raff Kaff)
Spike, The Rock Cat
JJ Stannard
Hank the Tank
Flight of the Rat Bat Blue Light
Reception and Review

The turbulent final days of Deep Purple pushed off the release of Sarabande until October off 1976.
The album got a good amount of promotion.  The album sleeve was given a lot of care as they needed to catch the eye of Jon's largely rock audience.
Sarabande is often mentioned as Jon Lord's finest individual piece of work outside of Deep Purple.
A couple of years after this Shoener would join Summers in recording the debut album for The Police named "Outlands d'Amour" which Jon Lord says was one of his favourite albums.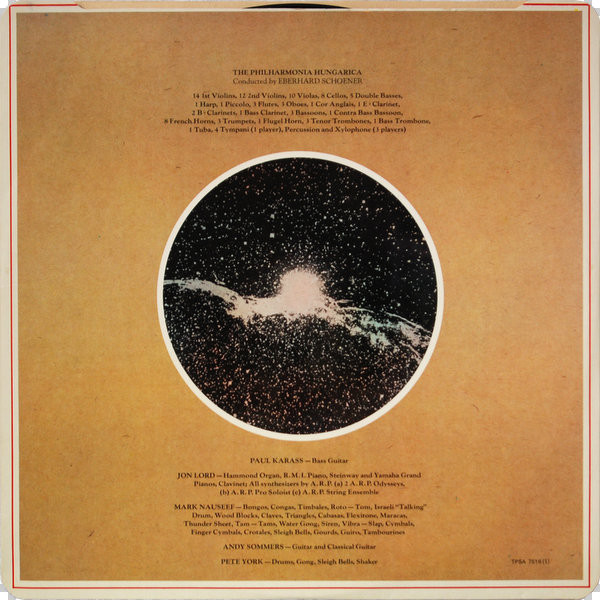 For Further Information:
Vinyl liner notes by Simon Robinson with musical appreciation from Vince Budd.
Listener Mail/Comments

Comments about the show? Things you'd like us to cover? We'd love to hear from you. Send us an email at info@deeppurplepodcast.com or @ us on Twitter, Facebook, or Instagram.