Subscribe at Apple Podcasts, Stitcher, Google Podcasts, Overcast, Pocket Casts, Anchor.fm, Breaker, PodBean, RadioPublic, Amazon Music, or search in your favorite podcatcher!
How To Support Our Show:

Welcoming Our Newest Patron(s):

At the $5 Money Lender Tier

Zwopper The Electric Alchemist
Thank you guys for a great podcast! I'm a long time listener but late to the patron table. Keep up the great work and keep your pies eeled!
//The Electric Alchemist
Said he didn't think it was fair that the $1 tier got all the coolest names.

At the $1 Made Up Name Tier
Thanks to Our Executive Level Patrons:

The $20 "Shades of Deep Pockets" Tier
The $15 "Highball Shooter" Tier
The Turn it up to $11 Tier

Frank Theilgaard-Mortensen
Clay Wombacher
Mikkel Steen

$10 "Some One Came" Tier
Social Media Update:

Lead up to the Album:

Jon Lord had been obsessed with performing rock music with an orchestra starting in the mid 60s in his previous band, The Artwoods.
The Artwoods had almost used the New Jazz Orchestra on their 1966 debut album then later planned on working with a German conductor but neither materialized, the latter falling apart as The Artwoods broke up before it could happen.
On "The Book of Taliesyn" Deep Purple brought in a string section for the song "Anthem."
In 1969 on their self-titled album Jon Lord got as close to his goal as he had yet gotten when they composed "April." But "April" was broken up into band and string quartet parts, the two were not combined.
In June of 1969 it was decided that they would book The Royal Albert Hall that September and put on a Concerto with the Royal Philharmonic. The only thing needed at that point was for Jon Lord to actually write it.
As discussed on previous episodes the rest of the band were not 100% on board for this project but the performance went over very well.
Lord: "It got us labelled as a group who'd jumped on the classical/rock bandwagon. It drew attention to us at a time when we needed it, but we weren't expecting to be labelled as a group that plays with an orchestra. It caused a rift int he group. What they were afraid of, and what I hadn't seen was happening, was that people weren't sure what we were all about. They got frightened we'd get railroaded into playing hundred of Concertos. They thought I didn't want to play rock & roll.
At this point Jon Lord was largely seen as the leader of Deep Purple and this caused some resentment.
This almost lead to Lord leaving the band but in the end management smoothed things out and Lord assured the others he was committed to Deep Purple.
After the Concerto they did have to fulfill one last Concerto date in America at The Hollywood Bowl where the score was lost.
Lord was also commissioned to write another rock and orchestral collaboration. The band reluctantly agreed but only if it was downplayed and that it would be the last time they would do any such thing.
Lord got to work writing what would have a piece dedicated to each of the five members of Deep Purple, each focusing on the abilities of the individuals.
The writing process happened very quickly while on tour with The Faces in America.
They performed it once on September 17, 1970 with the Orchestra of the Light Music Society conducted by Malcolm Arnold.
This time they were in a much better position than a year before with "Deep Purple In Rock" gaining traction and "Black Night" having some chart success.
There was no publicity for this performance. The show was reviewed by two music magazines and it aired on British and Danish Radio shortly after the performance.
The feeling by Lord was that this had taken The Concerto to the next level, bridging the gap a little more seamlessly than he'd done the previous year.
The recording was shelved and not released until 1993. We'll review that on a future episode.
Lord said that he asked Keith Emerson to play on it and that Emerson agreed if it had time. Apparently he did not.
Jon Lord did say in interviews following the concert, that he would like to record it but for now was focused on Deep Purple. Sometime was only six months later.
After this Lord decided to record it again this time with Albert Lee, Tony Ashton, and Yvonne Elliman. This was released as the solo album we are about to discuss on this episode.
The album was recorded at Abbey Road's Studio One.
The main orchestra was recorded at Abbey Road then the band convened at De Lane Lea studio to do the rock sections.
Ian Gillan didn't agree to do the recording which is why he brought in Elliman and Ashton. They were part of the same management company and recorded with Purple Records so they would have been around at the time. This is described as being convenient contractually but also Lord very much liked both singers.
Blackmore, of course, was very against the project which is why Albert Lee was brought in.
In Ian Gillan's Biography "Child in Time" he describes Blackmore as going "berzerk" when he saw promotional posters for the concert. Blackmore said that the Concerto had become a "millstone around their necks."
In Jon's own words: "The music on this album was originally written as a commission for the BBC and was first performed at the Festival Hall with Deep Purple and the Orchestra of the Light Music Society in September 1970, when it was broadcast live on British and Danish radio. I composed the Suite during the first six months of 1970, each movement being 'built' around the musical personalities of the members of Deep Purple. However, during the period between that concert and this recording the music grew away from the initial concept and became to my mind not so much a composition for 'Group and Orchestra' but, more simply, music for amplified instruments and orchestra. To this end we decided not to make it a Deep Purple project but to use specified soloists.
"The title is an allusion to the main characteristic of people born under the sign Gemini– The Twins, my own birth sign.
"Many thanks are due to all the soloists, the very fine London Symphony Orchestra, and to Mr. Malcolm Arnold, for his invaluable help.
A special thank you to Martin, Ian and Roger."
Personnel:
Orchestra:

Bass – Arthur Griffiths, Gordon Neal, John Cooper (4), John Duffy (4), Keith Marjoram, Pashanko Dimitroff, Robert Norris, Stuart Knussen
Bassoon – Patrick Milne (2), Robert Bourton
Cello – David Brown*, Douglas Cummings, Douglas Powrie, Graham Elliott, Jack Long, Kenneth Law, Maurice Meulien, Peter Muscant, Raymond Adams*, Thomas Storer
Clarinet – Ronald Moore, Roy Jowitt
Featuring – Albert Lee, Ian Paice, Jon Lord, Roger Glover, Tony Ashton, Yvonne Elliman
Flute – Edward Beckett, Lowry Sanders
Harp – Osian Ellis, Renata Scheffelstein*
Management [Orchestral Manager] – Terence Palmer (2)
Music Librarian [Librarian] – Henry Greenwood (3)
Orchestra – London Symphony Orchestra*
Other [Orchestral Attendant] – Donald Liddington
Percussion – James Holland, John Lees (2), Kevin Nutty, Raymond Northcott*
Piano – Martin Reeves (2), Robert Nunn
Timpani – Kurt Goedicke*
Trombone – Frank Mathison, Peter Gane, Peter Goodwin
Trumpet – Howard Snell, Norman Archibald, William Lang
Tuba – John Fletcher (2)
Viola – Alexander Taylor, Andrew Williams (10), William Jones*, Clarence Atkinson, David Chappell*, Eric Cuthbertson, George Robertson, Max Burwood, Michael Mitchell (3), Norris Bosworth, Paul Katz (3), William Krasnik, William Sumpton
Violin [1st] – Basil Smart, Brian Thomas (4), Cyril Reuben (2), Dennis Gaines, Hans Geiger, Howard Ball, John Brown (2), John Georgiadis, Max Weber (2), Michael de Saulles*, Oliver Butterworth, Robert Retallick, Stanley Castle, Sydney Colter, Timothy Good*, Warwick Hill, William Martin (2)
Technical: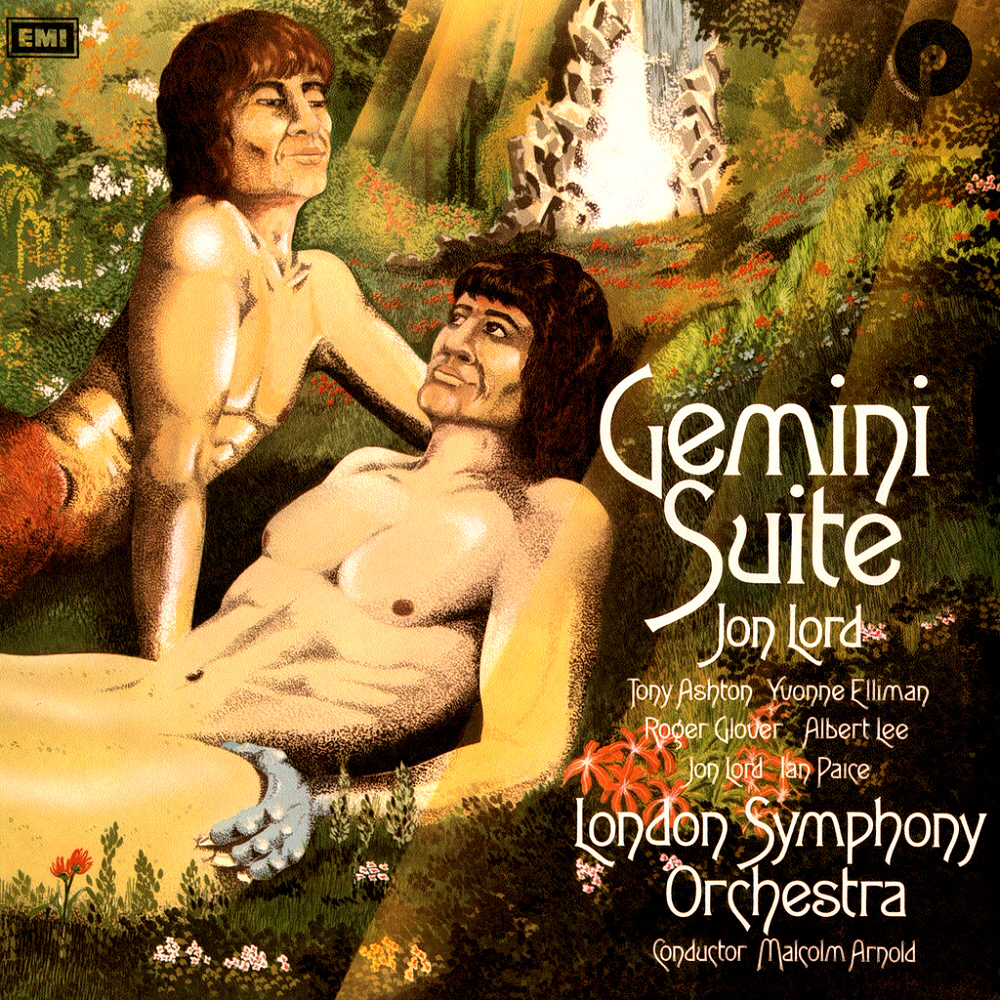 Album Art & Booklet Review

1973 North American Reissue

It's unclear whether they didn't like the British cover or if they thought it would be too controversial.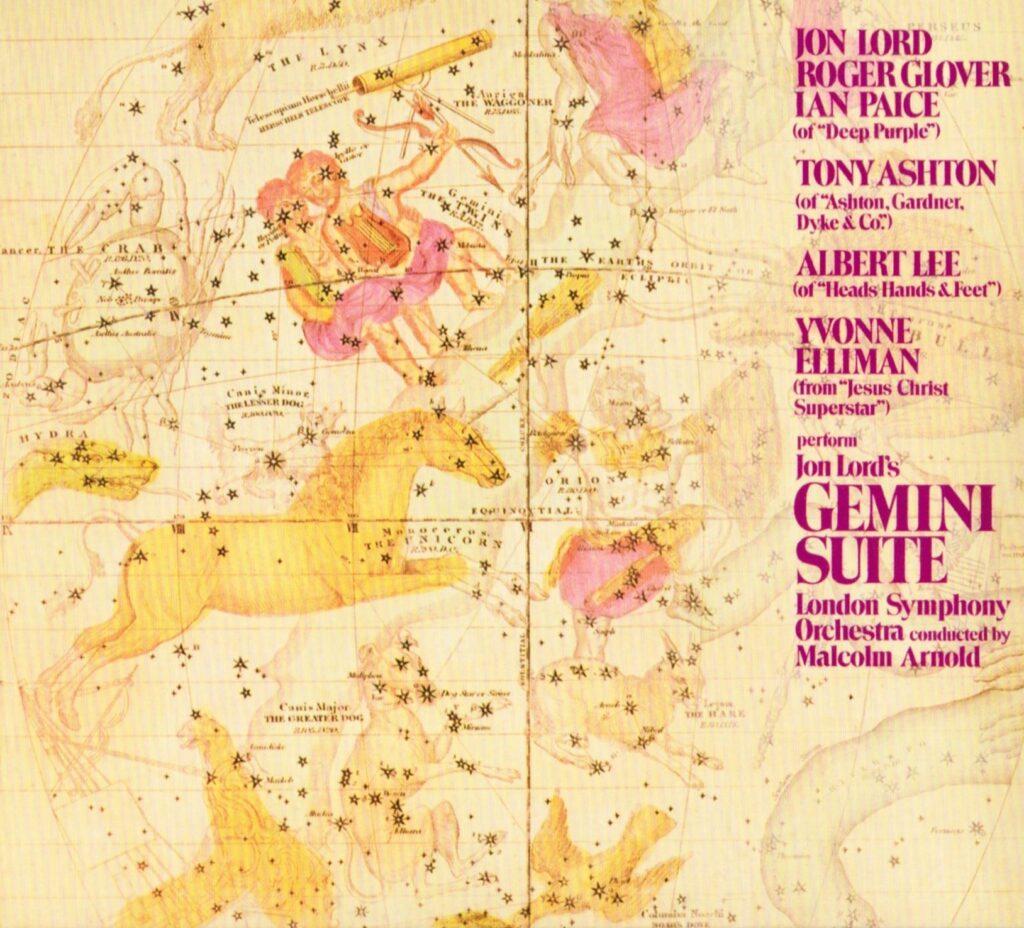 2008 Simon Robinson Remaster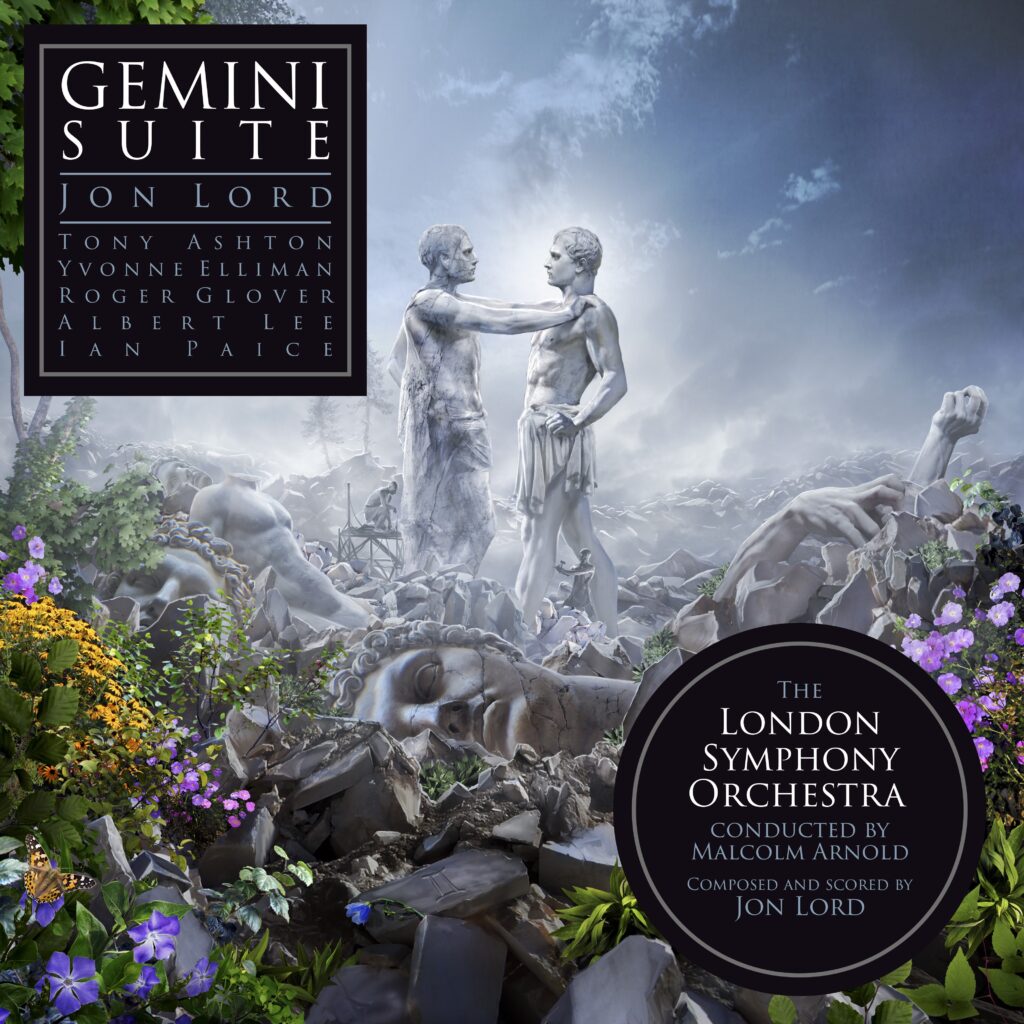 Made and Printed in Great Britain
Jon Lord courtesy of Harvest Records
Roger Glover courtesy of Harvest Records
Albert Lee courtesy of Island Records
Tony Ashton courtesy of Capitol Records
Ian Paice courtesy of Harvest Records
Thanks to Our Core Level Patrons:

The Episode $6.66 Tier

VACANT with Richard Fusey's upgrade!

The $6.65 "Almost Evil" Tier
$5.99 The "Nice Price" Tier

Fielding Fowler
Dr. Gill Breese

$5 "Money Lender" Tier

Greg Sealby
John Convery
Arthur Smith
German Heindl
Adrian Hernandez
Jesper Almén
Oleksiy The Perfect Stranger Slyepukhov
James North
Mark Hodgetts
Kev Roberts – Paypal
Will Porter
Zwopper The Electric Alchemist — NEW PATRON ALERT!!

$3 "Nobody's Perfect" Tier

Peter Gardow
Ian Desrosiers
Mark Roback
Anton Glaving
Andrew Meyer
Duncan Leask
Stuart McCord
Album Tracks:

Side One:

Guitar (Soloist — ALBERT LEE)
Piano (Soloist — JON LORD)

Jon Lord says that his solo was the worst during the live performance because "I just did it for myself. I re-wrote it for piano on the album."

Drums (Soloist — IAN PAICE)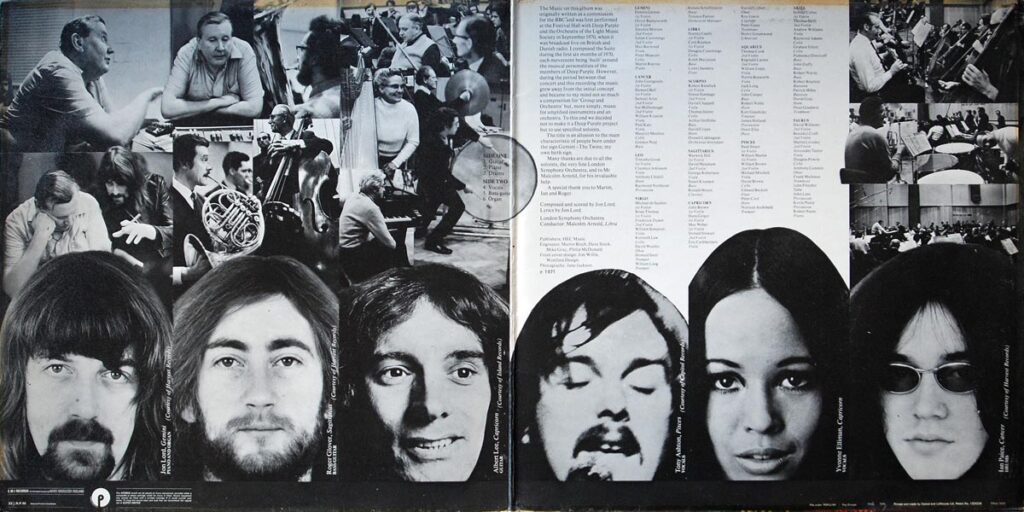 Side Two:

Vocals (Soloist — TONY ASHTON & YVONNE ELLIMAN)
Bass Guitar (Soloist — ROGER GLOVER)
Organ (Soloist — JON LORD)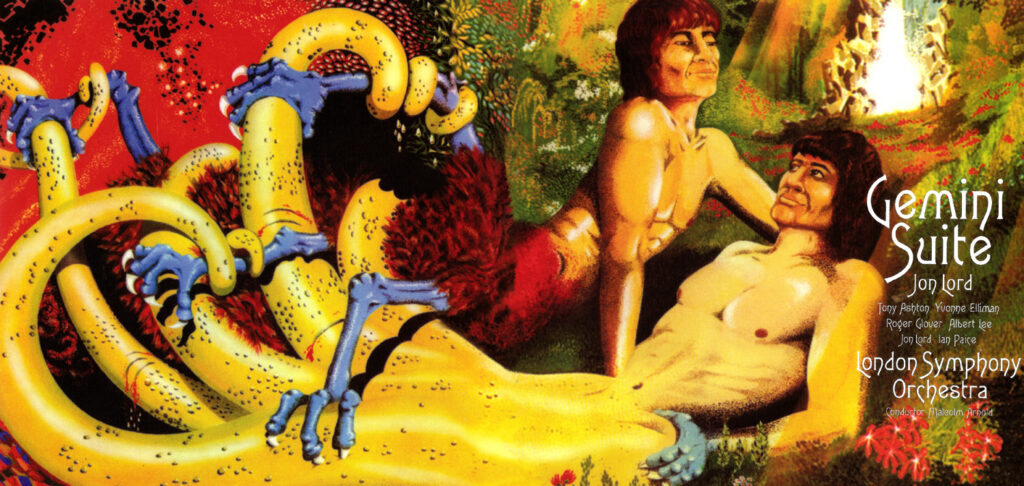 Thanks To Our Foundation Level Patrons:

$1 Made Up Name Tier

Ells Murders
Spacey Noodles
The "Unfastened" Leaky Mausoleum
Michael Vader
Stephen Sommerville The Concerto 1999 Fanatic
Raphael Choury (Raff Kaff)
Spike, The Rock Cat
JJ Stannard
Hans Lilja – NEW PATRON ALERT!!
Reception and Review

Review in Melody Maker:

"it's all turned out rather splendidly."

Review in Beat Instrumental:

"Lord seems to have blended classical and rock in exactly the right proportions, where both disciplines act as compliments to each other rather than as opponents.

Review in the Daily Mirror:

Blow the bigots! Knickers to the knockers! When Deep Purple's Jon Lord unveiled his Gemini Suite in concert last year, the moaners had a field day. Now it's out on LP they are already at it again. To me this album is exciting, colourful, aggressive, beautiful, inventive, virile. What more could you want?"

Review from Disc & Music Echo shortly after the album's release:

Getting the best of both Purples
Jon Lord and Deep Purple seem to be finding their own musical levels, a compromise certain to draw the best from both. Purple lean far more on commercial rock, while Lord hides himself away writing large works like "Gemini Suite" (Purple TPSA7501, £2.05).
This is perhaps a natural extension of his Concerto for Group and Orchestra, but more than that, it is a showcase for four excellent musicians, combined with one vast depth of Malcolm Arnold's London Symphony Orchestra.
It's easy to dismiss works like this as pretentious nonsense, and equally easy for alleged classical music experts to dismiss it as diluted and unoriginal. Neither criticisms are fair nor justified. The main musical themes are well stated and play heavily on the emotions, alter the style of, say Elgar and Tschaikovsky.
The opus is broken into six parts — for guitar (by the superb Albert Lee), piano (Lord, drums (Ian Paice, vocals (Yvonne Elliman and Tony Ashton), bass guitar (Roger Glover, also doing a very fine job) and organ (Lord again). This album is very easy to listen to and you don't have to be hip to either heavy or classical music.
Quality — excellent, Value — fine once you're inside a rather revolting sleeve.

On January 4th, 1972 it was performed again, this time in Germany at the Munich Concert Hall this time conducted by Eberhard Schoener.  Everyone performed except for Yvonne Elliman who was busy with the stage version of Jesus Christ Superstar.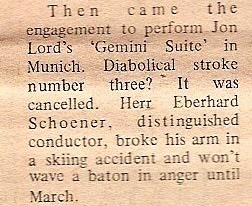 Update: this show was actually cancelled as Eberhard Schoener broke his arm in a skiing accident.
In October of 1973 Lord and Schoener again arranged another live performance of "The Gemini Suite.  Afterward Lord was asked to do a new piece with Schoener which evolved into Windows.
For Further Information:
Help from the archives of Jeff Breis
1993's Deep Purple "The Gemini Suite" live CD release liner notes by Simon Robinson.
Liner notes to Gemini Suite re-release in 2008 by Smon Robinson.
Listener Mail/Comments

Comments about the show? Things you'd like us to cover? We'd love to hear from you. Send us an email at info@deeppurplepodcast.com or @ us on Twitter, Facebook, or Instagram.