Disclaimer: The video used on YouTube is a byproduct of producing our audio podcast. We post it merely as a convenience to those who prefer the YouTube format. Please subscribe using one of the links below if you'd prefer a superior audio experience.

Subscribe at Apple Podcasts, Stitcher, Google Podcasts, Overcast, Pocket Casts, Anchor.fm, Breaker, PodBean, RadioPublic, Amazon Music, or search in your favorite podcatcher!

How To Support Our Show:

Welcoming Our Newest Patron(s):

Duncan Leask – $1 Silly Made up Name Tier! Actually £1

Upgraded to $3 or £2.50 tier before being announced in an unprecedented move! Silly name will remind secret . . . for now!

Stuart McCord – £2.50 or $3 tier

Welcome, Stuart!
Dear Nate and John, thanks so much to both of you for this brilliant pocast. As a huge fan of Purple and the extended family since 1995, I've been spending many a really enjoyable evening over the past couple of months firstly playing my vinyl of one of the albums you've covered, then listening to the episode to hear the record again along with you guys with a nice couple of large whiskeys. Your chat about each track is always hugely entertaining, with excellent insight into the history and making of the albums. Many thanks and really looking forward to more great episodes. Best wishes Stuart (Hove, UK)

Mark Hodgetts – $5

A journey through a man's journey through depression, low self esteem and borderline alcoholism through to acceptance and forgiveness of himself. Using the music of Deep Purple as a reference point the book is a series of short stories explore such concepts as institutional abuse, violence, loyalty, betrayal, love, loss and death

Spike, The Rock Cat – $1 Made Up Name Tier

Spike is well versed in all genres, but for purposes of DPP, he will be known as the Rock Cat. Don't get too excited though with the extra cash. Unless you start having scantily clad women on the show, that's all you are going to get. Congrats on 100 episodes!
Thanks to Our Executive Level Patrons:

The $20 "Shades of Deep Pockets" Tier
The $15 "Highball Shooter" Tier
The Turn it up to $11 Tier

Frank Theilgaard-Mortensen
Clay Wombacher
Mikkel Steen

$10 "Some One Came" Tier
Social Media Update:

Apple Podcasts Reviews

This week's review comes from Sweden . . .
FIVE STARS!
peanutbotticelli, 2019-12-01
smokin
a very well made podcast. the hosts are really funny.
Lead up to the Album:

1978 event planned? Jerry Bloom's Black Night, page 255.
For years there had been rumors of a Deep Purple Mk 2 reunion. In late 1982 it had come very close to becoming a reality.
Gillan said in his book "Child in Time" that he'd been over to Ritchie's to meet with Bruce Payne but says he got extremely drunk and probably spoiled any chance at an '82 reunion.
The '82 attempt was discussed by Roger in an interview in the LA Times shortly after the release of "Perfect Strangers":

"Ian came over from England to talk to Ritchie and me about re-forming Deep Purple," Glover recalled. "He had been singing in some bands, but none had been that big. He was just about to join Black Sabbath, but what he really wanted was a Deep Purple reunion.
"We had dinner in a restaurant and Ian got totally drunk by the end of the meal. Ritchie and I looked at each other and said: 'Do we really want to deal with this?' The answer was no. So Ian went back to England with a terrible hangover and no Deep Purple."

There was even a rumor of a 1982 reunion as David Coverdale was approached and reportedly turned it down.
Things weren't going great in Rainbow. The US tour they embarked on in 1983 was one of their smallest ever. There was even talk of canceled shows due to poor ticket sales.
Colin Hart writes in his book "A Hart Life" that Ritchie Blackmore was not a fun person to be around at this time. The recent shows had included Blackmore including Deep Purple classics into the setlist to get more interest from fans. Hart says these songs were a little outside of Joe's wheelhouse.
Bruce Payne had seen the writing on the wall and had already been in contact with Gillan.
Jon was playing with Whitesnake, Gillan with Gillan, Ritchie and Roger with Rainbow, and Ian Paice was with Gary Moore. This was right around the time Gillan had suffered vocal nodes and for whatever reason the 1982 reunion never came together.
Ian Paice was back home and enjoying his time as a highly sought after session drummer.
The five members met up in April of 1984 in Kentucky for talks. Blackmore called Jon Lord personally to ask him over.
The band members had mostly been in touch for the previous 9 years but the five of them had not been together since 1973.
In DPAS Issue 29 there was talk of a Swedish newspaper ran a story in 1983 that there was a Deep Purple reunion in the works with dates as the summer of 1984 pending Jon Lord's agreement. This seemed to be mostly dismissed as rumor but it turns out it may have been the case.
Gillan said that Blackmore and Payne were looking to get Blackmore 50% of the writing credits for the reunion and it was up to the rest of the band how the remaining 50% was split.
Gillan, not surprisingly, didn't go for this and they agreed on a three way split between Blackmore, Glover, and Gillan.
Gillan admits to being foggy on the financial details and says he could have asked Ian Paice if he was more interested as he seemed to be very good with the numbers.
Bruce Payne represented everyone in the band but Ian who remained represented by Phil Banfield and still does to this day.
Gillan and Glover reportedly tried to get the five way split they had in the early days but Blackmore held firm and it remained a three way songwriting split of Gillan, Glover, Blackmore. It would remain that way until Blackmore left in 1993.
Tony Edwards and John Coletta were still around, the duo who had managed Deep Purple from 1968 to 1976. They saw that Bruce Payne was in a position to take over and they were not happy with this turn of events. There were a lot of legal battles that would be fought.
Gillan also owed Virgin Records one more album.
On April 18, 1984, all five members met again at Thames Talent in New York and signed a contract to reform the band.
Colin Hart tells of picking them up and booking them separate rooms for the negotiations. He said he was worried about what they would be like but he knew he'd be able to read the expressions of Ian and Ritchie. He was worried that they'd be glum and the deal would be off but he said instead they were chatting like old school buddies.
The announcement of the reunion was made on April 27, 1984 in the Evening Standard as well as on BBC Radio One on the Tommy Vance programme. Vance had gotten the scoop from Gillan the previous day.
Bruce Payne is said to have told Joe Lynn Turner that Rainbow wasn't disbanding but merely being put on a hiatus of sorts. It seems that he was likely hedging his bets, not sure of the longevity of the Deep Purple reunion.
Rainbow played one last gig at the Budokan in Tokyo with the band performing "Difficult to Cure" with an orchestra with the orchestrations written by David Rosenthal.
According to the DPAS magazine Tommy Vance teased it by saying he had news that a very big band from the 70s was about to reform. He said, "I'm going to play four records which featured the members of this band before the group was formed." The first single was a Ritchie solo single and it became very clear what was happening.
Colin Hart was given instruction to find them a place in the Northeastern US to record. He booked them a place in Massachusetts called Bass Lodge. It was an ideal location but it was so isolated that they eventually decided the band would have nothing to do with their leisure time so they found a new location in Vermont which Hart was familiar with as Rainbow had rehearsed there previously.
Gillan said in his book that once they started playing together the magic was back and he couldn't keep the smile off his face.
Gillan describes the band getting together, coming in one by one and him just sitting there with a smile on his face thinking that these were the best players he'd ever worked with.
The album was recorded at "Horizons" in Stowe, Vermont with Le Mobile Studio.
Le Mobile was unfortunately drew too much power so they had to have an electrician wire it directly to the electrical pole with extra breakers so they didn't start a fire.
John Lord said in an interview with Tommy Vance that he arrived in Vermont with "bits and pieces" of ideas that he'd had in the back of his mind but that Ritchie arrived "bursting at the seams" with ideas and songs so Lord said he basically just threw all his stuff away.
Jon Lord also says "If it didn't have Ritchie in it, it isn't really Deep Purple."
Gillan and Blackmore both said in interviews that they felt an enormous relief in not having to be the overall band leader, manager, etc. They both seemed to really like the idea that they could settle back and be a lead guitarist or a lead singer with all the other stuff being handled by other people.
Gillan cites his experience in Black Sabbath as getting a taste of that and really enjoying it.
Deep Purple Reunion Press Conference announcement 1984 – October, 1984
Deep Purple 1984 Reunion announcement on USA TV.
Personnel

Technical: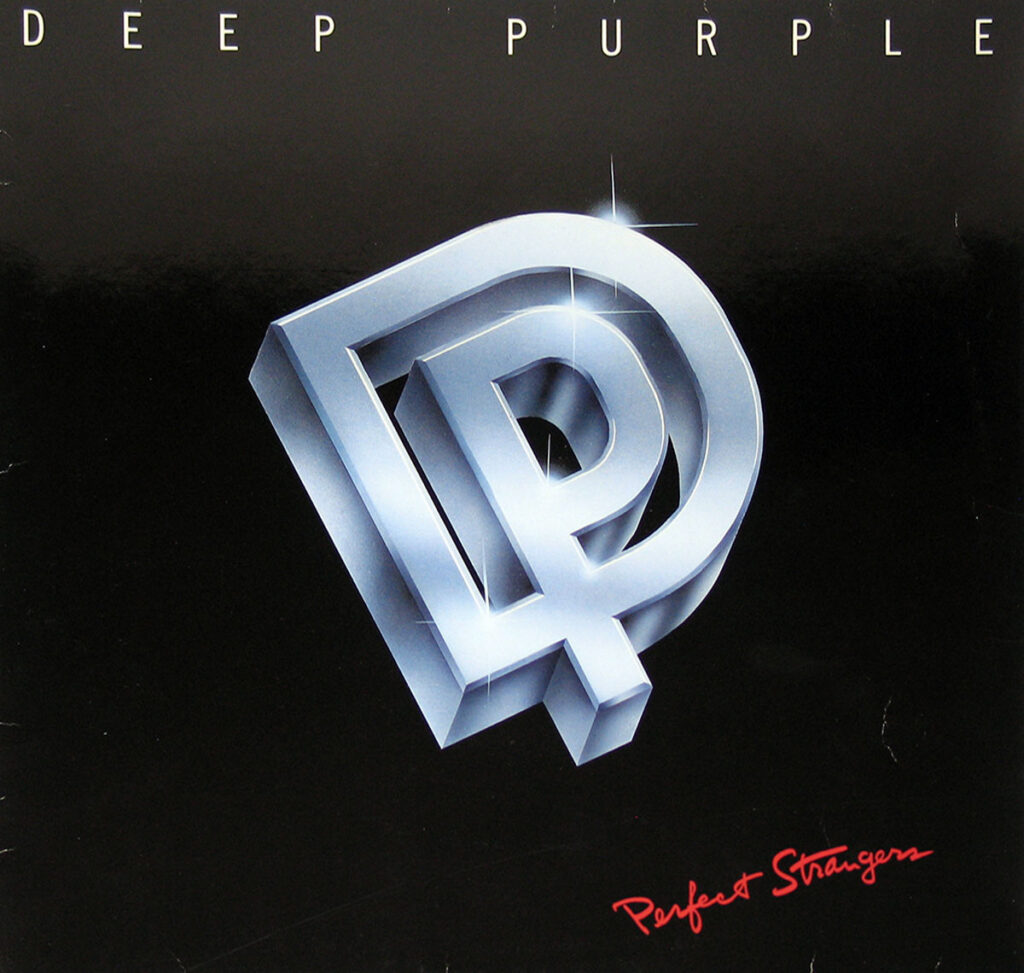 Album Art & Booklet Review

Ritchie Blackmore originally suggested that they title the album "At Last, the 1974 Album."  Like most things with Ritchie it's not clear how much of this was serious and how much was a joke.
A lot of fans were looking for the follow up to "Who Do We Think We Are" but Jon Lord wanted the album to sound like 1984 not 1974.
Art Direction – Bill Levy

Album covers for John Coltrane, Jesus Christ Superstar, Zzebra, and Cybil Shepard.

Design [Album] – George Corsillo

Did covers for Elvis, Stevie Wonder, the Grease Soundtrack, The Commodores, Bob Dylan

Design, Concept By [Logo] – Craig Sprovach
Illustration [Logo] – Glenn Dean

Only other credit is The Allman Brothers – Brothers of the Road

Photography By – George Bodnar

Worked with Motorhead, UFO, Whitesnake.

Photography By – Mick Gregory

Worked with Gillan and Nightwing.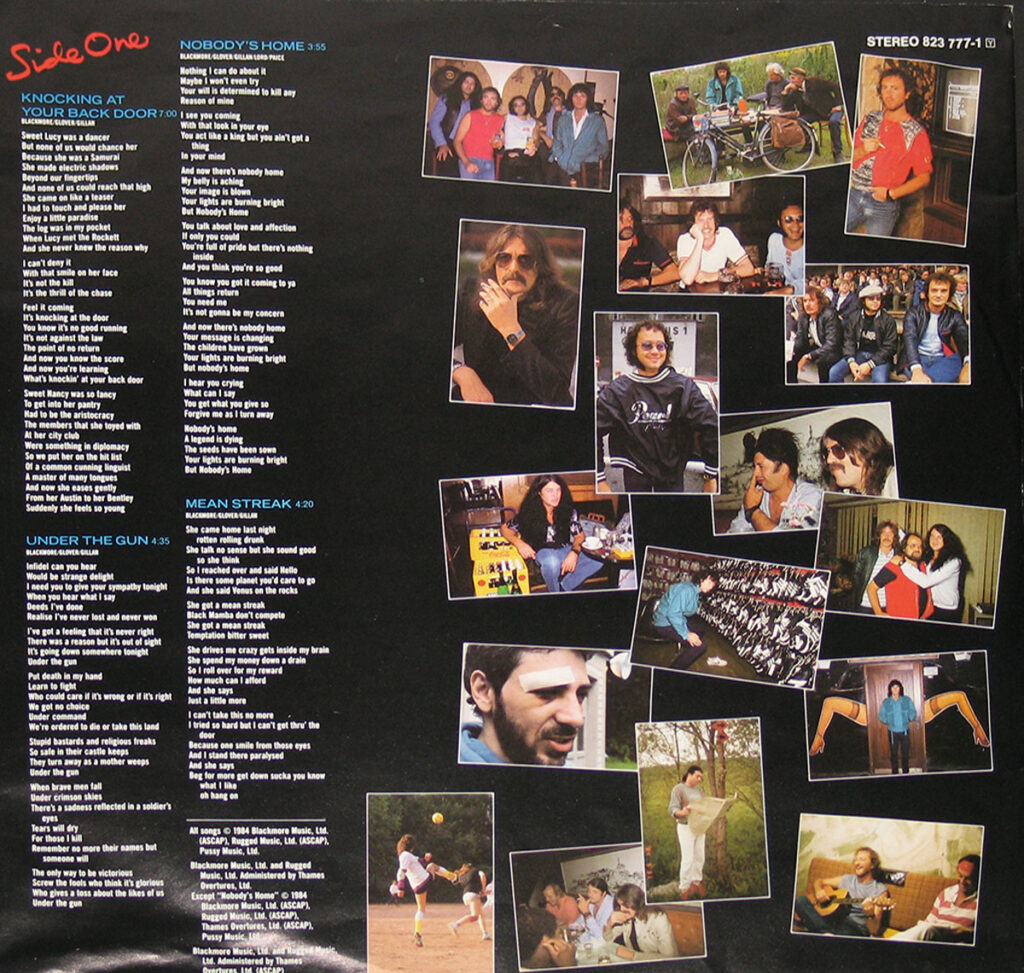 Thanks to Our Core Level Patrons:

The Episode $6.66 Tier
$5.99 The "Nice Price" Tier
$5 "Money Lender" Tier

Greg Sealby
John Convery
Arthur Smith
German Heindl
Adrian Hernandez
Kenny Wymore
Jesper Almén
Oleksiy The Perfect Stranger Slyepukhov
James North
Mark Hodgetts — NEW PATRON ALERT!!

$3 "Nobody's Perfect" Tier

Peter Gardow
Ian Desrosiers
Mark Roback
Anton Glaving
Will Porter
Andrew Meyer
Duncan Leask (£2.50) — NEW PATRON ALERT!!
Stuart McCord (£2.50) — NEW PATRON ALERT!!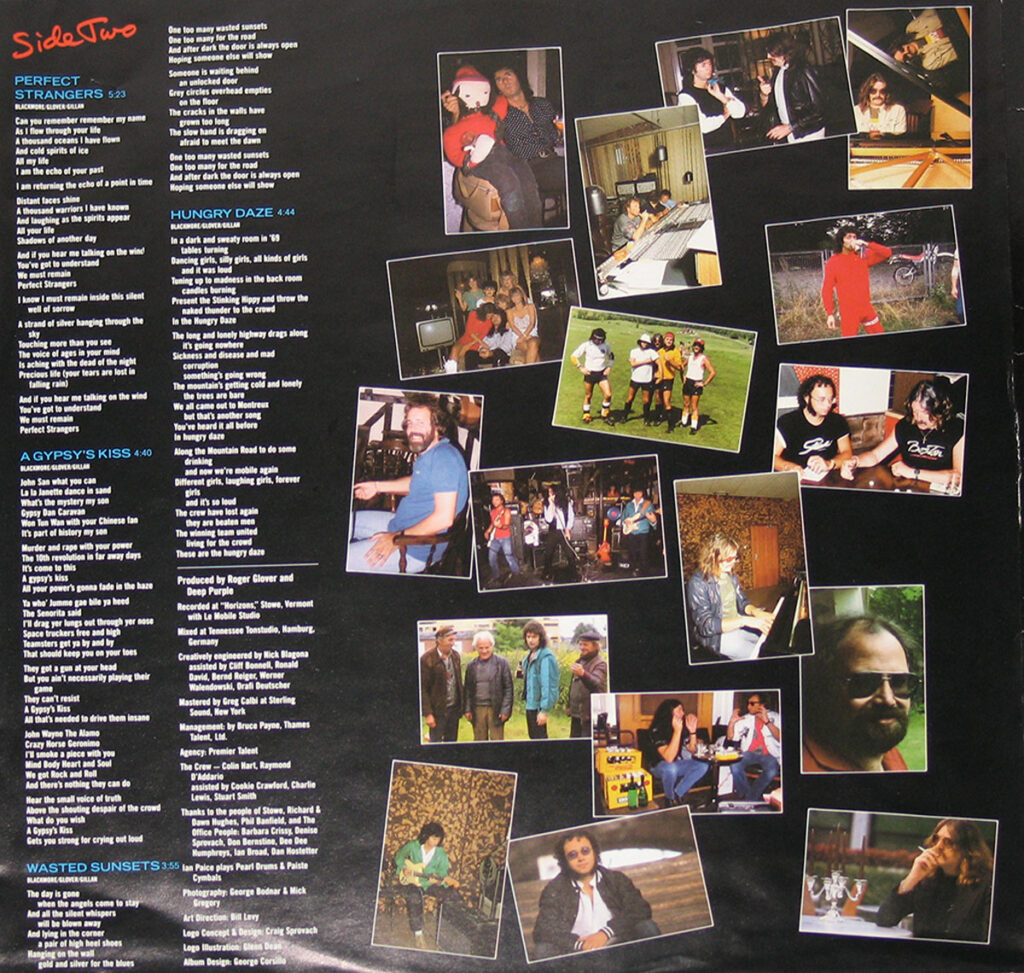 Album Tracks:

Side One:

Knocking at Your Back Door (Gillan, Blackmore, Glover)
Under the Gun (Gillan, Blackmore, Glover)

When asked by Tommy Vance about what his favorite solo is that he ever recorded Ritchie said he couldn't really say but added: "I'm quite pleased with the solo work I did on this new song, 'Under the Gun.' That wasn't bad."

Nobody's Home (Gillan, Paice, Lord, Blackmore, Glover)
Mean Streak (Gillan, Blackmore, Glover)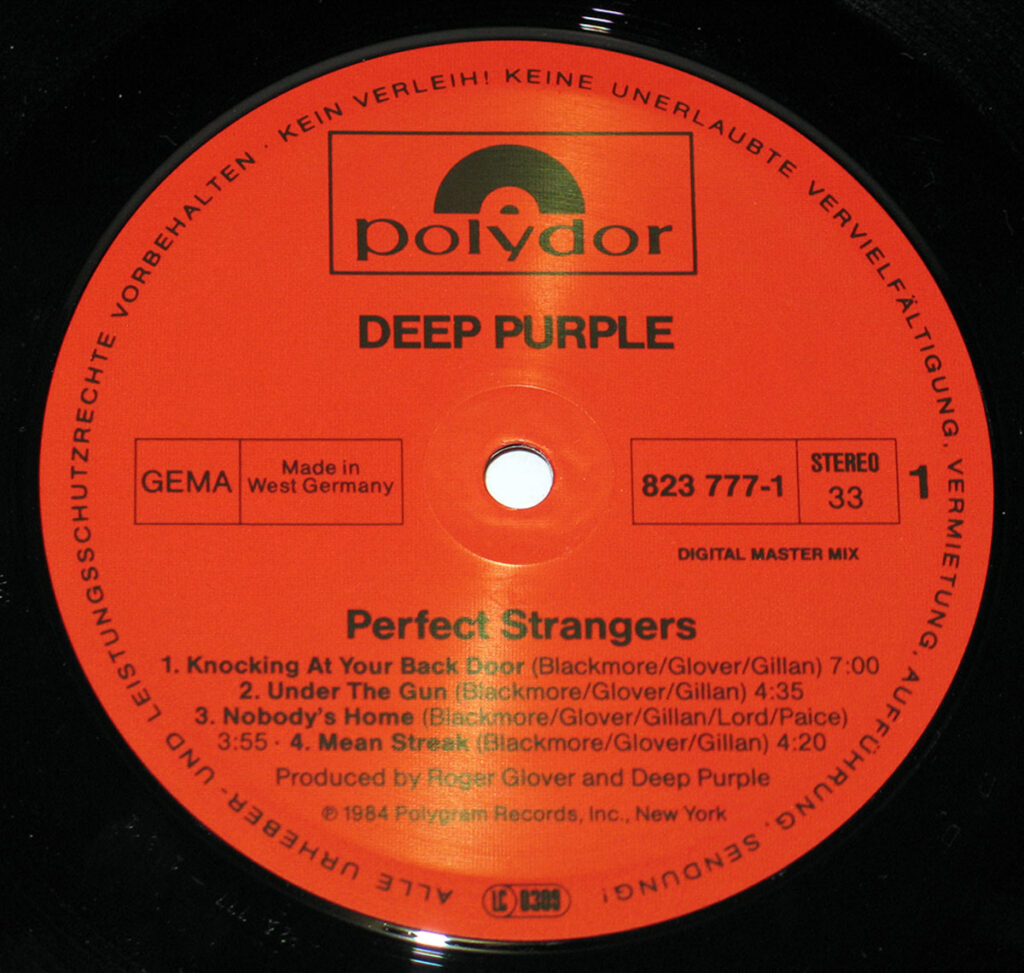 Thanks To Our Foundation Level Patrons:

$1 Made Up Name Tier

Ells Murders
Spacey Noodles
The "Lurid" Leaky Mausoleum
Michael Vader
Stephen Sommerville The Concerto 1999 Fanatic
Raphael Choury (Raff Kaff)
Spike, The Rock Cat – NEW PATRON ALERT!!
Thanks To Our Foundation Level Patrons:

$1 Made Up Name Tier

Ells Murders
Spacey Noodles
The "Lurid" Leaky Mausoleum
Michael Vader
Stephen Sommerville The Concerto 1999 Fanatic
Raphael Choury (Raff Kaff)
Spike, The Rock Cat – NEW PATRON ALERT!!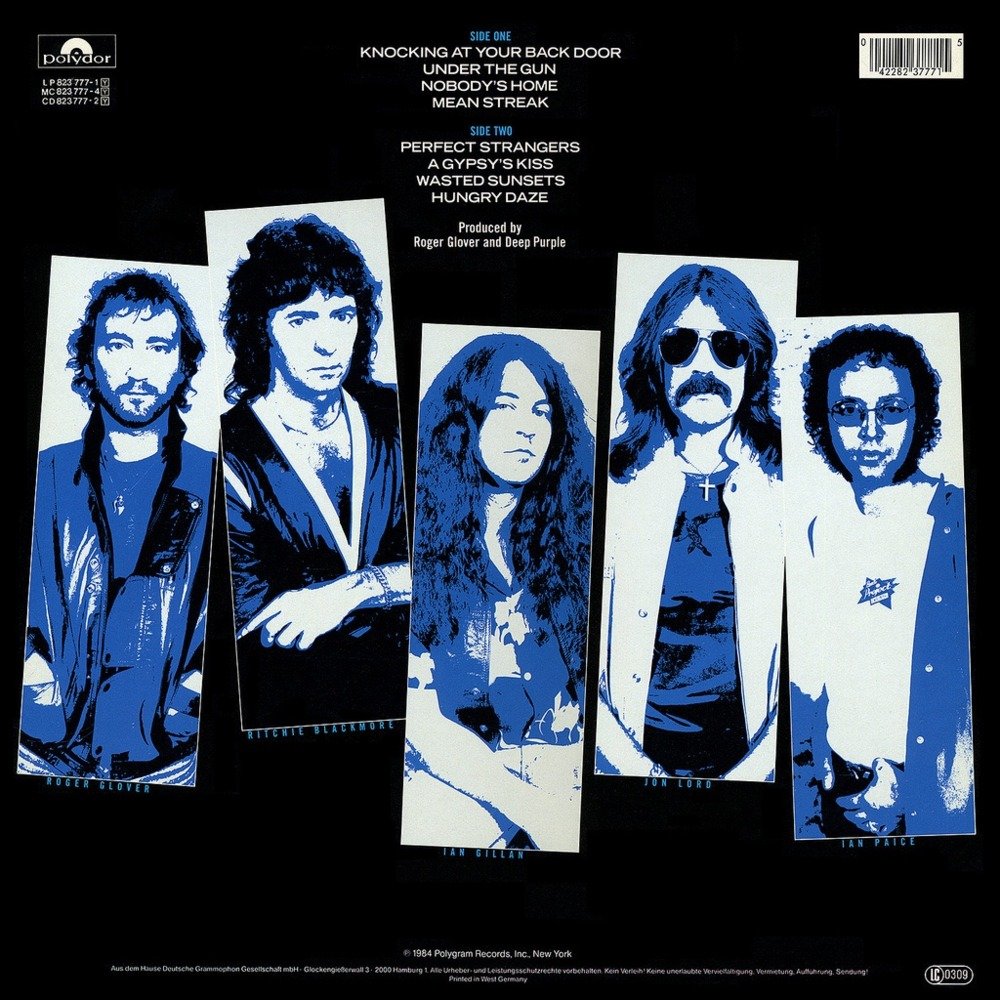 For Further Information:

The archives of Jörg Planer
The archives of Jeff Breis
Listener Mail/Comments

Comments about the show? Things you'd like us to cover? We'd love to hear from you. Send us an email at info@deeppurplepodcast.com or @ us on Twitter, Facebook, or Instagram.