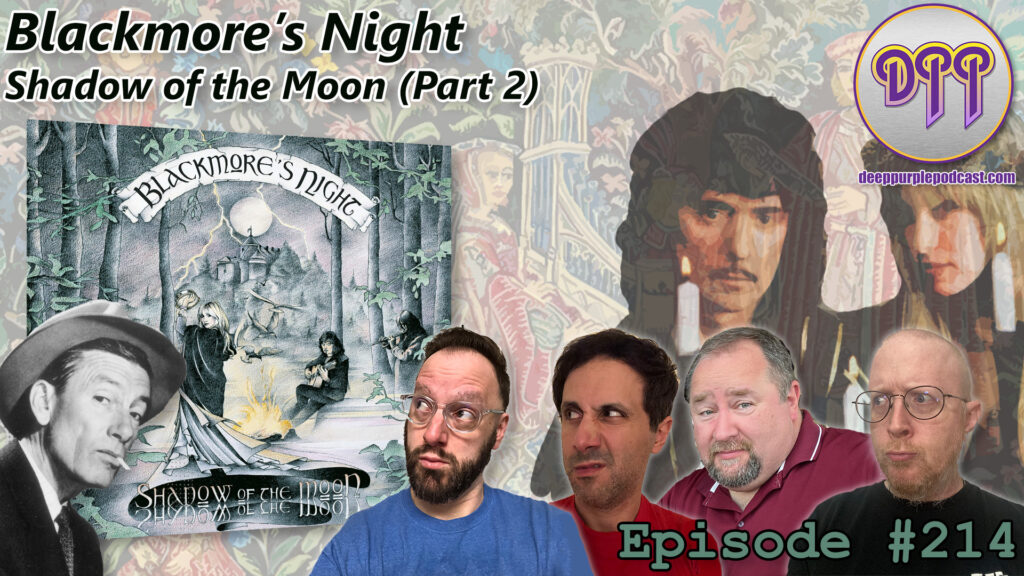 Subscribe at Apple Podcasts, Stitcher, Google Podcasts, Overcast, Pocket Casts, Anchor.fm, Breaker, PodBean, RadioPublic, Amazon Music, or search in your favorite podcatcher!

How To Support Our Show:

The Deep Purple Podcast is 100% listener supported and ad-free! If you receive value from our show please consider supporting us!

Brendan Ashbrook – Logo Designer

New Patron/Patron Upgrades:

Michael Bagford – Upgrades to the $6.65 "Almost Evil" tier

You guys want 66 more cents a month from me? Well, here's an upgrade FOR YA! I love the show and appreciate all the hard work that goes into it. Also it's important that Warhorse albums were showcased on the show, so people know to avoid them like the plague! Keep on Space Truckin'!
Thanks to Our Executive Level Patrons:

The $25 "Uncommon Man" Tier
The £15 ""Fifteen Squid" Tier

Alan "Ain't Too Proud To" Begg

The £10 "Good Doctor" Tier

Dr. Jill Breis
Dr. Mike Kattan

The Turn it up to $11 Tier

Clay Wombacher
Frank Theilgaard-Mortensen
Mikkel Steen
Will Porter, PhDPP

$10 "Some One Came" Tier

Ryan M
Jeff Breis
Victor Campos
"Better Call" Saul Evans

The "Hughes-O-Ween by 2033" Tier
Deep Dive Podcast Network:

Check out our website to find other like-minded shows taking deep dives into individual songs, bands, and albums.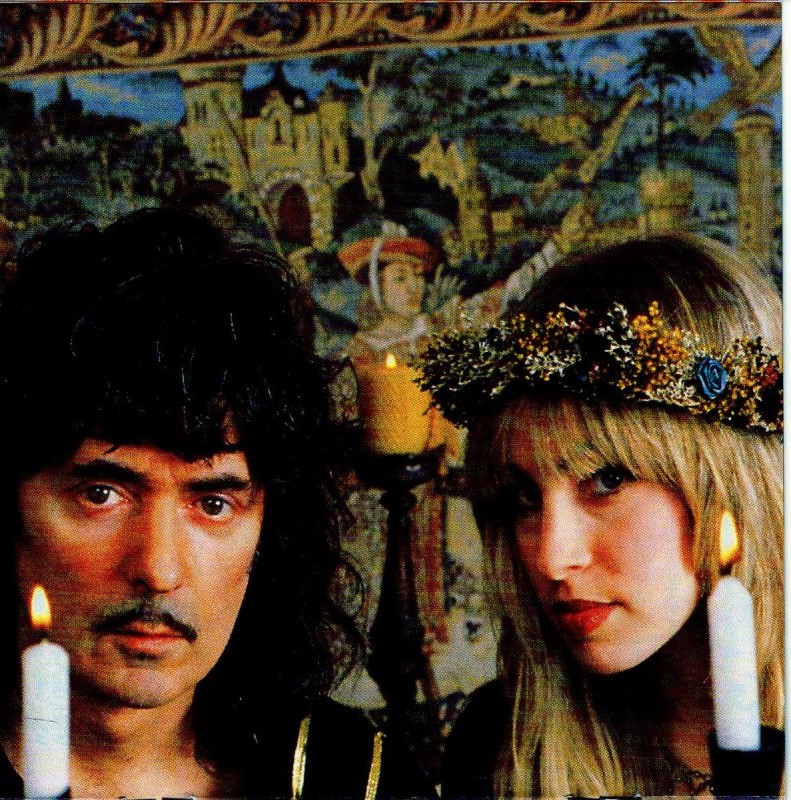 Album Tracks:

Renaissance Faire (trad. By Tielman Susato, Blackmore, Night)

Composed By [Traditional Composition] – T. Susato*
On this song Ritchie plays a mandolin. "I went to the second hand guitar shop and said: "I'd like to have a mandolin and a manual on how to play it." They had a mandolin, but did not know how to play it. So I played it as if it were a guitar.

Memmingen (Instrumental) (Blackmore)

RB: Memmingen is a medieval German city. On the city quare a kind of theater play happens every four years. Everyone is wearing antique clothes, the setting is authentic – really fascinating! I have been there once, and dedicate the song to this tradition.

No Second Chance (Blackmore, Night)

RB: I like to play a solo on stage, otherwise I hold myself back. On the one hand, a long solo would have ruined the song, and on the other hand I did not want to sound like a guitarist from our time. Most guitarists hit a song with a solo as if it were a tank. In my opinion, the melody – so to speak an elongation of the vocals – should be up-front.

Mond Tanz (Instrumental) (Blackmore)

Mondtanz is German for moon dance.

Spirit of the Sea (Blackmore, Night)
Greensleeves (trad.)
Wish You Were Here (Rednex Cover) (Leskela Teijo)
Minstrel Hall (Strings Version) (Blackmore)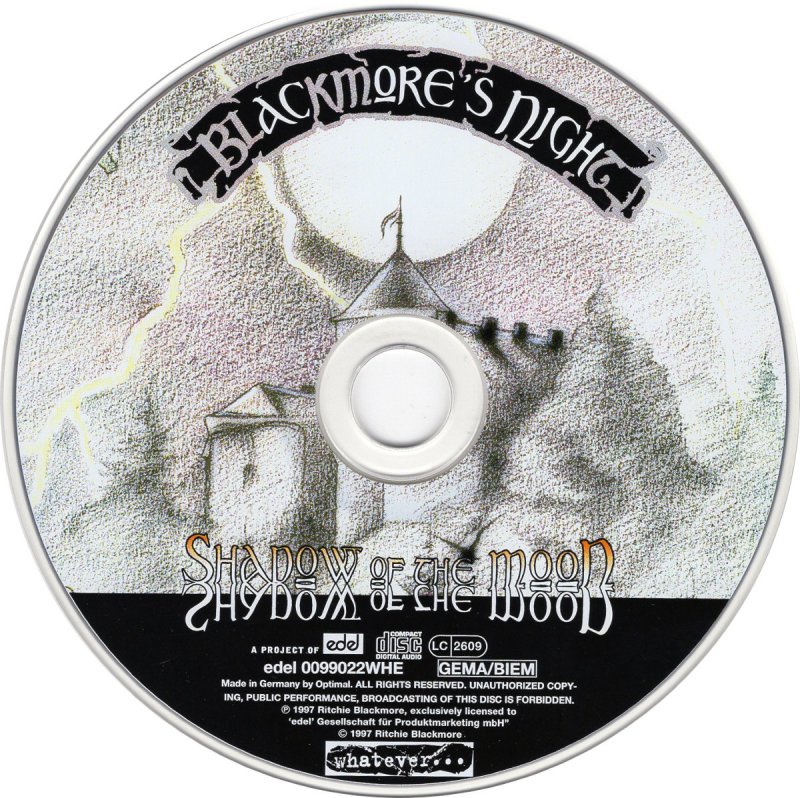 Thanks to Our Core Level Patrons:

The $7.77 KeepItWarmRat Tier
The $6.99 "New Nice Price" Tier

Spike the Rock Cat
Sugar T

The Episode $6.66 Tier

Steve Coldwell
Arthur Smith
Anton Glaving

The $6.65 "Almost Evil" Tier

Kenny Wymore
Michael Bagford – PATRON UPGRADE!!!

$5.99 The "Nice Price" Tier

Robert Smith
Peter from Illinois
Karl Hellberg

The 60 Kroner "Scandinavian Nights" Tier

Zwopper The Electric Alchemist
Knut Morten Johansen –

The $5.55 "What's Goin' On Here" Tier
$5 "Money Lender" Tier

John Convery
German Heindl
Adrian Hernandez
Jesper Almén
Oleksiy The Perfect Stranger Slyepukhov
James North
Mark Hodgetts
Kev Roberts
Percival Frequency
Scott Zerns
Cynthia Dube
Raff Kaff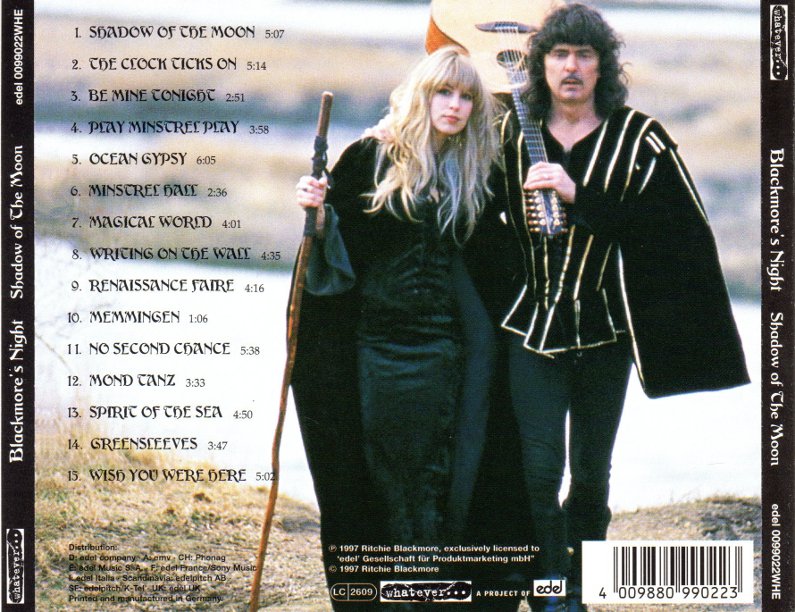 Bustin' Out The Spreadsheet

Reviews:

Darker Than Blue Issue #50, February 1998 http://www.deep-purple.net/DPASmags/dtb50/dtb50.html#11
BLACKMORE'S NIGHT
SHADOW OF THE MOON : UK : Edel 0099 022WHE : Oct 1997 CD
"As a guitarist of 30 years pro & amateur experience, I know only too well the difficulties in reconciling your advancing years with a desire for musical progression. Off-hand, I can only think of one "elder statesman" guitarist (Beck) who still retains the fire and inventiveness of those days. Is it fair to expect any guitarist to continually expand his musical horizons whilst retaining the spark of youth in his playing? Unfortunately not; guitarists are only human after all. Will a die-hard fan still hope for that? Inevitably.
Shadow Of The Moon – clearly a RB song -pumped up, it could be a Rainbow song, but restrained and nicely sung. No solo? Shock horror! Excellent production work – everything is clear with acoustic to the forefront as one would hope. The Clock Ticks On – yeuch: synthesised medieval instruments. Rather cliched lyrics, but they fit in with the overall theme of the record. RB has clearly applied his knowledge of medieval syncopation to write what could have been a formal dance number. Again, the singing is a bit laid back for my taste; I'm sure with more studio experience Candice will open her lungs a bit more.
Be Mine Tonight – a pleasing 3/4 tempo, not unlike a Paul Simon song. The chorus on this one is more clearly defined & benefits from being so. The brief arpeggiated guitar section helps with the structure of the song, if rather predictably. Ocean Gypsy – a beautiful opening mood turned into a song I've known & loved for years. A chance to draw comparisons for the first time. I played the original & this back to back a few times without any real conclusions. Yes, I prefer the original (Annie Haslam has a voice you'd struggle to match) but Candice delivers it sympathetically, albeit lacking in any passion. The song is beautiful and delivered with sensitivity. I hoped RB would let himself go a little here & give us one of those "bringing tears to the eyes" solos, but no, restraint seems to be his watchword.
Writing On The Wall – oh dear, I thought, more cod-classical rubbish, but what do we have here? Euro-pop??? Yes indeedy, the Man In Black reveals for perhaps the first time a wry sense of humour in his range of musical genres (previously somewhat limited). Great chorus, clipped & wonderful licks, slide guitar & a superbly cheesy drum-machine. Gawd, more spine-tingling guitar; please don't fade, please, oh sh*t, it's fading. Whether he had to use the classical refrain instead of an original one is debatable, but for me it works. Strange that it has been programmed into the middle of an otherwise coherent set of songs, but I'm just glad it's there. So I say "More songs taking this kind of musical risk please!"
So then what does this leave us with? I applaud him for breaking his self-adopted mould, taking the odd chance (viz. Europop), authentic medieval structures & playing, sympathetic production, clearly articulated acoustic work, fairly catchy melodies (in the main) and creditable singing. I mark it down on a lack of passion throughout, with RB as guilty as Candice, with far less excuses to his name. Candice should be proud of her debut but will hopefully gain in confidence as their personal & musical relationship develops." Nick "don't shoot me I'm only his brother" Robinson
My thanks for all the mail, and especially to Nick for tackling this delicate task with a far more lenient hand than I could have brung to it. We played the CD (myself and Ann) at first with interest, feeling at last he'd tackled something if not radically new, then at least a little different. As the disc wore on however our frustration grew. The very flat vocal approach, almost country and western in feel, set out on one level and simply stayed there. Fine for a couple of songs but deadly dull over a whole CD. I've absolutely no idea where Blackmore intended to go with this record, though as he'd had total control one can but assume he did what he set out to do, but he seems ensured of a reasonable audience if he wants to pursue this avenue further. To me the CD doesn't really satisfy on any level. It neither works emotionally, being almost totally devoid of feeling, nor does it threaten to break any boundaries anywhere, and it certainly won't find any admirers amongst fans of true ancient music. Ann – who has tapes of that sort of music – assures me that technically, Blackmore is absolutely spot on – but at the price of losing any shred of soul in his playing – save from the odd spot of electric work here and there which show he still has what it takes to move mountains.
A reader writes in to More Black Thank Purple printed in Issue #5: "Ritchie wanted to make an album like this for years, and it's just a really good album, it's very well produced. I like Candice's singing on it. He's playing really well . . . it's just a really nice departure and it's very well played. I think it's really good; I hope he does well with it. Quite surprised, but very pleasantly surprised. (Cozy Powell, Berkshire, England)
Thanks To Our Foundation Level Patrons:

The £3 "The Aromatic Feed" Tier
The $3.33 Half Way to Evil Tier

Stephen Sharpe
Duncan Leask

$3 "Nobody's Perfect" Tier

Peter Gardow
Ian Desrosiers
Mark Roback
Stuart McCord
Flight of the Rat Bat Blue Light
Øyvind Fjeldbu –
Runar Simonsen –
JJ Stannard
Ruinous Inadequacies
John Miceli
Michael Boyette

The $1.71 "I Want My Own Tier" Tier
The 10 kr "" Tier
The £1 Tier
$1 Made Up Name Tier

The "Spirit of the Sea" Leaky Mausoleum
Stephen Sommerville The Concerto 1999 Fanatic
Hank the Tank
Private Eyes
Ashen Lionel
Blackmore's Tights
For Further Information: