Subscribe at Apple Podcasts, Stitcher, Google Podcasts, Overcast, Pocket Casts, Anchor.fm, Breaker, PodBean, RadioPublic, Amazon Music, or search in your favorite podcatcher!

How To Support Our Show:

Thanks to Our Executive Level Patrons:

The $25 "Uncommon Man" Tier
The $21.12 "Long Live Rock 'n' Roll" Tier
The £10 Tier
The Turn it up to $11 Tier

Clay Wombacher
Frank Theilgaard-Mortensen
Alan "Ain't Too Proud To" Begg
Mikkel Steen

$10 "Some One Came" Tier

Ryan M
Jeff Breis
Gerald Kelly – Paypal
Victor Campos
"Better Call" Saul Evans
Kev Roberts & his wonderful children: Matthew, Gareth, and Sarah — PATRON UPGRADE!
Show Update:

New Deep Dive Podcast Network Show

Back Tracks: Aerosmith Revisited
Deep Dive Podcast Network:

New SHOW!! — Back Tracks: Aerosmith Revisited
Lead up to the Album:

Between albums we had the incident in 1980 where Ritchie joined Gillan on stage after Ritchie had refused an offer to join Gillan and Gillan had refused an offer join Rainbow.
Shortly after this Ian got a call from Tim Rice asking him if he'd like to play the part of General Peron in his new musical Evita. Gillan would refuse the offer to focus on Gillan.
The band changed to the Virgin label.
They had previously been with the label Acrobat and had to front all of the money for Mr. Universe themselves. Proceeds for the new album were going to have to go to paying off their old debt.
Personnel:

Technical: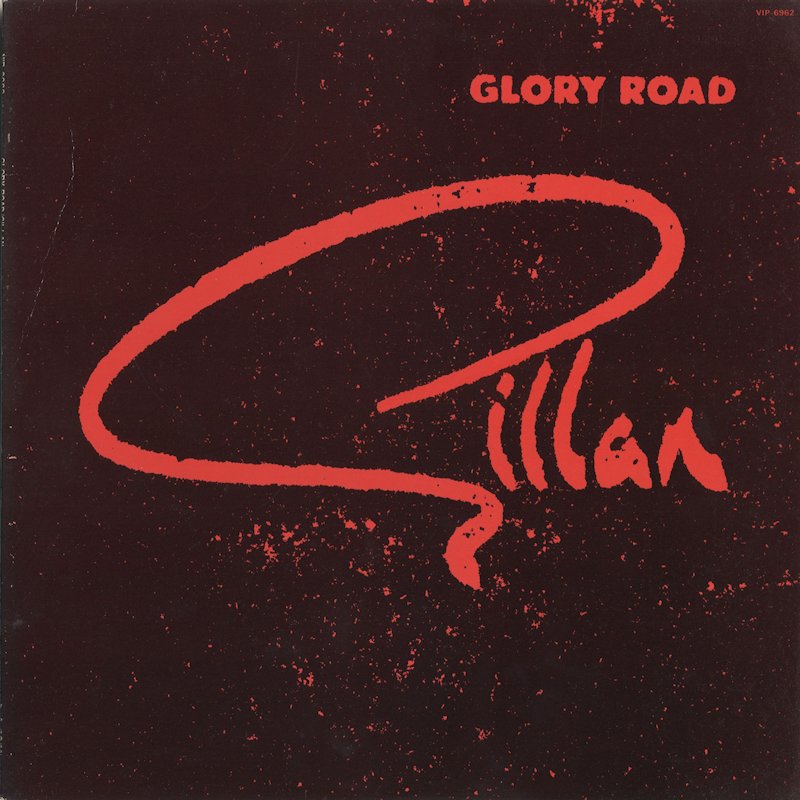 Album Art & Booklet Review

Thanks to Our Core Level Patrons:

The $7.77 KeepItWarmRat Tier
The Episode $6.66 Tier

Steve Coldwell
Arthur Smith
Anton Glaving
Mike Kattan

The $6.65 "Almost Evil" Tier
$5.99 The "Nice Price" Tier

Fielding Fowler
Robert Smith
Peter from Illinois

$5 "Money Lender" Tier

John Convery
German Heindl
Adrian Hernandez
Jesper Almén
Oleksiy The Perfect Stranger Slyepukhov
James North
Mark Hodgetts
Will Porter
Zwopper The Electric Alchemist
Tim "Southern Cross" Johnson
Album Tracks (UK Version):
Side One:

Unchain Your Brain (Gillan, Torme, McCoy)
Are You Sure? (Gillan, Torme, McCoy)
Time and Again (Gillan, Torme, McCoy)
No Easy Way (Gillan, Torme, McCoy)
Sleeping on the Job (Gillan, Towns)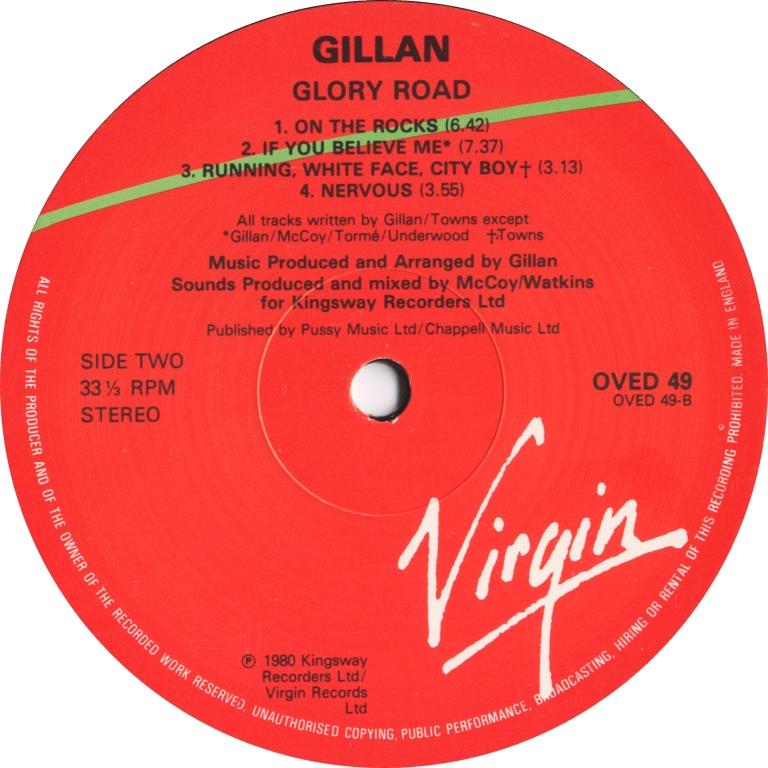 Side Two:

On the Rocks (Gillan, Towns)
If You Believe Me (Gillan, McCoy, Torme, Underwood)
Running, White Face, City Boy (Towns)
Nervous (Gillan, Towns)
Album Tracks (US Versions):

Manufactured and Marketed by RSO Records, Inc.

This is the USA version of Glory Road that comes in embossed/raised Gillan Logo and where two of the tracks "Unchain your brain" and "Running, White Face, City boy" were switched. A5 is different from other releases. Running times as given on the label. Those slightly differ from the running times given on the European and other countries versions.

Side One:

Running, White Face, City Boy (Towns)
Are You Sure (Gillan, Torme, McCoy)
Time And Again (Gillan, Torme, McCoy)
No Easy Way (Gillan, Torme, McCoy)
Your Mother Was Right (Gillan, Town)

Sleeping on the Job (Gillan, Towns) was on the UK Version which was previously on UK version of "Mr. Universe."
US version saw a track called "Your Mother Was Right."
This track was included on the UK double album version's bonus LP "For Gillan Fans Only."
Side Two:

On The Rocks (Gillan, Towns)

In an interview with DJ Phil Easton: "It's basically one of my little hobby horses. It's about how I think people have generally become de-animalised in modern society, and are conditioned to do certain things from a very early age. It's summed up in "Once you were a flying thing, now you're on the rocks with broken wings" which sums up mankind for me at the moment. It's a sad song, but as always, there is a bit of optimism later on."

If You Believe Me (Gillan, McCoy, Torme, Underwood)
Unchain Your Brain (Gillan, Torme, McCoy)

Album opener on UK version.

Nervous (Gillan, Towns)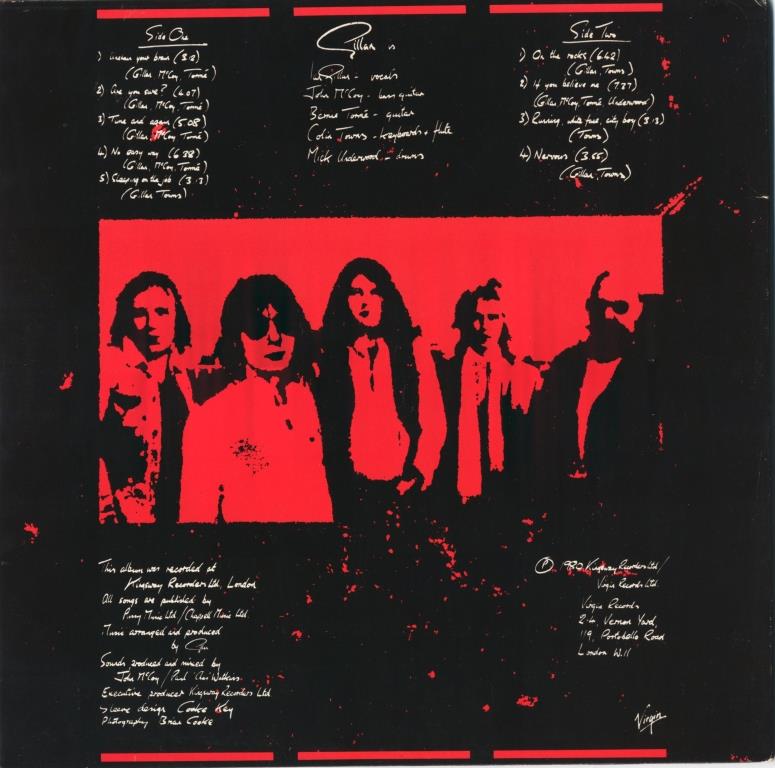 Thanks To Our Foundation Level Patrons:

The $3.33 Half Way to Evil Tier
$3 "Nobody's Perfect" Tier

Peter Gardow
Ian Desrosiers
Mark Roback
Duncan Leask
Stuart McCord
Flight of the Rat Bat Blue Light

Øyvind Fjeldbu –
Runar Simonsen –
$1 Made Up Name Tier

The "Nervous" Leaky Mausoleum
Stephen Sommerville The Concerto 1999 Fanatic
Spike, The Rock Cat
JJ Stannard
Hank the Tank
Private Eyes
Ashen Lionel
Sugar Tits
Reception and Charts:

The album reached No. 3 in the UK album charts.
In UK it was also released as a double album with the additional "For Gillan Fans Only."
In 1989 the album was released on CD by Virgin with some tracks from For Gillan Fans Only.
In 2007 a 19-track double album version was rereleased by Edsel. The For Gillan Fans Only CD had two bonus tracks.
Gillan says that "Glory Road" was his best work since "Machine Head."
The second part of the double album "For Gillan Fans Only" was given away as a freebie with the first 15,000 copies.
After the album came out the press was still hounding Gillan about a Deep Purple reunion. Gillan told them they should ask David Coverdale the same thing.
After this a rumor circulated on Tommy Vance's show (where they would later announced the official Deep Purple reunion) that reunion dates were being booked in America. This would have been a mention of Rod Evans's failed Deep Purple revival act.
Reviews:
http://www.deep-purple.net/DPASmags/stargazer23.htm#gillan

Glory Road / For Gillan Fans Only – Album Review
Very workmanlike, somewhat unadventurous too, with many cuts taking a similar style and level. 'Unchain Your Brain' is a case in point, nothing too brilliant, but enjoyable. 'Are You Sure' is great. The track is less cluttered than many on the album, and Ian really seems to be enjoying it. 'Running White Face City Boy' is another which I like, very similar to many Gillan band tracks, but has as a little more drive to it than most. 'Nervous' seems quite adventurous, and Ian's throaty scream suits the track.
The extra 'For Gillan Fans Only' album is a rag-bag collection of items mostly unavailable before. 'Your Mother Was Right' is a lengthy out-take which seems a bit unfinished, but interesting ideas abound all the way through. 'Abbey Of Thelema' includes the flute solo which was done live, while 'Trying To Get To You' is an oldie from Ian's shelved 1974-75 solo album. It has the intro edited off for some reason. Colin Towns' 'Dragon's Tongue' is great, he'll never be out of work with stuff like this! On the whole, Glory Road and 'son of' have things to pick up on, but still lack the sheer impact of the Japanese Gillan album.

Darker Than Blue ran a series of fan responses for the album:

Marcus Paisley: "Not keen on the cover. Why do they keep changing the logo?"
Andrew Ellesden: ". . . side one didn't impress me much, but side two is brilliant . . . I'd rate it higher than all Gillan's post Purple stuff except for the Jap LP and some of Clear Air. My fave overall is "On The Rocks," then "Nervous" . . . Ian's singing is particularly effective.
Merch, Etc.

Jeff Breis's official tour jacket
Official Gillan Biography Tour Programme
No Easy Way Single
Glory Road 7"
For Further Information:
Help from the archives of Jeff Breis
Listener Mail/Comments

Comments about the show? Things you'd like us to cover? We'd love to hear from you. Send us an email at info@deeppurplepodcast.com or @ us on Twitter, Facebook, or Instagram.