Subscribe at Apple Podcasts, Stitcher, Google Podcasts, Overcast, Pocket Casts, Anchor.fm, Breaker, PodBean, RadioPublic, Amazon Music, or search in your favorite podcatcher!

How To Support Our Show:

Welcoming Our Newest Patron(s):

Mike Kattan – Joining at the Episode $6.66 Tier

I don't have anything clever, but here are some thoughts you might be able to make a bit out of.
My first hard rock album was Machine Head, which my older brother gave me when I asked him for something heavier than Grand Funk Railroad, which was my previous step. I went from DP to Sabbath eventually. This was about 47 years ago.
I don't think there any any heavy DP without Ritchie but would love to be proven wrong with an example album (big Ritchie fan)
I thought Jon's scores on Moxy were way low!! Started listening to them.
Thanks also for the Dream Theater cover experience. That was awesome.
Thanks to Our Executive Level Patrons:

The £10 Tier
The Turn it up to $11 Tier

Clay Wombacher
Frank Theilgaard-Mortensen
Alan "Ain't Too Proud To" Begg
Mikkel Steen

$10 "Some One Came" Tier

Ryan M
Jeff Breis
Gerald Kelly – Paypal
Victor Campos
"Better Call" Saul Evans
Richard Fusey
Deep Dive Podcast Network:

Lead up to the Album:

Chuck Burgi, a friend of Joe's, and drummer with Hall and Oates. Colin Hart says Joe had a hand in getting Bobby out of the band and getting Joe to replace him. Ritchie wasn't sold on Burgi right away.
Bobby says he knew he was going to get kicked out so he quit.
Rosenthal says they had another drummer who he doesn't remember the name of who did all the drum parts in Copenhagen. Ritchie eventually decided to have Burgi come over and redo all the drum parts.
Chris Carroll seems to be the drummer that started sessions in Copenhagen.
Rasmussen says they "wasted three or four days" with the first drummer. Everyone seems unwilling to name the drummer.
Joe increased his level of collaboration with Ritchie on the writing process.
They went up to Vermont to rehearse then over to Sweet Silence Studios in Copenhagen to record the album.
Ritchie insisted on writing outside of the studio for financial purposes.
The album was recorded in five weeks.
Personnel:

Technical: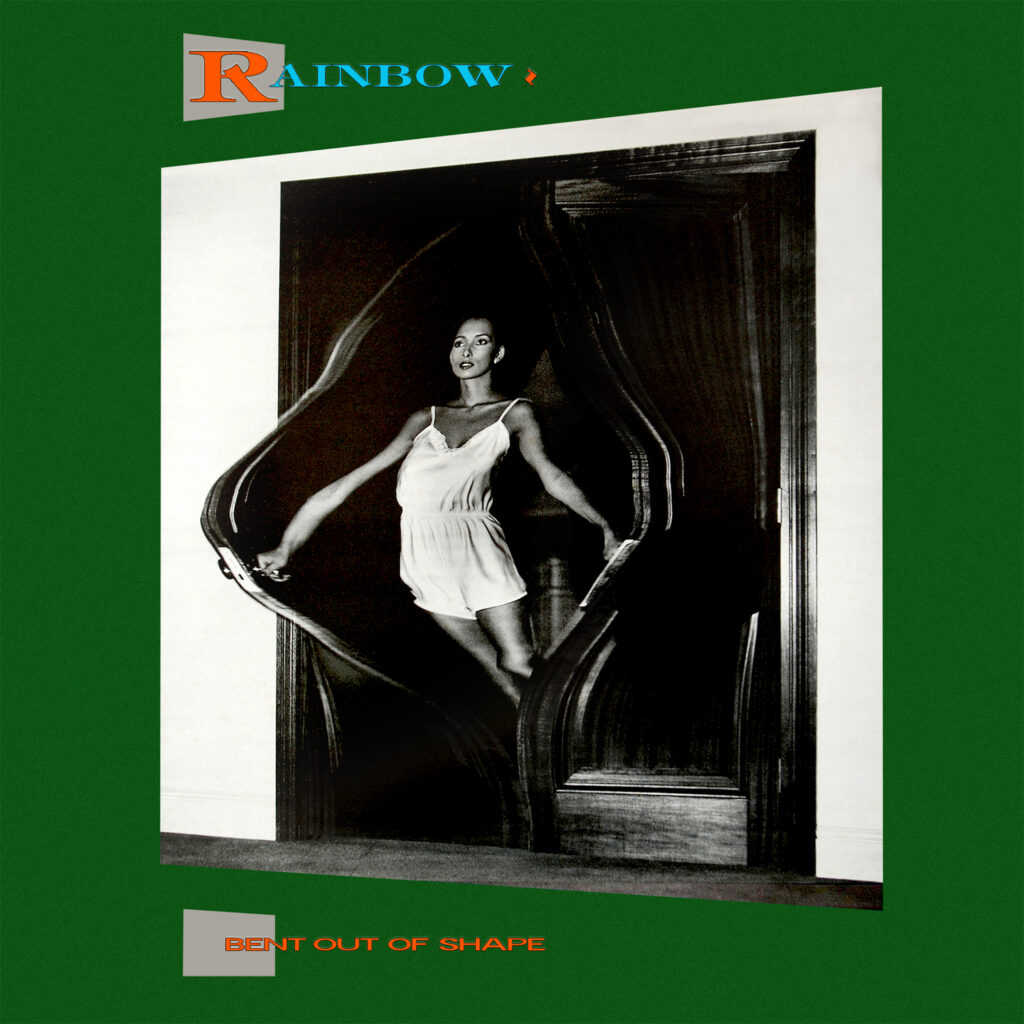 Album Art & Booklet Review

Wikipedia says the album art was designed by Hipgnosis and that along with Led Zeppelin's "Coda" were the last to be designed by Hipgnosis before they shut down in 1983.
Discogs credits this album differently.
Artwork [Sleeve Design And Concept] – STd (3)

Storm Thorgerson Designs – used this acronym to credit his work after Hipgnosis closed for business. Shortly after this he formed StormStudios.
Discogs lists Storm as the designer and not Hipgnosis.

Photography By [Cover] – Derek Burnett

Only credit is this album and Kansas's "In The Spirit of Things" featuring none other than current Deep Purple guitarist Steve Morse.

The title is an American expression and not a British one supporting the theory that this album was specifically marketed at American audiences.
Joe says it came from Clif Cooky Crawford, Ritchie's guitar tech, who used to say "don't get all bent out of shape" all the time.
The band originally wanted to call the album "Don't Fuck Around with Love." As could be expected the record company wasn't crazy about this album, hence the title it has.
We saw this sort of thing really annoy Ian Gillan a few years later when Blackmore said to Gillan 'There's no need to cop an attitude.' This infuriated Ian Gillan who didn't appreciate Blackmore's adopting of American expressions or mannerisms.
Thanks to Our Core Level Patrons:

The $7.77 KeepItWarmRat Tier
The Episode $6.66 Tier

Steve Coldwell
Arthur Smith
Anton Glaving
Mike Kattan – NEW PATRON ALERT!!

The $6.65 "Almost Evil" Tier
$5.99 The "Nice Price" Tier

Fielding Fowler
Robert Smith
Peter from Illinois

$5 "Money Lender" Tier

John Convery
German Heindl
Adrian Hernandez
Jesper Almén
Oleksiy The Perfect Stranger Slyepukhov
James North
Mark Hodgetts
Kev Roberts – (courtesy of his wonderful children: Matthew, Gareth, and Sarah)
Will Porter
Zwopper The Electric Alchemist

Tim "Southern Cross" Johnson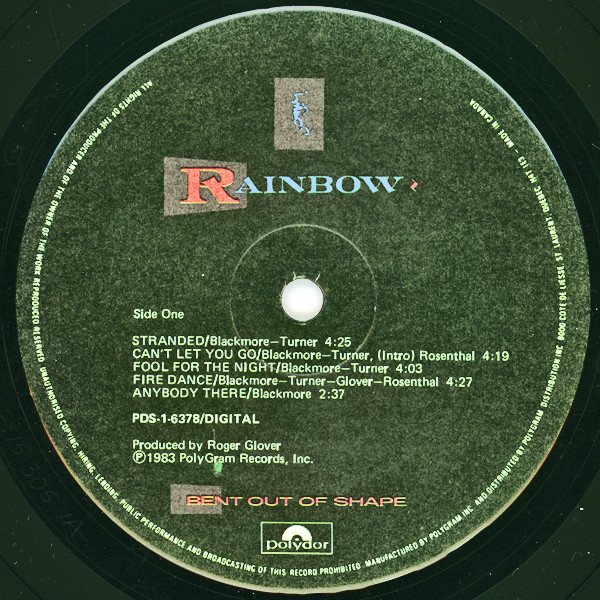 Album Tracks:

Side One:

Stranded (Blackmore, Turner)

Turner says the song was written while looking out the window in Copenhagen and feeling like he was stranded.

Can't Let You Go (Blackmore, Turner, Rosenthal)

Second single released from the album with 
Released  "All Night Long" live as a B-side, other versions also contained "Stranded" live as well as "Drinking With The Devil" included in the Spanish single release.
Rosenthal wrote the intro. Ritchie told him he was looking for something like Bach's "Toccata and Fugue."
If you haven't seen the video, you should definitely check it out. Future bonus episode material for sure.
Reached #43 on the UK Singles Chart.
Burgi says they couldn't quite get this one right.  Ritchie got frustrated and left Roger, David, and Chuck and told them to try it as a trio.  They said they got it in the first take and Ritchie liked it and later overdubbed his guitar part.
Ritchie says this is the best Joe ever sang.

Fool for the Night (Blackmore, Turner)

Turner says this song is autobiographical about being addicted to the rock and roll lifestyle.

Fire Dance (Blackmore, Turner, Glover, Rosenthal)

Joe says this song is about dabbling in the occult with Ritchie.
JLT says they were into Wicca and Alestair Crowley.  He says he was "literally possessed" to write this song.
He also claims they used to do seances with Jimmy Page.

Anybody There (Blackmore)

Joe Lynn Turner says this song was titled this way because the first three lines of any seance are "Is Anybody There?"
Ritchie says it's a typo on the sleeve and there should be a question mark after the song title.
Ritchie says it's based on Bach's "Prelude in C."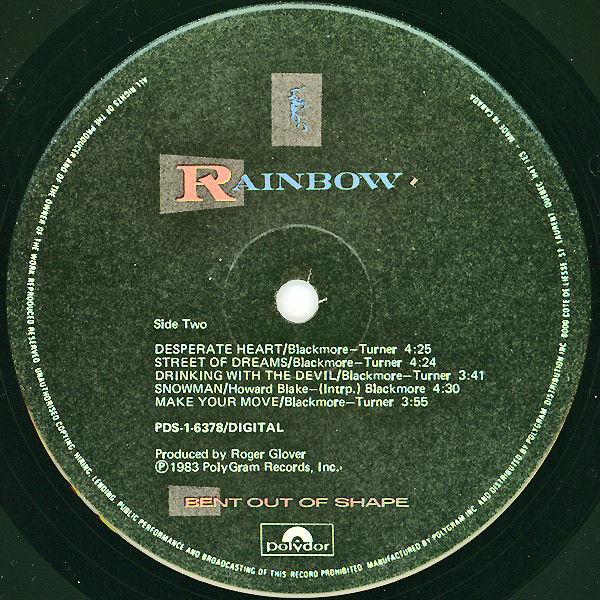 Side Two:

Desperate Heart (Blackmore, Turner)

The LP has "Desperate Heart" at 4:00, whilst cassette and remastered CD have this track at 4:36, repeating the verse after the guitar solo.

Street of Dreams (Blackmore, Turner)

Turner calls this song "Stone Cold Part II."
First single released off of the album.  A couple of different versions including "Anybody There" as a B-side, "Power" live as a B-side.
There's a video for this one as well directed by Storm Thurgerson, the cover artist.
The video was banned by MTV for a segment that was supposedly hypnotic.
Reached number 52 in the UK charts, #60 on the Billboard Hot 100, #2 on US Mainstream Rock.
Joe Lynn Turner said that this song was a "big story for me."  He goes on to say, "It was a spiritual experience that I had. I'm a reincarnationist, and I believe we all lived before, and know people and places before."
JLT says Ritchie was intimidated by some of the lyrics and the melody because he'd done such a great performance.  He says Ritchie "was like, ' Fuck, how am I supposed to play a lead? This vocal is so strong."
Ritchie says this song is one of the best commercial songs he's ever been involved with.

Drinking With The Devil (Blackmore, Turner)
Snowman (Howard Blake, arranged by Blackmore)

The instrumental "Snowman" is based upon "Walking in the Air", a song written by Howard Blake for the 1982 animated film The Snowman based on Raymond Briggs' 1978 children's book of the same name.
This song was based upon "Walking in the Air" by Howard Blake. This was from a 1982 animated movie called "The Snowman" based on Raymond Briggs' 1978 children's book.
Was nominated for a grammy for best rock instrumental performance in 1984.
Sting beat it out with his song "Brimstone and Treacle."
Ritchie: "I think Sting won it, because they felt sorry for Sting. This is the story I heard. They felt sorry for him because he didn't win in the vocal category. So they had to include him in something."  He goes on to say. "That's not a slight at Sting, but that's how the story came back to me."

Make Your Move (Blackmore, Turner)

Similarly, "Make Your Move" is 3:56 on the LP, yet 5:25 on cassette and remastered CD, due to a reprise of a bridge section and a much longer playout. The first US CD edition (Polydor – 815 305-2) uses the LP version.
Joe says this is something he and Roger were saying to each other. They were at this point in their life where you have to do something different.  He likens it to the song "Power" from "Straight Between The Eyes."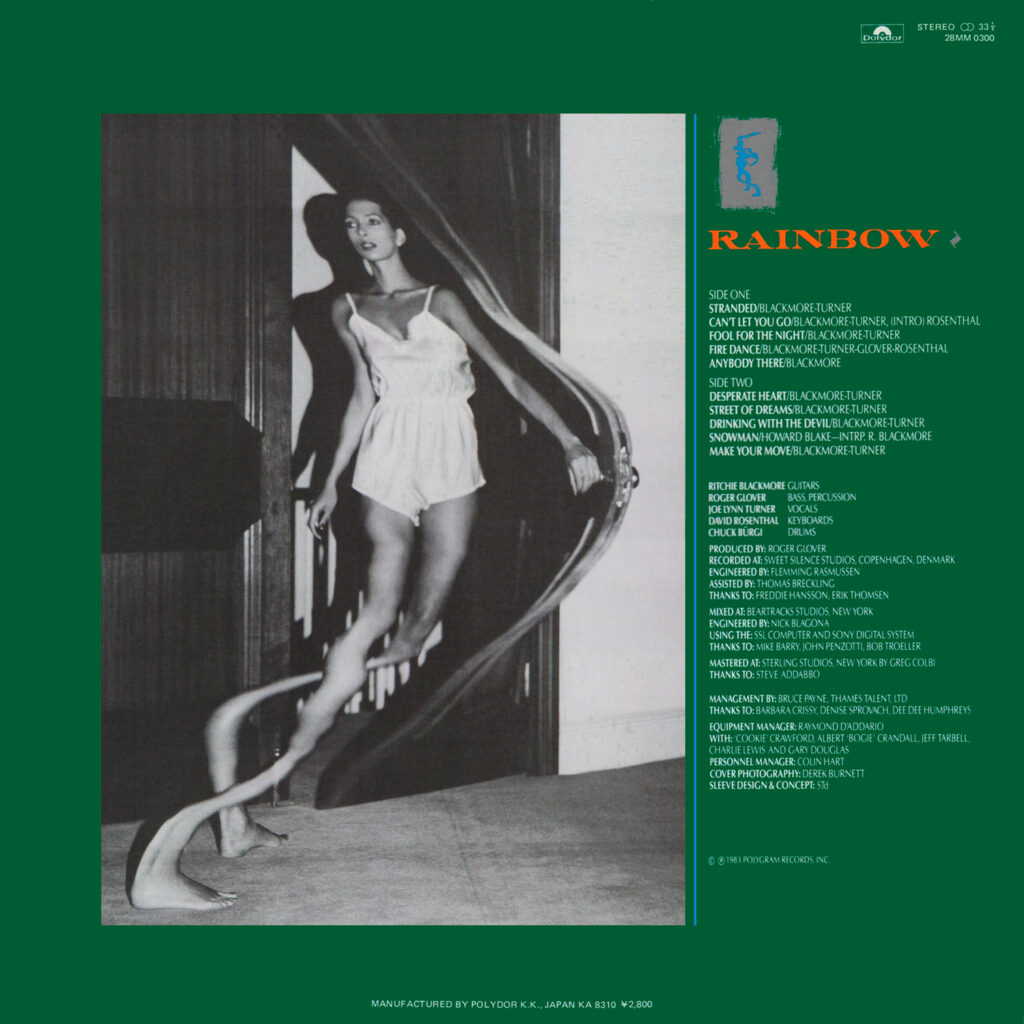 Thanks To Our Foundation Level Patrons:

The $3.33 Half Way to Evil Tier
$3 "Nobody's Perfect" Tier

Peter Gardow
Ian Desrosiers
Mark Roback
Duncan Leask
Stuart McCord
Flight of the Rat Bat Blue Light

Øyvind Fjeldbu (EYE-VIND FJELBOO)
$1 Made Up Name Tier

The "Fool Not For The Tight" Leaky Mausoleum
Stephen Sommerville The Concerto 1999 Fanatic
Spike, The Rock Cat
JJ Stannard
Hank the Tank
Private Eyes
Ashen Lionel
Reception and Review

Roger says this was the best sounding record sonically.
The album reached #11 in the UK Albums Charts and #34 on the Billboard 200 in the US.
Howard Johnson of Kerrang! magazine (No.51 – Sept 22-Oct 5, 1983) praised the album as "possibly Rainbow's most complete work to date" and called "Desperate Heart" and "Street of Dreams" "two of this year's finest tunes."
Joe Lynn Turner tells this story of making a 10 foot line of cocaine in the studio and all of this excess. Roger says he doesn't recall any of this but says, "Sounds like a good story, though. And who am I to ruin a good story?"
They started the tour for this album in England supported by Lita Ford. Joe and Lita quickly became romantically involved.
Ritchie: "I've come to realize that playing music that people can enjoy is not a sin. When I left Purple and started Rainbow in 1974, I was committed to making music I viewed as challenging. Regrettably, that style didn't sell too many records.
In 2006 "Street of Dreams" was recorded by Blackmore's Night for their album "The Village Lanterne" and is sung by Candice Night. There's a special edition version of the album that features the song as a duet with Candice Night singing the track with Joe Lynn Turner.
By this point rumors were starting to swirl around about a Deep Purple Mark 2 reunion.
Joe Lynn Turner says they were on the verge of something greater and were really picking up traction but broke up right before it happened.
For Further Information:
Listener Mail/Comments

Comments about the show? Things you'd like us to cover? We'd love to hear from you. Send us an email at info@deeppurplepodcast.com or @ us on Twitter, Facebook, or Instagram.