Disclaimer: The video used on YouTube is a byproduct of producing our audio podcast. We post it merely as a convenience to those who prefer the YouTube format. Please subscribe using one of the links below if you'd prefer a superior audio experience.

Subscribe at Apple Podcasts, Stitcher, Google Podcasts, Overcast, Pocket Casts, Anchor.fm, Breaker, PodBean, RadioPublic, Amazon Music, or search in your favorite podcatcher!
Thanks to Our Show Supporters – Three Ways To Show Your Support

The $25 "Super Trouper" Tier
The $20 "Shades of Deep Pockets" Tier
The $15 "Highball Shooter" Tier
The Turn it up to $11 Tier

Frank Theilgaard-Mortensen
Clay Wombacher

$10 "Some One Came" Tier
The Episode $6.66 Tier
$5.99 The "Nice Price" Tier
$5 "Money Lender" Tier

Greg Sealby
John Convery
Arthur Smith
German Heindl
Adrian Hernandez – Paypal
Kenny Wymore

$3 "Nobody's Perfect" Tier

Peter Gardow
Ian Desrosiers
Mark Roback
Anton Glaving
Will Porter

$1 Made Up Name Tier

Ells Murders
Spacey Noodles
The "Detestable" Leaky Mausoleum
Michael Vader
Thanks to our Brothers at the Deep Dive Podcast Network:
Thanks to the Patron Saint and Archivist of The Deep Purple Podcast:
Show Updates:

Comments from social media.
New Apple Podcasts review: 5 Stars!
Well Disguised , 10/29/2020
Great guys, great show

I thought I was a big Deep Purple fan…then I discovered these guys. They do a wonderful job of truly digging deep into the entire world of Deep Purple, and if you know anything about the history of the band, that gives them a wide latitude of things to explore. The Twitter account is fun to follow, too. This is well worth your time if you have any interest in DP.
Lead up to the Album:

Martin Popoff talks in his book "Sail Away" about how David Coverdale's solo career was a bit disjointed in 1978. He talks about the confusing album titles and ban names (White Snake vs. Whitesnake) and the Snakebite EP. He says that the public "did not want funky R&B or blues fusion or whatever it was he was selling. He cites Ian Gillan Band and Paice Ashton Lord for more evidence to support this.
Coverdale had apparently tried to recruit Colin Towns from Ian Gillan Band and also Tony Ashton on keys. Paice Ashton Lord had also attempted to get Coverdale to join them as we discussed on our PAL episode to form a band called CLAP!
Mick Ralphs from Bad Company had been attempting to get Lord to join but the idea was vetoed by Paul Rodgers. Micky Moody and Paul Rodgers had been in a couple of bands together when they were younger.
Bernie Marsden: "Jon brought to the table what Jon Lord did. I mean, when he overdubbed the stuff on Trouble, we had already recorded with the previous keyboard player, before Jon joined the band. And literally, when Jon brought his Hammond organ and stuff into the studio I mean, the room literally shook. And you know, Jon had a presence about him, as a person, and you know what he was like as a musician."
Coverdale: "A lot of people don't realize . . . they either look at Purple as a collective or particularly Ritchie. But a huge part of Deep Purple's sound was Jon Lord's left hand on that customized Hammond organ. My God, it would shake your haemorrhoids when he would hit the bottom end of that Hammond."
Neil Murray says that even though Jon recorded over Solley's tracks that Solley still had a great input on the album seeing that he was involved in the whole process.
Personnel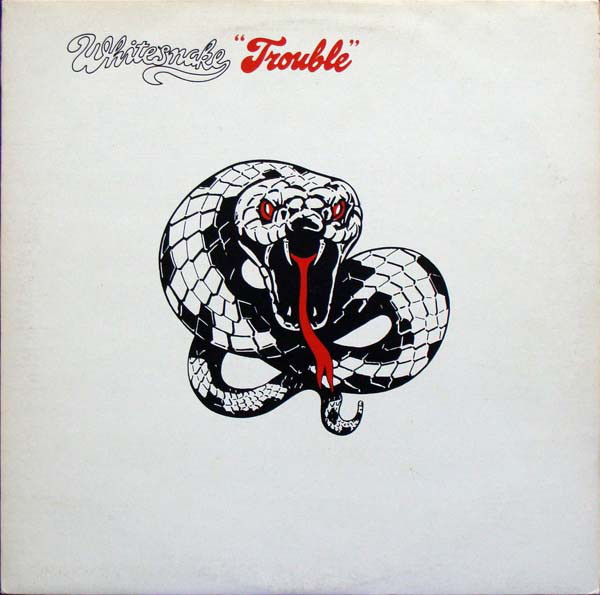 Album Art & Booklet Review

US Snake/Egg Cover
Art Direction, Design – Bill Burks (2)

Designed covers for Kenny Rogers, Dusty Springfield, Tina Turner

Illustration – Bill Imhoff

Did covers for Billy Joel, Willie Nelson, The Beach Boys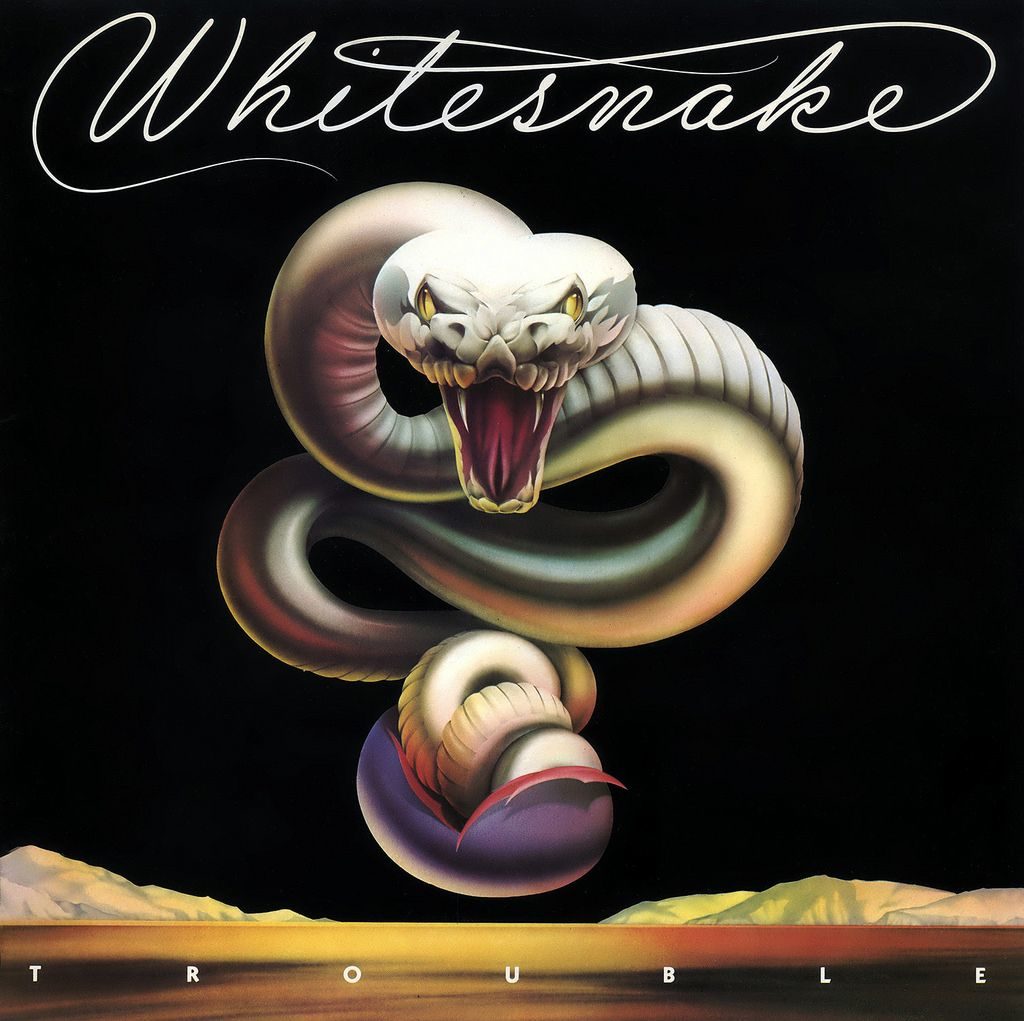 Album Tracks: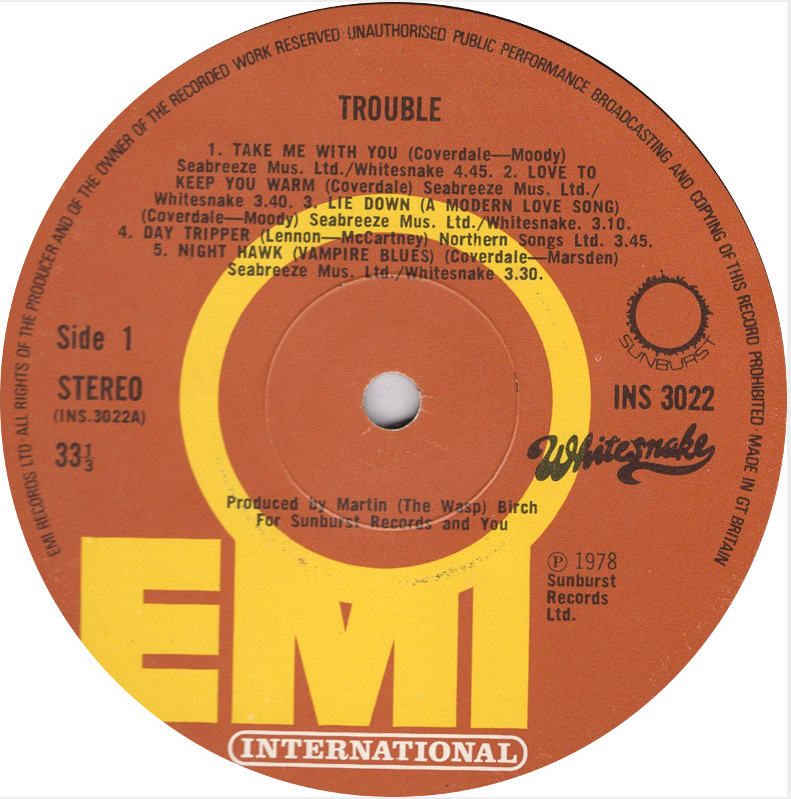 Side One:

Take Me With You (Coverdale, Moody)

Neil Murray calls this "a big and exciting work-out with lots of solos in it."

Love to Keep You Warm (Coverdale)
Lie Down (A Modern Love Song) (Coverdale, Moody)

First UK single in late September of 1978 with "Don't Mess with Me" as the B-side.
There are also a number of TV appearances available for Lie Down and Trouble, from the Uk and from Germany

Day Tripper (Lennon, McCartney)

In Germany Day Tripper was released as a single, coupled with Love To Keep You Warm
Marsden said that he wanted to do a funky version of the song. MArsden said that DAvid Dowle was a really good funk drummer which gave this song a great feeling.
This was the first Whitesnake hit.

Nighthawk (Vampire Blues) (Coverdale, Marsden)

Marsden had the idea for the song and says Coverdale came out with a dark lyric.
The song gets its title from Coverdale's mother's name for him. I'm assuming this means "Nighthawk."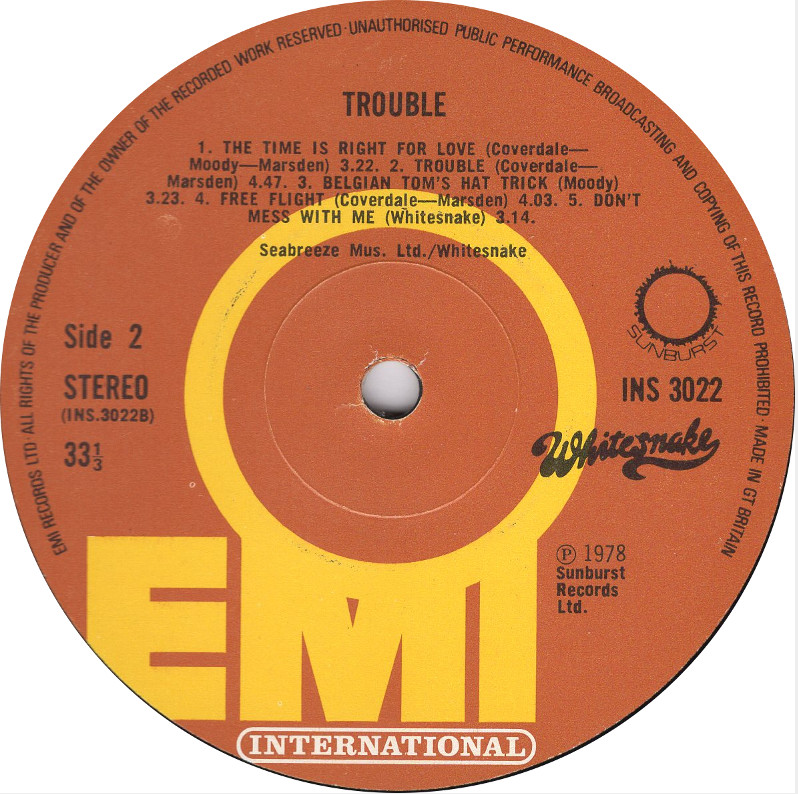 Side Two:

The Time Is Right For Love (Coverdale, Marsden)

Second UK single in March 1979
A: The Time Is Right For Love B: Come On (Live Version)
Videos for Day Tripper and The Time Is Right For Love were recorded early November 1978 (4th and 5th, if I can trust a 1978 tour rider I recently found).

Trouble (Coverdale, Marsden)
Belgian Tom's Hat Trick (Moody)

Allegedly Coverdale had done a solo on this song but it got scrapped. Marsden disputes this saying Coverdale never did any guitar on their albums. Marsden does say that Coverdale was "a pretty good soloist." He says in rehearsals Coverdale was always playing the guitar.

Free Flight (Coverdale, Marsden)

Marsden sings this one.
Marsden says Coverdale wanted him to sing this one. He says in those days Coverdale didn't want his name on the band, wanted it to be a real band.

Don't Mess with Me (Coverdale, Moody, Marsden, Murray, Lord, Dowle)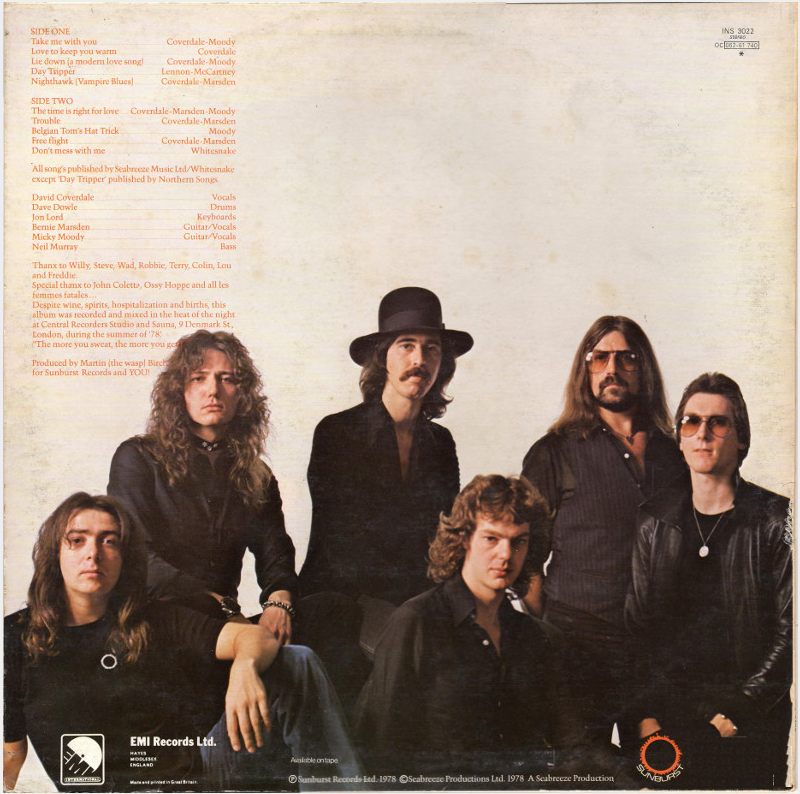 Reception and Review
Micky Moody states that the band was a lot of fun and that there was a lot of camaraderie. He says that they didn't make a lot of money since they never really broke our toured in the States and that's where the money was.
Coverdale would share the publishing rights on one song per album in hopes of keeping the guys happy with their low pay.
Stargazer: Issue 17 October/December 1978

For those of you who don't like bad reviews, read the live report below. I saw the band before I heard this, and there ain't no comparison. 'Take Me With You' has a nice opening, synthesised noises and chunky guitar before the track proper starts, but it kind of tails off after a while. I don't think Dowle is right for the band, but not being a drummer I can't really say why. 'The Time Is Right For Love' is a track which, had it had the time devoted to it that 'Northwinds' had might have been very good. In case you miss the news about Lord, they just turn him up as it ends, both on this and other tracks. Overall it's very ordinary and two-dimensional.

On November 9 1978 both Whitesnake and Gillan played a show in Manchester
The UK tour was in October/November 1978 and the last show in London was released later as "Live At Hammersmith" in Japan March 1980 and as part of "Live In The Heart Of the City" late 1980 worldwide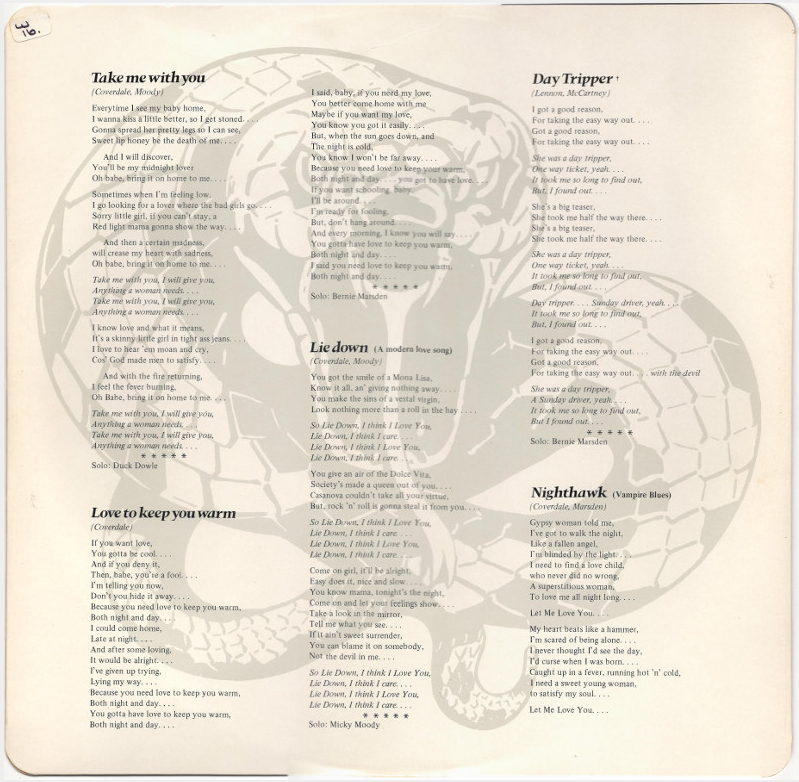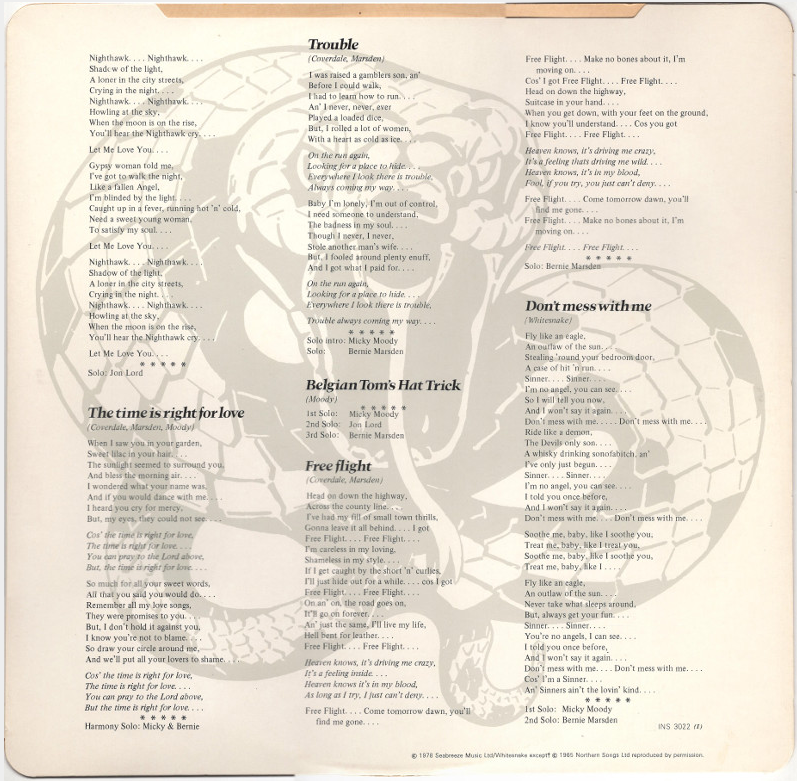 For Further Information:

Listener Mail/Comments

Comments about the show? Things you'd like us to cover? We'd love to hear from you. Send us an email at info@deeppurplepodcast.com or @ us on Twitter, Facebook, or Instagram.