Disclaimer: The video used on YouTube is a byproduct of producing our audio podcast. We post it merely as a convenience to those who prefer the YouTube format. Please subscribe using one of the links below if you'd prefer a superior audio experience.

Subscribe at Apple Podcasts, Stitcher, Google Podcasts, Overcast, Pocket Casts, Anchor.fm, Breaker, PodBean, RadioPublic, or search in your favorite podcatcher!
Thanks to Our Show Supporters – Three Ways To Show Your Support

The $25 "Super Trouper" Tier
The $20 "Shades of Deep Pockets" Tier
The $15 "Highball Shooter" Tier
The Turn it up to $11 Tier
$10 "Someone Came" Tier
$6.66 "Episode 666" Tier
$5 "Money Lender" Tier

Clay Wombacher
Greg Sealby
Frank Theilgaard-Mortensen
Mike Knowles
John Convery
Arthur Smith
German Heindl
Adrian Hernandez – Paypal
Fielding Fowler

$3 "Nobody's Perfect" Tier

Peter Gardow
Ian Desrosiers
Mark Roback
Anton Glaving
Will Porter

$1 Made Up Name Tier

Ells Murders
Spacey Noodles
The "Eerie" Leaky Mausoleum
Michael Vader
Thanks to our Brothers at the Deep Dive Podcast Network:
Thanks to the Patron Saint and Archivist of The Deep Purple Podcast:
Show Updates:

Comments from social media.
Lead up to the Album:

Immediately after Deep Purple Mark 4 imploded Tommy Bolin formed The Tommy bolin Band. Deep Purple ceased in mid March of 1976 and by June he was in the studio with his band recording Private Eyes.
Tommy had recorded demos of several of the tracks at Glen Holly Studio in Hollywood Hills.
Recording Session began at Cherokee Studios on June 8, 1976.
Private Eyes Session Dates

Bobby Berge reports that the recording dates at Cherokee Studios in Hollywood included:
June 8: "Shake the Devil" and "Post Toastee"
June 9: "You Told Me That You Loved Me" and "Gypsy Soul"
June 10: "Hello Again"
June 11: "Someday Will Bring Our Love Home" (Carmine Appice filled in on drums.)
June 14: "Gotta Dance," "Sweet Burgundy" and "Bustin' Out for Rosie" (Bobby back on drums)
June 15: Tommy did a number of overdubs
June 16: Tommy did a number of overdub

They talk of using a drum booth to record trying to mimic the sound the Beatles got at Abbey Road. It's also mentioned that in some cases they plugged the guitar direct into the mixing board instead of micing a cab.
Personnel
Bass, Vocals – Reggie McBride

Played with Rare Earth, Minnie Ripperton (Lovin' You), Stevie Wonder, Billy Preston, Van Morrison, Elton John, Ry Cooder

Drums, Percussion – Bobby Berge

Played with Tommy in Energy

Drums – Carmine Appice

Interview talking about Tommy

How do you remember late Tommy Bolin?
Tommy opened up for CACTUS in one of his bands. I always thought he was a great guitarist. I helped him get into DEEP PURPLE and we were always friends. He loved drinking and taking drugs – too bad he was great!!!
What do you mean by "I helped him get into DEEP PURPLE"?
I knew Tommy and I knew he was a great player. The guys in DEEP PURPLE asked me about him, what I thought of Tommy. I told them he was a great player and a nice guy – next thing I know he was in PURPLE…
Did Ritchie Blackmore ever asked you to play with him?
Yes, he asked me to join RAINBOW as the original drummer. I couldn't do it, at the time I had a group with Mike Bloomfield called KGB and I was signed to MCA Records and they wouldn't let me out of my contract. So, I couldn't do it. So he then asked Cozy. I used to have a joke with Cozy about him being my professional replacement – first with Jeff Beck and then with Ritchie Blackmore.

Guitar, Lead Vocals – Tommy Bolin
Keyboards, Vocals – Mark Stein

Vanilla Fudge, Rod Stewart, 

Percussion – Bobbye Hall
Piano – Tommy Bolin on "Hello Again"
Producer – Dennis Mackay and Tommy Bolin

Worked with G-Force, The Jacksons, Jeff Beck, Curved Air, Mahavishnu Orchestra, Pat Travers

Saxophone, Percussion, Vocals – Norma Jean Bell

Played with Dave Mason, The P-Funk All Stars, Frank Zappa.
In the 90s she started a Detroit-based record label.

Wikipedia credits Del Newman for string arrangements.
Wikipedia says it is engineered By Thomas La Tonore and Stephen W Tayler.

Stephen W Tayler worked with Peter Gabriel, Kate Bush, Rupert Hine, Rush, Bob Geldof, and Tina Turner.
Stephen says that this was one of the first albums he mixed and that those first few albums weren't recorded by him.
Stephen W Tayler Experiential evocation by Anil Prasad

Private Eyes was my first proper job as a full engineer at Trident. I wasn't involved with the recording. That was done in the States. At this time, Tommy had been playing with the touring line-up of Deep Purple, and I remember the atmosphere and entourage were quite rock and roll, with lots of partying and outrageous behaviour. 
But we had a wonderful time when it was just us in the mix room. There was great music and sounds blaring out of the massive studio monitors, along with very silly humor. We all wore hats. Sometimes all of us were wearing berets. We took several photos of the four of us swapping seats, but with the hats staying in the same position. We spent much of the time in hysterics, but the work did get done.
It was an incredible experience for me to be a part of this amazing-sounding record. Fond memories. On the last night of working on the album after Tommy had gone back to his hotel, Dennis said "I don't think we will see Tommy again," which felt very strange at the time. A couple of months after that we heard the tragic news that Tommy had died from an accidental overdose while on tour.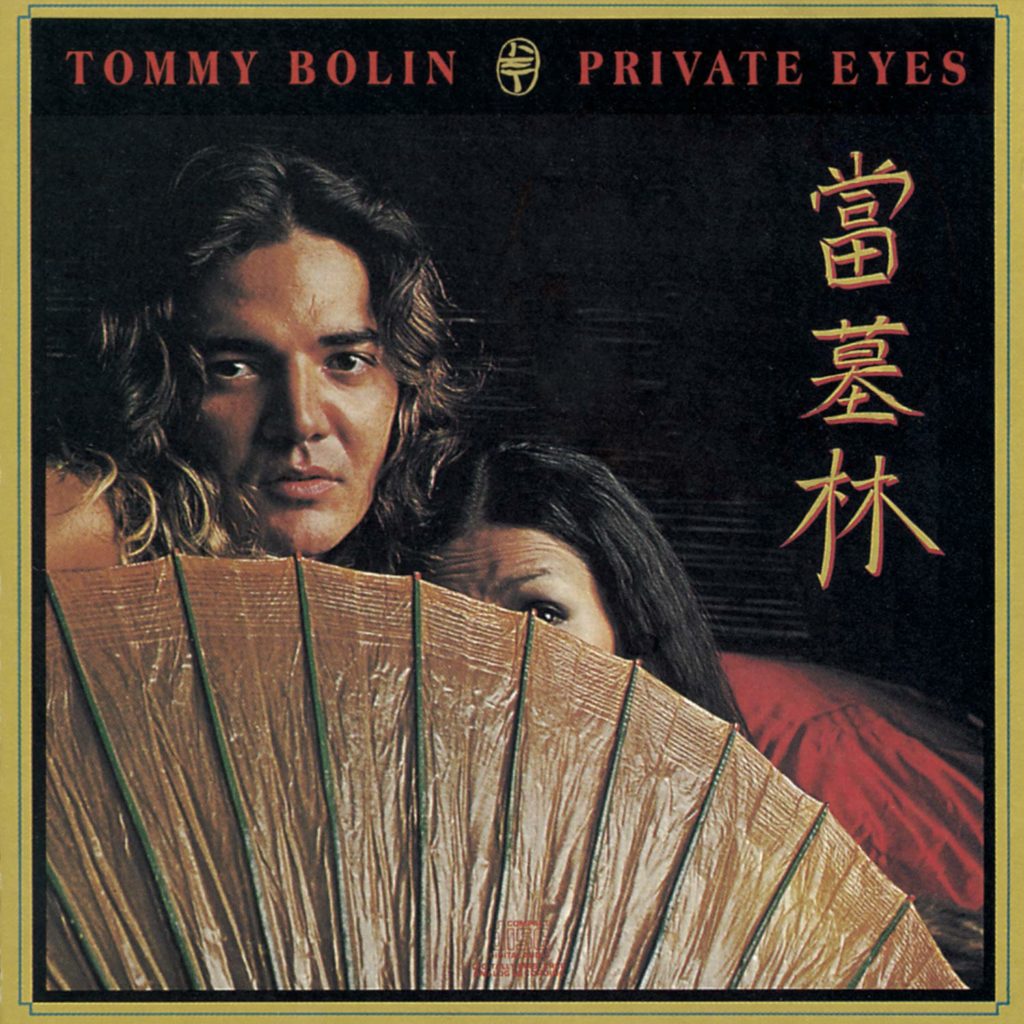 Album Art & Booklet Review

Artwork [Album Package] – Jimmy Wachtel

Did covers for Dave Mason, REO Speedwagon, Joe Walsh, James Gang including "Miami."

Artwork [Album Package] – Lorrie Sullivan

Worked on artwork for Grand Funk Railroad, Bruce Springsteen, Steppenwolf.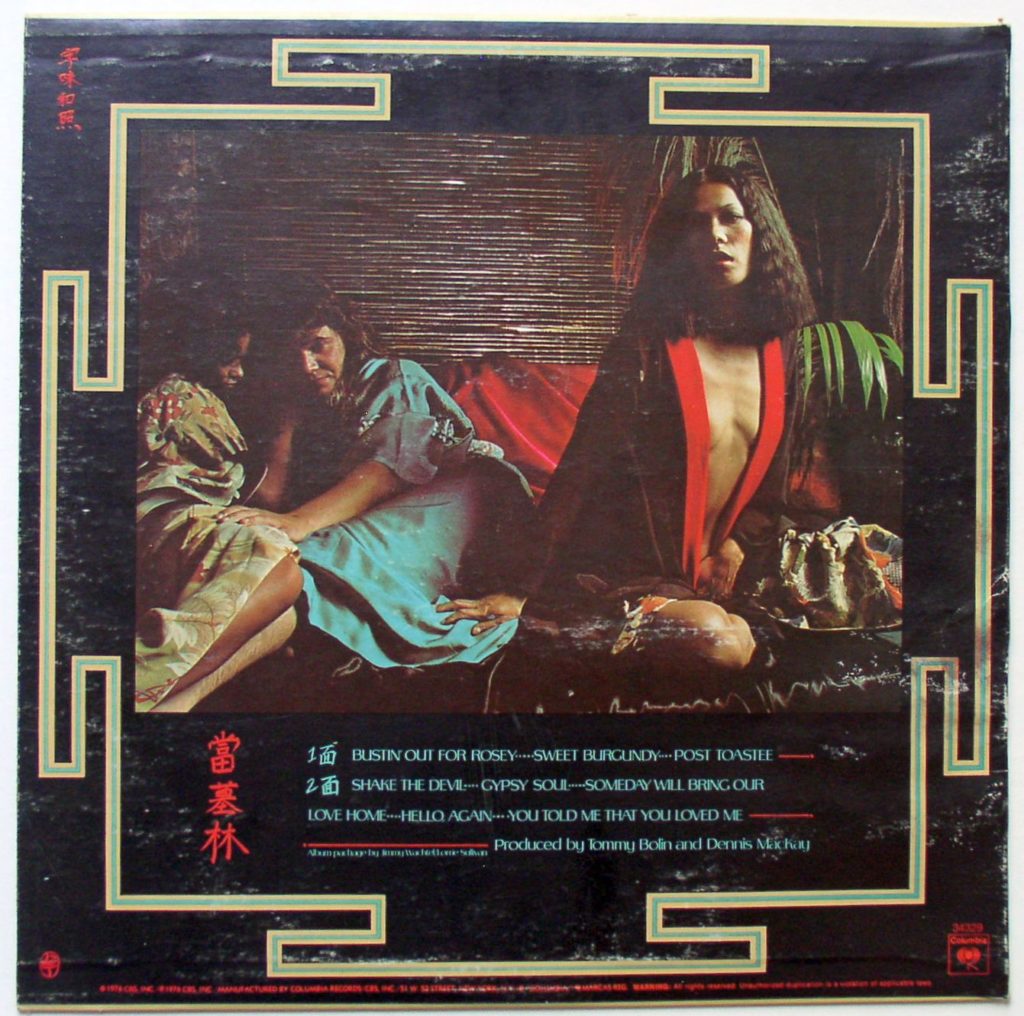 Album Tracks: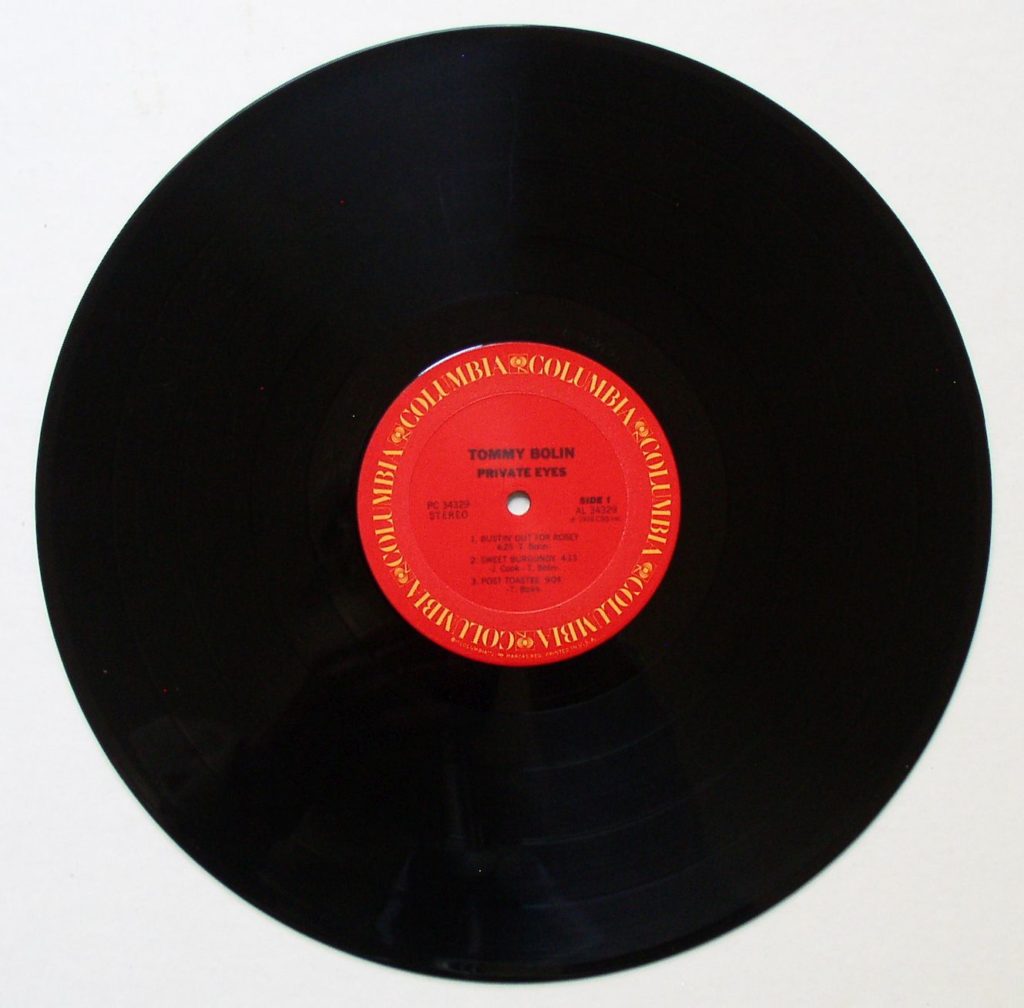 Side one:
Bustin' Out For Rosey (Bolin)
Sweet Burgundy (Cook, Bolin)
Post Toastee (Bolin)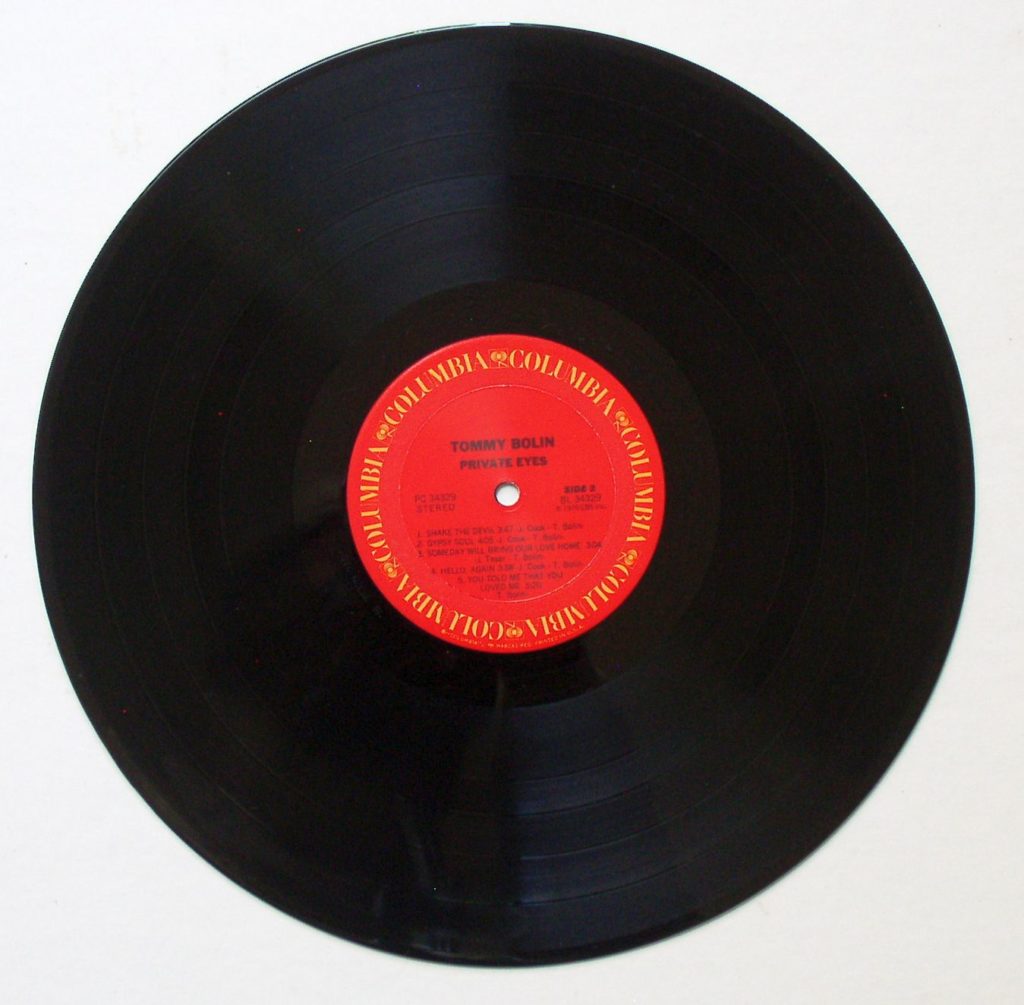 Side two:

Shake the Devil (Cook, Bolin)
Gypsy Soul (Cook, Bolin)
Someday Will Bring Our Love Home (Tesar, Bolin)

Drums by Carmine Appice?

Hello, Again (Cook, Bolin)

Bolin plays piano on this track

You Told Me That You Loved Me (Bolin)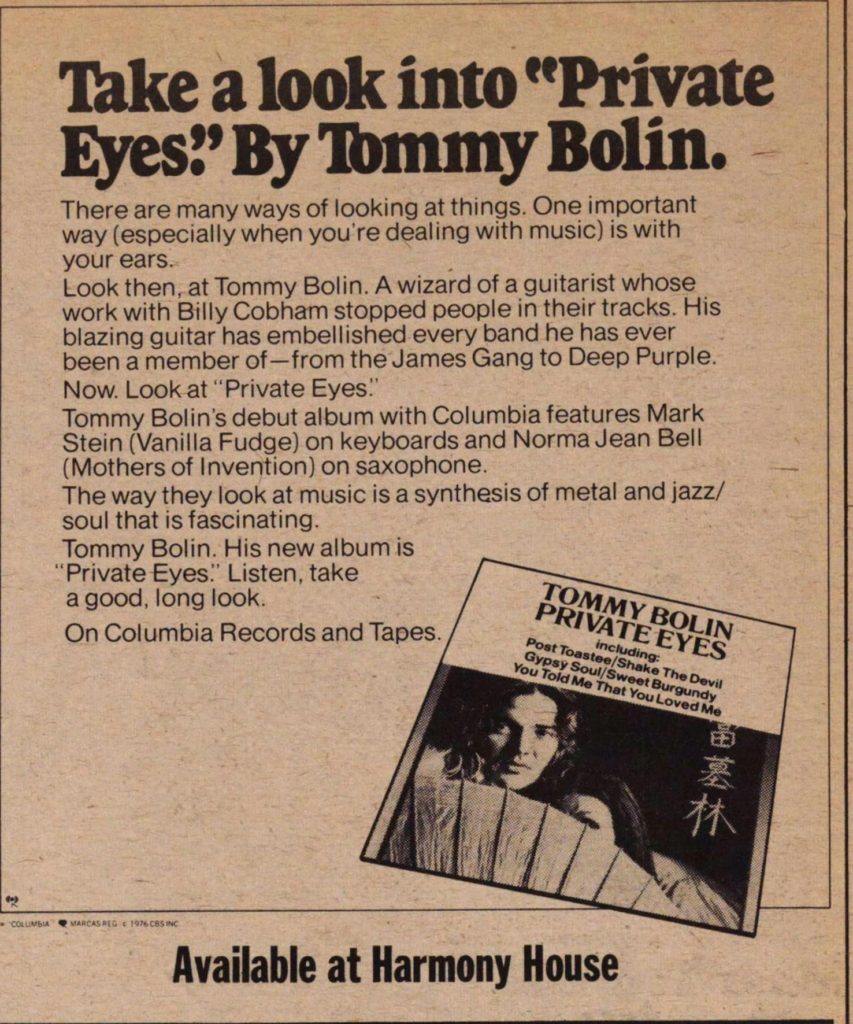 Reception and Review

As soon as the recording was complete the band was back on the road opening the tour in Albuquerque, New Mexico on July 16.
On the tour they played material from Teaser and Private Eyes.
There was a break in the tour and on August 29 they continued with Johnnie Bolin on drums and Jimmy Haslip on bass after Berge and McBride left the band.
The album was released in September of 1976.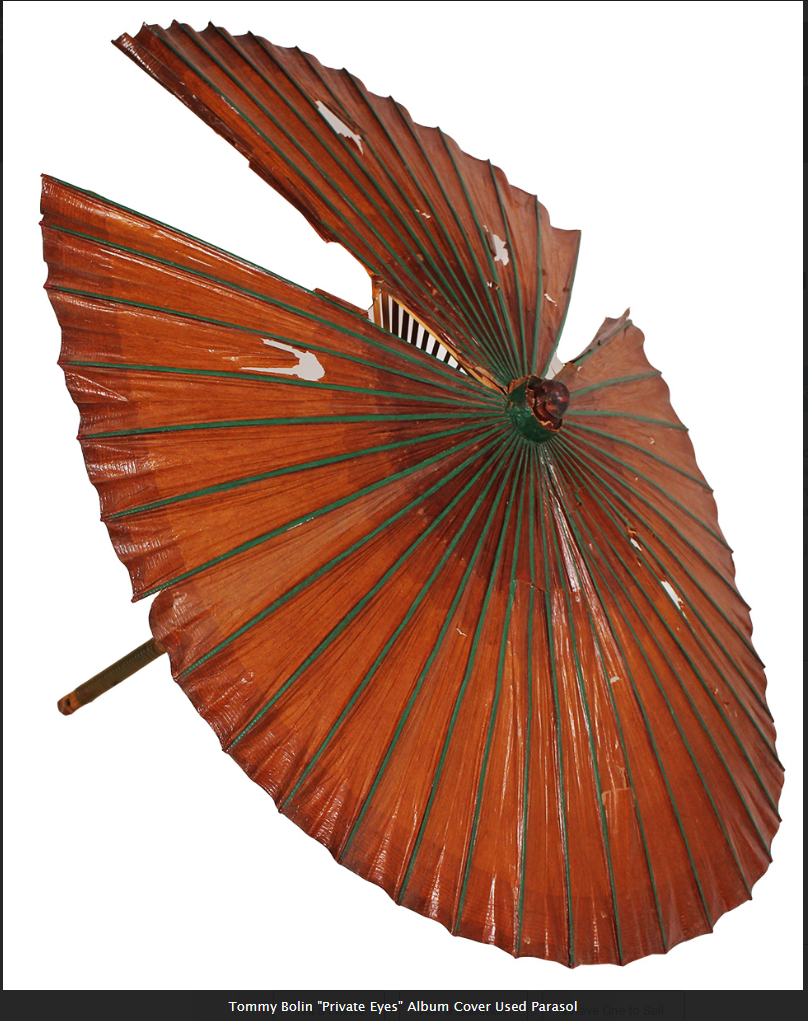 For Further Information:

Listener Mail/Comments

Comments about the show? Things you'd like us to cover? We'd love to hear from you. Send us an email at info@deeppurplepodcast.com or @ us on Twitter, Facebook, or Instagram.