Disclaimer: The video used on YouTube is a byproduct of producing our audio podcast. We post it merely as a convenience to those who prefer the YouTube format. Please subscribe using one of the links below if you'd prefer a superior audio experience.

Subscribe at Apple Podcasts, Stitcher, Google Podcasts, Overcast, Pocket Casts, Anchor.fm, Breaker, PodBean, RadioPublic, or search in your favorite podcatcher!
Thanks to Our Patrons:

The Turn it up to $11 Tier
$10 Super Trouper Tier
$5 Money Lender Tier

Clay Wombacher
Greg Sealby
Frank Theilgaard-Mortensen
Mike Knowles

$3 Nobody's Perfect Tier

Peter Gardow
Ian Desrosiers
Mark Roback
Anton Glaving

$1 Made Up Name Tier

Ells Murders
Spacey Noodles
Leaky Mausoleum
Michael Vader
One Time Donations available via PayPal:

Recurring payments are available or . . .
Donate to become an official episode producer and have your name/message read on the episode!
Thanks to our Brothers at the Deep Dive Podcast Network:
Thanks to the Patron Saint and Archivist of The Deep Purple Podcast:
Show Updates:

Comments from social media.
A Word from Our Sponsor:

Joe Lynn Turner & Lonestar
Lead up to the Album:

David Coverdale's first solo single 'Whitesnake' from 1977

David Coverdale's first solo album following his departure from deep Purple was the aptly named 'White Snake'. This is the first single "Whitesnake" and it is taken from the program "Juke Box, Un sur Cinq", seen on the French TV channel A2, in 1977.

Released ten months after "White Snake."
There was no tour to support "White Snake" as Coverdale was still under contract to Deep Purple.
Albums came out on Purple Records.
In Martin Popoff's Book, Sail Away, Coverdale says, "Yes, another scam. It's funny, when I joined Purple, I was going, my God, telling my friends they've got their own record company! But it was just a scam by the management. They would go get the advance, they would take their hefty percentage . . . "
Coverdale goes on to say since the band had their own label it meant the management got more and the band got less than if they'd been on Warner Brothers or EMI.
Glover returns to produce.
Ronnie and Wendy Dio provide backing vocals. In "Sail Away" Popoff mentions the opening track "Keep on Giving Me Loving." On Wikipedia they mention "Give me Kindness." In Purple Records 1971-1978 Neil Priddey says they sing backup on "a song." In Simon Robinson's liner notes he confirms "Give me Kindness" with the addition of Jon Lord's wife Judy.
Personnel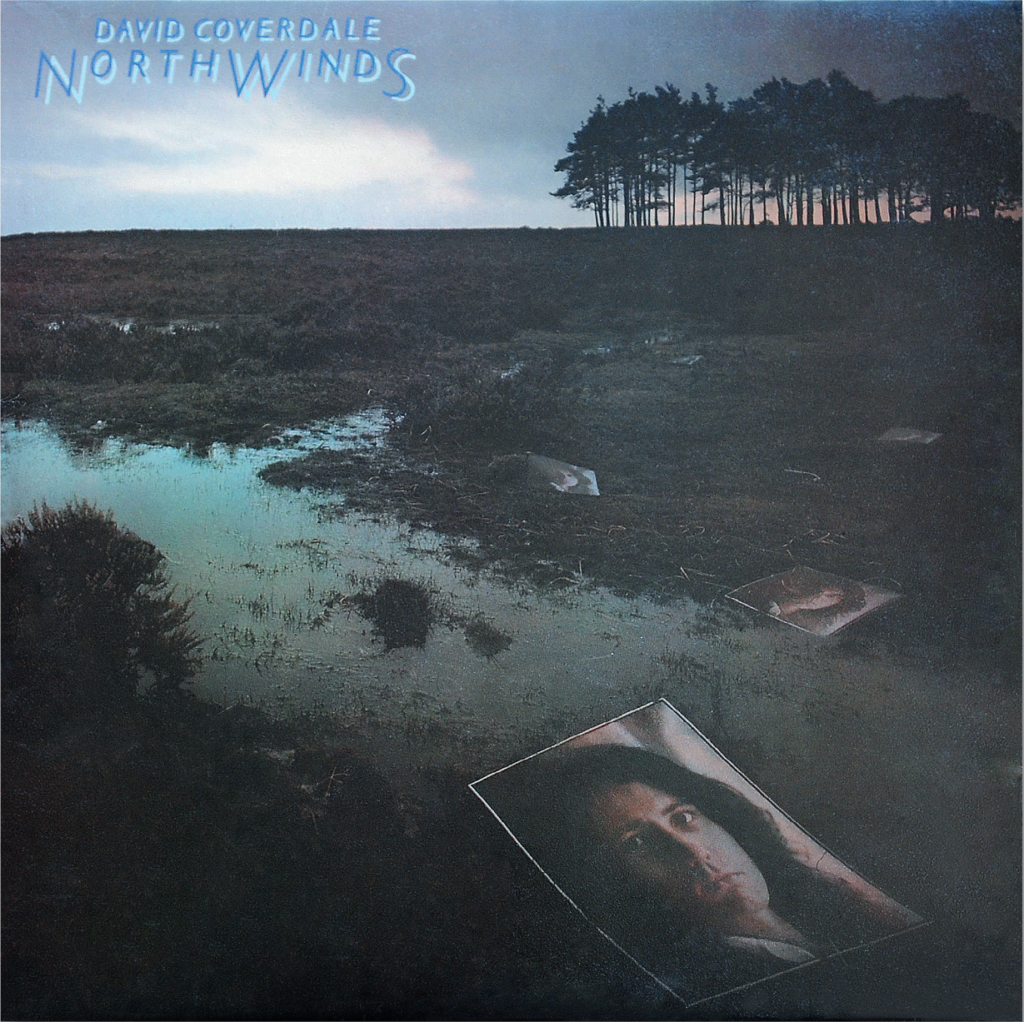 Album Art & Booklet Review

Original cover which made its way to the printer was scrapped at the last minute.
Replaced with a cover picture of the moorland.
It was redone for a second print as the first print was deemed too dark.
Coverdale requested that the song "Northwinds" be swapped with "Keep on Giving Me Love" and this was done by the third printing.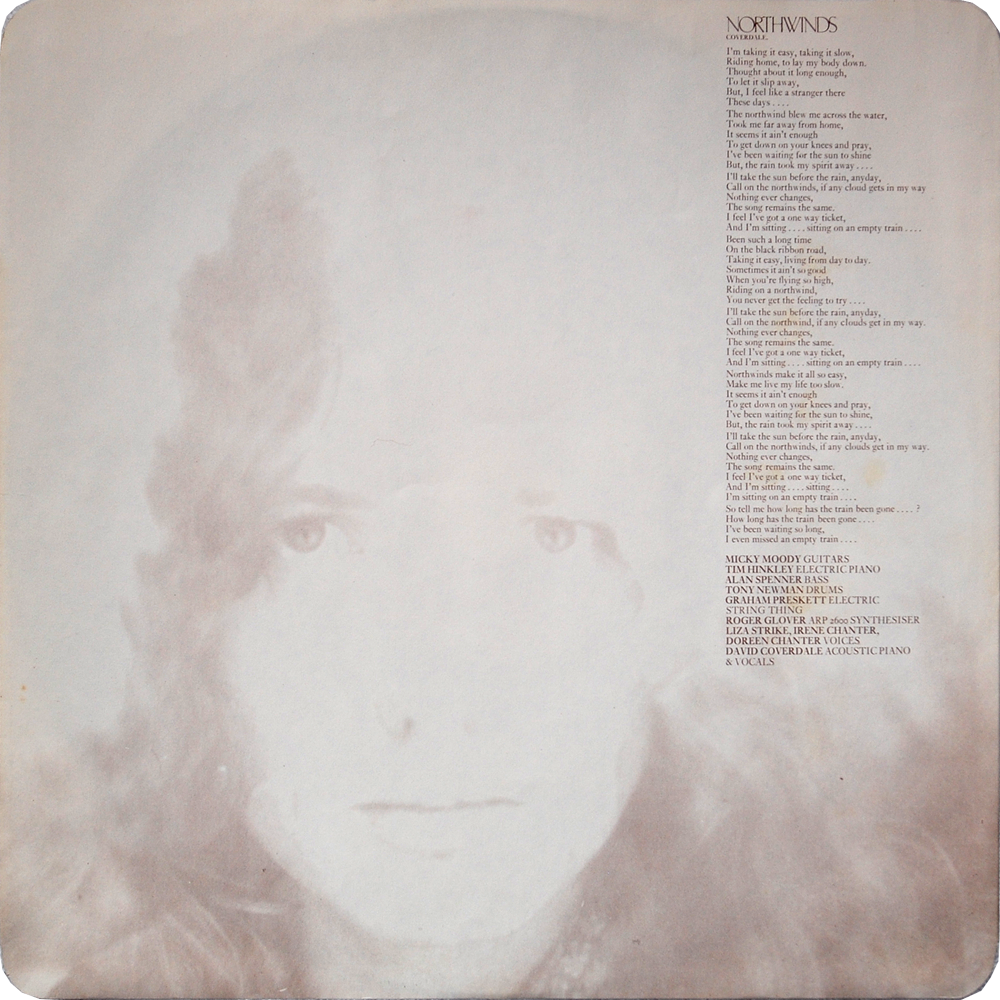 Design [Cover] – Peter Shepherd (2)

Album covers for Isaac Hayes, Cliff Richard, Sheena Easton

Photography By [Front Cover Photo] – Peter Lavery

Album work for Pat Travers, Christopher Cross, and others

Photography By [Inner Sleeve] – Tom Schmid (2)
Album Tracks: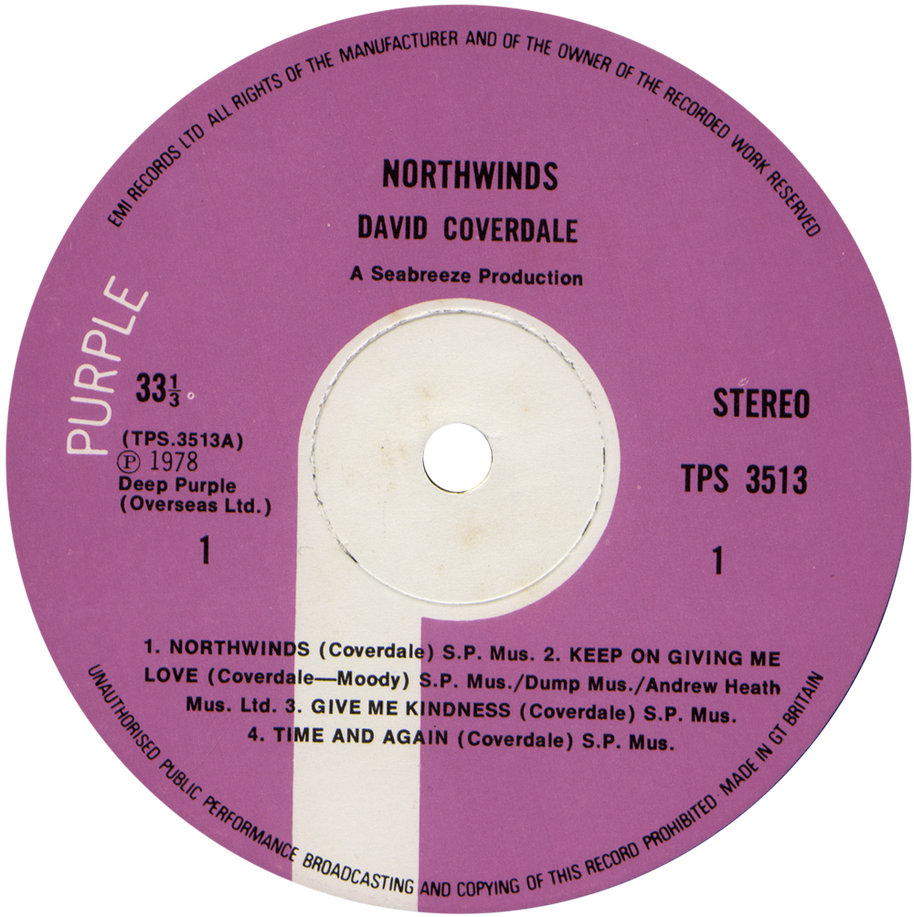 Side one:
Side two:

Reception and Review

"Shame on the Devil" and "Sweet Mistreater" were recorded between White Snake and "North Winds" and were included on the re-release of "North Winds" as bonus tracks.
A list had other songs that were not included on the album whose master tapes are likely lost including: Sunrise to Sunset, Til the Sun Don't Shine, It Would be Nice, and Love's a Crazy Game.
Purple Records was coming to a close by the release of this album and Coverdale's contract moved to EMI.
Album did not chart in the UK. Four tracks were used on the "Snakebite" double EP and billed as Whitesnake's debut album.
Discogs Review:

March 27, 2010
edited over 7 years ago
referencing Northwinds, LP, Album, 1C 064-60 414
i sold this release for £3 to my mate Martyn who added it to an enormous arsanel of seduction tools, which included a bookcase full of Jane Austin novels & a poster of a puppy.

Geoff "Three Stars" Barton review in Sounds in 1978.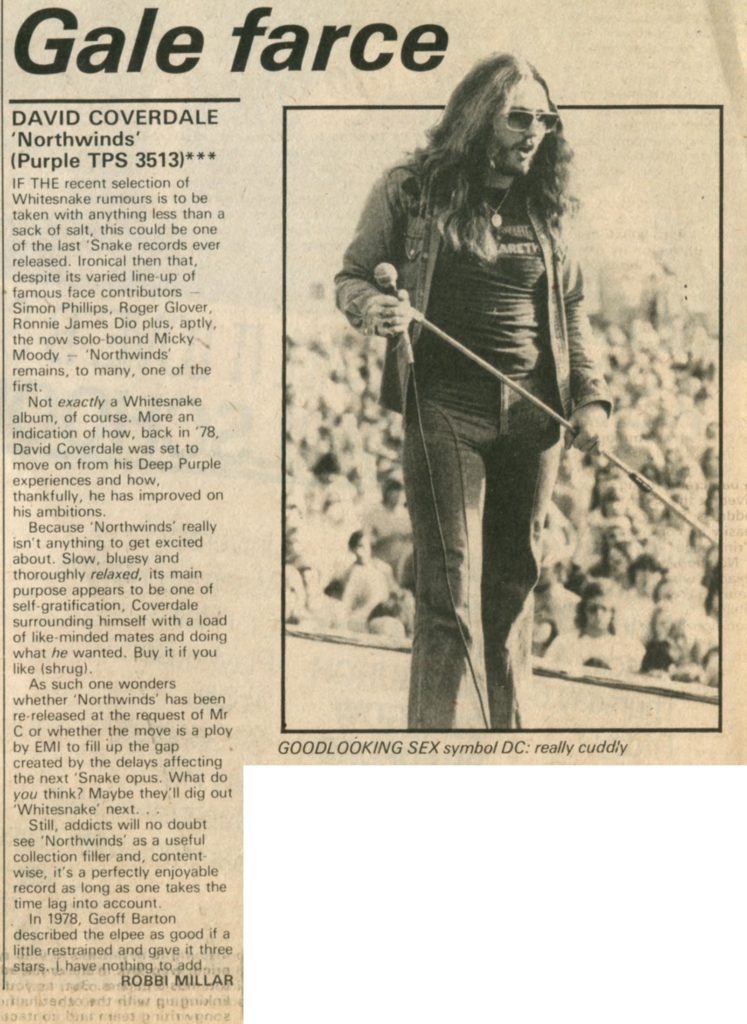 Robbi Millar in Sounds in 1982: ". . . isn't anything to get excited about."
For Further Information:

Album Liner Notes by Simon Robinson
Help from the archives of Jörg Planer
Listener Mail/Comments

Comments about the show? Things you'd like us to cover? We'd love to hear from you. Send us an email at info@deeppurplepodcast.com or @ us on Twitter, Facebook, or Instagram.