Subscribe at Apple Podcasts, Stitcher, Spotify, Google Podcasts, Overcast, Pocket Casts, Anchor.fm, Breaker, PodBean, RadioPublic, or search in your favorite podcatcher!

Thanks to Our Patrons:

Clay Wombacher – $5 tier
Steve Seaborg (Alltheworldsastage.net) – $5 tier
Peter Gardow – $3 tier
Ells Murders – $1 tier
Spacey Noodles – $1 tier
Thanks to our Brothers at the Deep Dive Podcast Network:
Show Updates:

Comments from social media.
John is now on Twitter! Follow him: @jhurr1cane
David Coverdale responds back with his thoughts on Billy Cobham's "Spectrum" album.
Lead Up To Album & Writing:

We covered the end or Blackmore's tenure in DP in Episode #18 – Stormbringer. Stemming from his desire to cover "Black Sheep of the Family."
He could not convince Coverdale to sing on Ritchie's "solo" EP so he was able to get Ronnie James Dio who he paid flat fee of £1,000 to sing the track.
The chemistry between the two was so good that they ended up doing "Sixteenth Century Greensleeves" as well.
Ritchie: "The way he sang was just perfect for what I wanted. I didn't have to tell him — he just sang it."
Dio: "Ritchie told me that we had to go into the studio in a couple of days to lay down a track and asked me if I could write a lyric for him byt he following day! We went up to his room, he played me those chords and I went away having to rememebr it. I went home and wrote the melody and lyric in my head, and it worked out fine."
ELO cellist Mugh McDowell also played on these first two tracks as he was teching Ritchie the cello at the time.
After a break in Deep Purple's Australian tour. He used the rest of the band Elf (except for the unfortunate guitarist, Steve Edwards) and recorded the album between February 20 and March 14 1975 at Musicland Studios in Munich with Martin Birch.
This recording gave Blackmore the confidence he needed that he could do this alone and he let Deep Purple Management know but not his fellow bandmates.
In his book "Deep Purple & Rainbow Every Song" Steve Pilkington says: ". . . such was the shroud of secrecy and deception around every line-up change the band had, it's a wonder that an ex-member never turned up at a gig, like the famed JApanese soldier who didn't know the war had ended some twenty or thiry years later! Maybe that's where Rod Evans is now . . ."
Album Lineup

Ritchie Blackmore: guitar
Ronnie James Dio: vocals
Mickey Lee Soule: keyboards
Craig Gruber: bass
Gary Driscoll: drums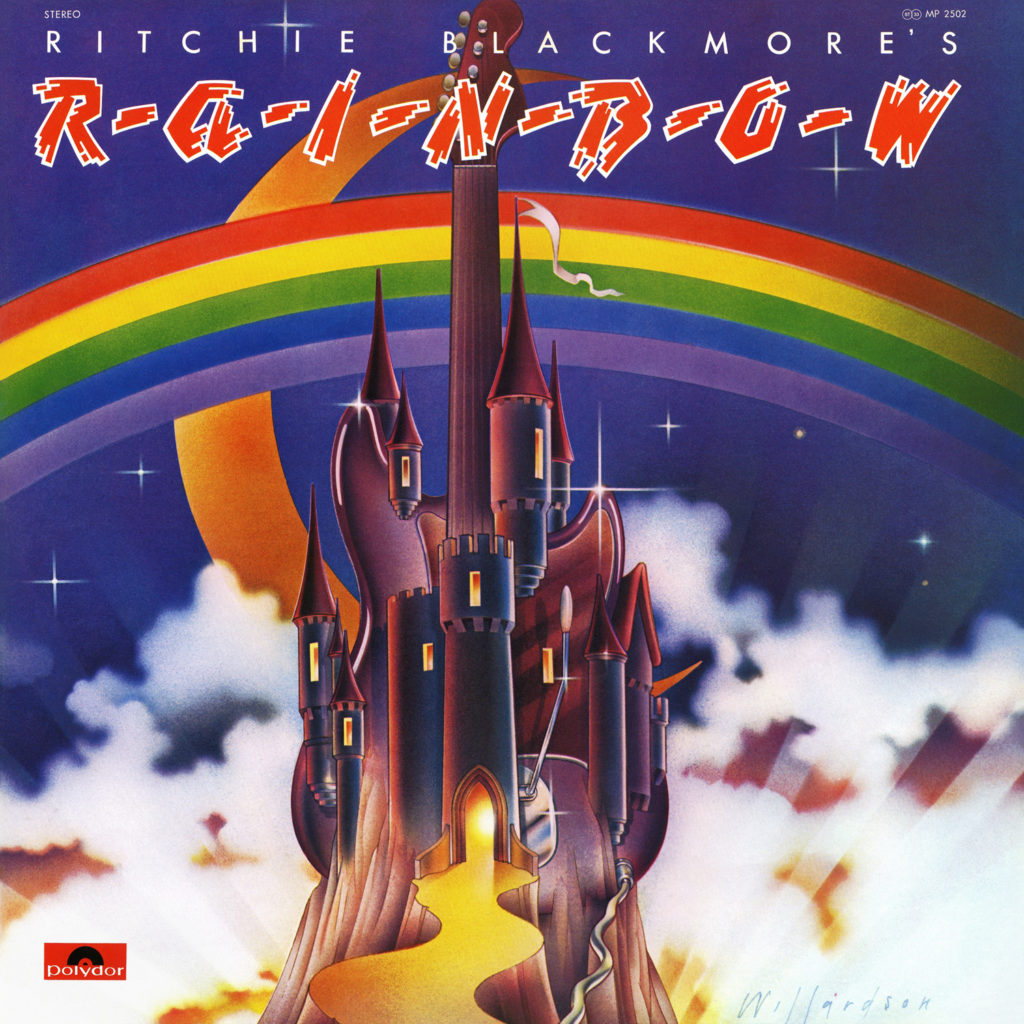 Album Art & Booklet Review

The album cover is a painting by David Willardson.
The crescent moon and the castle supposedly represent the two great influences on Blackmore's writing on the album – the middle east and medieval Erope.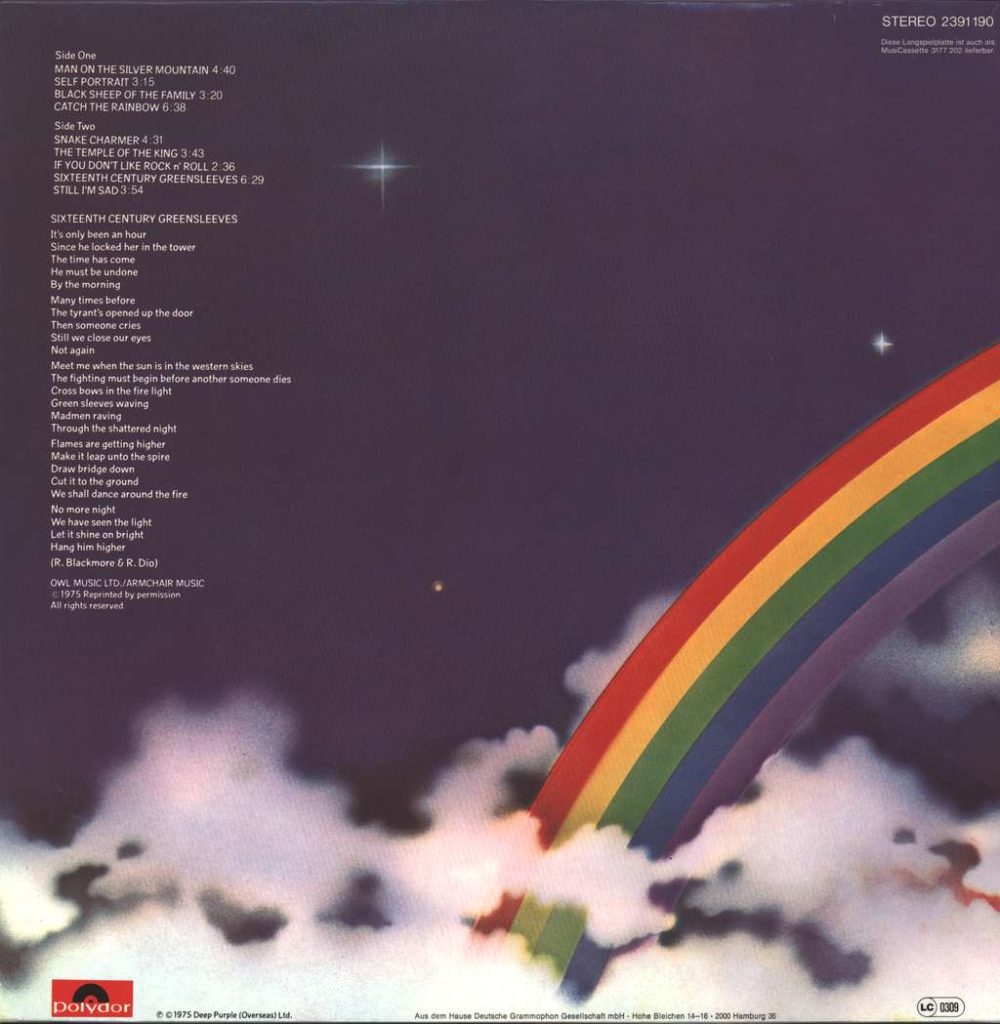 The back cover has the lyrics to Sixteenth Century Greensleeves and a track listing.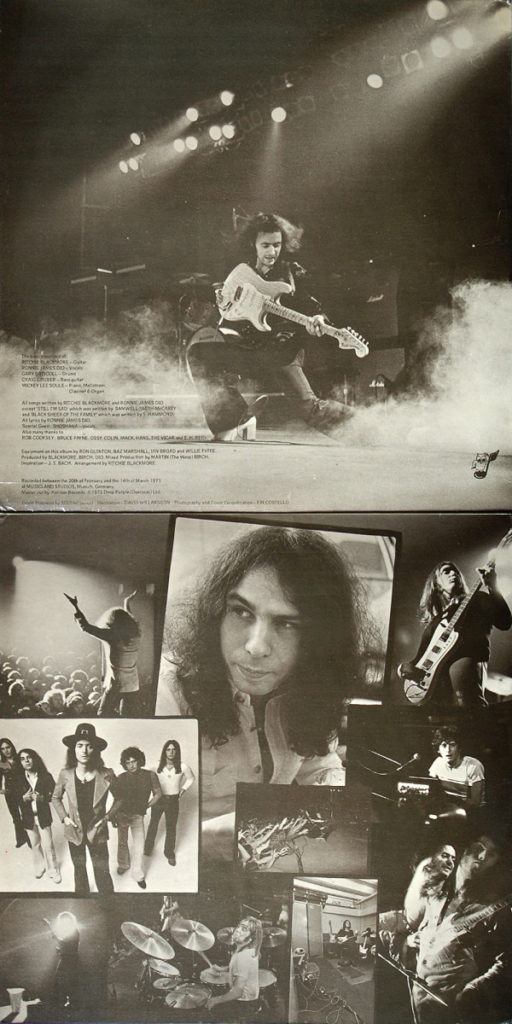 Inside the gatefold is a photo spread in black and white with the center a photo of Blackmore on stage with Deep Purple though none of the rest of DP is visible. All the live shots are of the members in their respective bands, Deep Purple and Elf.
Album Details and Analysis:

Recorded at Musicland Studios in Munich.
Produced by Martin Birch, Ritchie Blackmore, and Ronnie Jame Dio.
Man on the Silver Mountain (Blackmore, Dio)

This was a staple of their live show throughout the band's history.
Live it was a bit more high energy.
The title of this song is inscribed on Dio's memorial in Hollywood Hills Cemetery in Los Angeles.
Was released as a single in October of 1975 with "Snake Charmer" as a B-side by didn't do well.

Self Portrait (Blackmore, Dio)

Blackmore described this as a cross between "Jesu, Joy of Man's Desiring" by Bach and "Manic Depression" by Hendrix.
The song was briefly performed live by Rainbow and was put away until being resurrected by Blackmore's Night with a medieval flare.

Black Sheep of the Family (Hammond)

The song that created Rainbow.
It was recorded with the intention of being a single though it was never released as one.
This song also never made it to Rainbow's live set.

Catch The Rainbow (Blackmore, Dio)

Similarity to "Little Wing."
Backing vocals by Shoshana (Judith Feinstein) who was an American opera singer who was living with Blackmore.

Shoshana's band Dark Star playing "Dirge (for Ritchie Blackmore)"
Joerg Planer sends us Demon's Eye playing Rainbow's "Catch the Rainbow"

Dio says this song is about a medieval stable boy who falls in love with a lady of the court but their different backgrounds lead to them growing apart.
Longest song on the album at over six minutes, would be closer to fifteen when performed live.

Snake Charmer (Blackmore, Dio)

B-side to Man on the Silver Mountain.
Strong similarities to "You Can't Do It Right."

Temple of the King (Blackmore, Dio)

Medieval-influenced structure.
Similar feeling to "The Gypsy"
Blackmore claims that he was inspired to write this song by the TV program "Yoga For Health."
Lyrics about peasants being called to the temple by a mysterious "great black bell."
Some interpretations of the lyrics include the story of Buddha to the appearance of "The year of the fox" in fantasy literature.
Was never performed live until the band reformed in the 90s with "Stranger IN US All."
Blackmore says it wasn't suitable for live performances.

If You Don't Like Rock 'n' Roll (Blackmore, Dio)

Filler track, blues pattern.
Only played live once as an encore that is documented.

Sixteenth Century Greensleeves (Blackmore, Dio)

From the original session with "Black Sheep of the Family" as the B-side.
Standard medieval/fantasy Rainbow track.
Conjures up image of a black knight in an old castle being brought to justice.
Blackmore said he was inspired by the song Greensleeves that he loved which is supposedly written by Henry VIII.
Blackmore used to live near Windsor Castle and was inspired to write this song by that.
Steve Pilkington calls the opening line of "It's only been an hour since he locked her in the tower" as Spinal Tap-esque. He says it's a little better than "It's only been a bit, since he threw her in the pit."
This was commonly played in their live shows.
Hugh McDowell of ELO plays cello on this song.

Still I'm Sad (Samwell-Smith, McCarty)

An instrumental version of the song by the Yardbirds.
Was originally the B-side of "Evil Hearted You" in the UK and "I'm a Man" in the US. From the album "Having a Rave-Up with the Yardbirds."

Opens with a "You Fool No One" style drum beat.
Shoshana does backing vocals on this track as well.
When done live it would have vocals. Not sure why there were none on the album.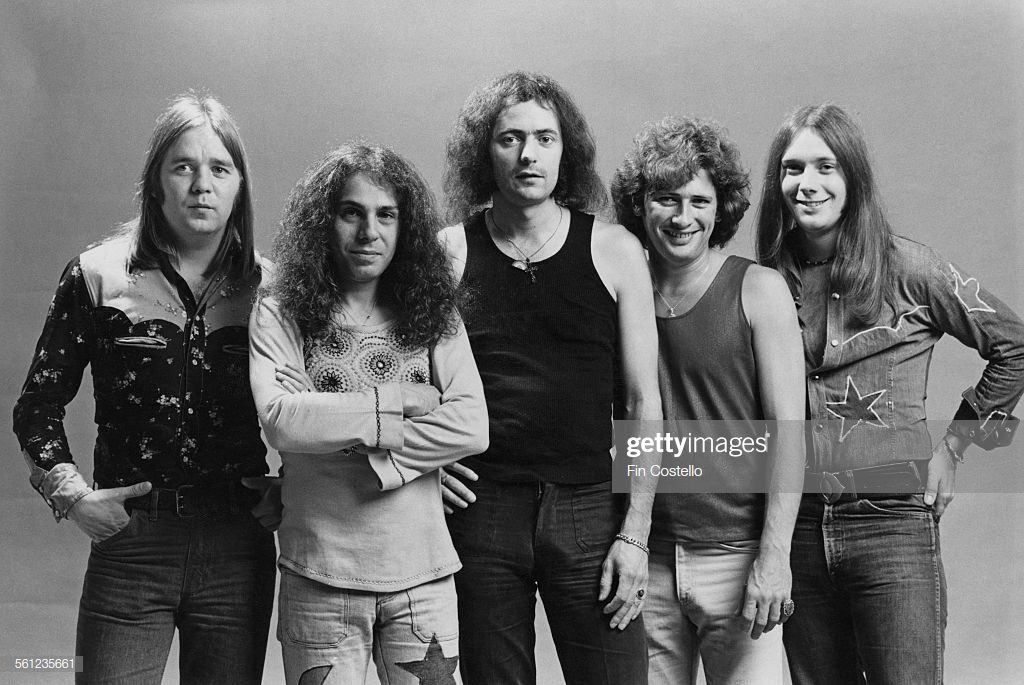 Album Review & Reception

This lineup of Rainbow never played a live gig.
Gruber and Dirscoll were fired during rehearsals.
Mickey Lee Soule resigned fearing he was next, leaving Blackmore and Dio as a duo.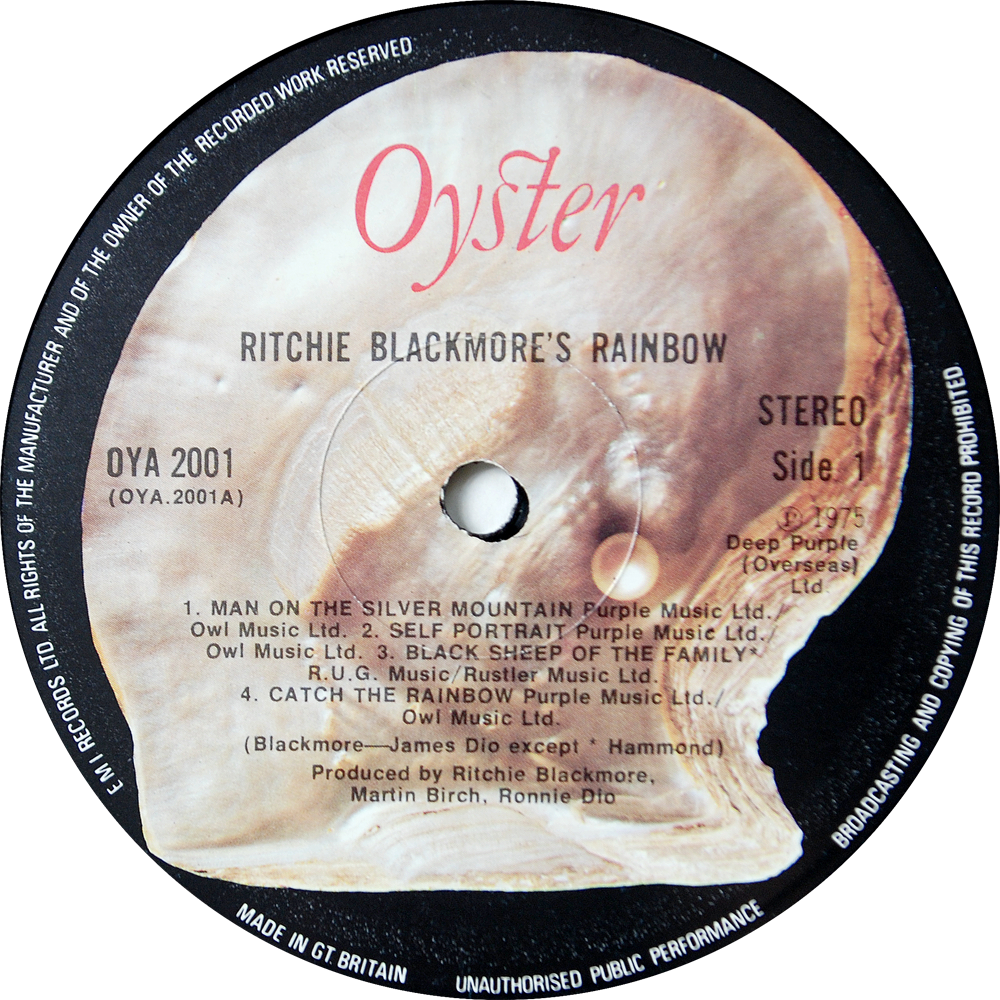 Blackmore refused to have this album come out on Purple Records so a subsidiary called Oyster was created for its release. It would be released on Polydor in the US.
Dio considered this is favorite Rainbow album.
Album review from Circus Raves, September 1975.
Album review from Winnipeg Free Press, October 1975.
This Week in Purple History . . .
October 21 through October 27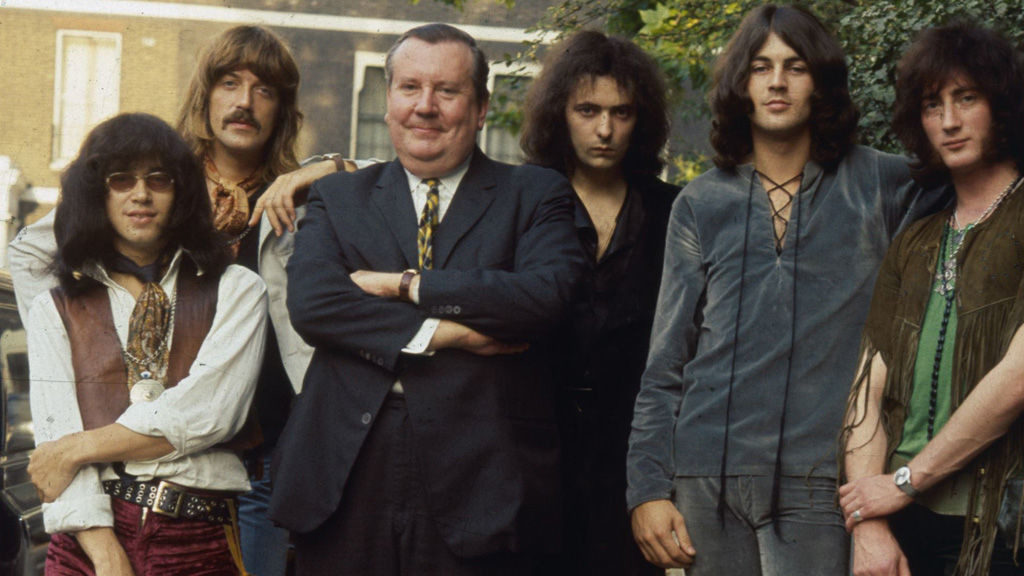 October 21, 1921 – Sir Malcom Henry Arnold is born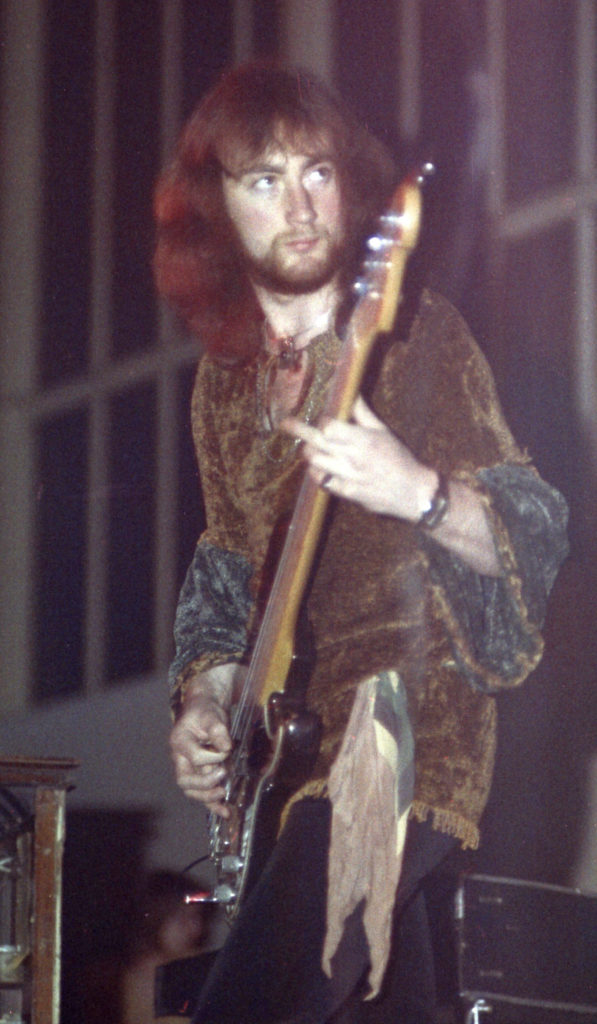 October 24, 1971 – Roger Glover sings lead vocals for one show after Ian Gillan comes down with hepatitis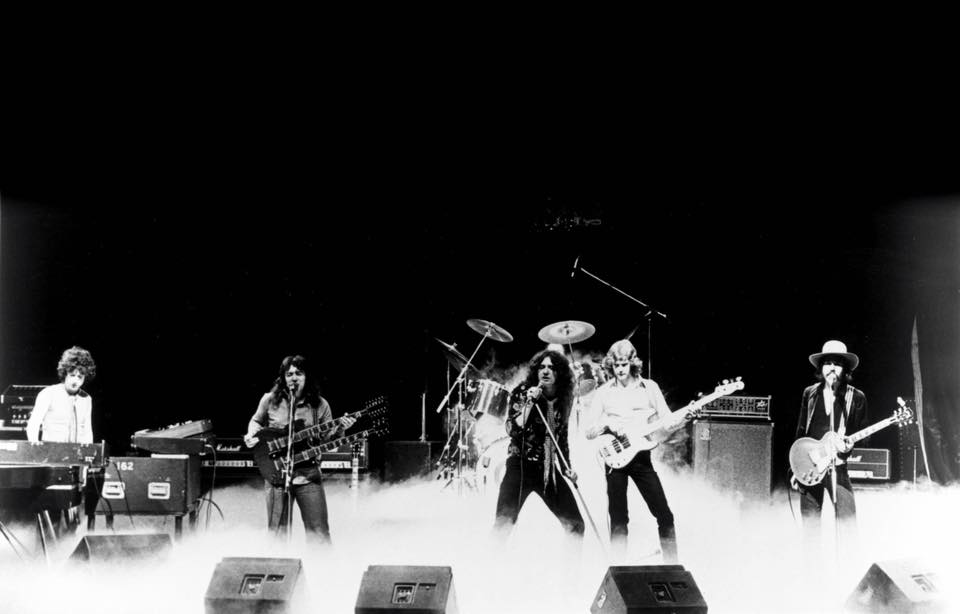 October 26, 1978 – Whitesnake begins their first ever tour of the UK
For Further Information:
Listener Mail/Comments

Comments about the show? Things you'd like us to cover? We'd love to hear from you. Send us an email at info@deeppurplepodcast.com or @ us on Twitter, Facebook, or Instagram.