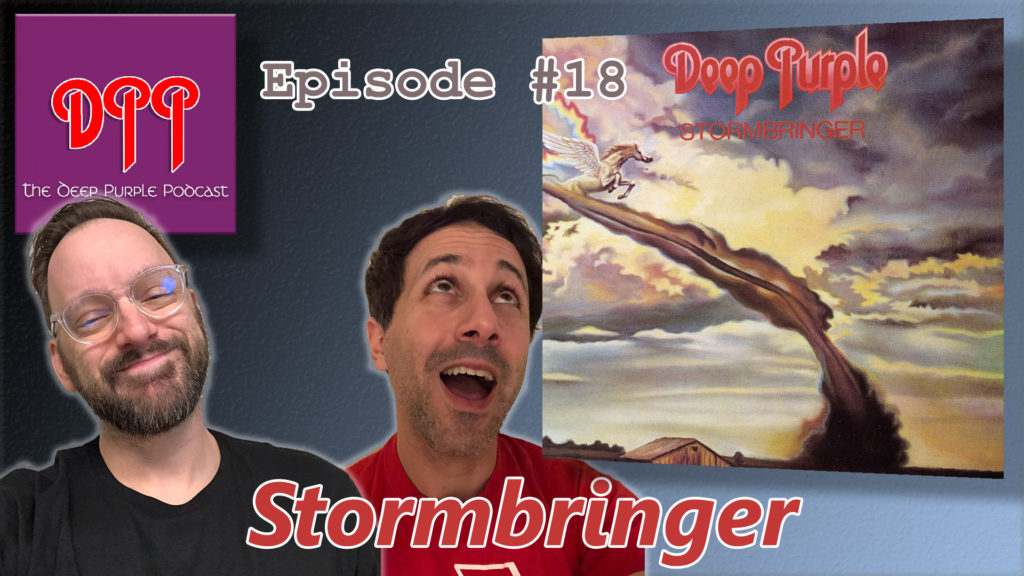 ** Sadly another episode blocked by the dreaded YouTube algorithm. Stick to the audio podcast feeds for this episode. **
Subscribe at Apple Podcasts, Stitcher, Spotify, Google Podcasts, Overcast, Pocket Casts, Anchor.fm, Breaker, PodBean, RadioPublic, or search in your favorite podcatcher! 

Show Updates:

Comments from social media.
Feedback about talking too much about photos.
Thanks to Our Patrons:

Lead Up To Album & Writing:

In the early 2000s at Abbey Road two studio techs took down a box of unlabeled tapes and loaded them into the tape machine to see what they were. Upon listening to them they still didn't know but guessed it was "Earth, Wind, and Fire." What they'd found instead was the lost masters for Deep Purple's "Stormbringer" album, specifically the song "You Can't Do It Right."
June and July of 1974 were actually set aside as free time for the band, something that may never have happened before outside of someone getting hepatitis.
Once again the band squandered that time off they had.
Coverdale: "Theoretically we had a couple of weeks of peace and quiet to write in but inevitably they turned into a couple of weeks of revelry and we found most of the writing was actually done while we were in the studio.
Jon Lord used this time to work on two projects: First of the Big Bands with Tony Ashton and his Windows album.
Ritchie Blackmore did session work for Adam Faith's album "I Survive" but only appears on the first 30 seconds of the first song.
They spent their time organizing football games, shooting air rifles, and Blackmore did some more seances.
In an interview Jon Lord told reporters that they had written fourteen or fifteen songs. Obviously a large number didn't make the album.
Roger Glover was producing Elf, Nazareth, and continuing work as an A&R guy for Purple records.
Glover also began work on The Butterfly Ball and Hughes/Coverdale would both play a part in the recording.
Gillan was working on his Cherkazoo project at his new recording studio.
The band went back to Clearwell for two weeks of rehearsals ahead of recording Stormbringer. Again, like with Fireball and Who Do We Think We Are the band went into rest mode.
For the first time since Fireball they also decided to go into a studio to record, the Musicland studios in the base of the Arabella hotel in Munich.
Lord had used the studio to mix his Windows album.
Martin Birch was also very impressed with the studio and called it: "one of the best equipped and technically advanced studios I know."
Whitesnake, Rainbow, PAL would all record there. Years later a subway was constructed nearby and the studio had to shut down.
Coverdale: "We went to Munich with very little worked out. We had been working so hard on promoting the new band and convincing people of its worth that we never had any time to write."
"The Road of Golden Dust" doesn't mention it but in "Smoke on the Water" the picture is painted of this great rivalry between Coverdale/Hughes and Hughes diving into drugs partly to curb the frustration he had at not being the lead singer. Most of the quotes I've found were about how they never argued about who sung what and how well they got on.
Lord got to work on Windows and Blackmore was beginning work on a solo project.
A concept had been suggested earlier that this new album would be divided up amongst each member with each of them able to share their own ideas.
Ritchie didn't bring much to the sessions. His marriage was in the process of breaking up. Hughes compliments Blackmore's playing on his material calling it brilliant. The band didn't realize he was thinking about leaving at this point.
As Coverdale and Hughes got more interested in soul/funk direction, Blackmore was beginning to get more interested in classical influences.
Blackmore: "1974- that's when it hit me . . . That's what set my mind thinking. But I used to love just listening to it — that was enough. Play rock n roll, listen to Renaissance music."
For the first time since 1969 there were songs where Blackmore didn't get a writing credit.
"Musical differences" are almost always brought up in a breakup but in this case it was absolutely true.
The band was jockying to get their own songs on the album now for financial reasons. A big difference from the song crediting process used by Mark 2.
Blackmore worked with Coverdale trying to turn his lyrics away from normal Rock and Roll things like groupies, hotels and rock and roll. Blackmore wanted lyrical imagery about literature and art. In "Smoke on the Water" Dave Thompson writes: "Nobody paid good money to listen to plumbers discuss plumbing or bank clerks talk about banking. Beyond whatever vicarious thrills might be derived from another life-on-the-road song, why should rock'n'rollers be any different?
Blackmore's interests were in dragons, and fantasy worlds.
Birch: "The funk thing started to creep in, it wasn't going the way Ritchie wanted and by the time it came to the mixing stage he'd lost interest completely.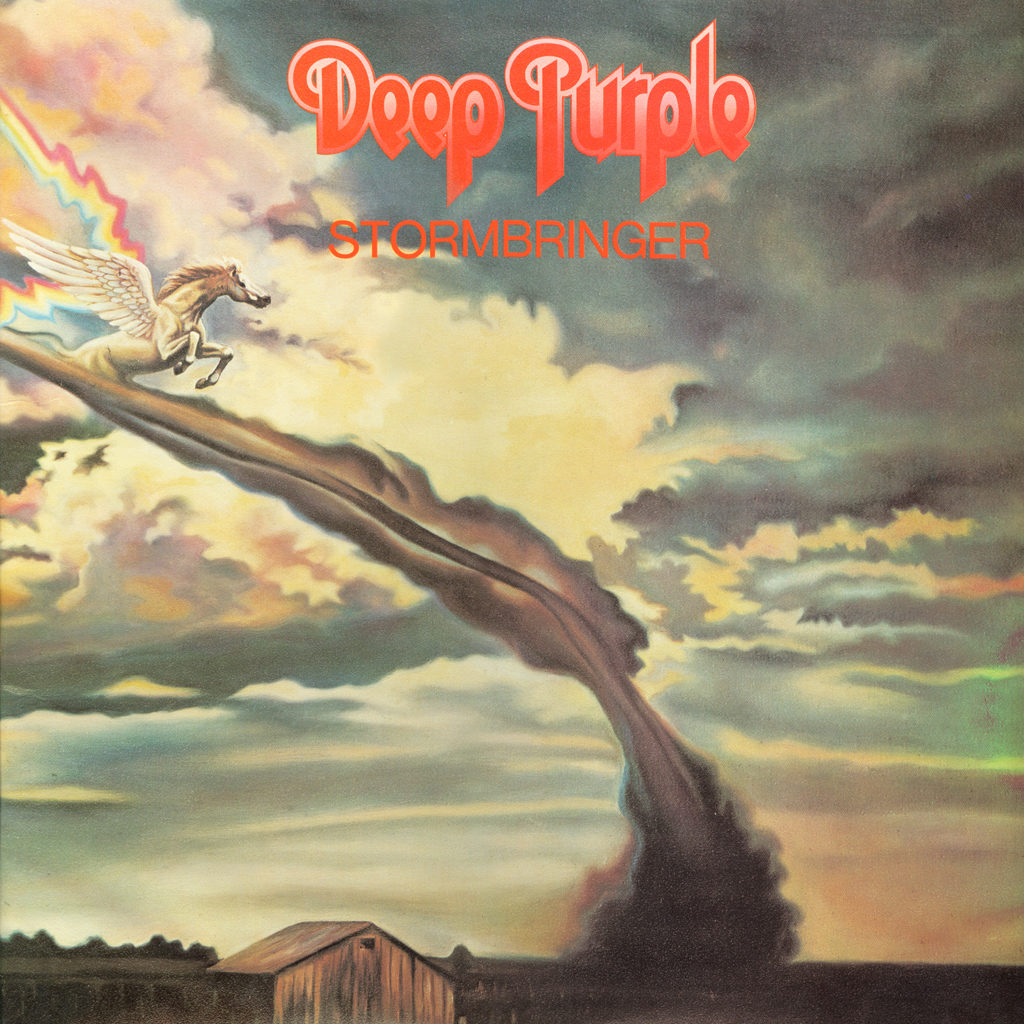 Album Art & Booklet Review

Rundown of Album Art:

UK version.
US version had blue tint and smaller logo.
In Mozambique they opted for an orange and black almost sketched look to the cover.
Korean version was called "Soldier of Fortune" and did not include the track "Stormbringer."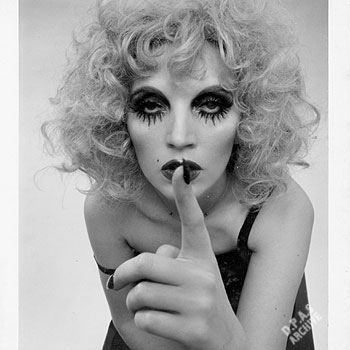 The original title and design for the album was "Silence" based on a sign in the control room at Musicland. The cover featured a picture of a young woman with her finger over her lips.
Blackmore told a reporter at the studio he wanted a girl on the cover because "we're fed up having to look at our own faces." He suggested that the woman would be holding a phallic symbol.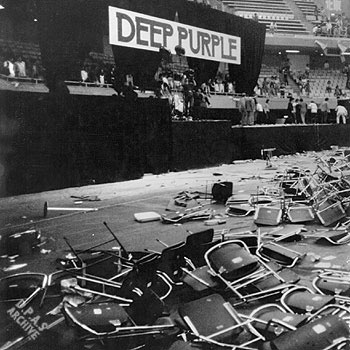 The second idea was to call it Stormbringer but the original cover was of the aftermath of the riot in Japan after Who Do We Think We Are. They decided against this because they didn't want to encourage more rioting.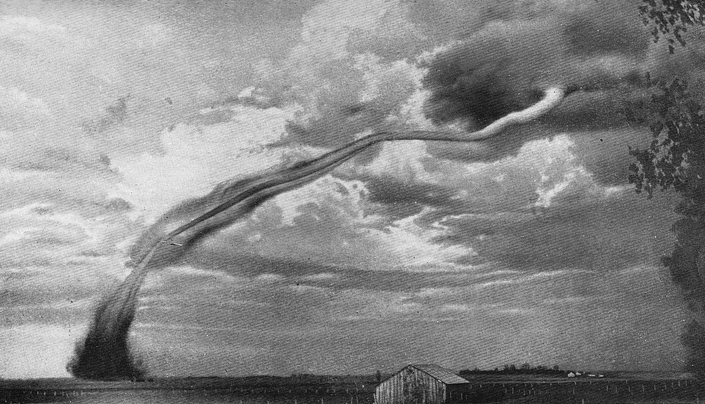 Album cover is based on a photo of a tornado on July 8, 1927 near Jasper, Minnesota. The photo was taken by Lucille Handberg and was edited for the album's cover.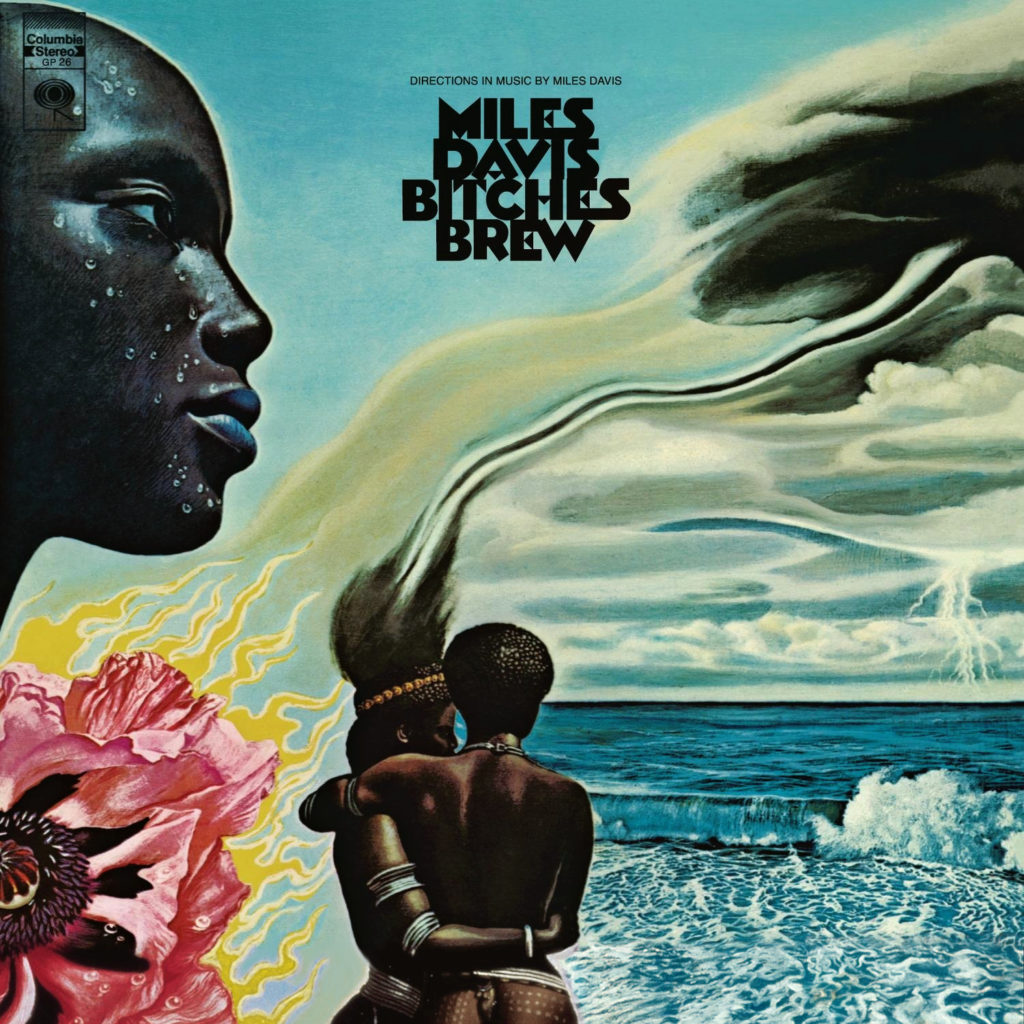 The same photo was used for Miles Davis' "Bitches Brew" album in 1970 as well as Siouxie and the Banshees album "Tinderbox" from 1986.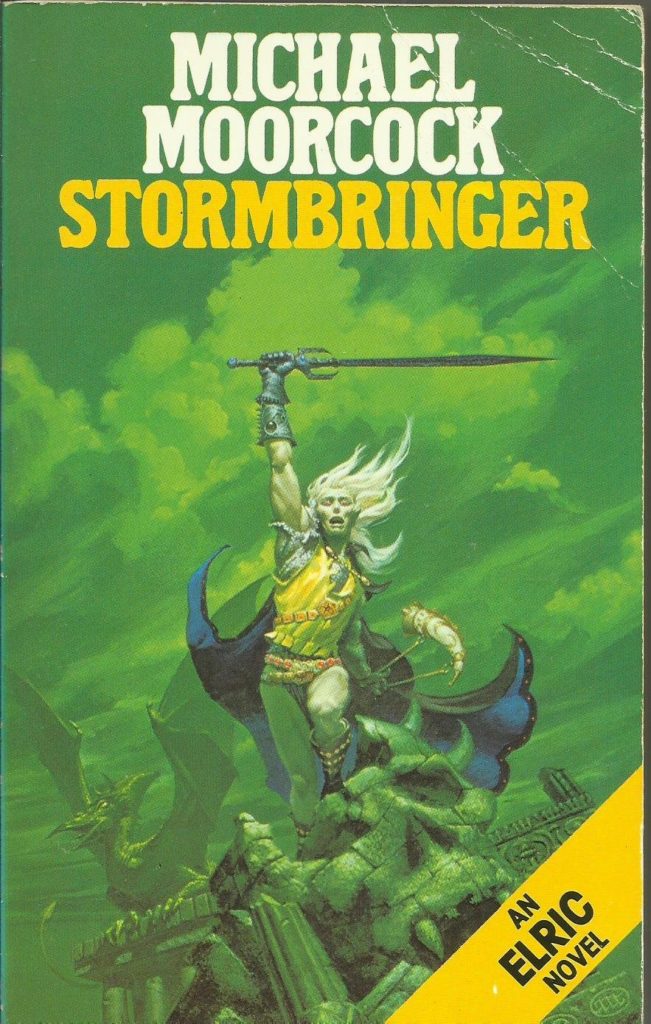 There is a book "Stormbringer" by Michael Moorcock about a magical sword which was successful in the 60s and 70s but Coverdale denied knowledge of this book until after recording the album. Coverdale says and claimed the name was from mythology.
Interview with Moorcock as outlined in "Smoke on the Water" by Dave Thompson: "I saw an interview a while back with [David Coverdale] . . . There's an interview in NME that goes, 'Why did you take Mike Moorcock's title for your album?' and he says "Well, I didn't. It's just a general name, it's a mythological name.' And the interviewer says, "No it isn't.' And it's going back and forth, and he says, 'Well I think it is.'" In fact it isn't, but Moorcock shrugged, "You get used to that after a while. I'm not hugely sensitive about that."
The cover design was given to Joe Chabalka who commissioned the painting by Joe Carnett. He gave him the black and white photo by Lucile Handberg. Joe Garnett explains in a 2014 interview: ". . . I was briefed to do an oil painting using the photo provided, only adding a horse with wings and rainbow lightning. The result is the cover and back of the album, "Stormbringer."
"Sadly John Cabalka passed away last September. He was the creator of more than 175 album covers. I miss my old friend a lot. I only did about 35 album covers over a span of 24 years. I rarely got to meet any of the recording artists, including members of Deep Purple.
Joe Garnett did album covers for Captain Beyond, Cheech & Chong, Jethro Tull, and REO Speedwagon.
First album cover not to feature faces of any of the band members.
No gatefold for some reason.
Lyrics were printed on the back cover.
This was the first time the Deep Purple logo would be used once more for "Made in Europe" and then wouldn't be used again until it was brought back it in the nineties.
Album Details and Analysis:

Recorded in Munich in August of 1974.
Coverdale says the album was written mostly in the studio.
All tracks by Blackmore, Coverdale, Hughes, Lord, Paice except where indicated.

Stormbringer (Blackmore, Coverdale)

Glenn Hughes claims the slurred gibberish by Coverdale is the same backwards dialogue that Linda Blair's character utters in the film The Exorcist. C**ksucker, Motherf**ker, Stormbringer.
Hughes says it's "Your mother sucks c**ks in hell" after having seen a private screening of the movie.
Hughes says he is saying the words when Linda Blair meets the priest.
Lyrics written in the fantasy realm at Blackmore's request.
Coverdale insisted that "Stormbringer" was a heavy metal song. "I know because I wrote the bloody thing."

Love Don't Mean a Thing (Blackmore, Coverdale, Hughes, Lord, Paice)

Hughes says Ritchie found a busker who was singing a song similar to this. They brought him on to the Starship, had him play the song, and paid him some money and decided to do a take on it.
Ritchie: "Some coloured guy came up to me at a party and said I've got a song for you.' So I said, 'Right, leave me alone.' But he insisted, so I told him to sing it. He started snapping his fingers and it sounded great. I figured it sounds this good just with him snapping his fingers, then it's got to be a good tune for the band. We rearranged it, added some parts and recorded it."
Hughes confirms this story and gave more information: "It was written on our private plane, The Starship." He says Blackmore encountered the busker in Downtown Chicago singing a song about money and then invited him back to their plane.
Hughes: "Blackers, David, myself and the busker started jammin' away on the song. It took about twenty minutes to write. I added the music to the bridge and vox bridge and David and I , with the help of our guest, wrote the lyrics."
Afterward the busker disappeared and no one could remember his name.
I read elsewhere (can't remember where) that they tried to contact the busker but couldn't find him.

Holy Man (Coverdale, Hughes, Lord)

Coverdale had written some of this presumably before Deep Purple. He remembers Jon and Ian saying "there's no way on earth you're going to get Ritchie to play that.
Glenn wrote the chorus lyrics and Jon wrote the synth parts.
Some people said "Called to Madonna" was a reference to cocaine.
Hughes refutes this and says he never put drug references in songs.
Holy Man was about having the strength to continue to be on the road.
Hughes: Holy Man was actually written about the endurance of being on the road, and having to find inner strength to cope with things. It's calling to Madonna to give me some help, or advice, that's what it is. It was never, ever about cocaine, because while I may have taken drugs one thing I never ever did was to glamorise it in a lyric. It was a song about spiritual support and strength, basically.
First song on a DP album since "Chasing Shadows" and "Blind" on the "Deep Purple" album to not feature a credit for Blackmore.
Hughes says Blackmore didn't want anyone in the room with him when he recorded the solo but Hughes stayed with him. Hughes suggested he play the solo with a slide. There was a slide across the room but there was a screwdriver six inches away from him so he grabbed that and played it with the screwdriver with one take.

Hold On (Coverdale, Hughes, Lord, Paice)

Came from an idea Jon Lord had on the organ. Everyone liked it except for Blackmore who hated it.
Coverdale: "The song was Jon's idea. Everyone loved it except Ritchie. I sat with him while he did the solo, sitting in the control room with the speakers on. He played it so casually, said he couldn't be bothered, but it was fantastic."
Paice: "Ritchie's ideas about what he will and won't play are quite firmly stated."
He claims to have played the solo in one take using only one finger, his thumb.
Never played live.
David Bowie loved the track and considered covering it.
Simon Robinson says the organ opening may have been inspired by work with Tony Ashton. It does sound like Paice Ahston Lord.
Hughes tells a story in his autobiography about being in the studio recording 'High Ball Shooter' and 'The Gypsy' and he went to the bathroom and bumped into Stevie Wonder. He introduced himself to him and confessed that he was trying to imitate Stevie's style with this new song. Stevie said he had to hear it so Hughes got him a tape.
Stevie touched Glenn's face and hair and called him "Leo" because of his mane of hair. He said, "You've been listening to my records!" They talked for about an hour then he brought him over to meet Coverdale while Coverdale was recording the vocals to "Hold On" with Martin Birch. Coverdale sees someone in there and gets angry telling Hughes to get out and that he doesn't want anyone there while he's doing his vocals. Hughes explained that it was Stevie Wonder and they had a bit of a laugh and they said they hung out all night listening to Stevie play and sing.
While Hughes was doing vocals David Bowie stopped by and was dancing next to Hughes while he sang the vocals.

Lady Double Dealer (Blackmore, Coverdale)
You Can't Do It Right (With the One You Love) (Blackmore, Coverdale, Hughes)

Mostly Hughes written showing his Stevie Wonder influence.
Divisive among fans showing the funky direction the band was headed.
In the liner notes for the special edition, Simon Robinson states that he believes the Eagles may have been influenced by this in writing "Life in the Fast Lane"

High Ball Shooter (Blackmore, Coverdale, Hughes, Lord, Paice)

Blackmore said he was so disgusted by "High Ball Shooter" that he didn't even know the title or lyrics until the album was released.
Blackmore: "I didn't stick around to find out the title of the song, although I recall it is in the key of A . . ."
Hughes: "The great fill that Paicey kicked off the song (with) says it all, I guess playing as a rhythm section was finally paying dividends… he was on fire."
Third song to make it to the live set.
Steve Pilkington: "some of the worst lyrics ever to grace a Deep Purple song — even counting some of the horrors Gillan had visited upon us."
Hughes mentions they were two songs short and this one was added at the end.

The Gypsy (Blackmore, Coverdale, Hughes, Lord, Paice)

Tells a more interesting narrative story.
Hughes says this was the other song added because they were short on the album.

Soldier of Fortune (Blackmore, Coverdale)

Blackmore states that the other three members of the band hated this song and it was difficult just getting them to play on it.
Blackmore and Coverdale recorded their own demo with Blackmore playing bass. When the band heard it they liked it and they re-recorded it.
Blackmore: "David and I wrote that song. It's one of my favorite songs. It's got a few of those medieval chords. You will be surprised how difficult it was to convince the others to play that song. Jon fairly quickly said okay, but Ian and Glenn didn't want to know about it. So I said "I'll play your funky song if you will play mine. Glenn hated that song he thought it was shit. Ian quit after two takes as well. Not enough for him to do in that song to prove himself."
Coverdale says he and Blackmore wrote it at Clearwell Castle while the others were playing soccer.
They recorded a demo of it together.
Coverdale states that he and Blackmore shared a love of early Jethro Tull and incorporating bits of Bach, English folk music, etc.
Blackmore was reportedly disappointed that the lyrics were not more literal about an actual soldier returning home.
This would be the last time that Coverdale and Blackmore wrote together.
Reception and Review

This album did not perform as well as past albums. Went gold in America in a few weeks and was certified gold on Jan 9th, 1975.
Peaked at 6 in Britain and was top 10 in most other European countries. It reached number 2 in Norway. In America it reached #20 and stayed there for 20 weeks.
Coverdale handled all press about the album.
I an interview with NME, Coverdale said, "There's a whole lot of new ideas going down. It isn't contrived rock'n roll."
Rolling Stone Review by Alan Neister on January 30, 1975: https://www.rollingstone.com/music/music-album-reviews/stormbringer-251303/

With Burn and now Stormbringer, Deep Purple has attempted to prove, firstly, that replacing the departed Ian Gillan and Roger Glover with David Coverdale and Glenn Hughes has in no way weakened the highly successful and profitable D.P. sound and, secondly, that to continue to sell albums the band need no longer rely on the unique but overdone speedo-riff rock that made the five albums from In Rock to Made in Japan quadrillion sellers. While the two newcomers are just as competent as their predecessors (as witnessed on the title cut, one of the few real throwbacks to Machine Head days), the attempts that the band has made at diversifying its sound have been only partly successful. While the group-?? "Hold On" should rightly be considered one of the neatest, most accessible and rockiest songs they've ever done, slower paced stuff like "Holy Man" or the Uriah Heep-like "Gypsy" hardly rate above the commonplace. Stormbringer still exhibits a few points of flash — the occasional familiar Blackmore riff or Lord organ wail — but in total it's a far cry from the band's peak.

Lord, in an interview with Mick Burgess: "David and Glenn certainly did have more of an influence on Stormbringer for the simple reason that Ritchie took his eye off the ball as he had his idea in his head about Rainbow. He could've been stronger during the making of Sormbringer and if he had been stronger then Stormbringer could have been a better album, not that it's a bad album but it could've been a better one. It's quite a confusing album. At the time our fans got a little confused by it. With Burn we picked up the torch and ran with it, I just wish we could have stayed with it. I think Ritchie lost a bit of energy trying to deal with the runaway train that was Glenn Hughes. At the time he was a bit of a loose canon and hard to deal with and I think Ritchie just had enough."
Blackmore, on why there wasn't as much guitar on this album: "There wasn't as much guitar because in a way I was going through some personal problems and I didn't have the people there that I wanted to record with. I was thinking about other things when I should have been thinking about the music."
Blackmore, in an interview in Sounds: "I don't like . . . funk. It bores me to tears. But this is as far as it goes no, it's the end of that. Back to rock and roll next LP."
Blackmore quoted in Neil Priddey's Purple Records 1971-1978 put it very simply: "Stormbringer was crap."
Hughes in Martin Popoff's "Sail Away": "… when David and I came in, the band started to become more, and I'm going to say, soulful. Because we grew up in the North of England, we grew up listening to American R&B. Rather than try replacing Gillan and Glover with two look- and sound-alikes, they replaced them with two totally different commodities, and it showed very strongly on Stormbringer what it was all about. And I like change in music. I don't want to make Burn II. Led Zeppelin did a really good job in their careers of making different records every time. So that's how I feel about Stormbringer — it's a different record."
Ian Paice: "David was the new kid on the block and he was very malleable. He was just enjoying the vibe of being in a big rock 'n' roll band. Glenn's influences were so different, although on the first album, Burn, they were kept under control. When it came down to getting down to the second one, Stormbringer, I mean, Glenn can't help it. He likes the music that he likes and that was starting to change it. So it was starting to change from being a hard rock'n'roll band to something that was becoming a little more funky, which Ritchie hated."
Coverdale: "Oh my God! I wrote two songs which could be termed heavy metal or whatever. I've never embraced the term 'heavy metal' because all my themes are emotional. But I wrote two songs to keep Ritchie Blackmore happy which were Burn (which I still think is a classic) and Stormbringer which basically if you look at the lyrics, they are more or less sci-fi poems. But it never felt comfortable for me to have those. In fact, I think that's where he got the name Rainbow from, the hook in "Stormbringer." "Burn," I can enjoy any time of the day but I don't really go for "Stormbringer."
Coverdale: "The year that I joined Deep Purple my most played records were Sly & The Family Stone's 'There's a Riot Goin' On,' Steveie Wonder's 'Music of My Mind' and Donny Hathaway's 'Live.'
Hughes: "The crazy thing about Ritchie's disliking of what he calls "shoe shine music" (a term I find to be less than amusing) is that on songs like 'Hold On' and 'You Can't Do It Right' and 'Love Don't Mean a Thing' which he played on, the only word for it, or description of his style is . . . funky. Check out his picking, he astonished (us) with the way he used his right hand. He played wonderfully and appropriately."
Blackmore really wanted to do a cover song on this album, "Black Sheep of the Family" by Quatermass.
Mick Underwood had popped in during the In Rock sessions to show him a tape of this new song beginning Blackmore's obsession with the song.
The band refused to do it.
Blackmore didn't like his ideas not being used.
Blackmore claims he brought it to the band and they didn't want to do other songs because they wouldn't get writing credit. Lord and Paice were the most against the idea.
Lord remembers it differently saying that Blackmore would play them things during the sessions and then when they said they liked it and wanted to record it he would say, "No, I'm saving that for my solo album." Much like previously with Who Do We Think We Are.
The band were making so much money on tour reportedly bringing in well over 100,000 pounds after four shows in the US.
Their accountant told them to move abroad to avoid paying the tax rate in the UK that was well over 90%.
Blackmore moved to America first.
Lord was annoyed that he had to move away from his home country despite liking America. He says that his first marriage fell victim to the move to California.
Coverdale claims that he was being taxed 98%.
Their contact with their management became less frequent due to the distance.
Traveling they all had their own routines.
Their live set changed. Lay Down, Stay Down and Might Just Take Your Life were replaced by The Gypsy and Lady Double Dealer, and Stormbringer.
They did a very short tour with the feeling that they'd come back and work on some solo projects.
Blackmore first approached Coverdale in joining him to leave the band and form Rainbow. Coverdale declined.
Blackmore got Dio drunk one night and convinced him to go to the studio and record "Black Sheep of the Family." Blackmore liked the working relationship so much they did a B-side then started talking about when to record an album.
After Elf's "Trying to Burn the Sun" was released Blackmore flew in Mickey Lee Soule, Gary Driscoll, and Graig Gruber to Munich to work on the album. Blackmore's wife, an opera singer, also did tracks for the album. The album was completed on March 14, two days before Purple's European tour began.
All of Deep Purple had no idea this project was going on.
This is shocking considering Martin Birch and a lot of DP's road crew were involved. Was Blackmore trying to keep this secret or was the rest of the band just not paying attention?
Bowie asked Hughes to fly to New York to work on Young Americans but Blackmore refused to let him go. He was very firm and put his foot down.
Blackmore, Paice, and Coverdale headed to Yugoslavia to meet up with Hughes and Lord for two shows which would be the first shows DP would play in an Easter Bloc country.
At one of the shows a woman in the audience attempted to hand a note to Blackmore and was punched in the face by a security guard. Blackmore, seeing this, kicked the guard in the back of the head.
After the Yugoslavia shows Jerry Bloom reports in "The Road of Golden Dust" that an exhausted Blackmore said to Pete Makowski, a journalis with Sounds, who was reporting on this glimpse behind the Iron Curtain, "See these hands? I probably own two fingers if I'm lucky. The rest belongs to the management. All of my life I've been ripped off and undervalued and I"m just sick of it all."
Blackmore was now traveling promoting an album he wasn't happy with after finishing a project he had much more passion for. The only songs he allowed on the tour were three he had writing credits for on the album: Stormbringer, Lady Double Dealer, The Gypsy.
Reviews of these concerts seemed to all report the same thing: Blackmore played well but seemed disinterested.
Glenn Hughes, in his autobiography, states that by the end of the year there was really no communication between Blackmore and the band.
Midway through the tour Blackmore informed management that he was quitting. They kept it secret from the band. The band, of course, figured out something was up.
They recorded the last few shows Blackmore could play concluding in Paris where Coverdale thanked the crowd after the show and said, "We hope to see you again in some shape or form."
Coverdale wanted to press on.
On the last show where they had been recording "Made in Europe" Hughes says he was doing a line in the bathroom and came out to see Ritchie standing there and smling. He told him it had been great working with him but he felt ashamed and dirty of his habit at that point.
Hughes states that the cocaine up until this point was under control and he was just dabbling with the drug. But things were starting to change.
This Week in Purple History . . .
August 26 through September 1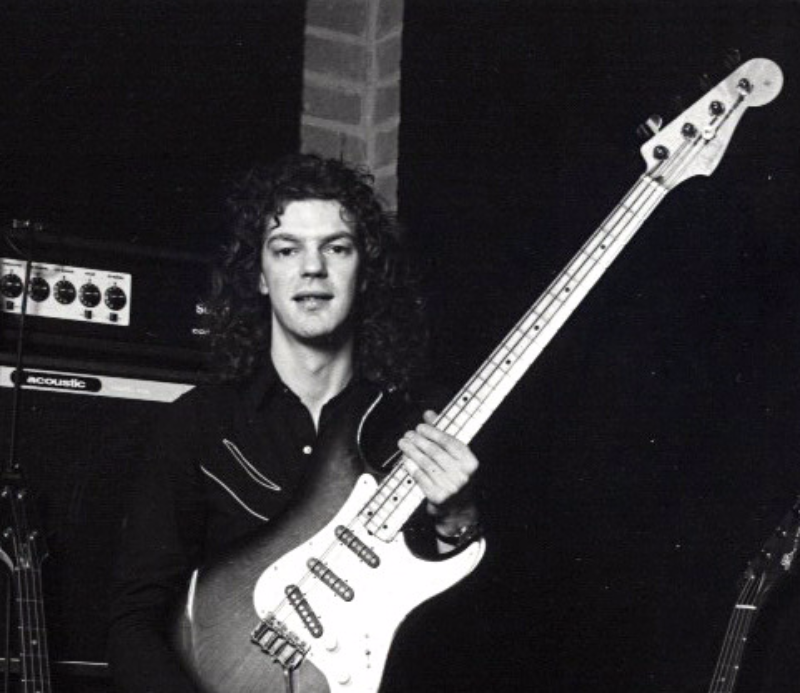 August 27, 1960 – Neil Murray is born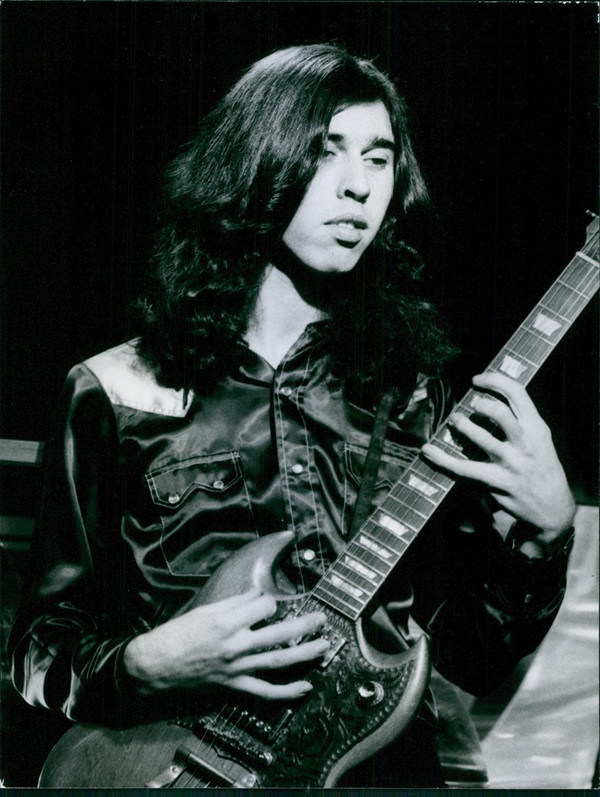 August 30, 1950 – Micky Moody is born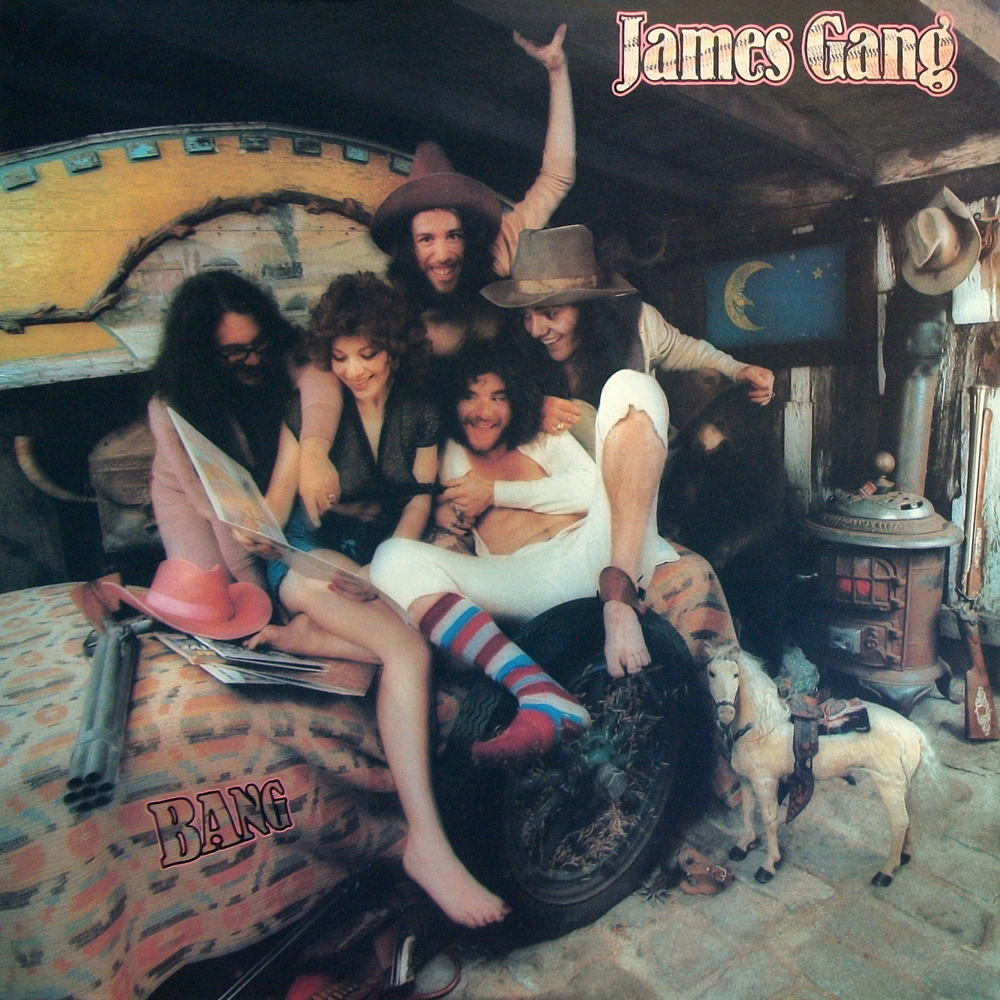 September 1, 1973 – Bang by James Gang is released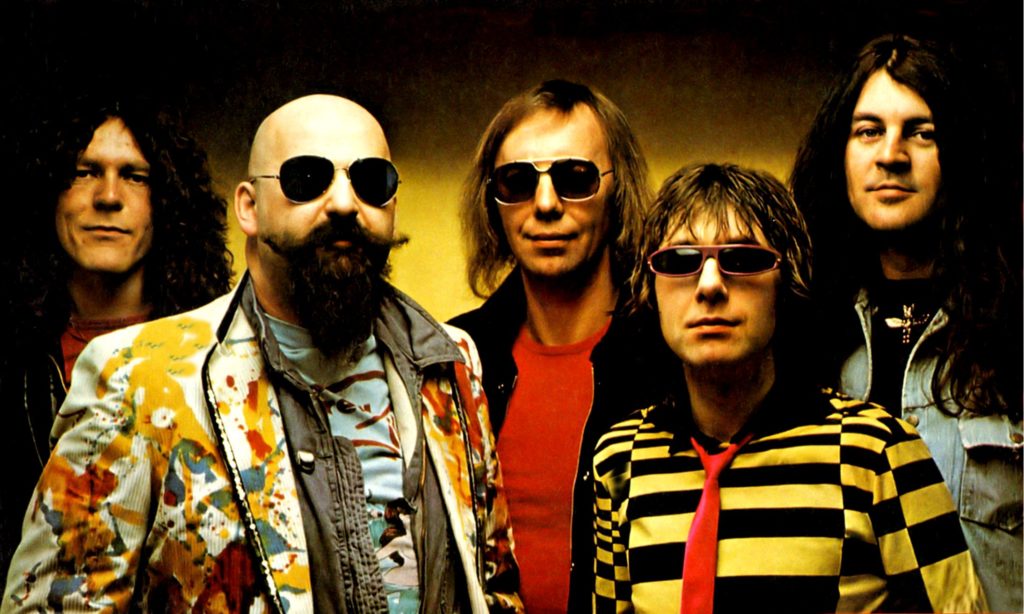 August 27, 1978 – Gillan plays their first show at the Reading Festival
For Further Information:
Listener Mail/Comments

Comments about the show? Things you'd like us to cover? We'd love to hear from you. Send us an email at info@deeppurplepodcast.com or @ us on Twitter, Facebook, or Instagram.